4 Awesome 1-Day Side Trip from Lisbon
Lisbon is one of those cities where one wants to stay and live, not only for its seven hills, typical tiles, medieval neighborhoods, its nightlife, or traditional music (the "Fado")
But also for its enviable weather (the one that does not alter you with abrupt changes), its friendly and hospitable people, and the fact that it is one of the oldest capitals in Europe.
Ultimately, it's a complete and beautiful city that you should visit.
When you finish the tour of this legendary metropolis, I invite you to explore nearby areas so that you have an unbeatable experience during your holiday.
Its transport system is excellent, but you must comply with its schedules, so when you visit the tourist areas, you will not stay a little longer in this respect.
When traveling in Lisbon, we recommend renting a vehicle, which is the option many tourists prefer to make most of the time.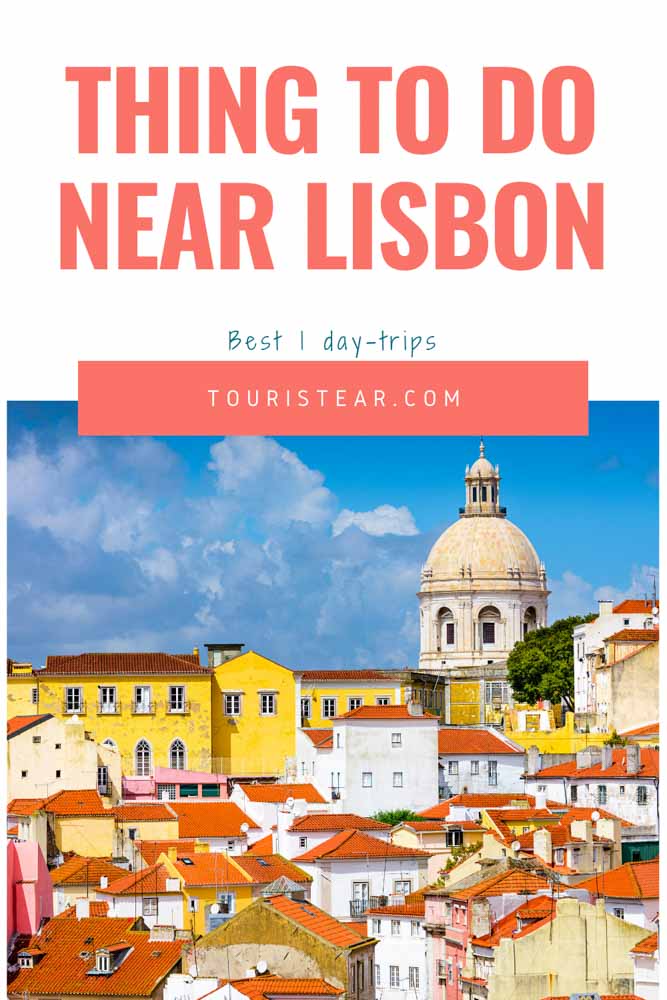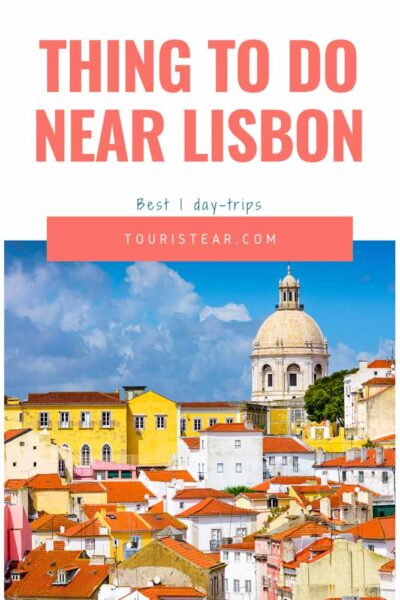 Disclosure: Some of the links on this post are affiliate links, meaning at no additional cost to you, I may earn a small commission if you click through and make a purchase.
Lisbon Best 1-Day Side Trips
Sintra, near Lisbon
Sintra is a Portuguese villa taken out of a fairytale. It's my first recommendation, but to know all its majesty, it will be necessary to take advantage of every minute of the day because I'm not lying; Sintra drives everyone crazy with its beauty.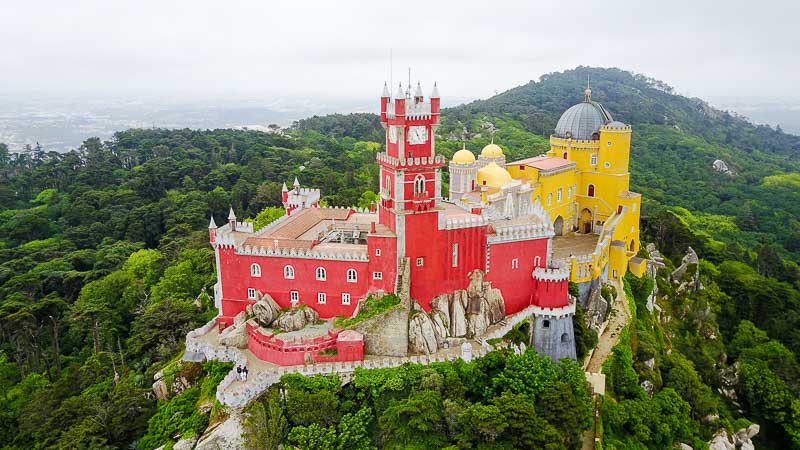 This city was the holiday residence of nobles and monarchs, so you can already imagine that each of their palaces is special and worth admiring.
Sintra is at the foot of the mountain, just 34km from Lisbon. It's a charming and very touristy village, with alleys in which to get lost. It also has the National Palace and the Toy Museum.
However, they are not the center of attention of Sintra. The quintessential tourist attraction of this city is the Palacio da Pena, located at the top of the mountain.
You can climb the palace walking from the village, but it is a considerable walk, I recommend you get on by bus or car.
*Tip: if you go there on the weekend from June to September, you will find it overflowing with people. I recommend you go early in the morning.
We went at about 09:00 am and parked our car without problems, three hours later it took an hour just to buy the ticket! And parking was mission impossible.
The Castle of Sintra has been declared a UNESCO World Heritage Site. It is a beautiful building with a mix of different architectural styles that served as a summer residence for the kings of Portugal.
You can visit the castle and the gardens. Although you have several ways to get to the castle, I recommend the long tour that starts from the lower entrance and goes up the gardens for an established tour until you reach the castle.
The admission ticket includes a visit to Palacio da Pena and the gardens. Very close to the Palacio da Pena you have the Castelo dos Mouros, which is less preserved, although it has very good views and is not included in the ticket entrance.
Located in Sintra is the Quinta da Regaleira. It's a small palace but is known for its beautiful gardens.
Other places you could visit close to Sintra are:
Palacio da Pena
It stands out of all places for its beauty, design, gardens, and breathtaking view, as the palace is located at the top of a hill 12 minutes from the center of Sintra if you travel by car.
Pay attention to the visiting hours and when most people go. For example, if you are driving, it is best to go early in the morning to park easily.
Cabo da Roca
"Where the earth ends, and the sea begins" is the westernmost place in Eastern Europe, so it is so famous for that reason.
With its stunning 140-meter cliffs, you'll see beautiful sea views and how the waves break with unsettling force.
From Sintra, our next stop is Cabo de Roca and its cliffs, the most western point of Continental Europe.
It's one of the most beautiful natural landscapes that we can find in the surrounding of Lisbon.
If you want an expensive souvenir, in the visitors' center of Cabo de Roca, you can buy a diploma that proves that you've been to the most western point of continental Europe.
It seems like a scam; you get charged 10 euros for giving you a paper that says you've been there.
As it could not be otherwise, it is best to get to Cabo de Roca in your car, but you can go by public transport, there is a bus that makes the route between Sintra and Cascais with a stop in Cabo da Roca.
I have to tell you: there's nothing here but this.
I love beaches, so we went to the beach of Guincho from Cabo da Roca. Unfortunately, the road there was a bit complicated and had many curves.
This area has stunning dunes; when you reach the beach, you even have an interpretation center of the dunes and access to walkways that run through them. The sunset is beautiful from these beaches.
Cascais, very close to Lisbon
From Guincho to Cascais, there are only a few kilometers between them. Cascais is a city that went from being a fishing village to a Portuguese upper-class summer resort.
You can stroll through its town, visit Praia dos Pescadores, enjoy some of its good fish restaurants and contemplate the Boca do Inferno, which is a grotto in the stone time by the sea, but it doesn't have much more worth reviewing either.
Praia da Duquesa
On this beautiful beach, you can take a boat ride, go canoeing, party, have a cocktail night, or just swim, tan, and try a delicious traditional dish in one of its many beachfront restaurants.
Quinta Regaleira
Quinta Regaleira is my favorite place in Sintra because it seems to have been taken from a fantasy movie.
This palace includes a lake, a greenhouse, turrets, a beautiful chapel, and my favorite. The Initiation Well has a spiral shape and nine floors.
Castelo dos Mouros
Nestled in the middle of lush forests and next to the Palacio da Pena is this medieval fortress that, despite being in ruins, has ostentatious views that leave many with their mouths open.
Costa de Caparica
At 30 kilometers long, it is the most incredible European beach, loved by Portuguese tourists but not well known by foreign travelers; it's an ideal destination if you want to surf or party until the early morning hours.
But if you want something quiet, it is equally excellent. After a long day of tanning, swimming, or drinking some ginjinha (traditional liquor from Lisbon), going to dinner and eating some delicious local cod would be the cherry on top at the end of the day.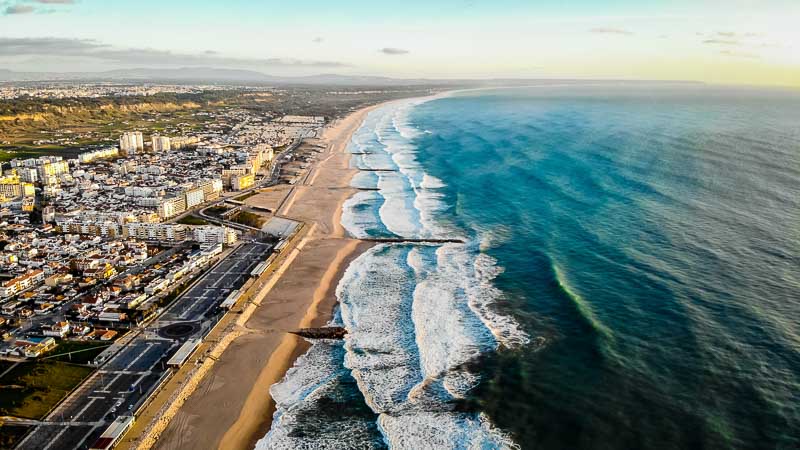 Beaches, I invite you to:
Fonte da Telha Beach: Great if you're going with family or friends and you're looking for peace of mind.
Praia da Morena: Ideal for surfing.
Praia da Cova do Vapor: It's the best place to do fly surfing. It has small ports and free parking if you are traveling by car.
Praia da Bela Vista, Praia 19 or Praia de Adica: if you like to practice nudism.
Setúbal
It is the fishing town of Lisbon and, independent of being an industrial area, has paradisiac beaches and lots of vegetation.
The food costs and nightlife are very low compared to other cities, as it is designed to satisfy residents, not tourists or foreigners.
In this way, it becomes an incredible option if you want to save money; the great thing is that you can go fishing with the sailors and have that local experience.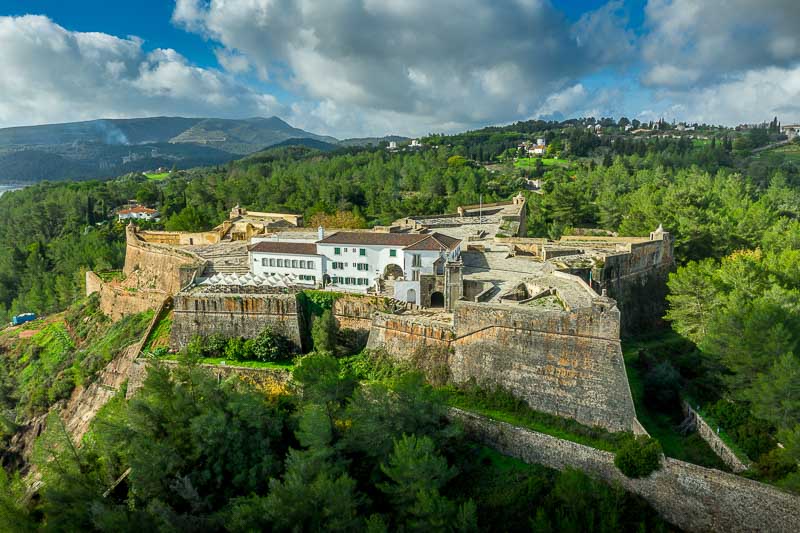 Four essential tours:
Troia Peninsula: It is a unique paradisiacal peninsula where you can perform hikes or bike to deserted forests and beaches.
Parque Natural da Arrábida: Located between Setúbal and Sesimbra. It has unparalleled beauty, cliffs, and plenty of vegetation, where you can play sports such as climbing, scuba diving, or have a guided hike by the park.
Jose Maria da Fonseca Wines House Museum: It's an old winery that has existed since 1834, where you can taste some of the best European wines.
Fort of San Felipe: It's a Castle where you will find beautiful views of the city, the Sierra de Arrábida, the Troia peninsula, and the estuary of the Sado River.
Sesimbra
Sesimbra is a beautiful place to visit close to Lisbon. It's pretty easy to get there by car.
It was a fishing village, but now with the great travel demand and construction of hotels, it has become a place of holidays for its beaches and because it still has activities such as windsurfing.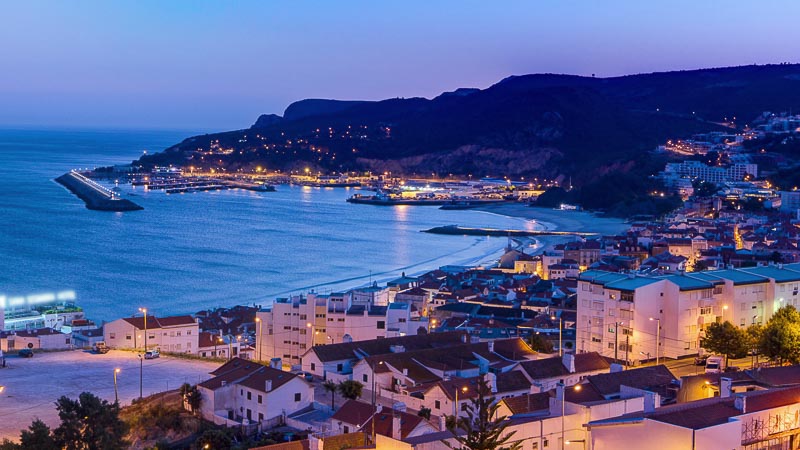 And if you're not staying in hotels, the camping option also exists for a more relaxed plan.
Activities in this beautiful area:
Castelo de Sesimbra: You can go by day to admire the beautiful views of the sea, or at night to appreciate the brightness of the wings; visit the Church of Santa Maria do Castelo or have a picnic in the park.
Beach Bicas: You can kayak, go on a tour, swim and give your palate a taste of delicious and freshly caught fish from the area.
Cape Espichel: At the end of the day, you can go to see the lighthouse, the small chapel of Ermida da Memória, remains and footprints of dinosaurs, or just watch the radiant sunset.
Lisbon and its surroundings have so much beauty and history that I assure you; you will want to return, especially because it is a place where the traditional and modern mix.
That said, you can go more comfortably; booking a car will always be my main recommendation; it is not expensive unless you want a luxury car.
Still, in any case, you can opt for a car that will fit your budget. I guarantee you will not regret it.
Plan Your Trip to Portugal
Last Updated on 19 September, 2023 by Veronica