Portugal 15-day Road Trip Itinerary + MAP
We've finally been able to take 15 days to visit Portugal. We already knew we were coming back to visit Portugal because we had just visited Porto and Lisbon, but we had never been able to take a couple of weeks to get to know Portugal properly.
This post will tell you our planning and itinerary for the 15-day road trip through Portugal.
Portugal Road Trip Itinerary from North to South

Portugal shares its entire border with Spain. And I must say, it's a great destination to travel around. Here, you can find out how to plan a trip to Portugal.
Best Things to Do in Portugal, 15-day Road Trip Itinerary
Portugal has beautiful places to visit: beaches and mountains, forests, cities with history, wonderful food, and on top, it's cheap.
It also has some drawbacks, such as highway and highway management or fuel prices.
But from my point of view, the pros far outweigh the cons. The best thing, judge for yourself!
Are you looking for more Portugal road trip ideas? Here, you'll find 10 Super scenic routes.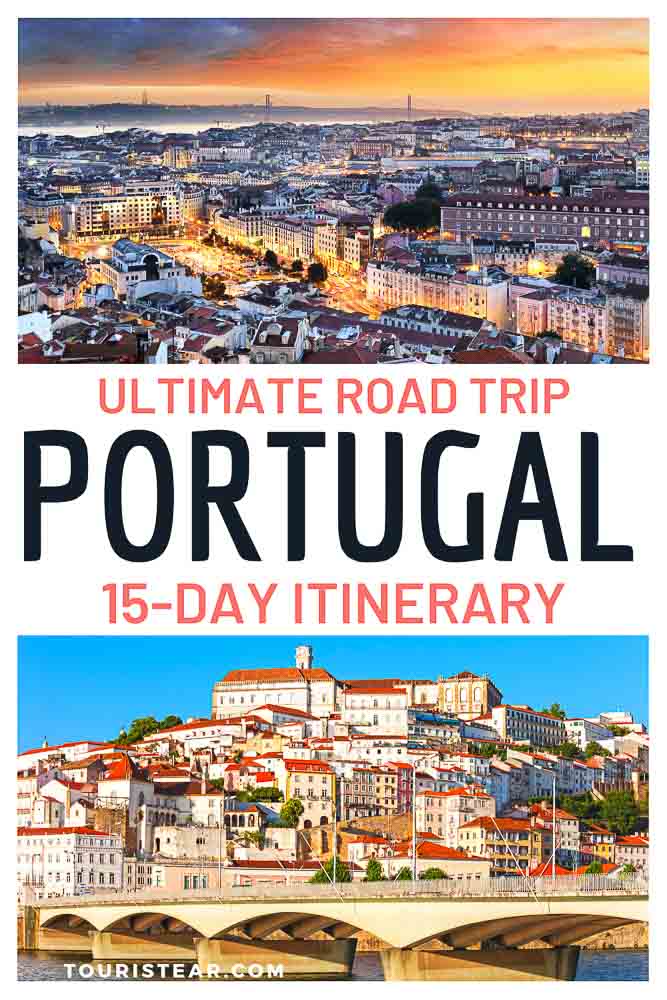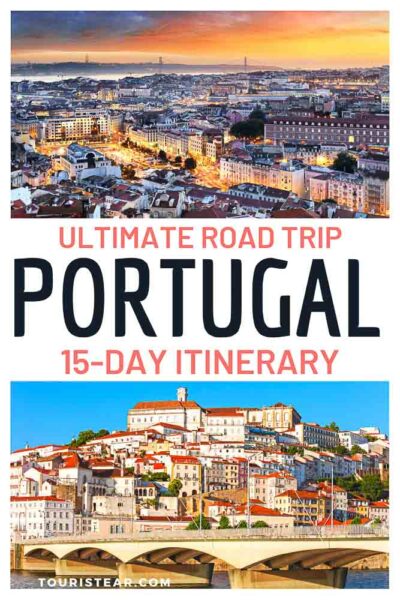 How can you organize a 15-day Portugal road trip?
When you start to think about how you are going to organize the road trip, you can consider two alternatives:
The first is a road trip where every day you sleep in a different place,
or, on the contrary, take different bases of operations and visit Portugal by zone.
In the end, we decided to make a combination of both. We asked ourselves what options suited us best. And basically, what we did was divide Portugal into three zones.
Now, I'll break down these tours a little bit more so you can get an idea of what you can do each day, and then I'll tell you daily what's worth seeing and where to go, etc.
Travel to Portugal by Car
This is the first part of the road trip to Portugal. You can visit some cities, cross natural places, or take the highway to Porto.
It's a journey to enjoy the route, the villages, and the small towns. However, if you want to get to Porto in 5 hours, then you can skip this step and take the highway instead.
Bragança, the First Stop in Portugal
We will enter Portugal from Zamora by the N-122, where we enter just through the north of Portugal, and our first destination will be Bragança.
Bragança is a wonderful city that preserves a medieval historic center that deserves a quiet walk.
Must-Visit Places in Bragança
Medieval Castle,
The Tower of Homage is one of the highest in Portugal and, in addition, is an army museum,
Domus Municipalis
and numerous churches.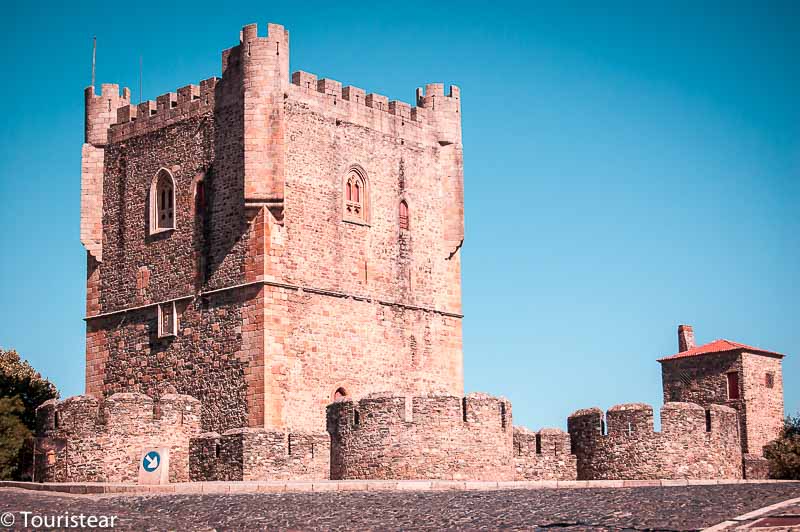 Come to the city's main square, Largo Principal, where you can see the Episcopal Pazo, the Main Building, and the old cathedral.
It is a beautiful city; I love it, especially because it is a simple city with abundant history.
What to See in Chaves?
The next stop on the route through Portugal is Chaves. Chaves is 100 km from Braganca. Going on the N-103 will take you two hours, but you don't pay a toll.
You can go by highway, which is 110 km long, and it will take you 1 hour and a half at most, but you will be paying tolls.
We chose the first option for two reasons. The first is that by the N-103, you travel on its south side through the Montesinho Natural Park, and the second is that you do not pay tolls, in that order of importance. Therefore, you enjoy the road, and you get to Chaves.
This is where we learned that the north of Portugal is affluent in hot springs. And the hot springs of Chaves have been especially well known, even in Roman times.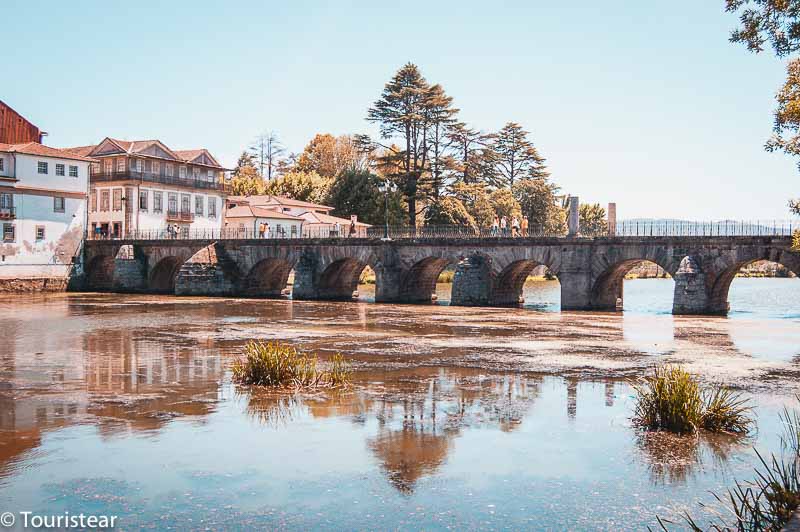 Running through Chaves is the Tamega River and the Romans had to build a bridge to cross it as it was an important trade route. The bridge is very nice.
The Roman baths and its historic center with its colorful houses and balconies,
The Pelourinho or Picota,
The Church of St Mary and the Church of Mercy,
The Palace of the Dukes of Bragança,
The Tower of Homage with the Medieval Castle,
And finally, the Hot Springs.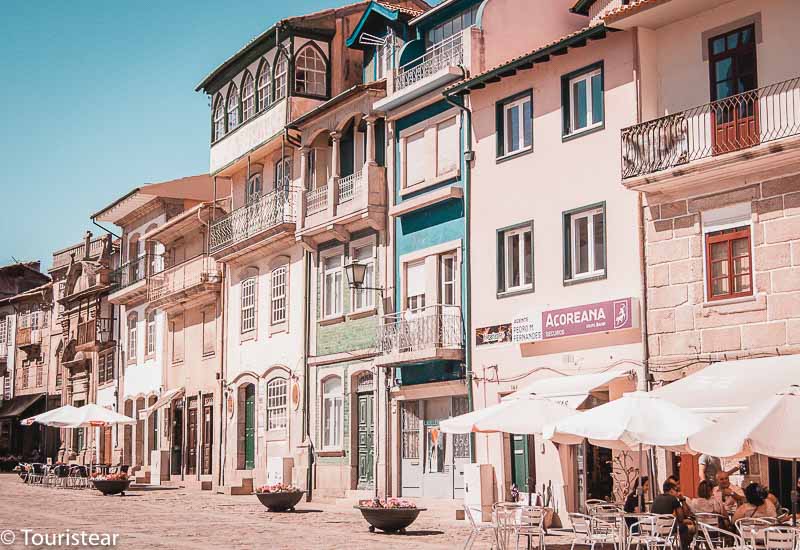 Except for the bridge and the thermal baths, the rest is altogether in the historic center. It's a beautiful city, don't miss it.
Northern Portugal
Porto: 5-day base of operations
This city serves you very well as a base to get to know the north of Portugal.
Spend at least two days visiting Porto. It's a very, very beautiful city with a lot of charm. The truth was that I was surprised when we visited it the first time. You have all the information needed to visit the city in the link.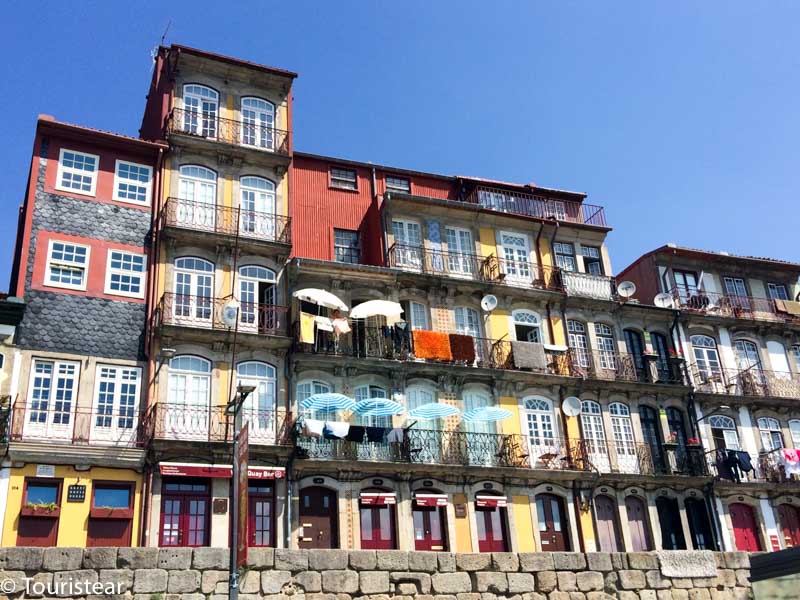 Porto has a lot of places to see and things to do. You have to visit its bridges, the cathedral, the castle, the wineries, the Church and the Clergy Tower, the Mercado do Bolhão, the Lello and Irmao bookstore, the Stock Exchange Palace, the church of San Francisco, and much more.
Where to Sleep in Porto?
In Porto, you will find a wide variety of hotels for all tastes and budgets. Check out the Booking link; it's our favorite place to book hotels and choose the one that best suits your needs.
For the dates you will travel, add some filters, and you are done. Make your reservation, and you already have your hotel.
If you travel by camper van or with a tent, there are well-equipped campsites with very reasonable prices.
Side Trips Near Porto
In this post, we'll tell you everything you can see and visit from Porto with your rental car. If you only go for a few days and want to hire excursions, check out the activities offered by Civitatis.
Among them, you will find dinners with shows and guided tours of the city, among others.
Porto Best Car Rental
If you are arriving in Portugal by plane, it's best to pick up the rental car at the airport. The best deals on car rental are online.
I invite you to take a look and check for yourself.
Barcelos, Braga, Bom Jesus do monte and Guimarães
I propose a short side trip or a 1-day road trip for the third day. You leave Porto from the north and visit Viana do Castelo, Barcelos, Braga, Bom Jesus do Monte and Guimarães.
Visit Barcelos because it has an outdoor archaeological museum and is where the legend of the pilgrim and the rooster originates, making that famous black and red rooster the symbol of Portugal.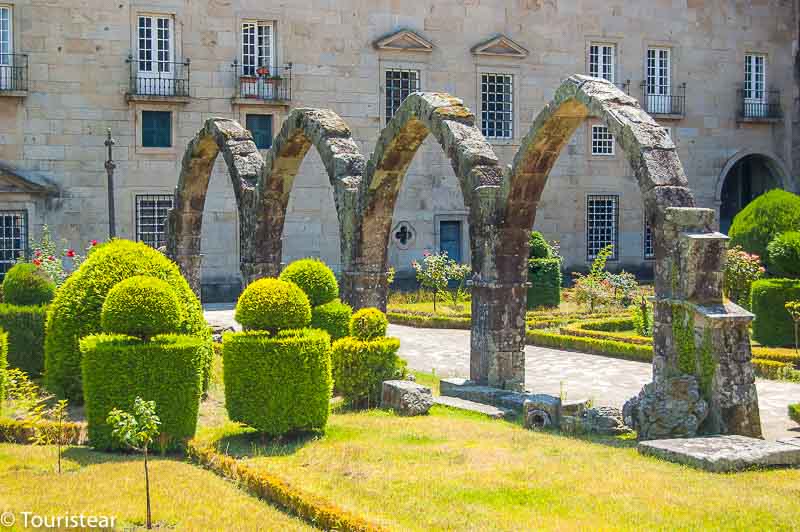 Visit Braga because it has become one of the three capitals of Lusitania, and its center and old town are fantastic for an enjoyable promenade. It's a city with a history that's present in its streets. I'll tell you in detail, too.
Bom Jesus do Monte is one of the most visited places of pilgrimage in all of Portugal and is also beautiful. It's a must!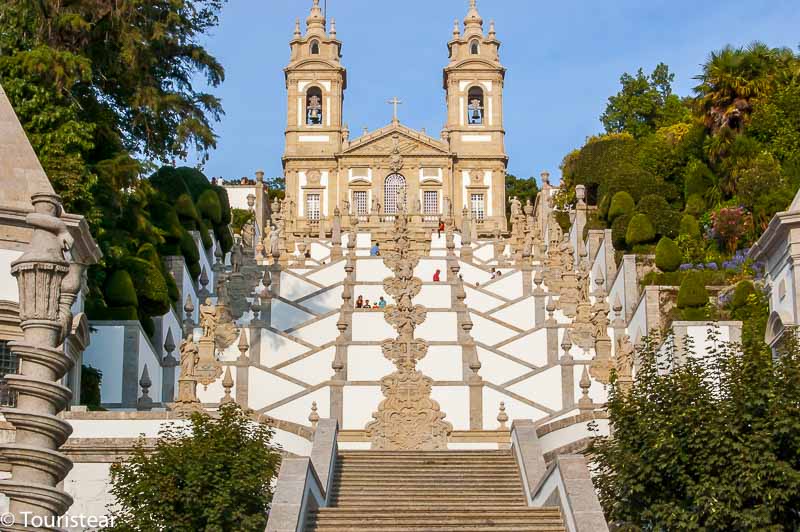 Guimaraes has a center that is a UNESCO World Heritage Site and is a real marvel. You have to visit Guimaraes quietly and enjoy its streets and every corner.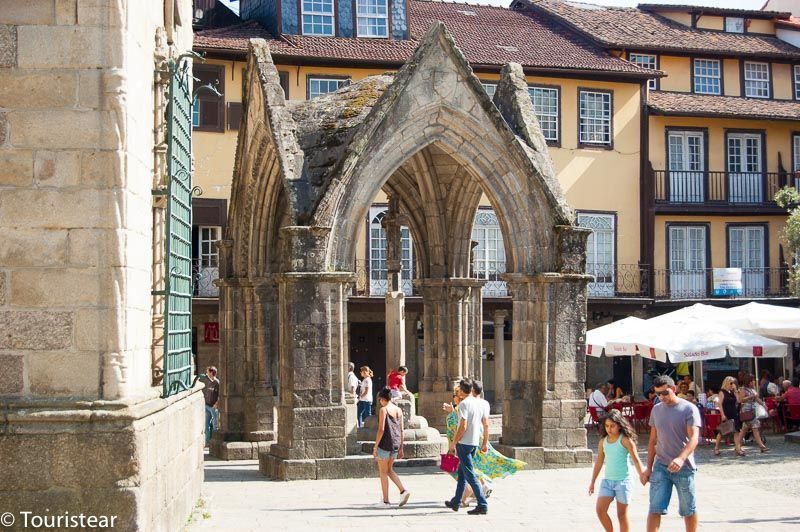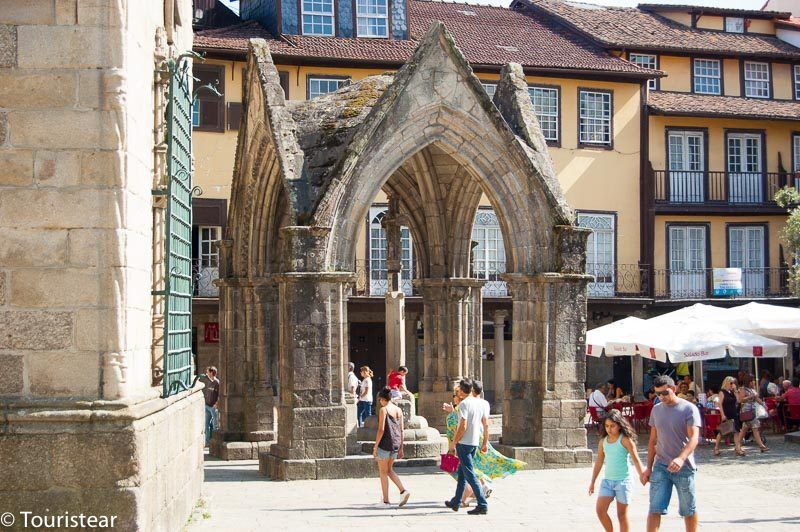 Aveiro, Figueira da Foz and return to Porto
And for the Fourth Day, I propose a side trip to Aveiro, Figueira da Foz, and return to Oporto. It's about 300 km, and I recommend you start early in the morning.
Aveiro is a charming city, very beautiful, and it is considered the Venice of Portugal. It's a pleasure to walk through it. Figueira da Foz is to enjoy the beach and its dunes.
Viseu, Luso, Buçaco, Mealhada and Coimbra
On the fifth day of the road trip through Portugal, you start traveling south and the inland area instead of the coast.
On our itinerary, we made the first stop in Viseu. From there, to Luso, where you have to visit the Forest or Mata do Bussaco (Buçaco), and from here to Mealhada to eat Leitao (pig), as it is said in Portuguese. And the last stretch is from Mealhada to Coimbra.
Coimbra is an ideal city to dedicate at least one day and spend a night. First, you must visit its famous university, a UNESCO World Heritage Site and the oldest in Portugal.
Mata do Bussaco is an awesome place to visit. It's a forest that was protected and fenced by Benedictine monks. In it, they founded a convent and later built a palace that became a 5-star Palace Hotel.
It was one of the most luxurious hotels in the world.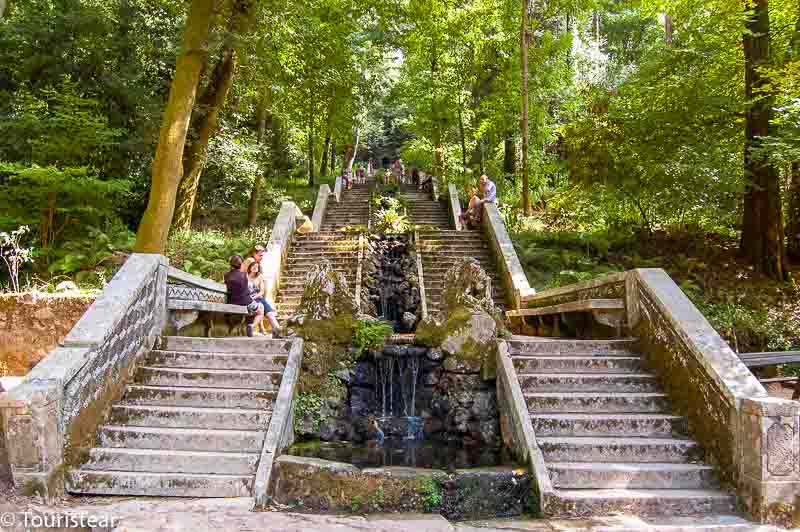 It's still working today, and it looks like you've gone back 50 or 60 years when you get into it.
The Forest has species of trees and plants of the most varied and curious, ranging from Sequoias to gigantic eucalyptus trees to fern forests. It has several trails to hike and is really worth it.
Mealhada is a good place to go to restaurants. We ate a suckling pig with wine and 1 appetizer for € 30 for both of us.
As you enter the city, you will see each side of the road places to eat Leitao. Pick the place you like the most and enjoy the food.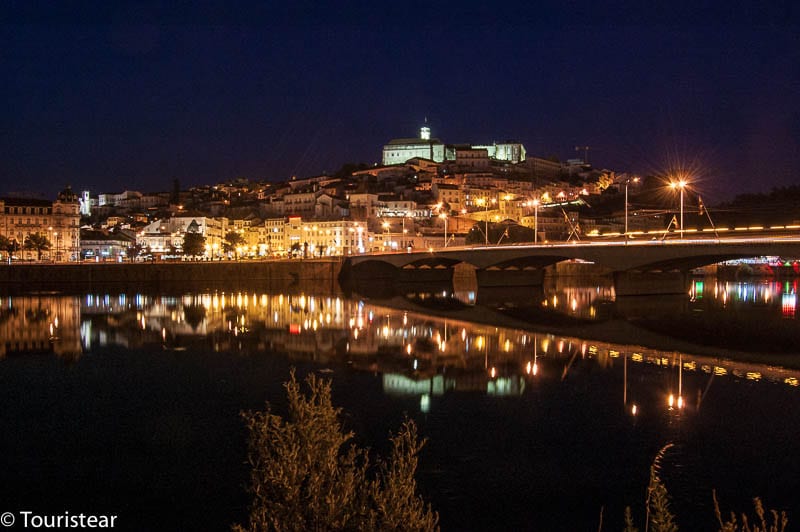 Coimbra is a city to walk in no hurry. The university is in the old part of the city and is pretty. You can see the interior and library; paying the fee is worth it.
It also has an aqueduct and two cathedrals, the old and the new. You have to pay to come in and see them.
To sleep in Coimbra, I leave this Booking link so you can make the reservation and take a look at the prices on the date of your trip to Portugal.
Central Portugal and Lisbon
Coimbra, Tomar, San Pedro de Moel and Nazare
Yesterday afternoon, you visited Coimbra, but you can also do it this morning. Then, in the afternoon, you can go to Tomar, where there is the most important Monastery and Templar castle in Portugal.
That's where the Templars established their base when they were expelled from Europe.
You can spend the night in Tomar or nearby. We took advantage and went to Marinha Grande and San Pedro de Moel to watch the sunset and dine in Nazaré.
You can sleep in Nazaré (check the hotels) or on the way to Lisbon, it's an hour and a half.
Batalha, Alcobaça, Abidos, Peniche, Ericeira and CasCais
We start the next day by visiting Batalha and its monastery, which is a World Heritage Site. From Batalha, we head to Alcobaça, which also has a monastery that is a World Heritage Site.
From Alcobaça and passing through Caldas da Rainha, we visited Abydos, which is a beautiful medieval village, super touristy and expensive, but very beautiful.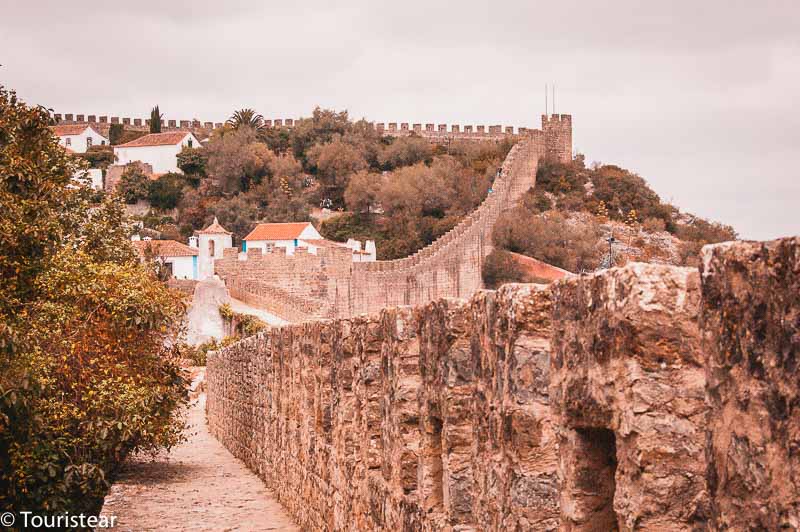 From Abidos, we go to Peniche, which has a picturesque fort on the coast and its beaches with waves they call "supertubes," where one of the world's surf contests is held.
We continue south on Cascais. We stayed here, although you can also stay in Lisbon and stop in Ericeira, which has spectacular beaches for surfing or learning to surf 😉
And we went to Cascais. It's late for sure, so you have to rest, then tomorrow it's time to go on.
Since you are already traveling the center of Portugal in a southerly direction, enjoy every town and every city you stumble upon as much as possible.
Cabo da Roca, Sintra, Palacio da Pena and CasCais, Boca do Inferno
For today, there are three places to visit:
The first Cape da Roca is the western point of Western Europe.
The Pena Park and Palace in Sintra are the second and longest to take.
And the third: Cascais and Boca do Inferno.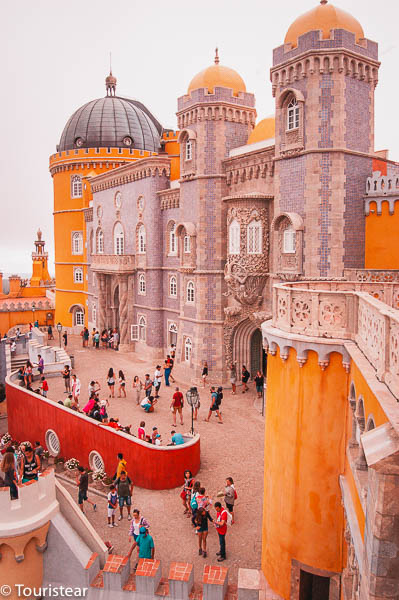 *Recommendation:
Visit Cabo da Roca in the morning and arrive at Palace da Pena at about 09:00 or 09:30. Otherwise, it is hell with all the people and cars.
No one told us about this, but luckily we arrived early at Sintra, and by lunchtime, we were already leaving.
We saw people waiting for an hour and a half to buy the ticket!! It took us, at 09:30, five minutes, and even then, there were still many people.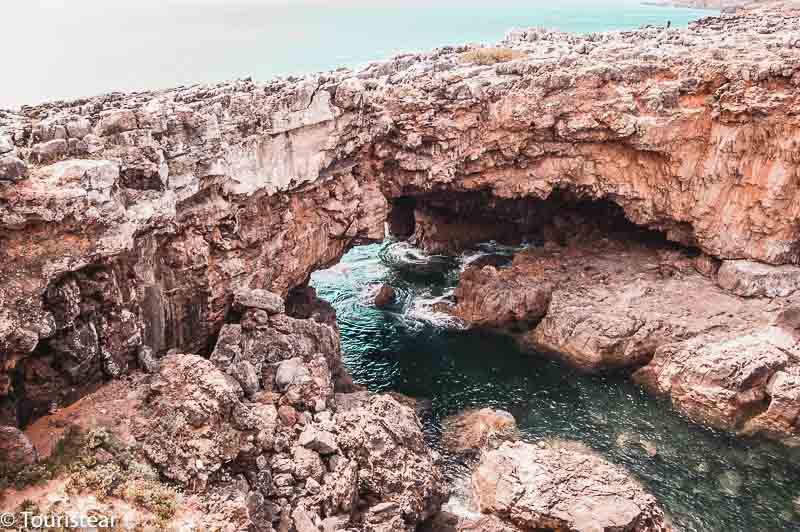 In Cascais, it is essential and worth seeing the Boca do Inferno, a grotto timed by the sea.
What to See in Lisbon in two days
The next two days are to visit Lisbon, an essential place on your road trip through Portugal.
We visited Lisbon for two and a half days because we loved this city; it is beautiful, picturesque, and full of corners that deserve an excellent visit (and we had already spent a weekend before).
The only downside is that driving is uncomfortable and you have to move by public transport or walk. Also, the slopes are hard; keep that in mind when you choose your footwear.
Day 1. Alfama, Barrio Alto, La Baixa and Chiado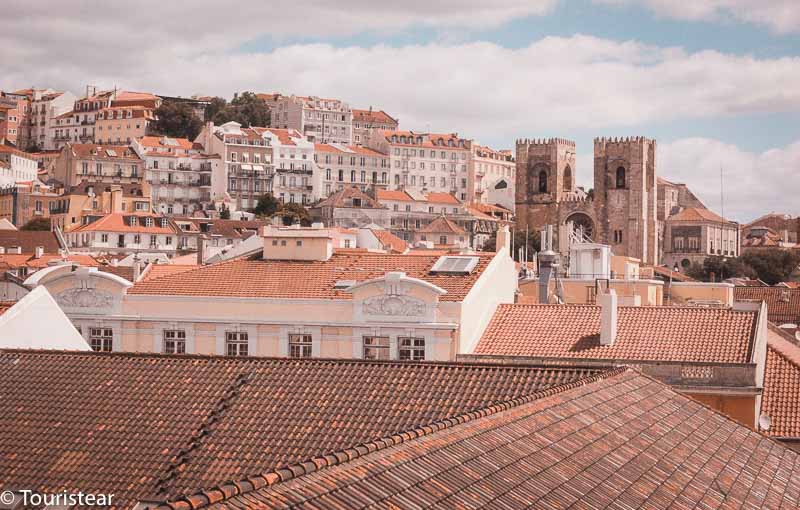 Lisbon has a lot to do and visit, so it's good that you take a little plan and organize your journey.
You have to dedicate a full morning to the Alfama district take breakfast in front of the Museu do Fado while the Guests by Rincon group sing you live ethnic music in the square "Largo do Chafariz de Dentro." It was a perfect time.
Then you can visit the Pantheon, the Castelo de São Jorge, the viewpoint of Santa Luzia, the Cathedral (La Sé), and the house dos Bicos.
In the afternoon, you have to visit the neighborhoods of Barrio Alto, La Baixa, and Chiado with Praca do Commercio, Praca de Rossio, the Elevador de Santa Justa, and the Mirador de San Pedro de Alcántara or Catalina.
Day 2. Belem Tower, Jeronimos Monastery, Parque de las Naciones and Vasco da Gama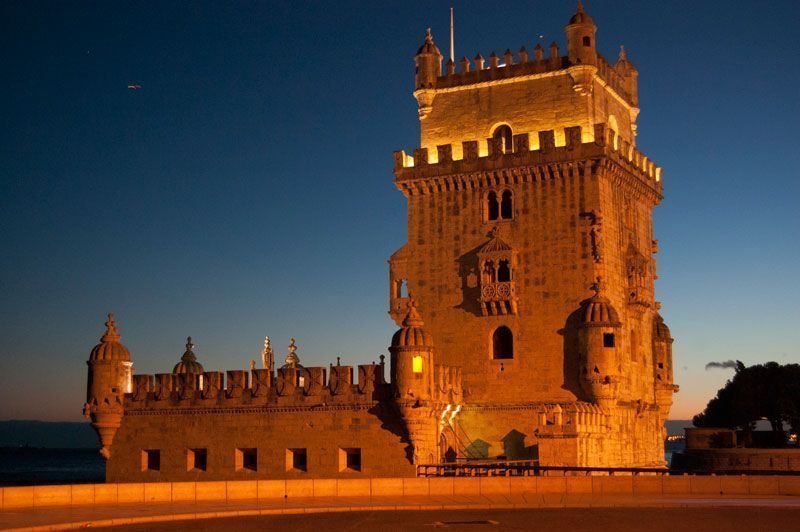 On the second day in the morning, you can dedicate it to the neighborhood of Belem, where you have to visit the Tower of Belem and the Monastery of the Jeronimos.
You can also visit the Padrao dos Descobrimentos and, in the afternoon, to the Park of Nations and the Vasco da Gama bridge.
*Tip: Take half a day to visit something you've left behind or especially liked.
From Lisbon, you have to go to the Natural Park of Southwest Alentejo and the Algarve.
Where to sleep in Lisbon
As always, we recommend making hotel reservations on Booking; you'll find a great selection along with some of the best prices. Here, you have the link to choose your ideal hotel in Lisbon.
Southern Portugal, Alentejo and Algarve
These last five days in Portugal are quieter. Although you will visit and get to know beautiful places, you will also be able to do more relaxed tourism, enjoy the sun and the beaches, and do water activities such as snorkeling or kayaking, among others.
To go to the Algarve, you can go by the toll highway or by the national road. We prefer the second one because we will stop by the towns and beaches we want to see.
Beaches between Lisbon and Sagres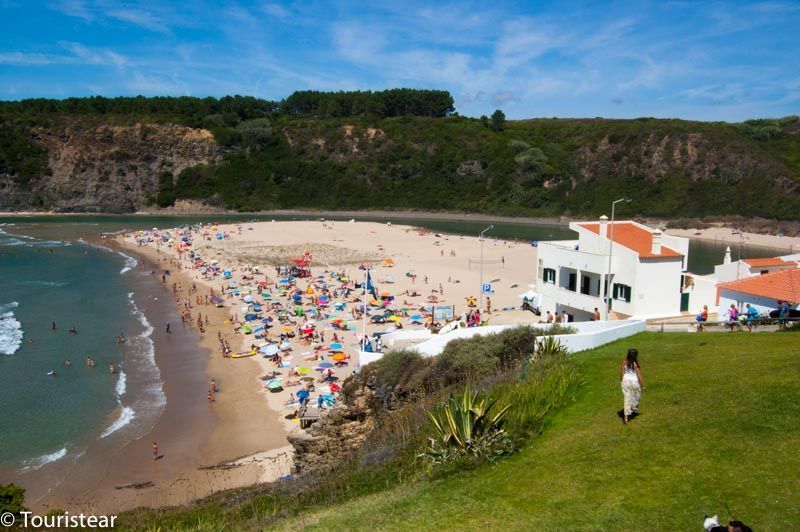 On the way, you might be interested in stopping in Zambujeira do Mar, which has one of the best urban beaches in Portugal.
Then you can stop in Odeceixe, which has a super special beach surrounded by a river. When we went, the river flowed opposite, from the sea to the inland. In the photo, you can see the river behind the beach.
In Aljezur, you can see the beach Monte de Clérigo, which has some awesome cliff paths.
If you keep coming down, be sure to visit the beach of Arrifana and the beach of Bordeira–Carrapateira. Then, you arrive in Sagres and Cabo de San Vicente.
If you arrive before the sunset, don't hesitate to go to Cabo de San Vicente to see the sunset, it is spectacular!
Sagres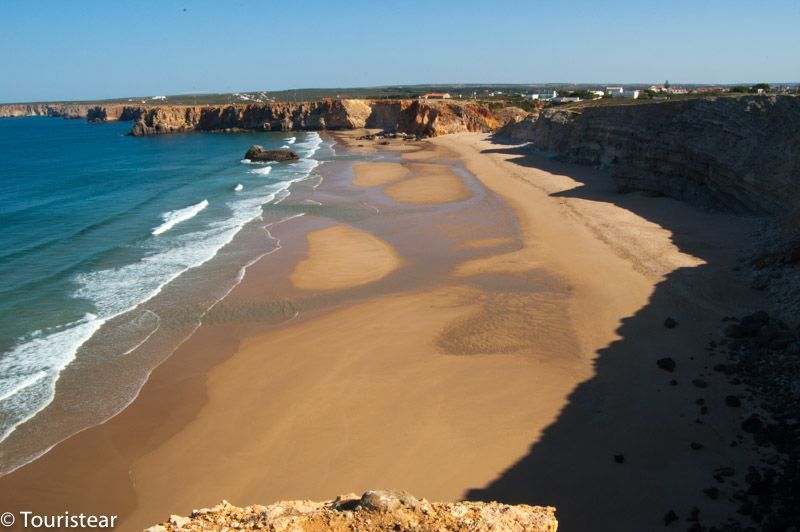 The next day you can get to know Sagres with its fortress and the beaches of Sagres, especially the beach do Tonel. As you go east, towards Portimao, Albufeira, etc., the beaches and cities become more crowded. Keep that in mind.
Lagos Praia do Camilo and Alvos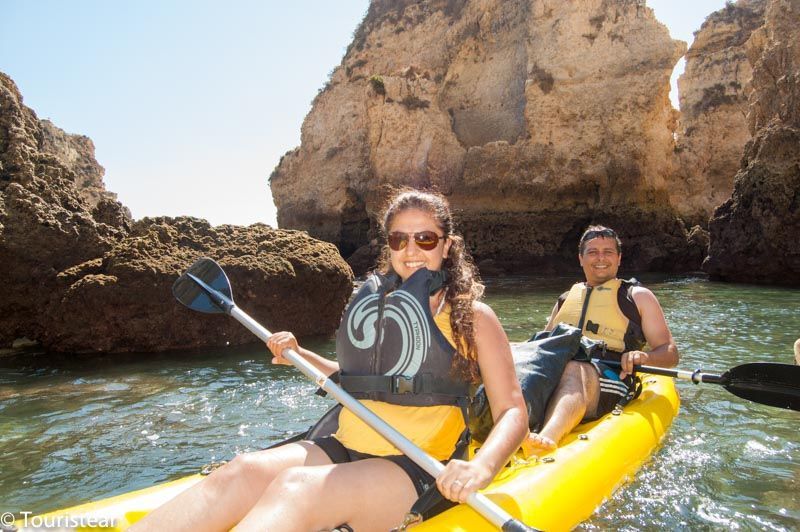 You can dedicate the next day to Lagos. In Lagos, you can take a Kayak tour of the caves of lakes, although they also do it in motorized boats.
Depending on what you want during this tour, you can see the lighthouse of Ponta da Piedade which has a beautiful environment.
You can visit Praia do Camilo, a beautiful and small beach, even though it's crowded. Snorkeling is done quite well in this area.
And on the way, you can eat grilled sardines. I recommend two places in Lagos, either the "Tasca da Lota" or "Barrigada." They were the two places that the local people recommended.
We went to Tasca da Lota, which was spectacular, especially with the price, quality, and quantity. We ate some sardines and a bream with cooked potatoes, salad, and wine for €25.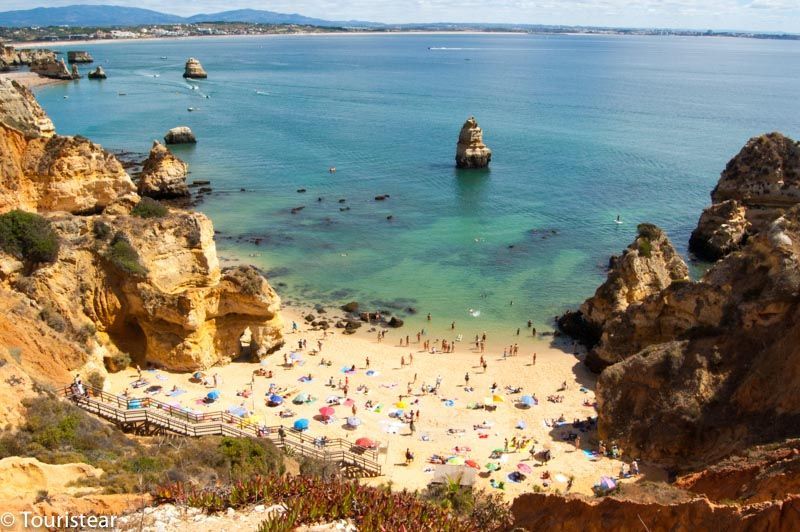 In the afternoon, from Lagos, you can go to Alvos, near Portimao, and spend the afternoon on the beach of "Tres Irmaos." It's a beautiful beach.
Portimao and Albufeira
The next day you can dedicate it to Portimao and Albufeira. Portimao reminded me of Benidorm, a crowded and very beach-focused town. I wasn't comfortable, so we left fast.
In Albufeira, you can visit the historic center and the beach of San Rafael, which is beautiful and has places of shade or sun, as you like. The water was relatively warm in temperature, and you could do snorkeling.
Faro and return to Madrid
On the fifth day, you can dedicate it to Faro and visit the Ria Formosa natural park, which has beaches that are only accessible by boat.
You can also visit the historical center of Faro, which is very beautiful. Also, you can stop in Santa Luzia or Cabanhas; it depends on how quickly you want to return home.
There is much to tell you! Here we have given you nothing but a few brushstrokes of each destination. In different posts, we will go further in detail on what you can see, do, and visit in Portugal.
You know, if you have any questions, leave us a comment below. And, of course, you can share this post with your friends on social media!
Where to sleep in the Algarve?
Check out Booking and choose the accommodation that interests you. Pay attention to having parking. If you are making a road trip, it is almost fundamental!
If you have more days of travel, take advantage of this tour through Portugal and visit Elvas, Estremoz, and Evora. I'm sure it's 3 places you're going to love.
Traveling with Travel Insurance
Traveling to another country by car, with its different rules and ways of driving, can make you feel more insecure on the road, and if anything happens, it's always better to have travel insurance taken out.
Our travel insurance recommendations are 2, and we have discounts for our readers 🙂
They are the best travel insurance we have used, and we have had pleasant experiences with both of them, so we recommend them.
Plan Your Trip to Portugal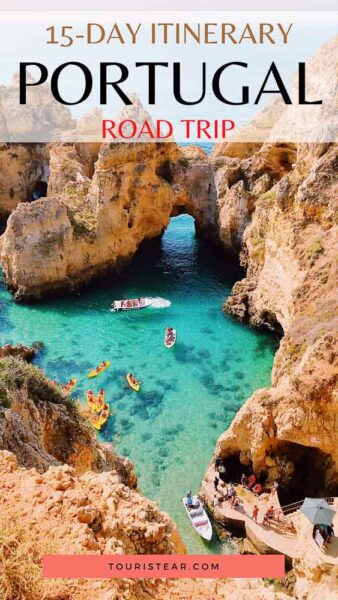 Last Updated on 8 October, 2023 by Veronica
Disclosure: Some of the links on this post are affiliate links, meaning at no additional cost to you, I may earn a small commission if you click through and make a purchase.
Author: Veronica
Vero, a seasoned traveler, has explored 25 countries and lived in five, gaining a rich perspective and fostering an infectious passion for travel. With a heart full of wanderlust, Vero uncovers the world's hidden gems and shares insights, tips, and planning advice to inspire and assist fellow adventurers. Join Vero and let the shared passion for travel create unforgettable memories.