10 Must-Visit Places in Porto
Porto is one of those cities that you have to visit at least once. This city that gives the whole country its name, I'm sure it will captivate you. From the walks through the Ribeira neighborhood to the wines of the same name, monuments, gastronomy, will make your trip unforgettable.
Read: What to do in Porto in 2 days
In this post we tell you what are the must-visits places in Porto. What are those places that you have to know when you visit the city.
What to see in Porto: Best things to do
There is no specific order of preference in this selection, you can start wherever you want.
Aliados Avenue and Freedom Square
Square Freedom is the most important in Porto, it was built in the fifteenth century. It is located in the city center, and divides the modern city from the old one. From here, it is very easy to get to Sao Bento Station and the Tower of the Clerics.
You will see magnificent buildings, the one in the background is the Town Hall, you will recognize it by the tower, and the main monument is that of King Peter IV, represented on horseback carrying the Constitutional Charter.
If you can, make the visit in the afternoon evening, in its surroundings you will find very lively bars and restaurants.
This area is also very good to stay.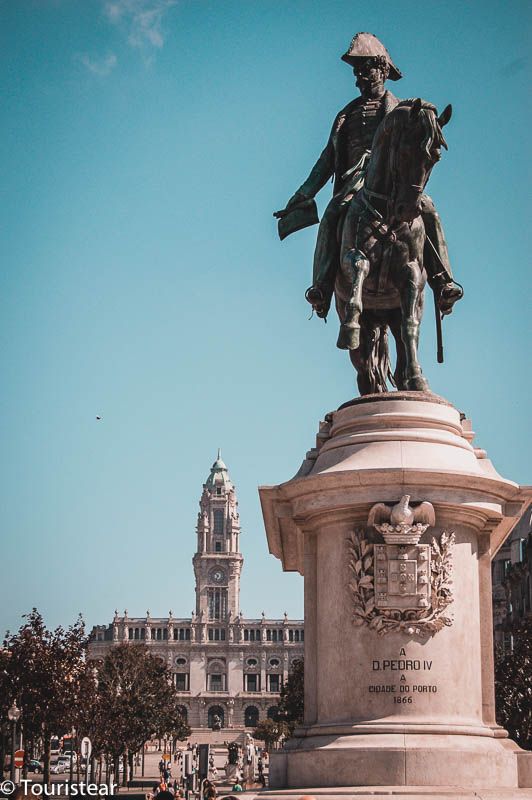 Sao Bento Station, must-see in Porto
The Sao Bento train station in Porto, were built in the early 9th century on the remains of the former convent of Sao Bento del Ave Maria and what you have to see here is its hall decorated with more than 20,000 tiles in which the history of Portugal is portrayed.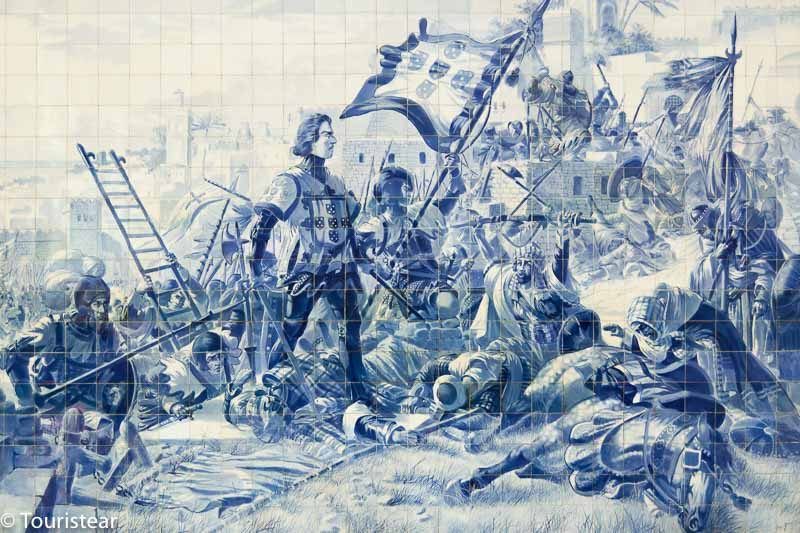 You'll see this kind of blue tiles in many places in Porto and northern Portugal, but those at Sao Bento station are spectacular. What you see are scenes representing key moments in Portugal's history. My recommendation is give it a little time to see these images and learn about Portugal history. .
Chapel of Souls
The chapel of the Souls or chapel of St. Catherine will draw your attention to its exterior completely tiled.
The building that we see today is from the eighteenth century. But the coating formed by 15,947 tiles is from 1929. They were hand-painted by Eduardo Leite, and tell the life of St. Francis of Assisi and St. Catherine.
It is undoubtedly a work of art in the city center, even if the photo does not do it justice.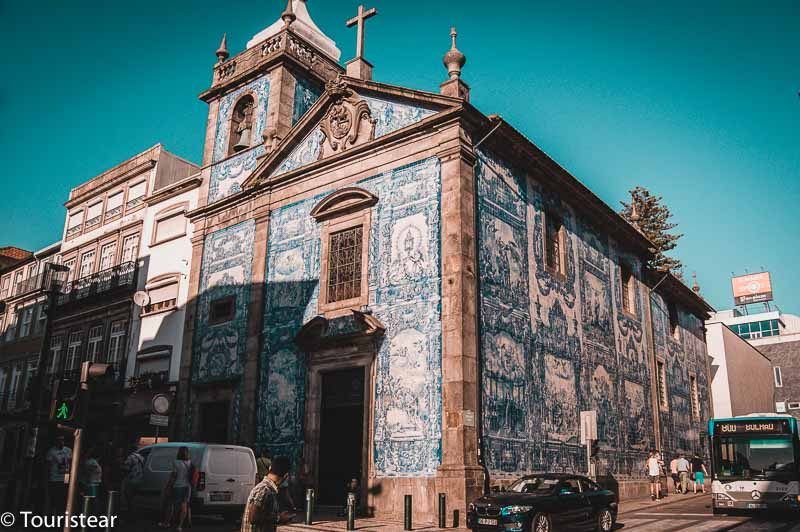 Church and Clerics Tower
The Church of the Clerics was built between 1735 and 1748 in Baroque style. The Tower of Clerics is one of the most emblematic monuments of the city and of which more draw attention.
When you're walking through Porto will also serve as a reference point to know where you are. Because it's easily visible from anywhere practically. It was built by the brotherhood of the Poor Clerics in the old town of the City.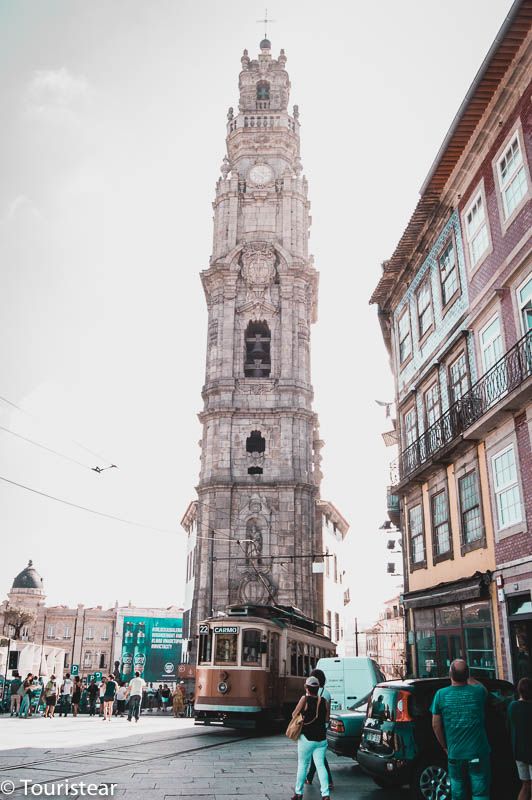 The place in which is built, is known as "the hill of hangers" and the motive is that on this hill was where the criminals who had been condemned to death.
The Tower of Clerics is the tallest tower in Portugal at 76 meters high and more than 200 steps. We recommend that you climb up and enjoy the panoramic views of Porto. While you ascend to the towers you will see the railing formed by 49 bells. Very cool.
Take a tour with a guide in your language.
Lello and Irmao bookstore is a must
This bookstore it is considered one of the most beautiful bookstores in Europe. It has some very large wooden shelves that reach the ceiling and a ladder of Spectacular carved wood in the center of the premises. It's quite old. But beautiful. . Don't miss the visit to this bookstore that, much more than a place where to go to buy books, is a place to get lost in.
You'll read that it's served as a stage in some Harry Potter movie, but as far as I know this is not true. the real Florish & Blotts of Harry Potter is a set.
The entrance was 3 euros when we were, but they discounted it from anything you buy inside . I think it's an excellent initiative.
La Sé, Porto Cathedral
From the Cathedral there is a beautiful view of the banks of the Douro and the old town. It was built in the highest part of the city and is the most important religious building in Porto and it was also a defensive building. When you get close, sometimes looks more like a fortification than a cathedral. It's very pretty, I liked it very much.
It is located in Batalha district, next to the walls. Its construction began in the Century XII and is declared a National Monument.
Tour the Ribeira district of Porto
One of the Porto's most picturesque places is the Ribeira district. You'll know this neighborhood because you've seen it on almost every postcard!!!
It's a must walk by the banks of the Douro River. Here you'll see the colorful buildings next to the terraces of restaurants and different souvenir stalls and companies that offer tours around the city and the surrounding area.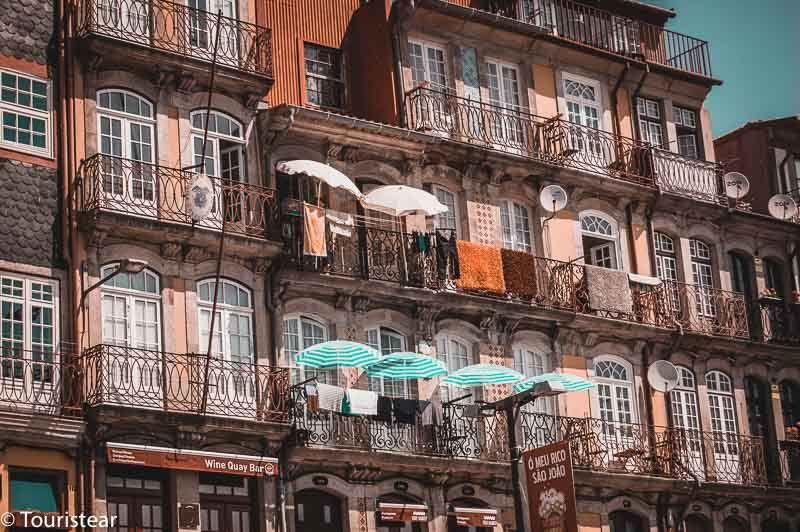 Have a drink in any terraces overlooking Vila Nova de Gaia. Take a lot of pictures!!!
Vila Nova de Gaia
After your walk along Porto's Ribeira, go to the Luis I Bridge, cross it and visit the city located right in front of Porto, Vila Nova de Gaia.
In Gaia, you have to visit this side of the Douro riverbank. See one of the most typical boats, called "rabelos". The rabelos are boats that were originally built for the transport of wine barrels and today, are used as a tourist attraction to make small cruises Douro River. Many photos have these little boats as protagonists.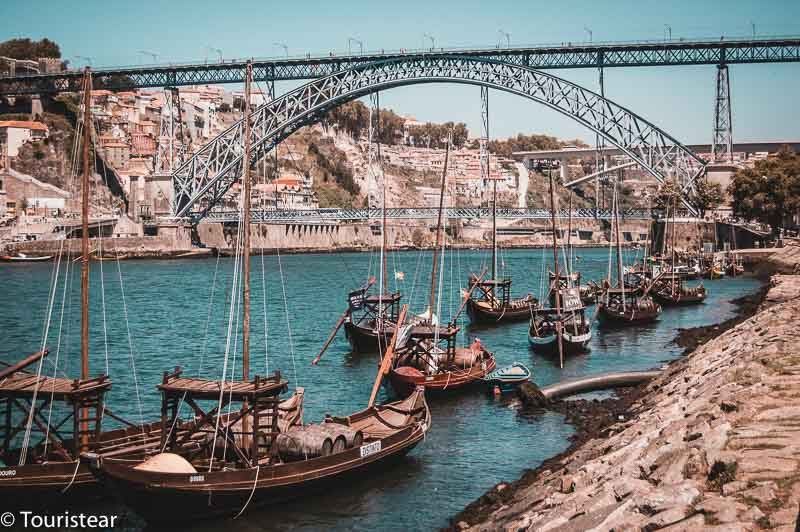 After along the waterfront, our recommendation is that you visit a Porto winery. On this side there are many, you can hire the visit online or at the destination, .
Then, go back to Gaia's waterfront and tastes a "francesinha" in some of the Restaurants. If you go in high season, you're going to have to book or wait a lot.
Visit a Port Wine Cellar
Porto, is the wine that has taken the same name as the city in which it is produced. The Porto wine, is sweet and intense, but you have to pay attention, it has almost 20 degrees of alcohol, so you can go out with less balance than the one you entered the cellar.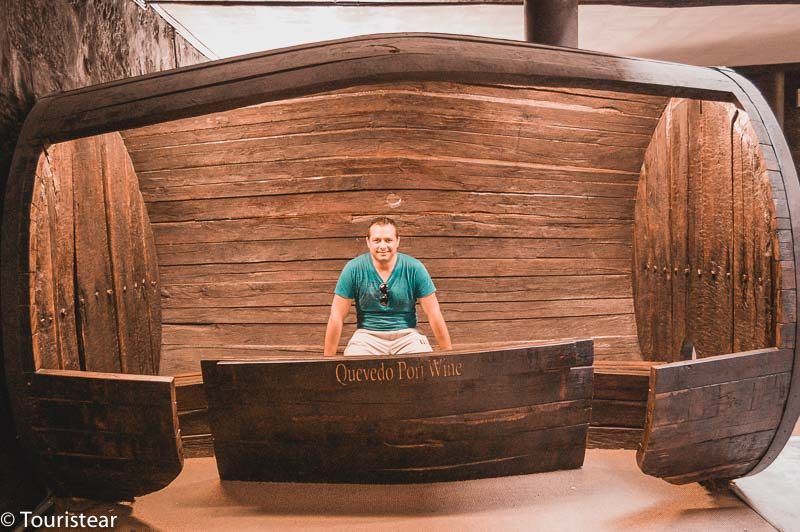 The south bank of the river is full of wineries, curiously, it does not belong to the city of Porto, but to the city of Vilanova de Gaia.
Tickets to the Caves of Cálem and Fado show for € 21.
Luis I Bridge, essential in Porto
If you do the tour of the 6 bridges will give you a lot of information about the bridges of Porto. But, the most representative is the Louis I Bridge, an imposing structure of almost 400 meters, with beautiful views of the two banks of the River Douro.
The bridge has two floors, one through which the subway passes and the other through where the traffic passes where there are walkways to cross the bridge on foot. It's definitely a must-visit.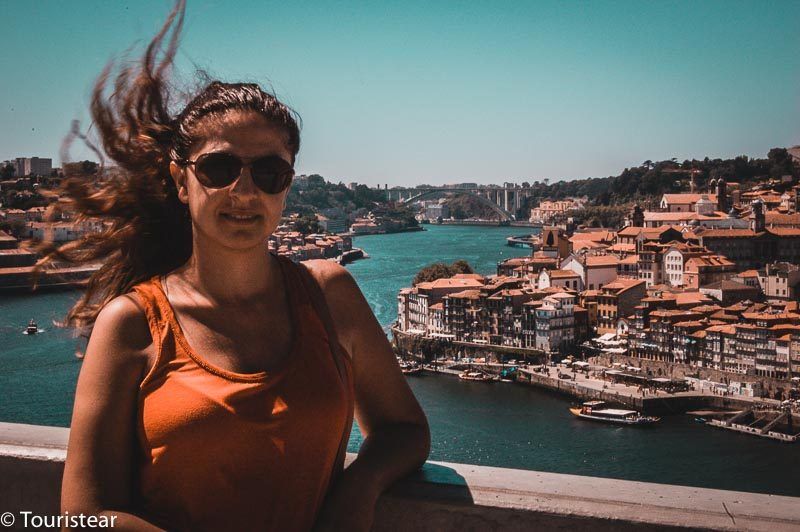 If you go in summer, you'll see a lot of young people throw themselves in the river from the bridge.
Recommendations in Porto
1. Eat a Francesinha sandwich
The most calorie sandwich I've ever seen in my life, Fer asked for it and couldn't finish it…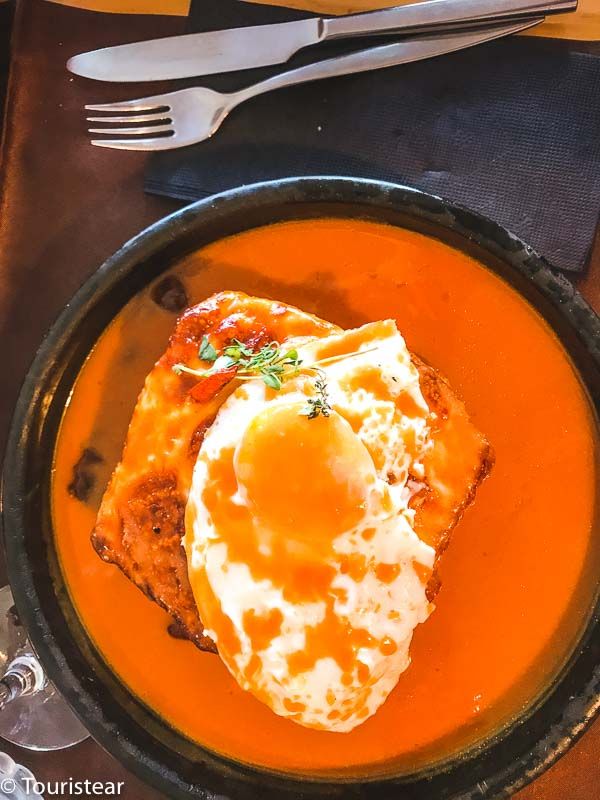 2. If you like markets do not miss the Bolhao Market
It is one of the most lively points in Porto. Watch the schedules, open from Monday to Saturday, and on Sundays it closes. From Monday to Friday it closes at 17:00 and on Saturdays it closes at 13:00.
This market has been operating for more than 100 years. In fact, it began in 1914. The building is old, it is a representative place of life in Porto and is an emblematic building.
3. If you have time, come to the Crystal Palace and tour its gardens
Cruise the six bridges: It is one of the most typical tours of Porto and costs 15 euros per person.
4. Excursion to Guimaraes
One of the must-see places in Portugal is Guimaraes. It is just 60km from Porto and is a UNESCO World Heritage site.
The Portuguese consider Guimaraes as the place where Portugal is born. It has thousands of years of history and some amazing and picturesque places you have to visit.
Read: What to see in Guimaraes, the birthplace of Portugal
5. Best Guided Tours in Porto.
To finish our recommendations about the best things to do in Porto we share with you this website with a lot of guided tours, some of them are free of charge. Take a look!
These tours are ideal to make the first day of your trip.
Prepare your trip to Portugal
We are not native English speakers but we have decided to translate our post to English so we can share it with the whole world. If you see any spelling mistake or something, please let us know, it is so important to us. If you do so, we can improve our post and also our English knowledge! Thanks in advance!!!
In this post you may find affiliate links. This means that if you make any purchases by clicking on one of them, I will take a small commission, but you are not increased by the price. Why are we doing this? Because it helps us to keep this project running and to continue creating useful content for your travels. Thank you so much for the support!
Book Your Trip
Book Your Flight
Find a cheap flight by using Skyscanner.
Book Your Accommodation
You can book your hostel, hotel or apartments on Booking.com.
Don't Forget Travel Insurance
Travel insurance will protect you against illness, injury, theft, and cancellations. It's your protection in case anything goes wrong. You never go on a trip without it.
Best companies for activities
Check out Civitatis.com and find the best tours in English (French, Spanish and Italian)
Looking for the best companies to save money with?
Check out my resource page for the best companies to use when you travel! I list all the ones I use to save money when I travel – and I think will help you too! (Is in Spanish yet)