The Best Germany Road Trip Itinerary by Van in 15 Days
In this post, you will find the information to travel to Germany by camper van, car, or RV (motorhome). We tell you our 15-day itinerary in the van, the places we visited, and where we stayed at night—everything you need to know to plan your road trip.
Germany is an amazing country, with big cities, charming towns, fairytale castles, lots of green areas, and many histories.
It is ideal for taking a trip by car, camper van, motor home, or a weekend getaway by plane.

Itinerary to Travel to Germany
Today, we give you the best tips for traveling to Germany by car or camper van and our 15-day itinerary.
The itinerary is practically circular, starting in Cologne and its surroundings, and ending in Cochem, about 120 km from Cologne.
But you can finish it in Cologne if you come by plane or adapt your starting point depending on where you arrive (Munich, Berlin, Frankfurt, Nuremberg, etc.).
We live in France, so we came home to Luxembourg. Well… Let's start with the itinerary to travel to Germany by van.
Summary: 15-Day Road Trip Itinerary
Germany Road Trip Itinerary
Day 1. Aachen and Schloss Drachenburg Castle (Night in Cologne)
Aachen, the Capital of Charlemagne's Empire
When we started our road trip, we arrived in Germany from Belgium. Naturally, the first place we visited was Aachen.
Here, you have to visit the old town, the cathedral and its treasury, the Charlemagne Center, the Town Hall (Rathaus), and the Elisenbrunnen building.
Schloss Drachenburg Castle
The private villa, built in the late 19th century, is the best place to visit on your trip to Bonn or Cologne.
It has a rather fascinating history. The Schloss Drachenburg Castle is a dream of a broker and banker, Baron Stephan von Sarter, who had this palace built and did so in two years. He planned to live there, but never did.
The villa was bought by his nephew, who wanted to turn it into a tourist villa.
The castle was passed through several hands during the twentieth century. It was once the school of Brothers of the Christian Schools, but in 1942, it turned into an elite Nazi school, and parts of the castle and gardens were destroyed. At the end of the war, it was occupied by American soldiers and used as a refugee camp.
In the early 1960s, it was about to be demolished.
In 1971, Paul Spinat bought the castle and refurbished it.
In 1973, he opened the castle to the general public.
In 1986, the castle was declared a monument, and in 1989, restoration works began.
In 2011, the last works of the gardens were completed.
In another post, I'll tell you the story in a little more detail.
You can leave your van or rental car in the castle parking lot. There is also a good slope that you need to pass by to get there, but it is worth it. It can also be reached via funicular.
Find different ways to get to Drachenburg Castle in this link.
Night Walk through Cologne
Cologne is a city in Germany with a lot of charm and with a great sunset. I recommend visiting Cologne Cathedral, crossing the bridge and taking the city's most famous photo.
Stroll through the streets and the most commercial street in Schildergasse, where you can find the best-known shops.
Where to dine? We had dinner in Alter Markt, at Fraulein Herborths. They have great burgers, but there are many options for all tastes.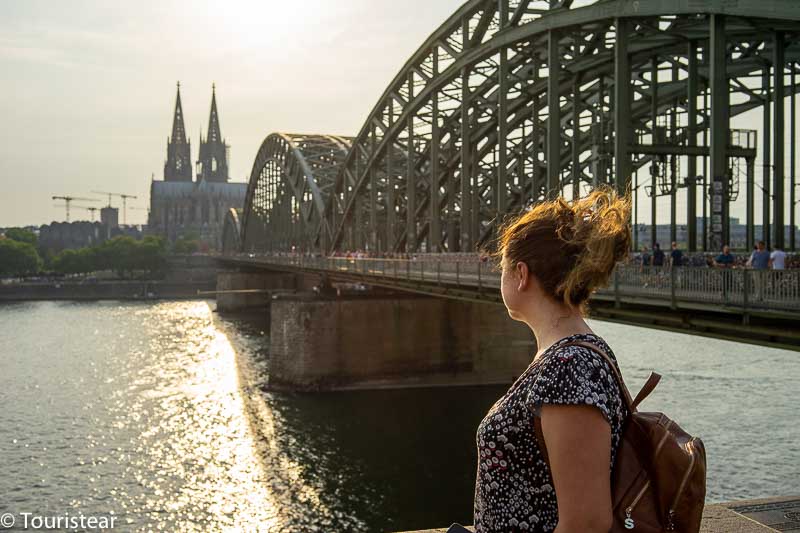 Where to Sleep in Cologne
In a Hotel
Cologne has a variety of hotels and hostels for your trip. Based on Fer's previous trip, our recommendation is the Art'otel Cologne. The hotel is a 15-minute walk from the Cathedral.
In a Camper Van or Motorhome
We slept in a paid area for vans and motorhomes. It is next to the River Rhine and 3 km from Cologne city center. The bike path next to the river is straightforward to reach the center by bike, walking, or electric skateboard.
If you do not need to connect to the mains before the payment area, there is a parking lot without services. There is only to discharge the black/dirty water (potty).
Day 2. Cologne – Hanover (292km)
Cologne
On the second day trip of our road trip through Germany, we booked to do a free walking tour. But the tour was canceled due to a lack of people and Covid-19.
The guide was amiable and sent us the tour itinerary, and then with the help of the internet, we learned more about this interesting city.
Tip: How much money do you give to free tour guides? About 10 euros per person, if the guide is good, it is worth it! See if there are guided tours that interest you. They cost the same thing often, and those don't usually cancel them.
Must-Visit Places in Cologne?
Visit Cologne in the morning and take the opportunity to visit the cathedral inside. It is free!
Cologne Cathedral (there is a Golden Chest on the main altar where the relics of the Three Wise Men are).
The Panoramic view of the city in the "Triangle of Cologne" building across Rio.
The Chocolate Museum and the museum café place has an amazing view of the River. The coffee and desserts they offer are incredibly delicious. There is a terrace outside (which has free access as well). But don't you dare ask for a glass of water because they charge you!!! We ordered a coffee and a glass of water (tap water), for the coffee we were charged 2.10 euros and for the glass of water € 2,40!!!
EL-DE Haus Museum.
Perfume Museum: Farina Haus, the world's first cologne!
Where to eat? In one of the oldest breweries in town, we went to the Brauhaus Sion, which was an excellent choice. We ate a typical meal for a reasonable price: 3 beers, two main dishes, and an apple strudel. Everything cost only €43,70!
Hannover
Hannover is a city we want to get to know better, but it was more of a bedtime stop than to visit the city. We stopped here because it's halfway between Cologne and Berlin, so we did not drive much.
Hannover's 5 Must-Visits
Herrenhauser Garten
Marienburg Castle
Marktkirche
New Town Hall
Lower Saxony State Museum
Where to Sleep in Hannover
In a Hotel
Check out Star Inn Hotel Premium Hannover, and you usually have good deals if you book in advance.
In an RV
We parked the camper van in the car park next to the Courtyard Hannover Maschsee. It is next to Lake Maschsee, a great place to walk and unwind.
Day 3. Hannover – Potsdam (303KM) Night in Berlin
On this day, our goal was to get to Potsdam as soon as possible. Visit the city and get to Berlin before sunset so we can park the van conveniently.
I love Potsdam. It is a city in Germany full of palaces and gardens, where significant historical moments happened. It is located about 40km from Berlin.
In this post, I share more details of everything to visit in Potsdam, but here you have a small summary of places worth visiting.
Must-Visit Places in Potsdam
Sanssouci Palace and Park
The New Palace
The Orangerie Palace
Cecilienhof Palace (where the Potsdam Conference was held)
The Bridge of Spies
The Dutch Quarter
Brandenburg Gate
Alexandowka Colony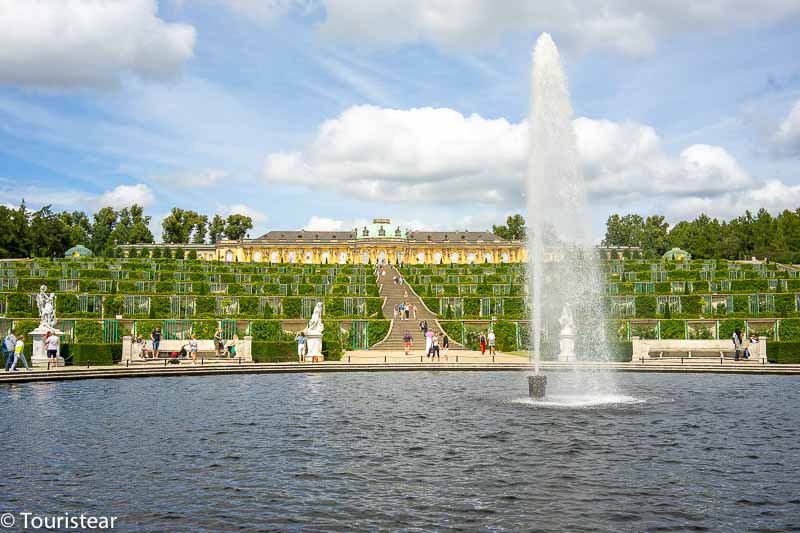 *Note: We made the whole tour by bike. I recommend you rent a bike to get around Potsdam at your own pace and enjoy the city gardens. If you want to see everything, the distances are long enough to do it by walking. Whether riding a bike or on a walking tour, get these shoes perfect for on-the-go travelers!
After the visit, we arrived in Berlin before sunset. We parked the van at a paid parking but in the city center.
Where to Park a Camper Van in Berlin?
Camper van or small RV: You can park in the car park next to the Berlin Mall. The first night costs 15 euros and up to € 20, but you are 300 meters from the Brandenburg Gate and 100 m. from the Potsdamer Platz.
It is not the most beautiful place in the world, but it is a good start to getting to know the city.
However, go with the full water tank and an empty potty (portable toilet) if you plan to spend a few days in Berlin.
Motorhome: The motorhome can be parked in Wohnmobiloase, but you have to book a working week in advance or try your luck on the same day.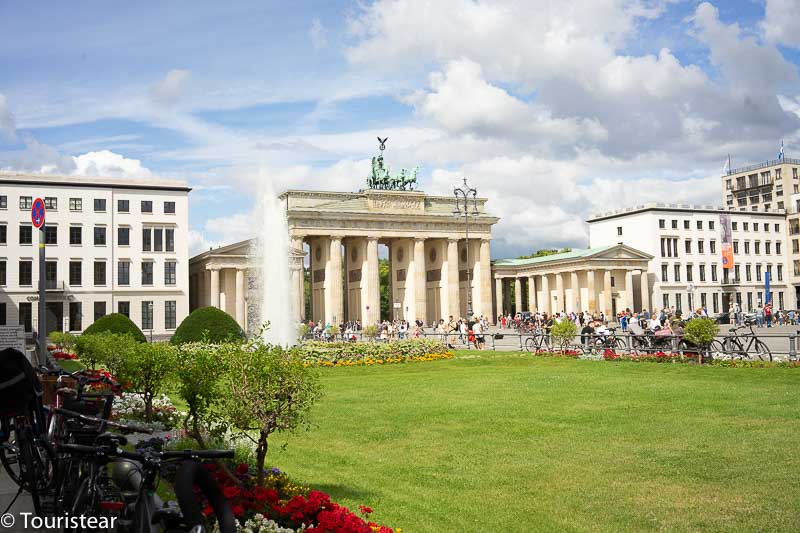 Day 4, 5, and 6 Berlin
Berlin is a city with a lot of history and many places to visit. So what we did on the first day was do a free tour to get to know a little more about the city for the first stop.
The free tour is great. You know the highlights, and you learn a little about this city in Germany and its history. The tour starts at the Brandenburg Gate.
Check out: Lonely Planet's Berlin Travel Guide if you feel like doing it all on your own.
Must-Visit Places in Berlin
Brandenburg Gate
Berlin East Side Gallery
Reichstag Building (Parliament)
Jewish Quarter
Alexanderplatz
Museums (Highlight: Pergamon Museum)
Holocaust Memorial
Turkish Quarter
Checkpoint Charlie
Best Hotels in Berlin (for all budgets!)
Day 7. Berlin – Nuremberg (440km)
We continue our road trip itinerary through Germany. We left Berlin in the morning and went to our next destination: Nuremberg.
If you're on time, stop in Bamberg. It's a very picturesque town, and I'm sure you'll love it.
Must-Visit Places in Nuremberg?
Before entering the walled city of Nuremberg, we visited the Zeppelin field, one of the most emblematic buildings during the Nazi era.
It was easy to park the van there, and it had a very nice lake area. On the way back, you can find the Nazi Party Documentation Center, a place converted into a museum.
It is a must to visit the permanent exhibition "Fascination and Violence," on about 1,300 m2 of land. The exhibition shows the causes, relationships, and consequences of National Socialist tyranny.
Suppose you like the whole World War II thing. Then, Nuremberg is a city you have to visit.
Then we toured the city center on foot. We arrived at the church of San Lorenzo, had a beer in the tower in front of it, and dined at Urfa kebab, which was on the way via van, near the wall, and it was delicious.
Where to Sleep in Nuremberg
In a Hotel:
The Ibis Hotel Nurnberg Altstadt is well-located and reasonably priced (€60). You can walk everywhere from there.
In an RV:
We spent the night in a car park that is very close to the city. But, honestly, I do not recommend it because of the noise. We ignored the train tracks a few meters away… we seemed like newbies…
Leaving the van all day is okay because there is plenty of noise at night.
Day 8. Nuremberg – Night in Munich
On this day, we visited Nuremberg in the morning with a free walking tour. We hired it through Civitatis, and we had a good guide who loves the city.
We also learned the history and other interesting things, making the tour very enjoyable.
In another post, I'll tell you every detail of what to see in Nuremberg, Germany. But if you are interested in guided tours, I leave you this link so that you can take a look at them.
Must-Visit Places Nuremberg
Zeppelin Field
Kaiserburg Castle
National Museum
St. Sebaldus Church
St. Lawrence Church
Schoner Brunnen
House of Albrecht Dürer
The walls
Nuremberg Sausages (Bratwurst)
Tour the Old Town
The Hospital of the Holy Spirit
We ate in Nuremberg in a typical brewery. We ordered sausages but they also have some that are typical with special recipes. So as always, we tried the regular food of the place.
We follow our camper road trip through Germany in Munich, and it is about two hours in the van. By car, you can go much faster. 😉
Where to Sleep in Munich
In a Hotel
Munich is one of Germany's most expensive cities, so you will have to make a reservation in advance to find well-priced hotels. Take a look at Mercure Hotel Munchen Altstadt. It is centrally located, and the price is usually below 100 euros per night.
By a Van or Motorhome
In Munich, Germany, you can spend the day and night in the Allianz Arena area, the stadium of Bayern Munich.
We paid €18 and had access to water, electricity, and a potty place. The experience was modern, and the toilet does everything from emptying to cleaning itself with a blue cleaning liquid.
This place is pretty good, and quiet, and you can get to the city center by public transport. *But matchdays are not enabled.
Day 9. Munich and Night in Fussen
In Munich, we continue with the same dynamics as the previous cities on our road trip through Germany. We start the day by doing a free walking tour and getting to know the city on our own.
As we spent the night at the Allianz Arena, we moved the campervan to Maria Theresia street, next to Maximiliansanlagen Park, which is free. Then, we went for a walk to the meeting point of the free tour.
We toured the Maximilianstrasse, the city street with mega luxury shops.
Must-Visit Places in Munich
Nymphenburg Palace
Marienplatz
Rathaus-Glockenspiel on Marienplatz
Augustiner Keller BrauHaus and beer garden
Hofbrauhaus, the most famous brewery
Toy Museum
Churches (Our Lady, St. Peter, and Asamkirche)
Oktoberfest
Munich Residenz
From Munich, we continue the road trip to the Castle of the Mad King, Neuschwanstein. We arrived at sunset, but we made some stops on the way.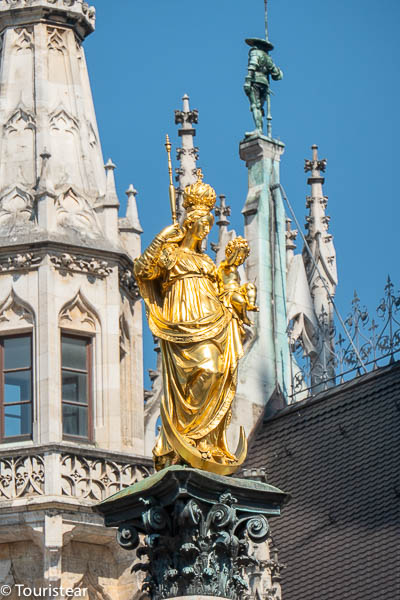 From Munich to Fussen (where Neuschwanstein Castle is located), it is 120km away.
We stopped in Wies (Steingaden, Pfaffenwinkel) to visit the Wies Pilgrimage Church, a UNESCO World Heritage Site.
The setting is fabulous, the outside of the church is solemn, and the interior is amazing.
Wies to Fussen is 30km away, but first, we stop to take some pictures of Neuschwanstein Castle. It looks awesome with the sunset light.
Where to Sleep in Fussen or Neuschwanstein
In a Hotel
Here you have two options, either you stay at the foot of the castle or stay in the village of Fussen. As you can imagine, the accommodations located at the foot of the castle are limited, and the prices are higher than in Fussen.
I'll leave you two recommendations for less than €100 a night.
In a Camper Van or Motorhome
There are paid areas for vans and motorhomes, but you have to book in advance because they book fast. We went without reservation, and the two areas we saw were complete.
But there is a car park in Schwangau, where you can spend the night. Actually, it's not allowed, but they leave you if you leave early in the morning or pay for parking.
The best thing about this place is the overlooking view of the castle. You have the Neuschwanstein castle in your backyard 🙂
Day 10. Beginning of the Romantic Route: Neuschwanstein
Fussen
Neuschwanstein
Landsberg am Lech
Friedberg
Augsburg
Neuschwanstein Castle, the Mad King's Castle
We begin the German Romantic Route with a visit to Neuschwanstein Castle, better known as the Mad King's Castle. It is the castle that inspired Disney to create its princess castles.
To get to the castle, you can ride by bus or travel on foot. My recommendation is that you do it walking.
You have to go in good mountain shoes, and there are different paths: you can do the path following the signs, make the path Google Maps proposes, or go up on the street. (we did Google maps path)
It's about half an hour walking up the hill. But it's definitely worth the effort.
After the castle's visit, we started our road trip in a campervan on Germany's Romantic Route.
It is a 350-kilometer route that joins the town of Fussen with Wurzburg. You pass through a lot of charming villages, cities with lots of history, and beautiful landscapes. Here's the itinerary.
What Do We Visit on the First Day of the Romantic Route?
Neuschwanstein Castle
Landsberg Am Lech
Friedberg
Augsburg
As you can see, we were too busy. It was a mad day! We finished this day exhausted, and we re-do the itinerary, which included Luxembourg and some cities in France… Totally unrealistic. For more romantic plans in Germany, read my recommendations here!
Day 11. Donauwörth – Nördlingen – Dinkelsbühl and Night in Rothenburg Ob Der Tauber
We changed the itinerary of the road trip by campervan through Germany and decided that we would only visit two or three maximum villages a day. This gave us time to enjoy the trip; otherwise, it seemed like a competition, something meaningless.
Donauwörth
In the morning, we visited Donauwörth, one of the towns/cities of Germany's Romantic route. It was once a fishing town located at the intersection of the Danube River and the Wörnitz.
You have to walk along Reichsstrasse. It's one of the most beautiful locations in southern Germany.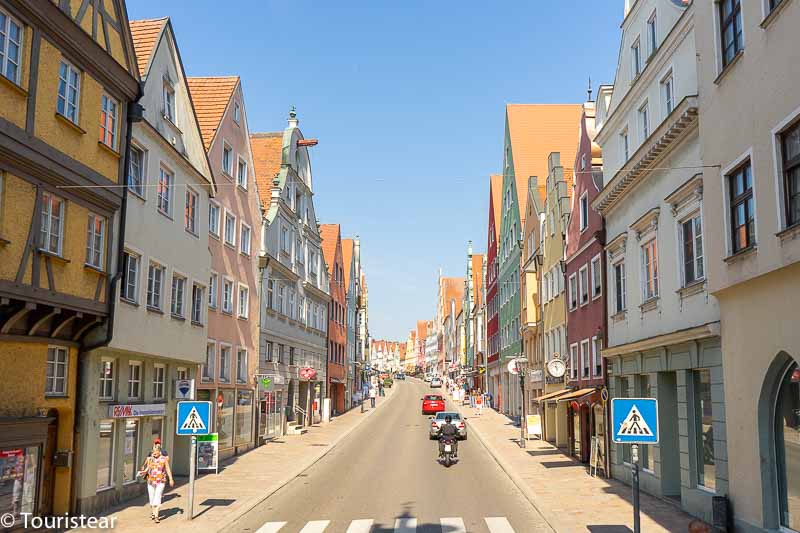 *If you're on time, the next stop is Harburg, and you can visit its castle. We just saw it on the outside.
Nördlingen
This village is built in the crater left by a meteorite! It is a medieval German village with a wall that stretches around the whole village. You can walk around the wall too!
Stroll through the historic center and visit st. George's Church, an icon of the city. You can visit the bell tower, called Daniel, and climb the stairs to enjoy the village's panoramic views and the surrounding area.
It's a small town you can visit in a couple of hours. You can park your car or van outside the walls or inside during disc hours, a maximum of half an hour.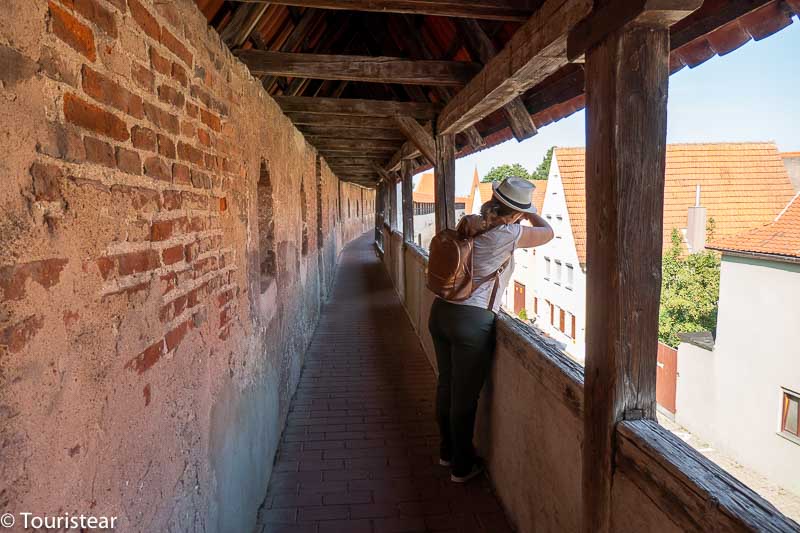 Dinkelsbühl
Dinkelsbühl is one of Germany's Romantic Route villages that preserve its old town as it was 400 years ago.
According to historians, it is one of the best-preserved towns in Germany! Without a doubt, an essential stop. You have to visit the Gothic Cathedral of St. George, walk through the village, and enjoy its charm.
NOTE: Between Dinkelsbühl and Rothenburg ob der Tauber, there are two other prominent villages to visit: Feuchtwangen and Schillingsfürst. We had to choose between visiting each other.
But if you're on time, you can visit them and tell us in the comments your thoughts and if you recommend them for other travelers.
Where to Sleep in Rothenburg ob der Tauber
In a Hotel
I recommend that if you are short of time, keep going to Rothenburg ob der Tauber and stay at one of its hotels.
Take a look at Pension das Lädle, and it has a fairly reasonable price for what is in the village.
In the Van
We spend the night in Rothenburg ob der Tauber in one of the caravan car parks before entering the village. It's very quiet, and you are steps away from walking from one of the most famous villages on this route.
Day 12. Rothenburg ob der Tauber – Night in Würzburg
Rothenburg ob der Tauber is the most beautiful and famous imperial city on this route. It is located at the top of the Tauber Valley, where the Romantic Route and the Castle Route intersect.
Plönlein Square and Sieber Tower, which you'll see in thousands of photographs, are the most iconic places due to the painter. But Rothenburg ob der Tauber is much more than a photo.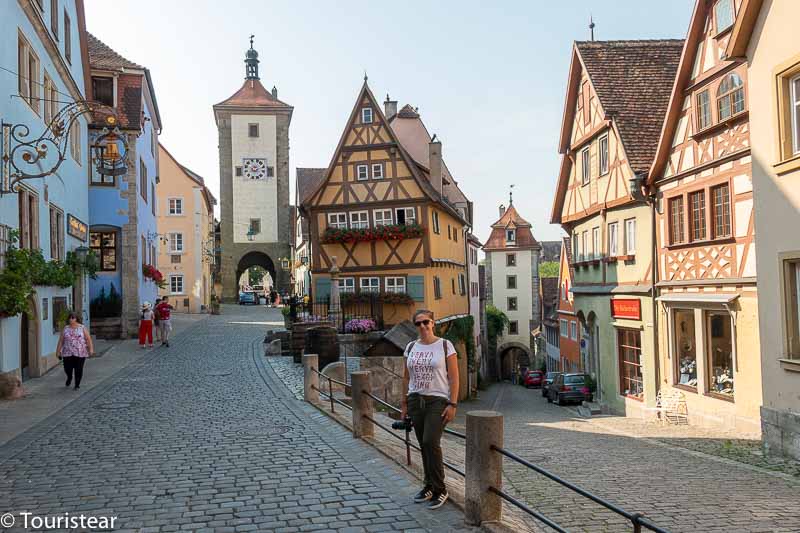 As soon as you enter the village you are already surprised by its wall (which you can visit), the hospital, and the bastion.
Once inside, you will marvel at the combination of the Gothic and Renaissance architecture of the Town Hall (Rathaus).
I'm going to write a post about this town/city alone to tell you everything we've learned, so you can give it the time it deserves.
We spent all day here, and then went to Würzburg to spend the night before we did the laundry for the things from the road trips…
NOTE: Between Rothenburg ob der Tauber and Würzburg, there are about 65 km and a few charming villages such as:
Creglingen,
Weikersheim,
Rötingen,
Bad Mergentheim,
Lauda-Köningshofen,
Tauberbischofsheim
and Wertheim Village. Visit them if you have time!
Where to sleep in Würzburg
In a Hotel
Hotels aren't especially cheap in Würzburg, so here's the link for the city's hotels, so you can choose the one that suits your budget and travel style.
In a Camper Van
We slept in the van in a motorhome park area that is located next to the River Main. From there you can easily reach the city center by walking, cycling, or public transport.
Day 13. Würzburg, End of the Romantic Route
The road trip itinerary through Germany continues in Mainz, and we spent the night in Rudesheim am Rhein.
Würzburg
It is a university town on the banks of the River Main. It is located in the heart of the Franconian wine region. From almost every point, you can see the Marienberg Fortress and the UNESCO-listed Palace.
Within the city, there are several interesting places to visit. Highlights include the cathedral, the new cathedral, the Market Square, and the Old Statue Bridge.
If you like wine, you can take guided tours of the local vineyards and taste their wines.
*If you arrive in Würzburg from Frankfurt but do not want to rent a car, from April to October, there is a bus departing from Würzburg and touring all the villages of the Romantic Route, Germany's first-holiday route after World War II.
Mainz
We went all the way from Würzburg to Mainz, the city of Gütenberg, and here we visited the museum of Gütenberg, the father of the printing press.
Here you can see the evolution of the printing presses and two original bibles by Gutenberg.
We took a short walk and continued on our way to the town of Rudesheim am Rhein.
Rudesheim am Rhein
We arrived in the afternoon, and it is less than 40 km from Mainz and 65km from Frankfurt. Therefore, I recommend you visit this town on your road trip through Germany or your Frankurt getaway.
*In this area, I would dedicate another week at least, but we have only been able to dedicate two and a half days. So, if you like nature, charming towns, and wine, you can stay longer too. We have an excuse to come back.
Rudesheim am Rhein is a village with an area that we love. It is more than two thousand years old as a wine area, and it has world heritage sites and wonderful restaurants. The village is very picturesque and charming when it rains.
In the afternoon, it was raining very hard. So we parked the van and went to dinner at the most picturesque street in town: Drosselgasse.
We had a superbdinner at the restaurant, Rüdesheim Schloss. We enjoyed the local food and wine. In another post, I'll tell you more because this post is very long, lol.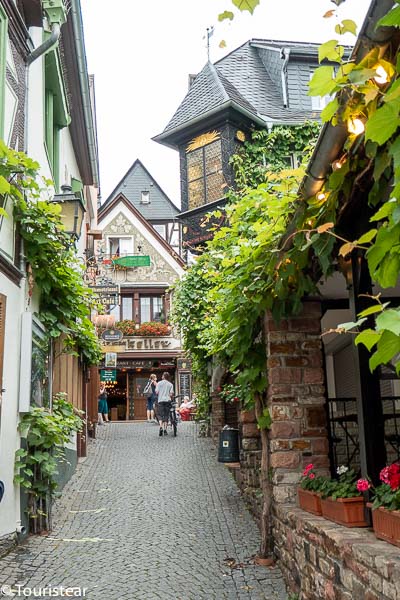 Where to Sleep in Rudesheim am Rhein
In a Hotel
There are a variety of hotels in Rudesheim am Rhein. Check out the ones you like the most.
In a Camper Van or Motorhome
There is a campsite where you can stay, but it costs 30 euros per camper or motorhome per night. If you're going to spend the day or go with the kids, I think it's a good option. But not for spending the night.
So we slept for free in a car park, near the bus parking. Nothing from the other world, but we prefer to spend the camping money on having dinner in a good restaurant. We had our priorities on food, hehe.
Day 14. Rudesheim am Rhein – Bacharach – Burg Eltz Castle
Rudesheim am Rhein
On this day, we discovered that this region is a wonder. The morning is the best time to visit the village of Rudesheim am Rhein and the Nierderwald forest and its most representative monuments.
This place is super nice, and you can get there by your own vehicle or by funicular from the village.
The bad thing for us is the price of parking: € 10.50 (regardless of whether you stay an hour or all day).
*Tip: Cross to Bacharach on the ferry. The price depends on the length of the vehicle. They depart every 20 minutes.
Bacharach
Another picturesque village on the banks of the Rhine is dedicated to wine. Bacharach has Celtic origins, and its original name was Baccarus. Some say that the mention of the city's name was in 923 while others insist on 1019.
In 1356, Emperor Charles IV granted it the title of city. Its economy was always linked to viticulture and the wine trade.
As a curiosity, Pope Pius II ordered, among other things, to send a vat of 1000 liters of Bacharach wine to Rome every year!!! Emperor Wenzel agreed that Nuremberg's city should pay a fine with 4 vats of Bacharach wine (4000 liters).
That tells us something, doesn't it? The wine here is good! Lol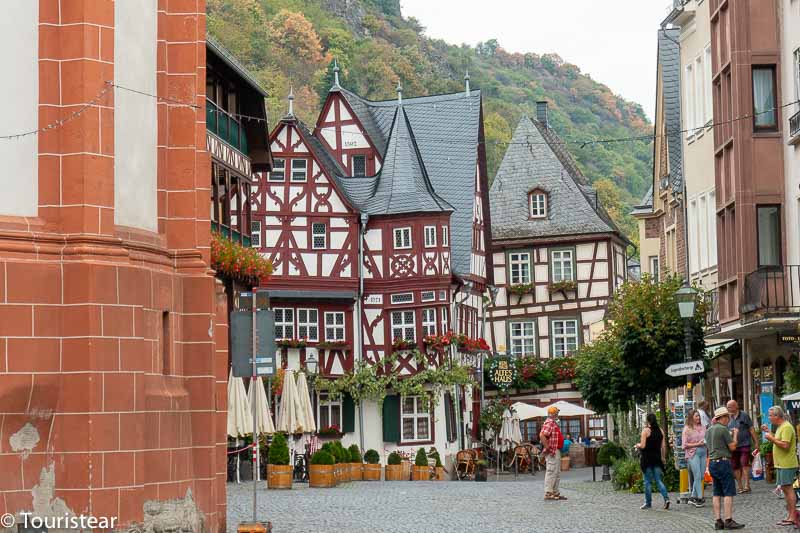 Bacharach is a fortified city, very well preserved. The covered wall surrounds the entire old town and is walkable. Stroll along the wall and through the center of the village; it is small and very easily toured in an hour.
Burg Eltz Castle
It is a spectacular medieval castle, a world heritage site, located in the hills near the Moselle River (it does quite a competition to the Mad King castle). It belongs to the same family (or branch of it) for 33 generations since the twelfth century.
Some parts are open to the public, and others are not since the family owns the castle.
The castle looks like something out of a tale, is surrounded by green everywhere, and you can hear the river's sound from there.
To get to the castle, you have to leave your vehicle in the car park and continue your way on foot or by bus (€ 3 way.)
The way to the castle is downhill and the return uphill, but it is a little steep, compared to Neuschwanstein Castle, and it becomes quite easy. That said, go with proper shoes; because of the humidity there, it can slip a little.
From here, we went to the suspension bridge: Geierlay Suspension Bridge (about 30 km from the castle).
Geierlay Suspension Bridge
Geierlay Suspension Bridge is 360 meters long and 100 meters high. The surroundings are spectacular and the bridge has only been open since 2015.
With the Covid theme to visit, it is a little more annoying than before. Now, in even hours you cross the bridge to go, everyone in one direction, and at odd hours you can return. Keep this in mind to calculate the times of your trip.
The good thing is that it is open late for German times and is free.
It used to be open 24 hours a day!
Day 15. Bernkastel-Kues – Cochem
There is a full route to the Mosel area from Koblenz to Trier or Nittel on the Luxembourg border.
It is an area that has been dedicated to winemaking for more than two thousand years, full of charming places, festivals, art, and we will definitely return.
Bernkastel-Kues
A half-timbered village by the Moselle River, where you'll find traces of a Roman past and medieval architecture. Definitely, a place you're going to fall in love with.
Here you have to visit the medieval market square, the Renaissance Town Hall, next to half-timbered houses, and the pointed house (probably the most photographed).
Of course, you have to stroll through the historic center, see the birthplace of Nicholas de Cusa, the hospital of St. Nicholas, and the castle of Landshut.
Cochem
Cochem is a city in the Moselle River Valley. It is a very touristic place where people from all over the country arrive. It is to the west of Germany and crowned by a spectacular castle: the Reichsburg Cochem.
Besides, you can enjoy its Riesling wines, its streets, and its history.
The first thing we will see as we approach Cochem is its medieval castle, remodeled in the nineteenth century with this fairytale castle appearance.
Once in the village, let yourself be carried away by its streets with half-timbered houses; many seem to defy gravity.
You have to cross the Enderttor, one of the three medieval gates dating from 1332. And it was the village prison for a long time.
To get a good view of the village, cross the bridge and take a photo from there and as you cross.
If you like boat trips, take the opportunity to get to know the "skyline" of the Moselle villages from the river itself. Then, click here to hire the boat ride.
Don't forget to try their wines. We brought a few bottles home. Also, take a boat ride along the river or take a bike ride along the riverbank.
If you have more time for the Mosel area visit:
Trier
Koblenz
Make a wine route
Take a bike route
Be part of its hiking trail.
And so far, our itinerary plus tips for traveling to Germany by car or camper van. I know this post is a little long. I have tried to be as concise as possible…
In the next few days, I will expand the information in other articles, so you can plan your trip through Germany on your own and enjoy it. As you can see, there are many things to do, many places to discover and enjoy.
Do you know Germany? Tell us about your experience in this country!
Travel Insurance
Before you go on a fantastic road trip to Germany in 15 days, get travel insurance that you can use for emergencies.
Visit Heymondo to get travel insurance according to your needs and budget. This link gives you a 5% discount on your travel insurance purchase.
Plan Your Trip to Germany
Book Your Trip
Book Your Flight
Find a cheap flight by using Skyscanner.
Book Your Accommodation
You can book your hostel, hotel, or apartments on Booking.com.
Don'torget Travel Insurance.
Travel insurance will protect you against illness, injury, theft, and cancellations. It's your protection in case anything goes wrong. You never go on a trip without it.
Best companies for Tours
Check out Civitatis.com and find the best tours in English (French, Spanish and Italian)
Are you looking for the best companies to save money with?
Check out my resource page for the best companies to use when you travel! I list all the ones I use to save money when I travel – and I think I will help you too! (Is in Spanish yet)
Disclosure: Some of the links on this post are affiliate links, meaning at no additional cost to you, I may earn a small commission if you click through and make a purchase.
Save this image on your Pinterest
Last Updated on 11 April, 2023 by Veronica
Disclosure: Some of the links on this post are affiliate links, meaning at no additional cost to you, I may earn a small commission if you click through and make a purchase.
Author: Veronica
Vero, a seasoned traveler, has explored 25 countries and lived in five, gaining a rich perspective and fostering an infectious passion for travel. With a heart full of wanderlust, Vero uncovers the world's hidden gems and shares insights, tips, and planning advice to inspire and assist fellow adventurers. Join Vero and let the shared passion for travel create unforgettable memories.