A Complete 3-Day Munich Itinerary
You may have known Munich, a city of Germany, for its breweries and the renowned Oktoberfest celebrated worldwide! But the city is more than just a place for special beers. It is also home to art museums and Romanesque and Baroque architecture masterpieces.
Will three days in Munich be enough? Here is our 3-day itinerary to help you plan your trip to one of the safest cities in the world!
Is the Munich City Pass Worth It?
Before heading to the city, we suggest getting a Munich City Pass and travel insurance. The city pass offers discounts and free access to over 40 destinations and city transportation. Getting one for our trip was one of our best decisions.
The city pass is valid for 1 to 5 days! You can choose to get the three days for this itinerary here.
How to Get Around Munich
There are many Munich transportation options to get around. Depending on your preferred destination, another option may be the best way to go from one place to another. So here's a quick guide!
On Foot
Nothing beats walking, and I very much preferred this way of exploring the new city besides riding a bicycle during our Netherlands trip.
If you book a private walking tour with a local, you will spend most of your time walking around the top destinations around the city center.
We saw many tourists going on a group tour, especially when we went somewhere near Altstadt. If you want to lose the beer and food calories during your three days in Munich, get these pair of shoes that are perfect for long walks in the city.
By U-Bahn, S-Bahn, Suburban Train, Trains, and Trams
If you want to travel like the locals, going to and from your itinerary locations via their MVV network, buses, and trams are always good options.
You can access these Munich public transportation options if you have the Munich City Pass here. The fare costs from around €1.40 to €10.80.
Paying fares can be a hassle when traveling as a family of 3 or more. You need to find the ticket machine at the train station.
The City Card makes the overall experience convenient and affordable. The MVV network also passes by the Munich airport.
By Taxi
When we were in Munich, we knew how expensive the taxis were. But we had to ride one to get our car rental. The travel was short, so we only paid about €4.00.
The rate per kilometer during our trip to Munich was €0.20, but it may have increased after the recent gas prices.
By Car
We don't recommend going around with a rental car when you are just within the city center. If you stay for a longer time exploring the city's outskirts, renting a car in Munich is the most convenient mode of transportation. 
If you want to try traveling by RV, you can find a car suited for your trip here. As you might have noticed on some of our road trips in Europe, we love driving around in an RV. You can park it safely outside downtown.
On our first visit to Munich, we stay overnight at the Allianz Arena Stadium parking lot. It's prepared for RV when there is no game (soccer/football). The second time we traveled by plane, a small rented car.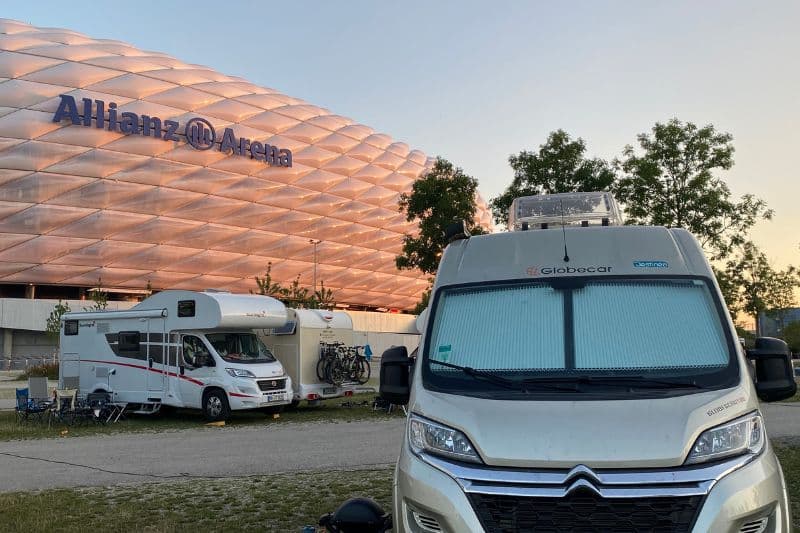 By Bicycle
You can find a lot of bicycle rental shops all over Munich or book a 4-hour bike tour. There are cyclists everywhere, and we got ourselves bicycles too from our accommodation in Munich.
If your accommodation offers bicycle rentals, which most do, grab this opportunity for some good exercise and make your tour a fun experience!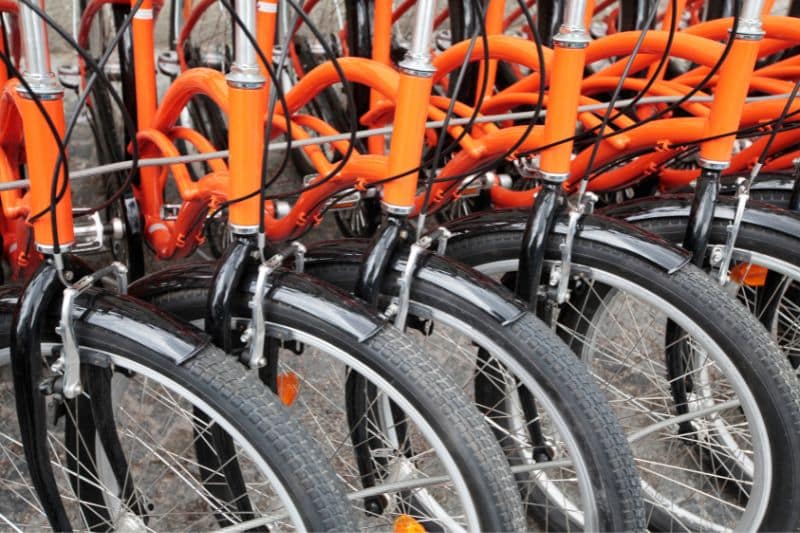 What To See In Munich In 3 Days
Is 3 days enough in Munich? It was enough to see all the destinations we wanted to visit, but the city has so much more to offer and fun things to explore! We will share our 3 days in Munich day itinerary below.
Hope this helps you on your Munich travel.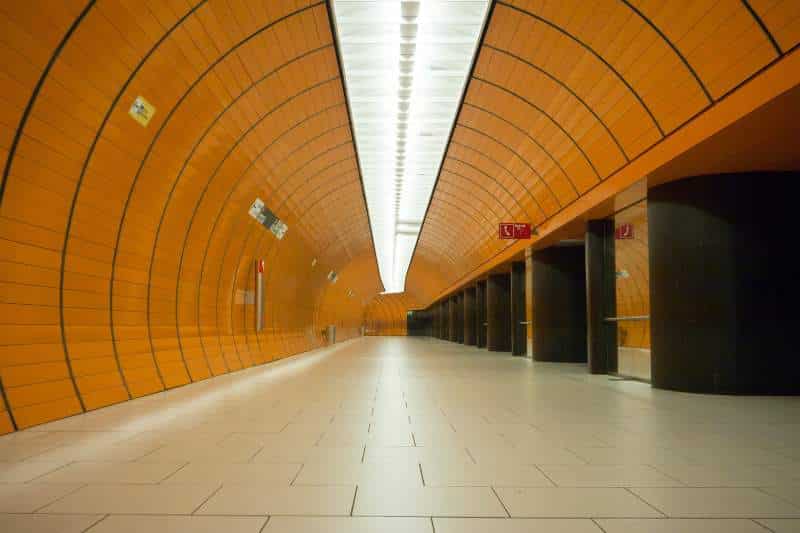 First Day: A Trip within the City Center (Marienplatz)
We started our trip at Marienplatz, the city center's square, and made our way to Munich's old town. The most popular tourist attractions within the city are just a walking distance away, so we did a lot of walking.
New Town Hall (Neues Rathaus)
Within walking distance is the New Town Hall or the Neues Rathaus. The Neo-Gothic architectural masterpiece in Marienplatz hosts attractions in the hall's tower, like the Glockenspiel, every 11 am, and 12 am.
If you arrive during the summer, you can also witness and listen to the Glockenspiel at 5 pm.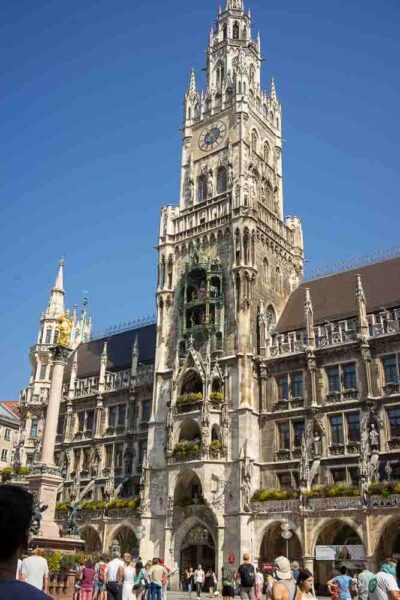 After the Altes Rathaus, also called the Old Town Hall, was deemed too small for the city council, they built the Neues Rathaus between 1867 and 1905. The Old Town Hall is still standing, and that was our next destination.
Old Town Hall (Altes Rathaus)
It only took us a few steps to reach the Altes Rathaus. Located in the eastern part of the Marienplatz, it remained untouched during the creation of the New Town Hall.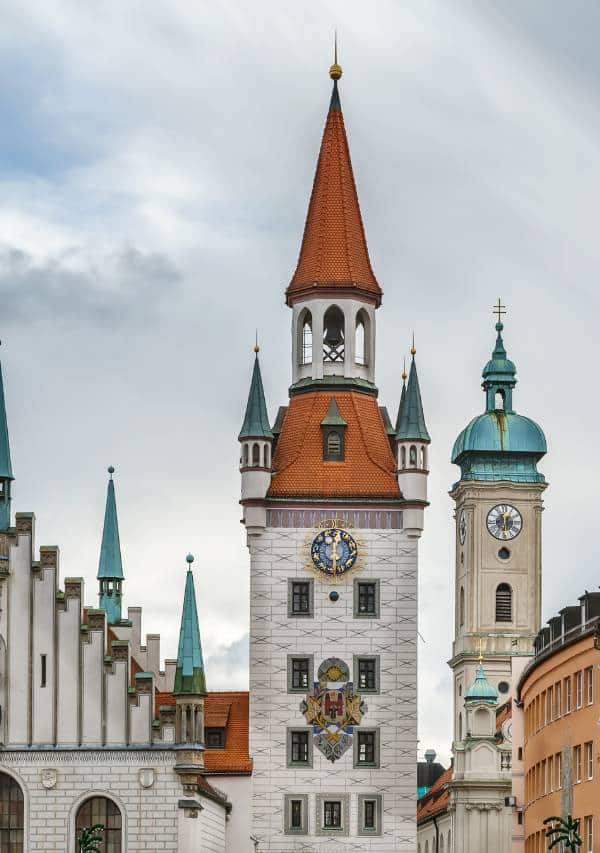 Jörg von Halsbach designed the Old Town Hall from 1470 to 1480. Like the New Town Hall, it showed the beauty of the Late and Neo-Gothic architecture. The architect also designed Frauenkirche, about 4 hours by car from Marienplatz.
Munich Residenz
The Residenz in Munich boasts the styles of Renaissance, Rococo, Neoclassicism, and Baroque and is also one of the largest palaces in Germany!
You can go around the Grottenhof and marvel at the beautiful dripstone fountain or listen to classical music at the Gala Concert at the Cuvilliés Theatre. Get your concert tickets here!
To get to know more about The Residenz from your trip, get a guide here.
You can find the Kabinettsgarten on the east side of The Royal Residence. The cabinet garden was made in the early 19th century and recently opened to tourists. You can rest on the park benches surrounded by beautiful trees and colorful rose bushes.
Visit during the summer to see the best of the Kabinettsgarten!
St. Peter's Church
The locals call the oldest church Alter Peter or Old Peter. It only costs €5 to enter St. Peter's Church, but if you are still planning your three days in Munich trip, sign up for this Old Munich Town tour. You can check many locations as well as St. Peter's Church.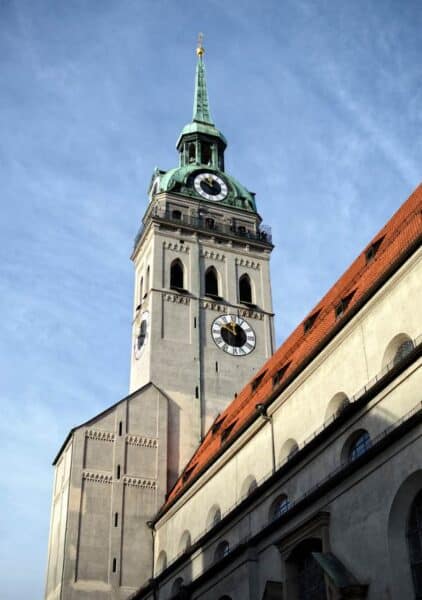 We preferred to take the time and walk to the 300-year-old church ourselves since it was right at the heart of Marienplatz.
The Baroque altar is home to the oldest bells and the golden St. Peter statue. At 56 meters, it has a 360 view of the Old Town.
Deutsches Museum
From Marienplatz, one of the best things to do is ride a bicycle to the Deutsches Museum. It only takes about 5 minutes to get there. Well, we walked to the museum. It took us a while to get there but we enjoyed every step during the journey.
Typically, it only takes about less than 10 minutes, but it took us about 15. From there, we knew we should have ridden a bicycle. Was a visit to Deutsches Museum worth it? It sure was!
The interactive exhibits made the inner child in us amazed. It is definitely a destination when you travel to Munich with kids.
Monument to King Ludwig I
On our way back to our accommodation, we visited the Maximilian I Joseph monument. It is one of the monuments found around Munich. His love for creating building designs, monuments, and museums launched the cityscape of Munich.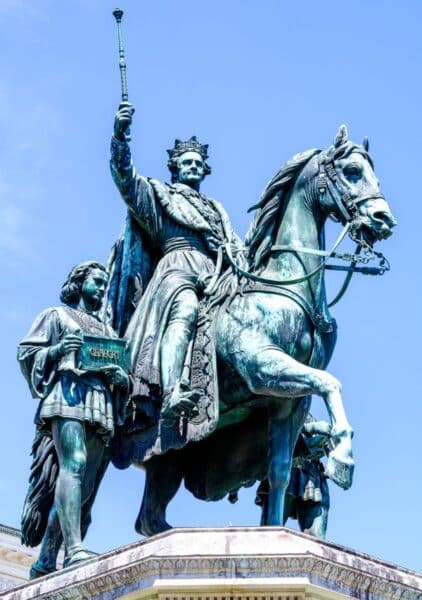 Second Day: A Trip Near Kunstareal, The Art Area
On our next stop, we went on an art museum tour. For art lovers, our second day in our three days in Munich itinerary will be a treat for you.
Neue Pinakothek
We started our art museum hopping at Neue Pinakothek, or New Pinacotheca. The art museum highlights European Art from the 18th and 19th centuries.
It was one of the King Ludwig I of Bavaria's masterpieces in 1853, but sadly, World War II turned the original Neue Pinakothek into ruins in 1949.
The Neue Pinakothek is now a new modem building that opened its doors in 1981. You can buy a ticket in advance at their website.
Pinakothek Der Moderne
The Pinakothek Der Moderne, locally called Dritte (third) Pinakothek, introduces you to the modern art of Munich.
It holds collections showcasing expressionism and surrealism and works of over 30 artists like Lucio Fontana and Ernst Ludwig Kirchner. It is also a home for new media.
Alte Pinakothek
The art museum is home to works and collections created in the 14th and 18th centuries and Old Master paintings.
Our favorite paintings from this art museum are Martin Schongauer's Holy Family and Rogier van der Weyden's Saint Columba altarpiece.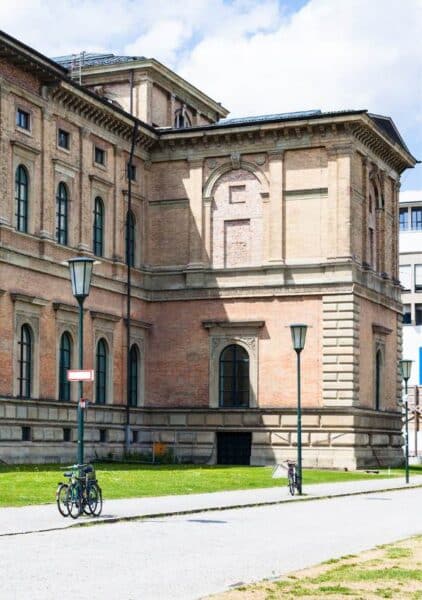 BMW Welt and BMW Museum
The BMW Welt and BMW Museum are the next stop on our museum tour. The BMW Welt offers a more interactive and combined exhibition, while the BMW Museum covers the history of BMW.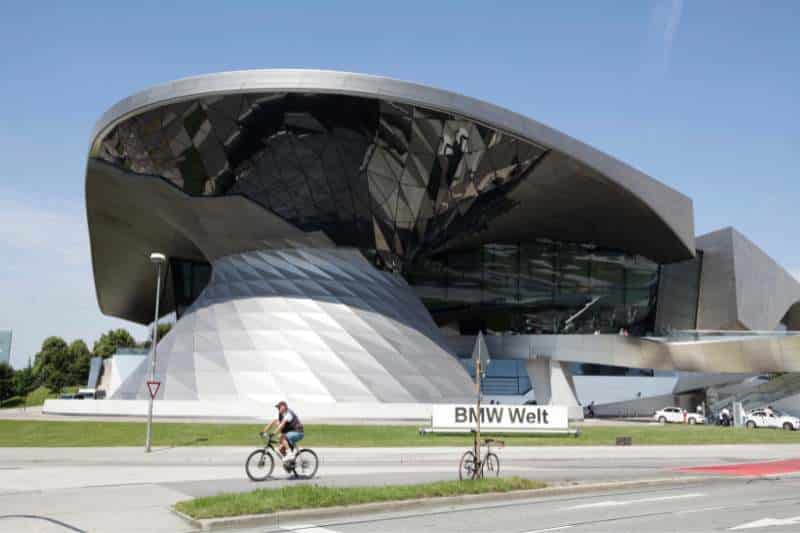 We arrived just after lunchtime and missed the stunning lights of the BMW Welt at night. So if you plan your 3 days in Munich itinerary, make sure you visit the BMW destinations late in the afternoon or at night.
Olympiapark München (The Olympic Park)
The 85-hectare park was created for the 1972 Summer Olympics and has since become the destination for different sports activities or just going for a jog. You can swim and row at the Olympic Lake and the indoor swimming pool.
We went to the Olympic Tower to get a panoramic view of the whole park and Munich at 291.28 meters high! The Olympiapark München has a lot of attractions you can spend a day here just enjoying all of them from morning until night.
A must-watch attraction is the Sommernachtstraum or the Midsummer Night's Dream. The show involves music and an amazing fireworks display!
Dachau Concentration Camp Memorial Site
The Dachau Concentration Camp Memorial Site was once a concentration camp built by the Nazis for Hitler's political opponents and other prisoners.
Now, it is a memorial site to commemorate the prisoners. This was our last stop on our second day in Munich.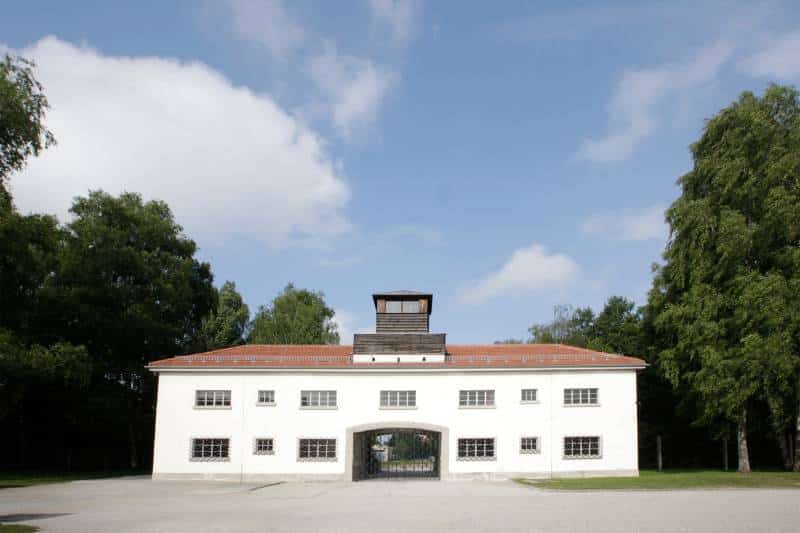 You can watch and listen to video and audio exhibitions and see literary works and other artifacts. This stop was truly memorable for us.
Final Day: Enjoy a Beer at the Central Park
Our third day in Munich is one of the shortest and the best! A trip to the English Garden is an exciting destination if you love beer and mingling with other people.
English Garden (Englischer Garten)
Sadly, we needed to leave Munich on our third day. So, we spent our day at the Englischer Garten. Instead of the typical Baroque gardens throughout Munich, this garden was similar to an English park.
We went to the Rumford Monument, the Japanese Teahouse, and witnessed a couple of people surfing at one of the streams at the English Garden. But the highlight of our trip was the Biergarten Am Chinesischen Turm (the beer garden at the Chinese Tower).
We met a lot of young locals and travelers like us among the 7,000 seats. We got some good beer and ate grilled fish on a stick and roasted chicken. The beer garden is one of Munich's most extensive beer gardens, and the overall festive feel makes the time fly by so fast.
After all that good time with our new friends, it was time for us to say goodbye. We suggest going here on your last day or your first!
Other Places To Visit In Munich
There are other best spots we have missed during our trip that we will surely include on our second travel to Munich.
Some of these are the best places with fewer tourists, while others are popular destinations we tried to avoid. Feel free to include some of them in your itinerary!
Nymphenburg Palace
If you want to go palace hopping, Nymphenburg Palace should be part of your list. It is one of the palaces in Munich designed in the Baroque style and was home to some Bavaria rulers. To avoid last-minute ticket lines, book a tour of the palace here.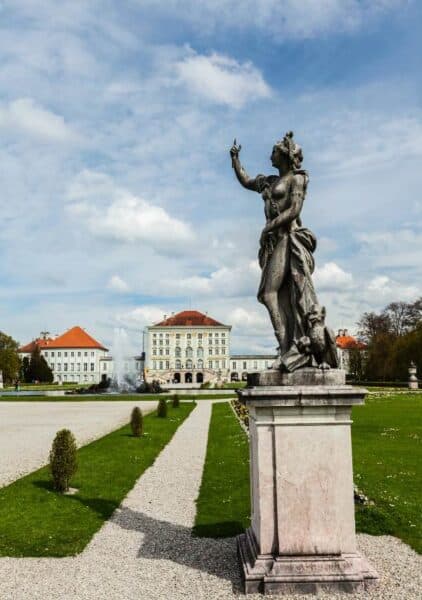 Neuschwanstein Castle
Do you want to go to the real Disney castle? Sleeping beauty's castle was inspired by the Neuschwanstein Castle. It is a bit far from Munich, so a full-day trip would be the best option.
Allianz Arena
During the football season, it is one of the top destinations for tourists and FC Bayern fans. You can still take a look inside the Allianz Arena even while the season has not started. We saw a bus tour with people holding the FC Bayern items on our way to one of our destinations.
The Bavarian Alps
Skiing may be different from what you want to do during a short 3 day trip, but The Bavarian Alps may want you to try it. It is a bit far away, so you can reserve a day for your trip to the alps.
3-day Munich Itinerary Sample
Day 1 in Munich
Arrival in Munich's Old Town
Eat breakfast or lunch (depending on your arrival time)
New Town Hall
Old Town Hall
Munich Residenz
St. Peter's Church
Deutsches Museum
Go back to the accommodation (The Monument to King Ludwig I was along the way to our accommodation )
Day 2 in Munich
Eat breakfast
Neue Pinakothek
Pinakothek Der Moderne
Alte Pinakothek
BMW Welt and BMW Museum
Eat Lunch
Olympiapark München (The Olympic Park)
Dachau Concentration Camp Memorial Site
Go back to the accommodation
Day 3 in Munich
Eat breakfast
Walk around the English Garden
Beer garden
Best Time to Visit Munich
We visited Munich days before the peak summer days, so we witnessed the city with a few people until travelers flocked to the city. The best time to visit the city is anywhere between March to May.
During these months, there are few tourists in the country, and it is not too hot. But if you want a festive mood, you must come during the city's renowned Oktoberfest. You can book a guided Oktoberfest tour here.
For Lower Accommodation Rates
Like other European countries, the winter season is not everyone's favorite. Some even go to tropical countries just to escape the cold weather.
The months from December to February have fewer crowds, and the room rates are at their lowest prices. It is the perfect time to enjoy the indoor attractions within the city.
However, Munich has one of the best Christmas attractions in Europe so keep in mind that the holidays may keep some destinations priced higher.
Where to Stay in Munich
You can find hotels in Munich, but they can be costly to stay for one night. It is also one of the reasons we also wanted to go for an RV rental in Munich, but luckily, there were many studios and affordable apartments.
One of our recommended places to stay is the HOMELY STAY Studios. They are all located in Obergiesing – Fasangarten, with options for a Queen Studio and a Deluxe Queen Studio. Each room is under € 100.
But if you want to be somewhere just within the city center, the Mandarin Oriental is a complete luxury and even has an airport taxi. You can book a room at their Deluxe Double room here. You can also book the Lizz Hotel Munich double room for a mid-range option.
You can search for more accommodations in Munich here.
Best Tours in Munich
We always try to explore new cities by ourselves, and sometimes we join other group tours to save time and budget.
Whether you like to go on a solo excursion or join others, here are some ways to go to different destinations in Munich for all types of travelers.
For the Solo Travelers
You can meet some locals and ask them to take you on a free walking tour around the city or book a private tour guide just for yourself or your family. If you want to travel solo, get a self-guided audio tour. Get your audio tour here.
Don't forget to use the right shoes to prevent your feet from getting sore.
For Group Tours
If you want to meet new people and save your travel budget, book a group tour instead of a private one. Spend more on your transportation, food, and accommodations!
Make sure you check the destinations included in your group guided tours to visit worth seeing destinations at the right price.
See the reviews of the tour guides as well. If you are lucky enough like us, we had the most enthusiastic tour guide ever. Good jokes during the trip can make the whole excursion fun.
Munich Travel Tips for 3 Days
If you want to join Oktoberfest, book your accommodation a year before to get the most affordable rates. The rooms cost up to 20% more just days and months before the beer festival.
If you want to go on a retail therapy, ensure you do it during the weekdays. Most shops are closed on Sundays, which we learned during our trip. We needed to buy a couple of travel essentials, but sadly, most stores were closed.
If you are joining Oktoberfest, the price for a glass or bottle of beer can be higher. These are called Pfand or deposit. This way, the stores can guarantee that you will return their glasses or bottles once done.
You may be surprised that people in plain clothes will ask to check your transportation ticket. These public transportation staffs follow a strict rule of checking every passenger's tickets.
Munich is one of the best cities for a bicycle ride. It is familiar enough that some of these cyclists go faster than they should. There are tons of speedy cyclists on e-bikes. So keep your ears active for the tingling bell sounds. Munich requires every cyclist to have one.
Bring lots of cash in EUR. Most businesses and restaurants near the city center welcome card payments, but if you want to go further away, most of your transactions are in cash. We already knew about this from our friend. Hopefully, you will take note of this tip too.
The Bavarians can be too direct, even in the English language. Keep this in mind, and you can feel alright if they tell you something you are doing wrong. They only mean well and want everyone's safety and convenience.
Travel Insurance
Munich is undeniably one of the safest places for travelers, and we can vouch for that too. However, we understand that we must also avoid some places. Most of the time during your 3 days in Munich is spent walking, cycling, or driving.
We always ensure we buy travel insurance with us just in case of an emergency. Our go-to insurance is HeyMondo. Using this link, you can get a 5% off for all types of travel insurance. Pick your preferred coverage, and buy one fitting your budget.
Our three days in Munich were short, but we were able to spend each day with the most memorable experiences! We included some destinations we wanted to visit on our second time in the city. I hope our extra suggestions help you with your travel!
Plan Your Trip to Germany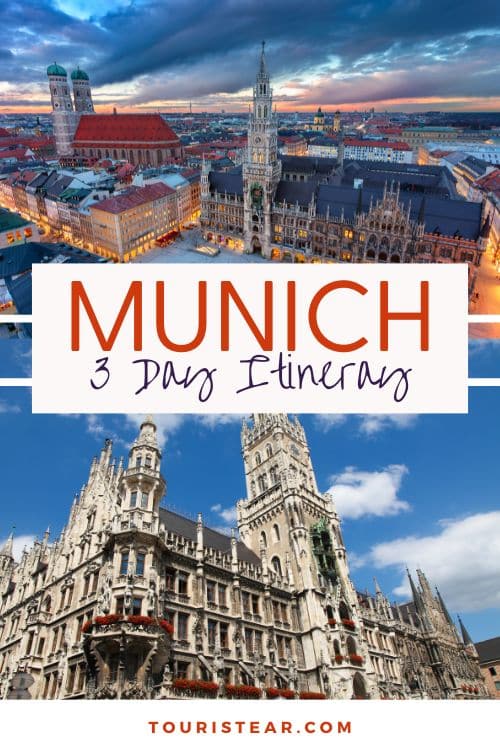 Disclosure: Some of the links on this post are affiliate links, meaning at no additional cost to you, I may earn a small commission if you click through and make a purchase.

Book Your Trip
Book Your Flight
Find a cheap flight by using Skyscanner.
Book Your Accommodation
You can book your hostel, hotel, or apartments on Booking.com.
Don'torget Travel Insurance.
Travel insurance will protect you against illness, injury, theft, and cancellations. It's your protection in case anything goes wrong. You never go on a trip without it.
Best companies for Tours
Check out Civitatis.com and find the best tours in English (French, Spanish and Italian)
Are you looking for the best companies to save money with?
Check out my resource page for the best companies to use when you travel! I list all the ones I use to save money when I travel – and I think I will help you too! (Is in Spanish yet)
Last Updated on 24 February, 2023 by Abby