England & Scotland 23-Day Road Trip Itinerary
This post tells you the itinerary of the road trip through England and Scotland in 23 days.
On our trip in our car from Madrid, we traveled more than 8,000 kilometers!
You can read our initial planning here. You will see that it has had some changes because they made us a recommendation and we changed it, such as visiting Whitby, a small north of York town that we had no idea of its existence.

There are so many things to see and do on a road trip through England and Scotland. It is more than 8000 kilometers in total (from Madrid), and doing them in 23 days requires good planning and still, many things will remain unseen…
England and Scotland aren't huge countries on the map, but they have many things to do and visit.
Here you'll find a summary of what to visit every day and links to more detailed articles where we talk about all the amazing places we have visited!
MAP Road Trip Itinerary UK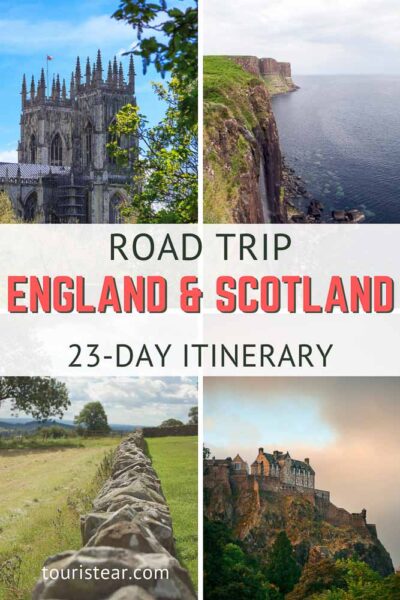 England and Scotland Road Trip Itinerary
Day 1. Madrid – Bordeaux
This day was to do miles. There are about 434 kilometers from Madrid to Bordeaux. (we lived in Madrid at the time of this trip).
We arrived quite tired, but since we didn't know the city, we left things at our Formula One hotel (horrible, by the way, just go if you're very tight on money) and went for a walk.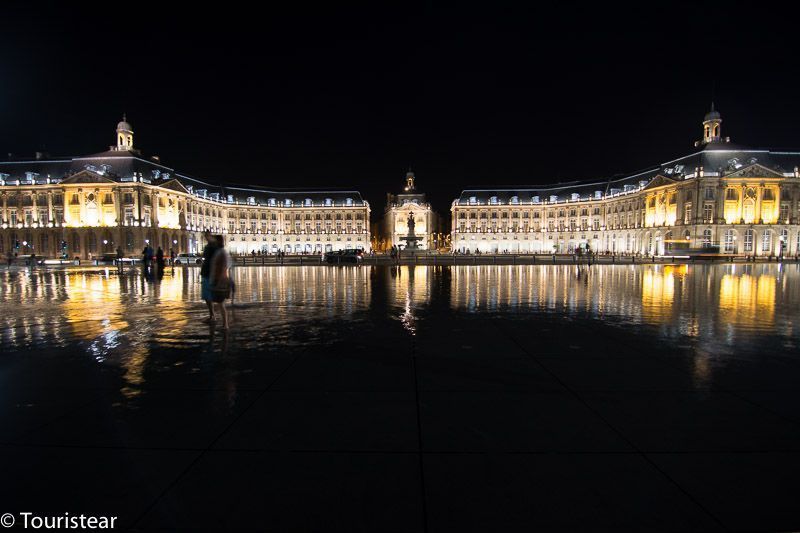 In Bordeaux, we had dinner in a typical English pub to prepare for English food. 😉
The Central Pub has a perfect atmosphere and unbeatable views, next to the river and is almost in front of the "Palais de la Bourse" (Stock Exchange Palace).
As it was already night, it was all lit up, very nice!
If you have time, hire a guided walking tour in Bordeaux here.

After recharging our energy, we walked to the Stock Exchange Palace and all that area.
Honestly, we really liked what we saw from Bordeaux and have been left wanting more, so we will surely be back soon!
Where to have dinner?
The Central Pub, an English-style pub with beautiful views of Bordeaux's center.
Address: 7 Quai des Queyries.
We stayed at F1 Bordeaux for 35 euros.
Our recommendation: you DO NOT stay here! It was hellishly hot, and there was no air conditioning; the bathrooms are shared and look like those in airplanes. In addition, the price was 35 euros for a room with two beds.
If you go to Bordeaux, check here and look for better accommodation than us!
Day 2. Bordeaux – Dunkirk – Dover
This, I think, was the worst day of all. We did many kilometers, more than 900 (560 miles), and with traffic jams, it took us forever to arrive… and with different stops, since we had passengers from Bla Bla Car to save money.
In addition, we had the "pressure" that we had to arrive before 6.30 pm to Dunkirk. Because the ferry departed at 8 pm and said it was mandatory to be at least 6.30 pm.
We arrived a few minutes later, but nothing happened, it seems normal that people were arriving almost until boarding time.
We were waiting for the ferry to depart from 6.45 pm to 8.00 pm, plus the two hours we had to travel.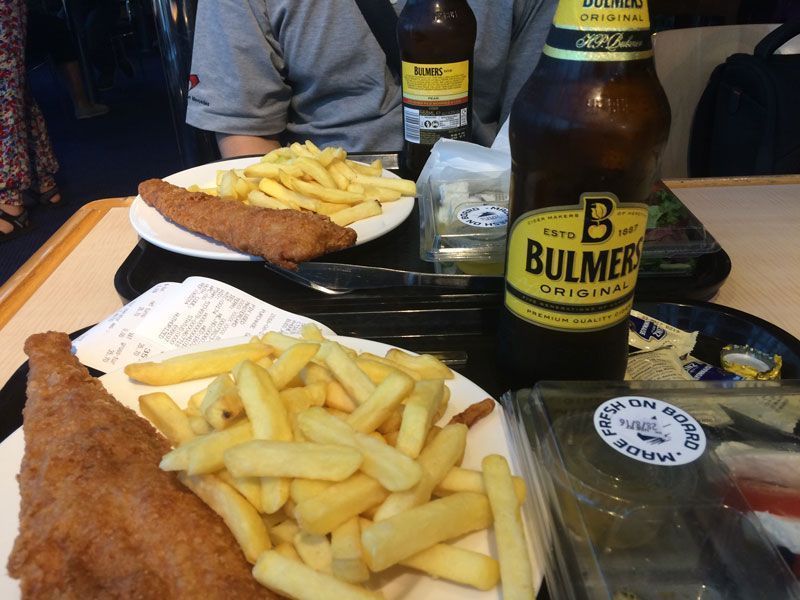 We took advantage and ate our first fish and chips of the trip on the ferry. It was expensive, over 40 pounds between the two and a couple of beers.
People bring food and eat there to save money and eat better probably…
When we arrived at our accommodation in Dover, we stayed resting.
We stayed at Clare House. Price 50 pounds
Compared to our first accommodation, this was a palace! The room was ok, clean, had a small bathroom. As in almost all of the UK, there were no blinds but curtains thick enough that the light would not pass.
We were greeted very well; we agreed that we had asked to be sent an O2 SIM to the B&B that we never received (they are informal and poor service in general, those of O2).
Day 3. Dover – Canterbury – Cambridge
This day we get up early in the morning, so we can do the stretch of Dover, passing through Canterbury until we reach Cambridge. In Dover, we went to see the White Cliffs, from the beach and from above.
On the beach, people were bathing!!! Then we went to Dover Castle and Walmer's.
Dover Castle is huge; here, we miscalculate the time to visit it. In addition, that day, they had different activities and shows, such as English versus French battles on horseback.
It was really cool, but I was looking forward to staying for another little while.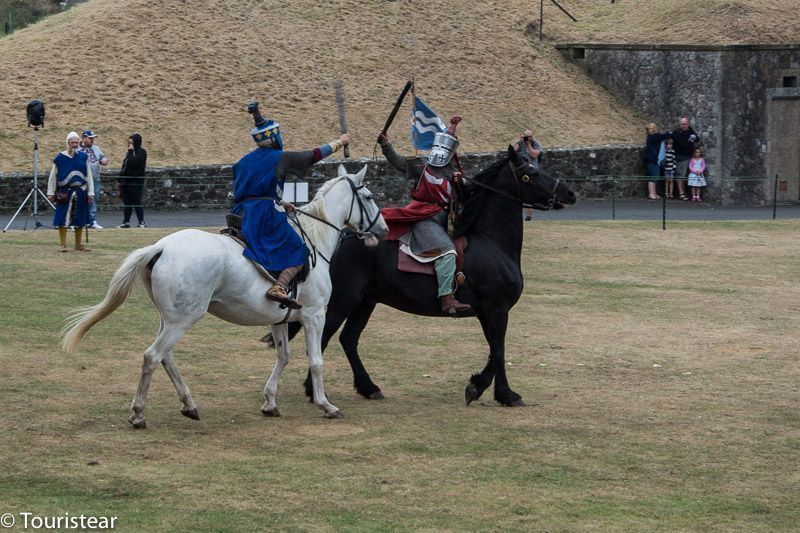 Walmer Castle looks like a place where the English go picnicking and having tea, in addition to the tourists we are going to take pictures and visit.
As a recommendation, buy the Heritage pass. With this card, you have included the entrance of these castles and many others.
The Heritage card costs 35 euros or 30 euros. And the entrance (with no card pass) to Dover Castle costs 20 euros per person and Walmer Castle: 10,10 euros.
So only with these two already compensate you to buy it, plus it includes the entrance to Stonehenge, which is 15,50 euros.
We visited Sandwich, a small town a few kilometers from Dover, who was also lucky enough to go during festivities. It is a very charming village with very nice houses, especially Weaver Houses.
We arrived in Canterbury, visited the Cathedral for free; unintentionally, I think we sneaked in… At that time, access to visits is not allowed because, in a little while, the mass began. So we visited what we could from the cathedral and then went to the cloister.
Where to eat in Canterbury?
In Canterbury, we ate in Deeson's, and as it was Sunday, we ate the Sunday Roast, typical English. It was very, very, very good, plus super well located. As it was the first few days, we indulged ourselves.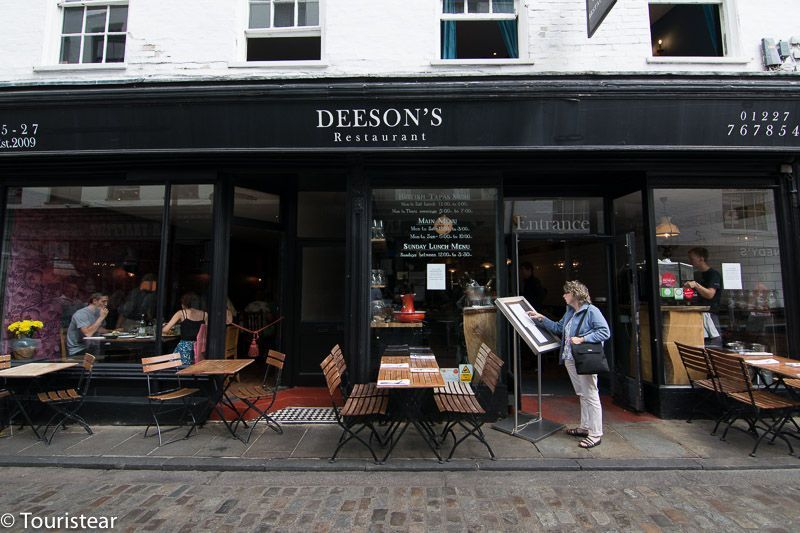 Then we went to Cambridge, arrived at night, it rained very hard, but it was only a few minutes.
We left things at the B&B and went looking for somewhere for dinner, which we didn't tell, but… we ended up having dinner at Mc Donalds because it was the only open place we found open!!! So, Mc Donalds and back to sleep.
We stayed at Longreach House B&B, for € 35.5
The room was pretty nice, had a private bathroom, but this one just stuck to a little living room where some of the guests gathered, and the walls were paper-thin. The rest I leave to your imagination.
The room was spacious, modern, and clean, very good value for money. The only thing is if you don't have your own car, it's a little far away from downtown.
Here are the accommodations in Cambridge; choose the one that best suits your tastes and budget.
Day 4. Stretch from Cambridge to York
We've been road trip for four days now, and we're starting to get to know a little more about England. So we're looking forward to making a road trip around here again.
This day we visited Cambridge in the morning. As always, we got up early, had breakfast, and got going. We have made this post with the stretch from Cambridge to York in more detail.
Here we had breakfast at Café Rouge, a breakfast you could find anywhere, coffee and croissant. But the place is charming, good service and it was open early.
We visited the entire university area, Trinity College (£3 entry per person), and Kings College (£9 entry per person). In addition, we visited the river area, walked all over this part, and visited as much as possible.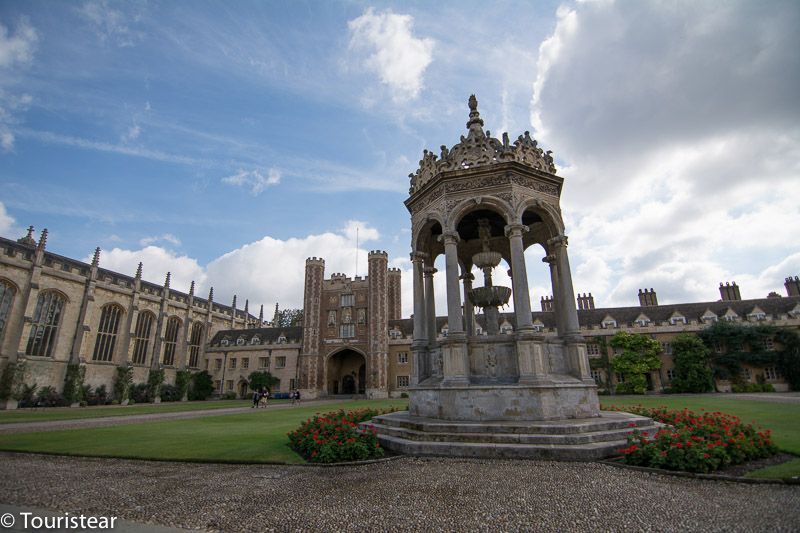 Honestly, this visit was quite relaxed, in 5 hours we had seen the most important thing, so we decided to make our way to York.
In York, the first thing we did was go to the YHA York Hostel for check-in. Then we left the car in a parking lot quite close to the center and visited the city.
At 7 p.m., we took a boat tour of the river and watched the sunset, as the captain was telling us about York's curiosities and the two banks of the river, for £18, both of us.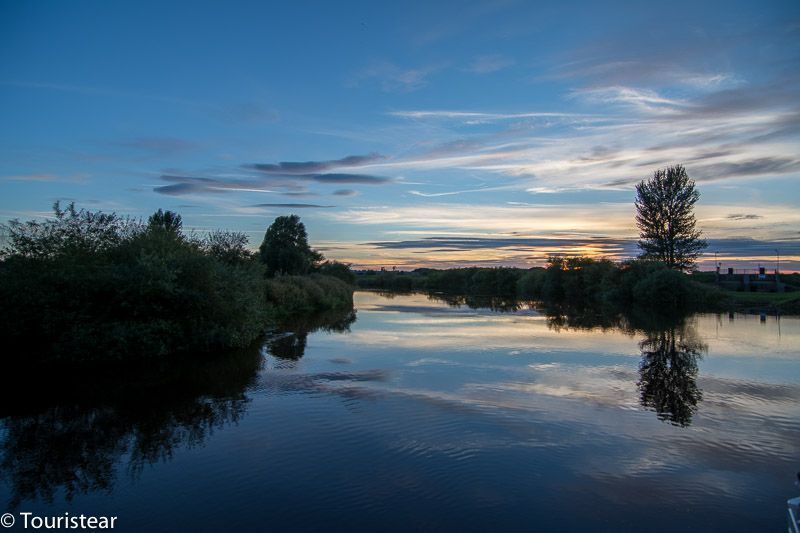 Then we stayed with friends and had a few beers in a typical place called Kings Arms. They have local beers and charge them cheap, but with curious prices, like £ 2.12 a pint.
Then we went all four to the Mc Donalds because it was the only thing that was open at that time, and we ended up in a pub called Bora Bora drinking cocktails.
We stayed at YHA York. (£40 for the double room)
The hostel's public areas I liked the most: super comfortable Chester sofas, wifi at a good speed, views of the gardens.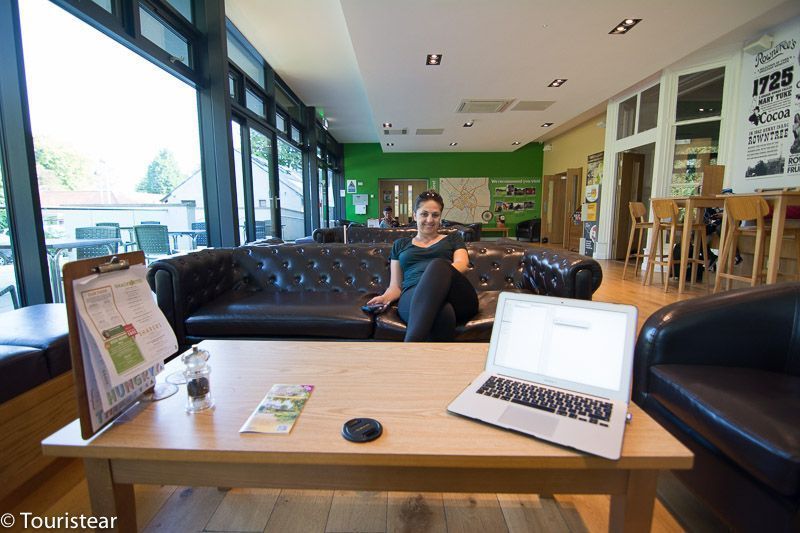 The room was two beds and had a private bathroom. The bathroom was small, but it fulfilled its function. The best thing about the room was the green duvets, which I wanted to take home!!!
Day 5. From York to Newcastle
On the morning of this fifth day of our road trip through England and Scotland, we begin our stretch from York to Newcastle.
We passed some fascinating and picturesque villages and places. We visited the cathedral the day before we did not arrive on time, the price is 10 pounds per person without the tower.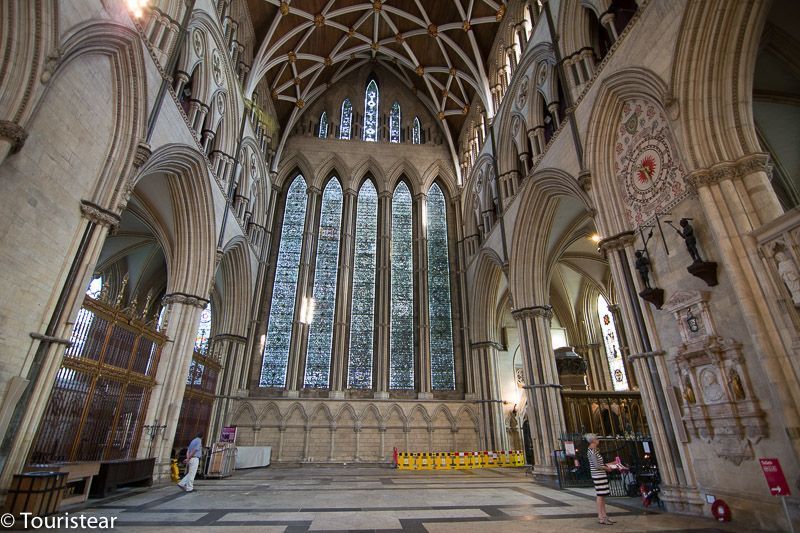 Then we went to Whitby on the recommendation of Carlos and Vanesa. There you can eat the best fish and chips in England, and we wanted to know if it's true! And honestly, the fish and chips were excellent!
Whitby is a little town that we really liked.
In the evening, we took a walk through Newcastle, along the river area, and went to dinner at Gusto Restaurant, with Italian food.
Where to eat in Whitby?
We ate at Magpie Café, delicious fish and chips. The service was slow because of was busy. We were in high season. But the wait was worth it; it was very tasty and fresh.
Where to Dine in Newcastle?
We had dinner at Gusto Restaurant, an Italian restaurant where we dine super good in front of the river. We drank good Italian wine, dessert, and unbeatable customer service.
It had a very good atmosphere.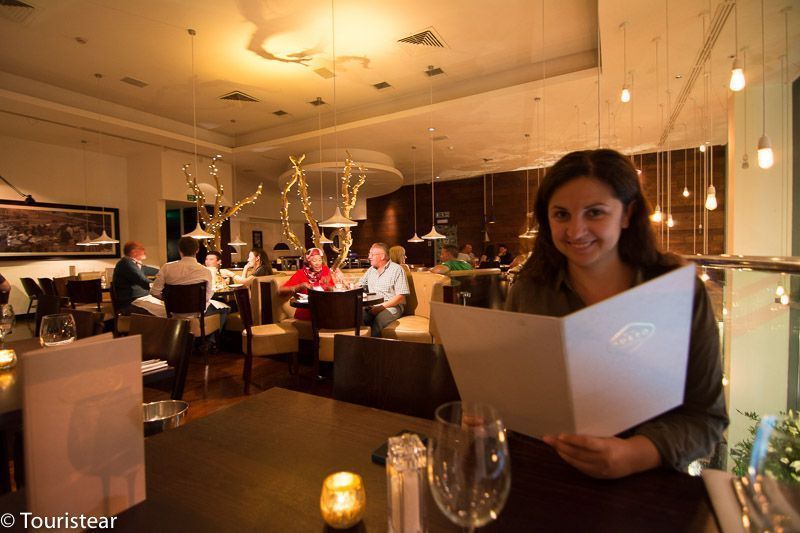 We stayed in Newcastle at "Hotel Express" for 35 pounds.
That's what you can imagine for that price. The room is spacious and comfortable. It has a shared bathroom.
The site is a little far away, and the customer service is not the best, but for 35 pounds we didn't expect much more.
On the sixth day of our road trip, we arrived from England to Scotland; the stretch we made was from Newcastle to Edinburgh, with stops in Hadrian's Wall (England) and The Borders (Scotland).
In the morning, we visited Newcastle Cathedrals and the castle on the outside because it was closed at that time. We also walked along Greys Street, where the old part meets the new part of town.
From here, we begin our visit to Hadrian's Wall. It's very curious to see people making their way on foot as if they were on a pilgrimage or something on Hadrian's Wall Path.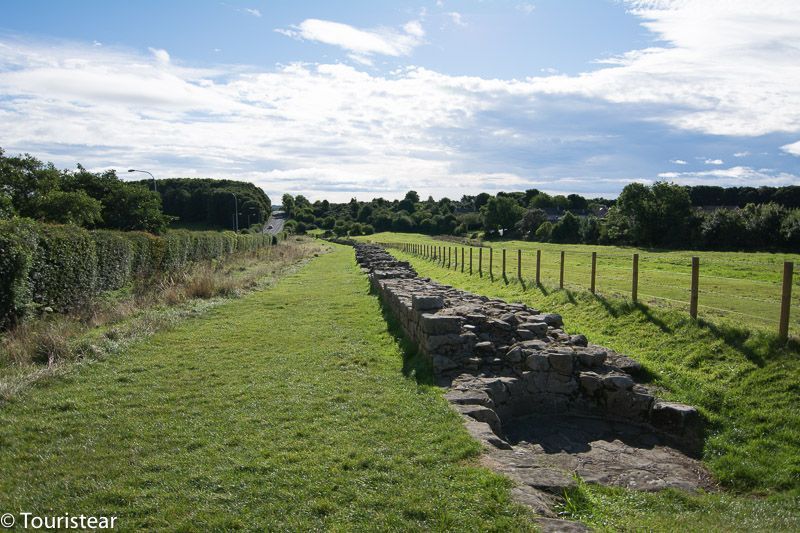 On the way to Edinburgh, we stopped at Jedburgh Abbey and Melrose Abbey. So, again, we enter with the Explorer Pass.
We arrived in Edinburgh in the afternoon, at about 4.30 pm, left things at our hotel and ran to the castle to see if we could get in, as the last pass is at 5 pm, but we were late…
So we went on the Royal Mile from Edinburgh Castle to Holyrood Palace and back in the car.
Then we went to Arthur's Seat and then went to Calton Hill Park, which has super nice views of Edinburgh.
The climb is softer and shorter, and we watched the sunset from up there. It must be said that it was quite windy and it was a bit cold, but the place is very nice and totally recommended.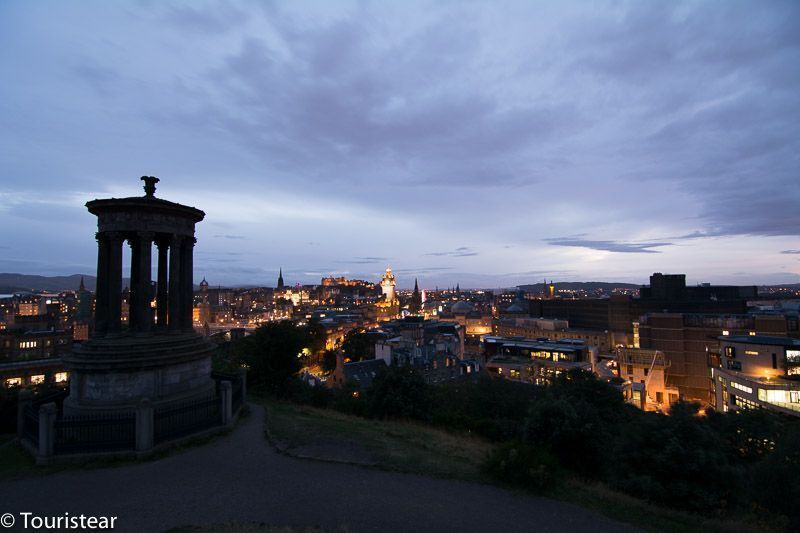 Then we went to Sandy Bells, a small folk music pub, which is super cool. At the end of the day, we took a pint at Last Drop Inn, a typical Scottish pub.
Where to lunch?
We ate a couple of sandwiches at a pub in Jedburgh and had a pint of local beer each. We spent £16.60 between the two of us.
Where to have dinner?
We had dinner at Sandy Bells with a few "pies" of curry meat; they are some very good meat cakes; we accompanied them with a few pints of beer from the area.
Where did we stay in Edinburgh? At hotel Britannia
We stayed for 2 nights at the Britannia hotel. The room was ok, large, and had a private bathroom. I was about a 20-minute walk from the castle, in a nice area.
Day 7. Edinburgh
On this day in Edinburgh, we saw a lot of things. It was a very intense day, but it was great. Want to know what to do in 24 hours in Edinburgh? Click on the link.
If you spend more days in Edinburgh, I recommend you read this post with 50 things to do and visit in Edinburgh.
The first thing was breakfast at the hotel (£16 for both), a very complete breakfast buffet.
The Scotch Whisky Experience
Then at 10 am, we visited The Scotch Whisky Experience; we had booked to do the Masterclass, where we learned to taste different Scottish whiskies.
That it came phenomenal for the rest of the visits, we made to distilleries. I'll tell you more in detail in another post.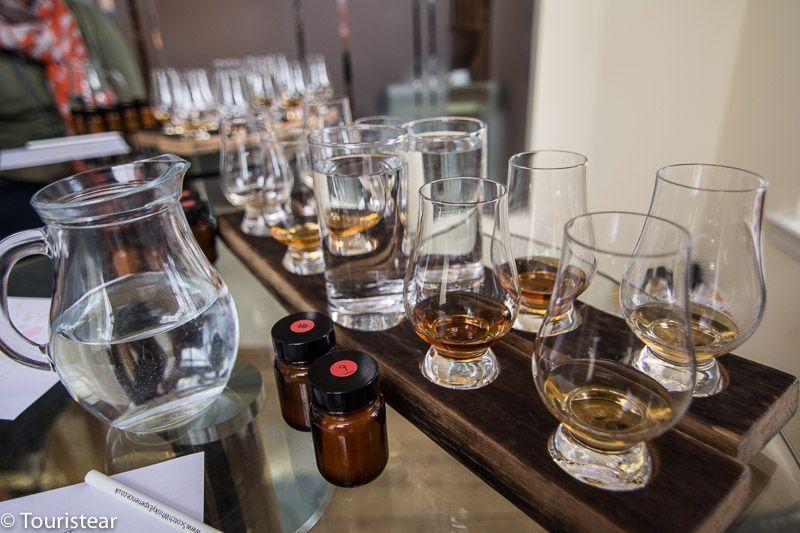 We visited the Cathedral of St. Giles, which was also with a piano concerto. The cathedral is very nice, but with music had another much more welcoming atmosphere.
We ate in Civerinos, a pizza restaurant. We walked into this place because we saw that they sold pizzas for portions. When you see portions, you think about small portions, we ask for 2 portions each, and we see that they bring us…
Half a pizza for each!!! Each part was worth about £4, plus the beers, we spent 21.70 pounds. A highly recommended site, especially if you don't want to spend a lot.
South Bridge and the vaults
We had a two-hour guided tour to visit South Bridge and the vaults; we wanted to see another side of Edinburgh. The visit was very good; they tell you interesting things.
Afterward, we went to visit Edinburgh Castle, we spend at least 2 hours, as the castle is quite large and you have many things to see. We also enter with the Explorer Pass.
And our last tour was with Real Mary Kings Close. We visited the alleys below the town hall. It is a very entertaining visit.
To end our day we stayed with a friend, who took us to know a couple of Edinburgh pubs where the locals go.
On the way to the hotel (we went back walking), we stop at Grass Market, in a tavern that is over 500 years old and also had live music.
Where to eat in Edinburgh cheap?
Restaurant Ceverinos. As I told you above, you can order a portion of pizza in this restaurant, which is actually half a pizza for £4. And if you don't want to spend on drinks, order tap water, which is free and it's good.
Day 8. Edinburgh – Stirling
On our eighth road trip day, we are already in Scotland and preparing to go to the highland gate: Stirling.
On our stretch from Edinburgh to Stirling, our first stop was to visit the Yacht Britannia, which was the yacht that used the English royal house. I don't have to tell you what the little yacht looked like, do I?
Then we continue to Midhope Castle. Here came my geeky side, because it is in this abandoned castle where the scenes of Lallybrook are filmed in the TV show Outlander.
Then we went to one of the castles I liked the most, Blackness Castle, which is practically tucked into the lake and very well preserved, plus it was on its way to Linlithgow Palace in the small village of Kirkgate.
Kirkgate is a picturesque village with a palace between phases 1 and 2 for about 200 years. Worse preserved, but in a beautiful setting on the lake's edge and from whose owners descends the Queen's mother.
Then we were to Falkirk Wheel; this was what Fer wanted. It's an engineering work that allows communication between two more than 40 meters high, takes the boats from one channel, and goes up to the other and vice versa; it is pretty curious.
And we arrived at Stirling Castle, one of Scotland's most visited castles. The views are spectacular from the castle, and it's phenomenally well-preserved. In addition, the employees are dressed as centuries ago and recreate moments of another time.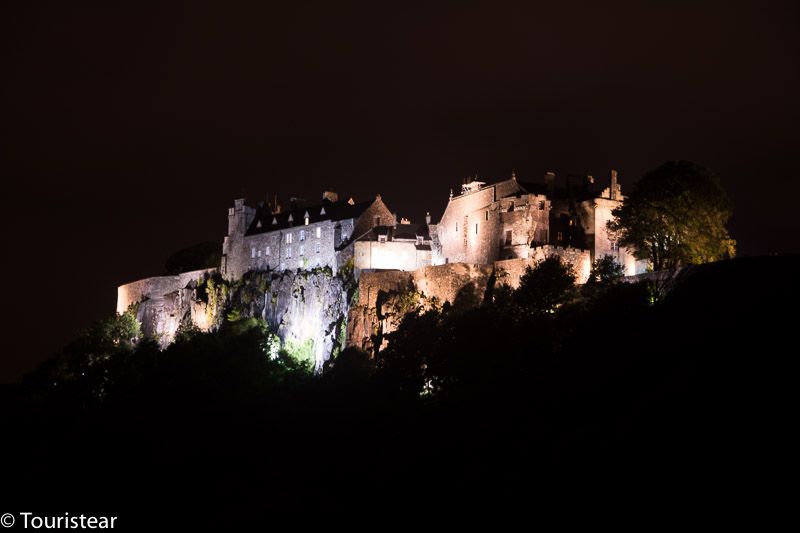 As a colophon, we went to take night photos of a huge sculpture of the Kelpies that is very close to Falkirk. The Kelpies are a Scottish legend.
They are spirits of the water that can take any form, but it is usually that of the horse.
Day 9. Peebles. We watched the Highland games
We went to Peebles, which is 80 km south of Stirling, to see one of the celebrations of the Highland games. It was a detour along the way, but it was worth it.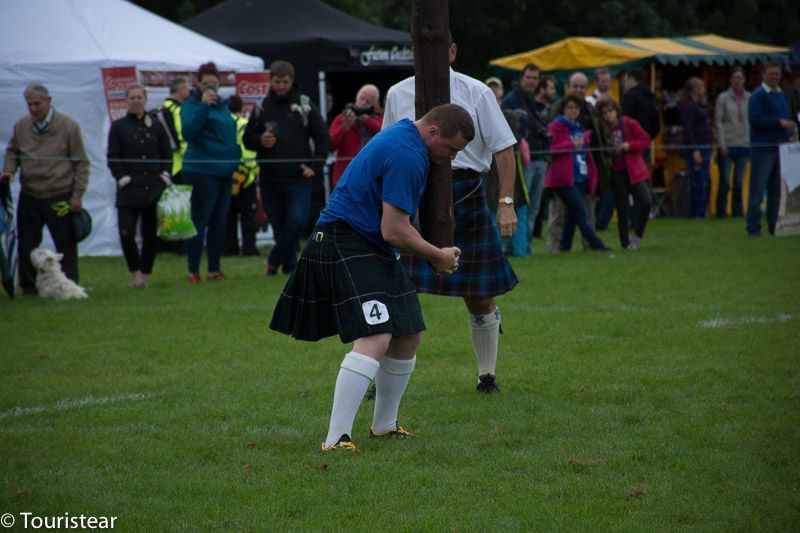 In addition, on the way to Peebles, we stop at Rosslyn to see the Rosslyn Chapel, so known for the book of The Da Vinci Code.
It was excellent, and we were also able to have a great breakfast in a hotel that was very close.
At the Highland Games, we watched competitions of piper bands, highland dance, log throwing, and all kinds of weights, hammers, and balls… It was great!
Day 10. Stirling – Glencoe
We leave Stirling early to go to Glencoe and continue on our way west, looking for the Atlantic Ocean coast. Our goal is to get to Stalker Castle and sleep around.
Today we cross one of Scotland's most important nature parks and one of the most beautiful and visited. Loch Lomond Natural Park is the only place in Scotland where camping in nature is forbidden.
But first, we stopped at one of the best distilleries of the many we have ever been to, Glengoyne distillery. A handcrafted distillery that does not belong to a large business group but is familiar. We did a whiskey and chocolate tour. We loved it.
As we crossed Loch Lomond, we were fortunate enough to see a super special rainbow; I will never forget everyone who passed stopped and said the same thing: "I've never seen anything like that before."
We saw Kilchurn Castle, one of the castles that always comes out in photos of Scotland, and after visiting it, we went to Stalker Castle.
Another of the famous, beautiful, not only the castle but the surroundings, and here, we spent the night with our tent in front of the castle.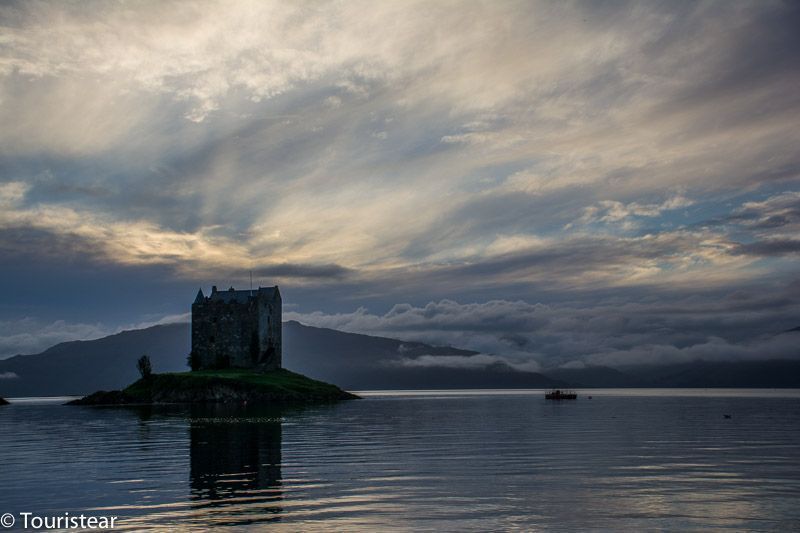 Day 11. From Glencoe to Loch Ness and Inverness
From Glencoe, we climb north to get to Inverness, the capital of the Highlands.
Our first stop was at Fort William for breakfast. We ate a good Scottish breakfast. After that, we went to see the Glenfinnan viaduct.
The viaduct that Hogwarts Express passes through in Harry Potter's films.
And then, we were to another distillery to taste more whiskey, this time Dalwhinnie. Although, a spectacular whiskey, we had to buy another bottle, lol.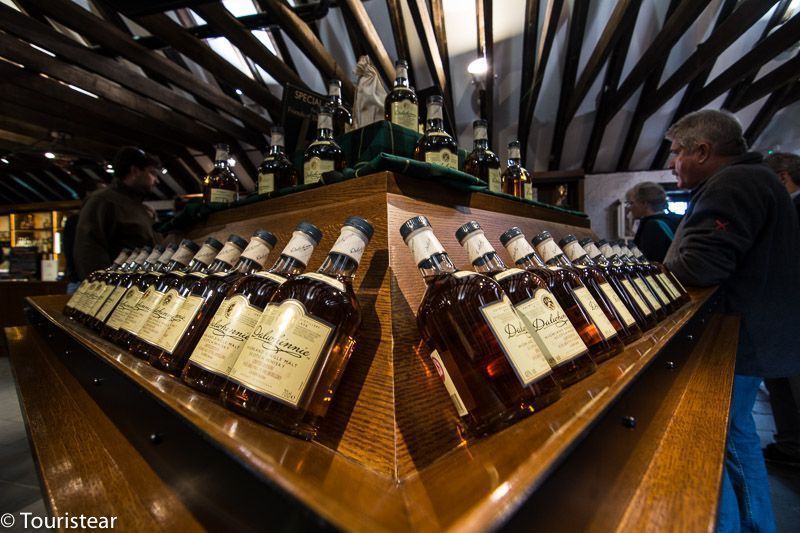 We passed in front of Loch Ness and toured its shore but did not stop much because we already planned to tour it by boat the next day.
We left things at the hotel and went for a walk in Inverness all afternoon.
Inverness is a small town, but very beautiful, crossed by the River Ness that is quite wide and flowing, loaded with salmon.
Day 12. Loch Ness – Culloden – Cardhu – Inverness
Soon in the morning, we were taking the Jacobite Cruises boat that was going to give us a tour of Loch Ness, and then it would drop us off at Urquhart Castle.
The tour of the lake is lovely. And you can see a sónar in case Nessie appears… The Castle is much prettier from the boat than on land, but since you are on the road…
Then we went to Culloden, where a critical battle between Scots and English took place and lost the Scots.
You'll see the battlefield in which it happened, with a little imagination, you see the horrors that happened here, or if you saw Outlander's TV Show.
And of course, to brighten the soul, another visit to a distillery, this time Cardhu. Fer did not like it very much, especially the guide, but I did like it, although maybe it was going a little fast, but as they say, to taste the colors.
We ended the visit with a tasting of seven varieties of Cardhu whiskies.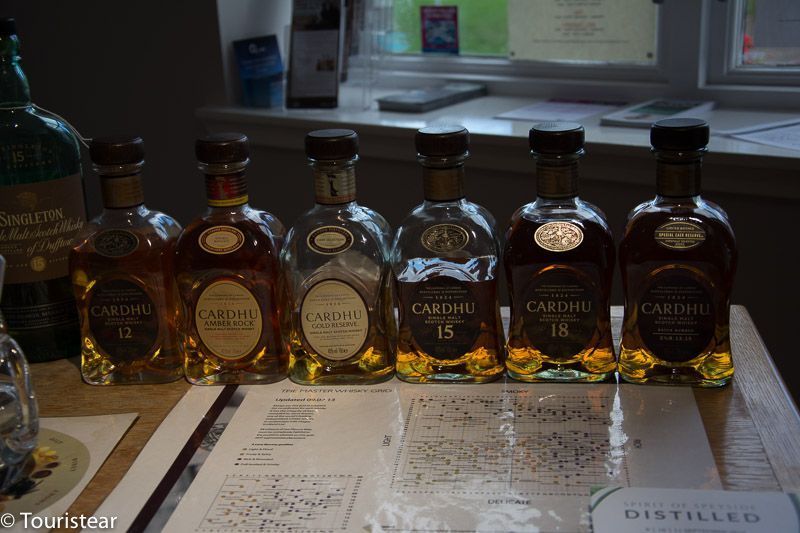 On the way, we cross the natural park of the Cairngorms, which is absolutely spectacular, totally recommended.
Day 13. Inverness – Isle of Skye. Stage 1 North Coast 500 route
This day we start it with a curious visit to The House of Fraser, the only visitable factory that made traditional kilts.
They put you in a video explaining how kilts are made, and then you can look through a window as they sew the kilts by hand. A kilt is a Scottish skirt used by men.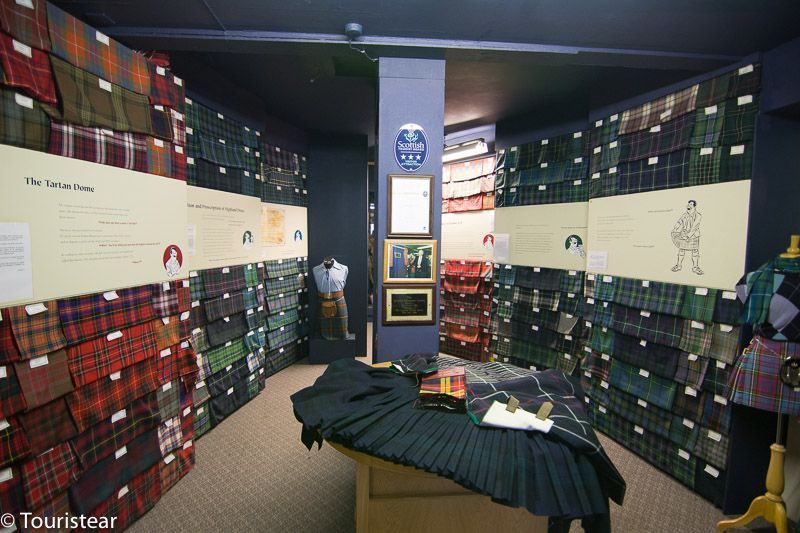 And here we begin the first stage of the NorthCoast 500. Our first stop was Beauly. We visited the abbey or monastery, and then we stopped at Strathpeffer for a coffee, by the way, a lovely little village.
Our next stop was Rogie Falls, a beautiful waterfall where you usually see the salmon jump upstream.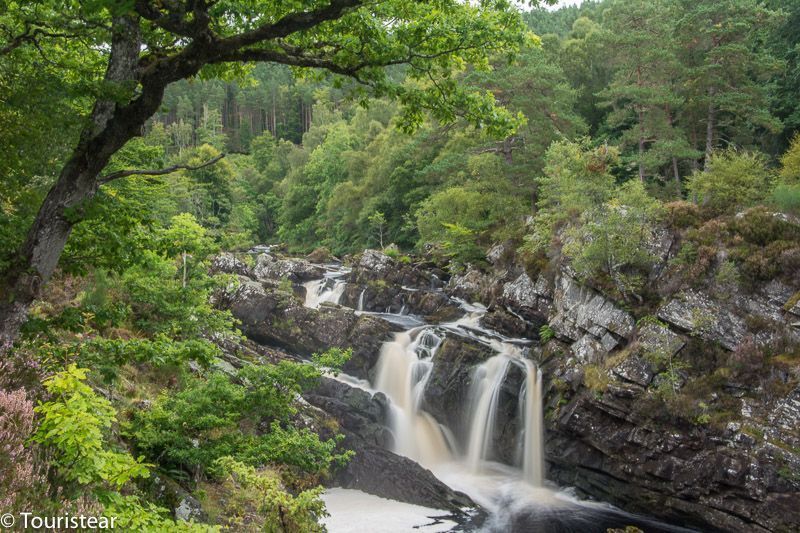 Then, we go to Kyleakyn, and we were starting to see the landscapes of the Highlands; they're fabulous.
Our next stop on the way was to eat. We stop at Loch Carron, at Carron Restaurant, which is on the shores of the lake. We ate superbly. Very well.
John, the restaurant owner, told us about the Attadale Gardens next door. We went to see them and met Joanna, a lovely woman who taught us the gardens and told us about the family history behind them.
And we arrived at another of Scotland's most visited castles (but the most?) in Scotland, Eilean Donan Castle, where Braveheart and James Bond scenes were shot among other films. We really liked it.
Very close to Eilean Donan is Plockton, which is a fishing village that seems to have not passed the time, and we head to Armadale on the isle of Skye for the night.
Day 14. Isle of Skye
The day before, we arrived on the Isle of Skye, and it was already raining. The next day when we got up, it was also raining, like all day long.
We start on our way to Dunvegan Castle and make a few stops. We see the most typical and well-known mountains and the best place to do Golden Eagles sightings in Sligachan.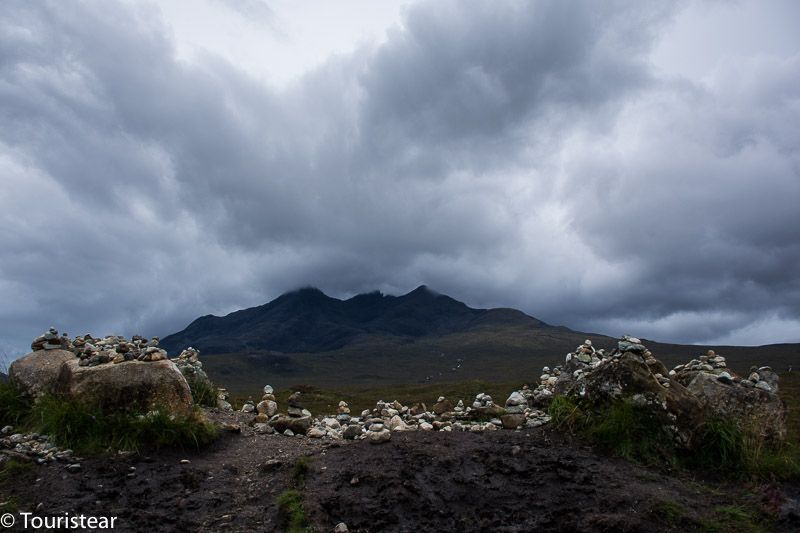 We visited the Talisker distillery and bought (another) bottle. The visit was excellent, the guide a charm, but there were a lot of people! Very good whisky!!!
Then we went down the Quiraing trail, by car, because it rained a lot. Absolutely essential.
On our road trip on the Isle of Skye, we also visited Duntum Castle and the Old man of Storr. But we did not climb it, because it was awful weather and there was little visibility.
We ended up in Portree, having a few pints in a pub with very nice people.
Day 15. Isle of Skye – Stoer. 2nd stretch on North Coast 500 road trip
We started our second stage of the North Coast 500 from Stromeferry to Stoer.
We stopped for breakfast in a hotel and ate a good Scottish breakfast.
Later we stop at Applecross, which is a tiny village with a little dock.
We continued along the coast and stopped from time to time to take pictures.
We stop at Smoke Applecross, which is a marriage that prepares smoked salmon in a totally homemade way; we buy salmon and cheese. Simply spectacular!
We also ate it on the shores of Lake Maree.
We went on our way and kept going on some very nice beaches and places until we got to Stoer, where we stayed and slept beautifully.
Day 16. Stoer – Durness – John O'Groats
After a good Scottish breakfast, with haggis included, we went to Durness, intending to see puffins and seals, but it was impossible as the puffins left in mid-July.
So to ease the sorrows, we put a hot chocolate in Cocoa Mountain, one of Scotland's best chocolate bars.
On our way to John O'Groats, we stop at the Clearances Museum in Betty Hill, the museum is fine, but if you can meet Elliot, a volunteer who works there, you'll get a fantastic experience, just talk to him.
We passed the northern point of Britain, Dunnet, as we looked at the Orkney Islands and ended up at John O'Groats watching the sunset by the colorful cottages.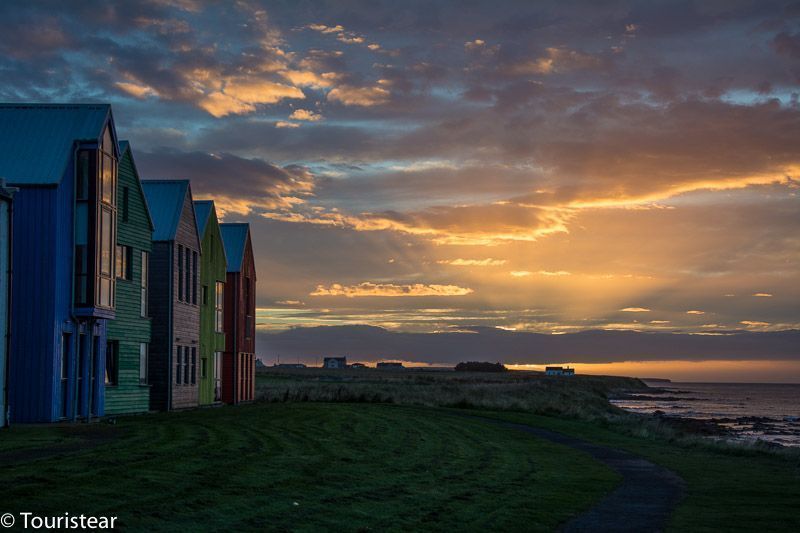 Day 17. John O'Groats – Inverness
We stop at Wick on September 11th Sunday with almost everything closed. But thanks to a lovely sweeper who helped us, we found a place to have a good Scottish breakfast for less than £5 per person! Nothing like asking the locals.
Then we went to Sinclair Castle; it is worth visiting, especially for its surroundings.
From there, we went to Hill O'many Stane, which is a hill with many small menires placed in order, are from the Neolithic. Then, just like the Camster Cairns, we saw afterward, which are kind of temples that look like they're made of piled stones.
We stop at Brora and ate very well; we are getting experts in finding good places at a good price.
We visit Dunrobin Castle, which was the Duke of Sutherland's castle, strolled through Tain and dined at The Auctioner, and slept in a B&B in Inverness that we arrived unreservedly but had "vacancies."
This was the day we decided to leave the wild camping…
Day 18. Inverness – Aberdeen
We're still doing a spectacular few days, so we decided to take advantage and get out soon. First, we visited Brodie Castle and then Elgin Cathedral.
We had breakfast in Aberlour in a place called Byre, which was undoubtedly the best Scottish breakfast of the trip.
We visited the distillery of Aberlour, very well, totally recommended. We tasted 6 whiskies, I liked one more, and Fer liked another one better, and we bought the one I liked.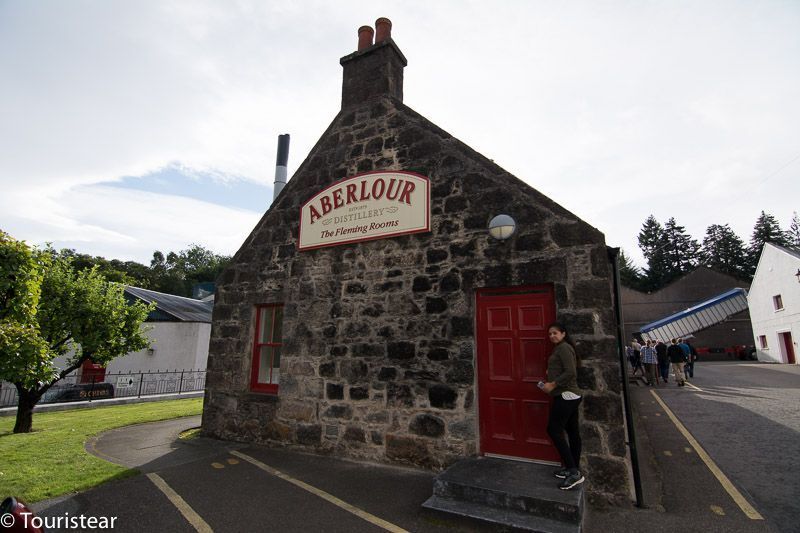 We visited The Cooperage Speyside, which is a visitable handcrafted barrel factory. You can watch them do and repair them live. Totally recommendable.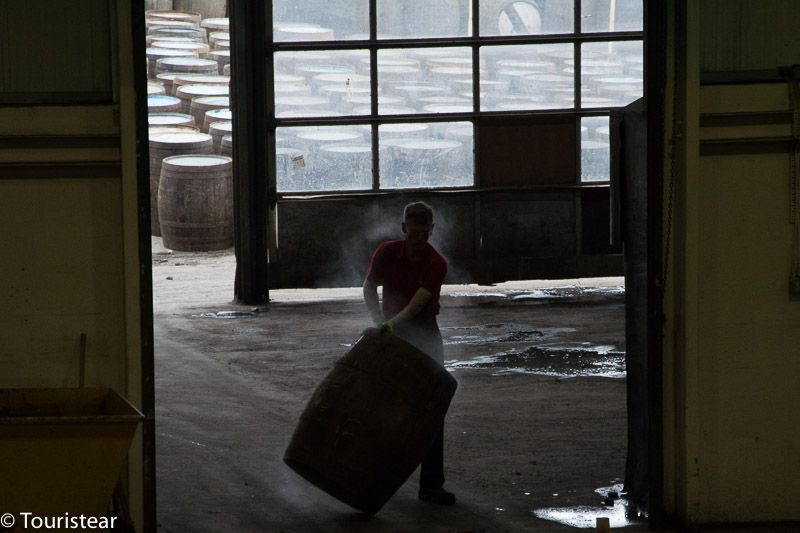 On the way to Aberdeen, we see a lot of famous distilleries, but you can't visit everything…
We visited Craigievar Castle and Castle Fraser.
We arrived in Aberdeen; we went for a walk in the old area, we tried a super dessert.
And we slept at Hanna's, a very familiar B&B. For 50 pounds, breakfast included good conversation and a few laughs.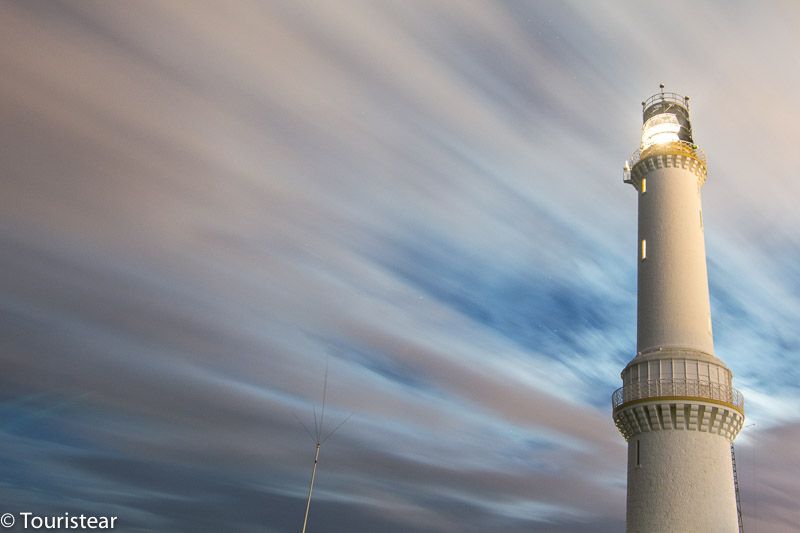 Day 19. Aberdeen – Carlisle
We got up in Aberdeen and had breakfast at Hanna's, had a great time. We all had breakfast together as a family, with another couple of guests.
We started our way south, and on the way, we visited Dunnotar Castle, continued towards Edzell, and visited the village, which is very picturesque, and the castle with an extraordinary garden.
We see the stones of Aberlemno, which are Pictish stones on the side of the road, and we quietly walk through Kirriemuir, the village where the writer of Peter Pan, J. M. Barry, and Bon Scott, the first singer of AC DC, was born.
We ate great, especially for the friendly owner at Three Bellies Bar.
We visited Glamis Castle and the Discovery RSS in Dundee.
We also stopped at Falkland, a beautiful little village, which was also the setting of Outlander.
We slept in Carlisle in another B&B, which we booked through Booking, room with private bathroom, well located, and cost us 55 pounds with breakfast included.
Day 20. Stretch from Stratford-Upon-Avon to The Cotswolds
We start the way to Stratford-Upon-Avon, but first, we stop in Warwick, for its famous castle, but we didn't visit because the entrance was 25 pounds per person plus 6 pounds parking. So instead, we visited the village, which is very nice.
Stratford-upon-Avon is the town where Shakespeare was born, and here it's all about him, the most important point being "The Birthplace," Shakespeare's birthplace.
From here, we cross the Cotswolds s stop at Chipping Camden, Stow-on-the-wold, Cirencester, and Tetbury.
We arrived in Bath at about 20.00, had dinner and bed.
Day 21. Bath in the morning and Stonehenge in the afternoon
We tour Bath in the morning; we visit the Abbey, the Roman baths, the Circus, the Royal Crescent, Jane Austen Centre, and the Pulteney Bridge, which say that this bridge resembles the Ponte Vecchio…
After Bath we went to Stonehenge, we stay a good time. The truth is that it is impressive; the stones are much higher than we imagined.
You have to book in advance.
Totally recommend visit; better to go with the Heritage Pass.
Day 22. Dover – Tours
We got up early, headed for Dover, and had breakfast for 8.30 pounds, both of us, our last breakfast on the trip, was two full English breakfasts with a coffee refill.
We're going to the ferry to cross into France. We picked up our passengers from Bla Bla Car and arrived at Tours at 23.00 hours, 2 hours late, because of the rain and traffic jams, so we went to sleep directly!
Day 23. Tours – Madrid
Well, what was going on is over… We get up early, have breakfast at the hotel (it is not worth paying 8 euros per person).
We pick up our passengers from Bla Bla Car in Bordeaux, and we set off for Madrid, which our four cats, my cousin, my sister, and my brother-in-law, are waiting for us to take a few beers and tell us about our trips.
Although you may not notice, I tried to sum up our 23-day road trip throughout England and Scotland to get an idea of all the things there are to see in the UK.
Gradually, we will tell you everything there is to see and do in more detail to visit these two destinations if you feel like it.
I must thank Visit Britain, Visit Scotland, and ASVA for their help on our road trip. And we want to come back soon!
Read More: Best raincoat for UK and Ireland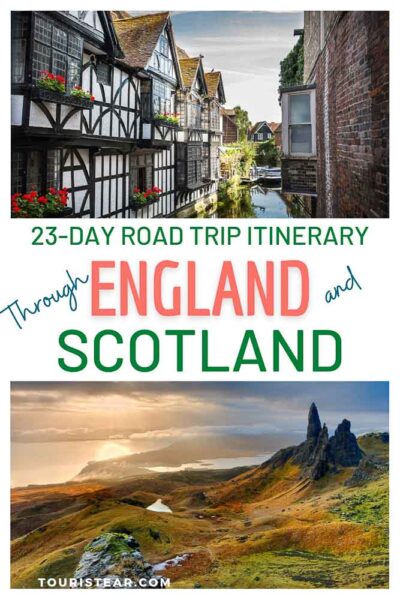 Disclosure: Some of the links on this post are affiliate links, meaning at no additional cost to you, I may earn a small commission if you click through and make a purchase.
Book Your Trip
Book Your Flight
Find a cheap flight by using Skyscanner.
Book Your Accommodation
You can book your hostel, hotel, or apartments on Booking.com.
Don'torget Travel Insurance.
Travel insurance will protect you against illness, injury, theft, and cancellations. It's your protection in case anything goes wrong. You never go on a trip without it.
Best companies for Tours
Check out Civitatis.com and find the best tours in English (French, Spanish and Italian)
Are you looking for the best companies to save money with?
Check out my resource page for the best companies to use when you travel! I list all the ones I use to save money when I travel – and I think I will help you too! (Is in Spanish yet)
Last Updated on 19 June, 2023 by Veronica
Disclosure: Some of the links on this post are affiliate links, meaning at no additional cost to you, I may earn a small commission if you click through and make a purchase.
Author: Veronica
Vero, a seasoned traveler, has explored 25 countries and lived in five, gaining a rich perspective and fostering an infectious passion for travel. With a heart full of wanderlust, Vero uncovers the world's hidden gems and shares insights, tips, and planning advice to inspire and assist fellow adventurers. Join Vero and let the shared passion for travel create unforgettable memories.