Top 8 Places to Stay in Stirling, Scotland
Stirling was the most crucial city in Scotland during the Middle Ages, and today it is one of the most touristic cities, thanks to its location and the way it has preserved its ancient charm.
So if you think about taking a trip to Scotland you have to visit Stirling, take notes of the best places to stay in Stirling.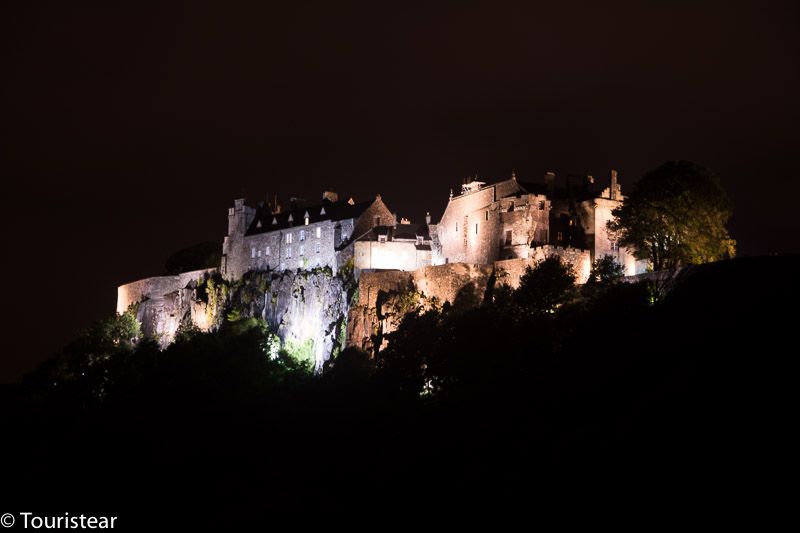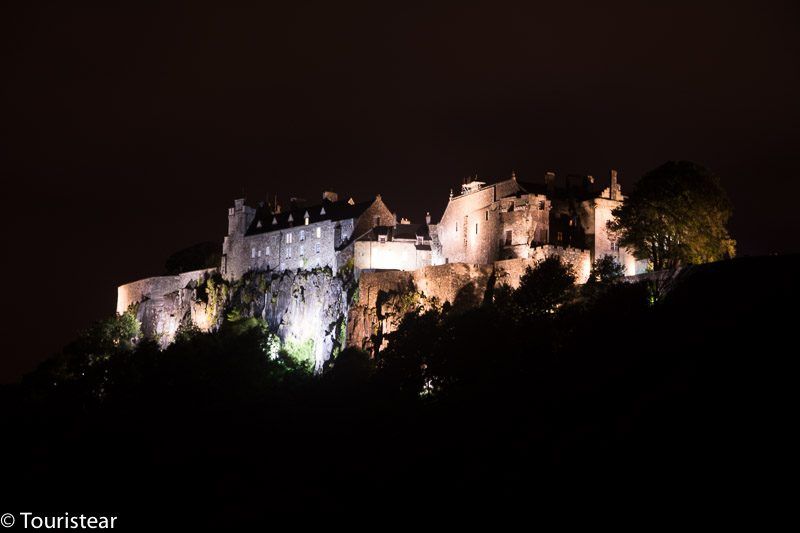 Friars Wynd Hotel
The Friars is a boutique hotel located on one of the city's oldest streets. It has only 8 rooms and is proudly presented as a family business that seeks to provide its customers personalized attention.
Each room is decorated differently, some with antique-style furniture that matches the austere style of the building, and others have more modern touches.
It also has a restaurant that presents dishes that are a mixture of typical and gourmet recipes. We recommend you try the Fish Platter so that you can taste different types of fish, a specialty of Scotland.
In addition, the breakfast included is complete, and you can choose between English or Scottish breakfast or a la carte.
Friars Wynd Hotel is a 10-minute walk from Stirling Castle.
Considering what it offers and the beauty of the place, we believe it is one of the best value-for-money hotels in the city. You can make your reservation here.
B&B Drum Farm
B&B Drum Farm is one of the accommodations that offer a unique experience in Stirling. It is a hotel that operates in a 300-year-old building located on a farm 15 kilometers from the city center in the Carron Valley.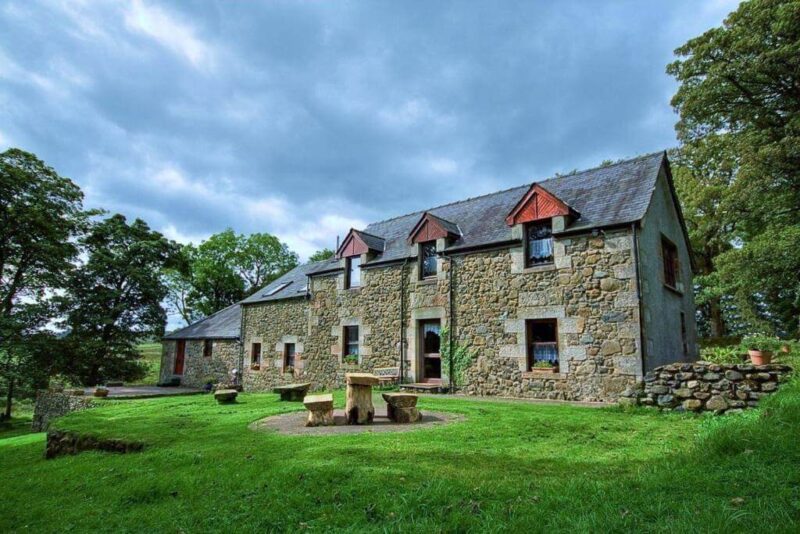 You won't go to Drum Farm B&B for the decor; you'll go for the incredible view. From the hotel, you can see a lake and the mountains.
In addition, you can take some walks and hikes in the surroundings, and if you have good weather, you can have a snack at the tables that the hotel has in its garden and enjoy a beautiful sunset.
You stay in apartments with kitchens equipped with refrigerators, microwaves, and electric stoves. You can make your reservation here.
Royal Gardens Apartments
Royal Gardens Apartments is one of the best places to stay in Stirling for location. The Royal Gardens is just 500 meters from the castle, and you can see it from several rooms.
This is one of the luxury hotels to stay in Stirling; its quality is that of a 4-star accommodation.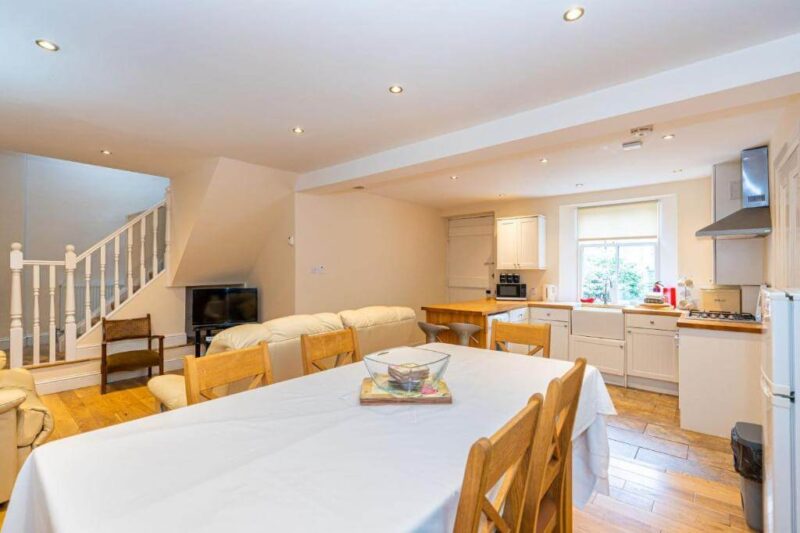 You can choose apartments with up to 5 bedrooms. Each apartment is fully equipped with modern furniture and appliances in the heart of the city center in a building of typical Scottish architecture.
As well as being close to the castle, it's just a few streets away from Kings Park and Victoria Park, so it's a lovely area to walk around Stirling.
For the price and the size of the apartment, it is a more recommendable option for families than for couples. Check out the prices here.
Menstrie Castle Stay
We are going away from the city again to tell you about an incredible option. Can you imagine sleeping in a Scottish castle? Menstrie Castle's name is not a coincidence; this hotel is inside a castle built in 1560.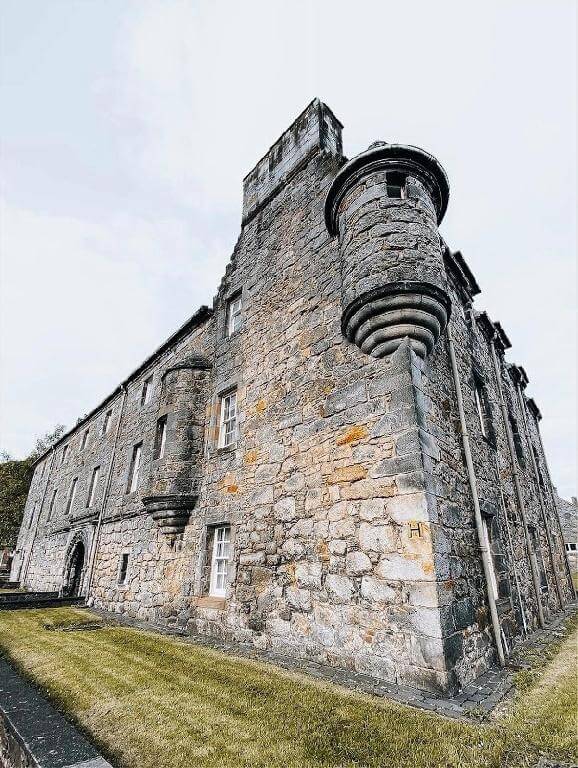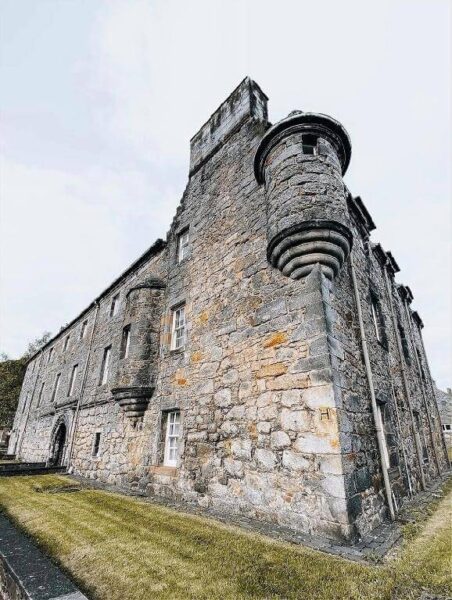 Two apartments are offered inside the castle that has been recently renovated, combining contemporary touches with the historical and original character of the castle, with thick castle walls, sash windows, and breathtaking views.
Both apartments have equipped kitchens, so you can cook whatever you want and have breakfast or lunch while enjoying the views from the castle.
Nearby attractions include the Wallace Monument, dedicated to national hero William Wallace.
Take a look at the prices for the date of your trip.
Hotel Colessio
This option is not a castle, but it operates within a Victorian-era building and was recently remodeled to return it to its original charm.
All rooms are beautifully decorated and carpeted, with modern touches that blend nicely with the traditional architecture of the building.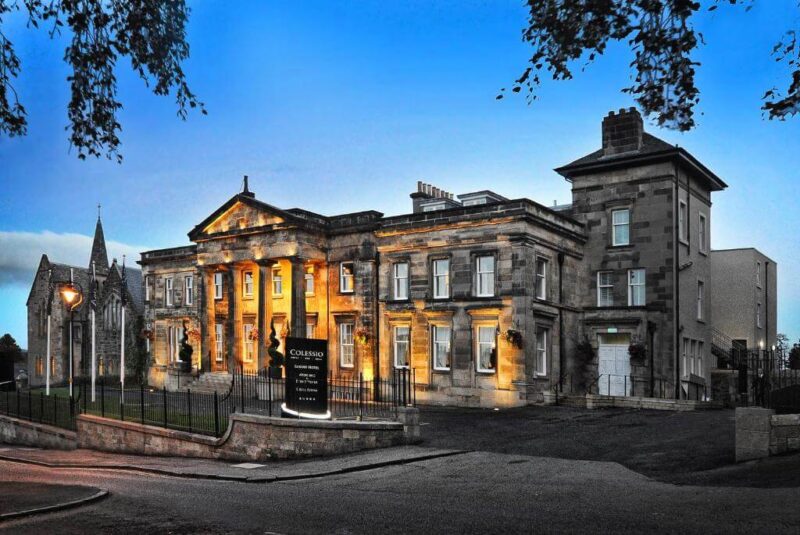 The location of the Colessio Hotel is also perfect, as it is 500 meters from Stirling Castle and in an area that will allow you to explore the city center in a few minutes.
The hotel has a grill restaurant and offers typical Scottish dishes.
If you look at the prices and think that you are sleeping in a building that allows you to travel in time, we can conclude that it is a hotel with excellent value for money, and we can even say that it is a cheap hotel to stay in Stirling.
Golden Lion Hotel
Although it is a hotel that has been welcoming guests for more than 200 years, it is an accommodation equipped with all modern comforts. Its long history has housed members of royalty and the country's most influential artists.
Each room is uniquely and elegantly decorated. Likewise, the hotel's bar and restaurant are no slouch in elegance.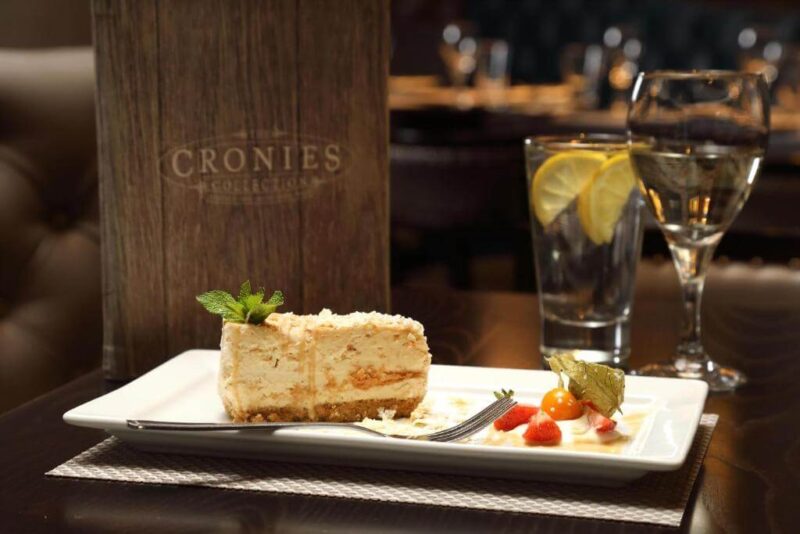 You will be able to taste a good variety of whiskies, Scotch, obviously (don't mix it with coke!!! it's like a sacrilege for them).
And they also offer local lamb and seafood, making it a great place to try traditional recipes with high-quality gourmet presentations.
1 Royal View Apartments
The Royal View is a 2-bedroom apartment located 2 kilometers from the castle and 1.2 kilometers from the Wallace Monument. You will directly view the monument from the dining room and kitchen.
It is a simple apartment with modern equipment and is very spacious, making it ideal for a comfortable stay in the city.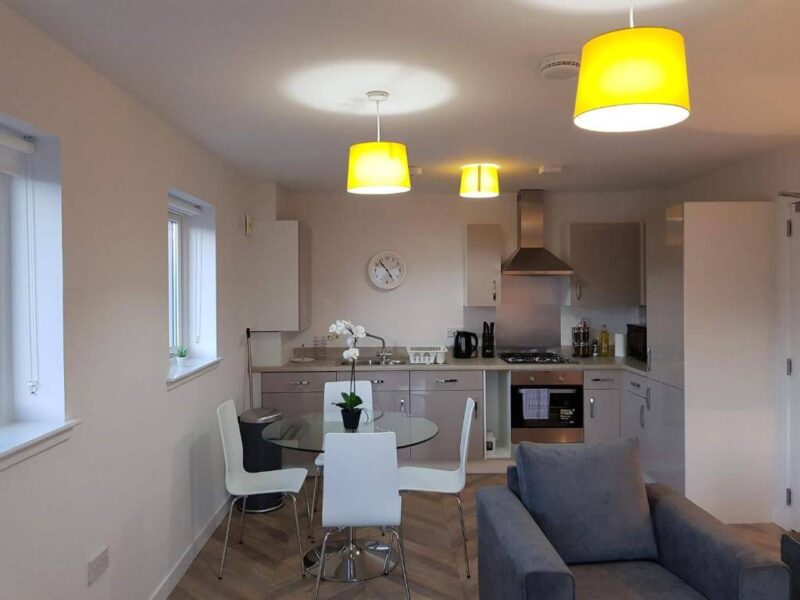 It is one of the cheapest hotels to stay at in Stirling, but you must consider that on specific dates, they may require a minimum stay of 3 days.
Victoria Square & The Orangery
We present you with one of the luxury hotels to stay in Stirling. The luxury is felt from the moment you see the entrance to the building until you taste the dishes of its restaurant through every detail of the decoration of the rooms.
Not to mention the canopy bed and free-standing bathtub. These details make Victoria Square the ideal choice for couples.
The Orangery is the hotel's bar-restaurant. Scottish breakfast is served daily, and dinner is available from Wednesday to Saturday. They use local products, and the menu varies according to the season.
It is located 800 meters from Stirling Castle and just 50 meters from Victoria Park.
You can make your reservation here.
Stirling's location in the center of the country makes any of these hotels a perfect choice for a base from which to tour Scotland's most popular cities, such as Edinburgh, an hour away, or Glasgow, just 30 minutes away.
Stirling is also a must-stop if you are touring Scotland by road. It is the gateway to the Highlands, marked by the country's history.
Besides, it is very picturesque and cheaper than neighboring Edinburgh or Glasgow.
Plan Your Trip to Scotland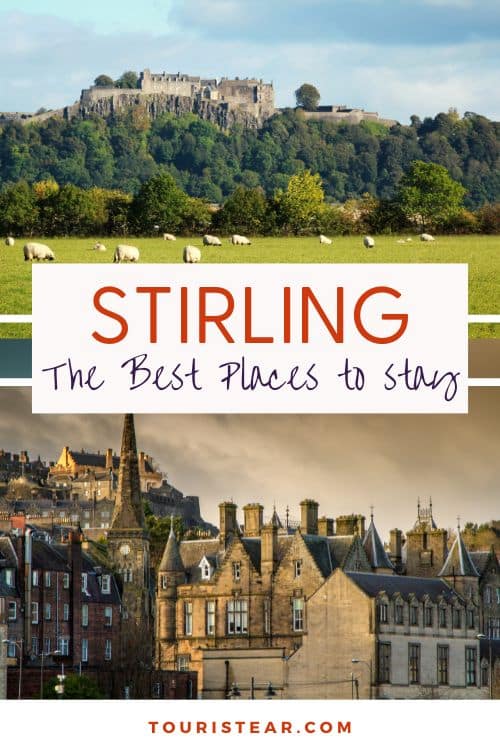 Last Updated on 15 September, 2023 by Veronica
Disclosure: Some of the links on this post are affiliate links, meaning at no additional cost to you, I may earn a small commission if you click through and make a purchase.
Author: Veronica
Vero, a seasoned traveler, has explored 25 countries and lived in five, gaining a rich perspective and fostering an infectious passion for travel. With a heart full of wanderlust, Vero uncovers the world's hidden gems and shares insights, tips, and planning advice to inspire and assist fellow adventurers. Join Vero and let the shared passion for travel create unforgettable memories.