3 Days in Cappadocia: What to See and How to Plan Your Trip
When you plan a trip to Turkey, in your mind, there are indeed two places that are a must: one is undoubtedly the Cappadocia and Hot Air Balloon Ride at sunrise. And the other is to visit Istanbul. I can guarantee that it will be a fascinating trip and an unforgettable experience.
I have prepared a guide for you to travel to Cappadocia in this post. We give you the necessary tips to organize the trip on your own or with an agency. Let's start! What to See in Cappadocia in 3 days.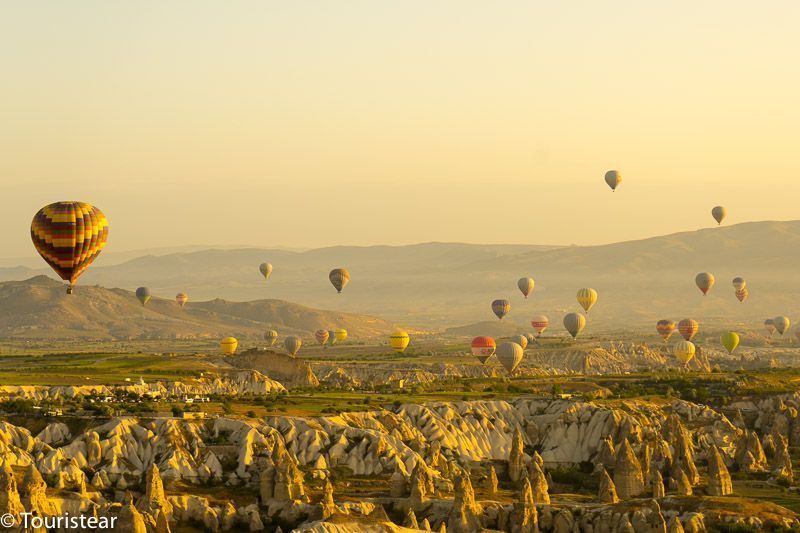 Brief History of Cappadocia
Cappadocia is the name given to this region historically. In Roman times, Cappadocia was considered a much larger territory than what we know today as Cappadocia.
Its borders reached as far as the Black Sea in the north and almost to the Syrian border in the east; at least, this is what the geographer Strabon said in his study of geography on what was called Anatolia at the time.
Today, it is a much smaller region, although large anyway, and has as its main cities Nevsehir, Aksaray, and Kayseri. The area that everyone wants to go to is the one comprising Göreme, Uçhisar, Ürgüp, and Avanos and the area around Ihlara.
Cappadocia has been inhabited since the Stone Age, around 8000 BC but the first people to settle in this region were the Hittites, around 1800 BC.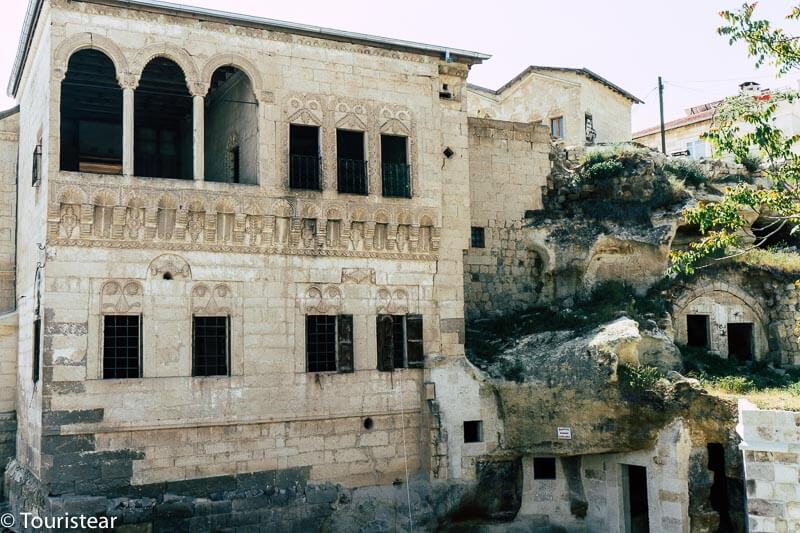 1200 years later, around 680 B.C., the Persians invaded it and 350 years later by the Greeks and in the time of Christ by the Romans, where later, around 350 A.D., persecutions of Christians took place.
Then came the Byzantines, who occupied this region for 1100 years, with several changes in the last centuries, such as the arrival of the Seljuks in the 11th century and the Mongoloids in the 14th century.
Right up to the capture of Constantinople by the Turks in 1453, the Ottoman Empire began in 1923, when the Republic of Turkey was established.
What is Cappadocia?
Cappadocia is internationally known for its hot air balloon ride to admire its rock formations, churches carved in stone, and subway cities, where the first Christians hid.
But that's not all you will find on your trip to Cappadocia.
In addition to being known for this, Cappadocia will also allow you to enjoy adventure sports such as trekking, biking, quad biking, etc.
You can visit the northern and southern parts of Cappadocia alone or with a guide who speaks your language. If you choose the last option, the guide will pick you up and takes you to your hotel. It is cheaper than you think.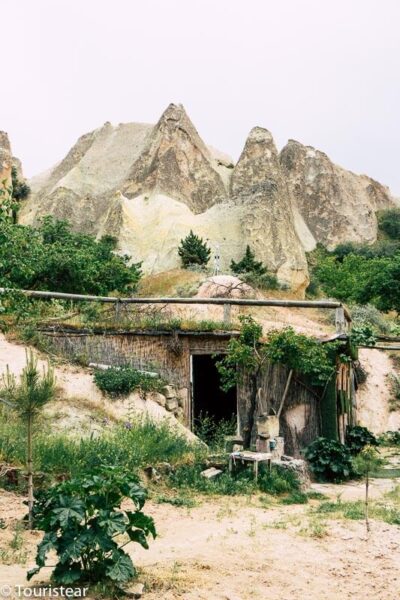 Cave houses have been the traditional form since the Hittites.
Then, with the help of the Greeks who lived in the region and above all, their knowledge of architecture and construction with arches, they began to build their houses dug into the ground, which became the usual and traditional way of building.
Today, in addition to the classic hotels of classical construction, Cappadocia has as a form of accommodation the cave hotels being unique to the region, and we would almost say that it is essential to stay in one of them.
In addition, traveling to Cappadocia will allow you to enjoy very typical gastronomy based on the Tandoori oven of the Hittites, lots of unleavened bread, and lots of spices, all washed down with Cappadocia wines, which we can tell you are very good.
And finally, we do not want to forget to mention the handicrafts of this region, especially the jewelry, pottery, and carpets.
Remember that it is not cheap, so you must prepare a reasonable budget for a good carpet or a good set of dishes.
Must-Visit Places in Cappadocia
What to See in Nevşehir?
The city of Nevşehir has thousands of years of history, although we have not been able to find its year of birth.
Originally the city was called Nyssa and is believed to have been established near the town of Soandos during the Byzantine Empire. But there are no explicit references; we know that previously, during the Ottoman Empire, it was called Muşkara.
Damat Ibrahim Pasha, grand vizier and son-in-law of Sultan Ahmed III, was born in this city. It symbolized the Tulip era in which the Ottoman Empire developed significantly both culturally and economically and was oriented towards Europe opening new trade and communication routes.
The city was originally a village that belonged administratively to Ürgüp. Still, in 1725 it changed its name from Muşkara to Nevşehir, meaning "new town," and became the region's capital.
It is not precisely the most tourist nor the one that represents the most typical and picturesque of Cappadocia; in fact, it is the farthest, but it has the advantage of having an airport.
If you need to hire the airport-hotel transfer check it out here.
The Historical Center
You can simply walk the streets of the city. It is a modern city today, the region's administrative center.
Damat Ibrahim Pasha Mosque Complex
It was built in 1726-27 and had a mosque, a library, a madrasa, a Turkish bath, and a school.
The mosque is also called the lead mosque because its domes are covered with lead.
Mehmet Aga built it, and its courtyard has 3 gates from which stands the Baroque-style minaret 44 meters high.
Nevşehir Castle
It is built in basaltic rock to the southwest of the city. The exact construction date is unknown, but it is believed to have been built in the 12th century over a previously existing Byzantine castle.
It has a pentagon shape and is on top of a hill, which gives it good defensive properties.
Nevşehir Museum
It was created in 1967 and was located in the Madrasa until it was moved to an exclusive building. You can see pieces from the Neolithic to the Byzantine and Ottoman Empire.
What to See in Göreme, Cappadocia
It is located about 12 km from Nevşehir. Göreme was called Korama before it became Göreme. The name meant "the people of the supreme mother goddess."
Actually, in this area, a group of villages developed: Korama, Avcilar, and Maçcan or Matiana.
During the Ottoman Empire, cities developed and grew. The town was called Maçcan in 1930, changed its name to Avcilar a few years later, and was renamed Göreme in 1975.
The town's patron is St. Jerome, who is supposed to have been born here in the 3rd century. There are frescoes depicting him in the Tokali church in the open-air museum of Göreme.
In the 7th century, the Arabs were attacking Christian populations with greater intensity, which caused the Christians living in the Kayseri area to move to Göreme in search of refuge.
This marked a period in which about 400 churches were built in this region and began to be decorated with frescoes, which became Cappadocian art.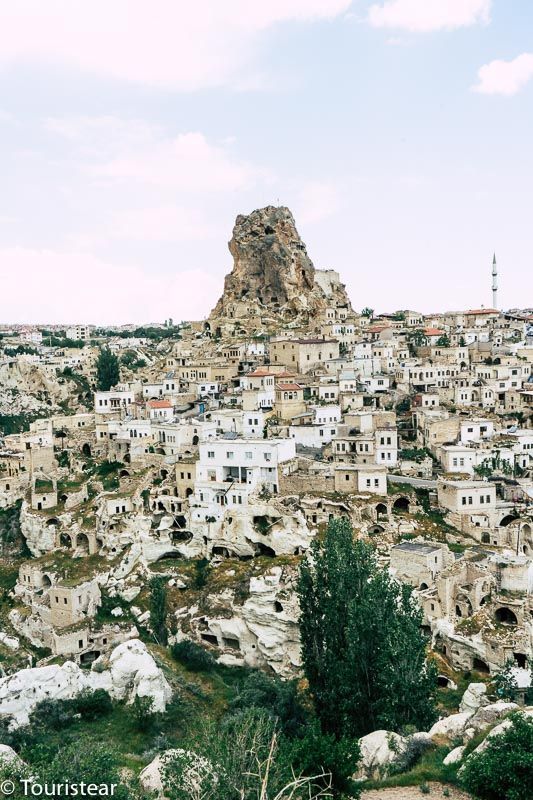 Göreme Open Air Museum
As we have just told you, hundreds of churches were built in this area. Many have not been preserved, but fortunately, others have been held.
The Göreme open-air museum is one of the main visits one must make when going to Cappadocia. Above all, what you will see are churches and subways excavated in the rock were built/excavated between the tenth and twelfth centuries.
If we had to tell you what you should visit in the open-air museum, we would say that the most essential things are:
Rahibeler Monastery
St. Barbara Chapel
Yilanli Church
The warehouse – Kitchen and Refectory
The dark church or Karanlik
Chapel of St. Caterina
Çarikli Church
Tokali Kilise Churches near Göreme Open Air Museum
The Tokali church is the oldest rock-hewn church in the area. It is one of the best examples of the churches of Cappadocia, whose paintings have outstanding technique and harmonious colors.
It is considered that the art of Cappadocian art reached its highest point with the Tokali church.
The church is the result of the conjunction of several buildings. Its final form comes from the enlargement of the original church (old church) with additional sections. Today, the church is composed of 4 chambers:
The Old Church with a single nave
The New Church
The Church under the old church
The side chapel located on the north side of the new church
Only the old and the new church are decorated with frescoes. The old church is actually the entrance to the new church.
In addition, there are other churches near the open-air museum of Göreme that you can visit. If you want to see them, we will list them for you, but we will not develop the content, because the post would take forever. They are as follows:
St. Eustace Church: It is near the Tokali Church. From the year 1148.
St. Daniel's Chapel: It is next to the church of St. Eustace.
Church of the Virgin Mary or Kiliçlar Kuşluk Church: Its name comes from the different frescoes of the Virgin Mary that decorate it.
Kiliçlar Church: It takes its name from the valley in which it is located. About 600 meters from the open-air museum:
Nazar Kilise: Access is a little more difficult. The interior is decorated with frescoes depicting scenes from the life of Jesus.
Sakli Church or Hidden Church: It is next to the 11th-century Nazar Church.
Aynali Church: It is a structure with a bedroom, living room, kitchen, storage room, or pantry. It has two sections, one as a church and the other as a meeting center.
What to See in Uchisar
Uchisar Castle
Uchisar Castle is located 7 km east of Nevşehir, a 50 meters high rock giant.
Built at more than 1400 meters above sea level, it has always been an important defensive point against Arab invasions during the Roman and Byzantine periods.
Many holes seen around the castle drilled in the rock are tombs from the Roman and Byzantine period.
The castle consists of two adjacent buildings, which are referred to as the Agha Castle and the Sergeant's Castle. It can be accessed by an interior staircase, and the different floors have rooms with different uses.
The numerous rooms are linked by stairways, corridors, and tunnels. The entrance and exit of these rooms, as in the subway cities, could be controlled using enormous circular stones that served as sliding doors.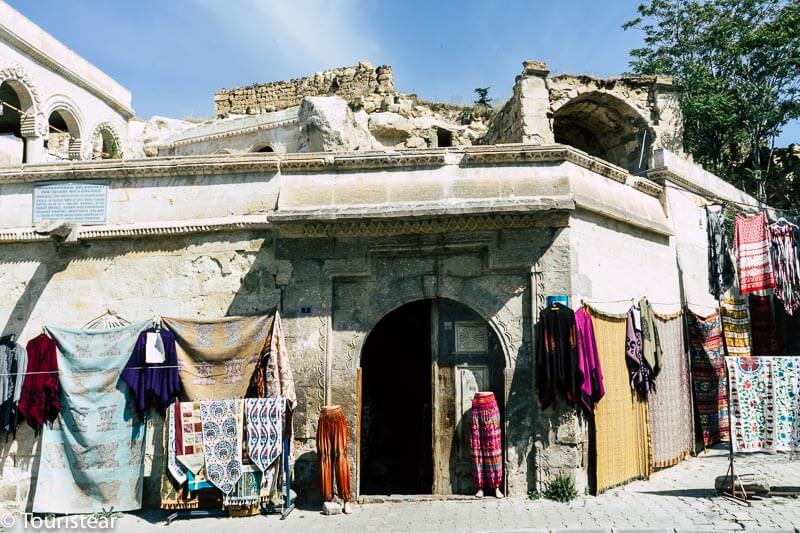 What to See in Ürgüp
Ürgüp is one of the most touristic areas of Cappadocia. When you enter from Nevsehir, you find the famous fairy chimneys that welcome you to their city as a foretaste of what you will see in the coming days.
The landscape is configured in terraces, which they call Çatalkaya, and is a city that dates back to the Hittites thousands of years ago.
The city of Ürgüp has four neighborhoods that you must visit, Temenni, Kayakapi, Yunak, and Esbelli. It is built around three rock castles, which are the castle of Başhisar, Kadi, and Burhan.
Ürgüp is an excellent place to use as an H.Q. to visit Cappadocia. It is well located and relatively large, has road connections and some nightlife.
Temeni Hill is also known as the Hill of Wishes. It is one of the city's highest points; from here, you can see a panoramic view of Ürgüb. Once at the top, it is tradition to make a wish.
It is recommended that it not be related to the material or earthly. It has been a sacred place since ancient times, and sacrifices were made to the gods.
Also, in Temeni, possibly because of its sacred character, two cemeteries have been located where some important people of Turkish history are buried, especially sultans of the Seljuk period.
Avanos and the Pottery of Cappadocia
This city already appears in some of the writings of the Syrian merchants of the years 1900 – 1800 BC under the name of Nenessa.
Studying the Hittite archives, the city of Zu-winassa was also found. During the Roman period, the city of Venessa was mentioned, all referring to the same city we know today as Avanos.
It is located next to the red river, which they call Kizilirmak. It is the longest river in Turkey and owes its name to the color of its waters due to the clay that transports and which makes it the supplier of the raw material of the pottery of Avanos for millennia.
The classic visit in Avanos is the pottery workshops. We visited the workshop of a master potter from Avanos named Savan Ustanin Yeri, and it was impressive to see the quality of the pieces and to think that everything on display was handmade.
They took excellent care of us, and since we were with a friend, he put us in his house and kitchen. He gave us food and drink because we were hungry.
On the way out we took the opportunity to cross the river by one of the suspension bridges that cross the river.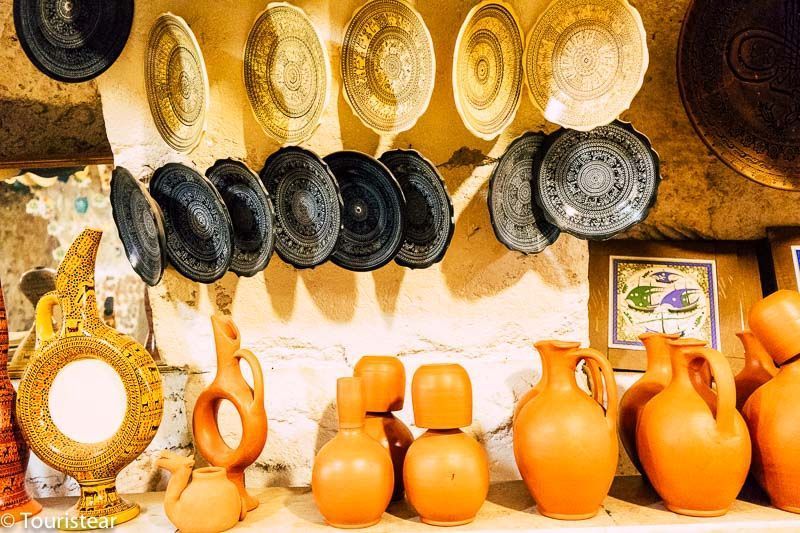 Subway cities of Cappadocia
Cappadocia has about 150 to 200 subway cities. One of the most interesting cultural riches of this area.
The Hittites began excavating the subway cities to live more safely. The Silk Road passed through Cappadocia, which meant that this region was subjected to continuous power struggles between Romans, Mongols, and Persians.
Living underground made it possible to be more secure with very few entry points that were also easily defensible.
In addition, the cities were designed to be isolated from each other through circular stone sliding doors.
The Hittites disappeared without a trace, and the Christians occupied these cities between the 2nd and 4th centuries during the persecution of Christianity until the 5th century when Constantine declared Christianity as the empire's official religion.
They were then inhabited by Greeks during different periods until the Ottoman Empire stabilized the region, and they were no longer needed. They gradually closed and sealed over time until they were rediscovered.
The best-known and most visited subway city is Kaymakli. It was opened to the public in 1974 and had 8 floors in height. It is estimated that between 15,000 and 20,000 people could live in it.
In addition, it is believed to be connected to the city of Derinkuyu, which is 10 km farther north. Of the 8 floors, only the first 4 can be visited.
Ballooning in Cappadocia
One of our a must in Cappadocia is to ride a hot air balloon. We didn't want to leave without living that experience.
But without a doubt, flying a balloon was more complicated than it seemed. I mean, it depends a lot on the weather conditions. Flying is no longer safe if the wind blows at more than 10km per hour.
In our case, we were lucky and flew on the day we had booked. But the agency raised the price by 50 euros because the day before they had not been able to fly and the demand was twice as high.
Accepting this injustice and lack of word was the only way to get our place reserved.
That's why I recommend you hire your balloon flight with a formal company like Civitatis, and, of course, you do it in advance online.
Sometimes, cheap ends up being expensive.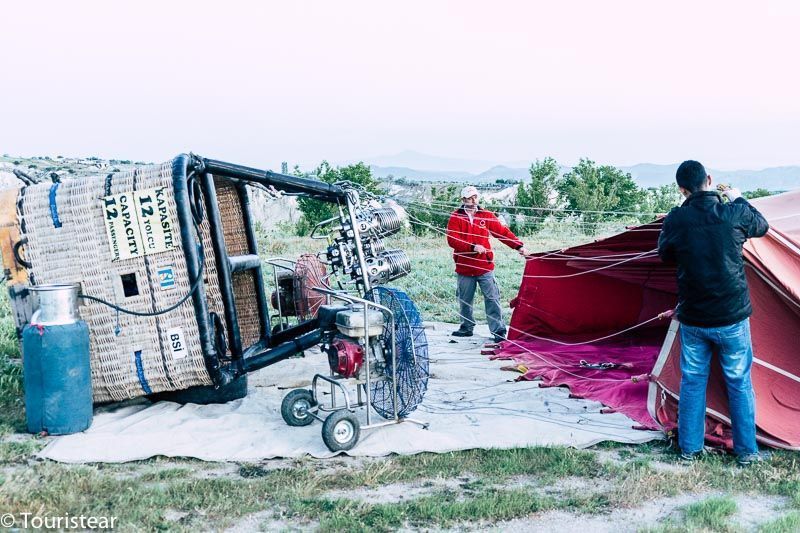 Balloons have many restrictions; for example, only 150 balloons can be flown daily. The First 100 leave at dawn, and the remaining 50 leave an hour later.
To fly in a balloon, you must make a reservation in advance. It can be done online if you are organizing the trip on your own, or you can contract it with an agency if you have chosen this modality for your trip.
The price is usually between 180 € and 250 €. It includes an early morning pick-up at the hotel (before sunrise), breakfast while you wait for the balloons to be prepared, the flight, and a glass of champagne (non-alcoholic) at the end.
Despite the unpleasant moment due to the price increase of 50€ from one day to the next, which we had to accept without any defense because otherwise we would be left without flying, I have to say that it is an experience I am delighted to have had (flying in a hot air balloon!)
You can book your balloon flight at this link.
Tips for a 3-day trip to Cappadocia
When to Travel to Cappadocia
The altitude of Cappadocia is around 1100 meters above sea level. It has a continental climate, with sweltering summers and practically no rain.
Winter (December to March) is cold, and it can snow.
Spring is the best time to travel to Cappadocia. Temperatures are milder, and weather conditions make this the season for ballooning.
If you want to ride a balloon, you must travel to Cappadocia in spring. We traveled during Easter, and it was the right decision.
How to Get to Cappadocia from Istanbul
You have several options to get to Cappadocia. The most comfortable and fastest way is by plane, but more options exist.
Between Istanbul and Cappadocia are 750 kilometers (465 miles).
By Plane
This is the way we chose. I think it is the most comfortable, and certainly the fastest. And depending on the price of the flight, it may even be the cheapest.
There are direct flights to Kayseri and Nevşehir airports from Istanbul Ataturk and Sabiha Gokcen airports.
I recommend leaving Ataturk early in the morning to make the most of the day. Ataturk airport is much closer to the center of Istanbul than Sabiha Gokcen.
By Rental Car
This is a good option and the first one we considered. Because on our first planning, we wanted to go to Ankara, but we hadn't enough time to see everything.
By rental car, it is a long trip. If you do it directly, it is about twelve hours. I would only use this option if you are traveling with four people and you want to share expenses, and also you will visit Ankara or some other town on the way.
By Bus
They say the buses in Turkey are very good. We don't know them, but they say they are excellent and cheap.
Yes, it is a long trip, but it is an option if you have time or are on a tight budget.
By train + bus
There is the possibility of going by fast train to Ankara and from there taking a bus to Cappadocia or renting a car.
You can see that there are several options to reach Cappadocia from Istanbul. Choose the one that best suits your trip and budget.
How to Get Around Cappadocia
Transportation within the Cappadocia region can be slow. There are buses and cabs in the cities, but to move from one place to another, if you want to do it on your own, you have to rent a car, a motorcycle, a bicycle, or a private driver.
For me, the best options are two: rent a car and go at your own pace or hire an agency to take you on the tours and most visited places.
The latter is the most usual since the prices are not high and going at the right time is more comfortable to get everywhere without getting lost.
If you stay for a week or more, I recommend renting a car. Click on this link and look at the prices; they are perfect.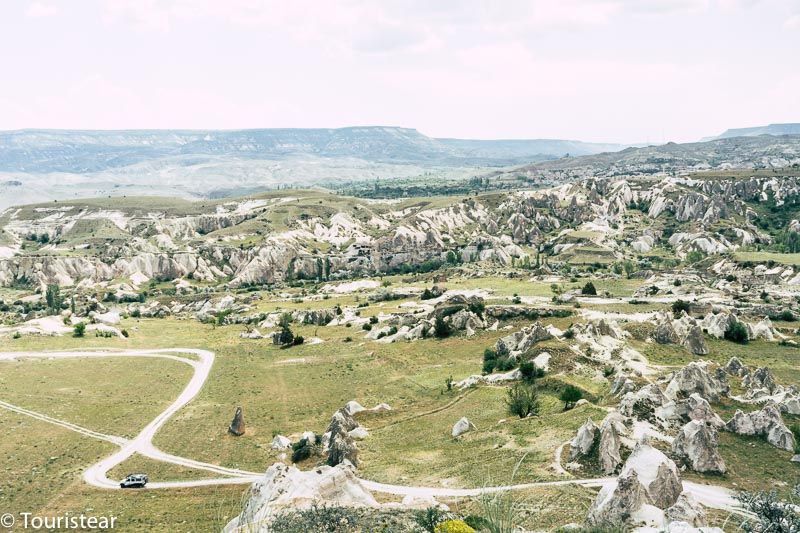 How Many Days Do I Need to Visit Cappadocia?
Cappadocia is a magnificent place that you have to visit. You need at least 3 days to visit the must-see places. But if you have the soul of an explorer and want to go beyond the tourist sites, you will need more days.
But you will need at least 3 or 4 days to visit Cappadocia and fly in a balloon. It's always better to have an extra day in case you can't fly a balloon the first time.
Accommodation for all Budgets
Cappadocia is a region that is growing a lot and with it the hotel offer. I imagine you've seen wonderful photos of a dreamy sunrise location with hundreds of hot air balloons on Instagram.
Well, these places really exist and the best thing is that the prices are not as high as you might imagine. Take a look at Artemis Caves Suites & Spa. We loved it, both the rooms and the restaurant.
There are also more economical offers. But it is very typical to sleep in a cave hotel and thus enjoy a unique experience on your trip.
If you are wondering where to sleep in Cappadocia, don't hesitate and choose Göreme. You will enjoy unparalleled scenery and the hospitality of the region.
Take a look at the prices in the hotels in Cappadocia for the date of your trip.
Exchange Currency for Travel to Turkey
The currency used in Turkey is the Turkish Lira. Today's exchange rate (Oct 17, 2022) is 1 Turkish lira equals 0.05 euros.
Use Wise to access your money and make payments: Wise Card helps you make ATM cash withdrawals (you get two free per month), restaurant payments, and even online payments.
With Wise Card, you can pay in more than 50 different currencies, which helps you save a lot of money.
Using a Wise card can avoid those bank charges for paying in a different currency than your account currency. So it helps you save unnecessary expenses.
The Wise card is very similar to a regular debit card. The only distinguishing feature is that Wise allows you to use the available balance in many currencies.
You will be charged a nominal fee based on the current commercial exchange rate, with no additional charges. And since we've been using it, we've found that they always make the best exchange for you.
The Wise account is free of charge. However, to apply for the card, you must deposit €7. *This figure may change over time.
You can also exchange currency in Istanbul, Cappadocia, or your place of origin. If you prefer this option, I recommend doing it in your country or Istanbul. In Cappadocia, you can do it but the exchange rate is usually not very favorable.
If you are coming from Europe, we recommend Ria to exchange currency. They have offices in the main cities, and if not, they also have the option of sending them to your home.
Travel Insurance for Your Trip to Turkey
As always, we remind you that travel with travel insurance is essential. We recommend Mondo's international travel insurance for this occasion.
Among the best advantages of this insurance are that you do not have to advance a single euro, that they have medical consultation by WhatsApp 24 hours a day, 365 days a year, that it has one of the best coverage in the market, and that its price is the best.
In addition, if you can hire it through our link international travel insurance, you will get a 5% discount, which we have for our readers.
How to Have Internet During Your Trip to Turkey
Having internet during your Turkey trip will help you stay connected, access WhatsApp, and upload photos to social networks.
When we went to Turkey, we found that my phone operator (Movistar) did not include Turkey in the European plan. So I had to pay for roaming or internet sharing.
So I recommend you check your contract with your operator before traveling if they have Turkey in your agreement.
If they don't have it, you can contract it with them, hire portable wifi, buy an eSIM or buy a SIM at the destination.
Have you already traveled to Cappadocia? What are your must-visit places? And you, do you want to know Cappadocia? I can't wait to come back!!!
Plan Your Trip to Turkey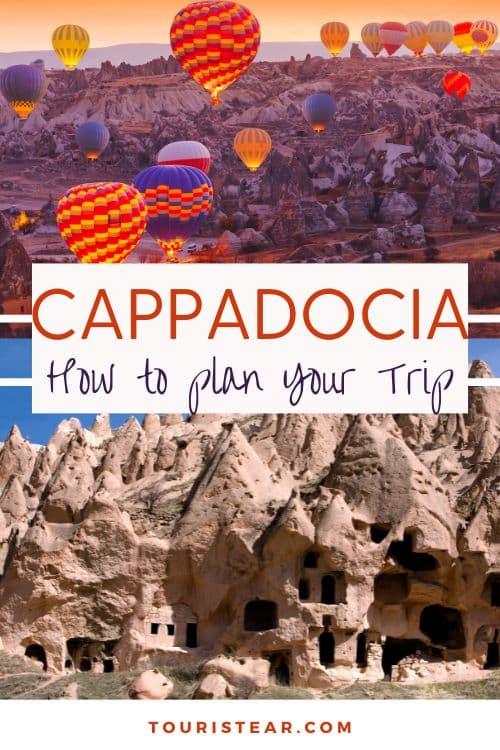 Last Updated on 15 September, 2023 by Veronica
Disclosure: Some of the links on this post are affiliate links, meaning at no additional cost to you, I may earn a small commission if you click through and make a purchase.
Author: Veronica
Vero, a seasoned traveler, has explored 25 countries and lived in five, gaining a rich perspective and fostering an infectious passion for travel. With a heart full of wanderlust, Vero uncovers the world's hidden gems and shares insights, tips, and planning advice to inspire and assist fellow adventurers. Join Vero and let the shared passion for travel create unforgettable memories.