Amphawa Floating Market, Thailand
There are places in the world that leave an impression, and the Amphawa floating market in Thailand is one of them. I could see everything from the most shameless luxury to the most absolute misery.
I made an excursion to the Amphawa floating market, about 80 kilometers from Bangkok.
First of all, you would have to get to Bangkok, right? Search for flights in Skyscanner and choose the best option.
We took a van arranged by the guide we had hired. We leave early in the morning and head out to visit the Amphawa floating market.
To get there, you must hire a boat that takes you through canals that run through the closest thing I have ever known to a jungle.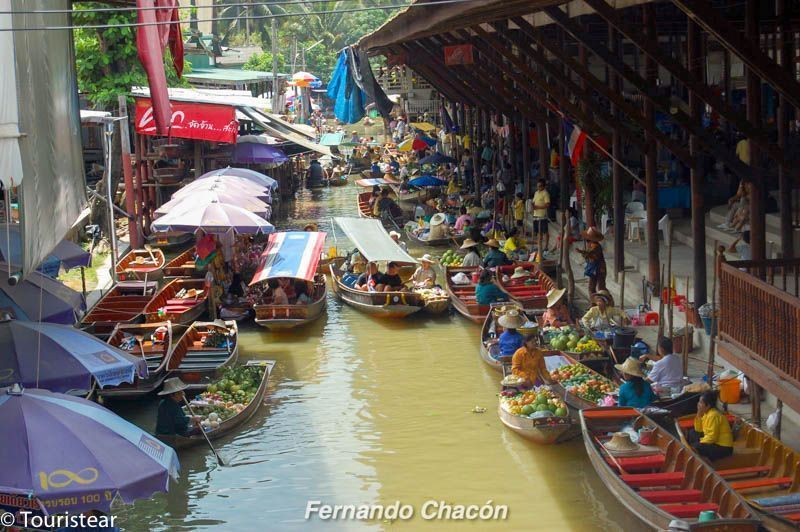 Visit Amphawa Floating Market
The truth is that it imposes that we are not used to this type of vegetation.
It is easy to get there by boat. You travel through the canals to the port for quite a while, I would say about half an hour or so, although I don't remember it well.
As you go along the canals, you find shacks, authentic shacks where people live badly, on both sides of the canal, and next to them, as if it were nothing, beautiful, newly built houses.
I had the opportunity to take a few photos, although I would have liked to show the contrast with just one. As we progressed along the canal, constructions appeared more and more regularly until they became continuous.
The Amphawa floating market dates back to at least the 18th century and was originally an indoor market that took advantage of the canals to transport goods more quickly.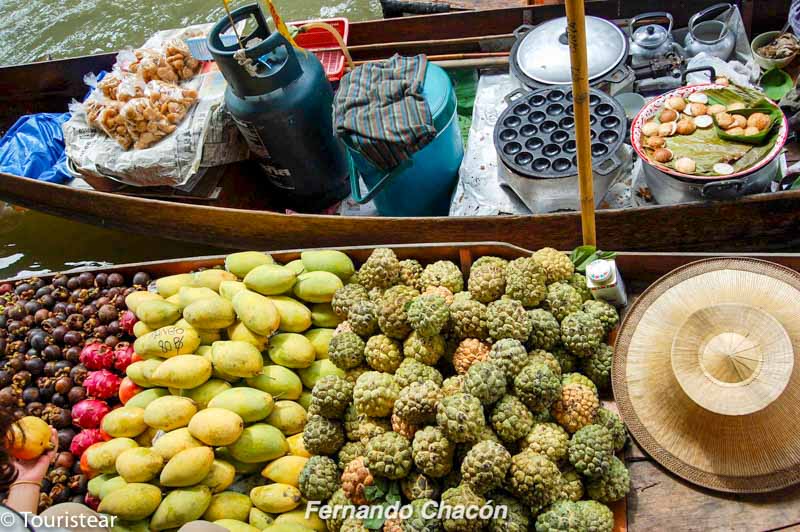 Today it is a center of tourist attraction that has allowed the inhabitants of this region to significantly improve their living conditions and income compared to the needs of 20 or 30 years ago.
You will see a market with an intense life, where you cannot walk 5 meters without bargaining for an article or that they come to you to show you their floating showcase.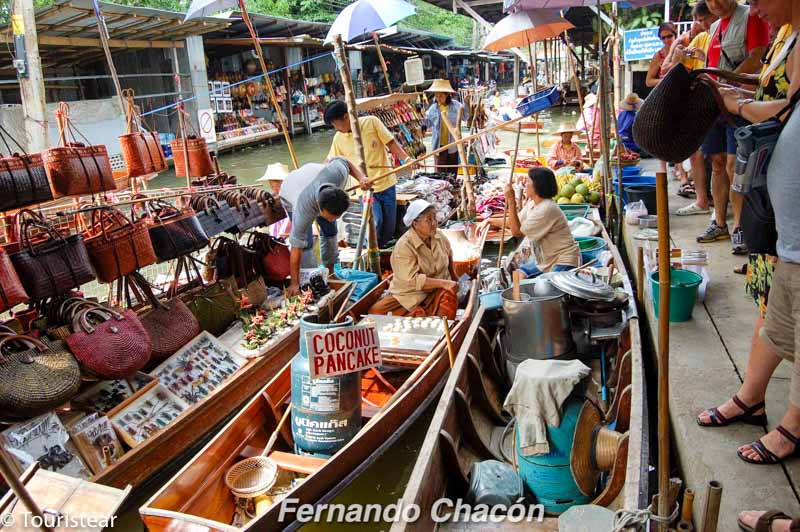 You can find everything from fruits, vegetables, fish, meat, clothing, gift items, luxury imitations, etc. Remember to carry a large backpack, like the Shell one, to hold everything you want or buy.
It is not advisable to eat anything that is not well cooked, nor to drink water that is not bottled.
If you have touched river water, wash your hands thoroughly before eating anything. Better be careful!
Some boats carry a stove and prepare the food on the spot. I liked it.
I can't say the same for other travelers. What is certain is that these are cultures where people eat what they have hunted or caught during the day. I was calm in that sense. Be more careful with water.
It is undoubtedly a place that, from my point of view, has benefited from tourism and what it entails without having lost its essence.
The people are very friendly and welcome tourists and travelers with a smile. I had the opportunity to chat with some people who spoke some English. They quickly gain confidence and live up to the hospitality they boast.
Don't forget your travel insurance for your trip to Thailand
Hopefully, you won't need to use it, but it's best to be prepared for any eventuality or emergency.
In my case, I have the Mondo annual insurance with worldwide medical assistance with coverage of 10.000.000€. In addition, with our link, you can get a 5% discount on Hey Mondo Insurance.
The choice of travel insurance will depend mainly on the duration and coverage. The best thing to do is to be well-informed to choose the best insurance available.
If you want, you can check our guide on choosing travel insurance, where you will find comparisons, opinions, and discounts.
Have you been there? Leave me your comments!
Plan Your Trip to Thailand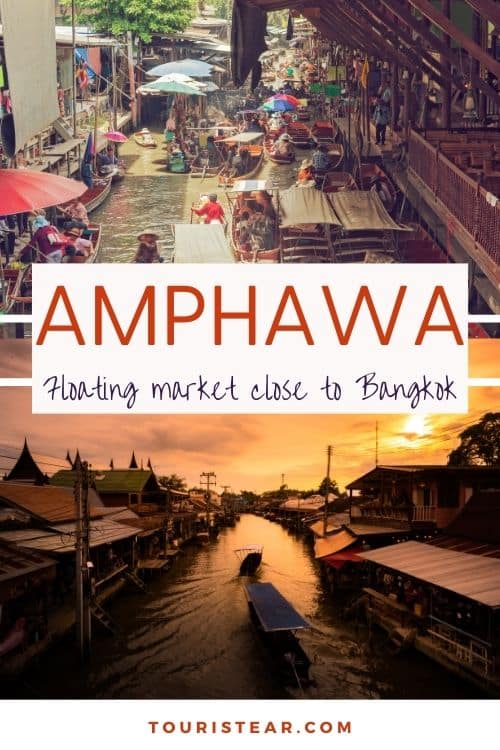 Disclosure: Some of the links on this post are affiliate links, meaning at no additional cost to you, I may earn a small commission if you click through and make a purchase.
Book Your Trip
Book Your Flight
Find a cheap flight by using Skyscanner.
Book Your Accommodation
You can book your hostel, hotel, or apartments on Booking.com.
Don'torget Travel Insurance.
Travel insurance will protect you against illness, injury, theft, and cancellations. It's your protection in case anything goes wrong. You never go on a trip without it.
Best companies for Tours
Check out Civitatis.com and find the best tours in English (French, Spanish and Italian)
Are you looking for the best companies to save money with?
Check out my resource page for the best companies to use when you travel! I list all the ones I use to save money when I travel – and I think I will help you too! (Is in Spanish yet)
Last Updated on 16 March, 2023 by Veronica