9-Day Turkey Itinerary: Istanbul and Cappadocia
Turkey is a vast country, but if you have only 9-day to spend in this country, you have to visit Istanbul and Cappadocia. Two places that seem worlds apart and both fascinating.
In today's post, I want to tell you about our travel itinerary to Istanbul and Cappadocia and the best things to do in Turkey in 9 days.
If you can see everything you want in one trip, you have the best excuse to return!
What to See & Do in Turkey in 9 Days
Once you start planning your trip to Turkey and see how much there is to do and see, you will want to come back. We certainly will! It is a vast country with many places to visit and things to do.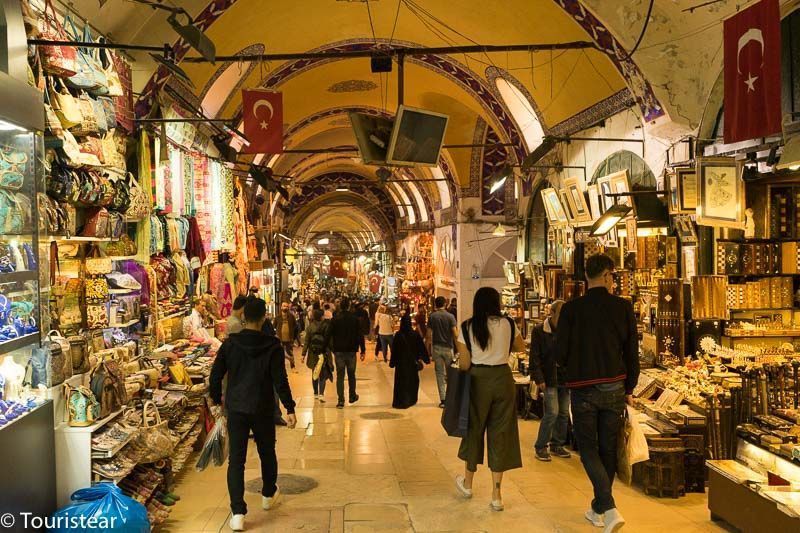 Day 1. Arrival in Istanbul
We did not do much this day, as our flight arrived at 7:40 pm at Sabiha Gokcen airport, which is quite far from the center of Istanbul.
So if your flight arrives around the same time in Istanbul, here are some ideas to start your trip to Turkey.
Where to Stay in Istanbul
We stayed in the old part of Istanbul, in Sultanahmet, in the Golden Horn hotel, close to everything.
Where to Dine in Istanbul?
Other travelers recommended dining under the Galata Bridge, and as it was one of those things we had been meaning to do, we went there for dinner.
As it was the first night, the price did not seem expensive, a little less than in Madrid, but after seeing the prices in Istanbul, that dinner was the most costly of the trip.
A couple of tips:
If you have fish for dinner and don't want to spend the trip's budget on a meal, don't order fish by weight; it's the first thing they show you, and the prices are exorbitant.
Restaurants that do not serve alcohol are generally cheaper.
After dinner, we went back to the hotel to rest so we could start the next day at the top of our game! You can do the same or go out and experience the nightlife of Istanbul.
Day 2. Visiting Ottoman Istanbul
As we were staying in the center, we did everything walking; we started at the Topkapi Palace and did a kind of circular route. I recommend the same for your trip to Turkey.
Topkapi Palace
To avoid getting too long, I will summarize it for you. First, we visited the Topkapi Palace, which is huge and beautiful, and there was a very long queue to buy tickets. We stayed at least half an hour and arrived early.
You can buy tickets online to avoid queues.
Visiting Hagia Sofia
We intended to continue the visit through Hagia Sofia, but the queue was endless. So we ate at a restaurant, Mihri Restaurant, across the street, full of tourists, and we thought they would rip our heads off with the prices.
Luckily we were pleasantly surprised when we saw the prices on the menu. They don't serve alcohol, and the service is relatively slow, but the food was delicious, and by the time we finished eating, the line had gone down a lot.
We visited Hagia Sophia after lunch, although those were not our initial plans.
Visiting the Blue Mosque
One of the places I most wanted to visit was the Blue Mosque. It is impressive; I have seen it on TV reports and in many photos.
But when we arrived, we saw it was closed until the end of May for construction. Terrible disappointment, but the best excuse to return to this city.
The Hippodrome and the Cistern Basilica
We toured the Byzantine Hippodrome, which is the Sultanahmet Square, the one in front of the Blue Mosque, and from there, we went to the Basilica Cistern; here, we made a small queue, 10 minutes at most and met this place that appeared in Inferno the book by Dan Brown.
They discovered it because there were people fishing inside their houses, unbelievable.
Inside the Cistern is the Weeping Column, which was built in honor of all the people who lost their lives in constructing the Cistern.
Did You Have Time to Spare?
If you are lucky and have not wasted too much time in the queues, this is an excellent day to visit the Museum of Turkish and Islamic art and/or enjoy a Hammam (Turkish bath) in Istanbul.
We didn't have time, but we went to a Hammam in Cappadocia; I'll tell you about it below.
Day 3. Bosphorus Cruise
We hired the Bosphorus cruise tour; I don't know if we chose the best company, the truth is that it was pretty disorganized, but we had a good time anyway.
Surely, when you read Bosphorus cruise, you imagine just a boat ride, which was what we thought, but no. Includes some tours and stops with a guide.
We visit the Pierre Lotti viewpoint, the Dolmabahçe palace, and a city tour until we reach the cruise pier.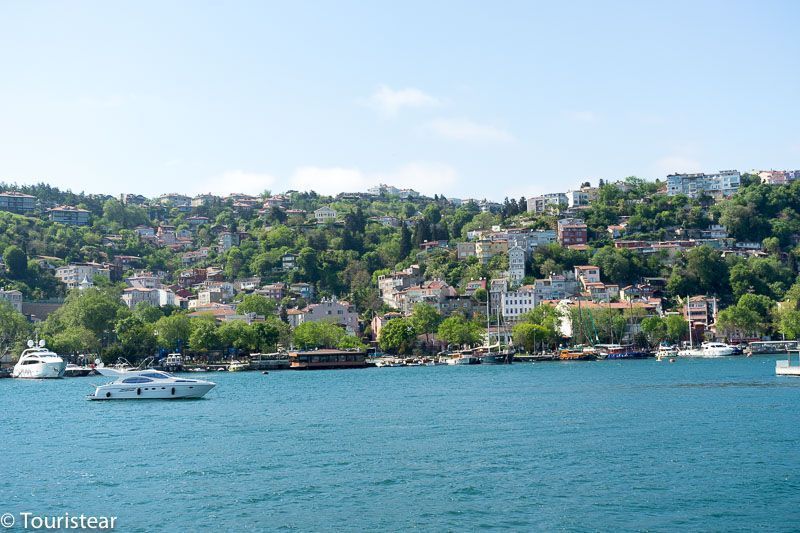 We ate a buffet on the cruise (included in the price), and I was quite surprised because everything was delicious, the quantity was abundant, and it was very fresh.
On the Bosphorus cruise, an English guide told us the places we were seeing and some stories about Istanbul.
We stopped in a very picturesque fishing village and returned to Istanbul. We asked to be dropped off at Sultanahmet Square to go to a terrace and enjoy the sunset in Istanbul overlooking the mosques.
Day 4. Suleiman and Beyoglu Mosque and Grand Bazaar: 19th century Istanbul
This was another non-stop day in Istanbul, as usual!
We visited the Grand Bazaar in the morning, we spent some time shopping, walking the aisles, the atmosphere is impressive, in another post I will tell you more in detail about the Grand Bazaar.
You must eat in a kebab inside the market, they prepare it grilled, and it is delicious; the only thing I do not know how to tell you where it is because it is a kind of labyrinth. But it was the best kebab I tried in my life!
Then we went to the Suleiman, the Magnificent Mosque, or Süleymaniye Cami in Turkish (relatively close). It is an impressive Ottoman imperial mosque from the sixteenth century, and incredible how peaceful it is inside.
Even though there are many people, the sound of people talking does not bounce and seems to be lost.
We returned to the hotel to leave the shopping and went to the Beyoglu area, climbed the Galata Tower at sunset, and walked along Istikal Avenue or Independence Avenue.
It is a commercial street, with many restaurants on both the street itself and the perpendicular ones. We dined at Parole, a restaurant serving Italian and Turkish cuisine, where we had a wonderful meal.
We went back to the hotel at night in a cab (just in case, ask how much they charge you at your destination).
Day 5. Spice Bazaar and Asian Side
This day we took it a little easier and enjoyed it very much. First, we went to the Egyptian Bazaar or Spice Bazaar. Very colorful and all very neat and clean, we bought some spices and Turkish sweets.
Then we ate at a restaurant with a lovely view and a few steps from where the ferry leaves to go to the Asian side.
From where the ferry drops you off, you must walk to the Maid Tower, Kiz Kulesi. It is an enjoyable walk; you will see some bars and people fishing.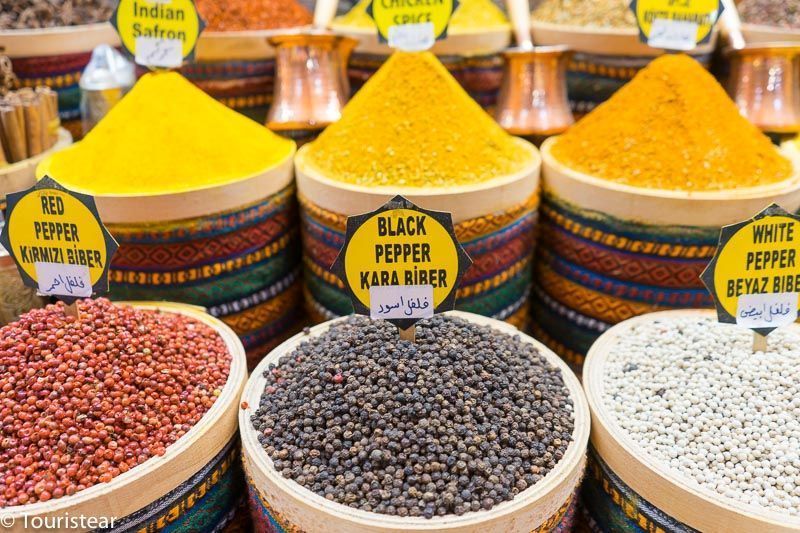 But where we went is where I recommend you to go too, it's called Kiz Kulesi Büfesi. It is a kind of beach bar where you can enjoy a good time.
Where to Sleep in Istanbul
We stayed at the Golden Horn after a few inconveniences with previous reservations at other hotels.
Before ending up in this hotel, we had booked first in one and then in another, and with both of them, we had the same problem.
The first time we did not give it much importance, but the second time was the day before we departed for Istanbul, it scared us.
It turns out that they told us they had a problem with the credit card and could not guarantee that we would have the rooms available when we arrived.
Apparently, this is done by many (cheap) hotels so that when you get there, they tell you that those rooms are sold out and have more expensive ones.
I recommend that once you know your travel date, book the hotel with payment in advance, not with free cancellation, because that's when you get screwed.
Day 6. Departure to Cappadocia and first experiences
Early in the morning, we leave for Cappadocia. Here you have how to go from Istanbul to Cappadocia. Different ways for every kind of traveler.
This day we checked in at our Vera Konak hotel in the village of Mustafapaşa, in the province of Nevşehir, had breakfast, and went on a morning photo safari. At noon we had lunch in Ürgüp, and in the afternoon, we went to a Hammam; it was very calm and relaxing.
We had pizza for dinner at a bar a few steps from our hotel on this day. Yep, I know, not a very Turkish meal. We met a girl (the sister of the bar owner) who is a balloon pilot and asked her many questions.
She is the first woman to pilot balloons in Cappadocia, and it was not easy for her to make a place for herself in this man's world, and her story is fascinating.
Day 7. Ballooning over Cappadocia
Flying in a balloon in Cappadocia is an experience we all have to live at least once in our lives.
You get up very early; they pick you up around 5 am, take you to the meeting point and watch the balloons go up. The happy faces of the people, all wanting to take pictures to immortalize the moment.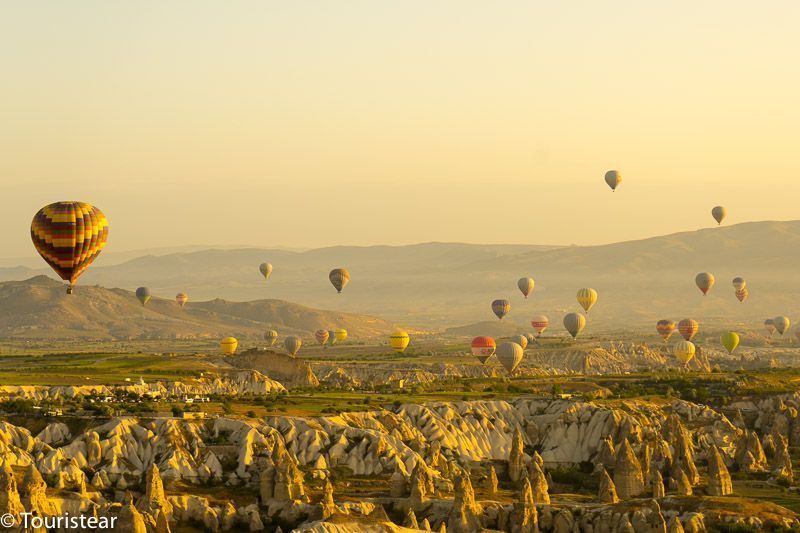 You see the basket where you're going to get in, and you think it's too small, and we fit 12 people. You are ascending fast but so smoothly that you don't notice it.
The balloon goes in the direction of the wind (less than 10km per hour), and the pilot goes up and down to have different points of view.
In total, about 150 balloons a day, first a batch of 100 and after half an hour another 50 and no more balloons come out all day.
Therefore, when you have not been able to fly the day before, the demand rises, and if you have not booked your flight and paid in advance, the price also rises. It usually costs between 180€ and 250€ per person.
I recommend going with your reservation made from your place of origin.in case you can't fly, they will reimburse you.
After ballooning, we went to sleep and toured a bit more of Cappadocia. Between our visits, we were in Avanos, saw the pottery stores, and were shown how different utensils, plates, etc., are made.
They were kind enough to invite us to eat in the upstairs kitchen. We had a soup that was incredibly good.
Then we toured Goreme National Park and took many photos that I can't put all in this post.
Day 8. Visit the Cave Cities and Return to Istanbul
Our last day was relatively quiet; we made some curious visits, such as a cooperative that makes handmade carpets, knot by knot; we could see the silk cocoons with the worm inside, which was impressive.
We ate at the Cappadocia Inn, a luxury cave hotel we highly recommend.
And on the way to the airport, we visited a subway city. Some people lived underground for several centuries in these lands.
Thirty-six of these cities (unsuitable for claustrophobics) have been discovered and can be visited; there are some that you can only see a part of, as they are not entirely restored.
Where to Sleep in Cappadocia
In Cappadocia, there are many charming hotels. The most typical is to sleep in a cave hotel, whose rooms are carved into the rock. Some are modern excavations, and others are restored ancient excavations.
Take a look at the Cappadocia Inn. It has cave rooms that you won't want to leave. If you get up early from its terrace, you have views of Göreme, and you can watch the balloons take off very close to you with a hot Turkish coffee.
Day 9. Departure from Istanbul to Home
We arrived from Cappadocia at night, and as we left early the next morning, we slept in the hotel next to Sabiha Gokcen airport.
The hotel is fine, like any business NH Hotel, and they have a free transfer to the airport. It is called ISG Airport Hotel.
And this is the summary of our trip to Turkey. There are many things I want to tell you in more detail; I will make new posts with more information.
If you plan your trip to Istanbul or Cappadocia and want to ask something, I'll be here.
Travel Insurance for Turkey
As a trip to Turkey offers many activities, we always recommend traveling with insurance to Turkey.
Although most of you probably won't use it, it's better to travel with your insurance for your peace of mind.
Use Wise to Access Your Money and Make Payments
Wise Card helps you make cash withdrawals from ATMs (you get two free ATMs per month), payments at restaurants, and even online payments.
With Wise Card, you can pay in more than 50 different currencies, which helps you save a lot of money.
Using a Wise card can avoid those bank charges for paying in a different currency than your account currency. So it helps you save unnecessary expenses.
The Wise card is very similar to a regular debit card. The only distinguishing feature is that Wise allows you to use the available balance in many currencies.
You will be charged a nominal fee based on the current commercial exchange rate, with no additional charges. And since we've been using it, we've found that they always make the best exchange for you.
The Wise account is free of charge. However, to apply for the card, you must deposit €7. *This figure may change over time.
Plan Your Trip to Turkey
Tell me, have you been to Turkey? What places do you recommend for my next trip?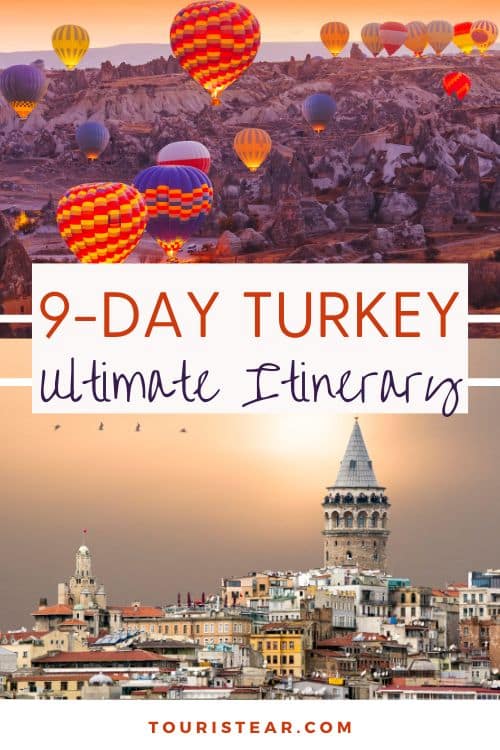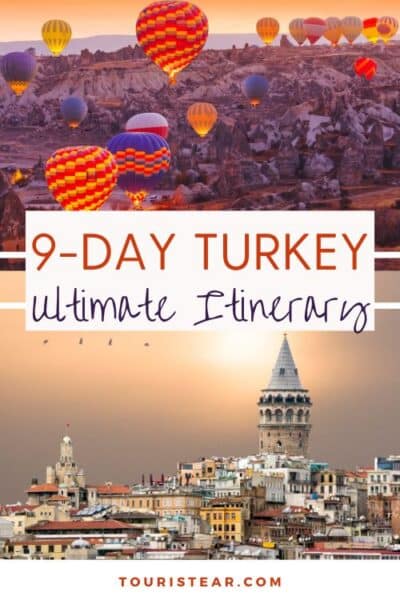 Last Updated on 15 September, 2023 by Veronica
Disclosure: Some of the links on this post are affiliate links, meaning at no additional cost to you, I may earn a small commission if you click through and make a purchase.
Author: Veronica
Vero, a seasoned traveler, has explored 25 countries and lived in five, gaining a rich perspective and fostering an infectious passion for travel. With a heart full of wanderlust, Vero uncovers the world's hidden gems and shares insights, tips, and planning advice to inspire and assist fellow adventurers. Join Vero and let the shared passion for travel create unforgettable memories.