The Best Travel Insurance for New York City
New York is one of the most visited and attractive cities worldwide. But it is also one of the most expensive, so it is advisable to travel with travel insurance for New York.
This post tells you what coverage good travel insurance for NY has to include and why you should travel to the USA with insurance.
In addition, we give you many recommendations that you have to consider when visiting the Big Apple, which will help you enjoy your trip.
What is Covered by Travel Insurance for New York?
Take, for example, Heymondo Top plans, which have several plans for you to choose from. This inexpensive plan covers all the basics you need in good travel insurance to New York.
In addition, you get a 5% discount on all Mondo Travel Insurance by clicking on our links.
Medical Expenses Included
HeyMondo Top Insurance: You have coverage of 3.500.000€ for medical expenses due to illness or accident, including the dental assistant.
1700€ coverage is for loss or damage to the insured's luggage or personal effects in the event of theft, total or partial loss attributable to the carrier, or damages resulting from fire or aggression during the journey.
Also, it includes 3500€ en cancellations or interruptions.
HeyMondo Premium Travel Insurance: You have 10.000.000€ for medical expenses due to illness or accident and dental, 2500€ in theft and damage of luggage, and 7500€ in cancellations and interruptions.
Hey Mondo Medical Travel Insurance: You have coverage of 10.000.000€ for medical expenses due to illness or accident, or dental emergencies. Also, it includes Transport or medical repatriation for you and your companions.
In addition, in all cases, you are covered by Covid-19. It covers your medical expenses, transfer and repatriation expenses, and the expenses incurred by extending your stay due to medical quarantine.
Other expenses covered
Most importantly, it has coverage of Personal liability Coverage for monetary compensation for bodily or material damages to third parties.
Legal costs and expenses are included—1.000.000€ for Heymondo Top and 2.000.000€ for Heymondo Premium.
Heymondo Premium also includes Rental car excess coverage for the rental car insurance excess payable if your hired car is damaged, stolen, or involved in an accident during the rental period.
.
Why Purchase Travel Insurance Before Traveling to New York?
It is well known that the health care system in the United States is not good if you don't have insurance and you don't want to pay for it.
Any medical care can cost you hundreds or thousands of dollars. It is well known that the health care system in the United States is not good if you don't have health insurance, so taking out travel insurance for New York is a good idea.
Think that going to a clinic just to get a prescription for a drug can cost hundreds of dollars, and a night's stay in a hospital costs about $10,000.
And you should remember that New York is one of the country's cities with the highest healthcare costs.
You can check other healthcare costs on this official U.S. government site.
Also, although NYC is a safe city, as, in any big city, crime can occur, and if someone should steal your documents, you will need advice on how to deal with it.
What to Look for in Your Travel Insurance to New York City
If you are going to compare insurance, what you should look for is that it covers the most important aspects that are most commonly needed:
Medical coverage for illness or accident of at least $200,000.
Covid Coverage, including an extension of stay.
Refund of money in case of lost or stolen luggage.
Possibility of cancellation of the trip due to medical problems or mishaps.
Your insurance should take care of the medical expenses directly, without you having to advance anything, as the advance could be a few thousand dollars.
Legal advice and liability coverage.
24/7 customer service in English, so you don't have to wait for a response. Something very important when you have an emergency.
That last point seems fundamental to us and is one of the reasons why we love Heymondo.
If you need medical attention in New York or anywhere in the world, you can contact Heymondo through their exclusive app or WhatsApp.
The app works 24/7 and allows you to chat with a doctor and make free calls for assistance.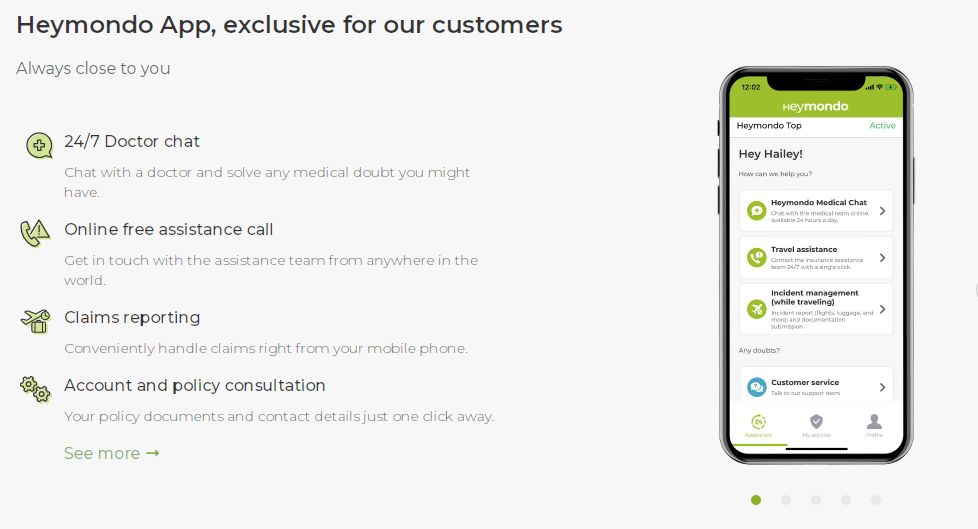 Tips for Traveling to New York
We have already told you everything you need to know about travel insurance for New York; now, we will give you some recommendations to make your trip more enjoyable.
What is the Best Time of Year to Travel to NY?
The New York winter is harsh, the temperature can drop to -5° C, so it is not recommended to visit in January and February.
But we know that many dreams of spending a Christmas or New Year's Eve party in the Big Apple and living a movie experience. So it's all a matter of what you like and what you want to see in the city.
According to NY residents, the best months to visit are between May and June or September and October.
But we have been there in August and for New Year's Eve. August is hot as hell, and it is full of tourists. Honestly, I don't recommend it, either.
Winter is beautiful, it's freezing cold, but it's beautiful. Christmas decorations are amazing you can't miss them. It's a crowded city and cold, but it's worth it.
A tip, if you are going on New Year's Eve, book your restaurant well in advance. Otherwise, it will be impossible to find a nice place.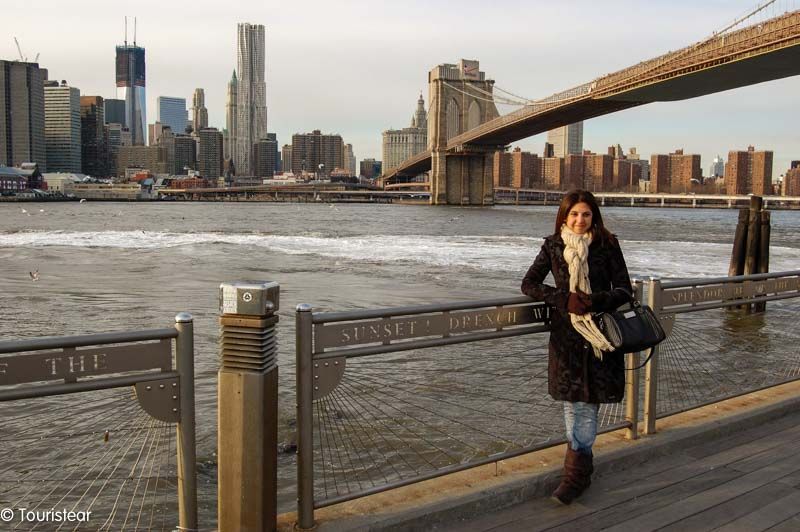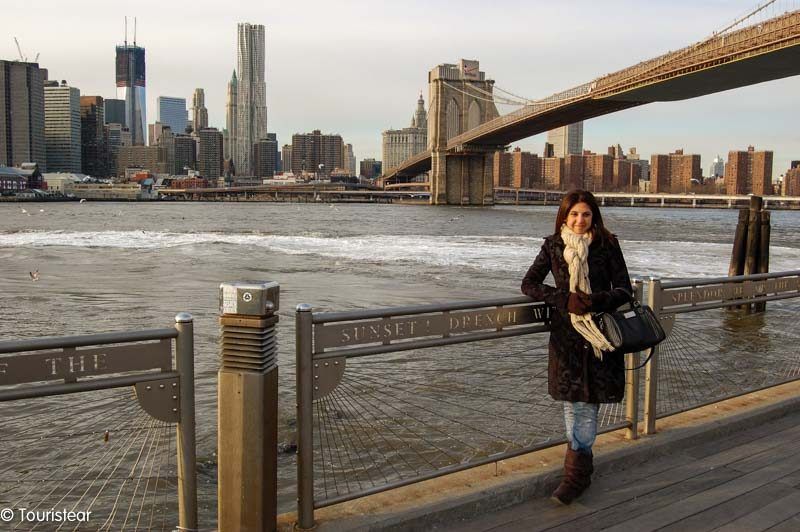 How Many Days to Visit NYC?
This question is more difficult to answer than the previous one. Everything will depend on your available time and budget. The city is so big and has so many things to see that you will always miss something no matter how much time you dedicate to it.
We consider that the minimum you should spend is a week, so you can visit most of the most fantastic places without rushing around.
Keep in mind that it is a long trip, so on the first day you will not have the energy to do much, and on the last day, you will spend a few hours shopping and going to the airport.
You will likely want to combine NY with some other city in the USA; if so, and you can't stay many days in the city, try to make your stay not less than 5 days.
Here is Our Itinerary of New York in 5 days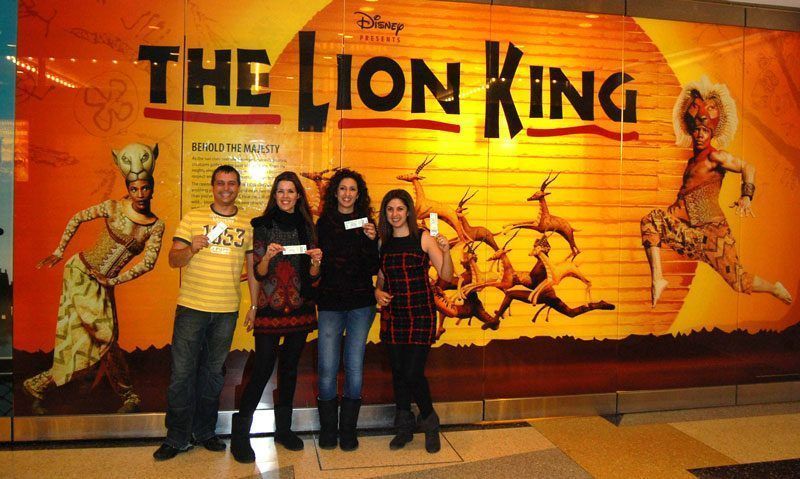 How to Get Around New York City?
New York's public transportation is excellent, so it is the most recommended way to see the city.
It has an extensive subway and bus network, complemented by ferries and cable cars over the East River.
Tip: if you are traveling with 3 other people, you may want to take a cab around Manhattan. On our last trip, the cab fare for 4 was the same as four subway tickets.
Buses
The good thing about the buses is that they run all day long. But the bad news is that New York traffic is lousy and worse at peak hours, so it is advisable to avoid above-ground transportation during those hours and ride the subway.
The buses and subway work together in an integrated system, so to move in these two means of transport, you need the Metrocard.
One advantage of the buses is that if you don't have a card, you can pay in cash, but you must have the coins to deposit the exact amount in the machines that charge.
If you pay in cash, you are not taking advantage of the Metrocard, which allows you to make combinations of subway and bus within 2 hours of your first trip.
In NYC, there are five boroughs, and you can identify the bus routes by the large print on their signs.
Just so you understand, here's how it works:
the routes identified with the M are those of Manhattan,
B identifies Brooklyn,
Q to Queens,
S is for Staten Island
Bx is from the Bronx.
On the MTA website (Metropolitan Transportation Authority) you can see all the maps of the bus and subway routes.
Metro/Subway
New York's famous subway is the city's most efficient and fastest means of transportation, reaching almost everywhere except Staten Island.
Although you can download the MTA map, sometimes it is easier to plan your trip directly on Google Maps, as all the stations are listed there, and you can see how to get from one place to another.
Metrocards are purchased at the automatic machines in almost every station and can be paid for with cash, debit, or credit.
The NY subway runs all day long, but keep in mind that during the early morning hours the frequency of the trains decreases a lot.
Another important point, be careful because trains from different lines can pass on the same platform, and if you don't pay attention, you could end up in a neighborhood you didn't want to go to.
Transfer Between Airports in NYC
Don't get to the wrong airport! Remember that there are 3 airports in NYC: JFK, La Guardia, and Newark.
A transportation system links them 3, and it is called NYC Airporter.
Trips depart every 30 minutes. It is always advisable to buy tickets in advance, mainly to avoid wasting time waiting in line to buy them.
Also, you can hire a private transfer is advantageous when you travel with three more people.
Trips linking JK to La Guardia run from 6 am to 10 pm. And those connecting Newark to the other two operate between 4:30 am and 1 am.
A trip between JFK and La Guardia takes about 1 hour. Newark is much farther away, and connecting to the other two airports can take up to 3 hours. Of course, these times may change if there are any problems with traffic.
New York City Pass, Is It Worth It?
First of all, let's see what tickets are included in the New York City Pass:
Empire State Building
American Museum of Natural History
Metropolitan Museum (MET)
Top of The Rock or Guggenheim Museum
Statue of Liberty or the Circle Line Cruise Ship
The 9/11 Memorial and Museum or the Intrepid Sea, Air and Space Museum.
So, to answer whether it is worth it, the first question you should ask yourself is whether you are interested in most of these places or not. And second, you have to know how many days you will be in the city to know if you will have time to see all this.
Keep in mind that the museums included in the City Pass are large and take a long time to see, especially the MET.
And if you choose to visit the Statue of Liberty, it will also take a very long time, as the security line to board the ferry is usually quite long and slow.
As you can see, the first three entries are fixed, and in the last 3, you can choose to do one or the other. We can then compare individual tickets prices with the City Pass cost.
The New York City Pass ticket costs $129, and if you choose the most expensive tickets of the last three options, the total cost would be $222, so the savings is $93. *Price can change with time*
This is a good amount if you plan to visit all six places and choose the three most expensive (Top of the Rock Observatory, Circle Line Cruises, and Intrepid Museum of Sea, Air, and Space). If you choose the three cheapest options, you save $57.
Another benefit of the City Pass is that if you want to see 2 of the places included in the same option, for example, the Statue of Liberty and the Circle Line Cruise, they will give you a discount for the entrance ticket you have to buy separately.
In addition, you get discounted shopping at some stores and other major attractions, such as going up to the 102nd floor of the Empire State Building.
And perhaps the point that tips the scales and makes it worthwhile is that you'll save the line to buy tickets.
You will still have to wait in line to enter the attractions (the security line), but you won't have to spend time in line to buy tickets.
The Best Free Walking Tours to Visit NYC
If you don't want to spend a lot on tours, take advantage of free walking tours in New York to see the best places with expert guides, for who you only pay what you think the tour is worth according to how much you liked it.
Free Walking Tour of New York
This free tour will take you to know some of the most emblematic places in the Big Apple. Wall Street financial district and the World Trade Center memorial.
You will arrive at Battery Park, where you will have a great view of the Statue of Liberty.
Throughout the tour, they will tell you about the city's history and worldwide importance.
Free Walking Tour Manhattan Financial District
GuruWalk has a tour that is for 2.30 hrs. You are going to know the most interesting of the financial district.
You will see the memorial known as Ground Zero and the most iconic statues of the neighborhood, including the Wall Street Bull.
You will arrive at the Museum of the American Indian and then go to Staten Island Station to take a free ferry to watch the sunset from behind the Statue of Liberty.
Discover West Village
It's another GuruWalk exclusive free tour of New York City.
The West Village is one of the most beautiful neighborhoods in the city and has been used as a film set for two of New York's most famous series: Friends and Sex and the City.
It is a neighborhood full of contrasts and is where artists and musicians choose to live.
You will visit Washington Square Park, New York University, some of the most popular restaurants in the neighborhood, Chelsea Market, and many more.
If you do it because you like to visit famous places, you will see Friends' apartment and the Carrie Bradshaw Apartment from Sex and the city on this tour.
New York Contrasts Tour
The contrast tour of NY is the most famous in the city. It allows you to get to know the other neighborhoods, which are not usually seen by tourists who go for a short time, which makes the city's cultural identity.
The tour departs from the west side of Manhattan to contemplate the Hudson River; from there, you will go to the north side of Manhattan and then to Harlem.
This traditional neighborhood was the birthplace of jazz and is one of the neighborhoods most influenced by African-American culture.
You will visit the Cotton Club and the Apollo Theater, two of the most iconic buildings in the neighborhood.
The tour continues to the Bronx, where you will visit Yankee Stadium, one of NYC's baseball teams. You will also visit the South Bronx, an area full of street art, graffiti, and drawings dedicated to the memory of gang members killed in street fights.
The next neighborhood is Queens. You will tour the residential area of Malba, where large mansions abound.
Then you will stroll through Flushing Meadows Corona Park, one of the most famous parks in the city, used for filming many movies, such as Men in Black and Come to America.
You will also see the Mets stadium, the other New York baseball team.
And you will visit the Queens Museum, where you will see an impressive 900-square-meter model representing the entire city.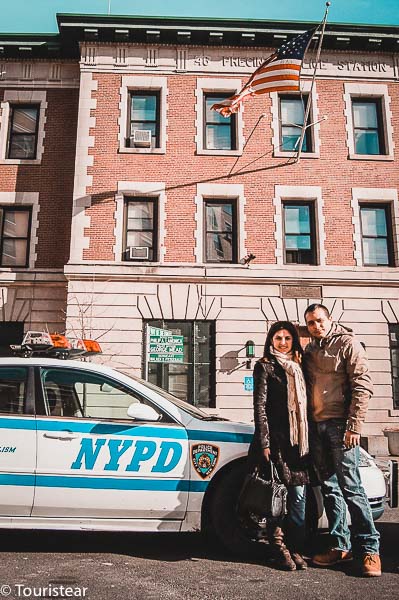 After Queens, the tour arrives in Brooklyn, where you will visit Williamsburg, the second-largest Orthodox Jewish community in the world. Incredibly, crossing just a few streets is such a great contrast. You'll find it hard to believe you're still inside New York.
You will have a great view of the famous Brooklyn Bridge from the neighborhood, and from there, you will depart to Chinatown, where the tour ends.
The tour lasts between 4:30 and 5 hours, so it is considered the most complete tour in New York.
Read here about our experience with the VIP Contrasts Tour.
NYC has so much to see; don't worry if you can't see everything in one trip. That's good; you'll have a good excuse for having to come back.
Plan Your Trip to New York
Disclosure: Some of the links on this post are affiliate links, meaning at no additional cost to you, I may earn a small commission if you click through and make a purchase.
Book Your Trip
Book Your Flight
Find a cheap flight by using Skyscanner.
Book Your Accommodation
You can book your hostel, hotel, or apartments on Booking.com.
Don'torget Travel Insurance.
Travel insurance will protect you against illness, injury, theft, and cancellations. It's your protection in case anything goes wrong. You never go on a trip without it.
Best companies for Tours
Check out Civitatis.com and find the best tours in English (French, Spanish and Italian)
Are you looking for the best companies to save money with?
Check out my resource page for the best companies to use when you travel! I list all the ones I use to save money when I travel – and I think I will help you too! (Is in Spanish yet)
Last Updated on 16 March, 2023 by Veronica