Best Things To do in Florida in 10 days
Today, we will set a travel plan for when you visit a destination with as many leisure possibilities as Florida, but on those occasions in which the length of the stay forces you to prioritize the places based on their interest and the geographical location they occupy.
First of all, we advise you to carefully review the tips and recommendations for traveling to the USA. Do not forget the ESTA or the visa to enter!
Once underway, unless we have a specific goal in mind, such as thematic purposes, the ideal is to travel to Miami International Airport and install our headquarter in the South Florida area.
In my opinion, the counties of Miami-Dade or Broward may be perfect for this task, and even more so if we are located near the coast.
Miami
How could it be otherwise, Miami should be the beginning of our itinerary. It is a very extended city that clearly differentiates its financial center from the rest of its metropolitan area, home to up to 5.4 million inhabitants.
It is essential to have a car because today the public transport system is still not the best when you separate from the central areas.
If you wish, you can buy a SunPass in different supermarkets, pharmacies, or other establishments to avoid stopping at highway tolls or permitting to use the express lanes and pay in some parking lots.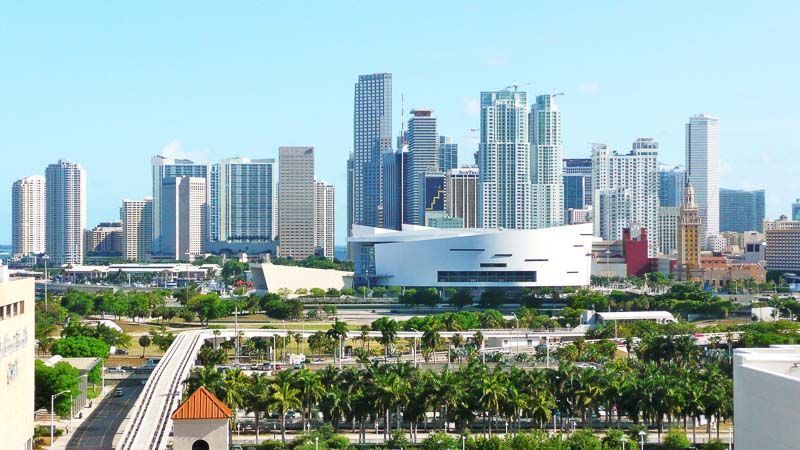 Photo: Wikimedia / Averette / CC BY 3.0
A walk through Downtown Miami is a must. Walking among the skyscrapers that rise up in front of its beautiful bay is an unforgettable experience.
The shopping areas and cultural centers give it a bustling touch during the day that contrasts with the spectacular lighting at night.
Approaching the popular financial center of Brickell and photographing the imposing buildings from the Brickell Bridge gives the feeling of being in the world capital of architectural luxury.
It is important to know that much of Downtown Miami can be traveled for free onboard its Metromover, an automated transportation system similar to the streetcar but that runs through the city on rails that rise above the streets.
Following the bay, to the north, we arrive at Bayside, one of the most popular places in Miami.
Most tourists gather there around its commercial complex, where lots of shops and boutiques mix with restaurants and places to drink, with a spectacular Hard Rock Café that rises to the sky in the shape of a guitar.
The famous little boats also set sail from this point, which is just over an hour take visitors on their journey around the multi-million dollar mansions of the most illustrious inhabitants of the city.
Miami Beach
Facing this side of Biscayne Bay is that tongue of land that separates it from Miami Beach's sea. Here if you have to take the car and go along the entire beach line along Collins Avenue, which ends in its southern part in South Beach.
If you want to enjoy the party and the fun, do not forget to spend a night at this last one. Its well-known Ocean Drive street separates the beaches from its line of Art Deco buildings.
And yes, among them is the much-photographed entrance where designer Gianni Versace met his fatal fate.
All this can be done practically in two or three days, although the fun will be greater if you have a little more time.
We can cross to Key Biscayne in the opposite direction and barely half an hour from Downtown.
To the beauty of its exuberant beaches and its two natural parks, we can add a visit to the famous Miami Seaquarium. This impressive aquarium has countless marine species and where we can even swim with its dolphins.
If someone asks me what I know, leaving Miami behind is one thing that cannot be missed on this trip, I would say without hesitation that visiting the Florida Keys. You can rent a car in Miami using Discovercars, which works with all car companies.
A road trip along the Overseas Highway from Miami to Key West is a unique experience, which can be completed in three and a half hours on an unparalleled 165-mile island-hopping journey."

Florida Keys
If someone asks me what I know, leaving Miami behind is one thing that cannot be missed on this trip, I would say without hesitation that visiting the Florida Keys.
A road trip along the Overseas Highway from Miami to Key West is a unique experience, which can be completed in three and a half hours on an unparalleled 165-mile island-hopping journey.
At times it gives the feeling that we are sailing by car over the sea, especially when driving over the Seven Mile Bridge, the longest of the bridges on the route and which reaches 7 miles in length.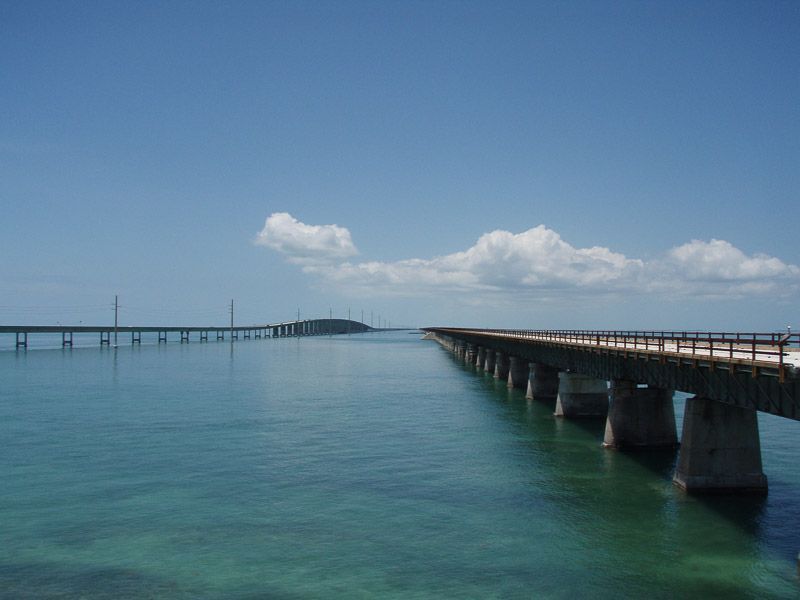 Wikimedia / Cbdehart / CC BY-SA 4.0
We can choose between countless places to stop and take a dip during the tour.
Of course, we must not forget that some beaches are private, as is the case in much of Florida, and bathing is prohibited.
The trip ends in Key West, a city closer to Havana than Miami, 90 and 150 miles respectively, if we are located at the famous Southernmost Point, the southernmost point of the United States. You may have to queue to take a photo here.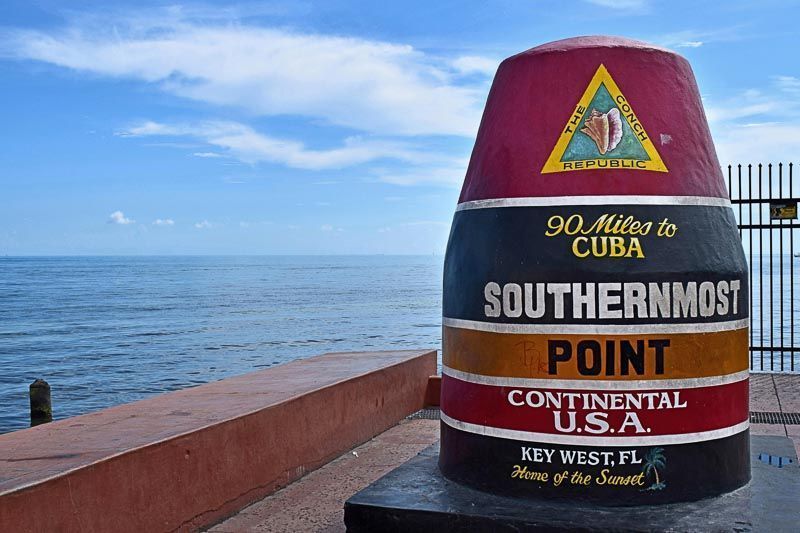 Photo: Wikimedia / Radomianin / CC BY-SA 4.0
Key West is a beautiful city with its unique shops and cafes and the beautiful Victorian houses that line Duval Street.
At 907 Whitehead Street, we find the famous house of the writer Ernest Hemingway.
In the late afternoon, it is almost mandatory to go to Mallory Square to enjoy a spectacular sunset by the sea and have fun with the shows of the musicians and street artists who meet there every day just at that time.
Bahamas
If time and budget allow, either via cruise ship or just an hour's flight from Miami or Fort Lauderdale, we have the opportunity to take a getaway to the Bahamas.
Discover paradisiacal beaches and walk the streets of the capital, Nassau, mingling with the population to impregnate ourselves with its unique culture and enjoy its cuisine like any other islander.
Photo: Flickr / Moto "Club4AG" Miwa / CC BY 2.0
Inescapable is a visit to the imposing Atlantis Paradise Resort, one of the most luxurious resorts in the world and home to countless attractions, including an extraordinary aquarium and water park.
It is also famous for the variety of events of all kinds that it hosts on a regular basis and for its renowned casino, known as the PSCP of the Bahamas.
And, of course, in the hotel complex itself, shoppers have the opportunity to visit all the most exclusive brands to make some tax-free purchases.
Everglades
A tour of the Everglades National Park is also a must on a trip to Florida. All this wetland that occupies a large part of the south of the state is another of the most attractive points for tourists.
It can be visited by car, bicycle or on foot, although in this way you would need several days to see only part of the place.
The most practical thing is to go to one of the park's visitor centers and book an excursion.
I recommend taking a tour in one of those companies with hovercrafts that usually complete their offer with some kind of show.
Get ready to see alligators, turtles, and a wide variety of other marine species and birds.
Shopping
If you still have time and desire after all this, you can go out and do some shopping, something very common among people who travel to Florida.
Head north to Sunrise and about 40 minutes from Miami, you'll find Sawgrass Mills, the fourth largest outlet in the world and visited by people from all over the country.
In its more than 220,000 square meters, you can find anything at the best price.
Anyway, with a little more time, there would be a lot of places to visit like Fort Lauderdale, Palm Beach, Tampa, Naples, St. Petersburg, and, of course, Orlando, but we'll leave that for another trip.
Don't Forget Travel Insurance
Do not forget to buy travel insurance to travel to the United States. Hopefully, you don't need to use it, but it is better to be prepared for any eventuality or emergency.
In my case, I have Chapka's annual insurance, with worldwide medical assistance with good coverage. Also, you can use our link to get a 7% discount on Chapka Insurance.
Choosing travel insurance will depend mainly on the duration and coverage of the insurance. Therefore, it is best to inform yourself well to choose the best insurance available.
If you want, you can review our guide on choosing travel insurance, where you will find comparisons, opinions, and discounts.
Prepare your trip to the United States
Last Updated on 22 September, 2023 by Veronica
Disclosure: Some of the links on this post are affiliate links, meaning at no additional cost to you, I may earn a small commission if you click through and make a purchase.
Author: Veronica
Vero, a seasoned traveler, has explored 25 countries and lived in five, gaining a rich perspective and fostering an infectious passion for travel. With a heart full of wanderlust, Vero uncovers the world's hidden gems and shares insights, tips, and planning advice to inspire and assist fellow adventurers. Join Vero and let the shared passion for travel create unforgettable memories.