25 Best Things to Do in St Louis, Missouri
Saint Louis in Missouri is known as the gateway to the western United States. It has many famous places to visit, such as the Gateway Arch and Busch Stadium.
Plus, you'll find that the city has a lot to offer, including great beer, delicious food, sports, Route 66, and a thriving music scene.
This American Midwestern spot will have you enchanted in no time.
St. Louis is ranked #7 for the best weekend getaways in the Midwest.
Follow the trail of Lewis and Clark and start discovering St. Louis! First, use this guide to decide which places you want to visit. Here, you will find the perfect place to stay in St Louis.
* Do not forget your travel insurance to travel to the United States. You have a 5% discount with this link.
The Best Months to Visit St. Louis
The best time to visit St. Louis is in the spring and fall. Generally speaking, April through May and September through October offers great weather, warm temperatures, and many city events.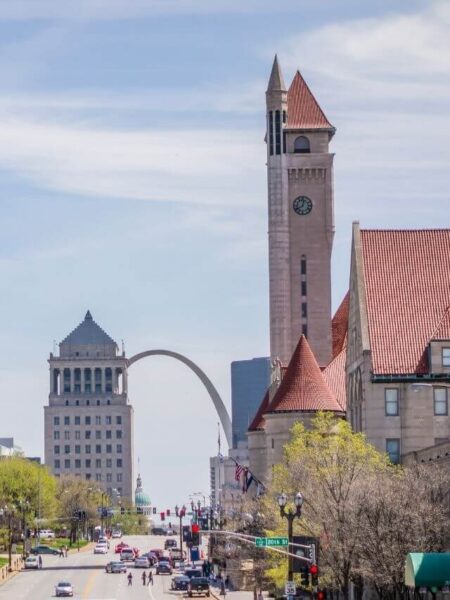 Between April and October, you will find many free events for the whole family on almost any day of the year.
The best events take place in the summer months.
The weather in Saint Louis, Missouri, is listed as unpredictable. In spring, you can find freezing mornings, storms, and sun on the same day. You can have all four seasons in one day.
In summer, you have to add humidity to sunny and hot days. Summer temperatures can be between 26 and 32 degrees C (80 and 90 ºF). But do not be surprised that it rises to 37 degrees Celsius (100 ºF)
The humidity is around 70% on average.
So when is the best time to visit Saint Louis? For the weather, spring and fall. For the events, summer is the best date, June and July have the best events (from my point of view), and it is the city's high season. So it's up to you!
Where to Stay in Saint Louis, Missouri
Hotel St. Louis Union Station
St. Louis Union Station Hotel has been an icon of the city since 1894. The hotel retains the elegant arches and decorations of its famous Grand Hall.
It is located within the National Historic Landmark, Union Station, and is one of the best hotels in Saint Louis to stay at.
It's just a short walk from the city center, making it perfect for getting around Saint Louis comfortably. Not to mention, this beautiful hotel has a seasonal outdoor pool, two excellent restaurants, and a 100-foot waterfall.
In addition, they do a light show, and you have access to the gym with the accommodation.
If you are a movie buff, the hotel lobby (before it was renovated) was filmed for the fight scene with wrestler Ox Baker and much of the movie Escape from New York.
And the famous Chain of Rocks Bridge (Route 66) was the setting for the final scene of this movie.
Address: 1820 Market Street, St Louis, Missouri.
Cheshire Boutique Hotel
The Cheshire hotel is created with a British aesthetic and a unique offering. It is located within walking distance of Forest Park and Washington University.
Perfect for travelers looking for something different and for those who travel for work.
Guests arriving at the hotel are greeted by charming Tudor architecture, latticework stained glass windows, and a British flag flying over the entrance.
The lobby features English country house-style décor with cozy touches like a giant teddy bear and a hand-carved mantle framing a wood-burning stone fireplace.
Antiques, furnishings, and fixtures from the 18th century are found throughout the hotel, and rooms and suites are named to honor the work of a famous British author, poet, or playwright.
The Fox & Hounds Tavern is just off the lobby, a favorite gathering place for hotel guests and locals of St. Louis for a chilled pint and a bite to eat.
You won't know if you're in Europe or the American Midwest 😉
Address: 6300 Clayton Rd, Richmond Heights, MO 63117
23 Best Things To Do Louis, Missouri
Gateway Arch, The Icon of the City
Gateway Arch, the Gateway to the West, commemorates the country's expansion to the west.
The stainless steel arch is an engineering marvel, rising 200 meters at its tallest. It is the tallest human-built monument in the United States and the tallest accessible building in Missouri.
It is located on the banks of the Mississippi River, in the place where the city of Saint Louis was founded.
The arch was designed by Eero Saarinen, a Finnish-born American architect, and Hannskarl Bandel, a German structural engineer, in 1947.
Construction began in February 1963 and ended in 1965, and it opened to the public on June 10, 1967.
Visiting the arch is free, but climbing to the top, you have to pay $10 to $13. From up here, you can enjoy incredible views of the city.
Address: Calle 11 N 4
Read this article if you are interested in its physical characteristics and mathematical elements.
Westward Expansion Museum
You'll find the Westward Expansion Museum at the base of the Gateway Arch. This is a great place to visit if you want to learn more about the United States' westward expansion history.
The Museum at Gateway Arch covers 201 years of history of the United States' westward expansion, emphasizing the pivotal role of St. Louis at that time.
On the mezzanine, a terrazzo floor displays a map of North America with historic trails from St. Louis and the east, allowing visitors to trace pioneers' journeys to the west.
The museum was remodeled in 2015 with new interactive museum exhibits that focus on six areas, including:
the Colonial St. Louis.
Jefferson's vision
St. Louis Riverfront
Manifest Destiny
New Borders
The design and construction of the Gateway Arch.
Address: 11 N 4th St, St. Louis, MO
Forest Park
Forest Park in Saint Louis is one of the most beautiful urban parks you can visit.
It's almost 1,300 acres, has plenty of things to do, and is located in downtown St. Louis.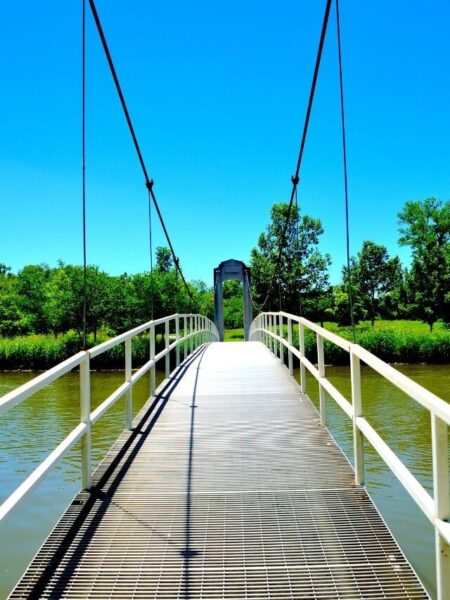 The park offers everything from a zoo to a summer concert series to a golf course. You can walk or jog the park's many trails or navigate its waterways.
Forest Park has been open since 1876 and was the site of the World's Fair in St. Louis in 1904. It is one of the largest urban parks built at the end of the 19th century.
Forest Park is bigger than Central Park in New York to give you an idea.
Many of the free museums in St. Louis are also found throughout Forest Park. Among them are:
The Missouri History Museum
The Muny, Saint Louis Municipal Opera Association
Saint Louis Art Museum
Saint Louis Science Center, which includes the McDonnell Planetarium
The St Louis Zoo.
If you want to enjoy the park, you can stay at one of the nearby hotels such as:
It is the sixth most visited park in the United States, with 13 million visitors yearly. So if you go in high season, I recommend that you make your reservations in advance.
Address: 5595 Grand Drive in Forest Park
St. Louis Cathedral Basilica
This impressive Romanesque-Neo-Byzantine style Catholic cathedral began construction in 1907 and was completed in 1914.
The cathedral is consecrated to Saint Louis, King of France, and in 1997 Pope John Paul II gave it the title of Basilica Cathedral.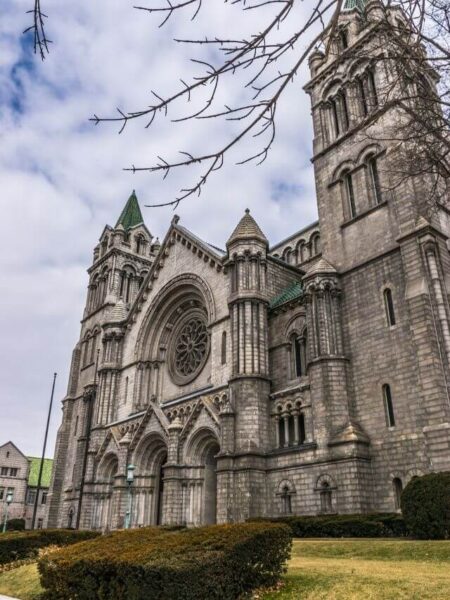 Although it may be relatively new, this cathedral has gained world renown for its mosaics and burial crypt collection.
Nearly 42 million glass mosaic pieces make up this beautiful installation. You'll want to have a good time going through all the mosaics, even if you're not very religious.
Tours are not available during Mass.
Address: 4431 Lindell Blvd.
St. Louis Zoo
The Saint Louis Zoo is home to more than 14,000 animals, with some 500 different species, and it's completely free.
You know that we do not promote zoos or activities with animals. But this zoo is world-renowned for its innovative approaches to animal care and management to conserve wildlife.
Large, natural enclosures ensure that the lions, tigers, and bears are comfortable, well cared for, and able to "call" this zoo home.
Although the ideal is that they are in their natural habitat.
You can admire the sloths, penguins, hippos, and many other creatures that run around this impressive zoo. Then, head to Caribbean Cove, where you can see a wide variety of rays.
*Please respect the rules of the park and common sense. For example, please do not feed the animals, do not touch them, etc.
Missouri Botanical Garden
The botanical garden was founded in 1859 by St. Louis philanthropist Henry Shaw and is one of the oldest in the United States.
Stroll through the beautiful Missouri Botanical Gardens. In its more than 30 hectares, you will discover that adults and children will enjoy these gardens.
Children's Gardens features fun exploration in a limestone cave, Spelunkers slide, treehouse, and steamboats.
Adults will love the koi pond and relaxing Japanese garden. You can also see Chihuly's impressive glass sculptures around the botanical gardens.
The herbarium has more than 5 million specimens, and the library contains more than 120,000 volumes.
The garden is a center for botanical research and scientific teaching of recognized international prestige.
Hours: Open from Tuesday to Sunday from 9 am to 5 pm (take a look at summertime and holidays)
Price: $14 general admission for ages 13 and up.
Address: 4344 Shaw Blvd.
Busch Stadium and watch a baseball game
The St. Louis Cardinals of Major League Baseball home is a must-see. Even if you're not a huge baseball fan, visiting this iconic stadium will give you incredible views of St. Louis.
Its central location in the heart of the city puts the stadium right in the middle of all the action in the city and makes it easily accessible.
You can catch a game at Busch Stadium or take a tour. The one-hour stadium tour is available during the season at 9:30 am, 11:00 am, 12:30 pm, and 2:00 pm.
If you're a big baseball fan, you can take a tour in the morning and then catch an afternoon or evening game.
Stadium Tour Price – $14 to $18 per person
Address: 700 Clark Avenue
Old Court House
The former was built as a combination federal and state courthouse in St. Louis, Missouri.
It was the tallest habitable building in Missouri from 1864 to 1894. It is now part of the Gateway Arch National Park and is operated by the National Park Service for historical exhibits and events.
The Old Courthouse was the site of the first two trials of the pivotal Dred Scott case in 1847 and 1850. It was also where the Virginia Minor case for a woman's right to vote came to trial in the 1870s.
You can visit this historic building and the restored courthouses to learn more about America's 19th-century court system.
St. Louis' Old Courthouse is listed on the National Park Service's National Network of Underground Railroads to Freedom.
* Note: The Old Courthouse at Gateway Arch National Park is closed for renovations at the time I'm writing this blog post.
Citygarden Sculptures Park
The City Garden is an urban sculpture park located in downtown St. Louis.
This park has 24 sculptures, fountains, and gardens to enjoy quietly.
The Hill
The Hill is one of the neighborhoods in St. Louis that you have to visit. This colorful neighborhood is proud to "export" world-class athletes and its Italian cuisine.
Some call it the Little Italy of St. Louis because there are a plethora of Italian bakeries, shops, restaurants, and trattorias.
The fire hydrants are painted in Italian flag colors (red, white, and green); it is a very colorful place.
The Hill is famous for its Italian markets and restaurants, so if you crave authentic Italian food outside of Italy, this is one place you can't miss.
Visit The Loop
The Loop is another area of St. Louis you have to visit. It's eight blocks with unique shops, art galleries, theater, live music, restaurants, excellent coffee culture, and St. Louis.
More than a century ago, Delmar Loop got its name because of the streetcars that came west and looped around before connecting to the other areas.
This area has not stopped growing and has become an important place to visit in Saint Louis.
You will find all the information you need to visit The Loop on this site.
Route 66 in Saint Louis
St. Louis is the largest city on Route 66 between Chicago and Los Angeles, where you will find several essential places to visit on this mythical route.
Established in 1926, Route 66 stretches 2,448 miles from Chicago to Los Angeles.
In the 1930s, the road became the main thoroughfare for immigrants seeking a better life in the promised land of California.
Chain of Rock Bridge
You can't miss the Chain of Rock Bridge. It was built in 1929 and was originally a toll bridge. It later served as a support for Route 66 traffic over the Mississippi River.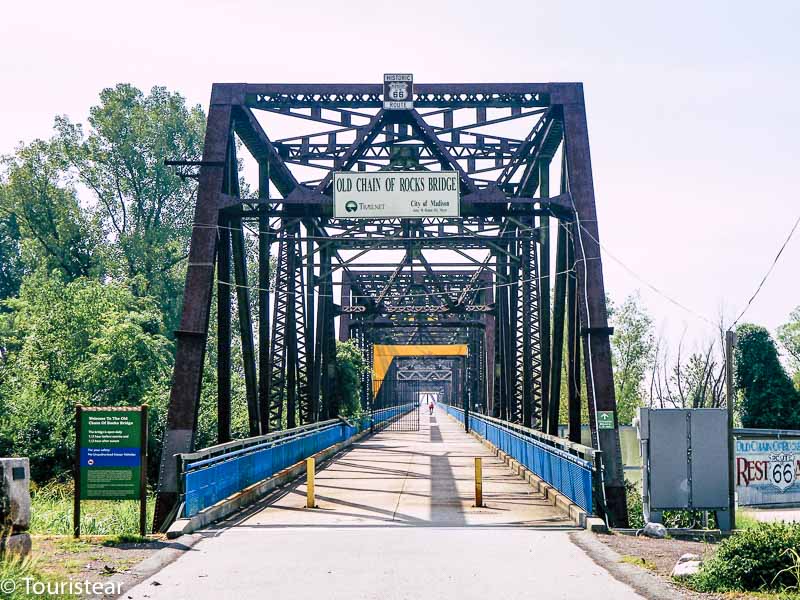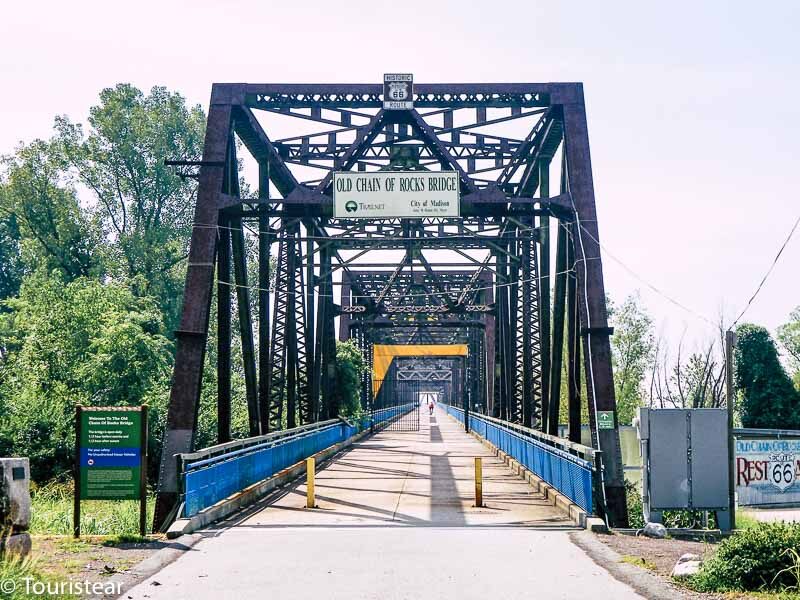 This made it possible to avoid crossing the entire city by the migrants who made Route 66 and thus reduce vehicular congestion.
It worked from 1937 to 1967. Unfortunately, it was closed to traffic then, and its fate was uncertain until 1990.
In 1990, it was saved from demolition and converted into a pedestrian path. It is characteristic because the center of the bridge has an angle of 22°, allowing it to resist the river's current and facilitate the transit of boats.
Visit the Meramec Caves (Meramec Caverns)
Just past Sullivan is Stanton, home to the Meramec Grottoes, open since 1930, which I highly recommend you visit.
Also, the Jesse James wax museum and the Ozark Court, an old motel that had a characteristic sign of a deer, the sign is no longer there, and the motel, maybe neither.
Other places you have to visit are:
Crown Candy Kitchen
Eat-Rite
The Chase
Maplewood
Donut Drive-in
Route 66 State Park
Motel Row, Coral Court Motel
Crestwood Bowl
Urban Art in St. Louis
In Saint Louis, you can find the "Mural Mile," which is located along the Riverfront between Victor and Chouteau Avenues, south of the Gateway Arch.
This project started in 1997 and quickly became an annual event. It is organized every weekend of labor day.
It is organized by the Paint Louis organization. More than 250 graffiti artists from all over the United States gather and leave their works in the assigned places.
Enjoy the Blues Live
St. Louis has its own style of blues, with piano and a heavy emphasis on guitar, the blues of St. Louis is not the blues you hear in other cities.
The sound is unique and is available every night of the week. So no matter when you arrive or how long you stay, you'll always find a place to enjoy live music.
Here I leave you five places that will not disappoint you:
Broadway Oyster Bar
Broadway Oyster Bar is home to great music and has become known as "One of St. Louis's most beloved party palaces for over 30 years."
Here you can enjoy good live music and good food with numerous New Orleans-style dishes.
BB's Jazz, Blues, and Soups
Hwy 61 Roadhouse And Kitchen
Old Rock House
Jazz at the Bistro
What Museums to Visit in St. Louis
City Museum St. Louis MO
If you're looking for family fun in the city center, check out the City Museum.
This place is an eclectic mix of playgrounds, exploration exhibits, and one-of-a-kind objects.
Your kids will love the tunnels and ball pits in "Toddler Town" or exploring deep caverns in "Enchanted Cave."
Address: 750 N 16 Street. Get your tickets here.
SLAM: St. Louis Art Museum
A great stop while exploring Forest Park is St. Louis. Its initials mean Saint Louis Art Museum.
Over 34,000 works of art from Europe, Asia, and even Egypt are displayed here. The museum is free, and you'll find a mix of paintings, photographs, sculptures, and textiles on display.
Popular exhibits include the 'European Art' gallery and the constantly rotating Egyptian galleries. Please note that only non-flash photography is allowed inside the museum.
Hours: Tuesday to Sunday from 10 am to 5 pm, Fridays from 10 am to 9 pm Closes on Mondays.
Price: free
Address: One Fine Arts Drive, inside Forest Park.
Science Center of St. Louis
You'll find the St. Louis Science Center in the southeastern part of Forest Park. The center contains more than 700 hands-on exhibits on everything from space to humanity.
Marvel at the life-size dinosaurs and the many exhibits showcasing technology. This museum is free and makes a great stop while strolling through Forest Park.
The Science Center is one of the country's only free, not-for-profit science museums, welcoming more than a million people each year, making it one of the largest science centers in the US. and from abroad.
The campus features more than 700 interactive experiences in ten galleries, the GROW indoor and outdoor farm gallery and pavilion, and of course, the famous McDonnell Planetarium and a four-story OMNIMAX® theater.
Address: 5050 Oakland Avenue
National Blues Museum
Blues is alive and well in St Louis, and the National Blues Museum explores the genre as the foundation of all modern American music.
Keith Richards said, there's no point in picking up a guitar and playing rock and roll or other music if you don't know the blues.
At the museum, you'll find the history of the blues told chronologically. It begins with its origins in African culture, continuing with the migration north after slavery, the Depression, and the civil rights movement to our time.
Without a doubt, it is a fascinating museum for music and blues lovers.
Price: General admission is $15. Take a look in case you have a reduction in the price.
Address: 615 Washington Ave.
Missouri History Museum
The Missouri History Museum is located in Forest Park. Here, you will find everything related to the history of Missouri.
The museum is managed by the Missouri Historical Society, founded in 1866.
The permanent collections have free access, but some temporary exhibitions have a paid entrance.
Hours: Tuesday to Sunday from 10 am to 5 pm Closes on Mondays.
Price: free.
Address: 5700 Lindell Blvd.
More Museums to Visit in Saint Louis
St. Louis Children's Museum
Museum of Transportation St. Louis
Mildred Lane Kemper Art Museum
Pulitzer Art Foundation
Karpeles Manuscript Library Museum
The Economy Museum
Missouri Civil War Museum
The Moto Museum
Griot Museum of Black History
St. Louis Cardinals Hall of Fame Museum
Where to Eat and Drink in Saint Louis, Missouri
Anheuser Busch Brewery
St. Louis is the home of Budweiser, and taking a brewery tour will give you all the lowdown on one of the most well-known breweries in the world.
You'll get a behind-the-scenes look at the Bud brewing process.
As you walk through this historic property, take in all the splendor of Budweiser. You can even catch a glimpse of the world-famous Clydesdales.
Visit the Biergarten after the tour to enjoy a beer (or several) and delicious food.
Price: depending on the experience you want to live, you can find tours from $15 to $70 the VIP tour. Please take a look at their website, as they change every month.
Address: 1200 Lynch St.
Eat St food Tour Louis
You must visit Eat St. Louis Food Tour if you are a foodie. These walking tours are led by local guides and are a mix of delicious food and drink tastings at various locations around the city.
You'll learn about the area's architecture and history, with insider information about each neighborhood you visit.
The Maplewood Tour and The Hills St. Louis Food Tour are some more popular tours.
The Hills Tour offers Italian cuisine, including ravioli, pizza, and ice cream.
Address: 5348 Devonshire Ave.
Soulard Market
Established in 1779 at Soulard Market, you'll find stalls selling everything from fresh flowers to great St. Louis.
If you are looking for local culture, this is the perfect place to find it.
The market is open all year round, from Wednesday to Saturday, and is both indoor and outdoor.
Address: 730 Carroll Street
Taste Ted Drewes Frozen Custard
Ted Drewes is a family business founded in 1929, and what they do is frozen custard.
Eat them on a warm summer night for the quintessential St. Louis.
One of their best-known products is "concrete," They are shakes so thick and delicious that you can hold them upside down!
Ted Drewes has great flavor combinations, including S'mores and the Elvis-inspired 'All Shook Up,' the famous peanut butter and banana combo.
With tons of toppings, you're sure to find a combination to satisfy your sweet tooth.
It is one of the places you have to visit if you are touring Route 66 and, of course, if you like sweet things!
Address: 6726 Chippewa
Important Events and Festivals in St. Louis
Forest Park will have festivals and events almost all year round.
May:
St Louis Microfest. There are two days of the festival for the whole family. Where you will find local, country, and international beers and of course, live music.
Cinco de Mayo is celebrated almost everywhere, but head to Cherokee Street for some real Mexican food
June:
Shakespeare in the park, professional actors perform Shakespeare plays in Forest Park for free.
IndiHop is the annual festival that brings together 50 independent breweries in The Grove and Cherokee Street neighborhoods. There is a single ticket to enjoy the different stalls.
Whitaker Music Festival: Every Wednesday from June to August there is live music.
July:
Art Hill in Forest Park: Every Friday night in July, you can enjoy movies on a giant outdoor screen.
Celebrate Independence Day under the Arch at Fair Saint Louis.
August:
Festival of Nations. In August, they celebrate their culture and the contribution of immigrants to the city.
September:
Taste of Saint Louis is a gastronomic festival where 30 restaurants come together, and there are chef competitions, food, cocktails and lots of fun.
There are more events, so I recommend you visit the tourist office or look on the web to see what events are happening on the dates of your trip.
St. Louis is the gateway to the west and is a great place to visit, no matter the time of year.
Be sure to catch a baseball game, grab a beer while listening to live music, and stroll through Forest Park for the full St. Louis.
Plan Your Trip to St Louis Missouri
Disclosure: Some of the links on this post are affiliate links, meaning at no additional cost to you, I may earn a small commission if you click through and make a purchase.
Book Your Trip
Book Your Flight
Find a cheap flight by using Skyscanner.
Book Your Accommodation
You can book your hostel, hotel, or apartments on Booking.com.
Don'torget Travel Insurance.
Travel insurance will protect you against illness, injury, theft, and cancellations. It's your protection in case anything goes wrong. You never go on a trip without it.
Best companies for Tours
Check out Civitatis.com and find the best tours in English (French, Spanish and Italian)
Are you looking for the best companies to save money with?
Check out my resource page for the best companies to use when you travel! I list all the ones I use to save money when I travel – and I think I will help you too! (Is in Spanish yet)
Last Updated on 14 March, 2023 by Veronica