Best Things to Do in Springfield, Missouri, Route 66 Birthplace
Springfield, Missouri, emerged as the birthplace of Route 66 in the 1920s when the government decided to mandate the construction of an interstate highway.
Route 66 is also known as Mother Road and Main Street of America. This iconic route stretches from Chicago to Los Angeles.
On the east side of Park Central in downtown Springfield, Mo, you'll find a sign with the official designation of 1992.
If you're interested in visiting the birthplace of this famous route, you can "Get Your kicks on Route 66" with this guide to Springfield, Mo attractions.
Park Central Square
Park Central Square is in the heart of downtown Springfield and is home to some of the best attractions Missouri's third-largest city offers.
You'll find unique shops, cafes and bars, restaurants, and the sign that marks Springfield as the birthplace of Route 66.
The square is also famous for being the shootout site between Wild Bill Hickok and Dave Tutt in 1865.
Park Central was also part of the infamous Trail Of Tears, a series of forced displacements, forcing more than 60,000 Native Americans from the Five Civilized Tribes to relocate to other lands.
This square was redesigned several times, but it has always had the spirit of being a place for the public to gather, relax and be comfortable.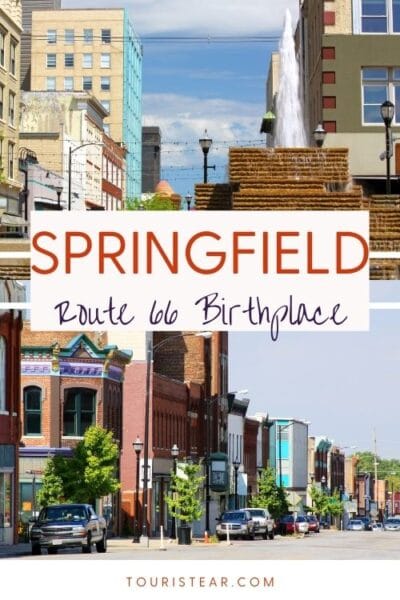 History Museum on the Square
Voted one of America's Best New Attractions by USA Today, discover Springfield's colorful history at the Plaza History Museum.
This city has been at a crossroads in the past and has played an important role in American history. At its museum, history comes to life through hands-on experiences and world-class exhibits.
Learn about Springfield's Native American history, Wild Bill Hickok's Wild West shootouts, and Missouri's part in the Civil War. Of course, you will also learn about the history and significance of Route 66.
Price:
Adults – $16
Seniors, Military, Students – $13
Children (4-12) – $10
Address: 154 Central Plaza Park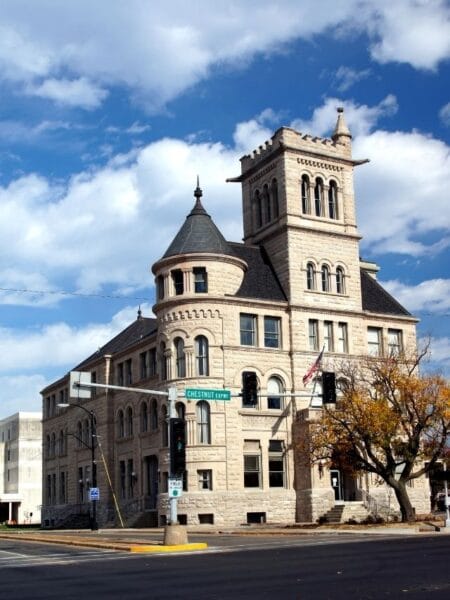 Route 66 Visitor Center
If you want more information on the Main Street of America, stop by the Route 66 Visitor Center.
They have a wealth of information on the famous trail, along with fun souvenirs, brochures, and maps of Springfield.
For those looking for a bit of nostalgia, check out the replica 1950s restaurant, gas station, and phone booth.
Address: 815 E St. Louis Street, Springfield.
Gillioz Theater
The Gillioz opened in 1926, and vintage theater enthusiasts will love this Springfield gem's elegant Spanish Colonial architecture.
The theater has a distinctive stained glass window, an open oculus in the ceiling, and a luxury you won't soon forget.
You can buy tickets for a show. In its early years, you could see concerts and silent works. Today the venue hosts everything from comedy shows to country music concerts to opera.
It was closed in 1980. And it has been renovated, the lobby and auditorium have been restored to their original version of 1926.
It has 595 seats at the orchestra level and 420 seats on the balconies or boxes.
Address: 325 Central Park E, Springfield.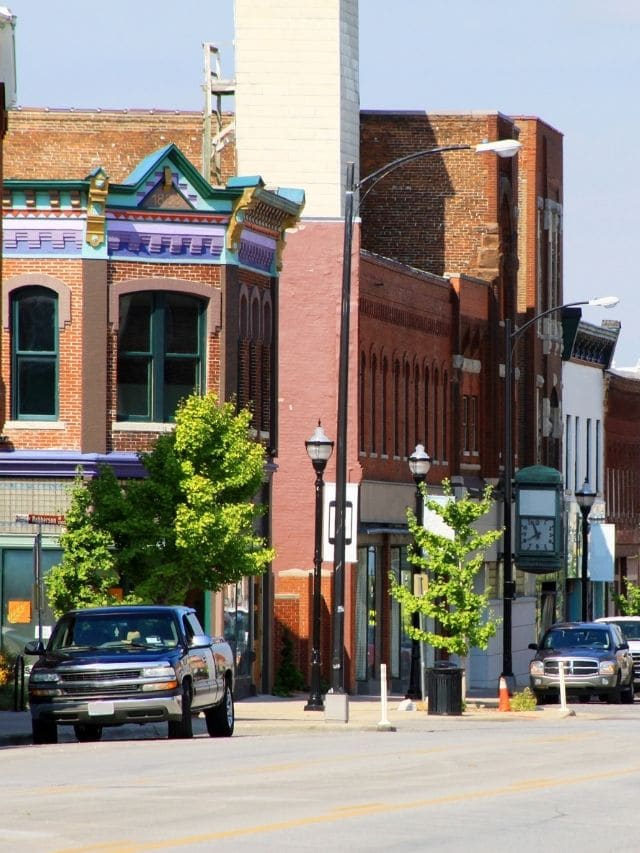 Place of birth: Route 66 Roadside Park
The birthplace of Route 66 is Roadside Park on College Street.
Here you can see the main attraction of the park, the Giant Hamburg sign in the shape of a cross, and other curiosities inspired by Route 66, such as mosaics or the place to leave the bicycles.
It's an excellent place to stop and stretch your legs while touring Route 66.
Red's Giant Hamburg
In 1947, Red's Giant Hamburg was a restaurant on Route 66. The owner decided it would be easier for customers to walk in and order their $0.25 burger, possibly creating the first drive-thru in America.
The Red's sign was famous because it features a cross shape with the words, Giant and Hamburg. Seeing the cross with the Giant Hamburg sign has become a must-stop for those traveling Route 66.
Address: 1200 West University Park
Pythian Castle
Pythian Castle was built in 1913 by the Knights of Pythia, a fraternal organization and secret society founded in 1864. They are known for their charity work and founded Pythian Castle as an orphanage and retirement home.
They are known for their charity work and founded Pythian Castle as an orphanage and retirement home.
Today, the beautiful Pythian Castle offers ghost tours, history tours, an escape room, and mystery dinners. This certified haunted castle is a must-see in Springfield.
Price:
Ghost Tour – $17 per person
History Tour – $11.50 per person
Address: 1451 E Pythian Street
Route 66 Steak 'N Shake
This historic Route 66 restaurant was built in 1962 before the road fell into disuse. In 2012, it was listed on the National Register of Historic Places.
Without a doubt, it is a place to go to eat a hamburger and if you can go at night, all the better, so you can see its neon lights in all their splendor.
Address: 1158 E. St. Louis St., Springfield
Joe's Route 66 Diner
You'll love Joe's if you're looking for a quintessential Route 66 dinner spot. It's on Route 66, not precisely in Springfield, but in the town of Strafford, 13 miles from the Springfield Route 66 Visitor Center.
This great restaurant serves traditional food, but its cheeseburgers, fries, and shakes are legendary.
The friendly staff and prompt service will make you want to stop at Joe's more than once on your trip to Springfield.
Address: 201 East Chestnut Street, Strafford, MO 65757
Fantastic Caverns
You will discover the timeless beauty of the Fantastic Caverns of Springfield, Missouri. One of the rarest treasures in the area, there are only four such caverns in the entire world and only one in North America.
Fantastic Caverns are walk-through, meaning the cave is toured by jeep-drawn tram due to its vulnerable nature.
See the giant columns from floor to ceiling, the dainty sparkling soda straws, and the tiny cave pearls hidden around the cavern.
You will never forget all the geological wonders of Fantastic Caverns.
Price:
Adults – $30
Children (6-12) – $17
Children under 5 years – Free
Address: 4872 N Farm Road 125
Route 66 Automobile Museum
Auto enthusiasts will appreciate the historic Route 66 Automobile Museum. This place is dedicated to exhibiting and preserving some of the most beautiful automobiles in history.
This museum opened its doors in 2016, and in its almost 2000 square meters, you will find a collection of more than 70 sports, classic, and movie cars ranging from 1907 to 1980.
As a curiosity, The Route 66 Automobile Museum is a privately owned collection started by Guy Mace along the famous and historic Route 66.
He started collecting cars in 1990, purchasing a Jaguar to collect. Most of the vehicles exhibited in the museum are bought at auctions, and some have been sold just to be exhibited in the museum.
Without a doubt, an essential place to visit on your trip to Springfield for lovers of cars, history, and movies.
Price:
Adults (16+) – $15
Seniors and Veterans – $13
Children (3-15) – $5
Children under 2 years – Free
Address: 1634 West College Street
Gay Parita Station
It's not exactly in the city of Springfield, just 25 miles (40 kilometers) away, and it's one of the most photographed gas stations on Route 66.
Gary's Gay Parita is a 1934 Sinclair gas station that feels like it's been frozen in time. Please pay attention to the details, you will take many photos of it, without a doubt!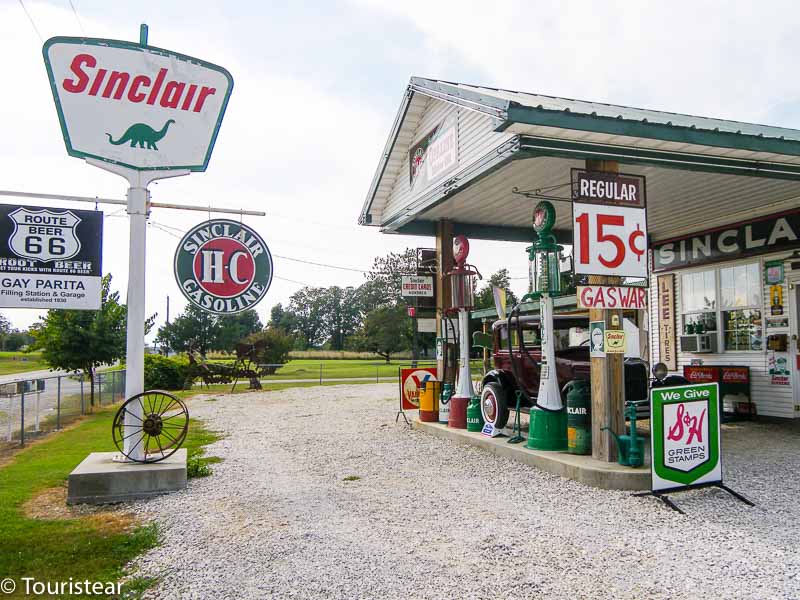 Springfield Botanical Gardens
The 112-acre Springfield Botanical Gardens includes a number of beautiful and exciting garden collections.
One of the most popular is the Mizumoto Japanese Garden, created in 1985 and complete with a koi pond, moon bridge, meditation garden, tea house, and traditional Japanese landscaping.
Admission to the botanical gardens is free, but private tours and rentals may cost a small fee.
Don't miss Dr. Roston's Native Butterfly House on your visit to the Springfield Botanical Gardens.
Address: 2400 S Scenic Avenue
The World's Largest Fork
While not one of Springfield's most famous landmarks, it is, after all, the birthplace of Route 66. This fun stop will have you laughing in no time.
There isn't much else to say about Springfield's World's Largest Fork.
If you're looking for a kitschy stop, check out this gigantic fork and take a quick and fun photo with the huge cutlery.
Address: 2215 W Chesterfield Blvd.
There are so many things to do in Springfield that you'll be amazed and want to stay longer than a couple of hours.
Don't Forget Your Travel Insurance for the U.S.
Do not forget to take out travel insurance to travel to the United States, where health care is very expensive. Hopefully, you don't need to use it, but it's best to be prepared for any eventuality or emergency.
In my case, I have annual Chapka insurance, with worldwide medical assistance with very good coverage. Plus, you can use our link to get a 7% discount on Chapka Insurance.
The choice of travel insurance will depend mainly on the duration and coverage of the insurance. Therefore, it is best to be well-informed to choose the best insurance available.
If you want, you can review our guide to choosing travel insurance, where you will find comparisons, opinions, and discounts.
Where to Stay in Springfield
Best Western Route 66 Rail Haven
For 75 years, the Best Western Route 66 Rail Haven hotel has welcomed international guests who love Route 66.
In fact, the hotel is listed on the National Register of Historic Places. This renovated historic motel is set on beautiful grounds and offers continental breakfast included in the price, outdoor pool, spa, and Route 66 pavilion.
Address: 203 S. Glenstone Ave., Springfield.
Rockwood Motor Court
In 1929, Rockwood Court was built on Route 66, and Deverne Ruckman began operating it as a tourist spot. Ruckman also built a Shell Oil service station and a house on the property.
At the time, the address was 1902 College, and the property was on the western edge of Springfield.
It was renovated in 2019 and undoubtedly, is a classic place to live the complete experience of Route 66 in Springfield.
Each room is inspired by a Route 66 era with vintage decor, furniture, and memorabilia.
Address: 2200 W. College St., Springfield.
The VIB
If you prefer something with a completely different style than Route 66, consider staying at Best Western's The Vib Hotel.
It has a lot of services, good rooms, and a highly recommended restaurant.
Whether you're interested in the area's impressive history, stops on Route 66, or strolling through the botanical gardens, I'm sure you'll enjoy your time in Springfield, Missouri.
Plan Your Trip to Missouri
Last Updated on 22 September, 2023 by Veronica
Disclosure: Some of the links on this post are affiliate links, meaning at no additional cost to you, I may earn a small commission if you click through and make a purchase.
Author: Veronica
Vero, a seasoned traveler, has explored 25 countries and lived in five, gaining a rich perspective and fostering an infectious passion for travel. With a heart full of wanderlust, Vero uncovers the world's hidden gems and shares insights, tips, and planning advice to inspire and assist fellow adventurers. Join Vero and let the shared passion for travel create unforgettable memories.