The 10 Best Things To Do in Tucumcari, New Mexico
Tucumcari is a city belonging to the United States, particularly to the state of New Mexico and, within this, to the county of Quay.
However, for travelers, it is a practically obligatory destination when touring the points surrounding the Mother Road or Main Street of America Route 66.
With a population of about 6,000, Tucumcari stands as the first major city in eastern New Mexico and is, as we shall see, an essential stop for those traveling Route 66.
Disclosure: Some of the links on this post are affiliate links, meaning at no additional cost to you, I may earn a small commission if you click through and make a purchase.
What is Tucumcari, NM, Known For?
It is both a threshold, a gateway to New Mexico, and a kind of hub to connect to Route 66, which makes it a historical, if not a mythical, city. Not for nothing is it called, for that reason, "Heart of the Mother Road."
Tucumcari breathes the history of the colloquially called "Will Roger's Highway," those 3940 kilometers inaugurated in 1926 and discontinued in 1985 in favor of the modern interstate highways among which it survives.
In fact, by 1933, with the road paved, travelers came to the city via seven miles of Route 66, known as Tucumcari Boulevard.
Today, around Tucumcari and within the city, the spirit of Route 66 will appear in the glowing neon signs, well-preserved architecture, and classic motels of the era.
In addition to its links with Route 66, Tucumcari has a rich cinematographic history, especially related to Westerns and some classic filmmakers.
For those who wish to see it that way, it is worth mentioning the western Per qualche dollaro in più (by Sergio Leone, with Clint Eastwood), Hell or High Water (by Paul Thomas Anderson, for those who like to know more about the history of mining there), and Hail, Caesar! (by the Coen Brothers, with George Clooney, in which a western is filmed in Tucumcari).

10 Things to Do In Tucumcari
Mesalands Dinosaur Museum
The Mesalands Dinosaur Museum is located at 222 East Laughlin Street and is open Tuesday through Thursday from 10 am to 2 pm and Friday and Saturday from 10 am to 1 pm and 2 to 4 pm.
As its name suggests, the museum features important collections of skeletons and bronze replicas of dinosaurs and other prehistoric creatures.
Specializing in the Age of Dinosaurs, particularly in the Mesozoic period (Triassic, Jurassic and Cretaceous), this museum reminds us with its fossils that the history of Tucumcari predates Route 66 and even human history.
The museum houses fossil specimens from exclusive local excavations. As visitors, we can witness history and see the paleontology students and the curator preserving them at work through a window located in the exhibit hall.
Among the outstanding fossils, it is worth mentioning the skeleton of Torvorsaurus, one of the largest predators on Earth, a relative of Tyrannosaurus rex, 12 meters long.
In addition to dinosaurs, the museum also preserves a huge collection of minerals from all over the world. These are displayed in the exhibition hall. Some are sold in the store.
New Mexico Route 66 Museum
The Route 66 Museum of New Mexico is located inside the city's Convention Center at 1500 West Route 66 Boulevard. Admission is about $5, and it is open Tuesday through Saturday from 10 am to 2 pm.
The museum has an impressive collection of photographs from Tucumcari's golden age and the Ruta. More than 160 images of the route taken by Michael Campanelli from Chicago to Santa Monica.
In addition to photos, Rock-Ola, vintage automobiles with iconic models from the 50s and 60s, gas pumps and the scenery recreated in audiovisual material of those years of mutual splendor of New Mexico, Tucumcari and Route 66.
As an added bonus, the Convention Center also houses ONE famous Route 66 Monument.
Finally, we recommend paying attention to the kiosk located in the lobby of the Convention Center in case you want to purchase black and white photos of Route 66 and Tucumcari.
The Tucumcari Murals
Like any public space with history and mystique of a bygone era, Tucumcari vindicates these heritages and survivals on its own walls, on its walls that have become murals.
The city has approximately 100 public murals, an incredible number for its size, undoubtedly linked to the passion and enthusiasm that its mythology awakens in travelers and locals alike.
The main creators of this physiognomy of the city are Doug and Sharon Quarles, husband and wife makers of many of the murals, locals since they moved to Tucumcari and began painting the city.
Most of the murals, postcards par excellence of this destination can be seen along Tucumcari Boulevard. Some others are on side streets, decorating restaurants and stores of all kinds.
Among the highlights is the Mother Road-themed mural at the corner of Second Street and Tucumcari Boulevard.
Stay At The Blue Swallow Motel (a Route 66 Classic).
Like everything else in Tucumcari, the hotels also tend to be a legacy of the past, particularly from the 1950s and 1960s. Some, very well preserved and even restored, such as classic Blue Swallow Motel (translated, the Blue Swallow Motel).
The Blue Swallow Motel opened in 1939 and from then on was a landmark for Route 66 travelers at its 815 E Rte 66 Blvd location, with its classic neon sign and centrally located, 10 minutes from the Dinosaur Museum.
It is a motel with a typical garage structure outside the room. The exterior is decorated with transportation-themed murals.
As for the rooms, they are decorated with motifs from the 50's and 60's, both on the walls and in the objects (lamps, beds, record phones, etc.), in the architectural forms and vintage furniture.
It is worth noting a clarification to avoid unnecessary worries. While The Blue Swallow Motel, like other hotels, is historic, its services and amenities are contemporary. It has TV, Wi-Fi, coffee and other conditions of the current standard.
Mindful of its historic and even museum-like character, the Blue Swallow Motel even has a gift store.
Route 66 motel lights
Along Tucumcari Boulevard (although, it is fair to say, not only there) we can see many illuminated signs typical of motels, but also of gas stations, stores or advertising adapted to the neon shapes of the 50s and 60s.
Among others, in addition to the Blue Swallow Motel the most outstanding are the Historic Route 66 Motel, the Travelodge Hotel, the Pow Wow Inn, the Roadrunner Lodge Motel, and the Buckaroo Motel.
Have a Drink at Pow Wow Restaurant
Pow Wow Restaurant is located at 801 Tucumcari Boulevard and open daily from 7 am (until 10 pm Sunday through Thursday; until 1 am Friday and Saturday).
Ideal to stop for a drink and/or a bite to eat, the Pow Wow Restaurant is a Tucumcari classic set in the atmosphere of New Mexico, with different images ranging from black and white photographs to paintings and recreations from different eras.
Typical American and Mexican food, with a vegetarian-friendly menu and gluten-free options, the Pow Wow offers a pleasant atmosphere and warm service to stop and watch the road and take a break.
Then, we can continue our journey, to put it in transport jargon, with a full tank.
Nightlife in The Bars
If Tucumcari and Route 66 are practically inconceivable without each other, then we must also mention the nightlife, the bars, those places where meeting and stopping along the way was also a way to travel the road.
Whether it is to drink a spirit, cocktail, beer or soft drink, we recommend exploring Tucumcari's nightlife as part of your visit to the city.
Locals and travelers, tourists and people passing through converge there and the weather is always pleasant.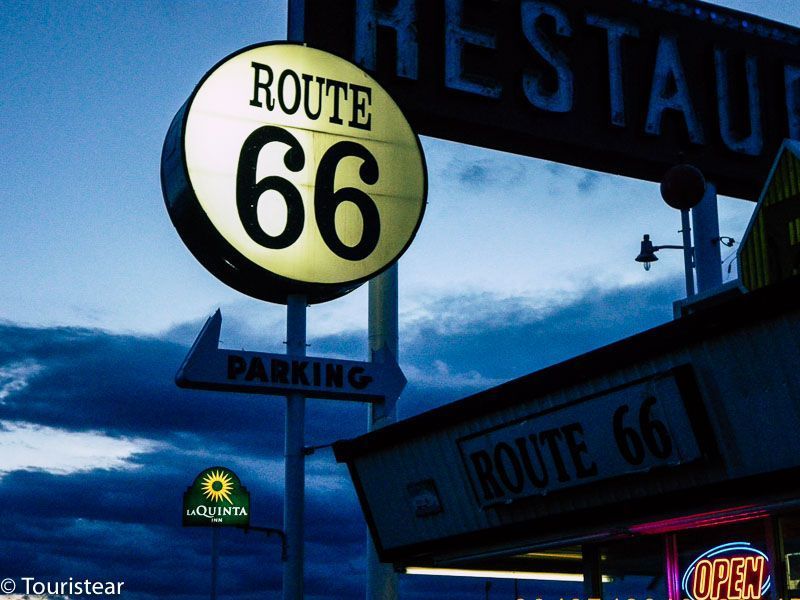 Pow Wow, La Cita, Del's Restaurant, Stone Ranch, are just some of the different bars that offer excellent beverage and food services.
Both along the main street, Tucumcari Boulevard, and along 1st Street towards downtown and the outskirts of the city, where Highway 40 looms, the various bars and restaurants with bar service invite you to come in and have a moment of relaxation and music.
Visit Tee Pee Curios (to buy a souvenir)
Located at 66 Tucumcari Boulevard, Tee Pee Curios is in a prime location, with several of Tucumcari's classic motels nearby. It is a souvenir store, formerly a gas station, always a fixed point for the traveler.
The Tee Pee Curios has all the makings of a postcard and an attractive point of interest for a typical Route 66 souvenir. Neon sign, attractive facade, gas station design from another era, cars from that time on the outside. A real souvenir.
It is a highly recommended place in itself, and even more so in case the time has come to get gifts for friends or relatives, souvenirs of the Mother Road or pieces of Indian handicrafts from the native populations there. An essential point.
Tucumcari Railroad Museum
Located at 100 W Railroad Avenue, open Wednesday through Saturday from 10 a.m. to 4 p.m., the Tucumcari Railroad Museum is an interesting place to visit to learn about one of the central aspects of the region's development.
In addition to Route 66, New Mexico, its developments and its abandonments were always linked to the expansion of the railroad, the mining industries, the various connections between cities (and there are still numerous ghost towns).
The Railway Museum is attractive in that sense, both for its documentary nature of transportation in the region and for its historical value about its community, to the ways in which railway technology led to the development of the people.
Tucumcari Historical Museum
Located at 416 St Adams Street, open Tuesday through Friday from 10 a.m. to 3 p.m.; the Tucumcari Historical Museum offers an extremely varied collection of local history materials for a modest $5 admission fee.
Rocks, dinosaur fossils, fire trucks and vintage wagons, a cowboy saloon, military relics, antique objects and an air force plane from the 1970s combine to offer visitors the history of Tucumcari from different points of view.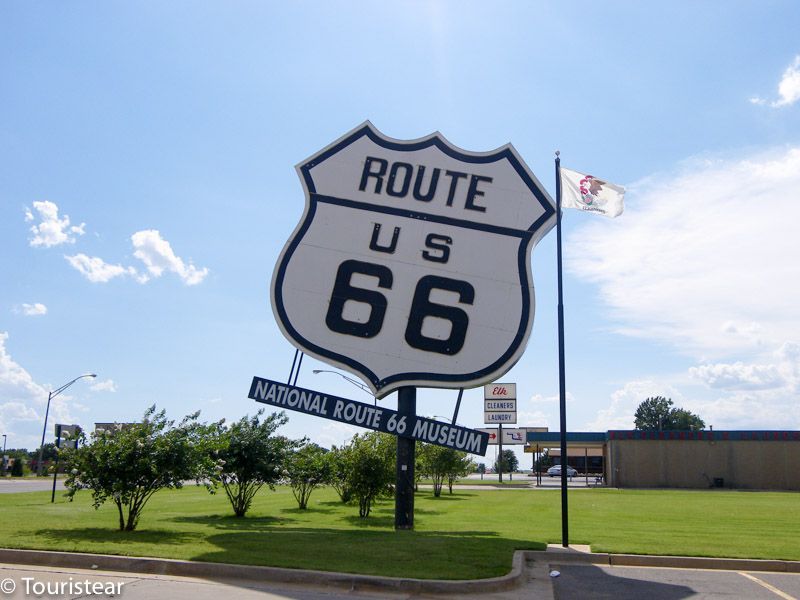 Best Places to Stay in Tucumcari
If we are looking for a postcard, the best place to stay is probably the Blue Swallow Motel or, in case there is no availability, at the Safari Motel or the Roadrunner Lodge Motel.
Rates are usually around $100 per night for two people (does history have a price?).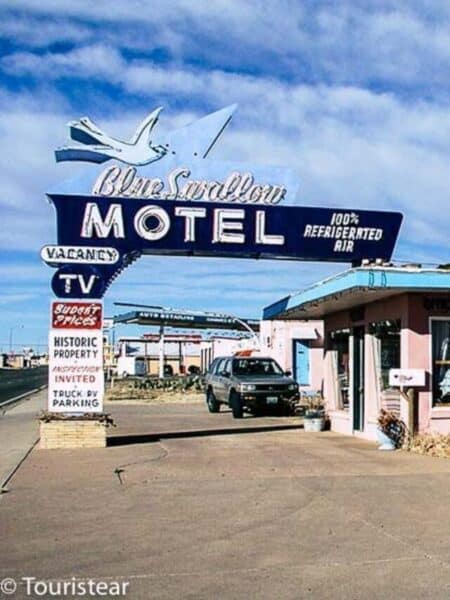 Is Tucumcari, NM, Worth a Visit?
Of course, it is! Whether for the interest in Route 66, in the history of the West in general or in the history of the New Mexico region in particular, Tucumcari will welcome us with its attractions to be, surely, one of the revelations of our trip between surrounding destinations.
This will not be the first time this has happened, nor will it be the last. Since the beginning of its history, Tucumcari has been surprising travelers who treasure their visit in their memories and, sooner or later, wish to return.
Travel Insurance
As the number of activities offered by a trip to the United States are many, it is always advisable to travel with insurance. Although you will most likely not use it, for your peace of mind it is better to go with your travel insurance.
You know that we use Mondo travel insurance on all our trips. For this reason, we have a 5% discount for our readers. You only have to contract it through the link that I leave you in the blog.
You already know that health care in the United States is very expensive, but if you take out travel insurance, you will not have to pay any money upfront. You will be given all the recommendations in case you have an emergency.
Plan Your Trip to New Mexico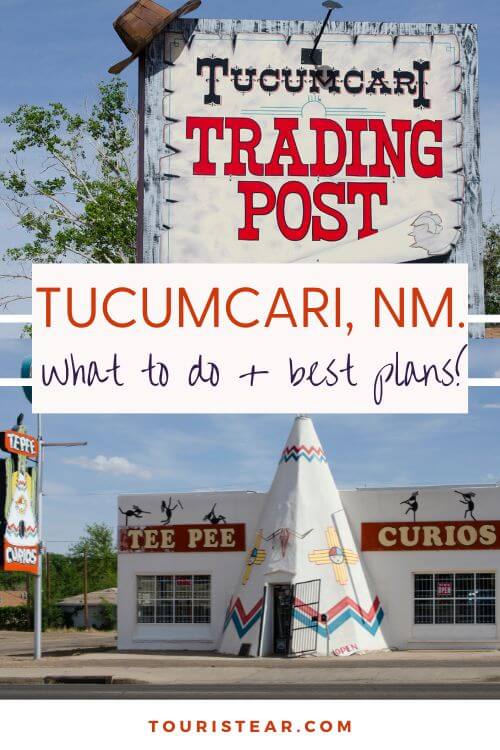 Last Updated on 7 September, 2023 by Veronica