Route 66, day-to-day itinerary
Do you want to know what you will see during your road trip to Route 66? We leave here the complete itinerary that we have made.
If your idea is to start in Chicago, it's effortless; instead of starting with day one, start with the 14th, with visits to this magnificent American city.
Full itinerary to travel Route 66 on your own
US Route 66 Map
Day 1. Best things to do in and around Los Angeles?
We begin our journey on Route 66. On this first day, we will get to know the city of Los Angeles, something that you should not miss. To this day, you'll pick up your rental car and get to know Los Angeles.
The must-visit places of Los Angeles and its surroundings are the Beaches, Beverly Hills, and Hollywood.
Read the detailed post of day one of Route 66 in Los Angeles
If you have plans to road tripping the West Coast, check out this post.
Day 2. Los Angeles. California – Amboy. California. 209 Miles
We're going to go through the stretch from Los Angeles to Amboy. We've got 209 miles to go.
At this moment is when one of the phrases that you are going to see the most in the memorabilia or souvenirs of Route 66 makes sense: "Get your kicks on the Route" or "Get your kicks on Route 66".
Some of the must-visit places between Los Angeles and Amboy are The Woman of the Way, Fontana, Cajon Summit Inn Cafe, Roy Roger Museum, House of Desert, and more.
Detailed post with the Route 66 Stretch from Los Angeles to Amboy
Day 3. Amboy California – Kingman. Arizona. 143 Miles
We begin the stretch between Amboy and Kingman. Again, it is one of the shortest in planning, only 143 miles, which amounts to about 230 kilometers.
This is not on a whim since, in this section of Route 66, I have planned for you to take a detour to the Colorado Reserve and enjoy the view it offers and then make a stop in Oatman, a small town that is one of the more curious.
Plus, you've got a few must-sees on this stretch like the Road Runner, the Wagon Wheel, and more.
Detailed post with the stretch of Route 66 from Amboy to Kingman
Day 4. Kingman. Arizona – Holbrook. Arizona. 239 Miles
Today, presumably, we're not leaving this state, Arizona, The Grand Canyon State; we start at Kingman, very close to the Arizona and California border, to Holbrook. A 239-mile stretch (385km-long road approx). Are you ready?
You have a barbarity of desert ahead and overwhelming landscapes that make you feel like a miserable ant and in the world.
That is a more than recommended feeling because it makes you appreciate every moment you live on your journey differently.
As always, we go step by step as we say in our guide to make a good Road Trip, without skipping anything important, nor entertaining ourselves too much where it is not worth it.
Today, there are plenty of places to visit, so I recommend getting up early, to go without haste.
Read the detailed post of the Stretch between Kingman and Holbrook.
Day 5. Holbrook. Arizona – Grants. New Mexico. 157 Miles
We are on our fifth day of Route 66; today's stretch is relatively short; from Holbrook to Grants, there are about 157 miles that come to be about 250 kilometers.
We started in Holbrook, if yesterday we gave time to everything, we do not have much to do already in this city, and therefore it is our turn to have a good breakfast to start the day well.
You don't lack places although in The Wigwam Hotel itself you can have a great breakfast.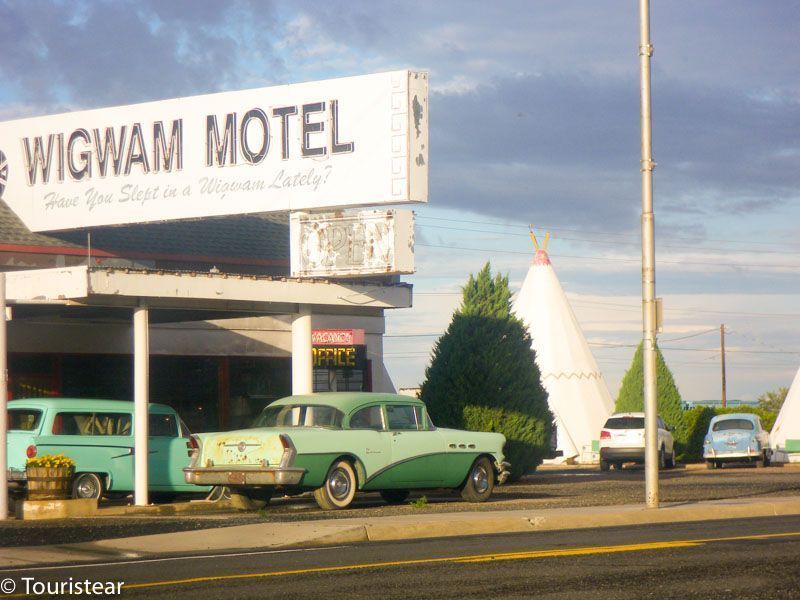 If the day before you could not visit the Geronimo Trading Post, it is a good time to do it in the morning; it is a classic of the route.
This day's must-visit place is The Petrified Forest National Park.
Read the detailed post with the Route 66 stretch itinerary between Holbrook and Grants.
Day 6. Grants. New Mexico – Santa Rosa. New Mexico. 247 Miles
We're going to cross a good part of the state of New Mexico today. As you know, it's the land of the original North American Natives. Therefore, it is where you will be able to soak more or enjoy its culture and legacy.
Route 66 runs along I-40 to Laguna. I recommend you go on the old route, and it's worth it. However, it's a little dusty on some stretches; keep that in mind.
Essential in this stretch of Route 66: Everything! Seriously, the Turquoise Trail is certainly unmissable.
But also Albuquerque, Santa Fe, and Santa Rosa. If you like these types of cities, you probably want to spend more time with them.
Detailed post with the stretch between Grants and Santa Rosa.
Day 7. Santa Rosa. New Mexico – Amarillo. Texas. 172 Miles
For a good part of this stretch, Route 66 overlaps with I-40, so, unfortunately, we will have to go on the highway some sections, especially before Tucumcari.
From Tucumcari onwards, we will find some well-preserved sections of Route 66 that are worthwhile.
Still, it is a quite desolate stretch, so we will not have many stops; yes, the ones that we will have deserve the visit.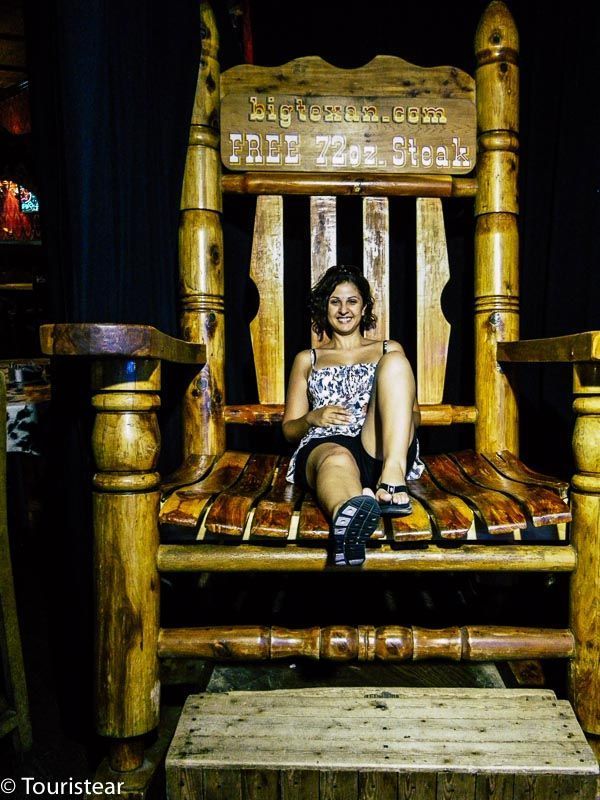 Among the must-sees of this Route 66 journey are Tucumcari, Adrian (MidPoint), Cadillac Ranch, and Big Texan Steak Ranch.
Read the full post with the stretch from Santa Rosa to Amarillo of Route 66 and its itinerary.
Day 8. Amarillo. Texas – Clinton. Oklahoma. 176 Miles
We will enter the state of Oklahoma, and its slogan is Native America. Its name comes from two words from native Indians and means "red people," as its slogan indicates native Indian land and has been part of the United States for just over a century.
This state is also known as "The Sooner State"; the reason is historical.
Route 66 must be found on this stretch: McLean, Shamrock, and the Elk City Route 66 Museum.
Here's the full article on the stretch of Route 66 between Amarillo and Clinton.
Day 9. Clinton. Oklahoma – Bristow. Oklahoma. 160 Miles
Today we have a relatively short stretch, 160 miles into the state of Oklahoma all the time.
You're in a state where storms and tornadoes are common. We got a big torment, but wow, nothing serious to be scared of.
Places you need to know yes or yes on this stretch of mythical Route 66: Lucille Hammons Gas Station, Reno, Ann's Chicken Fry House, and Oklahoma City.
Read the full article on the stretch of Route 66 from Clinton to Bristow.
Day 10. Bristow. Oklahoma – Springfield. Missouri. 213 Miles
It is a relatively long stretch, 213 miles that are approximately 340 kilometers. With stops and so on today, we're going to be on the road for a while. Especially since there are a lot of things to see and stops.
It's really going to be intense, so try to get up early. I'd be out about six or six and a half, but as you see.
My favorites in this stretch are Tulsa (there are plenty of things to see, read the detailed post), Catoosa and its blue whale, Baxter Springs, and much more.
Read the Route 66 itinerary from Bristow to Springfield.
Day 11. Springfield. Missouri. – St. Louis. Missouri. 216 Miles
We started our route in Springfield, where we spent the night today. If you couldn't see Springfield yesterday, you know, take advantage and visit it in the morning.
Undoubtedly, a must-visit place in St. Louis and Route 66 is the Chain of Rock Bridge. It was built in 1929 and was originally a toll bridge. It subsequently endured Route 66 traffic over the Mississippi River!
Read the full article on the stretch of Route 66 from Springfield to St Louis.
Day 12. St Louis. Missouri – Bloomington. Illinois. 162 Miles
You are one step away from completing Route 66; you have today and tomorrow. Tomorrow afternoon you will be entering the city of Chicago, and you will have traveled a migratory route of great importance in the United States of the early twentieth century!
You may wonder why the hell I haven't put this stretch directly to Chicago, as you've got 297 miles left; that's 475 kilometers. I really have two reasons to do it like this.
The first is that we traveled an average of about 200 miles every day, and I saw no reason not to do the same.
The second and most important is that you DO NOT HAVE RUSH, and it is better to arrive tomorrow in Chicago in time to be able to enjoy the part of the day that you have tomorrow and the day after tomorrow.
So that you can travel this stretch today without any haste and without missing anything.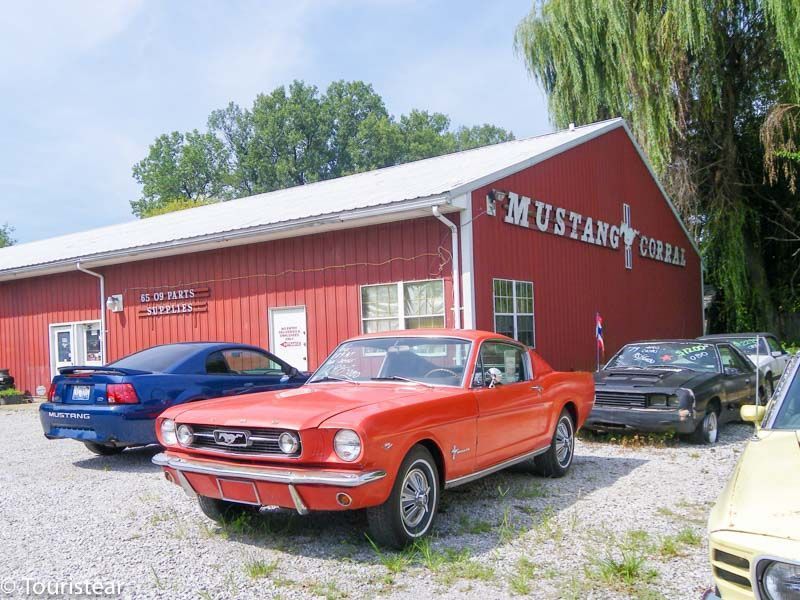 This stretch's must-see is the Mustang Corral, an ideal place for Mustang car lovers (Maybe it is close now).
Here's the detailed article on the stretch of Route 66 between St Louis and Bloomington.
Day 13. Bloomington – Chicago, Illinois. 134 Miles
We start in Bloomington; we're 135 miles from Chicago. So getting to Chicago will take relatively little time, although there are still a few things to see.
It's thought of like this so that you can have a good part of today and the whole morning to get to know Chicago.
Wilmington's Gemini Giant is our must-see on this stretch.
Detailed post with the stretch between Bloomington and Chicago
Day 14. Chicago Illinois. Visit Chicago
Last day of the Route 66 itinerary (or first if you're just getting started). In the day before, you have already had the opportunity to get to know some places in Chicago, and you have all day today to take advantage and know everything you can about this city.
Chicago is an architecturally beautiful city, and it's nice to stroll and see the modernist-style buildings of the late 19th and early 20th centuries.
Chicago must-do breakfast at Lou Mitchels, tour the Navy Pier, of course, take a photo with The Bean and the Start and End Sign on Route 66.
Read What to see in Chicago. Must-visit places
Prepare your journey on Route 66
We leave you a selection of the best posts to organize your route 66 road trip on your own.
Planning a road trip along America's mother road? We loved it, and we also visit great cities, places with history, and fascinating people.
Have you traveled route 66 yet? What are your recommendations? Leave us a comment!!!
Last Updated on 9 July, 2021 by Veronica