15 Ghost Towns on Route 66 + MAP
You will find several ghost towns in almost 4000 kilometers of Route 66. Some of them are actually abandoned ghost towns, others have very few inhabitants, and others have transformed themselves into tourist attractions.
In this post, we will tell you about some of the ghost towns on Route 66; not all of them are here, but they are the ones that have caught our attention the most.
I hope you like it and enjoy Route 66 as much or more than us!

Ghost Towns on Route 66
Arlington (Missouri)
The gruesome Trail of Tears (1831-1838) passed through Arlington, which later became an oasis for tourism with Stony Dell Resort's resort. Today its population is about 20 people, and it is becoming quite difficult to follow Route 66.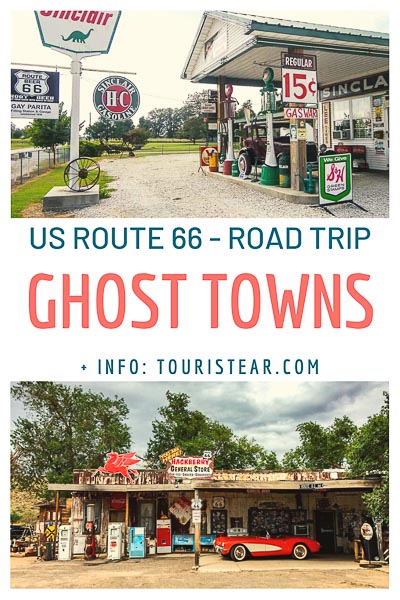 Between Halltown and Carthage (Missouri)
Between Halltown and Carthage, you're going to pass through ghost towns with very few inhabitants, such as Paris Springs Junction, where you can see an old abandoned barn or the lonely village of Spencer.
You will also pass through Heatonville, Albatross, Phelps, Rescue, and Avila, where you will see the remains of a different era, with old gas stations, workshops, buildings, etc. If you're on time, be sure to visit Avila's restored gas station.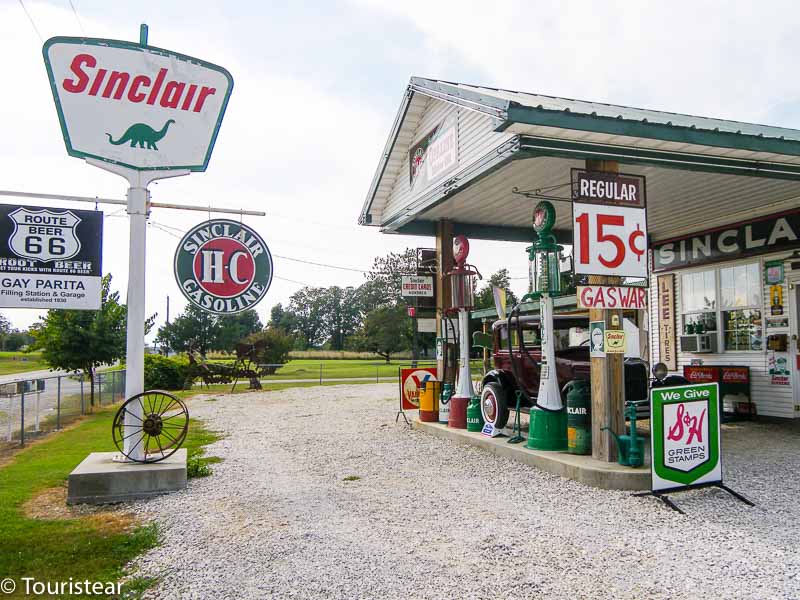 Warwick (Oklahoma)
Warwick is another ghost town on Route 66. Seaba Station is a gas station dating back to the 1920s and listed on the National Register of Historic Places.
As Warwick is a ghost town, it's assigned the address in Chandler. This gas station is 5 years older than Route 66. It kept repairing military trucks until it was closed in the 90s.
The Oklahoma Route 66 association frequently uses it for its meetings. Address: 336992 OK-66, Chandler.
Bridgeport (Oklahoma)
Bridgeport is almost a ghost town since it has few residents and still has things left to offer Route 66 travelers.
Such as the remains of a post office, a water tank, and an original stretch, one of the longest on Route 66.

Foss (Oklahoma)
Foss is practically a ghost town, although there are still some houses that appear to be inhabited.
In Foss, you can see a prison built in 1918, which looks like a box made of steel bars. You can also see the ruins of Kobel's Gas Station.
Texola (Oklahoma)
Texola is the last town in Oklahoma before you reach Texas (or the first, it depends on where you come from).
It was founded in 1901. Many of its residents were from Texas and Oklahoma, so its name came from a mix between Texas and Oklahoma.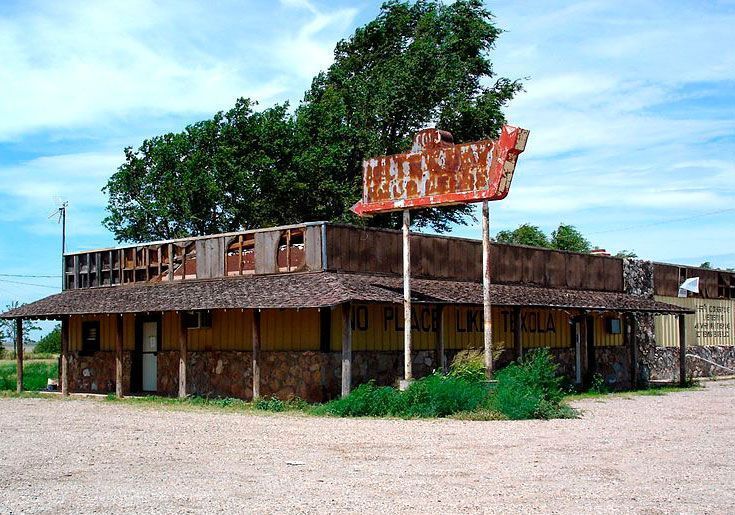 Today fewer than 10 people live here, so many consider it a ghost town. However, there is still a bar that is still in operation.
Magnolia Service Station was fully restored and included in the U.S. Register of Historic Places in 1995. Address: Grand Ave. Route 66, Texola.
Conway, Texas
Conway is practically another ghost town where you can still see some remnants of what was the life on Route 66 in its golden years.
The Trading Post is a modern attraction on this stretch of Route 66. You can stop for a drink, buy a souvenir or just take a picture.
Its owners intend to divert some traffic from the interstate to Conway and revive the area a bit.
The Bug Farm, 5 Volkswagen beetles, are buried near post-trading, Cadillac Ranch-style. I-40 Exit 96
Glenrio (New Mexico and Texas border)
Glenrio is on the Texas-New Mexico border. So it was a town that grew up in two states simultaneously.
For example, the post office was established on the New Mexico side, but mail was left on the Texas side because there was a train stop there.
There was never a gas station on the New Mexico side because taxes were prohibitive, etc.
So this little town generated many disputes between these two states to see which of the two states received the taxes. It belongs to Texas and is a real ghost town.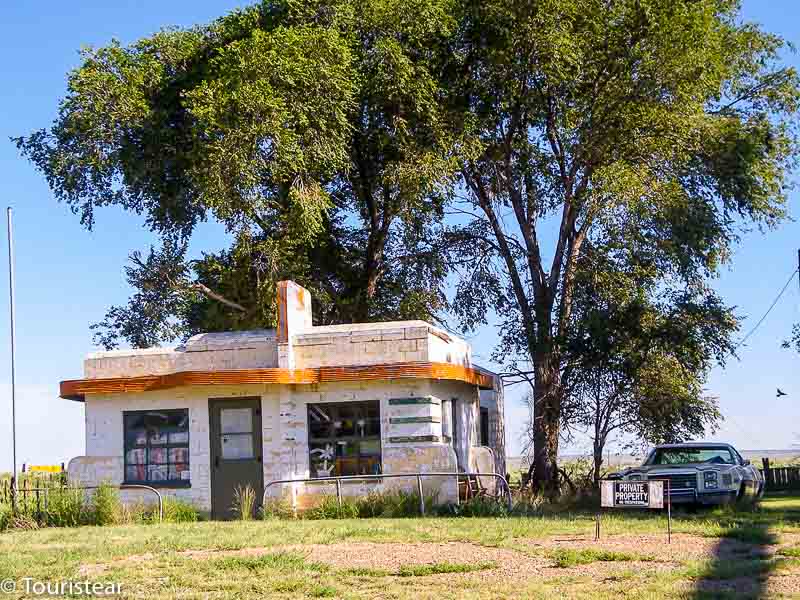 Montoya, New Mexico
Montoya is a ghost town. Here you will see ruins and abandoned buildings. You can explore it if you like, but be careful! Some of its attractions are:
1936 Bridge. Approximately 1 kilometer before reaching Montoya, it crosses with an old bridge of Route 66 from 1936.
Cemetery. It passes through an ancient cemetery, typical of the American West.
Hendren Home. Here are the remains of the building that once belonged to the Hendren family. Sylvan R. Hendren and Maria Ignacia Ulibarri Hendren were pioneers who settled in the area in the early nineteenth century.
Richardson's Store was a gas station, but now there are neither the pumps left nor closed off with a fence. Despite this, it is on the register of historical sites. If you go on I-40, it's on exit 311.
Cuervo, New Mexico
Cuervo looks like another ghost town, which lived better moments years ago. You can see some abandoned buildings of old businesses that no longer cater to the public.
However, the Catholic church built during the First World War still stands.
Amazon Route 66: Ghost Towns and Roadside Relics
Madrid Ghost Town (New Mexico)
The town of Madrid was officially founded in 1869. But it was inhabited by Native Americans and Spaniards many years before this date.
Madrid became a ghost town from 1953 to 1973 but was recovered, and most of the buildings have been restored, such as the Old Catholic Church, the Coal Mine, and most of the storefronts.
You can still see some buildings in their original condition. In total, you can see about 40 businesses, including quite a few art galleries.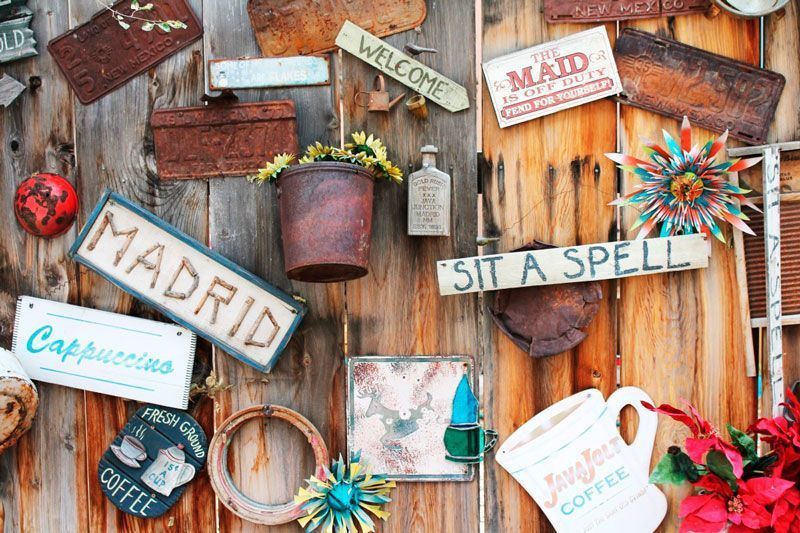 It's got a lot of ghost stories. It is said that the whole area is haunted. There have been many sightings of ghosts, most of them from La Llorona and a Cowboy.
You can see the Ghost Town Trading Post, the Gypsy Plaza, or the Madrid Old Coal Town Museum in Madrid.
Golden (Turquoise Trail – Santa Fe-Albuquerque)
Golden is one of the first gold rush cities west of the Mississippi. It was initially called Real de San Francisco.
Around 1880 several mining companies were set up and renamed golden. However, the results were not as expected, and the population fell.
It has the Henderson Store that sells, manufactures, and hand-makes items by natives of quite good quality. In case you fancy a souvenir. But it's all there is; it's an authentic ghost town.
Two Guns, an abandoned town since 1971
During the golden age of Route 66, Two Guns was a very popular trading post. But since 1971, it has been abandoned.
It can be reached very easily from the interstate. And here, you will find many abandoned buildings and stories of betrayal and murder.
If you search for information on the internet, you will find that Two Guns is a cursed town, but it could be a Shakespearean story.
One of the stories told is that in 1878, after a group of Apaches massacred a Navajo camp, they swore revenge. Navajo warriors found the hidden cave (Apache Death Cave) where the Apaches slept, very close to Two Guns, and set them on fire, killing 42 people.
In 1889, four train robbers allegedly buried their loot in Diablo Canyon. So now you know, you can go in search of it. 😉
The bandits reportedly stole $ 100,000, 2,500 new silver dollars, $ 40,000 worth of gold coins, silver watches, jewelry, and diamonds from a train. All four were later arrested with only $ 100 to their name. One claimed that they hid the money in the cannon.
This place was easy to cross Canyon Diablo, first by wagon and then by car. And its original name was Canyon Lodge.
Earle Cundiff and his wife, Louise, had big plans for the area when they bought 320 acres of land in the 1920s. They built a store, gas station, and restaurant on the site.
In 1925, the area's prosperity caught the attention of Harry Miller, who leased part of the land.
Miller claimed to be full-blooded Apache and was touted to tourists as Chief Crazy Thunder.
When the highway was baptized as Route 66, the site's name changed to Two Guns because it was the nickname of Henry E. Miller; he called himself "Two Guns Miller."
At Route 66's heyday, Two Guns had a gas station, lodging, grocery stores, a camp, and even a zoo.
Remains remain of a zoo that Miller built to house mountain lions and other animals.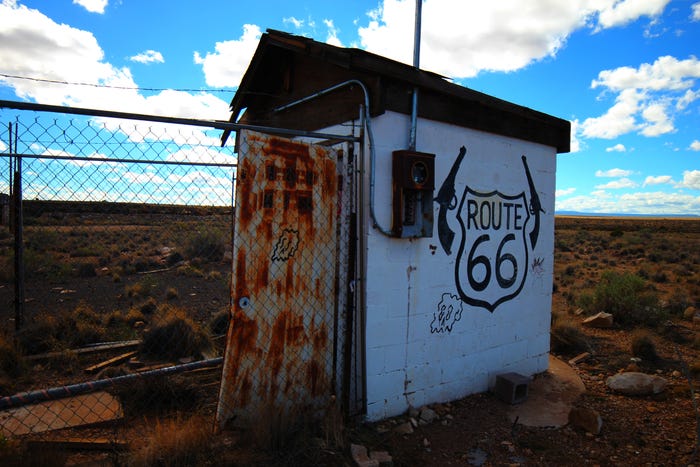 Bellemont, Arizona
Bellemont is the highest city of the entire Route 66; it is 2200 meters high, crossing a nature reserve, formerly Apache territory, and do not hesitate to stop from time to time and enjoy the views!
Some of its points of interest are:
Grand Canyon Harley-Davidson is a shop that sells clothes, accessories, and souvenirs from the famous motorcycle brand. Address: 1-40 exit 185, Bellemont.
Route 66 Roadhouse Bar & Grill is a typical place to stop for a drink, just before entering the village. Address: 11840 West Route 66, Flagstaff.
Pine Breeze Motel it's completely abandoned.
Hackberry, Arizona
Hackberry is a town that was founded in 1874. It was a mining town (it had a silver mine) but is now dedicated to cattle. It had a reputation for being a town of gamblers and shootings.
With the advent of I-40, it became a ghost town, but in 1992, Bob Waldmire bought the General Store and reopened it.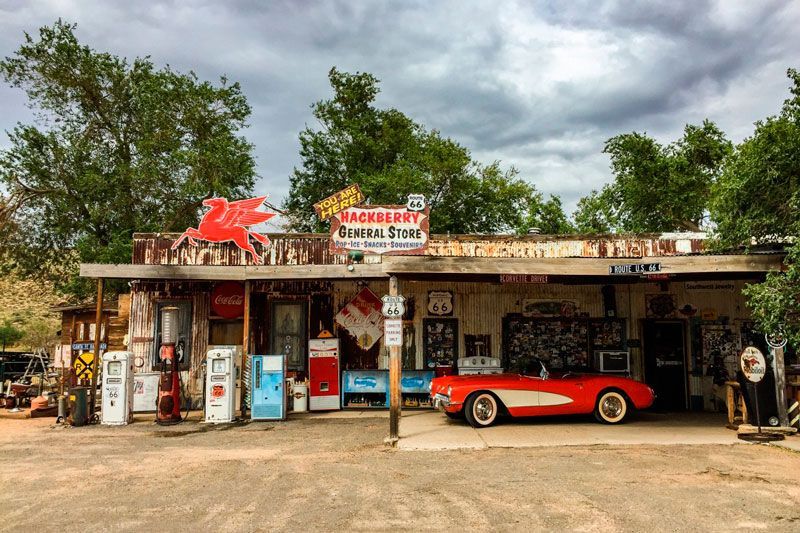 The village is virtually deserted, but the General Store brings it back to life and welcomes travelers from Route 66.
The General Store is a classic on Route 66. You can stop for coffee, buy a souvenir or take a picture. Address: 11255 East Route 66, Hackberry.
Amboy, California
Amboy is located in the Mojave Desert. The Roy's Café sign knows it. Amboy had an airport, a church, and a car workshop in its good times, all of which were no longer in operation.
But, recently we heard that are opening, please, confirm it, if you travel there.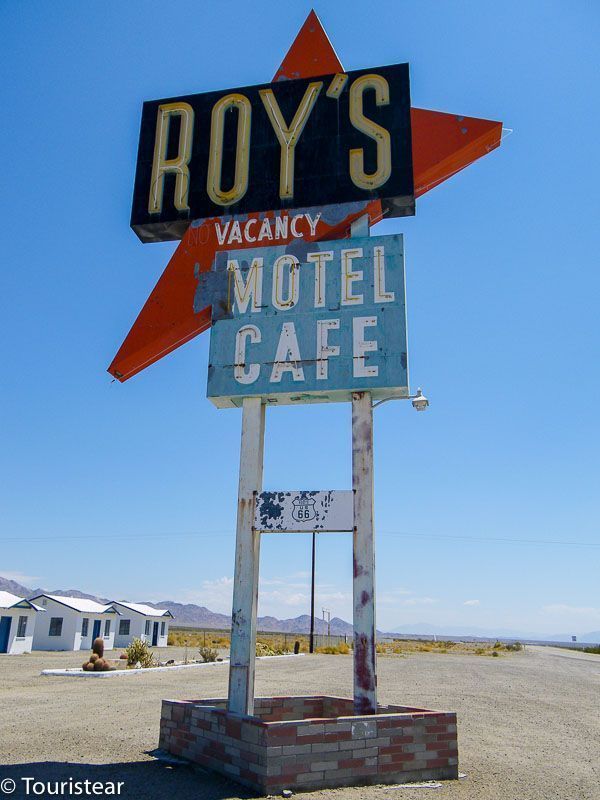 The town became a ghost town many years ago.
In 2003 its population was 7 people, and that same year, they put the village of Amboy on sale on eBay for $1.9 million.
In the end, it did not sell, as the highest offer was less than $1 million.
In 2005 the town was bought by Albert Okura, a restaurant chain called Juan Pollo, and the first McDonalds (now the museum) located in San Bernardino.
Calico, California
The ghost town of Calico is California's official "The Ghost Town of Silver Fever," as it was designated by law in July 2005.
Calico is an old west mining town that started with mining in 1881. It had more than 500 working mines, of which more than $20 million in silver was mined over twelve years.
When the silver lost its value in 1890, Calico lost its population, which took away all its belongings, leaving the village searching for better living conditions, so Calico became a ghost town.
Today it is a restored village that can be visited, and you can get an idea of what the village was like more than 100 years ago. There are also shops where you can buy souvenirs, eat at restaurants and sleep in the local camping area.
Are you going on Route 66? If you want to know in more detail the ghost towns of Route 66, check this Amazon Route 66: Ghost Towns and Roadside Relics.
Plan Your Road Trip on US Route 66
Route 66 itinerary day by day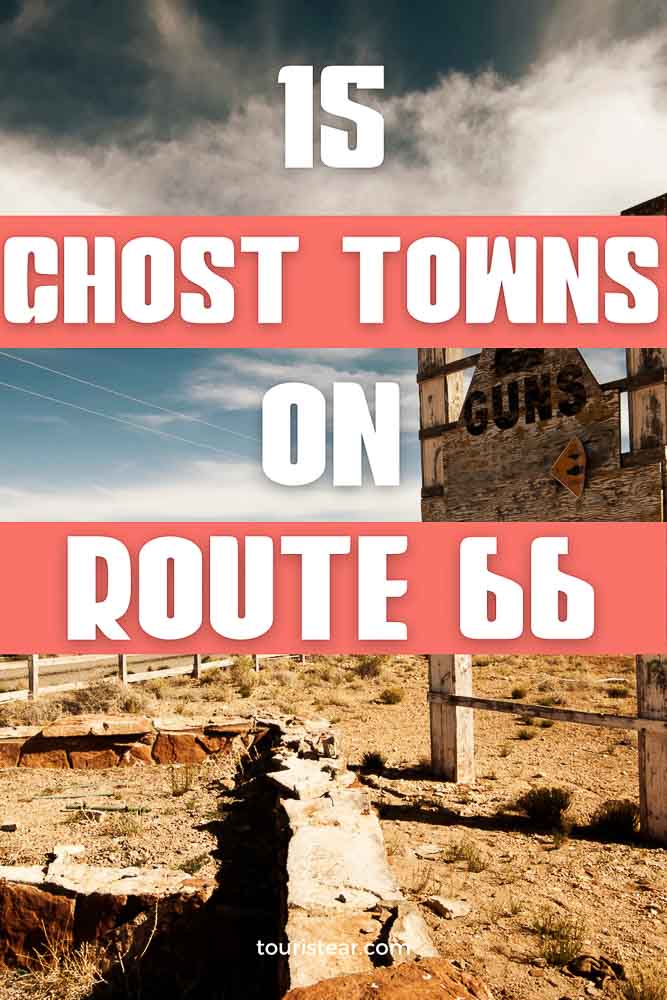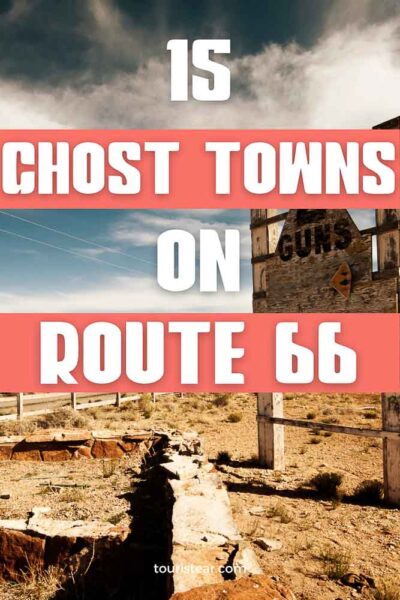 Book Your Trip
Book Your Flight
Find a cheap flight by using Skyscanner.
Book Your Accommodation
You can book your hostel, hotel, or apartments on Booking.com.
Don'torget Travel Insurance.
Travel insurance will protect you against illness, injury, theft, and cancellations. It's your protection in case anything goes wrong. You never go on a trip without it.
Best companies for Tours
Check out Civitatis.com and find the best tours in English (French, Spanish and Italian)
Are you looking for the best companies to save money with?
Check out my resource page for the best companies to use when you travel! I list all the ones I use to save money when I travel – and I think I will help you too! (Is in Spanish yet)
Save this photo on your Pinterest and follow us!
Last Updated on 16 February, 2023 by Veronica