Road trip on the North Coast 500
The North Coast 500 is a very scenic route, they say it is "The Route 66 in Scotland". The NC500 runs all over the North Highlands along the coast.
What is the North Coast 500?
It's a circular route, it starts at Inverness and you can do it clockwise, as we've done or you can do it the other way around.
It's 500 miles, something like 800 kilometers where you travel the most remote places of Scotland and the Highlands.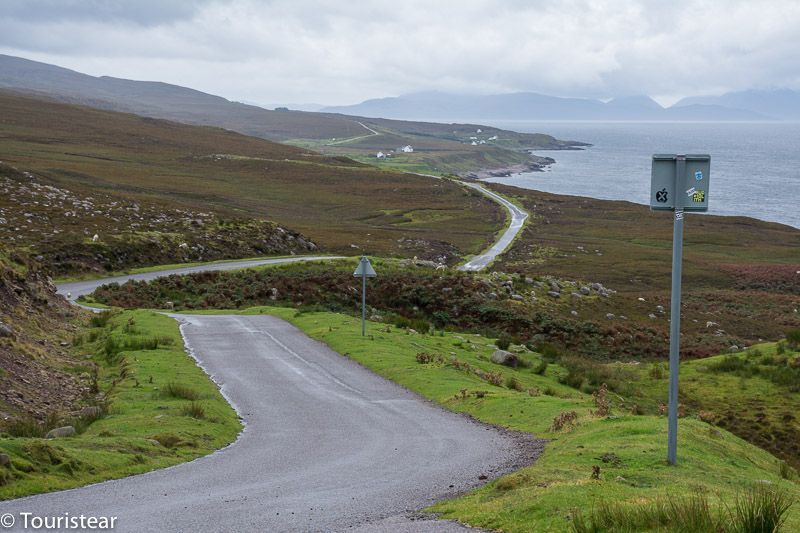 You will enjoy beautiful landscapes, see animals in their natural habitat, take hundreds of photos, drive by non-beginner roads and make many stops.
It is advisable to make the North Coast 500 in 5 or 7 days so you can enjoy it with peace of mind and appreciate the taste of the North Highlands.
We propose these 5 stages, adapt it your way and Get your kicks on North Coast 500!
What to see on North Coast 500. Itinerary
Stage 1 Inverness – Applecross – Torridon
We started this stage having visited Inverness the day before, we only left for this day the visit to "House of Fraser the Scottish Kiltmakers". It is the place where kilts are made in the traditional way.
Here first they show you a video of famous moments in which a kilt has participated and then you can see the exhibition they have, you can also see how they do the live kilts. It's an interesting visit where you can learn a little more about Highland culture.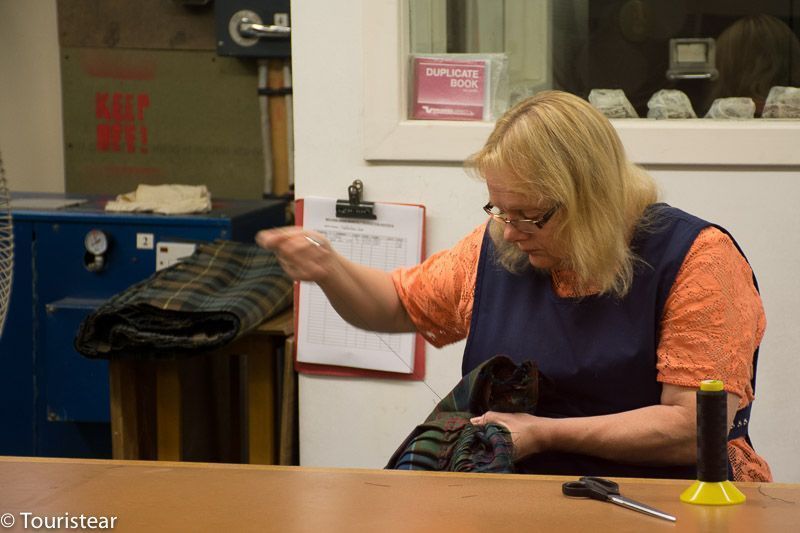 Beauly Priory
We're on our way to Beauly. A very nice and charming village where we take a walk and visit Beauly Priory. The priory is in ruins and you can see the tombs inside and outside the church. The visit is free of charge.
Strathpeffer, Castle Leod
We continue on our way and this time we stop in Strathpeffer, it is another charming village, surrounded by nature. Here we visit castle Leod, its name comes from the Vikings, from the name of Liotr.
Here we made a mid-morning stop at The Coffee Shop. A simple place, where we were treated very well and that also had great cakes to accompany the coffee. Best of all was the price, 2 Latte and two piece of cake, delicious both, for 8.60 euros.
Rogie Falls
We continue on our way to Rogie Falls, some well-known waterfalls because here you can see the salmons fighting the current. There are several hiking trails, we choose the "Salmon Trail", it is a short and easy to make path. Although there are some slopes, but on this trip we have already climbed and lowered so many slopes that we are made some experts!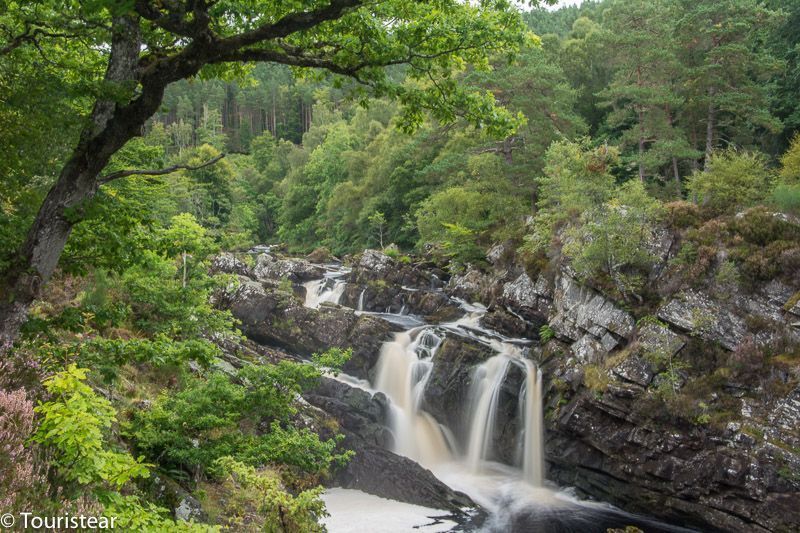 Carron Restaurant
From the Rogie Falls we made our way to Carron Restaurant. A restaurant that has been open for 35 years and is next to Lake Carron. We chose a table by the window so we could enjoy the views.
We asked each other to eat two sirloins with potatoes and salad. For dessert we ordered some cake crumbs with apple with a ball of ice cream and Fer asked for a pudding coated with hot toffee, also with a ball of ice cream. They were both really delicious, but if you have to choose, Fer's option it was great! Just for that dessert we'd like to come back. Besides, John and Clare will make you feel like you're at home.
Attadale Gardens
Then we went to visit Attadale Gardens, beautiful gardens a couple of miles from the restaurant. You can't stop meeting Joanna, she's a free spirit with a strength and a life I don't see in many people anymore. She's one of those people who when you meet her leaves you thinking.
These gardens are a family work that has been inherited from generation to generation. It is not only a place where there are beautiful plants, it is a place where gardeners and volunteers come to take care of it and learn, and surely to rest from the world. Even not long ago Prince Charles was in the gardens to know a little more of them!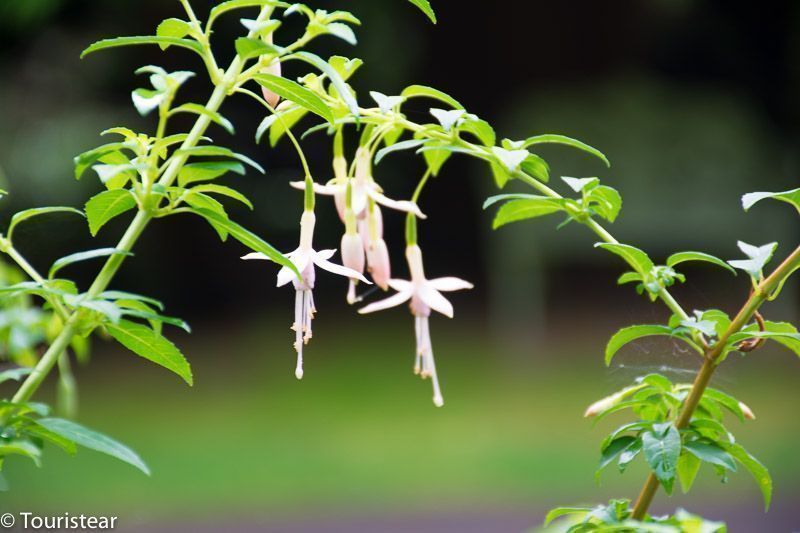 Detour to the Isla de skye
We here made a stop on the way and strayed towards the Isle of Skye. But if you want to continue on the North Coast 500, what you have to do is set course for Applecross.
Detour to Eilean Donan Castle
Another detour you have to make after eating at Carron Restaurant and visiting the Attadale Gardens, is visiting the Eilean Donan Castle, it's spectacular, the entrance is 7pounds, but if you don't want to enter, nothing happens, enjoy sits on its magnificent environment, plus it seems that there are always those gray clouds threatening a storm and gives that particular touch to the castle and its environment.
Road to Applecross by Bealach Na Ba
To go to Applecross, I recommend (if you are an experienced driver) that you go to Bealach Na Ba, it is the expression in Gaelic for cattle passage. It is a mountain port type road, with curves, climbs and descents quite steep. With the peculiarity that it has only one lane and "passing places", to be able to let you pass the car that comes in front of you or let you pass, the first one that finds the passing place on his left is the one that has to let pass.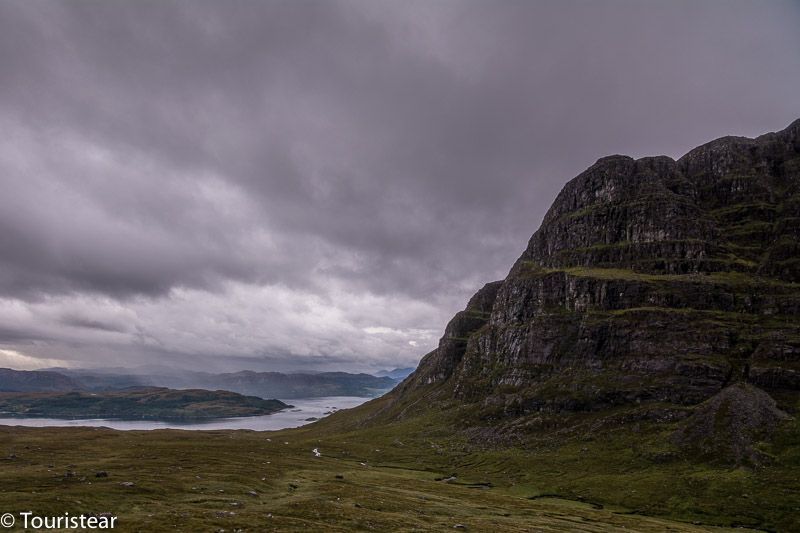 This road is the third most highest in Scotland, you can honestly not miss it. As they will make you want to stop to contemplate the views and take thousands of photos, please be careful where you leave the car! And get ready because it makes a wind of a thousand demons!
Torridon
Then continue the path to Torridon. You'll make a lot of stops, because everything you're going to see is going to please you. Enjoy!
This stretch is about 116 miles (200 kilometers aprox). If you think there are many of them, stay at Applecross and enjoy highland hospitality. But watch out for the calculations you make, because at the speed you'll be able to go for these roads and with the stops you will make, calculate that 200 km you do them in 8 hours at little.
Where to eat
Carron restaurant. We ate great and the treatment was very familiar.
Where to sleep in Torridon
You have several options, do wild camping, go to a campsite, sleep in a B&B or in a hotel.
Some examples:
The Torridon is the most expensive but in an impressive location.
Torridon SYHA is a hostel more than 900 meters high.
Stage 2. Torridon – Ullapool – Stoer
From Torridon we continued to Kinlochewe, we wanted to see the monoliths of Lake Maree, we stopped at the information point and were told that the "Ben Eighe Mountain Trail" is a pretty hard route and that you have to go well equipped with mountain boots and stuff, plus time, since they are 6.5km… So we just stopped for lunch on the shore of Loch Maree.
Red Point
We traveled all the way to the red point and Badachro detour. Badachro is a village with a picturesque harbour, with very nice views. Red Point is a pink sandy beach, which gives it that peculiar look.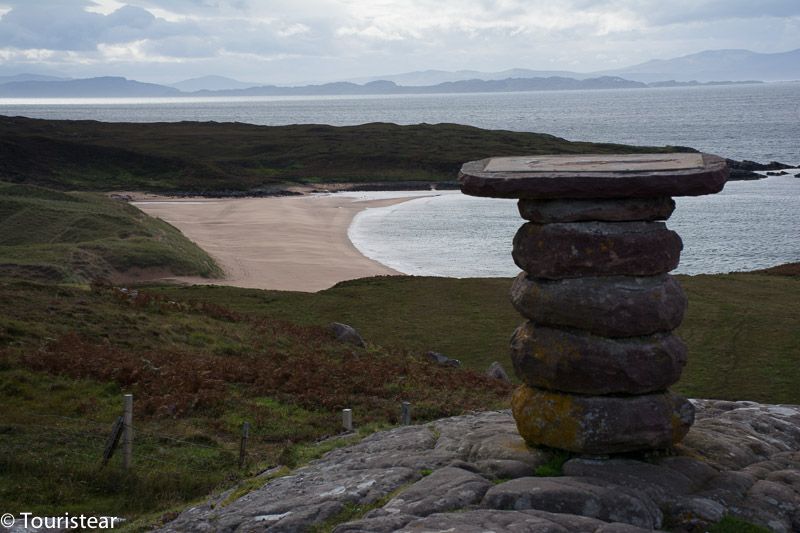 We continue on our way to Gairloch, it is a small village with good views. Here are a few services, such as ATM, pharmacy, etc. So if you need something that can't wait until Ullapool, take advantage!
Ullapool
We arrived in Ullapool a little before 5 pm, the first thing we did was go for a coffee with a nice cake. We took advantage of it that it was before 5pm because it's the time when the cafes close.
Ullapool is the largest village in the area called WesterRoss, is located on the banks of the Loch Broom and has a ferry that takes you to the Outer Hebrides and the other islands in the area.
It is a very interesting town, with a lot of activities. It is recommended to stay here and enjoy a bit of this Highland place.
We had to go on track because we couldn't find accommodation, the closest we found was in Stoer, about 40 miles from Ullapool. Our idea was to do wild camping, but when we left the cafeteria it started raining a lot and we changed our plan quickly.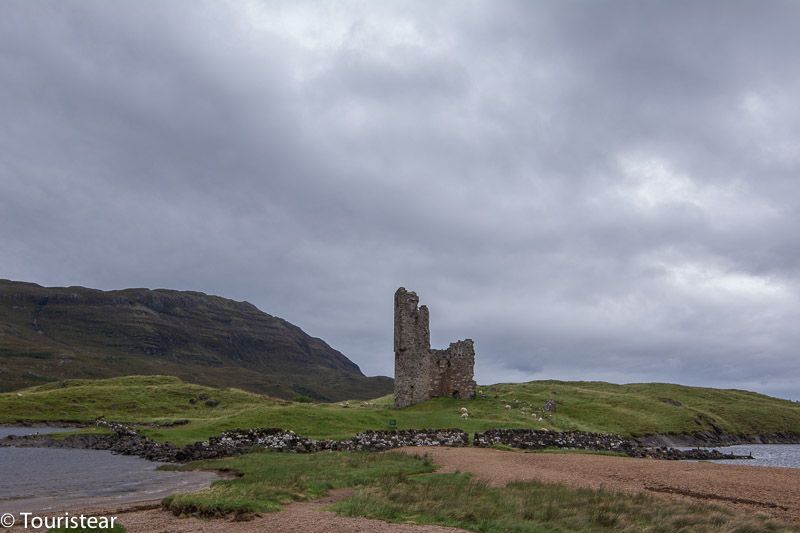 On the way to the B&B we find the ruins of Ardvrek Castle that belonged to the Mac Leods of Assynt and an abandoned house called "Calda House" from the Mackenzie.
Along the way we also found some very small islands in the middle of the lake with very curious trees but we couldn't stop because we had to get to our B&B before 9pm and with so many stops we ran the hour!!!
Where to sleep In Ullapool
Where to sleep in Stoer
Hill Cottage. It is a B&B that runs a couple of very charming retirees. The room and bathroom was renovated, the bathroom was really nice, I would like one for my house! It's a very cozy place.
It cost us 70 € per booking with breakfast included. Breakfast is typical Scottish, with toast with homemade jam. It was all very tasty! One of the best accommodations we have been in, in addition on the way we find some beautiful deer.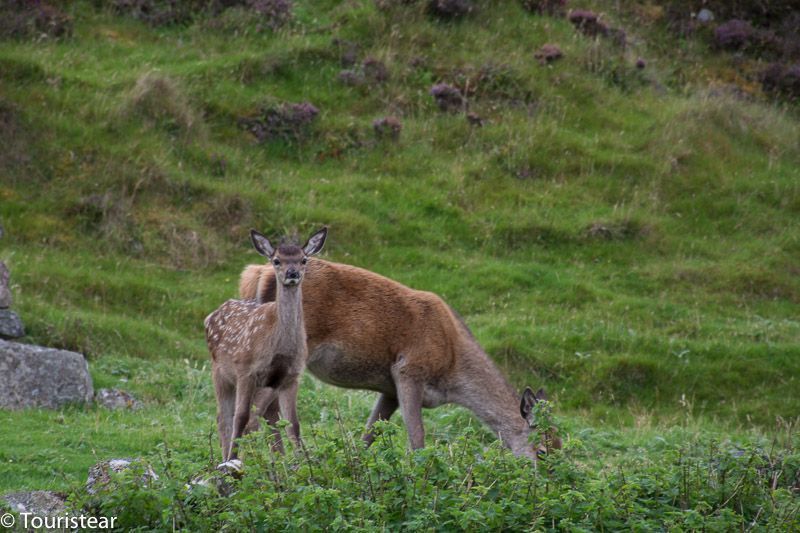 Stage 3. Stoer – Durness
This stretch is shorter because there are many things to see and visit, which can only be reached by walking and because it is occasionally useful to take it easy.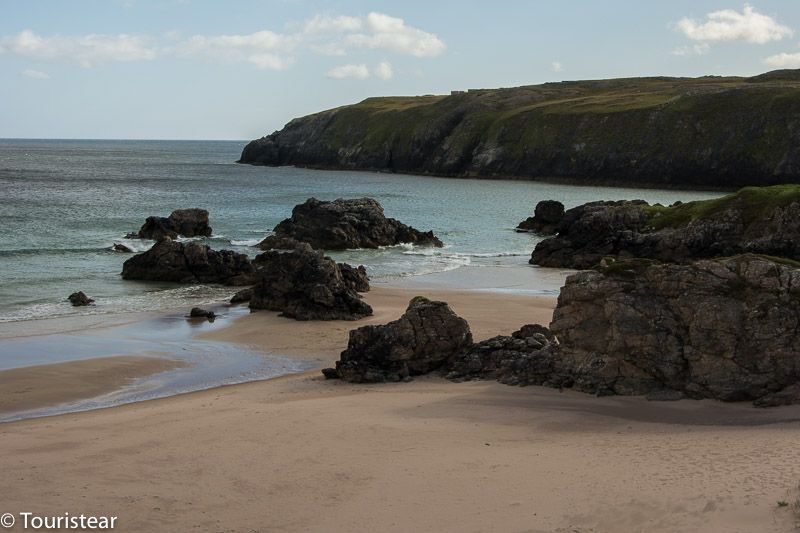 If you have decided to stay in Ullapool, the stretch to Durness will be longer, you will pass Achiltibuie & Summer Isles, there is a place to stop and where they explain that the whole area was a glacier 25,000 years ago.
You can also stop at Knockan Crag (closes at 6 pm). It is a nature reserve where you can discover more of Scotland's beautiful landscape and culture. We couldn't visit it because because we were running out time, but it's a place that we've been left watching for another visit.
Drumbeg Viewpoint
On the way to Durness we stop at Drumbeg's viewpoint with beautiful panoramic views, also in the small village of Kylesku, which seems to have only one street, but the most interesting thing is that it has tours to go to see seals, puffins and Eagles.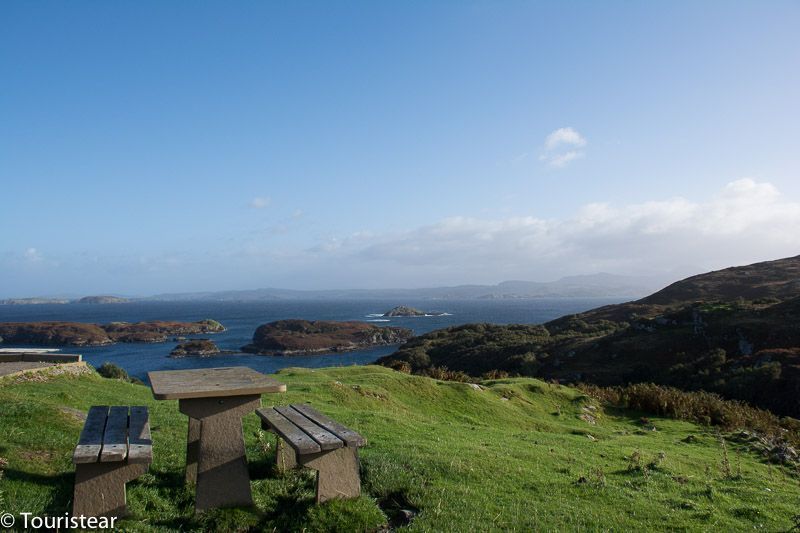 See Puffins in Durness
Our idea was to see Puffins at Durness on Faraid HeadBeach, but first we passed the information point, the Visitor Center in Durness, and they told us "they gone two months ago", super sad… In mid-July they migrated, so we were left wanting to…
Have a hot chocolate
We were enjoying a little bit of the white sandy beaches and turquoise water and the sun, we strolled a little and went to CocoaMountain, they say it's the best chocolatier in Scotland, I couldn't tell you if it's true or not, since we only had chocolate here, but the truth is that it was very yummy.
Reaching Cape Wrath
In this section you can also go to Cabo Wrath, which we did not go to for time. In Cape Wrath there is a lighthouse and the highest cliffs in Britain. To get here you have two options. The first is to go by boat, it takes about 40 minutes and there are always a lot of people waiting, especially if you arrive on the weekend. The other option is to make you the almost 18 kilometers of walking or cycling.
Smoo Cave
Next we set course for the Smoo Cave. It is a cave with a huge main chamber, where sometimes there are volunteers who explain the history of the cave and tell you that it was inhabited about 6000 years ago. If you keep moving on you reach a smaller cave where you can see a pretty nice waterfall.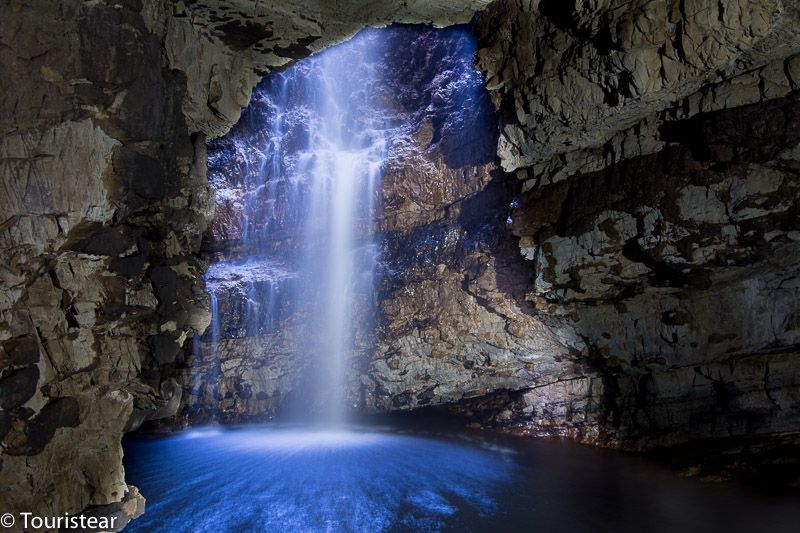 You can go deeper into the cave with a boat tour, but those who do these tours are volunteers, who are usually students, and are not permanently, so you may be left wanting to enter the cave.
Now, it's better to you to stay in the area and enjoy the North Highlands.
Stage 4. Durness – John O'Groats
We continued our visit and went to Talmine Bay where there is a skeleton of a boat stranded on the beach. Here we were able to see how people in the area go to the beach to bathe, but with neoprene, the water is very cold!!!
It's a great place for a picnic.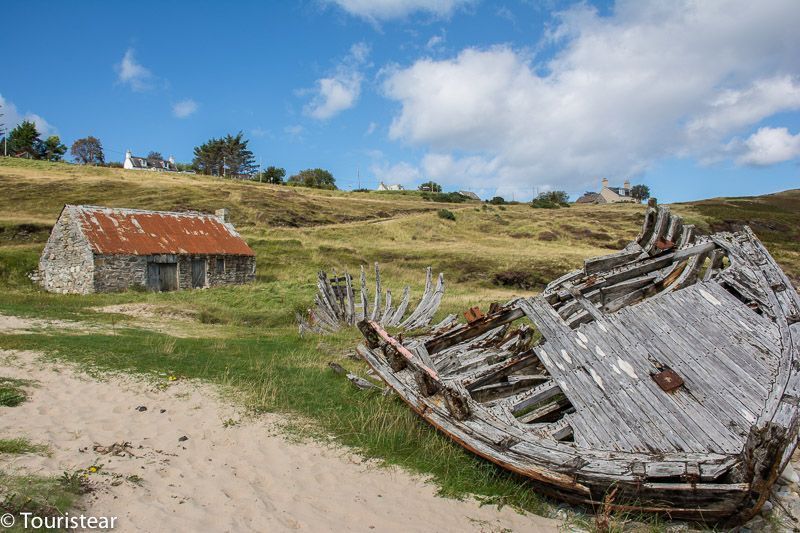 Castle Varrick
Then we went to Castle Varrick walking. There are the ruins of the castle, that belonged to Clan MacKay. The views from the castle are spectacular.
We turned around and went for a warm coffee at Weavers Café. In addition to serving you coffee, they sell lots of traditional items, it's a fantastic place to stop.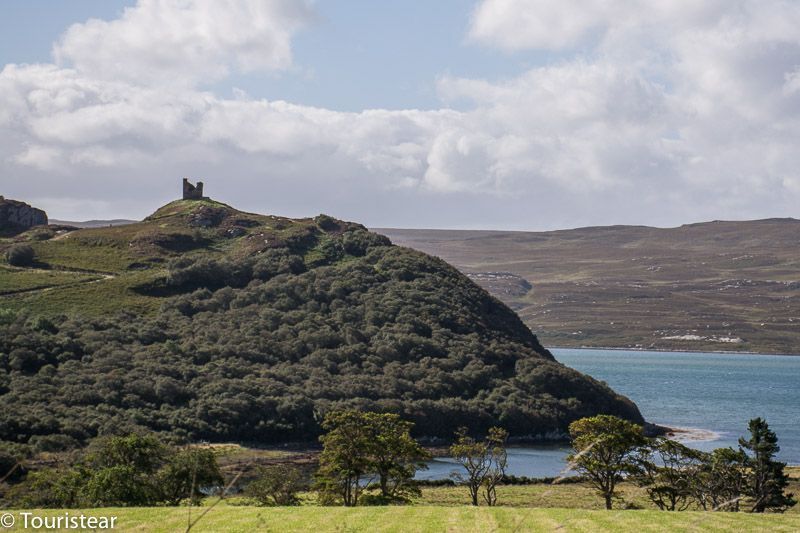 Betty Hill
We set course for Betty Hill. At the entrance of the village you can see another campsite to spend the night and public toilets (like those on airplanes) that were not very clean, but our goal was only to visit the Museum.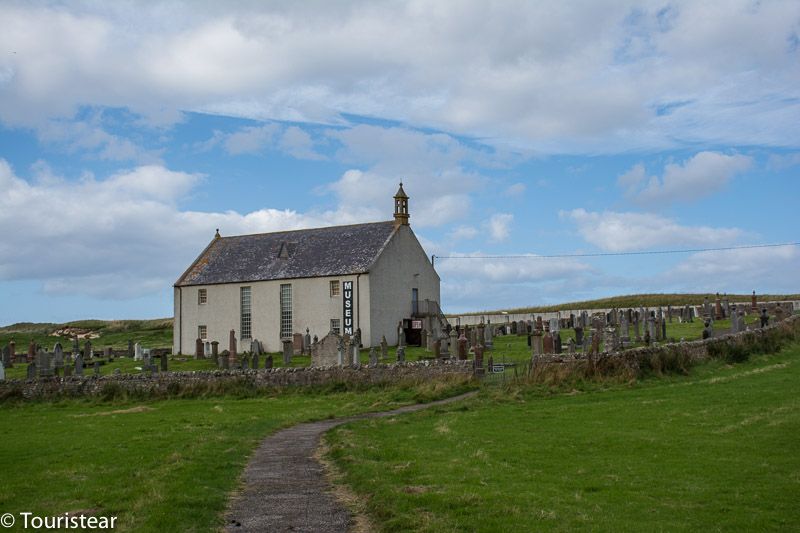 It is a museum that tries to keep alive the culture of Gaelic and Norse ancestors from the appearance of the MacKay Clan to the tragedy of the Highland Clearances.
Elliot attended us. He's a museum volunteer and he's there because he likes it. The museum is fine, but with Elliot is much better, you can see he lives it, he jumps from one concept to another without realizing it, as if it were obvious. He has a strong Scottish accent, but you can tell he speaks to make you understand him (we're not native English, so Scottish accent is very difficult for us)
He explains what the houses and techniques of the ancient inhabitants were like to survive in such a hostile environment.
Dunnet, the northernmost point of Britain
From Betty Hill, we're going to Dunnet, the northernmost point in Britain. From there you can see the Orkney Islands.
We saw May Castle, stopped at Thurso and took a tour of the village and then we arrived at John O'Groats. We saw the sunset in the colorful cottages facing the sea. It made us a great day, although it is pretty cool so far north.
We slept in a campsite and had dinner there.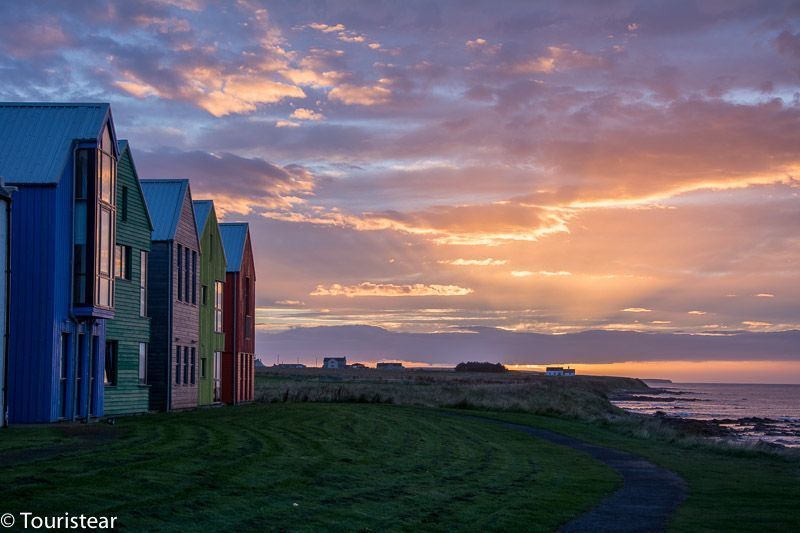 Where to sleep in John O'Groats
We camped in John O'Groats at a super cheap campsite. 6 pounds per person, including shower, light and car. But if you want to stay at a B&B or a hotel you can take a look here.
Where to eat
We had lunch and dinner at camping, although on the way we stopped for coffee at Weavers Café.
Stage 5. John O'Groats – Inverness
This is the last stage of the North Coast 500 route. For us it was on Sunday, and we found that many places open only from Monday to Friday. For example, the first place we went to was the Broch Center, which is located a few miles from John O'Groats, and was closed, open Monday through Friday from September.
Wick
We stopped at Wick, a town that is quite close to John O'Groats, we were looking for a place to have breakfast, a good Highland Scottish breakfast, which comes great after sleeping at 5 degrees in tent.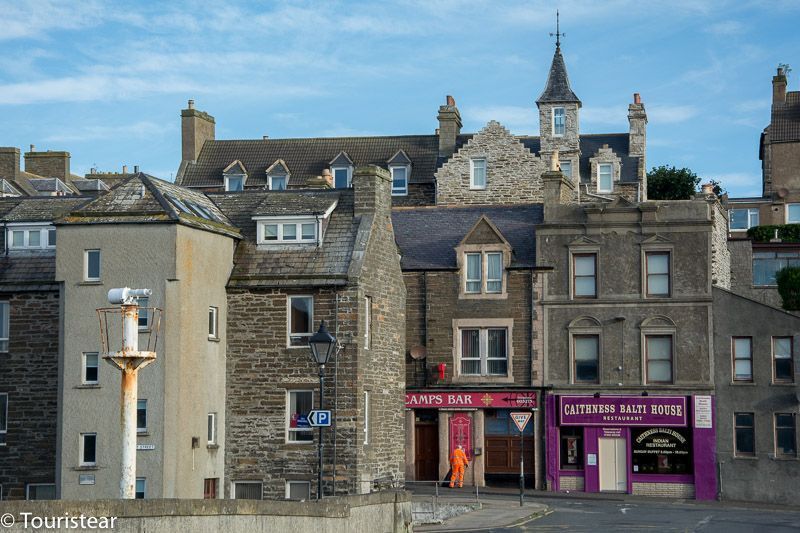 We asked a sweeper who was working and he recommended a pub that is next to the river called Alexander Bain. We had breakfast for the two of us for 8.80 pounds in total, two full Scottish breakfasts! The best recommendation ever!
Already with the renewed energies we went to Sinclair Castle. The ruins of this castle are located on the edge of a cliff. To get to it, you have to walk at most 5 minutes. There is also a small lighthouse, but it has restricted access.
Hill O'Many Stane
We continue to Hill O'Many Stane. Which is a hill with lots of small Neolithic menhirs.
And since there are a few neolithic things around this area, our next stop was Camster Cairns, at first glance they look like piles of stacked stones anyway, but they built them, believed, as temples and to be in contact with the ancestors. You can get into them if you want to crawl, we didn't. We left without seeing the menhirs of Achavanih and set course to Brora.
In Brora we visit the Heritage Center, where they explain the history of Brora and its relationship with coal and it is also free. We took a walk in the village and went to eat at Sutherland Inn greatly.
"Broch" Carn Liath and Dunrobin Castle
Then we visit the "broch" Carn Liath from where you can also see the castle of Dunrobin.
So we visited what was left of the broch. A broch was a kind of tower that had different rooms and lived whole families many years ago. We set off for Dunrobin's castle that belonged to the Count of Sutherland. The ticket is worth 11 pounds and I think it's worth a visit.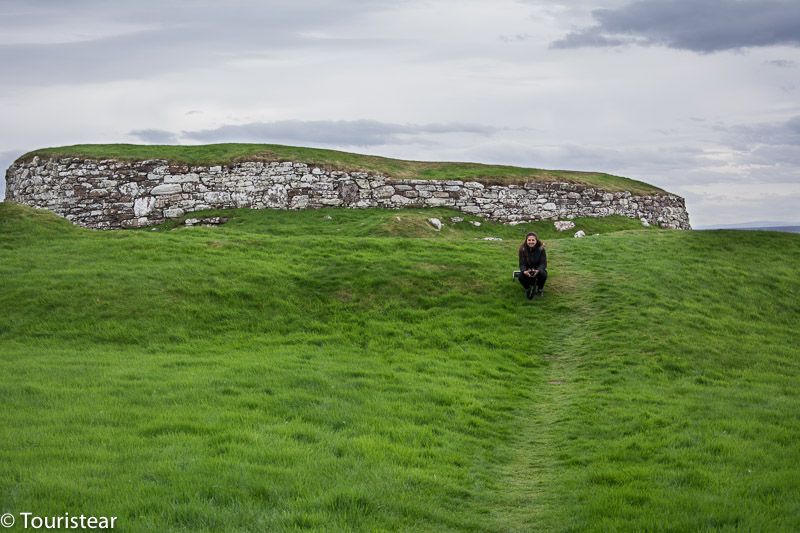 Then we stopped in a town called Dornoch, we called it the recycled village. You see it and it looks like you've gone back 200 years in time, but then you see the castle that has now been turned into a hotel, the old jail is now a decorating shop, which doesn't look cheap, there were a couple of golf cadis turned into pots. I loved it, it totally deserves a visit!
Our last visit before arriving in Inverness was to the village of Tain. We strolled through this beautiful and picturesque village. We were going with the idea of visiting Tain through Time, but it was closed.
We arrived in Inverness and looked for a B&B to sleep in. Then went for a walk in the Highland Capital and dined at The Auctioner, another pub where we can eat cheaply, 11 pounds both.
Where to sleep in Inverness
We slept in Inverness, super well located a few steps from the suspension bridge in a B&B. We found it with the car, saw it had "vacancies", we asked and we kept it. It's called No. 29. It's on Greig St.
If you want to go with the booked accommodation check out here.
Where to eat
Sutherland Inn. It's in Brora. We ate very well. Fer ordered a fish and chips and I ordered a cheeseburger, the dishes are huge and come with salads or frieds side.
The Auctioner. A pub where we could both have dinner for 11 pounds
Recommendations for driving on the North Coast 500
Needless to say, you have to drive wisely, respecting speed limits, pay attention to what they do.
Passing places
A good part of the route has "passing places" which are a kind of secluded by the road.
When two cars cross into the only lane there, they use the passing place to leave the road free and let the one that comes in front.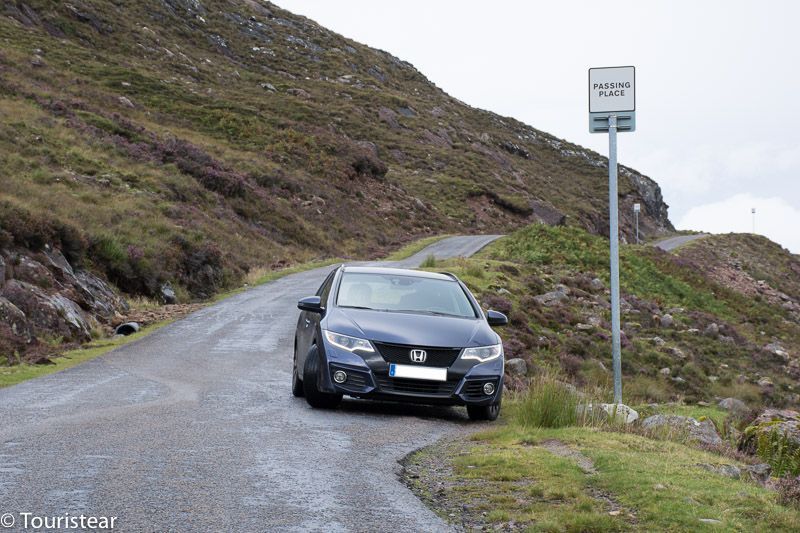 There are some rules to use that we have learned from "trial and error". The first and most obvious is that if the passing place is on your left it is you who gets into the passing place and if it is on your right it is the other driver who enters the passing place. To this rule is added another: "The first one that arrives is the one that stops".
That is, if you arrive first and the passing place is on your left, you get into it and you stop, if it arrives first it, it stops on the road and does not enter the passing place (because it is on its right) and lets you in the passing place to pass him. What a mess!!! Uh?
And all these rules are overridden if he gives you a main beam flash when he sees you from afar, because that means he lets you through and he waits for you to pass. Something you will also do with others for simple education!
Recommendations with accommodation and wild camping
My recommendation with the accommodation is that you book in time, especially if you go in high season, but you will be seeing "no vacancies" signs and when you find one with available rooms it will not be very cheap, I say from experience.
When we left Skye, to follow the second stage of the North Coast 500, (the idea was to do wild camping) we thought that if we found something good price we would sleep in a bed, but the only room we found was 100 pounds and the rest was all occupied and that it was September!!!
Wild camping
With regard to wild camping, in Scotland you can do wild camping, that is, you can camp almost anywhere. Obviously with common sense, you are not going to camp in anyone's garden or with a forbidden sign to camp here or spend the night…
Going back to the theme, the wild camping is very cool, setting up your tent in front of a spectacular castle, it's amazing. But you have to be ready to assemble and disassemble your tent every day.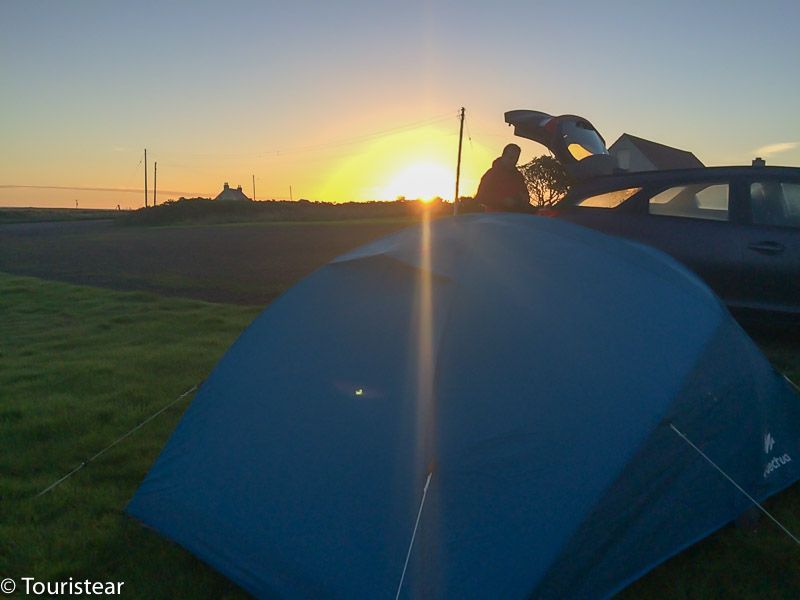 We are in Scotland, and the time here is very variable, you can sleep with a great night and wake up not seeing a meter away. So you have to be prepared to set up your tent in bad weather. And don't say, these winds we don't put them, if it makes a great night and does not blow any air, error for sure.
Wear sleeping bags commensurate with the temperature in Scotland.
There are many great places to do wild camping, you can find them by chance by day, although ideally you have it prepared before arrive and before it is night. A nice app is park4night. Because if you don't, you're not going to see anything and you'll end up sleeping in the car and I'll tell you from experience, it's not very comfortable.
The North Coast 500 or Route 500, is a very nice route with spectacular views. We were lucky it made us good weather. If you are a fan of cycling, nor do you hesitate, this route is for you too, although we saw a lot of people do it by bike, on motorbike, in camper, AC, car, and some people walking with backpack!!!
Save this image to your Pinterest!
Enjoy the route!
Prepare your trip to Scotland
Book Your Trip
Book Your Flight
Find a cheap flight by using Skyscanner.
Book Your Accommodation
You can book your hostel, hotel or apartments on Booking.com.
Don't Forget Travel Insurance
Travel insurance will protect you against illness, injury, theft, and cancellations. It's your protection in case anything goes wrong. You never go on a trip without it.
Best companies for activities
Check out Civitatis.com and find the best tours in English (French, Spanish and Italian)
Looking for the best companies to save money with?
Check out my resource page for the best companies to use when you travel! I list all the ones I use to save money when I travel – and I think will help you too! (Is in Spanish yet)
We are not native English speakers but we have decided to translate our post to English so we can share it with the whole world. If you see any spelling mistake or something, please let us know, it is so important to us. If you do so, we can improve our post and also our English knowledge! Thanks in advance!!!