Rosslyn Chapel Scotland: Things to Do and See
If you've been following our Scotland journey, you know that Rosslyn Chapel in Scotland holds a special place in our itinerary and road trip. This enchanting chapel is a must-visit destination for history and architecture enthusiasts alike.
Join us as we unravel the secrets and beauty of Rosslyn Chapel and exciting things to do nearby in this blog post.
Disclosure: Some of the links on this post are affiliate links, meaning at no additional cost to you, I may earn a small commission if you click through and make a purchase.
Where Is Rosslyn Chapel in Scotland?
On our way to Peebles to watch the Highland games, we couldn't resist stopping at the magnificent Rosslyn Chapel. The chapel is just 7 miles (11 kilometers) south of Edinburgh amidst the serene beauty of Roslin Glen, making it a must-see on our itinerary.
With the chapel open daily and a visitor center providing fascinating insights, Rosslyn Chapel is a treasure trove that unveils past secrets with each visit.
What To See And Do at Rosslyn Chapel in Scotland?
Why is Rosslyn Chapel so famous? Beyond being a sightseeing destination, this famous chapel captivates with its rich history, literary references, cinematic appearances, and intriguing legends. Find out ways to join a myriad of experiences and other nearby destinations. 
Take A Guided Tour Of Rosslyn Chapel To Learn About Its History
Take a guided tour of Rosslyn Chapel to delve deeper into its fascinating history and legends. Expert guides will unveil the secrets behind the intricate carvings and vibrant stained glass, enriching your visit with their knowledge and storytelling.
You can book the Rosslyn Chapel and Scottish Borders Tour to explore the chapel and nearby attractions like Melrose Abbey.
Another option is the Private Rosslyn Chapel and Glenkinchie Distillery Tour, combining history with a whiskey-tasting experience.
How To Purchase Rosslyn Chapel Tickets In Advance
Besides the guided tours to Rosslyn Chapel, you can head to their website to book tickets in advance. Make sure you check the dates and number of tickets!
Watch A Musical Or Concert At Rosslyn Chapel
The Rosslyn Chapel in Scotland hosts several concerts in a year. You can check their official website or social media for upcoming events and ticket details.
Transport yourself to another world as you soak in the enchanting atmosphere and rich history while attending the "Harmony in Stone" concert series. It is just one of the most popular concerts in the Rosslyn Chapel.
Classical musicians worldwide perform classical symphonies of choral works and solo performances. If you love the violinist Joshua Bell, he once graced the stage in Harmony in Stone.
Trust me, this magical journey of music and heritage is an experience you won't want to miss!
Go For A Scenic Walk At The Nearby Rosslyn Glen Country Park
Immerse yourself in nature's embrace by taking a scenic walk at the nearby Rosslyn Glen Country Park. Just a few steps away from Rosslyn Chapel in Scotland, this picturesque park offers breathtaking landscapes, serene woodland trails, and a tranquil river flowing through the heart of it all.
Exploring the enchanting paths with all-terrain travel shoes will reveal hidden waterfalls and lush greenery, creating a perfect retreat for nature enthusiasts and hikers.
If you're craving more outdoor adventure, venture further to the stunning Pentland Hills Regional Park, where majestic peaks, rolling hills, and panoramic vistas await, providing a true escape into Scotland's natural beauty.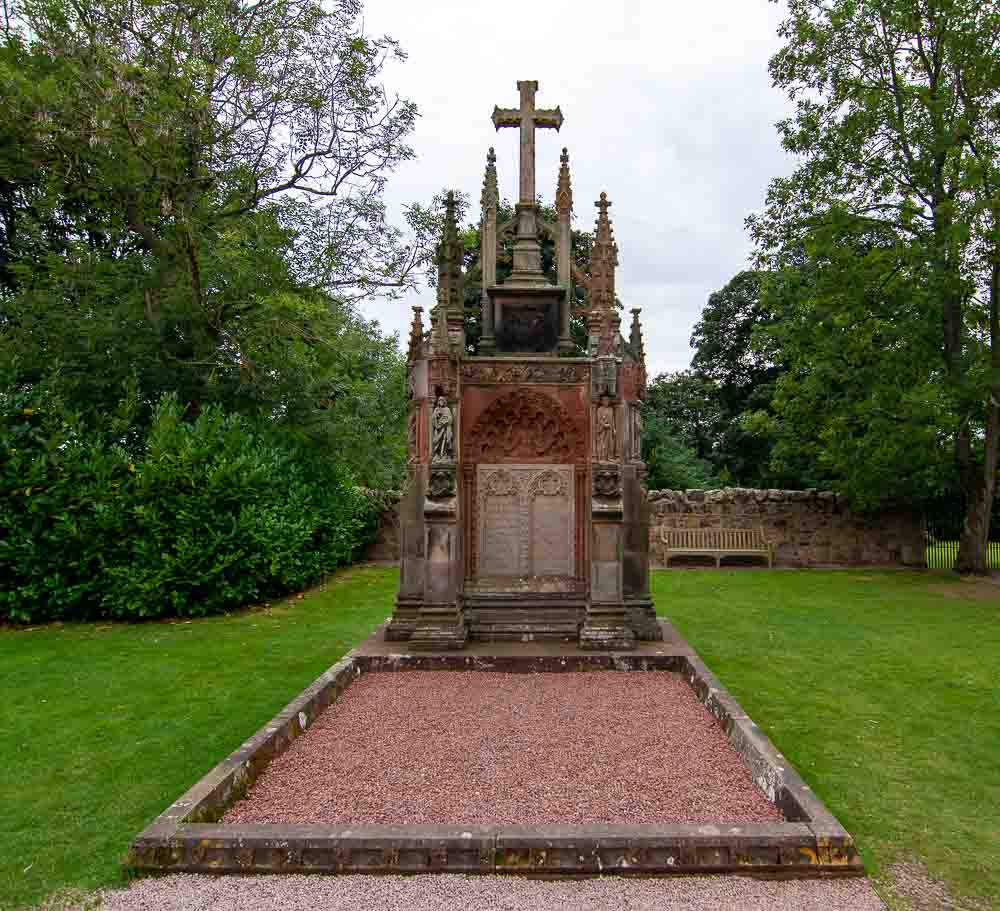 Explore The Town Of Roslin: Traditional Pubs And Local Shops
While visiting Rosslyn, Scotland, seize the opportunity to immerse yourself in the charming town of Roslin. Embark on culinary delights and cultural exploration.
Make a stop at the Roslin General Store, where you can browse a diverse array of artisanal goods and unique gifts. Discover the artistry at Roslin Pottery, where handmade ceramics and pottery items await your admiration.
For book enthusiasts, the Roslin Bookshop beckons with its thoughtfully curated collection of books on local history, literature, and more.
And don't forget to visit The Crafty Wee Birdie Gift Shop, a treasure trove of Scottish crafts, jewelry, and souvenirs that will leave you captivated.
These charming establishments offer the chance to find something truly unique and an opportunity to support local businesses in Roslin. Take your time to soak in the town's ambiance, embrace the warm hospitality, and create lasting memories.
Sample Traditional Scottish Dishes
We had the chance to explore the area around Rosslyn Chapel, and let me tell you, the traditional Scottish dishes there are a real treat!
I mean, forget about fancy schmancy plates. We're talking hearty comfort food. Haggis, that infamous mix of sheep's heart, liver, and lungs, might not sound appealing, but give it a try. And how can I forget about the rich and creamy Scotch broth? It's like a warm hug for your taste buds.
Don't even start on a fresh scone's buttery goodness. Trust me, sampling these dishes is an experience you won't want to miss!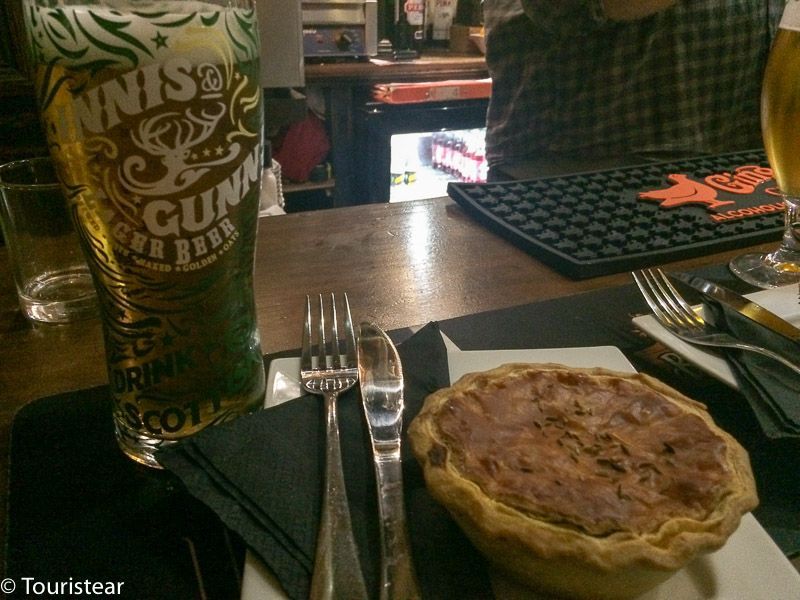 Attend a Service or Event: An Easter Service Or Christmas Carol Concert
Attending a service or event at Rosslyn Chapel is a unique experience I highly recommend. Whether it's an Easter service or a Christmas carol concert, the atmosphere is incredibly special.
The voices echoing off the ancient stone walls during the carol concert or the solemnity of the Easter service create a sense of awe. To attend, check their website for upcoming events and book your tickets in advance.
Arriving early than the schedule is key. It allows you to find a good seat and soak in the ambiance. Trust me; it's a memorable way to celebrate the holidays if you visit within these dates.
Appreciate The Intricate Carvings And Stonework
When you join a day tour of the Rosslyn Chapel, you will instantly be captivated by the intricate carvings and stonework that adorn every inch of the chapel.
It felt like stepping into a realm of exceptional craftsmanship and artistry. The level of detail was truly impressive. We truly admired the artisans' dedication and talent. The craftsmanship and skill displayed in creating these works of art were undeniably remarkable.
Find Quiet Spaces For Contemplation And Reflection
Inside Rosslyn Chapel, we discovered several quiet spaces that provided a perfect environment for contemplation and reflection. One such place is the Lady Chapel, located at the eastern end of the chapel. It offers a serene atmosphere away from the main nave.
Additionally, the Crypt, situated beneath the chapel, provides a secluded and tranquil setting for contemplation. Away from the bustling crowds, these areas offered moments of peace and solitude.
The atmosphere allowed me to pause, away from the distractions of daily life, and delve into deeper reflections. It was a refreshing break, allowing us to connect with myself and appreciate the spiritual ambiance of the chapel.
Buy Souvenirs From The On-site Gift Shop
After exploring Rosslyn Chapel, I couldn't resist stopping by the on-site gift shop to browse through their selection of souvenirs. It was a treasure trove of items, ranging from books and postcards to unique trinkets inspired by the chapel's history.
I found the staff to be friendly and helpful, making the shopping experience enjoyable. I ended up purchasing a beautiful keychain and a book about the chapel's architecture. It was a great way to take a piece of Rosslyn Chapel's charm home with me and cherish the memories of my visit.
Discover The Legends And Mysteries
The chapel is steeped in tales of secret societies, hidden treasures, and symbolic carvings with enigmatic meanings. It sparked my curiosity, and we dived into the stories and theories that have captured people's imaginations for centuries.
The Da Vinci Code connection to Rosslyn Chapel
Our knowledgeable guide shed light on the actual history and significance of the chapel, highlighting its intricate carvings and ties to Freemasonry. It was fascinating to see the real-life connections that inspired Dan Brown's story.
Book this tour to the Rosslyn Chapel, Stirling Castle, and Dunfermline Abbey. When you stop by at the Rosslyn Chapel, the guide knows all the highlights from the Da Vinci Code.
Exploring the chapel in person deepened my appreciation for its unique heritage and allowed me to uncover the truth behind the myths perpetuated by popular culture.
Note: Rosslyn Chapel gained attention for its connection to "The Da Vinci Code" novel, portraying it as a vital location in the search for the Holy Grail. However, it's crucial to remember that the book is fiction.
The Knights Templar's connection to Rosslyn Chapel
The Knights Templar's connection to Rosslyn Chapel is a subject of speculation and legend. According to popular beliefs, some suggest that the chapel holds secrets and artifacts related to the Knights Templar, a medieval Christian military order.
It is claimed that the Templars sought refuge in Scotland after their suppression, and Rosslyn Chapel is said to have served as a possible hiding place for their treasures.
How to Get to Rosslyn Chapel
There are a few transportation options available to get to Rosslyn Chapel.
By Car: You can reach Rosslyn Chapel via the A701 or the A702 roads if you're driving. There is a parking area available for visitors. If you want to go on a road trip, rent a car here.
By Bus: From Edinburgh, you can take bus number 37 from the city center, which stops near Rosslyn Chapel. The journey takes approximately 40 minutes. If you prefer to travel by public transportation, get a train or bus ticket here.
By Tour: Many organized tours offer visits to Rosslyn Chapel as part of their itinerary. These tours often include transportation from major cities like Edinburgh and provide informative commentary.
For an economical and informative visit, we recommend booking a tour with Rosslyn Chapel and other destinations. This way, you can save money and ensure a knowledgeable experience as you explore multiple sites in one trip.
Getting Around Rosslyn Chapel
The chapel and its surroundings are easily accessible on foot, so you better wear good shoes for all terrains.
Additionally, the visitor center provides valuable information, maps, and guides to assist in navigating the area. For a more in-depth experience, joining a guided tour is recommended, as it offers insightful commentary and takes you to significant points of interest.
If you plan to visit the surrounding region or other nearby attractions, you may need to arrange additional transportation, such as buses or taxis.
Where to Stay Near Rosslyn Chapel
If you're planning a road trip and have limited time at Rosslyn Chapel in Scotland, a short visit might suffice. For a more immersive experience, consider extending your stay to explore the charming Roslin Town nearby.
Chapel Cross Guesthouse: Located just a 5-minute walk from Rosslyn Chapel, this guesthouse offers comfortable rooms with modern amenities.
The staff are friendly and the location is convenient for exploring the chapel and its surroundings. It also has free Wi-Fi and a complimentary breakfast.
The Original Rosslyn Hotel: Situated in the charming village of Roslin, this hotel is within walking distance of Rosslyn Chapel. It features cozy rooms with en-suite bathrooms and a traditional Scottish restaurant on-site.
Best Times To Visit Rosslyn Chapel
For the best experience at Rosslyn Chapel, I suggest visiting on a weekday if possible. Weekends tend to be busier with tourists.
To avoid crowds, consider going during the off-peak seasons like spring or autumn. The weather is usually pleasant, and you can explore at a more leisurely pace. Arriving early in the morning or during the late afternoon can also offer a quieter ambiance.
If you want to attend an event or service, check the chapel's schedule for concerts or religious services. Planning ahead and choosing a time when it's less crowded will ensure a more enjoyable visit.
Rules And Regulations Inside Rosslyn Chapel
By following these guidelines, we can collectively preserve the delicate features of the chapel and ensure a peaceful atmosphere for all visitors. Let's show respect for this remarkable place.
Travel Insurance
When traveling to Rosslyn Chapel, it is advisable to have travel insurance. Travel insurance covers unforeseen events such as trip cancellations, medical emergencies, or lost luggage.
It offers financial protection and peace of mind during your visit. Before purchasing a policy, you can add more coverage to your HeyMondo Travel Insurance and get 5% off. Travel insurance can safeguard your trip and help you confidently enjoy your visit to Rosslyn Chapel.
We highly recommend visiting Roslin Town after a tour around Rosslyn Chapel in Scotland. To enhance your trip, consider getting a travel internet SIM for convenient access to online resources and navigation during your exploration.
Plan Your Trip to Scotland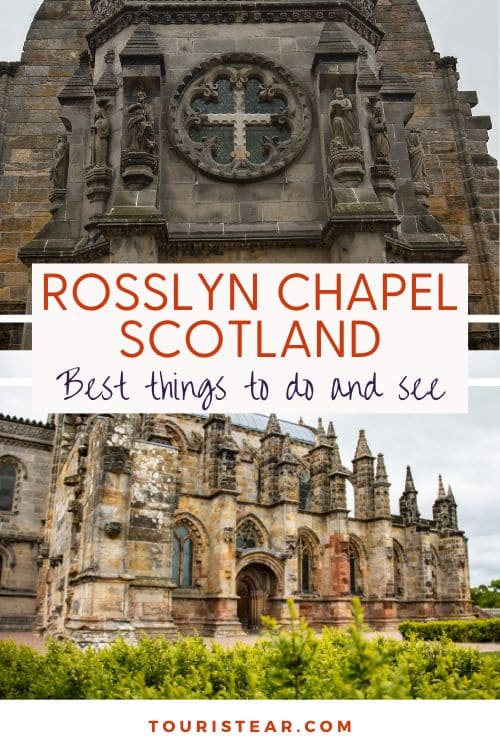 Last Updated on 7 September, 2023 by Veronica