The Best Things To Do in Whitby, England
Whitby is a very picturesque town located in Yorkshire on the North Sea. It is a place where several British people go on vacation. If you are wondering what to see in Whitby, one notable attraction is its association with Bram Stoker's novel Dracula.
In the novel, Whitby is where the world's most famous vampire arrives aboard the Russian schooner Demetrio. However, I must also say that unless someone recommends it to you, it is likely that you will overlook it.
Disclosure: Some of the links on this post are affiliate links, meaning at no additional cost to you, I may earn a small commission if you click through and make a purchase.
Tour Of The North Of England: See To Whitby
Our trip to Whitby is part of the road trip across England and Scotland. We came to Whitby on the recommendation of friends who lived in York.
We were recommended to come and visit this beautiful English town because the best Fish and Chips in England are served here.
In addition, we were told that Whitby is a very picturesque town with many places to visit and see nearby Whitby. Ideal for spending a day or a summer weekend. And the truth is that they were not wrong.
What To See In Whitby?
The Town Of Whitby
We arrived in Whitby at approximately 13:00 hours. The first thing we did was to go to Magpie's for lunch. It is the place our friends recommended us to eat the best fish and chips in England. I will tell you more about it below.
In addition to eating great food, you have a beautiful view of the Abbey from the restaurant. When you finish eating or before, walk along Pier Road (the same street as the restaurant) with waterproof travel shoes.
You will come across a statue of James Cook, the famous Whitby sailor—and spectacular views of the Abbey, the Church, and the cliff.
You will see Whitby Harbor, which is over a thousand years old. And it was there that Captain Cook trained as a sailor.
From here, the four ships set sail on which he traveled the South Seas. They were built in the shipyards of the port.
On your way to the Abbey, you can see in Whitby the Captain Cook Memorial Museum before climbing the steps.
St. Hilda's Abbey
Whitby Abbey was founded in the 7th century. And it was destroyed a century later by the Danish Vikings. So it was rebuilt, and we see today the remains of the Abbey constructed between the 13th and 14th centuries in the Gothic style.
The path leading to Whitby Abbey is up the "east cliff."
We climbed the "Senda de Caedmon." a path of 199 steps. You can listen to other visitors talking about them when you upload them.
The ruins of the Abbey bear witness to English history. Celts, Romans, and monks lived here until Henry VIII dissolved the monasteries and abandoned the Abbey.
There is a fee to visit the Abbey. But if you have the Heritage Pass card, admission is included. Along with the entrance fee, you will be given an audio guide to learn more about Abbey and Whitby.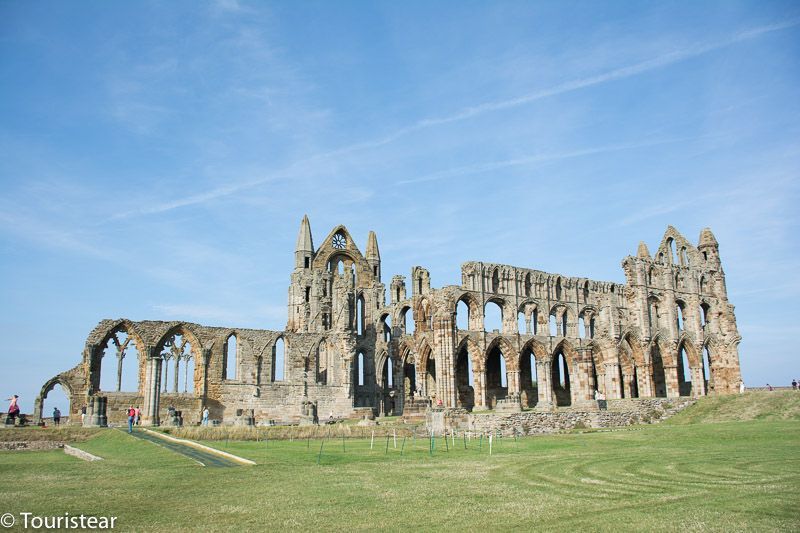 Once you climb the cliff from where the Abbey is located, you will have spectacular city views.
On your way back down, stroll through the streets of this picturesque fishing village. Enjoy the souvenir shops and lively terraces.
Dracula, Whitby, And The Novel By Bram Stoker
When you start exploring Whitby, you will find plenty of references to Dracula. Want to know why Dracula is present in Whitby? Indeed, that is because this is where the famous vampire arrives in Bram Stoker's novel.
During a strange storm, an abandoned ship miraculously arrived at Tate Hill, the port of Whitby.
Excerpt From The Book Dracula By Bram Stoker
"The aftermath of the strange arrival of the abandoned ship in last night's storm is almost more amazing than the event itself. It turns out that the schooner is Russian, from Varna, and is named Demetrio. It is filled almost entirely with silver sand ballast, with only a small amount of cargo: many large wooden boxes filled with soil. This cargo was consigned to a solicitor of Whitby, Mr. S. F. Billington, …
…Quite a lot of interest has been noted in the dog that jumped ashore when the ship ran aground, and more than one member of the A. P. C. A., which is very strong here in Whitby, has tried to take charge of the animal. But to general dismay, it has not been possible to find him anywhere; rather, he seems to have disappeared completely from the town.
It may well be that he was terrified and ran for refuge in the marshes, where he is possibly still hiding. There are some who look with fear at this last possibility as it could later become a danger, since it is evidently a ferocious beast.
Early this morning, a large dog, a mongrel mastiff belonging to a coal merchant near Tate Hill Wharf, was found dead on the road in front of its owner's yard. He had been fighting, and, manifestly had a savage opponent, for his throat was torn and his belly was opened as by a wild claw."
In Whitby, Dracula terrorized the population. Lucy was the first English victim. Would you like to read the book Dracula?
If you want to follow in Dracula's footsteps through Whitby, a tourist route has been created for visitors interested in Bram Stoker's book.
In addition, you can find a wide variety of Dracula-related souvenirs. A festival has even been created for lovers of the gothic. It is called the Whitby Gothic Weekend and takes place in April and November. In 2019, the dates are April 12 to 14 and October 25 to 27.
More Things to See in Whitby? Captain Cook
James Cook was a navigator, explorer, cartographer, and captain in the British Royal Navy. He produced detailed maps, made the first recorded contact of Europeans with the east coast of Australia and Hawaii, and sailed around New Zealand.
Cook was not born in Whitby, but in 1745, he became an apprentice on a small merchant vessel that transported coal along the English coast.
Once he completed his three years of apprenticeship. He started working on commercial ships in the Baltic Sea, rose quickly, and later joined the British Royal Navy.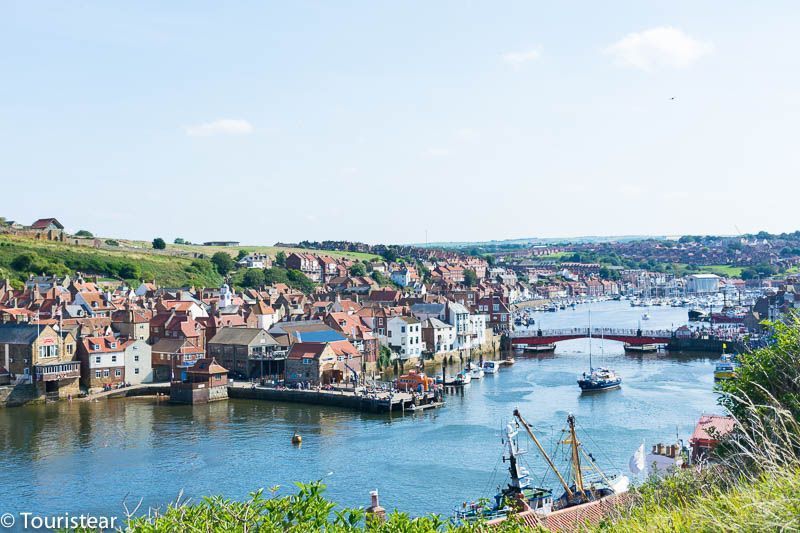 He was killed while exploring the Pacific, trying to recover a ship that had been hijacked.
He left an enormous legacy of scientific and cartographic knowledge that influenced his successors well into the 20th century. There are numerous memorials dedicated to Cook throughout the world.
You can visit the Captain Cook Memorial Museum, a 17th-century building. We saw interesting handwritten letters, documents, and objects about the life and voyages of this distinguished sailor.
On the western cliff of Whitby, there is also a statue of the captain, dating from the beginning of the 20th century.
And beyond that is the Whalebone Arch, commemorating the city's whaling history and the Captain's achievements since the 18th century. The original arch was replaced by the present arch in 1960.
Eating The Best Fish And Chips In England In Whitby
We ate at Magpie Café. It is a very nice place. There was a line to get in when we arrived, but after 10 minutes we were seated at a table. We were treated very well. I think we were the only foreigners there!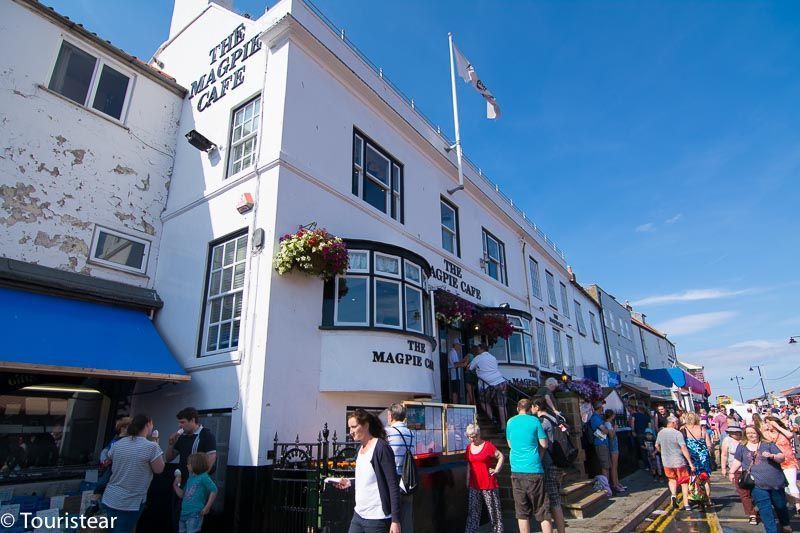 We ordered two fish and chips. You can choose the type of fish, and the price varies depending on the one you choose. And the truth is that they were very tasty!
Additionally, for people who cannot consume gluten, they offer a gluten-free fish and chips option.
This famous traditional English restaurant in Whitby is located at 14 Pier Road.
Open at 11:30 AM and close at 9 PM.
When To Travel To Whitby
Whitby is a year-round destination. Its northeastern English climate indeed makes it better to travel in summer. When temperatures are more pleasant and it rains less.
If the weather is not an impediment, you can visit Whitby at any time of the year.
Keep in mind that you have to wear a good coat. It can be waterproof and windproof, and it is advisable to wear waterproof footwear as well.
In summer, the temperatures are more pleasant. But the wind and rain can appear at any moment. So I recommend bringing a coat, although it doesn't need to be a winter coat.
Where to Sleep in Whitby
In Whitby, there are very picturesque places to stay. You can stay in a cottage, above a pub, or in hotels in Whitby.
My recommendation is White Horse & Griffin. It is a very English place where you will feel very comfortable. It is located in a 17th-century building and offers very comfortable rooms. In its restaurant, they serve local fish and seafood.
Furthermore, its location is unbeatable. Let me know what you think.
How to Get to Whitby
If you want to travel to Whitby, it is recommended to fly directly. The nearest airport is Leeds-Bradford.
From Leeds, you can reach Whitby by bus. Although, my recommendation is that you rent a car and tour this area on your own and at your own pace.
You can also reach Whitby by train, connecting at Middlesbrough, although the best option in this regard is to arrive on the North Yorkshire Moors Railway steam train. It runs from Pickering, traversing the North York Moors National Park (operating from spring to autumn).
As always, renting a vehicle is the best way to explore the area. But if you want to travel via railway, stay online to get the tickets at any time with an internet travel sim.
A Short History of Whitby
In the year 655, during the wars between the kings of Northumbria and Mercia. The king of Northumbria promised to God that if they won, he would dedicate lands to the construction of monasteries and would place his daughter in His service.
Oswiu, the king of Northumbria, won the war and designated 12 estates for the creation of monasteries. The first monastery was founded in 656/7, later known as Whitby Abbey.
A couple of centuries later, Danish Vikings landed in Whitby and destroyed the monastery during their siege.
In 1078, William de Percy had the Abbey rebuilt and dedicated it to St. Peter and St. Hilda.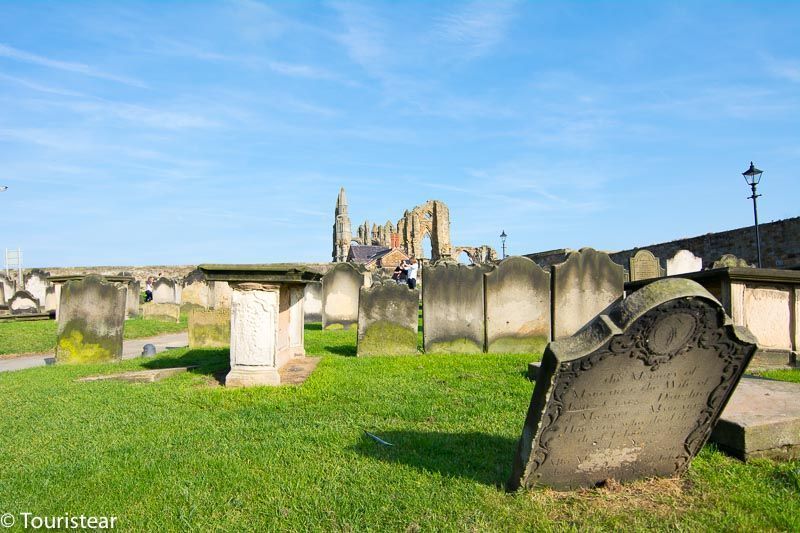 In 1540, Henry VIII suppressed all monastic communities, including Whitby.
During this century, the Alum industry developed in Whitby, thanks to Thomas Chaloner. This increased the importance of the port of Whitby. The city also began to grow inland.
In the late 18th century, Whitby became an important whaling industry.
In 1839, the train ran between Whitby and York, causing tourism to develop in this area.
In 1914, the hospital ship Rohilla was wrecked off the coast of Whitby. And also, during this same year, the Yorkshire coast was bombarded by the Imperial German Navy, and the Abbey was badly damaged.
Want to know a little more about Whitby's history? I leave you this link to Wikipedia.
What to See Near Whitby: The Yorkshire Coast
If you have decided to rent a car to visit Whitby and the surrounding area, we leave you these recommendations for your trip through Yorkshire.
Travel Robin Hood's Bay. Although it has nothing to do with the famous vigilante. They say that pirates and smugglers used to dwell here and that the cellars of the houses were joined together to form a very long tunnel.
You should also visit Scarborough, a historic spa center with thermal waters where the British spend their summers.
Scarborough has a song that has been played since the 12th century and was covered by Simon & Garfunkel, called Scarborough Faire.
A visit to North York Moors National Park is a must, especially if you travel in the spring and summer. Here you can see lavender fields as far as the eye can see.
In addition, in these moors, you will find a lot of small villages where you can enjoy the English countryside.
Do you have plans to travel to England on a road trip? We recommend that you visit Whitby and the surrounding area. We are sure you will like it.
Plan Your Trip To England
Save This Image On Your
Pinterest!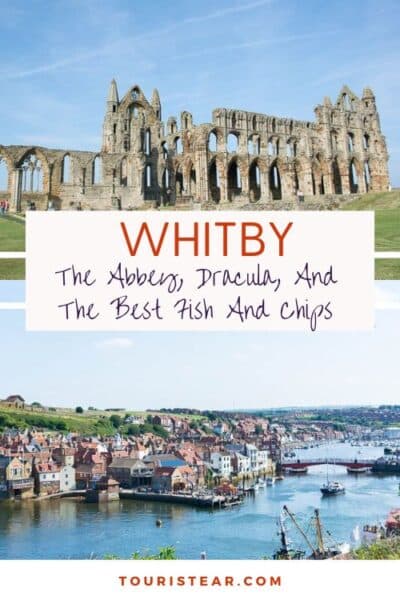 Last Updated on 7 September, 2023 by Veronica