20 Best Things to Do in Newcastle + Hadrian's Wall & The Borders
Nestled in the heart of Northeast England, Newcastle upon Tyne offers a fascinating blend of rich history, stunning architecture, and vibrant culture. With a wide variety of attractions and activities, this city caters to visitors of all ages and interests.
From exploring ancient Roman ruins to indulging in the bustling nightlife, Newcastle promises an unforgettable experience for everyone.
Dive into the city's deep-rooted history by visiting iconic landmarks such as the centuries-old castle and the stunning Tyne bridges. Delight in the local art scene by perusing the countless galleries and museums scattered throughout the city.
And for an unforgettable adventure, embark on one of the many city tours available, which offer unique insights into Newcastle's rich heritage.
Key Takeaways
Newcastle boasts a myriad of historical landmarks and stunning architecture to explore.
The city offers numerous museums and art galleries, catering to a variety of artistic preferences.
Visitors can enjoy a wide range of outdoor activities, entertainment options, and diverse food and drink scenes.
Historical Landmarks and Architecture
In Newcastle
Newcastle upon Tyne, often simply called Newcastle, boasts a rich history and stunning architectural landmarks. As you explore the city, you'll find yourself immersed in a blend of modern and historical settings.
Let's take a closer look at some of the highlights in Newcastle's architecture and historical landmarks.Rent a car for your road trip through England and Scotland
Newcastle Castle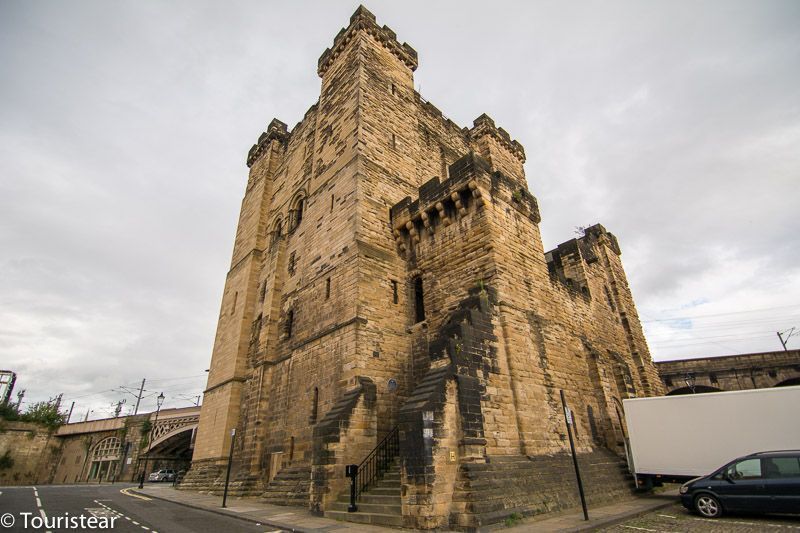 The Newcastle Castle, although its name might lead us to believe it is a new castle, dates back to the 12th century.
Dive into Newcastle's history by visiting the iconic Newcastle Castle. Dating back to the 12th century, it consists of two main surviving structures—the Castle Keep and the Black Gate.
As you walk through the castle, you'll learn about its intriguing past, its notable residents, and the city's evolution. Take some time to climb the stairs to the rooftop for panoramic views of the city and the River Tyne.
The castle opens at 9:30 AM from Tuesday to Sunday.
St. Nicholas Cathedral
In Newcastle, one of the cathedrals near the castle is St. Nicholas Cathedral.
This building was constructed between the 14th and 15th centuries. And what is most striking is the tower, which was once used as a lighthouse!
So when you see a tower with such a distinctive shape, it has most likely been used as a lighthouse.
The cathedral opens at 7 AM and is free of charge.
The Cathedral of Santa Maria: A Beautiful Place to See in Newcastle
St. Mary's Cathedral or St. Mary's. St. Mary's is the Catholic Cathedral of Newcastle, and it is located in front of the train station.
It was built by one of the most famous Victorian architects of the time, the same one who designed the interior of the Houses of Parliament in Westminster. Admission is free of charge.
Grey Street and Grainger Town

Next, make your way to Grey Street and Grainger Town, the heart of Newcastle's Georgian architecture. Designed by architect Richard Grainger in the 19th century, this picturesque area is a testament to the city's architectural heritage.
With its beautifully designed buildings featuring elegant facades, Grey Street is often considered one of the finest streets in England. While exploring Grainger Town, don't forget to visit the stunning Theatre Royal and the Grainger Market, both rich in history and local stories.
It is a column about 40 meters high with the statue of Charles Grey on top. It was sculpted by the same sculptor who made the statue of Nelson in Trafalgar Square, Edward Hodges Baily.
Adjacent to the monument is Grainger Market. It is the most popular market in Newcastle and opened in 1835.
Another area I really liked is the Quayside, where we had dinner the previous night, and you can also see the different bridges of the city.
Bridges Across the River Tyne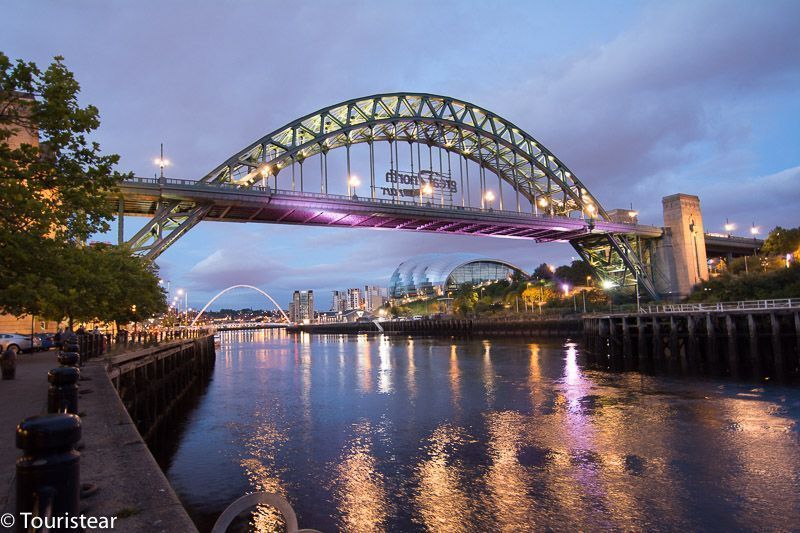 No visit to Newcastle would be complete without admiring the fascinating bridges that span the River Tyne. These engineering marvels connect Newcastle and Gateshead, creating a unique cityscape. Some of the most famous bridges include:
Tyne Bridge: This iconic arched bridge, opened in 1928, was once the longest single-span bridge in the world.
High Level Bridge: Designed by Robert Stephenson and opened in 1849, this double-decked bridge carries both rail and road traffic. Its wrought iron design is a testament to Victorian engineering.
Swing Bridge: Opened in 1876, this pivoting bridge swings open to allow ships to pass through. Its innovative hydraulic mechanism remains in operation today.
Millennium Bridge: Also known as the Gateshead Millennium Bridge, this modern, award-winning structure is a pedestrian and cyclist tilt-bridge that lights up the night skyline with its distinctive, colorful illumination.
As you venture through Newcastle, soaking in its history and architectural beauty, you'll find yourself captivated by the city's charm and the stories it has to tell.
Museums and Art Galleries
Discovery Museum
At the Discovery Museum, you can immerse yourself in the rich history of Newcastle and its industries. With a variety of exhibits related to maritime, industry, social history, weapons and war, costume, textile, science, and technology, there's something for everyone.
You'll find this popular free museum located near St James' Park, making it an ideal attraction for both locals and visitors alike.
Baltic Centre for Contemporary Art
The Baltic Centre for Contemporary Art is not only an impressive and iconic building situated on the Gateshead Quays, but it also houses an excellent collection of contemporary art.
As you explore the various exhibitions and installations, you'll be captivated by the unique blend of innovative and thought-provoking artwork from both local and international artists.
The Centre also offers workshops, events, and other activities, making it an inspiring and enjoyable experience for all ages.
Laing Art Gallery and The Biscuit Factory
Art enthusiasts should not miss visiting the Laing Art Gallery, which showcases an engaging collection of historic, modern, and contemporary art in a beautiful building.
From famous artists such as John Martin to upcoming local talents, the gallery has something to offer for every art lover.
Just a short distance away, you'll find The Biscuit Factory, the UK's largest independent commercial art gallery.
Housed in a former Victorian warehouse, the gallery offers an impressive collection of contemporary art, including paintings, sculptures, ceramics, and textiles. Make sure to spend some time browsing the artwork, as well as the on-site café and shop.
Great North Museum
The Great North Museum offers a fascinating insight into the natural history and cultural heritage of the North East.
With a vast collection that includes ancient Egyptian artifacts, a large-scale interactive model of Hadrian's Wall, natural science exhibits, and a planetarium, you'll enjoy exploring the diverse range of engaging displays and learning more about the region's rich history.
Outdoor Activities and Parks
Newcastle upon Tyne has various beautiful nature spots and outdoor activities for you to enjoy. This city offers picturesque parks and engaging outdoor options where you can appreciate all that nature has to offer.
Jesmond Dene and Pets Corner
Jesmond Dene, a beautiful valley park, is a delightful place for you to relax, walk, and admire the beautiful surroundings. The lush green scenery, scenic waterfall, and peaceful river provide an ideal backdrop for your leisurely stroll.
If you're looking for a family-friendly activity, don't miss Pets Corner, a free-entry animal center located within Jesmond Dene. Here, you can find a variety of animals that your kids will enjoy interacting with, such as rabbits, guinea pigs, and birds.
Angel of the North
One of the most iconic sights in Newcastle is the Angel of the North, a contemporary sculpture designed by Antony Gormley. This incredible landmark is not only picturesque but also easily accessible by car or public transport.
The sculpture, a symbol of welcoming and embracing travelers, stands tall on a hill just south of the city. As you stand beneath the 20-meter-tall statue, you'll admire its impressive wingspan, and the panorama of the surrounding landscape will take your breath away.
Tynemouth and Coast
Just a short distance from Newcastle, you can enjoy the charming coastal town of Tynemouth. This must-visit destination offers beautiful sandy beaches and stunning views of the North Sea.
Tynemouth is perfect for those seeking relaxation, as well as for adventurous souls who love coastal walks or surfing.
Discover the rich maritime history at the Tynemouth Priory and Castle, and don't forget to explore the vibrant weekend market, where you can find unique local items or enjoy some delicious food.
When in Newcastle, don't miss the opportunity to experience these fantastic outdoor activities and parks. Whether you prefer a revitalizing walk in a lush park, sightseeing an iconic landmark, or exploring picturesque coastlines, Newcastle upon Tyne has it all.
Food and Drink
Quayside Sunday Market
Every Sunday, you can visit the Quayside Sunday Market along the iconic Newcastle Quayside. With a variety of food stalls offering local and international cuisine, you will find something to satisfy your taste buds.
The market showcases a diverse selection of fresh produce, delicious cakes, and artisanal food and drink products. Make sure to grab some coffee or tea while you're exploring the market and take in the picturesque river views.
Grainger Market and Central Arcade
For a more traditional shopping experience, head to Grainger Market and the Central Arcade. Both of these historic venues are home to an array of food and drink establishments.
Grainger Market, with its bustling stalls, offers an authentic taste of the local cuisine such as the Geordie stottie cake, as well as a wide range of fresh fruits, vegetables, and meats.
The Central Arcade, on the other hand, houses some quaint cafés and specialty shops where you can enjoy a warm cup of tea or indulge in delightful pastries.
Grainger Market Central Arcade Stottie Cake Quaint Cafés Fresh Produce Pastries Local Cuisine Specialty Shops
Restaurants, Cafes, and Bars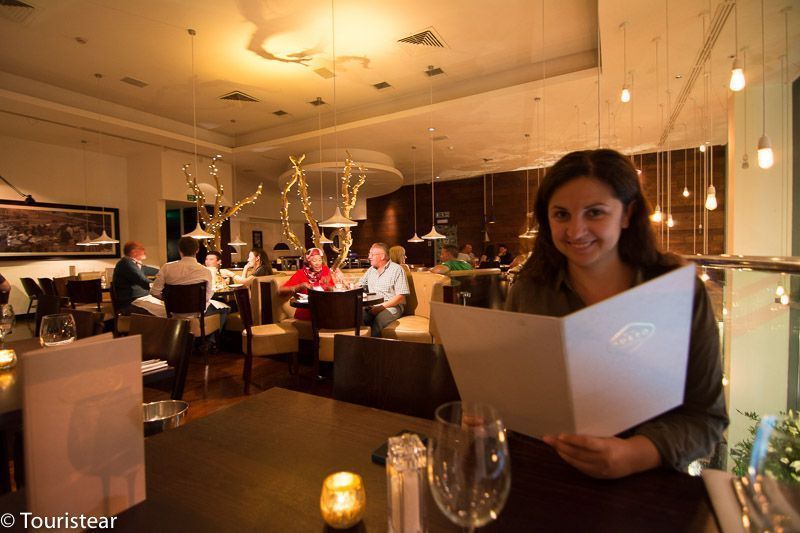 Newcastle has a thriving food scene, which means you'll find a multitude of restaurants, cafés, and bars that cater to every taste and budget.
From fine dining at Blackfriars, the oldest dining room in the U.K., to trendy spots like the Cat Cafes, there's no shortage of options for a memorable meal.
For those who enjoy craft beer and unique cocktails, be sure to explore Newcastle's vibrant nightlife scene. Check out the Wylam Brewery for local brews or one of the city's many bars that offer creative concoctions.
Here are a few recommendations to try:
Gusto Restaurant, italian restaurant
Blackfriars: fine dining in a historic setting
Cat Cafes: trendy, unique atmosphere
Wylam Brewery: locally brewed craft beers
No matter what your preferences are, Newcastle's diverse food and drink scene will allow you to indulge in a culinary adventure. So, go ahead and explore the rich flavors this city has to offer.
Entertainment and Nightlife
Theatre Royal
Immerse yourself in the rich culture and history of Newcastle by experiencing a show at the Theatre Royal.
As one of the city's premier live entertainment venues, this historic theater not only hosts a variety of performances, but also allows you to enjoy the timeless beauty of its architecture. Be captivated by an array of productions, ranging from drama, comedy, ballet, and opera.
Tyneside Cinema
For movie lovers, the Tyneside Cinema is an essential destination. This independent cinema takes pride in showcasing artistic films and limited-release productions, making it a haven for cinephiles looking for a unique experience.
Located in the heart of Newcastle, Tyneside Cinema invites you to enjoy not just great movies, but also the chance to grab a bite at its cozy café and participate in film-related events.
Sage Gateshead
When it comes to live music and performances, Sage Gateshead stands out as an iconic concert venue in Newcastle.
Adjacent to the River Tyne, this impressive structure offers stunning acoustics and a diverse lineup of events, ranging from classical music concerts and jazz sessions to talks and workshops.
Your visit to Newcastle wouldn't be complete without attending a performance at Sage Gateshead and spending an unforgettable night in this world-class venue.
Touring Hadrian's Wall: A Must-See Close to Newcastle
Hadrian's Wall is approximately 120 kilometers long and was used for over 250 years as a defense against the "free men."
It was used to defend the northern frontier of the British Roman Empire from the Scots, who were never conquered by the Romans.
Along these 120 kilometers, there were towers, castles, and everything necessary to defend the empire from coast to coast.
You can visit the wall as part of your road trip or on a guided tour from Edinburgh.
Heddon on the Wall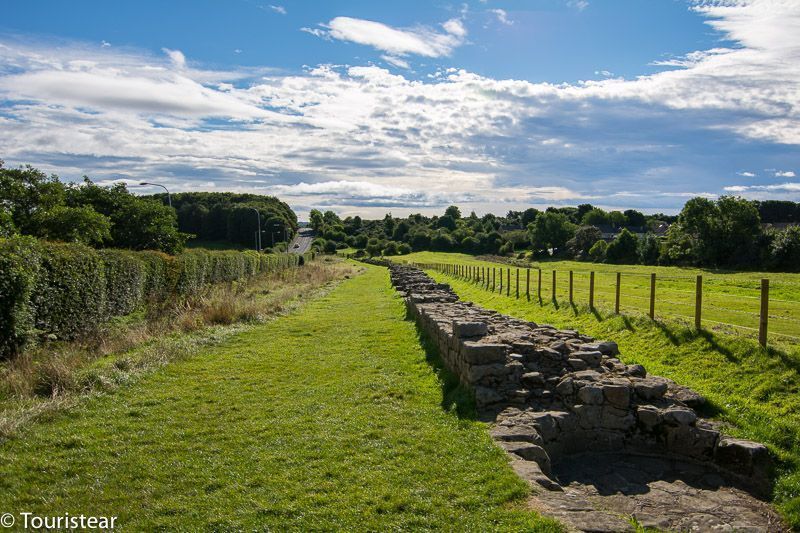 We made several stops along the road following the wall.
But the places we liked the most were Heddon on the Wall and the Temple of Mithras, even though we did not have them on our list. We saw a parking lot in the middle of nowhere with a payment machine for parking, and we decided to stop. There was a path that led us to the temple.
Housesteads Roman Fort
But the most interesting, from my point of view, is Housesteads Roman Fort. It is the most complete Roman fort in Britain.
Construction began about 1900 years ago as a fortress on the frontier of the Roman Empire. Today known as Hadrian's Wall, it is declared a UNESCO World Heritage site. You can join a group tour here.
At Housesteads Roman Fort, there are spectacular views, and you can explore the ruins on your own or join guided tours that depart at different times and are free of charge.
The recommended way to visit the museum is first to see the museum and the explanatory video (in English) and then see the outside. It is fascinating and a way to learn about the history of the country you are visiting.
Another curious thing we saw during our walk along Hadrian's Wall was the number of people walking along it with backpacks on their shoulders as if they were on a pilgrimage. Make sure you wear a good pair of walking shoes during your visit!
In some cases, you would see large groups or entire families, but most of the time, you would see single people, couples, parents, and children.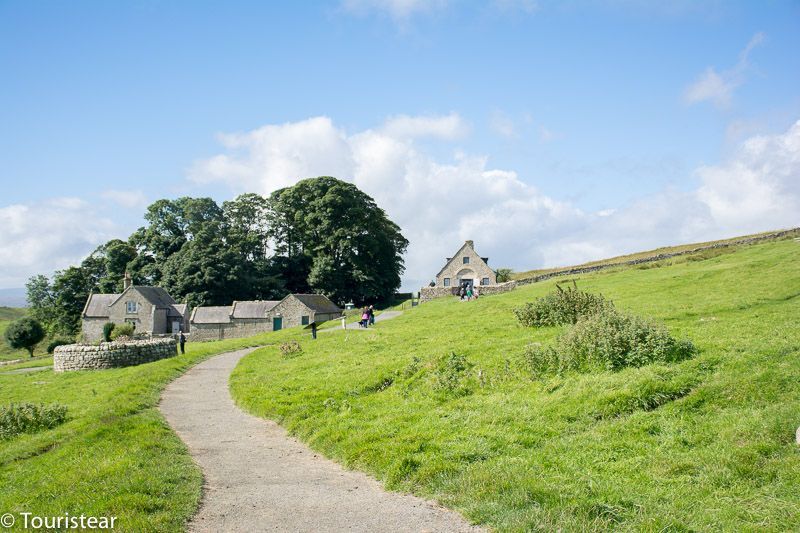 We saw that there was a way to do it on foot, but they often went along the edge of the road.
As we could not remain in doubt, we asked, and they told us that it was traditional to walk along Hadrian's Wall, and in this way, they learned about their own history.
After we visit Hadrian's Wall, we head towards The Borders, the region located on the Scottish side of the border.
Where to Stay in Newcastle
Choose a place that corresponds to your interests and intended experiences, considering aspects such as closeness to attractions, dining alternatives, and the ambiance you seek. Find accommodations in Newcastle here.
The city center is convenient for attractions, shopping, restaurants, and nightlife. Quayside has beautiful river views and a lively environment. Jesmond is a popular residential neighborhood with Victorian homes and a laid-back atmosphere.
More to See from Newcastle to Edinburgh: The Borders
In the Borders, we only visited Jedburg Abbey and Melrose Abbey, as we saw that we could get to Edinburgh Castle in time.
This area, which honestly deserves a longer visit because it is very beautiful, seems like it's straight out of a fairy tale.
Small villages surrounded by lush greenery everywhere you look, majestic churches and abbeys now in ruins, stately homes, and castles – that is what you will find in The Borders. No doubt you have to be around for more than a day or two.
Jedburgh Abbey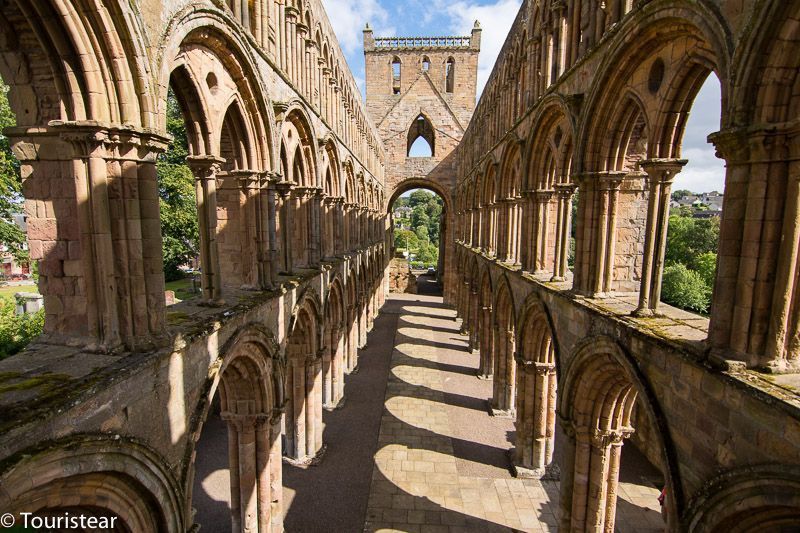 This medieval abbey is in ruins. Only the skeleton remains. It was founded in 1138 and has always been linked to royalty; King Alexander III was married here.
Before entering Jedburg Abbey, visit the museum. We visited the gardens after touring the abbey.
Entrance is included in the Explorer Pass.
Melrose Abbey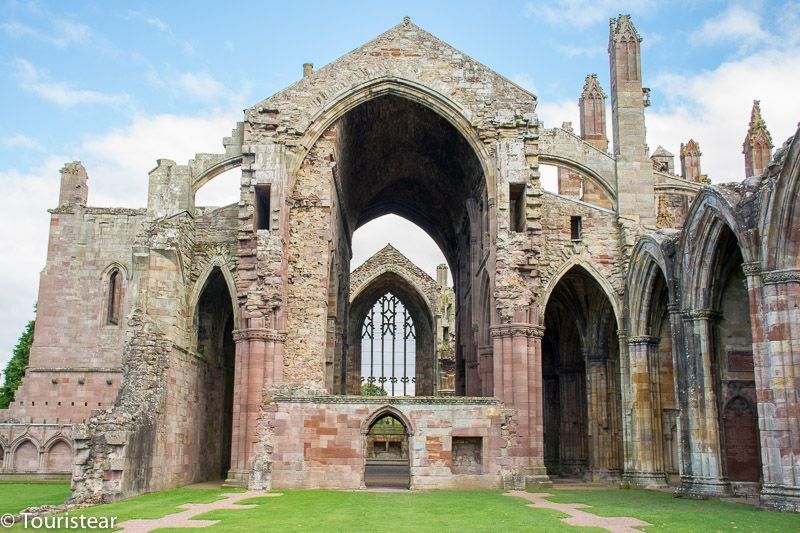 Melrose is a charming village surrounded by mountains. On the outskirts is Abbotsford, the home of Sir Walter Scott, a famous writer of historical novels (1771-1832).
We visited Melrose Abbey, one of medieval times' largest and wealthiest abbeys. Still today, we can see sculptures of saints, demons, and the famous pig playing the bagpipe among its ruins.
Here is buried King Alexander II and the heart of Robert of Bruce.
Entrance is included in the Explorer Pass, open from 9:30 AM to 5:30 PM.
After this intense and diverse day, we arrive in Edinburgh. We checked in and explored the city, but I will tell you about this in a future post, focusing solely on Edinburgh.
Plan Your Road Trip To England And Scotland
Save This Image On Your
Pinterest!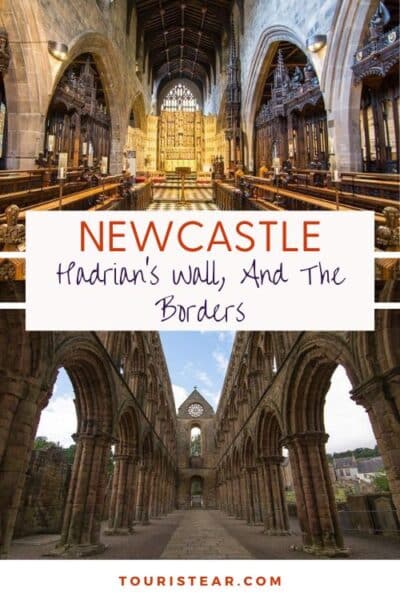 Last Updated on 22 October, 2023 by Veronica
Disclosure: Some of the links on this post are affiliate links, meaning at no additional cost to you, I may earn a small commission if you click through and make a purchase.
Author: Veronica
Vero, a seasoned traveler, has explored 25 countries and lived in five, gaining a rich perspective and fostering an infectious passion for travel. With a heart full of wanderlust, Vero uncovers the world's hidden gems and shares insights, tips, and planning advice to inspire and assist fellow adventurers. Join Vero and let the shared passion for travel create unforgettable memories.