The Best 1-day Itinerary to Visit Isle of Skye
The Isle of Skye is one of Scotland's most famous and well-known destinations. With roads full of spectacular landscapes, you will want to stop every few meters.
What are you looking for in a 1-day itinerary on the Isle of Skye? Is it an epic hike that will take your breath away, or just a day of taking in the beauty of this majestic land?
The Isle of Skye is one of Scotland's largest islands, offering something for everyone – stunning views, beaches, castles, waterfalls, and more.
Whether you want to do some hiking while you're there or simply enjoy the view from afar, we've got suggestions for how to spend your time here!
Best Things to Do on the Isle of Skye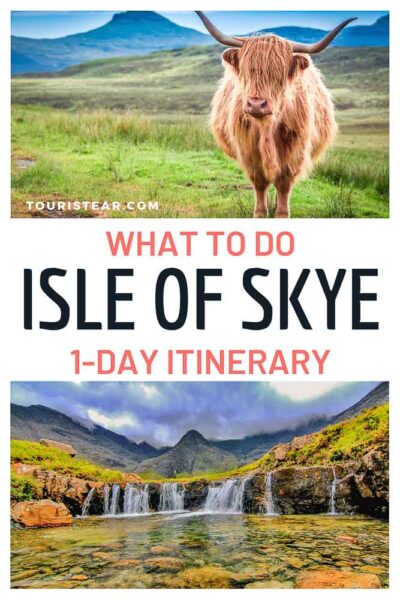 On the Isle of Skye, there are many things to see and do. It is a lovely place and ideal for a peaceful stroll and hiking trails.
Many of us only plan our visit for one day, thinking that it will be enough time because the map doesn't seem so big and the distances seem shorter, which is a mistake.
From my point of view, the ideal plan is to dedicate at least 2 days. But, believe me, we were only there for 1, and the truth is that it felt very short.
Another thing I would like to tell you is my opinion about the Isle of Skye. It is a spectacular place, but my expectations were really high because it was strongly sold to me as the most beautiful and super spectacular place in Scotland.
I do not know if it was because of the weather or any other reason, but my expectations weren't met.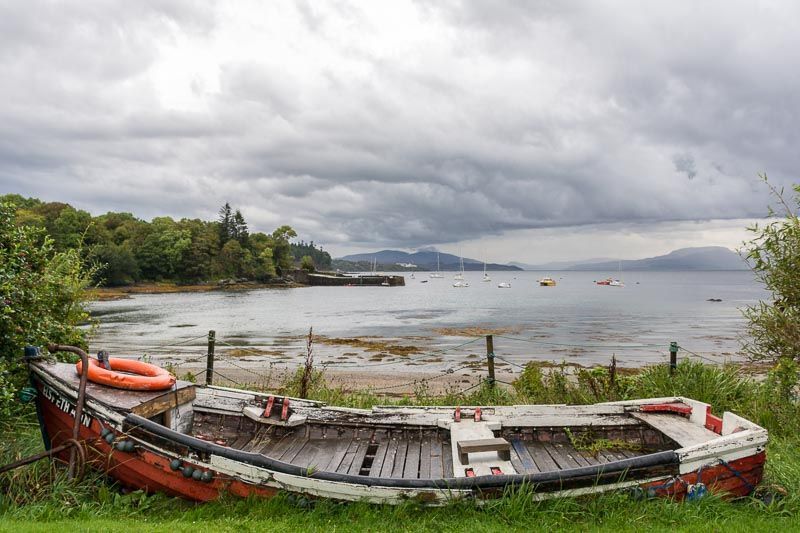 For me, it's a place to visit, it's certainly spectacular, maybe I have to visit it more often, but I don't think it's the most beautiful place in Scotland.
I have visited many places in Scotland, for example, the north, touring the North Coast 500, which is awesome, or the Loch Lomond area, which is amazing.
I think I will have to go back to Scotland to tell you what my favorite place is…
What to See on the Isle of Skye?
The village of Kyleakin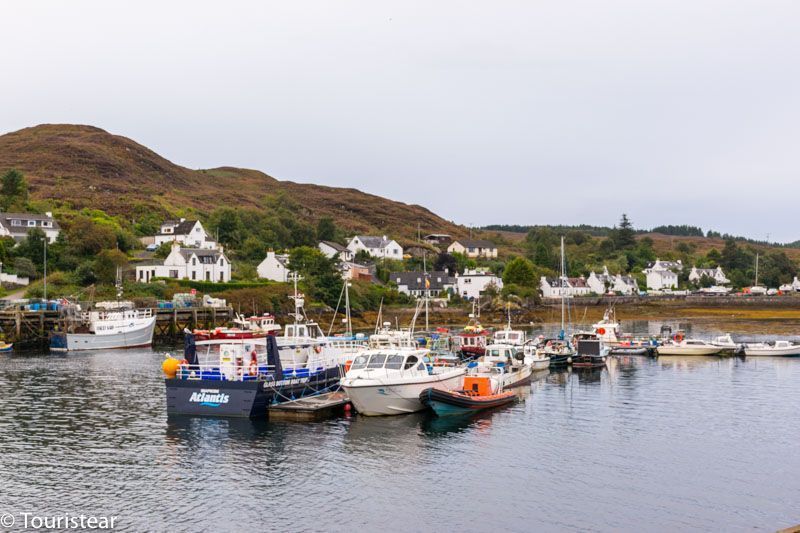 It's the first town you reach after crossing the bridge. It's quite picturesque, but we just spent a moment. If you want, you can give it a little bit more time.
Sligachan Bridge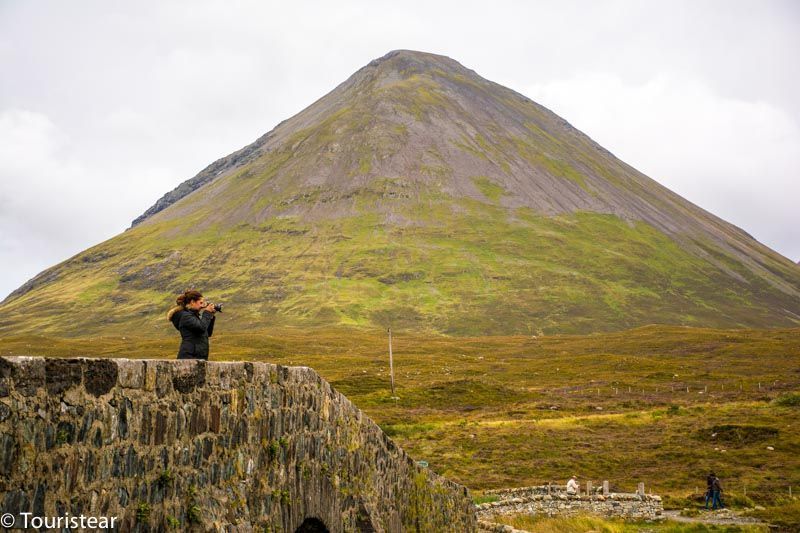 It is a beautiful stone bridge that looks like it is in the middle of nowhere and has spectacular views of the Cuillin Mountains.
Legend has it that the waters that come from the mountain and pass under this bridge are enchanted. If you keep your face in the water for seven seconds, you will get eternal beauty. It is the source of eternal youth.
Armadale and its castle
In the southwest corner of the Isle of Skye, you have to visit the Castle of Armadale. It was the former home of the MacDonald Clan, a huge mansion built in the late 18th century, damaged by a fire in 1855, and abandoned in 1920.
The grounds are beautiful and maintained by the Clan MacDonald Skye Center, which also works as the island museum. Unfortunately, we arrived very early and couldn't get through because it was closed.
Fairy Pools
Another popular place on the Isle of Skye is the Fairy Pools. It is a very nice place with small waterfalls and completely transparent (and frozen) water. If you have enough time, do not hesitate to visit them and take a dip if you like the freshwater.
Talisker Distillery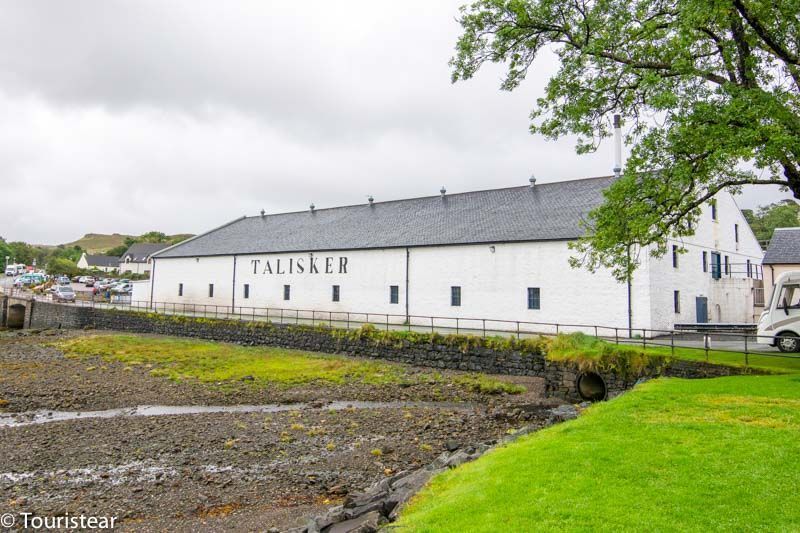 The only distillery on the Isle of Skye is Talisker's. As we did, you can have a whiskey tasting and get yourself a souvenir bottle.
The Talisker Storm has become one of my favorite whiskies with its smoky touch, although, if I remember correctly, it's 40 euros a bottle…
Nest Point Lighthouse
Near Dunvegan Castle and at the northernmost point, you can find the most famous Lighthouse on the Isle of Skye, a must-see.
It is an ideal place to watch the sunset, but it is something that many people know, and when the weather is nice, especially in summer, it gets quite crowded.
Dunvegan Castle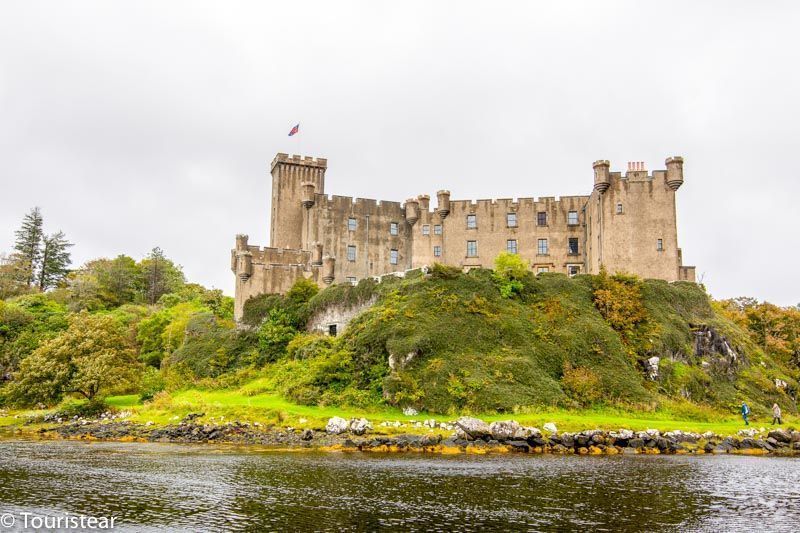 Another must-see on this route is the Dunvegan Castle which belonged to the MacLeod Clan. Inside, which you're not allowed to photograph, you can see its family atmosphere.
It is also in a beautiful location; you can visit its gardens and surroundings, and if the weather allows you, you can ride a boat on the lake and see the colony of seals that lives close by.
We were not so lucky as there was a lot of wind, and it wasn't possible to navigate.
The entrance fee for the Castle and its gardens is 13 pounds, and the ticket for the boat to see the seals cost 7.50 pounds if you buy the entrance to the castle.
The Quiraing Trail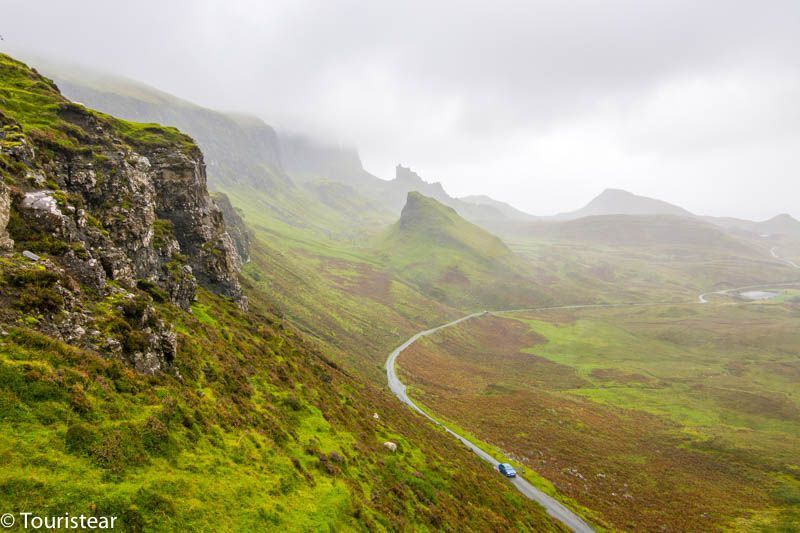 It is an amazing place on the Isle of Skye, full of fascinating landscapes that honor its fame. You can also do some trail walking if you like.
If you have time and if it's a good day, it is about 7 kilometers of walking. However, if you prefer to do it by car, like us, there is a really narrow road that you can travel through, and you can easily stop to take photos.
Old Man of Storr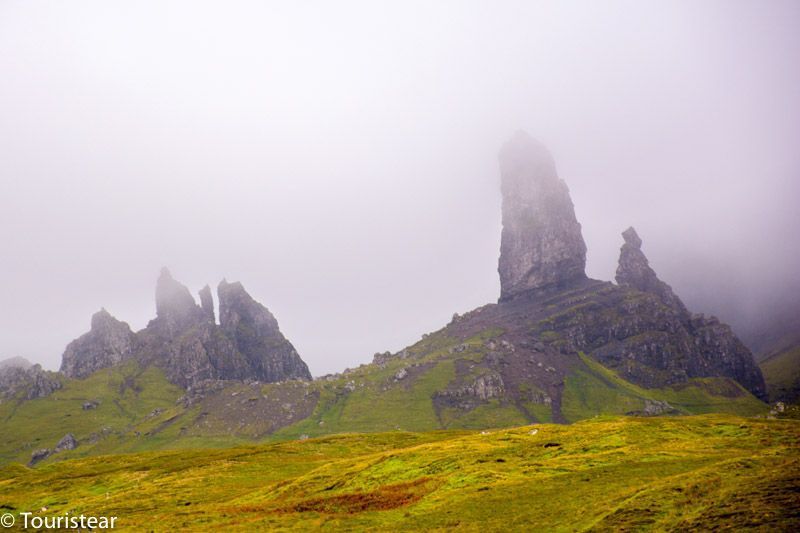 It is one of the most photographed landscapes on the Isle of Skye and is a must-stop for all of us who tour the Isle of Skye.
You can leave the car downstairs, in the corresponding parking, and if you are a lover of hiking, you can get to the top and enjoy magnificent views, weather permitting.
Brother's Point
It is one of the hidden treasures of the Isle of Skye, and very few people visit it. It has a great landscape and super views, you will surely like it.
Kilt Rock and Mealt Falls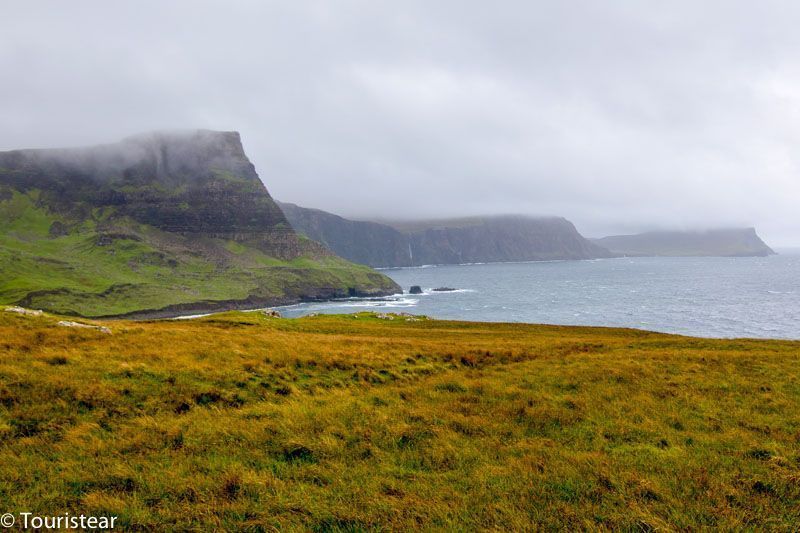 Very close to the previous point, a few kilometers away, we find Kilt Rock, a very nice stop on your route through the Isle of Skye.
You must leave the car in the parking lot and walk to the viewpoint. Making this trail, you will kill two birds with one stone because you can also enjoy the Mealt Falls. Fascinating place.
Portree, the capital of the Isle of Skye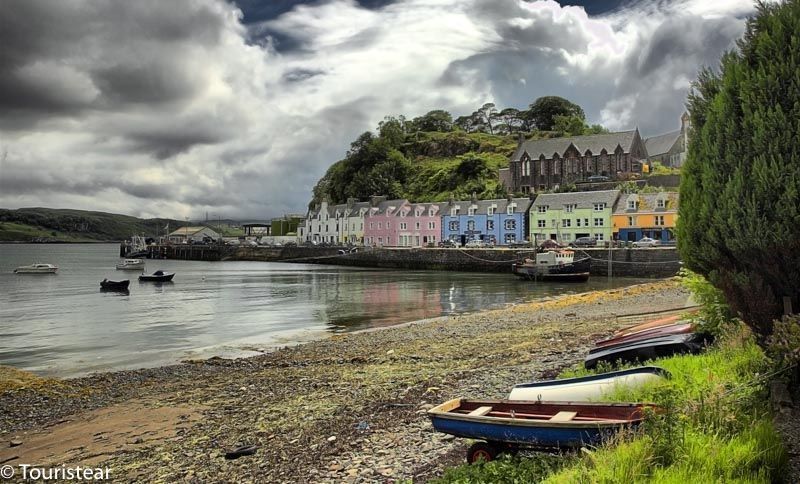 It is the largest city on the Isle of Skye. It has a nice fishing port with colorful cottages. You can enjoy the island's gastronomy; if you are a fan of seafood, you will eat very well here, but, be warned, it's not very cheap.
Where to Sleep in Skye
Regarding accommodation on the Isle of Skye, I can tell you that there are many Bed and Breakfasts to stay overnight.
From our own experience, our recommendation is to book the accommodation in time, especially if you go during the summer, which is the high season.
We didn't do it because we were thinking of camping in the wild instead, but it rained a lot, and we changed our minds.
We started to tour the island to look for a B&B at the last minute, and they were all full, and those that weren't were charging above 150 pounds.
You can book on Booking.com to have the accommodation that best suits your trip and budget.
Tips for Your Visit to The Isle of Skye
Carry a map on paper and a GPS
There are areas on the island that do not have perfect coverage, and if you go with your Google Maps, you can end up lost anywhere.
That is why buying a map of the island is advisable to guide you the old-fashioned way, but the co-pilot has to have a good sense of orientation!
Bugs (midges) repellent
Especially in summer, there are these little mosquitoes called midges. Although we were lucky, they didn't bite us throughout our trip through Scotland.
We recommend that anyone who plans to visit these lands is that you carry anti-mosquitoes.
Trekking Shoes and Raincoat
Mountain boots are a must on a trip to the Isle of Skye, or almost anywhere you visit Scotland! You can't miss a raincoat, either, as it can rain at any moment of the day…
Driving – rental car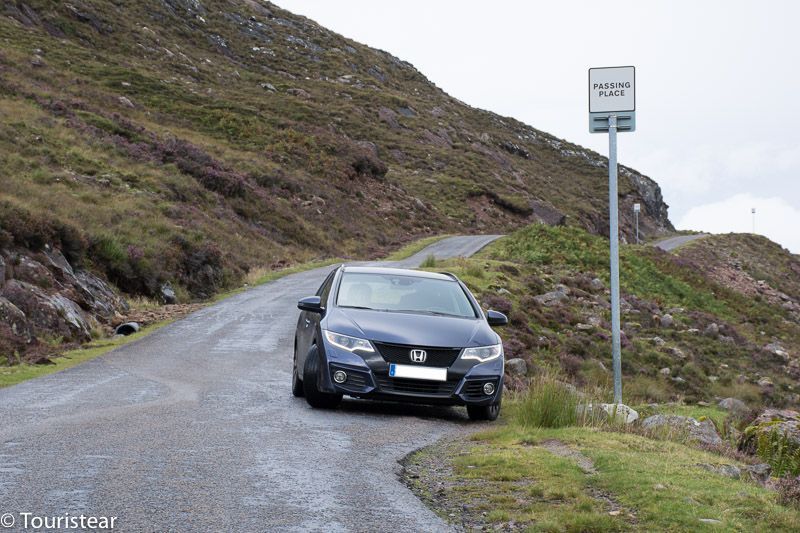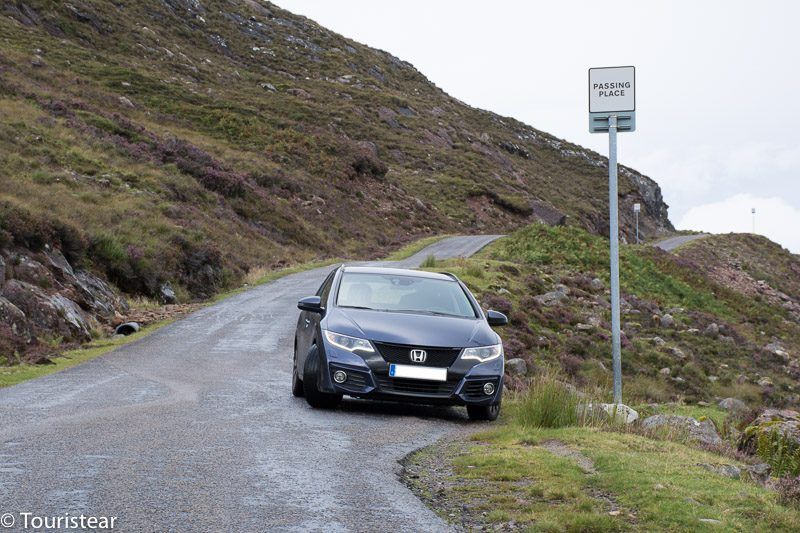 If you are driving, you have to take into account the roads. These are mostly single-lane and are two-way. But every few meters, there are the so-called "passing places" that we have already talked about in other posts in Scotland.
They're intended to give way to the car passing by; the one that usually gives way is the one closest to the passing place you have on your left.
That is, a car comes in front, and a few meters from you, you have space to your left, then it's your turn to give way.
But many tourists don't know this, especially those used to driving on the right, and we end up getting into the passing place on the right. Be careful!
How to Get to the Isle of Skye
As you know, we arrived at the Isle of Skye by driving the first stretch of the North Coast 500 and making a small detour to visit Eilean Donan Castle and then the Isle of Skye, which is about 15 kilometers; on the link, you can see our route.
Crossing the Skye Bridge
We went in our car, but you can get there by rental car, which is the most common way to cross the Skye Bridge, which is the bridge that connects the island of Eilean Ban to the Isle of Skye.
By ferry from Mallaig
You can also get there by ferry from Mallaig.
Guided Tour from Edinburgh
With a guided tour from Edinburgh, if you prefer not to drive.
Getting to the Isle of Skye from Edinburgh
If you're going by rental car, you'll most likely get to Edinburgh and from there start your road trip to the Isle of Skye.
From Edinburgh to the Isle of Skye, there are 200 miles, which is approximately 320 km. You can choose multiple routes, depending on what you want to see.
3 Itineraries recommended
Edinburgh – Glasgow – Loch Lomond – Glencoe – Fort William – Glenfinnan – Eilean Donan Castle – Isle of Skye
Edinburgh – Stirling – Loch Lomond – Glencoe – Fort William – Glenfinnan – Eilean Donan Castle – Isle of Skye
Edinburgh – Perth – Pitlochry – Dalwhinnie – Divert to Loch Ness – Eilean Donan Castle – Isle of Skye
Along the way, you will see spectacular places no matter which route you choose to take there.
Get to the Isle of Skye from Inverness
The road from Inverness to the Isle of Skye is shorter.
So we recommend that you make the first stretch of the North Coast 500, take a detour to Eilean Donan Castle, and then go to the Isle of Skye.
It's about 92 miles, which is about 150km.
Here's the road trip itinerary through Scotland we did.
Plan Your Trip to Scotland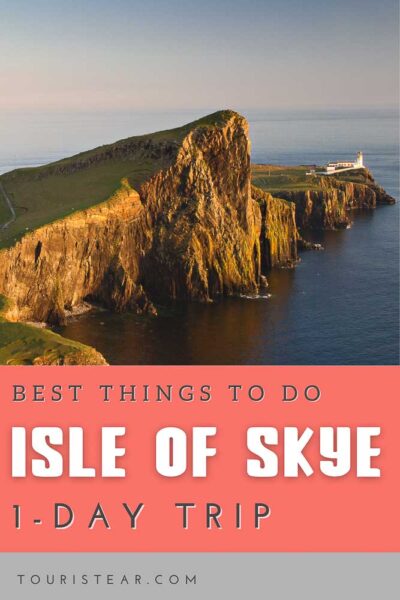 Last Updated on 9 October, 2023 by Veronica
Disclosure: Some of the links on this post are affiliate links, meaning at no additional cost to you, I may earn a small commission if you click through and make a purchase.
Author: Veronica
Vero, a seasoned traveler, has explored 25 countries and lived in five, gaining a rich perspective and fostering an infectious passion for travel. With a heart full of wanderlust, Vero uncovers the world's hidden gems and shares insights, tips, and planning advice to inspire and assist fellow adventurers. Join Vero and let the shared passion for travel create unforgettable memories.