The Best 50 Things to Do in Edinburgh Scotland
After my first visit, Edinburgh Scotland, has become one of my favorite European cities. I bring you a compilation of the best things you can do and see in Edinburgh in today's post.
What are the must-see places you have to visit? Many are free and can be done by walking others you will need transport to arrive, and some will charge an entrance fee.
Are you going only for 1 day to Edinburgh, Scotland? Then, check the Best things to do in 24 hours and how to plan them!
Best Things To Do in Edinburgh, Scotland
If you plan a trip to the Scottish capital soon, continue reading; there is plenty to do and enjoy. Let's start!
Note:
If you have 1 day to visit Edinburgh click on this link to know the essential visits to do in 24 hours and how to organize them.
If you have little time to read this mega post, I leave you first my top ten and then the 50 things to see, do, and visit in Edinburgh Scotland without an order of preference or importance.
Top 10 Visits in Edinburgh Scotland
This list is entirely subjective and is based on my preferences 😉
Calton Hill
Arthur's Seat
Live music in a pub + a pint of local beer.
The water of Leith Walk
Holyrood Park
Grassmarket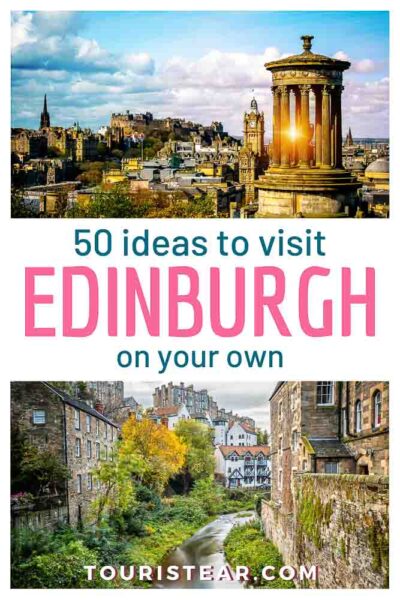 50 Places to Visit in Edinburgh Scotland
1. Edinburgh Castle in Scotland
Edinburgh Castle is a must-see and undoubtedly the most visited thing in the Scottish capital, and it is vast, so you have to dedicate at least two hours to this visit.
It is located on top of a hill and from there you can contemplate the whole city, the views are fantastic.
This Castle has lived through historic battles, sieges have been destroyed and rebuilt, has seen kings born and die, and has even been a prison and armory.
Inside, there are different museums, mostly military, where you can learn a little more about Scotland's history.
2. The Statue of David Hume in Edinburgh Scotland
He was a Scottish philosopher, and it is tradition to touch the big toe of his statue.
That's supposed to bring luck, especially if you're on exams, but it also attracts fortune in general, something for you to know if you touch David Hume's big toe.
3. The Heart of Midlothian
It is a heart made of granite that is on the ground, it is called the heart of Midlothian and is located where Edinburgh's prison used to be, and the tradition is to spit in the heart; this will bring you good luck; they say.
4. The Scotch Whisky Experience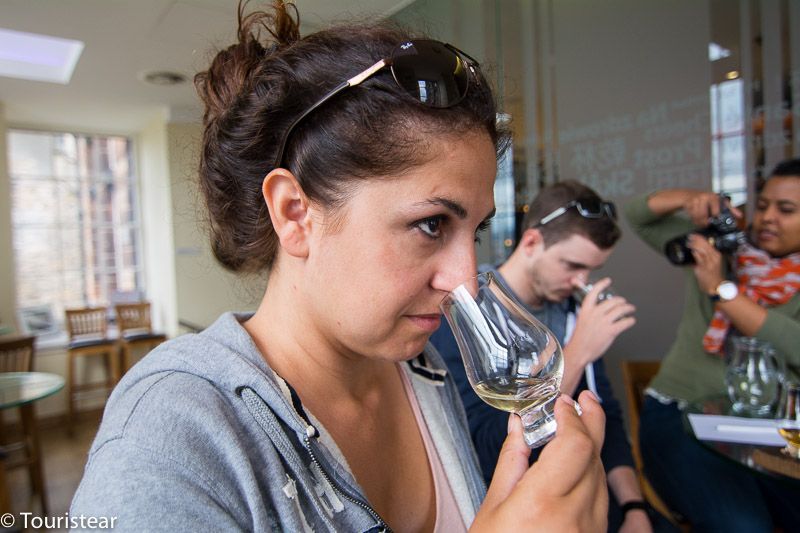 Want to learn about whiskies? You can do a master's class at The Scotch Whisky Experience.
They have different tours and whisky tastings at different times. We did the Master Class at 10 in the morning.
Can you imagine trying different types of whiskey at that time of the day? It's not that we love drinking alcohol, but the master class is excellent.
5. The Hub in Edinburgh Scotland
If you feel like having a coffee, you can do it in this church converted into a café where the Edinburgh International Festival is based.
There are different rooms; it's so cool to rest and hang out.
6. St. Giles' Cathedral
St. Giles' Cathedral, also known as Edinburgh Cathedral, will enchant you.
When we visited St. Giles' Cathedral, we saw a piano concert. It's incredible how it changes the visit to a cathedral if it has lively classical music.
As visitors arrived, they sat and listened to the music instead of going around to see the stained glass windows and works of art.
We also sat down for a little while and then visited the inside of this magnificent cathedral.
7. St Mary's Cathedral
You can visit the Episcopal Cathedral of St. Mary, which is in the West End area.
It is constructed in the Gothic style and holds a relic of the patron saint of Scotland, St Andrew. It's beautiful.
8. South Bridge Basses (Mercat Tours)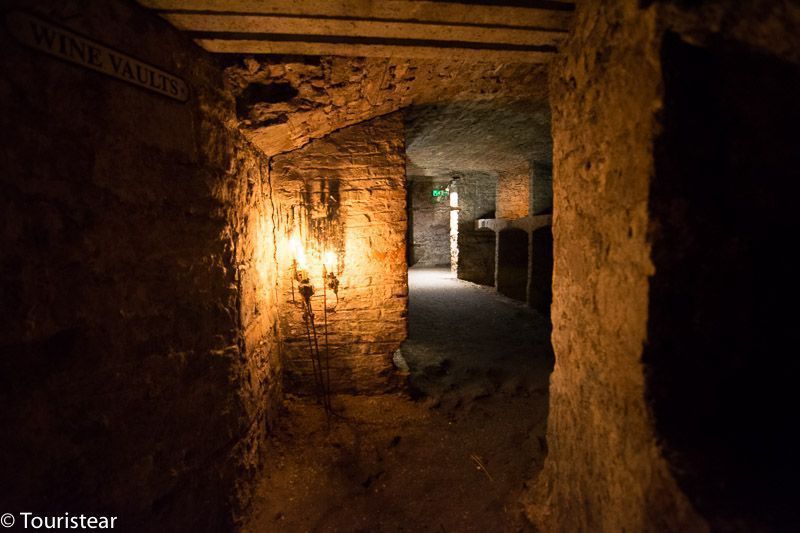 Edinburgh is a city in Scotland with many ghost stories; we couldn't go without knowing some. So we did the tour to get to know the vaults under the South Bridge.
It is a very entertaining tour, it takes an hour or so, and I think you can only visit these vaults with an official guide.
9. Royal Mary King's Close
The visit consists of visiting the alleys below the Town Hall. These were covered when a former shopping center was built where we can now see Edinburgh City Hall.
Mary King's Close is Edinburgh Scotland's most famous alley. It was reopened to the public in 2003, and here you will know somewhat dark stories that happened to real people who lived there.
It is not a scary tour, but I do not think it is recommended for people with claustrophobia.
10. Royal Mile
The Royal Mile is the most important street in the medieval city of Edinburgh Scotland, connecting the Castle with the Palace of Holyrood house.
As you walk the Royal Mile from the Castle, you'll see souvenir shops, many shops selling you scarves with typical Scottish designs in different colors.
You can detect the best quality when you touch them, they are super soft, but you will also detect them by their price.
You can also see other Edinburgh attractions, representative buildings, street artists, and many visitors. It's a street you'll walk around a lot while visiting Edinburgh Scotland.
11. Old Canongate Tolbooth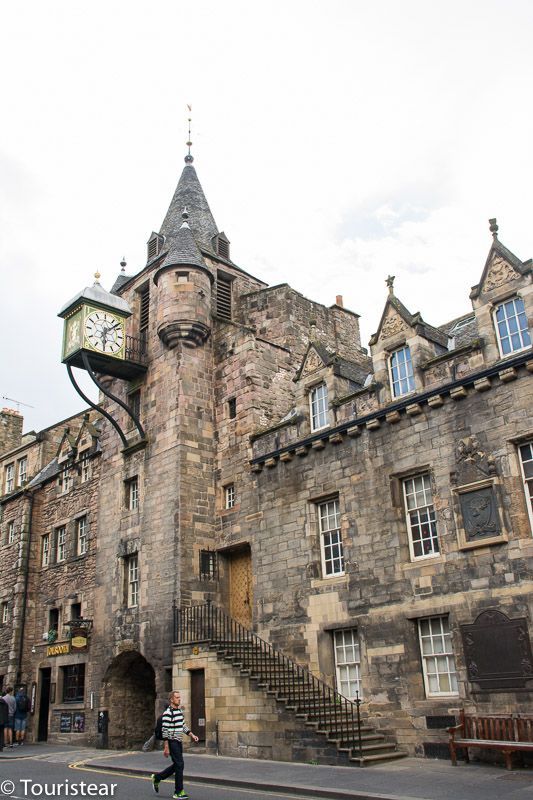 Until the nineteenth century, this area didn't belong to Edinburgh Scotland. This is the building where the administrative functions of Canongate were carried out, such as city hall, courts, prison, etc.
It currently holds the People's Story Museum, which you can visit from 10:00 to 17:00.
12. Holyroodhouse Palace
This is the Queen's official cottage in Scotland. You can visit the inside. Visiting hours are from 09:30-18:00 (March to October), but the last access is at 16.30. In winter, it closes at 16:30, and the last access is at 15:15.
If you've read Outlander books, you'll know that when they return to Scotland, Claire and Jamie stay for a few weeks here in the second book. It is also where Collum dies, and in the abbey next to the palace, Black Jack Randall reunites with Claire.
13. The Scottish Parliament
It is a few steps from the Palace of Holyrood. It's a building that does not stick with the rest of the Royal Mile as it is very modern and the old city of Edinburgh Scotland is totally medieval.
On the other hand, it's a site that I find interesting to visit, it is free, and there are guided tours.
14. Calton Hill
Calton Hill is Scotland's tiny Athens and one of Edinburgh's most famous hills.
It's the typical place to watch the Edinburgh Scotland sunset, the one you've seen in hundreds of photos.
In addition to the typical photo, you will find other Greek-style buildings if you walk around the park a little.
The National Monument, which is unfinished because of lack of funds, consists of 12 columns. We can also see the observatory and the Nelson Monument.
15. National Monument of Scotland
The National Monument of Scotland is located on Calton Hill. It's dedicated to the Scottish soldiers and sailors who died fighting in the Napoleonic Wars.
It is unfinished because of a lack of funds for almost 200 years. It consists of 12 columns and is popularly known as the Shame of Scotland. It has the appearance of the ruins of an ancient temple in Greece.
16. Listen to Live Music in One of Their Pubs
There are many pubs in Edinburgh Scotland, one more picturesque than the other. We listened to Lonely Planet and went to Sandy Bells. It is a small pub where you can find many local people, great beers, a good atmosphere, and lively music.
17. Drink One (or More) Pint(s) of Beer in Edinburgh Scotland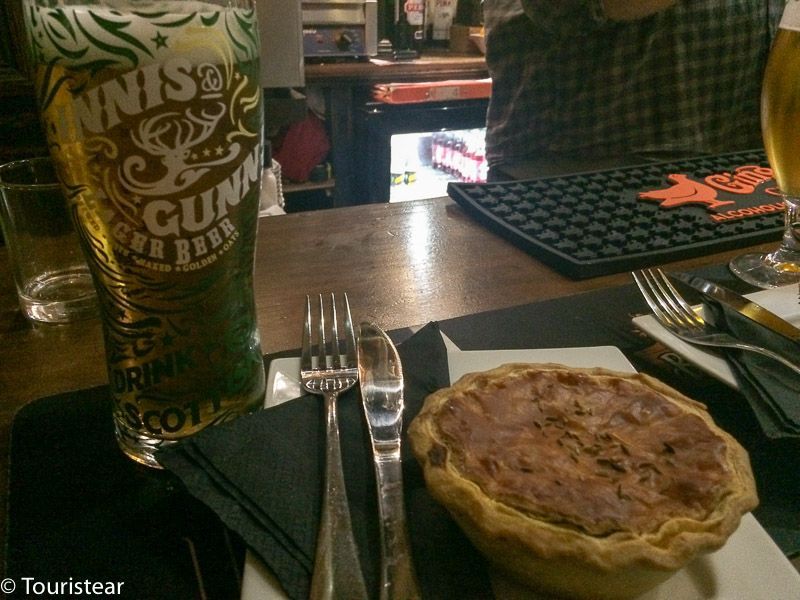 In addition to whiskey, there are some great beers in Scotland. And if you're in Edinburgh, you have to have a pint or two of some local beer; I loved the Innis and Gunn, it's an Edinburgh beer.
18. The Last Drop
The Last Drop. It is in Grassmarket where hangings were carried out in the past. It is said that here, in The Last Drop, they brought the prisoners for their last drink before going to the gallows.
What's more, they say there's a ghost of a girl who walks around the bar and the warehouse and wears medieval clothes. We didn't have the pleasure of seeing her. And you?
19. Grassmarket in Edinburgh Scotland
It is one of the most macabre places in Edinburgh, located in the Old City, at the foot of the Castle. And as I mentioned above, it has been the place where public executions were carried out.
Now, it's full of restaurants and pubs, so be sure to visit the Bow Bar which has won the award for best bar in Britain.
20. National Gallery of Scotland (Free Admission)
The National Gallery of Scotland is an art gallery that opened in 1859. It exhibits works from the Renaissance to Post-Impressionism, and we can see works by artists such as Tiziano, Velázquez, and Monet, among others.
It is located on The Mound Hill on Princes Street; it has a neoclassical style.
21. Stroll along the Water of Leith Walk in Edinburgh Scotland
The Water of Leith Walk is a walk along the Water of Leith River banks, Edinburgh's most important river.
It is beautiful to walk in the middle of nature, where we will also meet Dean Village, the Royal Botanical Garden, the Gallery of Modern Art, and more points of interest.
22. The Royal Botanical Garden (Free Admission)
The Royal Botanic Garden Edinburgh was created in 1670 by two physicians who grew medicinal plants. It was initially located in Holyrood, but in 1820, it was moved to its current location to escape the city's pollution.
General admission is free; you only have to pay to enter the greenhouses, which costs 5.50 euros, and there, you can see more than 2000 types of plants from different parts of the world.
23. Gallery of Modern Art (Free Admission)
The Scottish National Gallery of Modern Art preserves and exhibits Scotland's modern and contemporary art collections. It is composed of the Dean Gallery and the Gallery of Modern Art.
24. Dean Village in Edinburgh Scotland
Dean Village is a very picturesque village bordering the River Leith; it was founded in the 12th century by the monks of Holyrood Abbey.
In the 1960s, it became a decadent and poor place, but it gradually rehabilitated and became a much-desired place to live.
25. Scott Memorial in Edinburgh Scotland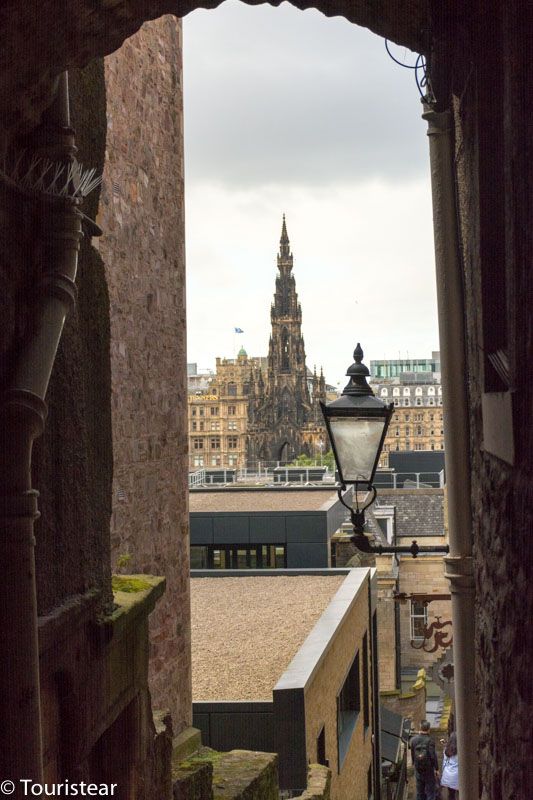 It is the monument created in honor of the writer Sir Walter Scott. It has a Gothic style and opened in 1846. After climbing the 287 steps, you will have wonderful views; the effort is worth it!
It is located on the east of the Princes Street Gardens, and the entrance is 5£.
26. Princes Street Gardens in Edinburgh Scotland
At the foot of Edinburgh Castle, we find these wonderful gardens. They are located where the North Loch (Northern Lake) was previously located.
The lake was drained, and in 1820 these gardens that separated the Old City from the New City were created.
If you go here for Christmas, you will find the Winter Wonderland, an ice skating rink, and the Christmas market.
27. Arthur's Seat in Edinburgh Scotland
In the heart of Edinburgh, we find the hill with one of the city's best views.
It is located in Holyrood Park, has a height of 251 meters, and is a very popular excursion. However, wear suitable shoes, especially to avoid slipping, and do not go in a hurry since reaching the top can easily take you an hour or an hour and a half.
28. North Bridge, the Bridge of Suicides in Edinburgh Scotland
Located above Waverley Train Station, the North Bridge connects New Town to the Old Town. Unfortunately, this bridge is known because of the high level of suicides that take place on it.
They tried to place different barriers to stop the suicides, and today there is a small poster with the Hope phone number…
29. Edinburgh Museum and The People's Story Museum
On the Royal Mile, these two museums tell us the history of Edinburgh and its people.
30. Canongate Cemetery
This former cemetery is located on the Royal Mile next to Canongate Kirk. The cemetery is from the late 17th century and has been used by the city's inhabitants for more than 250 years.
Here are resting some notable characters such as Adam Smith, the father of Capitalism. Accessed by the Church of Canongate.
31. Canongate Kirk in Edinburgh Scotland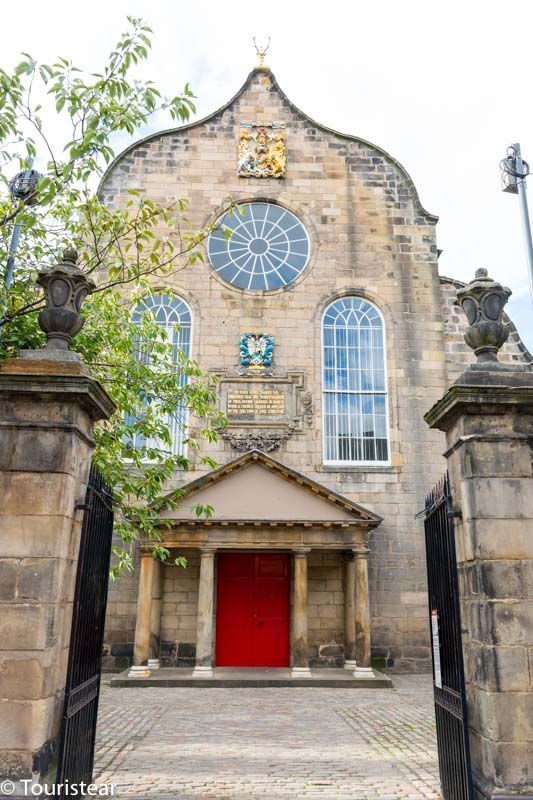 It is a church built in 1688 to house the faithful who were expelled from Holyrood Abbey. They say it's the Royal Family's favorite; moreover, they occupy the front-row seats when they're in Edinburgh as they have them already booked.
When you're walking the Royal Mile, you'll find this little red-door church.
32. Greyfriars Cemetery in Edinburgh Scotland
It is one of Edinburgh's best-known cemeteries, especially because of Bobby, the puppy who remained by his master's grave for 14 years.
It also inspired the grim cemetery scene of "Harry Potter and the Goblet of Fire," when Voldemort returns to his physical form and duels with Harry Potter.
33. Writers' Museum (Free Entry)
This museum is dedicated to Scotland's three most notable writers: Sir Walter Scott, Robert Burns, and Robert Louis Stevenson.
It is located in the Lady Stair Mansion of 1662, and, in 1907, it was donated to Edinburgh for use as a museum.
One of the most important objects we will find in the museum is the printing press and the dining table of Sir Walter Scott.
34. Gladstones Land
It was the home of a 17th-century merchant, and, in it, we can see what Edinburgh life was like more than 400 years ago.
It was built in 1550, and today, we can see 6 of its rooms where we can see everyday objects and decorations of the seventeenth century.
It was saved from demolition thanks to the National Trust of Scotland.
The entrance is 7£.
35. Dark Camera in Edinburgh Scotland
It's a system that projects the city's image with holograms, and 3D images on mirrors that deform these images. It is set in a tower next to Edinburgh Castle and has about 6 floors. It is ideal for going with children.
Admission: 15,50£.
36. Places that Inspired Harry Potter in Edinburgh Scotland
In Edinburgh, you will find many references to Harry Potter. They say many of his characters were born here in Edinburgh. For example, George Heriot's School inspired Hogwarts.
Greyfriars Cemetery, one of Edinburgh's best-known by Bobby, the puppy, inspired the grim cemetery scene of "Harry Potter and the Goblet of Fire" when Voldemort returns to his physical form and duels Harry Potter.
The cafes where J.K. Rowling wrote the books of the famous wizard, one of the best known is The Elephant House and Nicholson's Café, which is now called Spoon.
She ended the saga at the Balmoral Hotel; due to her fame, she couldn't continue to write the novels in the cafes for long.
37. Holyrood Park
It's Edinburgh's largest park. Here, you will find lakes, beautiful gardens, and hills, with about 260 hectares of extension.
It is located next to the Palace of Holyrood.
38. Free Walking Tour
There are many free walking tours in Edinburgh. They take you around to get to know a bit of the city, especially the most characteristic places, and if you liked the tour, tips are much appreciated.
You can book them online or right there (on the Royal Mile); you will usually see them with umbrellas or posters that advertise them.
39. Cramond Island Excursion
Less than 10 kilometers from Edinburgh city center, we find this curious island that can be reached on foot. However, before you go, you have to check the tides to be able to cross safely.
You can take a bus to the village of Cramond, located on the banks of the Firth of Forth.
40. Route Through the Places where Outlander was Filmed
If you're a fan of the Outlander show or the book series, you'll know that many things happen in Edinburgh, right?
To avoid spoilers, I leave you with some places where the third season of this famous series was filmed, and as I told you about the Outlander Film Locations in Scotland, I will also tell you some places in the books.
The Palace of Holyrood, Canongate Kirk, Carruber's Close, The World's End, Edinburgh Castle (book).
Places in the series: Tweeddale Court, Bakehouse Close (Jamie's Press), the stretch of the Royal Mile where the Canongate Tolbooth is but without the clock, Craigmillar Castle, and much more.
41. Visit Flea Markets
Do you like flea markets? In Edinburgh, you'll find weekly markets, usually on weekends, such as the Edinburgh Farmers Market and the Grassmarket Market, which opens on Saturdays, or markets that open daily, like the Royal Mile Market.
42. Enjoy Edinburgh Festivals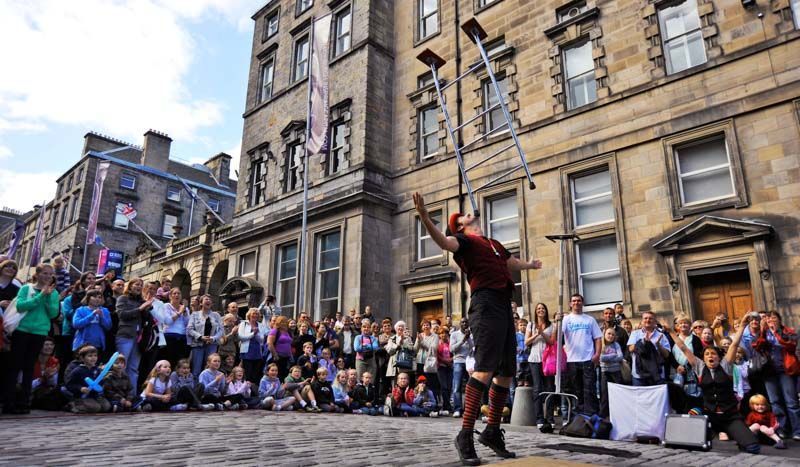 In Edinburgh, you can find festivals throughout the year, but the most famous one is the Fringe, which is held in August; if you are there this year, I'm sure we will cross paths.
Want to see the festivals throughout the year? Click this link.
43. Playing Golf
They say that golf was invented in Scotland, and the oldest golf club in the world is the Honourable Company of Edinburgh Golfers.
So, if you like this sport, you could practice it in the city that invented it.
44. Going to the Beach
Although the water is a little cold, you can go and get to know the beaches of Edinburgh.
Did you know that Scots dress up on January 1 each year and dip in the sea? It's a tradition I don't know if I'd dare go on…
You don't have to get in the water; you can just enjoy a day at the beach or sunset in Portobello; They say they are the best beaches in Edinburgh.
45. Meet the Newhaven Lighthouse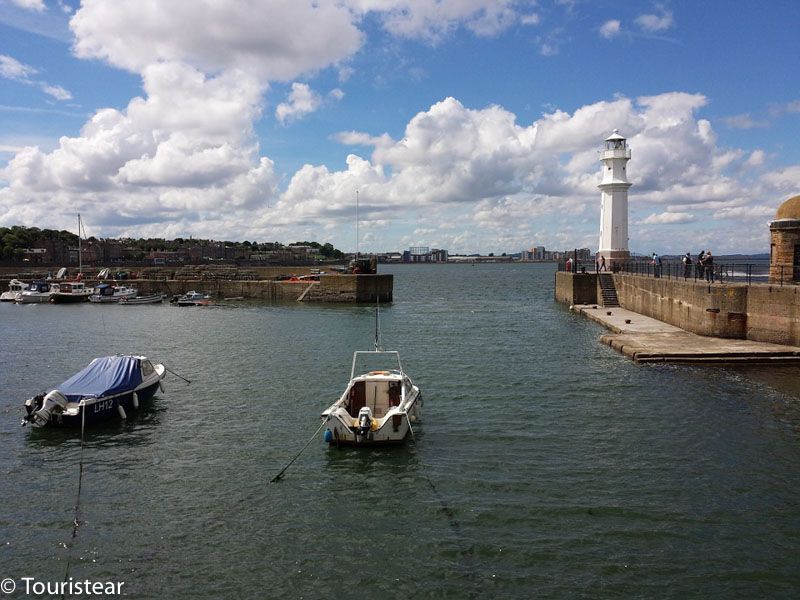 Newhaven is a fishing village, and the lighthouse owes its name to this picturesque village bathed by the waters of the Firth Forth. Definitely, a special place to enjoy the sunset.
46. Hiking routes
You'll find plenty of hiking routes if you're a hiking enthusiast. Climb its famous 7 hills:
Arthur's Seat,
Calton Hill,
Castle Hill,
Corstorphine Hill,
Craiglockhart Hill,
Blackford Hill,
Braid Hill, and enjoy nature within walking distance of this beautiful city.
One of Arthur's Seat's most typical routes is an extinct volcano found in Holyrood Park and is only 4.75km.
47. Royal Yacht Britain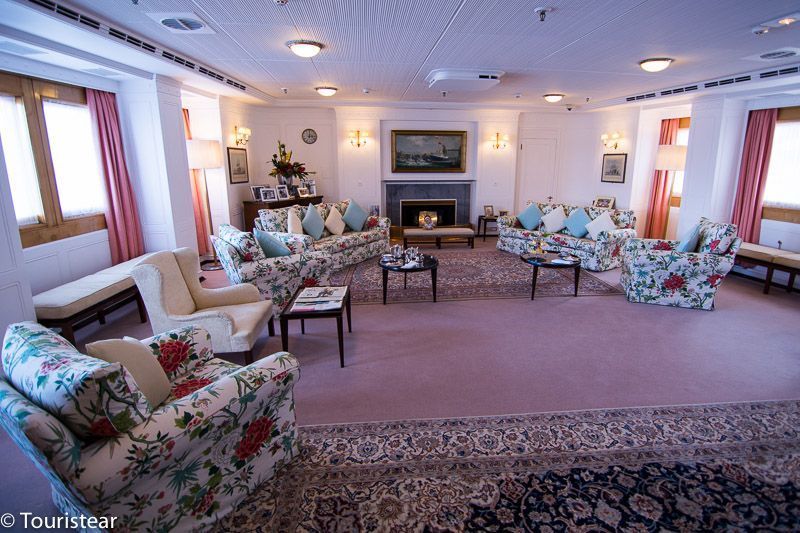 The royal family's yacht on their foreign travels from 1953 to 1997, which has retired. The decoration is from 1950 and gives you an idea of the tastes of royalty at that time.
It is located in Ocean Terminal.
48. Tour Bus
Edinburgh is a city to explore on foot, but if you want, you can use the hop-on-hop-off bus; it comes in handy for the farthest places you want to visit.
49. Edinburgh Guided Tour
If you want, you can tour Edinburgh with a professional guide for 3 hours; you will love this tour.
They tell you the history, legends, and curiosities of the Scottish capital in a pleasant and fun way.
50. Children's Museum (Free Admission)
It is the world's first museum dedicated to telling the story of childhood. In its collection, you can see toys and different games over generations. There are 21 rooms with more than 2000 objects inside.
It is a museum recommended for all ages, not just for children.
I hope you liked these 50 things to see and do in Edinburgh; it's one of my favorite cities. I hope you enjoy the city.
One recommendation: take it easy, don't try to see these 50 places on the weekend. Better to visit less and enjoy it rather than visit more and end up exhausted!
Brief History of Edinburgh, Scotland
Edinburgh is a city steeped in history and charm. Its story is like a tapestry woven with threads of ancient royalty, dramatic battles, and cultural richness.
The tale begins in the 7th century when King Edwin of Northumbria built the first settlement, giving Edinburgh its name. Centuries later, in 1124, it became Scotland's capital.
The iconic Edinburgh Castle, perched atop an ancient volcano, witnessed many royal dramas, housing monarchs and witnessing sieges.
The city's cobbled streets echo with the whispers of famous residents like Mary Queen of Scots, who added her own chapter to Edinburgh's story.
The Royal Mile, a historic stretch, leads from the castle down to the elegant Palace of Holyroodhouse, where the British monarchy still resides on visits.
Edinburgh's intellectual spark ignited in the Enlightenment era, birthing thinkers like David Hume and Adam Smith. The legacy of this intellectual fervor can be felt in its vibrant arts and culture scene.
Today, Edinburgh stands as a living museum, blending its storied past with a modern, cosmopolitan spirit.
Walking through its ancient lanes, you can almost hear the echoes of centuries gone by, a testament to the enduring allure of this remarkable Scottish city.
Travel Tips to Edinburgh Scotland
To make the most of your journey, here are 10 essential travel tips that will enhance your experience in this captivating city. From choosing the right time to visit to savoring local flavors, let's embark on a memorable Scottish voyage.
Best Times to Visit: Spring and fall offer pleasant weather and fewer crowds in Edinburgh. Summers can get busy, so explore in the morning or evening to avoid midday heat.
Comfortable Footwear: Edinburgh's historic streets, including the Royal Mile, are cobblestone, so wear comfy shoes for walking and exploring.
Accommodation Choices: Stay in a charming guesthouse or boutique hotel in the historic heart of the city for an authentic experience.
Explore by Bike: If you love cycling, rent a bike to explore Edinburgh's scenic surroundings, including beautiful routes along the coast.
Book Ahead: If you plan to visit popular attractions like the Edinburgh Castle or attend special events, it's wise to book tickets in advance.
Savor Local Cuisine: Sample traditional Scottish dishes at local restaurants and markets, like haggis, neeps, and tatties. Don't forget to try Scotch whisky!
Pack Layers: Edinburgh's weather can change quickly, so bring layers. Even in summer, a light jacket or sweater is handy for cooler evenings.
Cash and Cards: Credit cards and debit cards are widely accepted, but it's good to have some cash for smaller shops and eateries. ATMs are readily available.
Public Transport: Consider getting an Edinburgh Travel Pass for unlimited access to buses and trams, making it easy to explore the city.
Respect Local Customs: Be mindful of local customs and manners. Scots are known for their friendliness, so a warm smile goes a long way.
Where to Stay in Edinburgh Scotland
When it comes to where to stay in Edinburgh, you're spoiled for choice! For those seeking an affordable yet stylish option, consider CoDE Pod – The CoURT. It offers a unique pod-style accommodation that's cozy and budget-friendly.
If you're looking for something in the mid-range, Peggyslea Farm B&B is a charming countryside escape just outside the city. It's a perfect blend of comfort and affordability.
For a touch of luxury, Destiny Scotland – Broughton St Lofts is an excellent choice. These luxurious lofts offer all the comforts you desire, right in the heart of the city.
No matter your budget, Edinburgh has a place that will make your stay memorable and comfortable. Enjoy your time in this enchanting Scottish city!
How to Get to Edinburgh Scotland
Getting to Edinburgh, Scotland, is an adventure waiting to happen! If you're arriving internationally, Edinburgh Airport is your gateway. From there, you can take a taxi, tram, or bus to the city center.
Trains are another convenient option, with Edinburgh Waverley Station being a central hub. If you're in the UK, consider taking a scenic train ride.
Buses are budget-friendly and connect you to major cities. They offer a leisurely way to admire the countryside.
Driving is perfect for exploring Scotland's scenic routes. Remember to drive on the left side! Search for affordable rental cars in advance!
However you choose to travel, Edinburgh's history, culture, and charm await your arrival! Enjoy your trip to this enchanting Scottish gem.
How to get around Edinburgh Scotland
Once in Edinburgh, walking is the best way to explore the city center. Public buses are excellent for getting around, and there are plenty of taxis.
If you're heading out of town, public buses and trams are excellent. They'll take you to nearby attractions and beyond.
Taxis are readily available and convenient if you're in a hurry.
Plan Your Trip Near Edinburgh
Want to plan a tour around Edinburgh? check out these posts: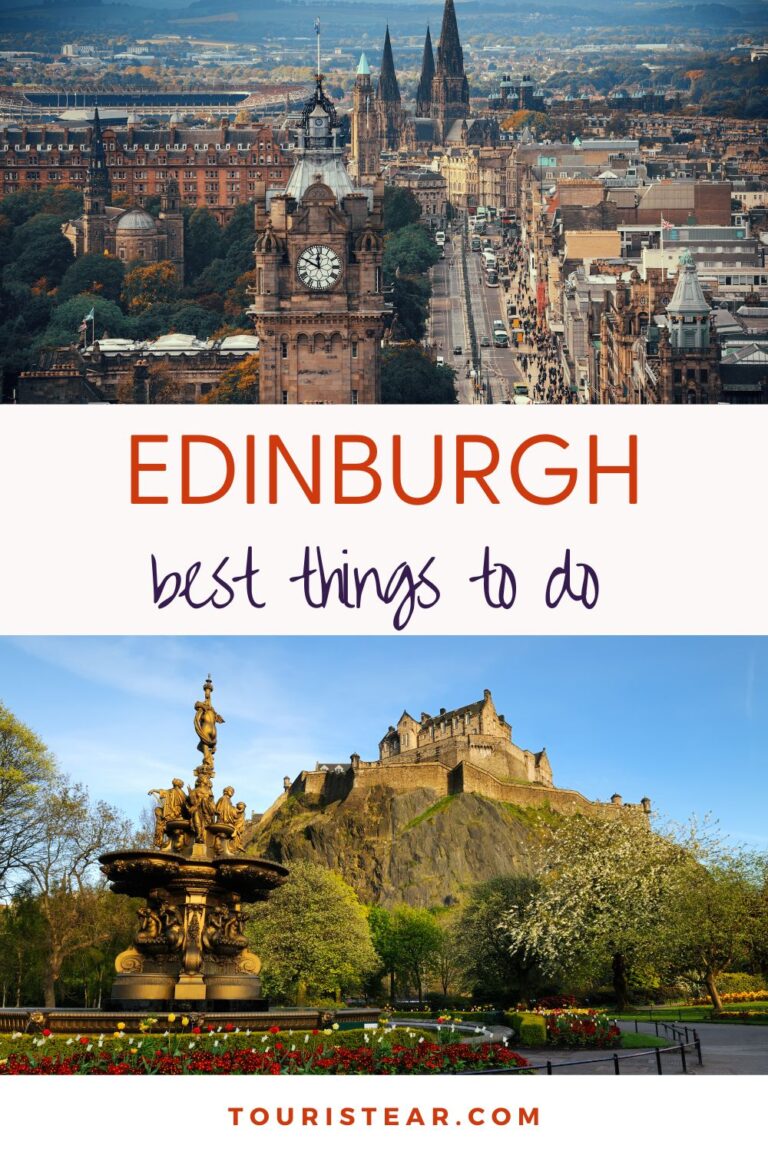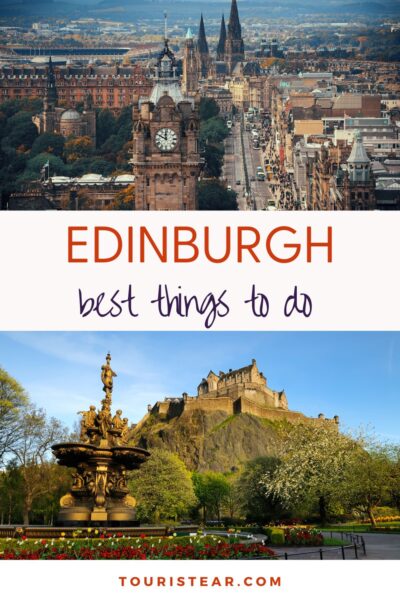 Last Updated on 8 October, 2023 by Veronica
Disclosure: Some of the links on this post are affiliate links, meaning at no additional cost to you, I may earn a small commission if you click through and make a purchase.
Author: Veronica
Vero, a seasoned traveler, has explored 25 countries and lived in five, gaining a rich perspective and fostering an infectious passion for travel. With a heart full of wanderlust, Vero uncovers the world's hidden gems and shares insights, tips, and planning advice to inspire and assist fellow adventurers. Join Vero and let the shared passion for travel create unforgettable memories.