Aberdeen, the granite city in the north-east of Scotland will surprise you. Many travelers visiting Scotland pass by and do not even include this area on their journey. But we certainly loved it, the people we met were wonderful and the surrounding area was worth a visit.
When to travel?
The best date to go, not only because of the weather, is in June and July. In these months the port of Portsoy is filled with classic ships during a festival called Scotish Traditional Boat Festival.
If you like whiskey you have to go in September there is the Dufftown whisky and music festival.
If you want to spend a different New Years Eve, you have to travel during Hogmanay (New Year's Eve) and watch the fireball ceremony at Stonehaven. Very close to where Dunnottar Castle is located. And you get there very easy by car.
What to see in Aberdeen in a day?
Aberdeen is a very prosperous Scottish city with a lot of history. Before turning to oil, it had a very important commercial and fishing port. Romans have come here and the Vikings ransacked it. They have manufactured paper, rope, textiles, wool, furs, in the nineteenth century became the main fishing center of herring.
Since 1970 it has been engaged in the marine oil industry and is the least unemployment city in the country. It is certainly a city of entrepreneurial people, who do not stand still.
The city of Aberdeen could be divided into four areas: the town centre "Castlegate", Old Aberdeen, the beach and the harbour. In each of these areas we will have interesting things to visit.
Read: A Day at the Highland Games
The city centre
In Aberdeen's city centre you have to stroll around Union Street, which is the main street and where you can see Victorian granite buildings.
Castlegate is the oldest area,here was the castle that Robert Bruce snatched from the English. The password was "Bon Accord", today it is the motto of the city.
Mercat Cross was where the old heart of the city was. Here kings were proclaimed, you will see sculpted the portraits of the Stuart monarchs. In 1715 here he was declared king "the old Pretender" James Stuart or James Stuart, it is a very important place for the Jacobites.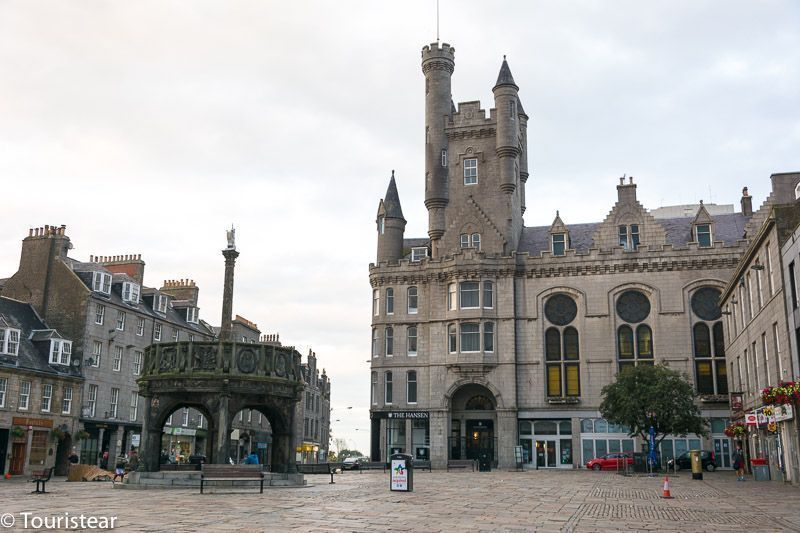 Salvation Army Citadel,a few meters from Mercat Cross we find this granite giant that was designed as balmoral castle. Here was formerly Aberdeen Castle, which was destroyed in 1308. It is now a Protestant church and an international charity.
More info: https://en.wikipedia.org/wiki/The_Salvation_Army
Provost Skene's House,in front of St. Nicholas Church we found the house of Sir George Skene, which was the "provost" of the city, would become something of a mayor.
This house built in 1545 has undergone several modifications. Today it is a museum of local history and can be visited for free.
St Nicholas Church. The official name is "Kirk of St Nicholas Uniting" although it is also known as "The Mither Kirk".
The first document on the church is from 1157, although it has undergone many modifications over the centuries. For example, the granite needle dates back to the 19th century.
St Mary's Chapel. He's got a bit of an ominous past. It was built in 1400 and in 1597 a metal ring was placed on the wall to chain the alleged witches. 23 women and 1 man were held there before they were executed.
Aberdeen Maritime Museum. Here you will find a three-story museum with the maritime history of the city of Aberdeen and about the oil industry. It is located in a replica of a North Sea oil rig. It can be visited for free.
Marischal College. It is a historic Gothic-style building that was founded in 1593 and has merged from 1860 with King's College (founded in 1495) to create the University of Aberdeen. It is currently home of the Aberdeen City Council.
Old Aberdeen
Its name may lead to confusion, as it derives from a Gaelic word "Aulton" meaning riverside village, but over the centuries in the 1600s derived in Old Town. But let's be clear, the Castlegate area is the oldest in town.
Here we have to see King's College Chapel, Old Town House and St Machar Cathedral.
Tell me, you know Aberdeen? What are your recommendations for a future traveler?
How to get to Aberdeen?
By plane: The most normal way to get to Aberdeen is by plane, cheap flights depart from different places in Spain as well as from other places. If you are going to stay in Aberdeen for a weekend, you can rent a car to explore the surroundings. You shouldn't miss The Dunnottar Castle which is 60km away.
You can also get to Edinburgh or Glasgow by plane, rent a car and go road trip.
By car: We arrived by car in Aberdeen as part of our road trip through England and Scotland.
In our case we came from Inverness touring the Speyside, more or less following the whisky route and visiting amazing castles.
Prepare your trip to Scotland
Book Your Trip
Book Your Flight
Find a cheap flight by using Skyscanner.
Book Your Accommodation
You can book your hostel, hotel or apartments on Booking.com.
Don't Forget Travel Insurance
Travel insurance will protect you against illness, injury, theft, and cancellations. It's your protection in case anything goes wrong. You never go on a trip without it.
Best companies for activities
Check out Civitatis.com and find the best tours in English (French, Spanish and Italian)
Looking for the best companies to save money with?
Check out my resource page for the best companies to use when you travel! I list all the ones I use to save money when I travel – and I think will help you too! (Is in Spanish yet)
We are not native English speakers but we have decided to translate our post to English so we can share it with the whole world. If you see any spelling mistake or something, please let us know, it is so important to us. If you do so, we can improve our post and also our English knowledge! Thanks in advance!!!
In this post you may find affiliate links. This means that if you make any purchases by clicking on one of them, I will take a small commission, but you are not increased by the price. Why are we doing this? Because it helps us to keep this project running and to continue creating useful content for your travels. Thank you so much for the support!