The Best Things to do in Nice in 1 or 2 days
On our road trip through the south of France, we visited the city of Nice, the capital of the Côte d'Azur.
I honestly did not have a city among my priorities on this trip, but that surprised me pleasantly, and where I ended up looking forward to staying in longer.
One day in Nice was too short! There are many things to do, which is one Must-See in this fantastic city.
What to See and Do in Nice in 1 or 2 days?
In this article, I will tell you everything we had time to visit in Nice during our one-night and one-day trip and what we have left pending for an upcoming visit. Let's start!
Best Things to Do in Old Nice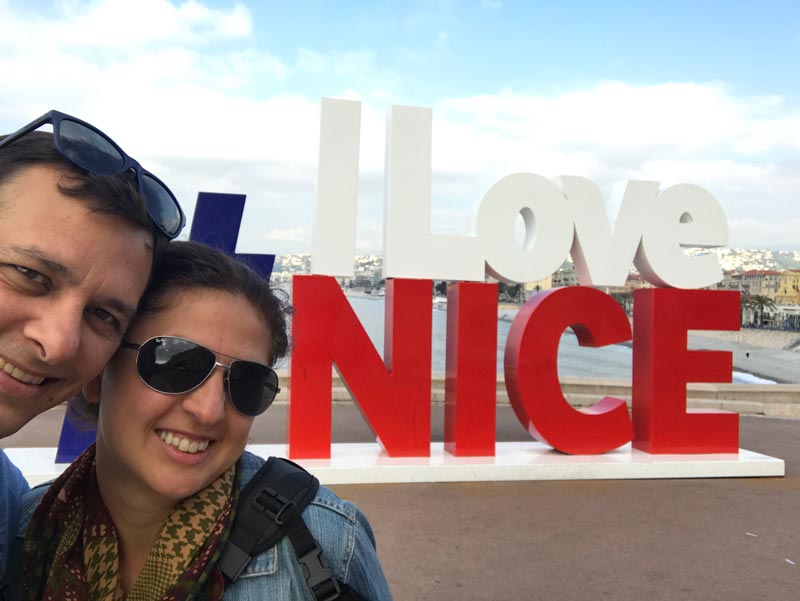 We arrived at the Old Nice in the afternoon and parked the car on the street about 100 meters from our accommodation in the center of town. We were fortunate to leave the car, as there was a lot of traffic during this time.
We checked in to our hotel, rested for half an hour, and then went for a walk.
The old town area of Nice has beautiful alleys with colorful houses, buildings, and churches in Baroque style.
The flower market and then a few steps farther, can also see the Promenade des Anglais with luxury hotels overlooking the sea. In addition, plenty of quaint bars and restaurants where you can dine or have a drink.
Of course, Nice has a wide variety of museums and beaches.
Top Best 11 Visits in Nice You Have To Do
Massena Square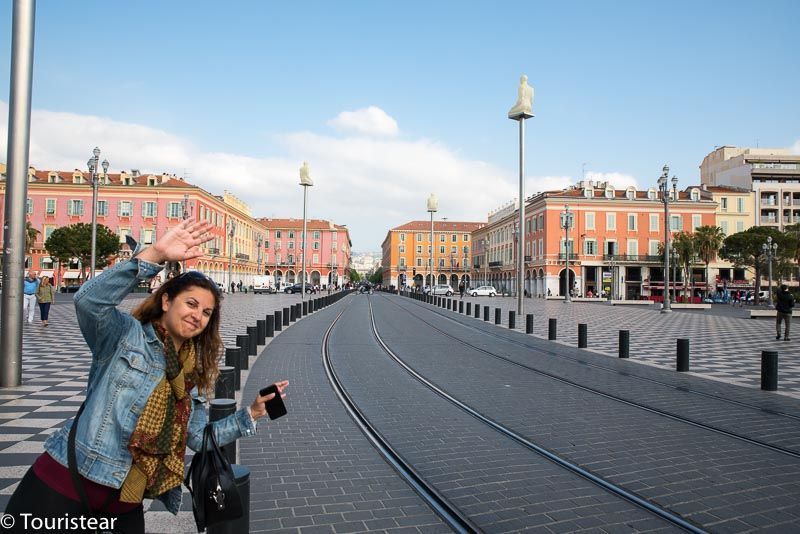 On both sides of Massena Square, you'll find beautiful gardens to rest in or just to enjoy the walk. On one side are the Gardens of Albert I, and on the other, the Promenade du Paillon.
Massena Square is Nice's main square. It's an ideal place to go shopping or to have a drink in its quaint cafes (or make a fool of yourself in a photo, hehe). Whatever you want.
TIP: Discover Nice with a free walking tour.
Seven statues of men kneeling, representing the seven continents, are supposed to be chatting. They are a work of the Catalan artist Jaume Plensa called "Conversation in Nice."
At night these pale sculptures are illuminated in addition to the fountain of Apollo, giving the square a particular atmosphere.
Albert I Gardens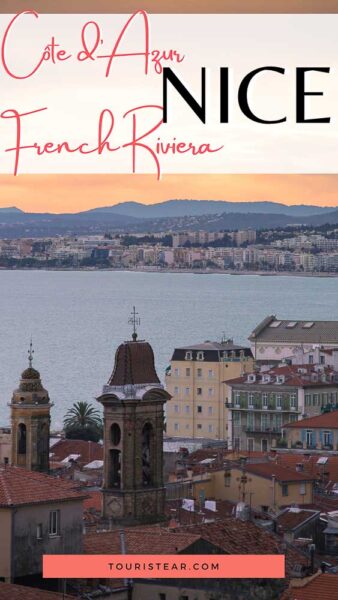 These beautiful gardens were built in two different periods and only extended to Massena Square at the end of the last century.
The essential thing to see in this park is the Bernar Venet Arch, a gigantic sculpture in the garden center.
Promenade du Paillon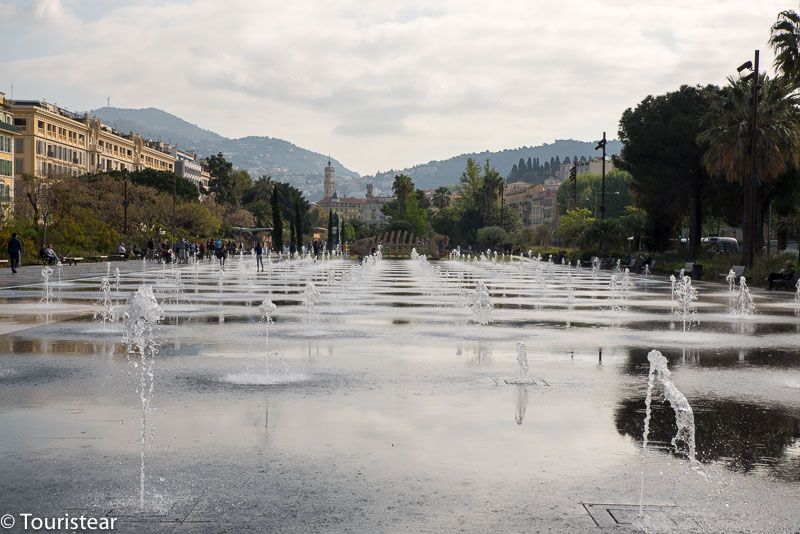 Following our walk through these beautiful gardens of Nice, we found the water fountain in the Promenade du Paillon Park.
It's a nice place to walk or play with the water jets coming from the ground. And it's a must-visit place in Nice.
Nice Opera House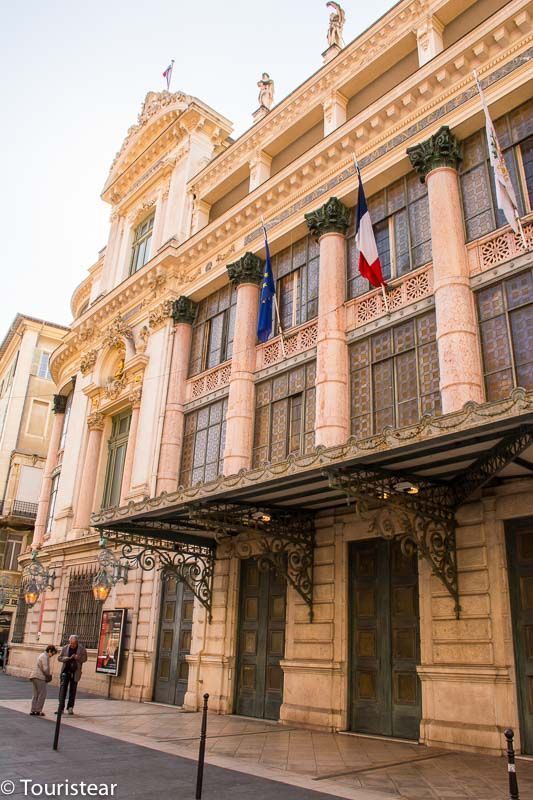 In the old town of Nice, you have to visit the magnificent building known as the Nice Opera House.
It has more than 1000 seats in which you can enjoy different shows such as opera, ballet and classical music concerts, which vary according to the season.
The building we see today is the reconstruction carried out in 1885, which the model of the Paris Opera inspires. Unfortunately, the original building suffered a fire in 1881.
Address: 4-6 Rue Saint-François de Paule
Cours Saleya Flower Market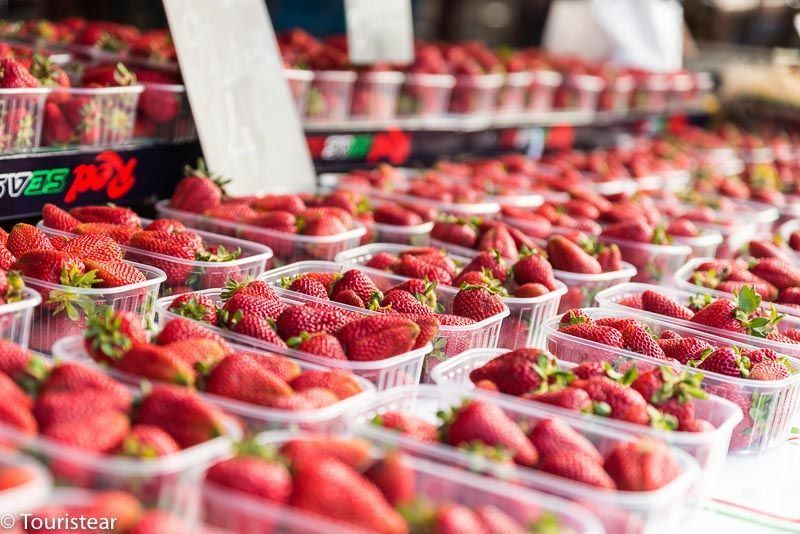 I could say it's one of the most beautiful markets I've ever seen. We arrived early in the morning, and they were still preparing some stalls, but almost everyone was ready for the visitors to enjoy them and, of course, do some shopping.
The Market of Flowers of Cours Saleya is very colorful and lively. There are many flower stalls of all kinds, so it's a market that smells great. In addition, we can also find handcrafted soaps from Provence, super yummy fruit, fish, and vegetables.
What I liked most about this market, besides its color, was its order and cleanliness; everything seemed to have been placed harmoniously.
St. Reparata Cathedral
The Cathedral of Santa Reparata presides over Rossetti Square. Its full name is Cathedral Basilica of Santa Maria y Santa Reparata. It is also known as the Cathedral of Nice. It was built in 1650 in honor of the city's patron.
This Baroque-style cathedral, declared a historical monument in 1906, would not leave you indifferent.
After your visit, you can take a drink in the restaurants and bars of the square; they are all very picturesque.
If you want to visit more churches, these are some of the best-known:
Chapel of Mercy, Abbey of Saint Pons,
Church of the Holy Trinity,
Church of Saint Pierre de Arena,
Church of St. Jacques-le-Maggiore
Church of Saint-François.
Lascaris Palace
This palace is in Baroque style, and located in the heart of Niza is the beautiful Palais Lascaris. It was built in the 17th century by an architect of the same name. Inside, you can enjoy permanent collections, including the history of Nice.
Admission is 10 Euros
Promenade des Arts
You'll continue visiting Nice along the Promenade du Paillon and arrive at the Promenade des Arts (or the arts). Here you will find another beautiful park and the Museum of Modern and Contemporary Art.
Different cultural activities are usually held on weekends. You can make your way on foot or by bike (there is a cycling path) and get to know the city more closely.
Castle Hill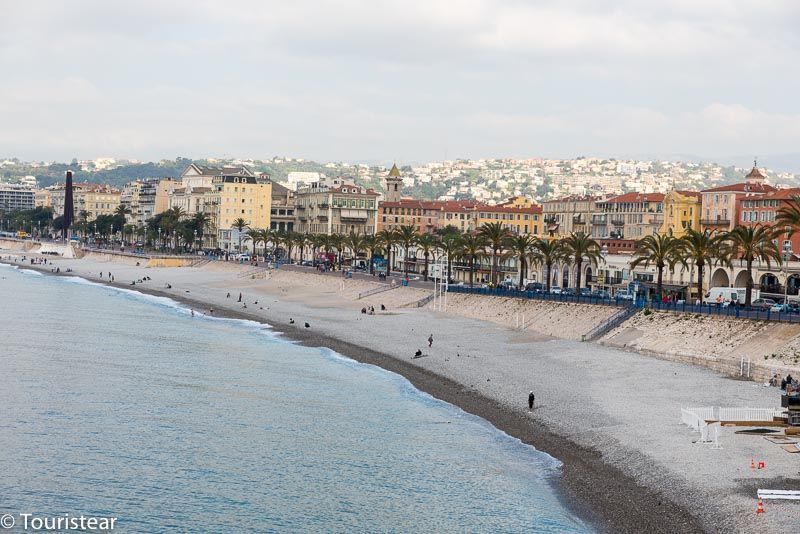 Little remains of Nice's old castle. The most exciting thing on the climb to the old castle is the viewpoints and two small cemeteries, one Jewish and one Christian.
From the viewpoints, at different heights, you can contemplate the beautiful views of the capital of the Cote d'Azur.
The Promenade des Anglais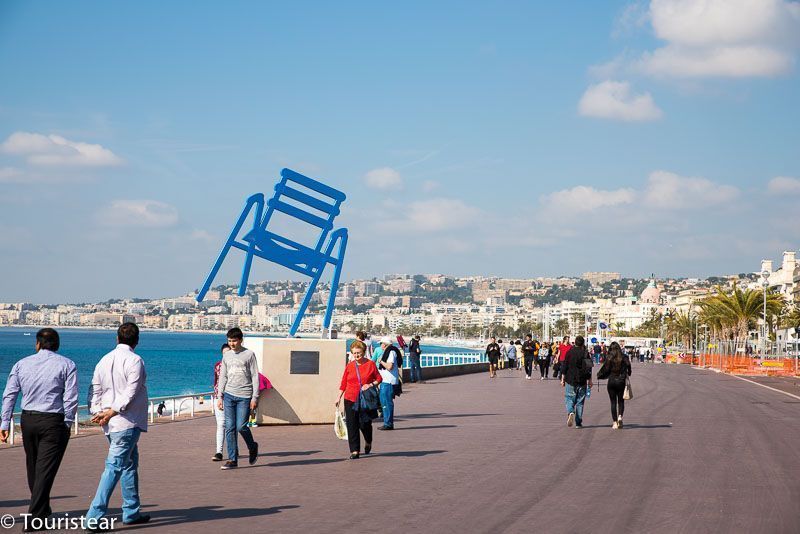 The Promenade des Anglais (Walk of the English (in English)) is the promenade that borders Nice's coast.
It is an ideal place to go skating, cycling, or just take a walk and see some of Nice's tourist sites, grab a drink in front of the sea, or take a dip in its incredible crystal clear waters.
On the Promenade des Anglais, you will find a chair on which everyone takes photos, the Hotel Negresco with its VVIP area on the fifth floor; VVIP is the acronym for very, very important people.
It contains its own private beach, and the building is magnificent architecturally speaking.
St. Nicholas Church in Nice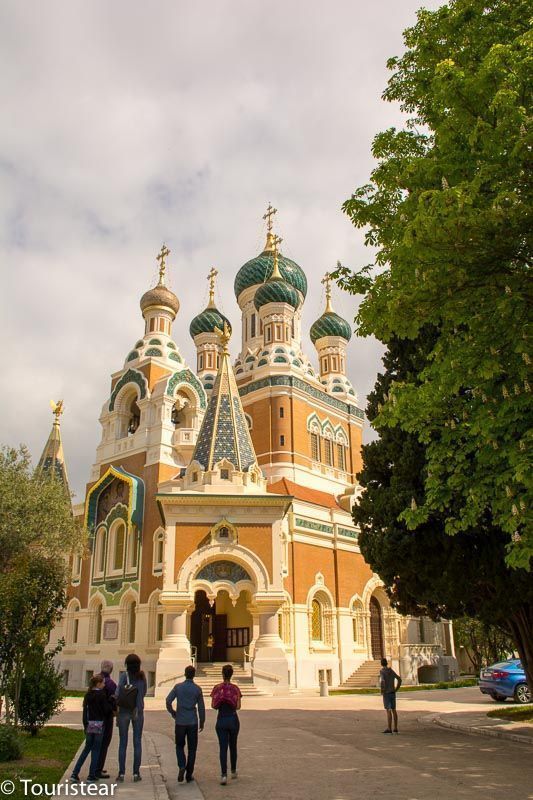 One of the most curious buildings in Nice is the Church of St. Nicholas, a Russian Orthodox church that reminds us of St. Basil's Cathedral in Moscow.
When we arrived, they celebrated their religious ceremony so we couldn't visit the inside, but you can visit for 3 euros, obviously not when worship is.
To get to this Russian Orthodox church in Nice, we went by car. It's on Nicolás II Avenue.
Nice Sightseeing Bus
If you have arrived by plane or simply parked your car well and do not want to move it, the tour bus is a convenient way to visit Nice attractions.
The 1-day ticket costs 22 euros and the two-day ticket costs 25 days, and you can go up and down wherever you want, plus they will give you the typical headphones where you can hear a little about the history of Nice and what you see at that time in English.
If you want to buy your ticket for the tour bus, you can click on this link where in addition to being able to buy the ticket, you can see all the stops it makes and more information in case you need it.
Nice: Monaco and Monte Carlo Tour
If you want to take a tour of the French Riviera, either because you are coming on a cruise or on your own, this is an excursion that may interest you.
The tour lasts 6 hours, where it begins by picking you up at the port of Nice and accompanying you with an English-speaking guide. The price is 28 euros per person. Buy your tour ticket here.
Beware, if you want to go to Monaco in your car, you have to know the parking price, it is about 3.5 euros an hour.
Recommendations
Furthermore, the route around Les Corniches begins in Nice. There are three scenic routes linking Nice with Menton.
Each of them goes at a different level; you have the Basse Corniche, which goes at sea level, the Moyenne Corniche in the middle, and the Grande Corniche, probably the most famous and fantastic views.
Museums to Visit in Nice
If you are going well on time and you like to visit museums in Nice you can find:
the Matisse Museum, dedicated to the French painter Henri Matisse,
the MAMAC Museum of modern art and Contemporary Art,
Museum of Human Paleontology and
Museum of Marc Chagall, among others.
Where to Eat in Nice?
Le Café de Turin
If you like oysters you have to go to Le Café de Turin, we were recommended and told that people from all over the world are coming to eat there. They also serve snails and other seafood.
Street: 5 Place Garibaldi
Ma Nolan's Irish pub
This is where we ate after the oysters (we don't love oysters, you can imagine). So yes, we went to an Irish pub and ate Irish pub food, with a good pint(s) of beer. We really had a great time, and the food was excellent.
Fennocchio ice cream parlage
It is the most famous ice cream parlor in Nice; here, you will find both locals and tourists ordering their favorite ice cream.
It is located in Rossetti Square, a few steps from the Santa Reparata Cathedral.
Where to Sleep in Nice
In Nice, we stayed in an apartment two blocks from the Promenade of the English. The apartment is from an Italian couple living in Nice.
We made the reservation through Booking; if you want, you can click on the link and see the prices for your travel dates.
Plan Your Trip to the South of France
Stretch from Perpignan to Castelnou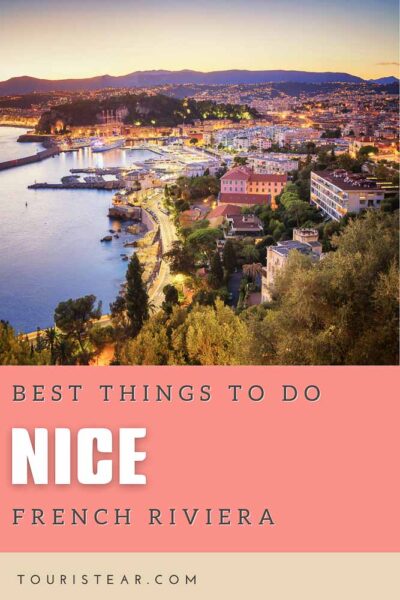 Last Updated on 9 October, 2023 by Veronica
Disclosure: Some of the links on this post are affiliate links, meaning at no additional cost to you, I may earn a small commission if you click through and make a purchase.
Author: Veronica
Vero, a seasoned traveler, has explored 25 countries and lived in five, gaining a rich perspective and fostering an infectious passion for travel. With a heart full of wanderlust, Vero uncovers the world's hidden gems and shares insights, tips, and planning advice to inspire and assist fellow adventurers. Join Vero and let the shared passion for travel create unforgettable memories.