10-day Road Trip on France's Cote d'Azur
Are you planning to visit the Cote d'Azur? It's a nice road trip through the "Blue Coast" on the South of France. Here, we tell you the itinerary that we do, the towns and cities we visited of the French Riviera, what can you see, where to stay, curiosities and more. Let's start!
10-Day French Cote d'Azur itinerary
This is a post we want to write about our trip on the Cote d'Azur (Blue Coast of France) and the south of France for invited you to visit these awesome places. We have some post with information about the destinations, such as the most beautiful villages of the South of France first and second part, Marseille, Nice, etc.
In today's post, we tell you the itinerary that we follow to give you an idea to plan the trip to this beautiful French area.
Madrid – Girona – Peratallada
We made this road trip leaving Madrid, we did our first night in Girona, visited some friends, walk Peratallada and the next day we started in Perpignan.
Girona is a city that we love, we already visit it on other trips, but if you do not know it and want to dedicate a day to tour it, we leave this post with the essentials of Girona, what to see and visit.
You can start in Barcelona or Marseille, rent a car and follow the coast line.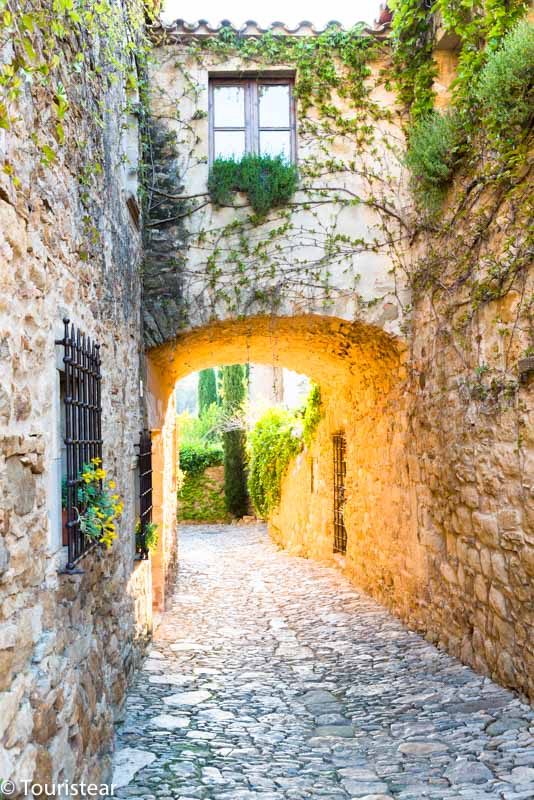 Peratallada, we visit this little town and we fell in love. It looks like as a medieval tale village. It is very close to Girona, you can visit it in a morning or an afternoon. We did it in the afternoon and took the opportunity to dine over there.
We stayed on the outskirts of Girona because it was cheaper and is next to the road that takes us to Perpignan.
Perpignan – Castelnou
The next day in the morning we start early, and start the road trip to Perpignan. Perpignan was our first stop, it is a very nice city, it walks very easily on foot. The must-see places are Casa Xanxo, the Loge de Mer, the Cathedral of Sant Jean Baptiste, the cemetery and chapel of the funeral home, the Castillet and the Pairal House which is also the museum of Catalan folk arts and traditions, or the city walls.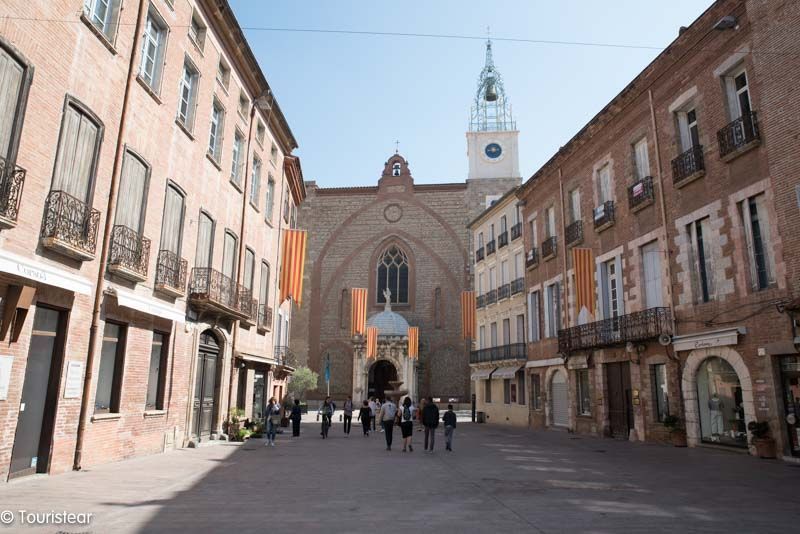 The next stop is Castelnou, about 20 kilometers from Perpignan. It's a charming town where time seems to have stopped. Ideally, let yourself be carried away by its alleys and visit the castle.
Learn more about Perpignan and Castelnou in this detailed post of this beautiful stretch through the South of France.
This day you can sleep in Perpignan if you don't want to do many kilometers, or in Carcassonne, which is the next visit day.
Lagrasse – Carcassonne
Lagrasse is one of the most beautiful villages in France and is very close to Carcassonne. The landscape around this village is spectacular, it is surrounded by vineyards and hills. When you arrive at the village it seems that you have retreated five centuries, enjoy its medieval architecture and some wine if you do not drive 😉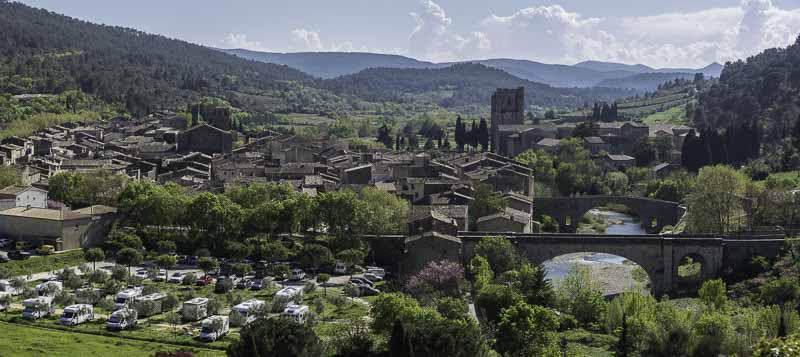 Carcassonne is a city with a fairytale castle, a Disney castle. Our recommendation is that you walk around the citadel and at sunset look for a good place to enjoy the golden colors that the stone takes. A good place is the bridge over the Aude River.
Read on about Lagrasse and Carcassonne in this post.
Minerve – St Guillem le Desert – Montpellier
Minerve is a beautiful little village in the south of France. Hidden and surrounded by a natural canyon resulting from the erosion of limestone caused by the Brian River. When you're coming you can get an idea of the stamp, and it gets better as you get closer. It has a parking at the top of the village that although it is paid, is cheap and from there there there are 3 minutes walking. It's the most comfortable thing.
St Guillem le Desert is one of the villages we visited that I liked the most, I do not know if because it was raining and that gave it a special atmosphere or because it is tucked into a valley surrounded by green mountains or both at the same time! The truth is that it is a charming, quiet village, ideal to have a drink and walk its medieval streets with tranquility, even if it rains.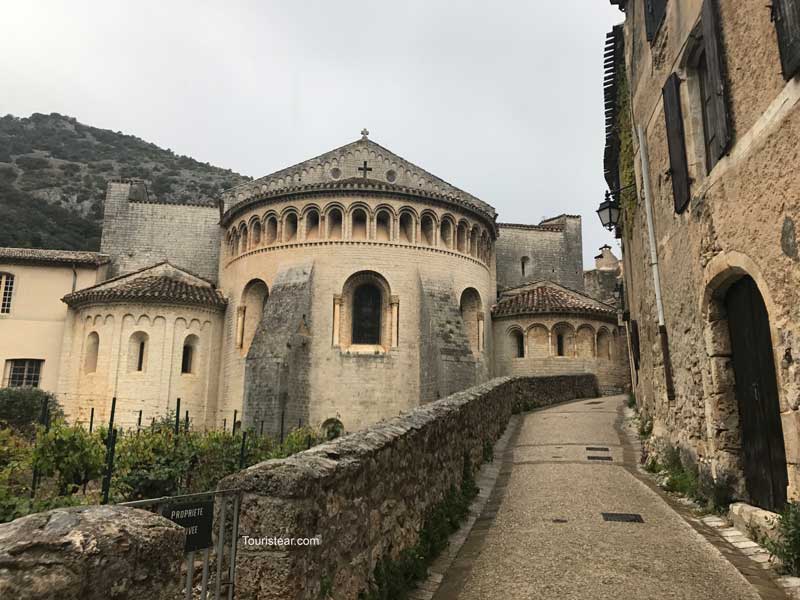 Visit the most beautiful villages in the south of France check this link.
Montpellier. We arrived quite late in Montpellier, so this day we only took a walk and had dinner. The next day we dedicate all morning to visit it. I think we fall short of time, I think it deserves at least a whole day.
Montpellier – Nimes
Montpellier is a city that was born many centuries ago, because of the need to have a sealess city that pirates can't attack.
It is an easy city to visit, as most of its tourist attractions are close by. As I was saying, we dedicated a day to visit it and we found it short time, so if you can, spend at least 1 day and a half or two.
The places not to be missed in Montpellier are: its historic center with 17th and 18th century palaces, Place de la Comédie, the Teatro de la Comédie, the Arc de Triomphe, st Pierre Cathedral, the trendy District of Antigona, stroll through its medieval alleys, have a drink on a terrace.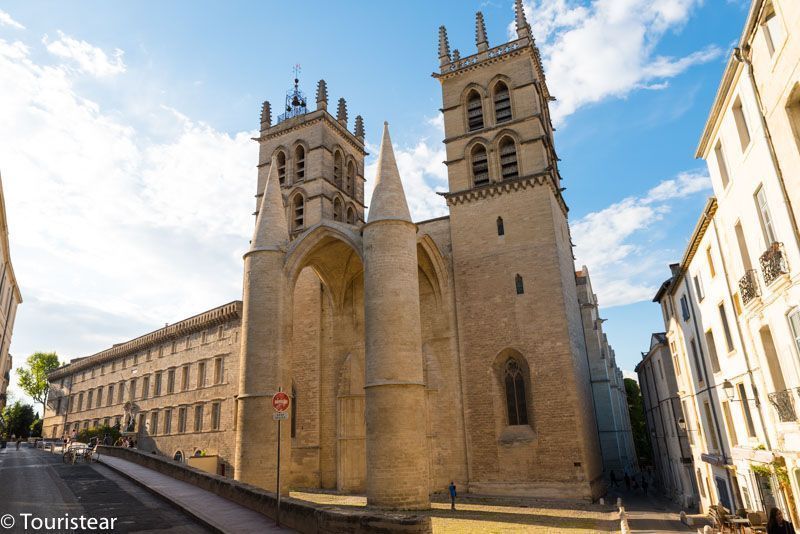 More info from Montpellier: https://www.la-provenza.es/montpellier
Nimes is a city with Roman past, and to show it we have its amphitheatre "Les Arenes" the best preserved in the Roman world and certainly an essential visit when you visit Nimes.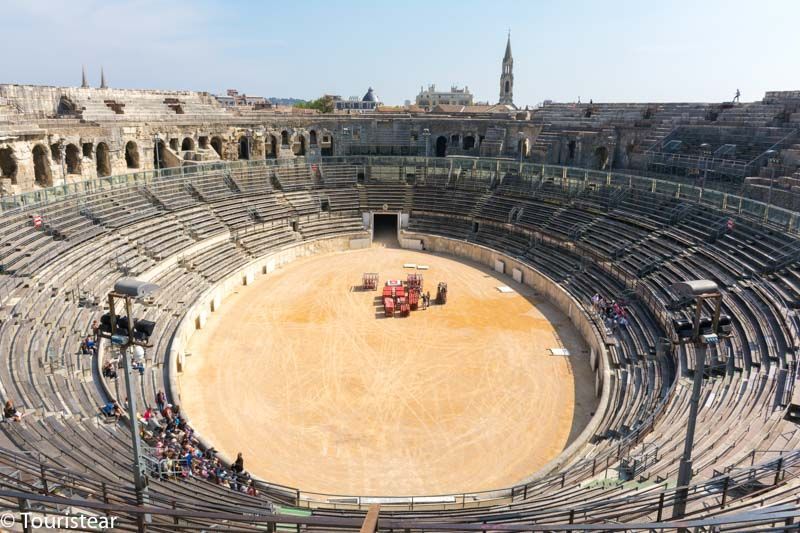 During the Middle Ages, this coliseum was used for various purposes, from being a fortress, place of refuge, to having houses, a chapel and the castle of the Viscounts of Nimes inside. It was not until Napoleonic times that the Colosseum of Nimes regained its original appearance.
In Nimes you have also to visit the Maison Carrée. It was a temple built in the early 1st century in honor of Cayo and Lucius Caesar. The construction was part of the forum, economic and administrative center of Nemausus.
Today, despite the destruction of the forum, the environment has been suitable for it. Norman Foster, in 1993 remodeled the entire square and built the Carrée de l'Art, an avant-garde cultural centre opposite. The temple rises on a plinth allowing it to gain visibility, aided by the absence of buildings nearby.
Stretch between Orange – Avignon
Two other visits that deserve more time, we thought that because of its closeness we could see everything, but no. So based on our experience they deserve at least one day each.
Orange. What is most striking about Orange and its great tourist attraction is the Roman Theatre, which is a UNESCO World Heritage Site. You can visit with audio guide, the visit lasts at least an hour.
In addition to the Theatre, you can visit the Arc de Triomphe, the Cathedral, the Museum of Art and History.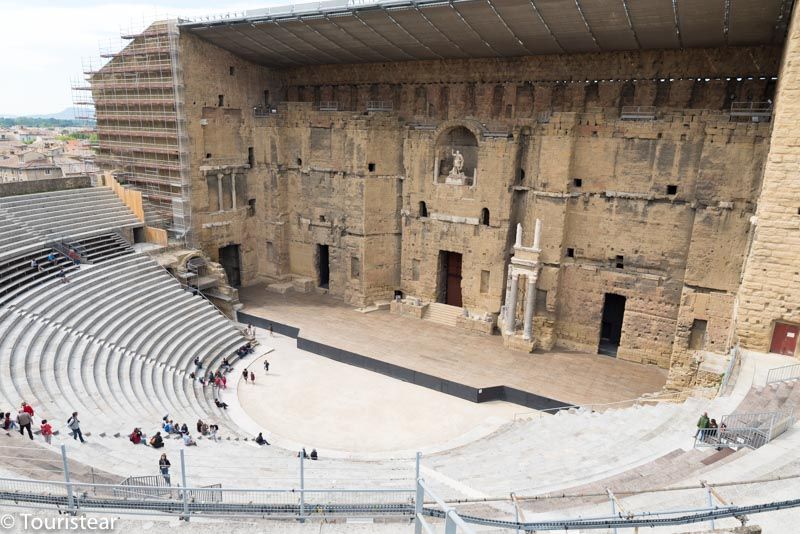 Avignon, the city of popes. Located on the banks of the River Rodano, Avignon became the capital of Christianity in the Middle Ages, seven Popes resided here. You can see the Palace of the Popes, the St Bénezet Bridge (the Avignon Bridge of song) and its walls, all this is a UNESCO World Heritage Site.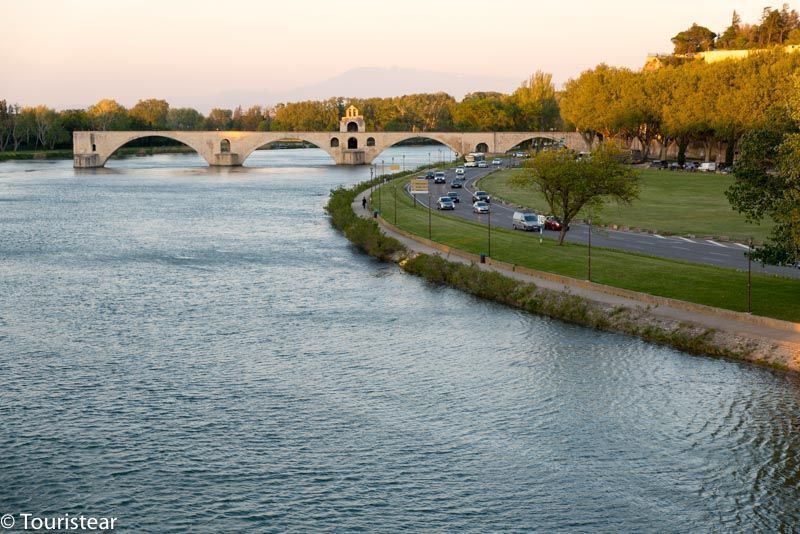 Best things to do in Marseille
Marseille with more than 2600 years of history is a city we loved. Ideally, you should dedicate to Marseille at least two days, you have a lot of things to do and visit. In addition, if you go in summer you have to take advantage of its beach and enjoy its crystal clear waters.
The must-sees of Marseille I have the best things to do in Marseille in this post. But in short you have to visit the fish market, the old port of Marseille, Le Panier, Soap Museum and factory, the Lighthouse Palace, the Island of If and the Count of Montecristo, the Basilica of Notre-Dame de la Garde, Les Goudes, etc.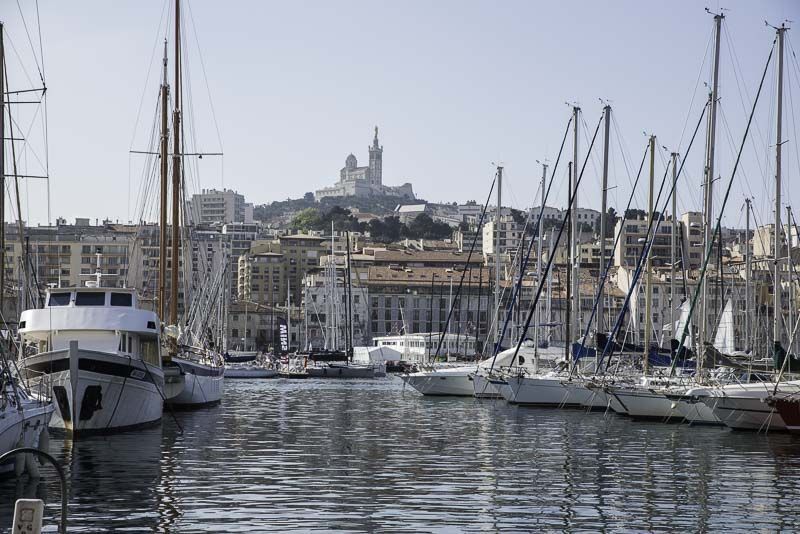 St Tropez – Cannes
St Tropez and Cannes are two very picturesque towns on the Cote d'Azur. The first famous for its elegant and colorful port and the second by the Film Festival.
In St Tropez you have to start the visit at the port. It's where life unfolds, there are restaurants and the buildings are colorful.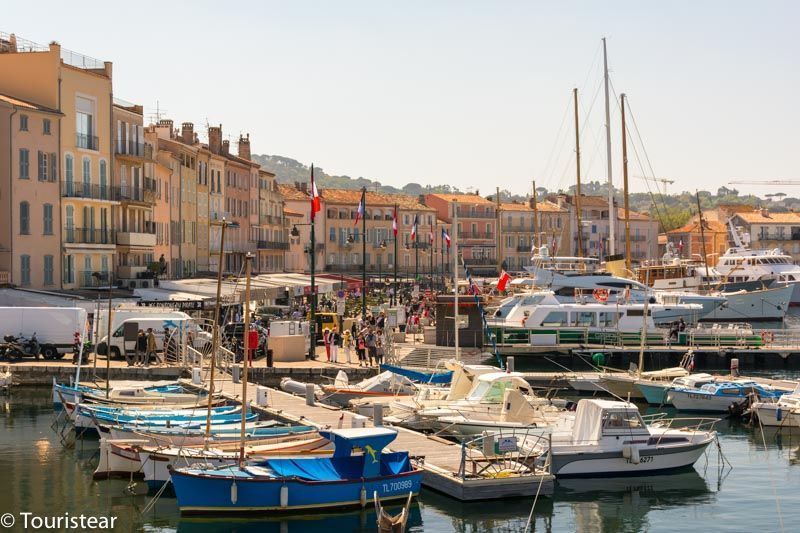 In Cannes we tour the pier, the bay, the district of Le Suquet and the Promenade de la Croisette.
Both cities are fine to visit, they're pretty, although I honestly don't think I'll come back. France has much more interesting places for my point of view.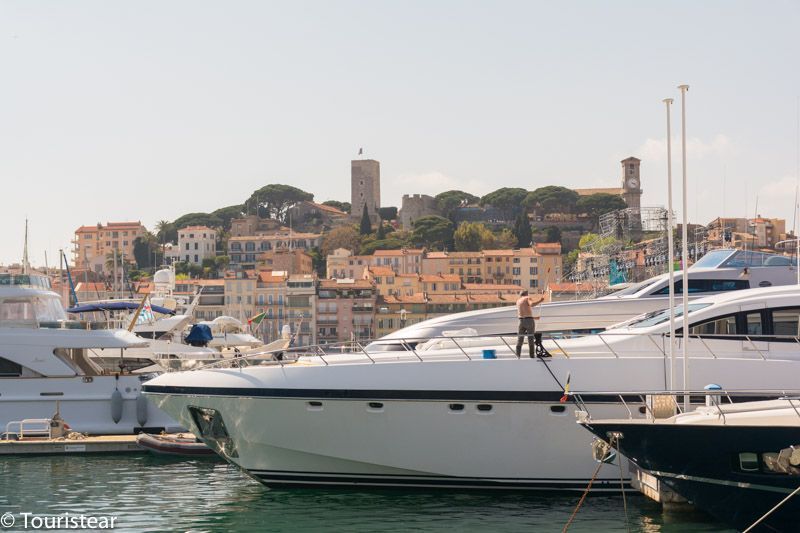 Nice, what to do in 1 or two day?
Nice is the capital of the Cote d'Azur, was a city that was not among my priorities on this trip, but I was very pleasantly surprised and would like to come back and spend more time touring it and getting to know it more thoroughly.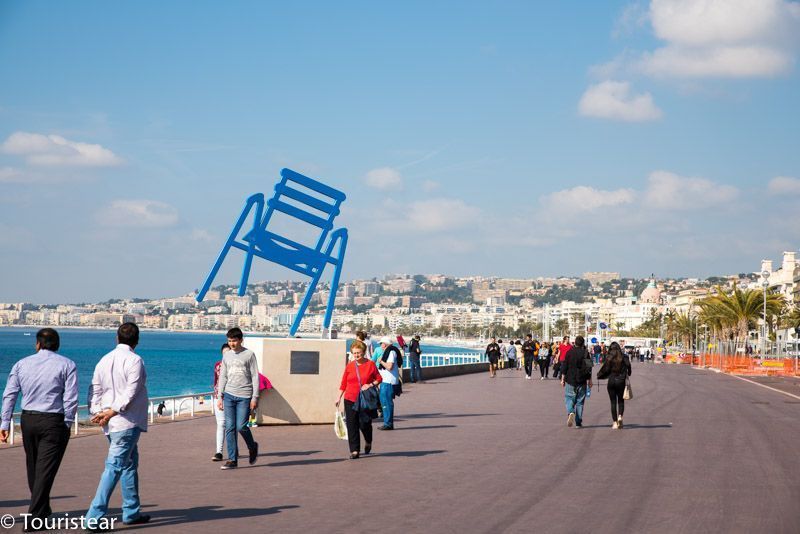 Some of Nice's must-visit Places include walking through the old area, The Messena Square, the Albert I Gardens, the Nice Opera, the Flower Market, the Cathedral, the Palace of Lascaris, the Castle Hill, the Promenade des Ores, the Church of St. Nicholas, etc.
In this post I tell you in more detail the best visit in Nice, read on.
Monaco – St Agnes – Eze – Grasse
From this visit, I prefer the villages of St Agnes, Grasse and Eze. Monaco didn't convince me much, but well, you know what they say in Spain: to taste, the colors. I think in English is : to each his own.
Monaco, this small principality of 1,90 km2 of surface and is famous for its Casino Monte Carlo and Formula 1 racing. It's one of the favorite summer spots for rich people from all over the world. It is a place where they go to exhibit their riches and the rest of visitors go to see them.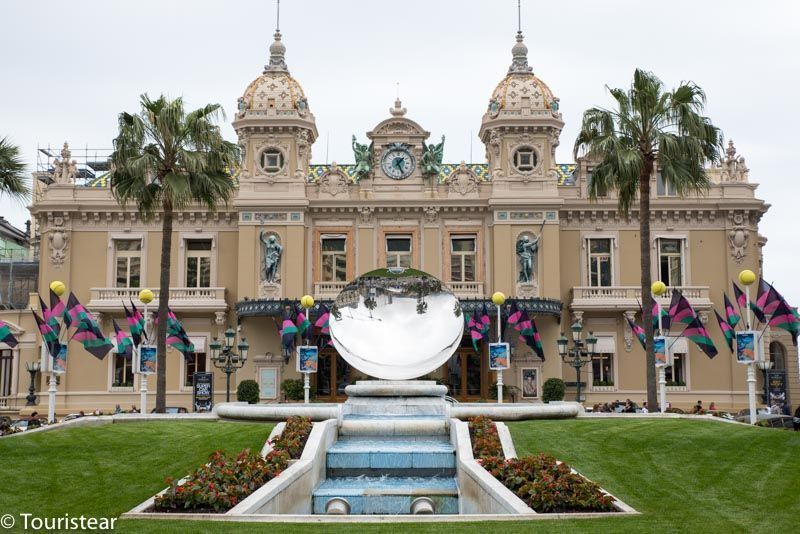 Our visit to Monaco was quite fleeting, we left the car in the casino parking lot, the first hour was free. We took a walk, what I liked the most was walking the F1 circuit, seeing the chicane, the tunnel, etc. We took a walk through the little principality and left.
St Agnes and Eze are within a few kilometres of Monaco. First we visited St Agnes, then Eze and finally Grasse. .
Grasse is the international perfume capital and a place we really liked. Grasse is where Grenouille, the protagonist of "The Perfume" travels to create the perfect fragrance.
Grasse is a medieval city of the 7th century, with palaces, narrow alleys and a cathedral. It is best to get carried away and tour Grasse with not hurry.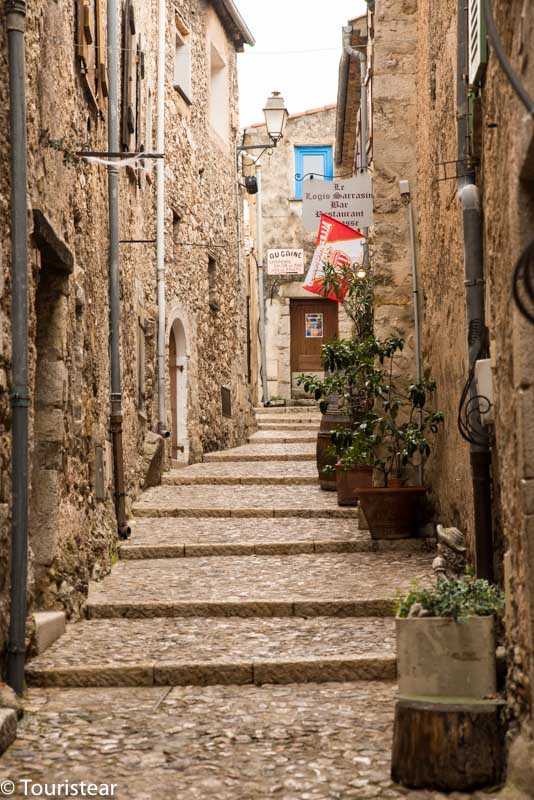 You can visit the Fragonard Museum and the International Perfumery Museum until 6pm.
Les Carrieres De Lumieres (Les Baux de Provence)
A friend of ours told us about this place, he visited it and loved it and we came to visit it.
Les Carrieres De Lumieres is a light and art show in an old quarry. Can you imagine a 19th-century quarry turned into a space for art? Well, that's what they've done here. At the rhythm of music, different works of art by renowned artists are projected. When we were the principal artist was Bosco. It's really awesome, better to go and live it for yourself.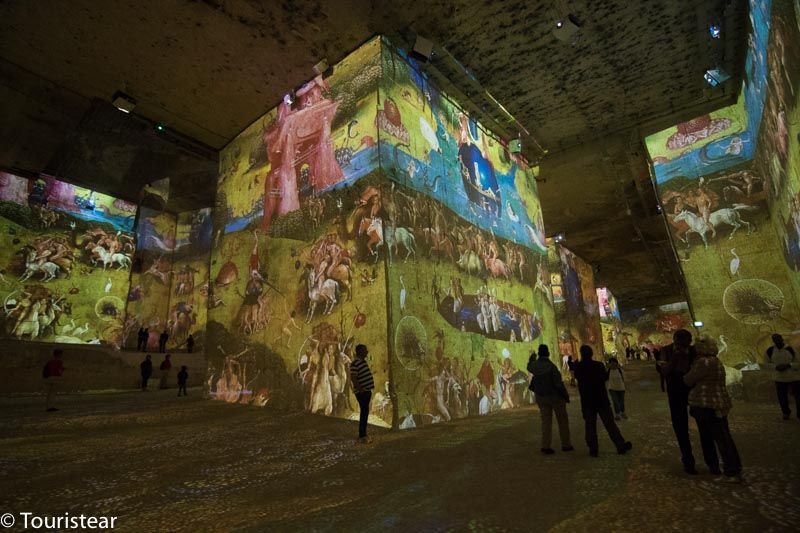 Looking for Accommodation?
Check out Booking.com's website to see prices for your trip date!
And after this visit we already set out on our way home. It was a road trip through the South of France and the Cote d'Azur very complete. We saw many of the most beautiful villages in France, toured the Cote d'Azur, visited the small principality of Monaco, cities full of life like Marseille or Nice, places with a lot of history. It was a fascinating trip we took by car from Madrid.
More ideas for your road trip through the south of France
You already have enough material to start organizing your road trip through the South of France and its beautiful Cote d'Azur. Tell us about your trip in the comments!!!
Book Your Trip
Book Your Flight
Find a cheap flight by using Skyscanner.
Book Your Accommodation
You can book your hostel, hotel or apartments on Booking.com.
Don't Forget Travel Insurance
Travel insurance will protect you against illness, injury, theft, and cancellations. It's your protection in case anything goes wrong. You never go on a trip without it.
Best companies for activities
Check out Civitatis.com and find the best tours in English (French, Spanish and Italian)
Looking for the best companies to save money with?
Check out my resource page for the best companies to use when you travel! I list all the ones I use to save money when I travel – and I think will help you too! (Is in Spanish yet)
We are not native English speakers but we have decided to translate our post to English so we can share it with the whole world. If you see any spelling mistake or something, please let us know, it is so important to us. If you do so, we can improve our post and also our English knowledge! Thanks in advance!!!
In this post you may find affiliate links. This means that if you make any purchases by clicking on one of them, I will take a small commission, but you are not increased by the price. Why are we doing this? Because it helps us to keep this project running and to continue creating useful content for your travels. Thank you so much for the support!