Marseille. A city with history
When we decided to visit Marseille, we didn't know it was a city with such an ancient history. It is what struck me the most when I started reading about this city, Marseille is more than 2600 years old!
This time we had decided to go without a plan, so, we hadn't planned the day very strictly. We wanted to slow down our way to travel, in fact, if we can't see everything, no matters, we can see it in another time. We want to travel without haste. You should try it in your trips.
Our trip to Marseille is part of the southern road trip of France. Although you can also make a weekend getaway by plane.
What to see in Marseille? Essentials
The fish market
You have to start early in the morning, to make the most of the day. So by 09:00 we were already having breakfast and starting our tour.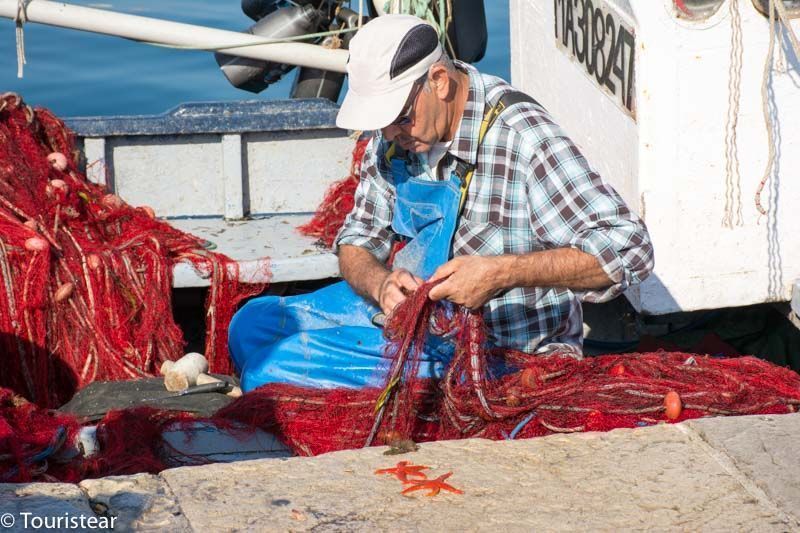 It is advisable to start on the esplanade of the old port of Marseille. Here the fishermen sell the fish they have just caught, as direct, without going through the fish market, or any health checks, from the boat to home. They put their little stalls, a couple of tables, three at most and an umbrella. And to get a voice to see if customers are coming.
They clean the fish right there and throw the remains including thorns, intestines, etc. into the water… In the stalls there are everything: octopuses, fish that I don't even know, some sole I thought I saw and a lot of the trays with some fish still blowing because they lack air. I thought it was very authentic and I entertained for a while, Vero had her stomach stirred and thought about becoming a vegetarian…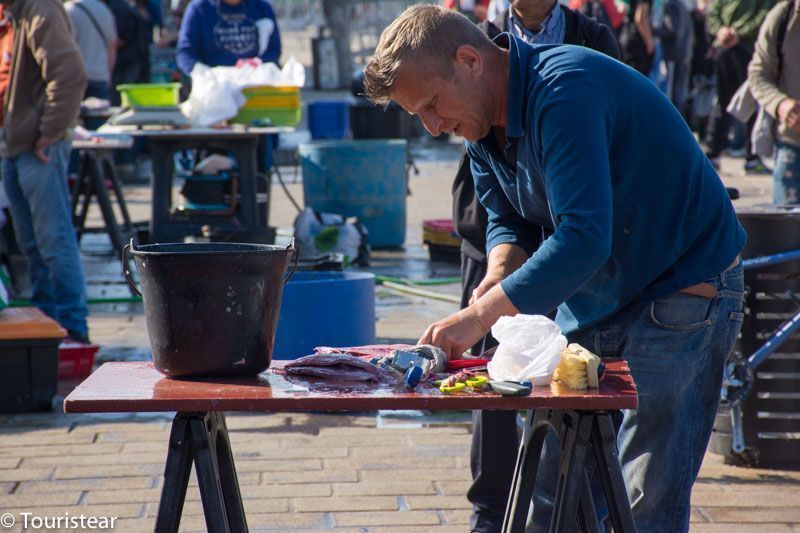 The esplanade is presided over by the great Ferris wheel. We didn't think it had anything special, so later, when they opened it to the public, we decided not to ride. In this same esplanade is l'ombriére, which is a huge roof made of polished metal and it acts as a mirror.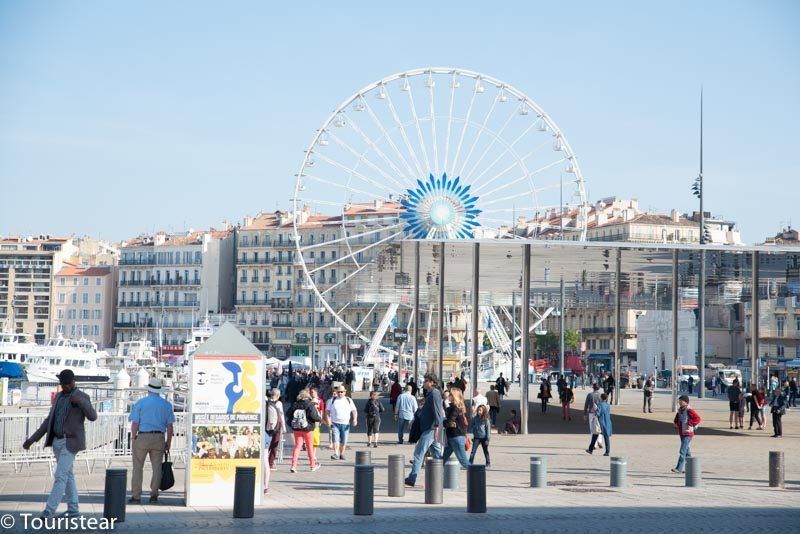 Marseille's Old Port
From where the Ferris wheel is located, to the right on La Canebiére street, is the tourist office of Marseille. Here you can find out about some interesting excursion, buy the ticket for the tour bus or the Marseille City Pass. The truth it's very well, it has access to a lot of museums, free public transport and quite a few discounts and most interesting, includes the visit to the island of If and the Chateau d'If.
Going down again towards the old port on the right bank or the north bank we head to the Town Hall Square.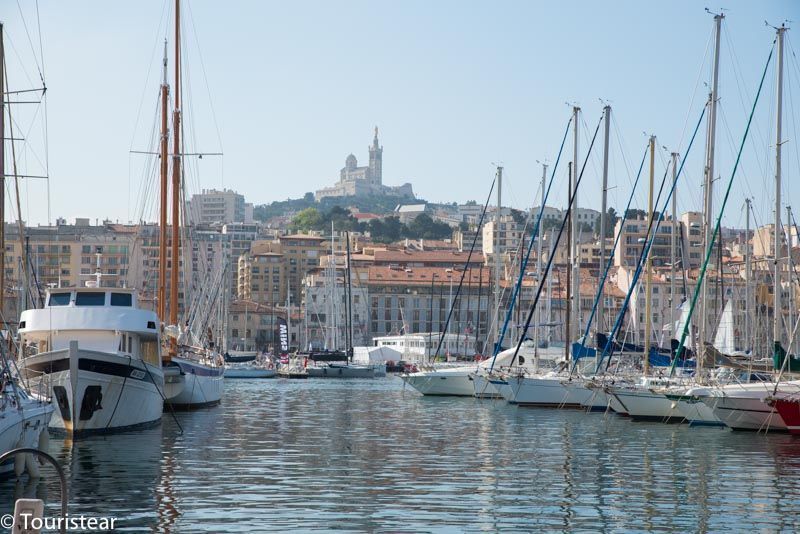 This shore you're walking along is the north bank and this is where the city was founded in 600 BC by the Greeks. On your right you will find the Town Hall Square. In front of the Town Hall Square you can take the ferry that crosses from one shore to the other. The journey is very short and before it was free, now it has a cost of 0.50 euros.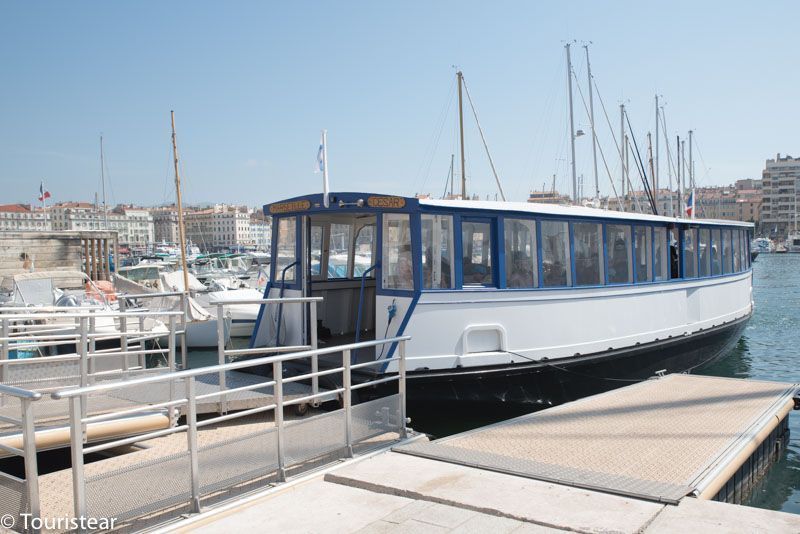 You have to walk the old town, it's pretty nice.

Le Panier in Marseille
Touring Le Panier is one of the activities that you should spend a couple of hours at least. You can see some of the oldest ans more historic buildings of the city such as the Hotel Dieu which was the old hospital, the town hall, the Lenche Square, the Cathedral of the Major or the Vieille Charite.
It is a charming neighborhood, where many of the streets are pedestrian and you can find some of them full of plants that take care of the inhabitants of the neighborhood, or with some very interesting alternative shops. There is also room for street artists and some painters who exhibit their work by hanging the paintings in the middle of the street.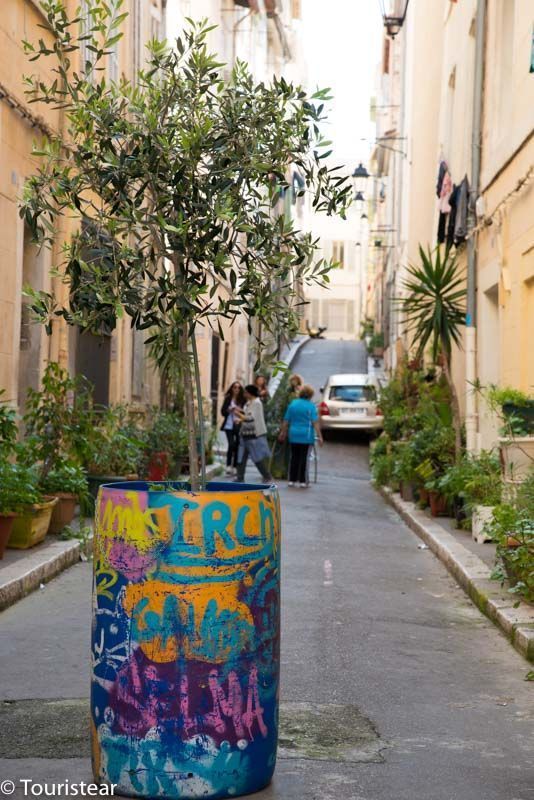 It is a very entertaining walk in which there will also be room for charming alleys, antiques, of course, and some other painter we were able to "hunt" in full creative act in his studio. Without a doubt, totally recommendable.
We return to the Town Hall Square to take the ferry and cross to the other side of the old port, and we find a different Marseille.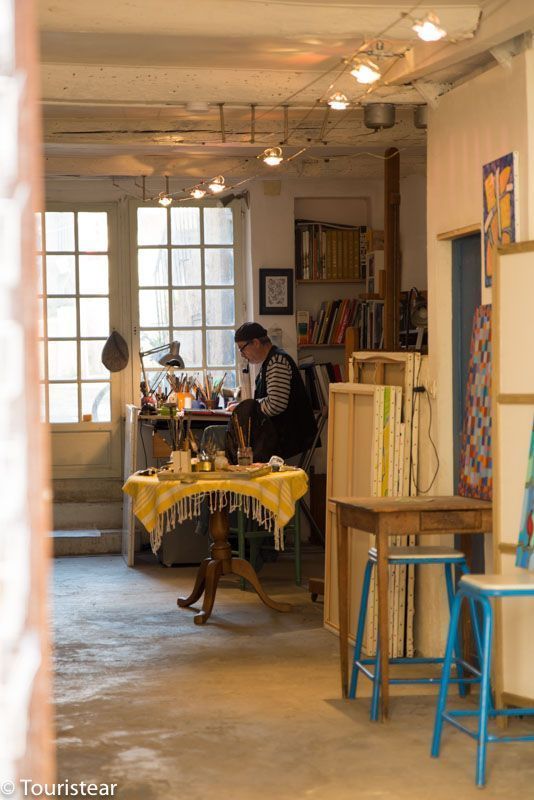 Marseille Soap Museum and Factory
On this shore we find the soap museum. It is a small museum in which they explain how the famous Marseille soap was made. You can see the traditional process, but it also has a small factory with modern machinery in which they make real soap. Normally there is no access but we were lucky that he was giving an explanation to some children and let us go with them. The entrance is economical, only 2€ and includes a 100 gram Marseille soap pill.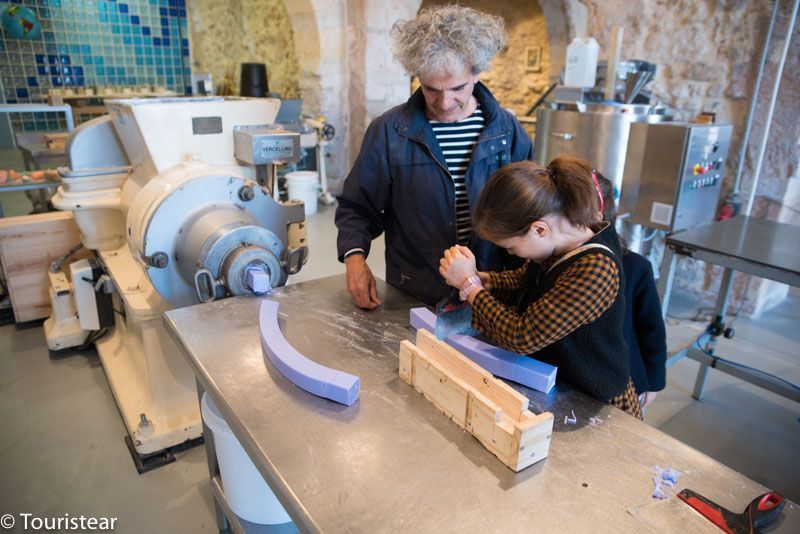 Le Palais Du Pharo
The lighthouse palace was a palace commissioned by Louis Napoleon to establish an imperial residence in Marseille, never used it and eventually ended up donated to the city by the Empress. Today, it is a congress palace but it is interesting to approach and visit it because it has a beautiful view of the old port of Marseille as you can see below.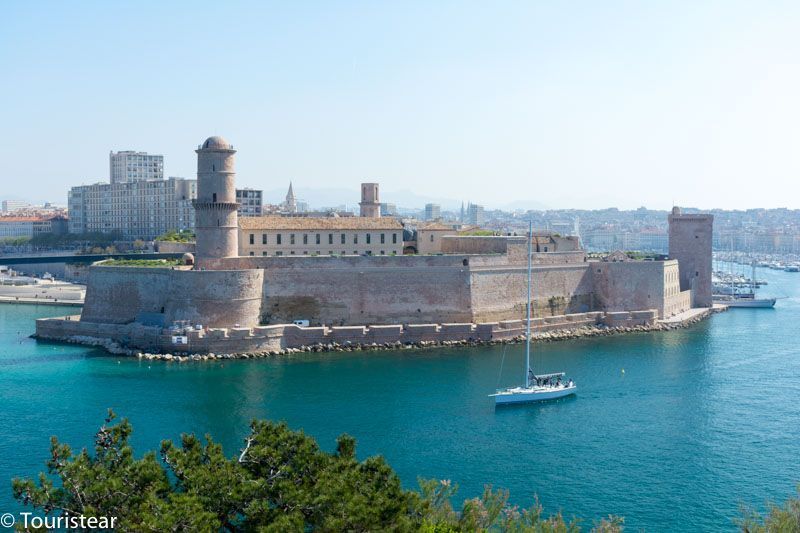 The Island of If and the Count of Monte Cristo
This island on the coast of Marseille is the prison in which Edmundo Dantés' fictional character is imprisoned in the Count of Monte Cristo, the iron mask man was never imprisoned and was a fort, a prison and even hosted a rhino in the 16th century!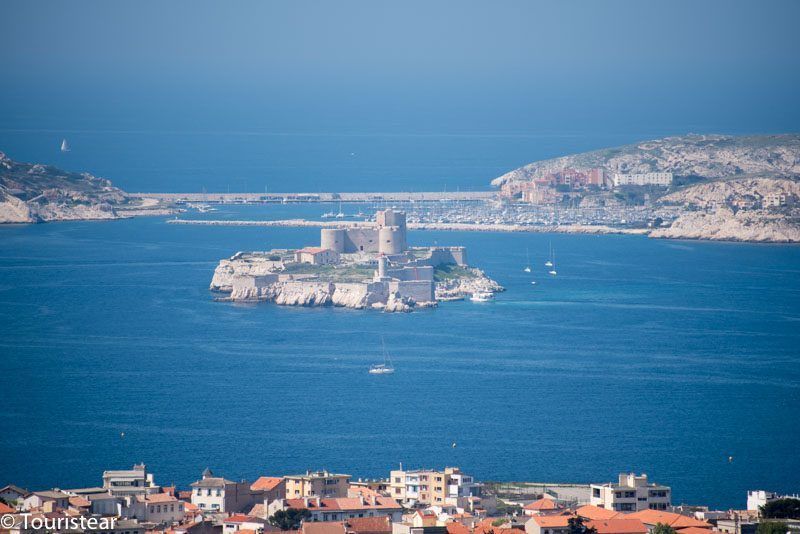 Basilica of Notre-Dame de La Garde
Notre-Dame de La Garde is the pretty girl of the Marseillaise. They have a very special affection for this church. It means Our Lady of the Keeper. In this location since the twelfth century there has been a chapel or a church with this name. However, the current one is from the mid-19th century. This basilica presides over Marseille and is seen from many of its sites.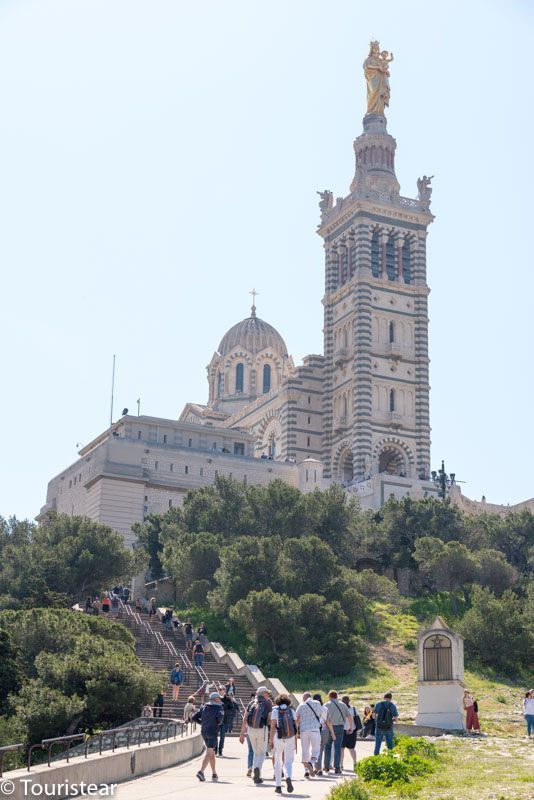 One of the most beautiful photos I could take of this church is from the north bank of the old port, where you take the ferry, at night.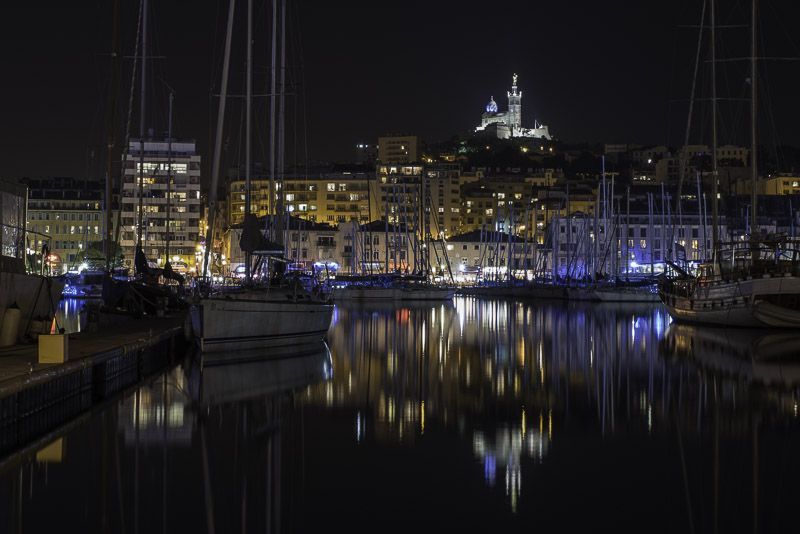 Les Goudes. Les Calanques
Actually, it's Marseille and it belongs to Marseille, but it's a little far away. Les Calanques is a natural park in the south of Marseille and is a district of It. We went with the sunset as there are some very nice coves and we arrived at Les Goudes which is a beautiful set of houses.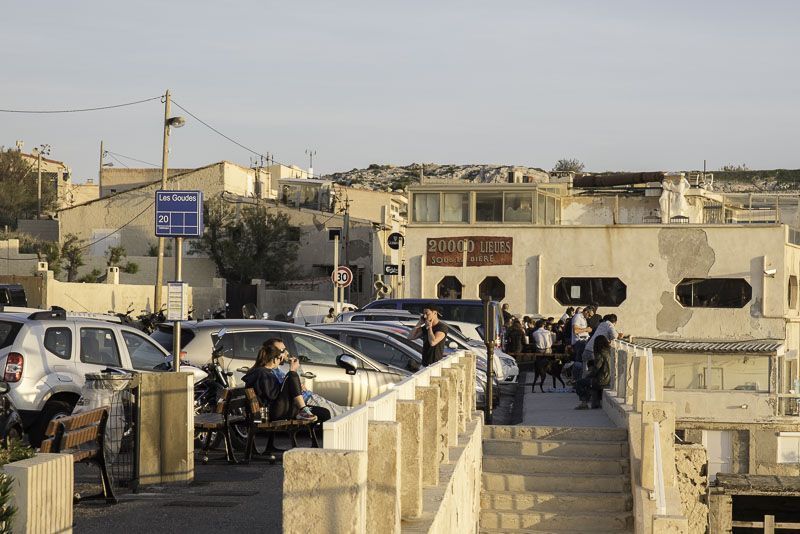 Here, we find an Irish bar that we loved that it is called 20,000 lieues (20,000 leagues). You can order yourself a few pints while enjoying the beautiful sunset in the Mediterranean, it was full of people. it was a fantastic colophon to our day and we won't forget easily.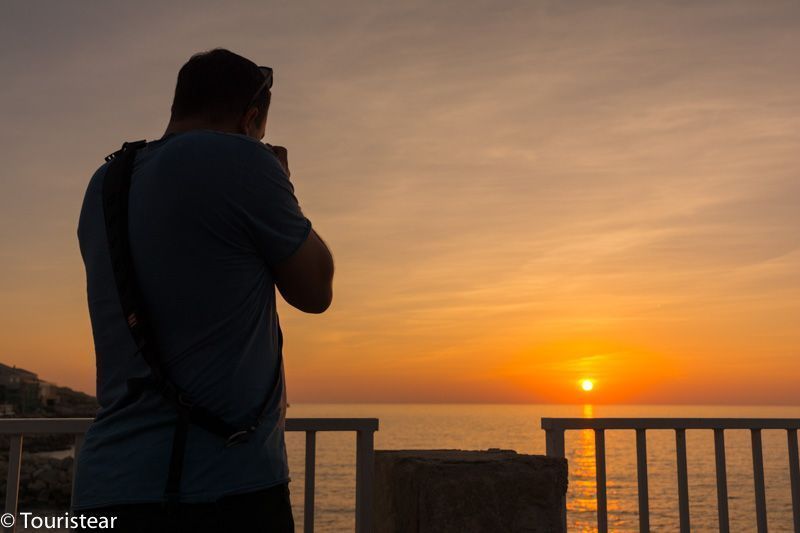 Marseille seemed to me a beautiful city, full of history and customs. We loved it and left us a special taste. We'll be back!
Where to sleep in Marseille?
Marseille has lots of accommodation for all tastes and budgets. As always, we look for our hotel in Booking.com. Check the link and get the prices for your trip. In the case of Marseille, we went by car, so the accommodation had to have parking (or be able to park easily in the area) and be well connected to the center.
If you do not go with a car, it's best to get closer to the center or the public transport. You know, check out Booking to see the best hotels for your trip date.
Our next stop was Nice, the Capital of the Cote d'Azur.
Prepare your trip to the south of France
---
Book Your Trip
Book Your Flight
Find a cheap flight by using Skyscanner.
Book Your Accommodation
You can book your hostel, hotel or apartments on Booking.com.
Don't Forget Travel Insurance
Travel insurance will protect you against illness, injury, theft, and cancellations. It's your protection in case anything goes wrong. You never go on a trip without it.
Best companies for activities
Check out Civitatis.com and find the best tours in English (French, Spanish and Italian)
Looking for the best companies to save money with?
Check out my resource page for the best companies to use when you travel! I list all the ones I use to save money when I travel – and I think will help you too! (Is in Spanish yet)
In this post you may find affiliate links. This means that if you make any purchases by clicking on one of them, I will take a small commission, but you are not increased by the price. Why are we doing this? Because it helps us to keep this project running and to continue creating useful content for your travels. Thank you so much for the support!
We are not native English speakers but we have decided to translate our post to English so we can share it with the whole world. If you see any spelling mistake or something, please let us know, it is so important to us. If you do so, we can improve our post and also our English knowledge! Thanks in advance!!!