►How to Get from London to France by car? [Ferry & Eurotunnel]
Are You Planning a Road Trip from London to France? If so, you're in the right place! Here you will find all the answers on how to travel from London to France by car or another vehicle.
Driving from England to France is a popular way to move between the two countries. It gives you some flexibility, plus the convenience of having your car for the entire trip.
You don't have to worry about baggage restrictions or paying per-person fares, and the schedule is more flexible than traveling by train or plane.
The most popular options for getting from London to France by car and crossing the famous English Channel are: by ferry or via the Eurotunnel. In this article, we will look at both options in-depth so that you can decide which is best for you.
Let's go with the first one!
How to Get from London to France by car using the Ferry
London is only a few hours from the coast, so crossing from England to France by sea is not only possible but also an excellent option. There are regular ferry services between these two countries for passengers and vehicles.
Below we will see the most popular ports to make the trip, how long the ferry takes and where to buy tickets.
Ports of departure near London
The main ports of departure near London are:
Dover
Folkestone
Harwich
Ramsgate
Newhaven
Dover is the most used port for the journey between England and France and is the busiest ferry terminal in Europe.
The distance between London and Dover is 123.2 km, and although the time varies according to traffic, it can be done in approximately 1 hour and 40 minutes.
To reach Dover Ferry Port from London by car, take the M20 and join the A20 at Folkestone. Then, continue until you see the port signs.
Ports of arrival in France
The main ports of arrival in France are:
Calais
Dunkirk
Dieppe
Le Havre
Caen
Cherbourg
Roscoff
While there are many options, Calais is France's most popular port of arrival because it has easy access to all areas of France, including Paris, Lille, Lyon, and Montpellier.
Meanwhile, the port of Dunkirk is much quieter than Calais and an excellent option for travel to the Northeast of France.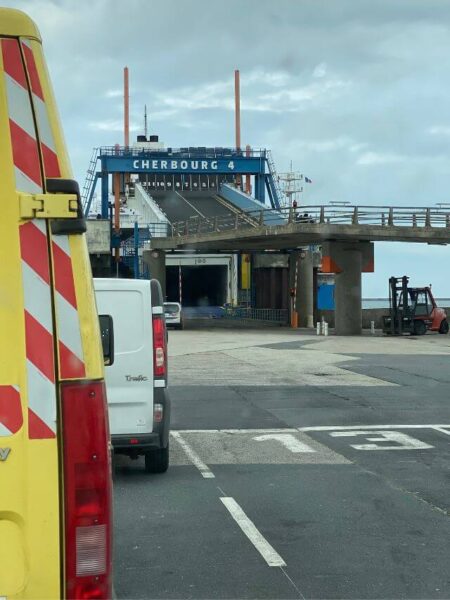 How Long Does the Ferry from England to France take?
Departure frequencies vary according to the season and travel times vary according to schedules.
Here you will find an approximation of the most used routes:
The journey between Dover and Calais takes approximately 1 hour and 30 minutes and is very frequent as it is the most popular ferry route.
While the journey between Dover and Dunkirk takes approximately 2 hours.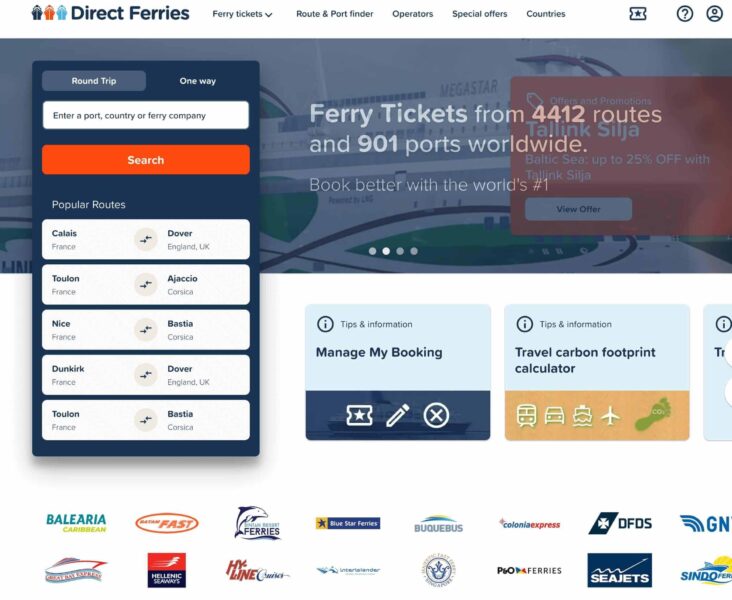 How to Buy Your Ferry Ticket between England and France?
There are many different ferry companies that operate between France and England some of the most popular are:
P&O Ferries
DFDS Seaways
Brittany Ferries
But as there are many more, I recommend using the following search engine Direct Ferries.
Direct Ferries compares all the companies that make the route you want and sorts them by time and price, so you can find the best trip.
It is straightforward to use; all you have to do is fill in the data of your voyage:
Itinerary, for example, Dover – Calais.
Date (round trip or one way).
Number of passengers (differentiating whether adults or children)
If you bring a pet or not.
Where it says, "How will you travel?" Select Car and fill in the appropriate data.
And you can choose the currency if you prefer to see the prices in Euros, Pounds, or US Dollars.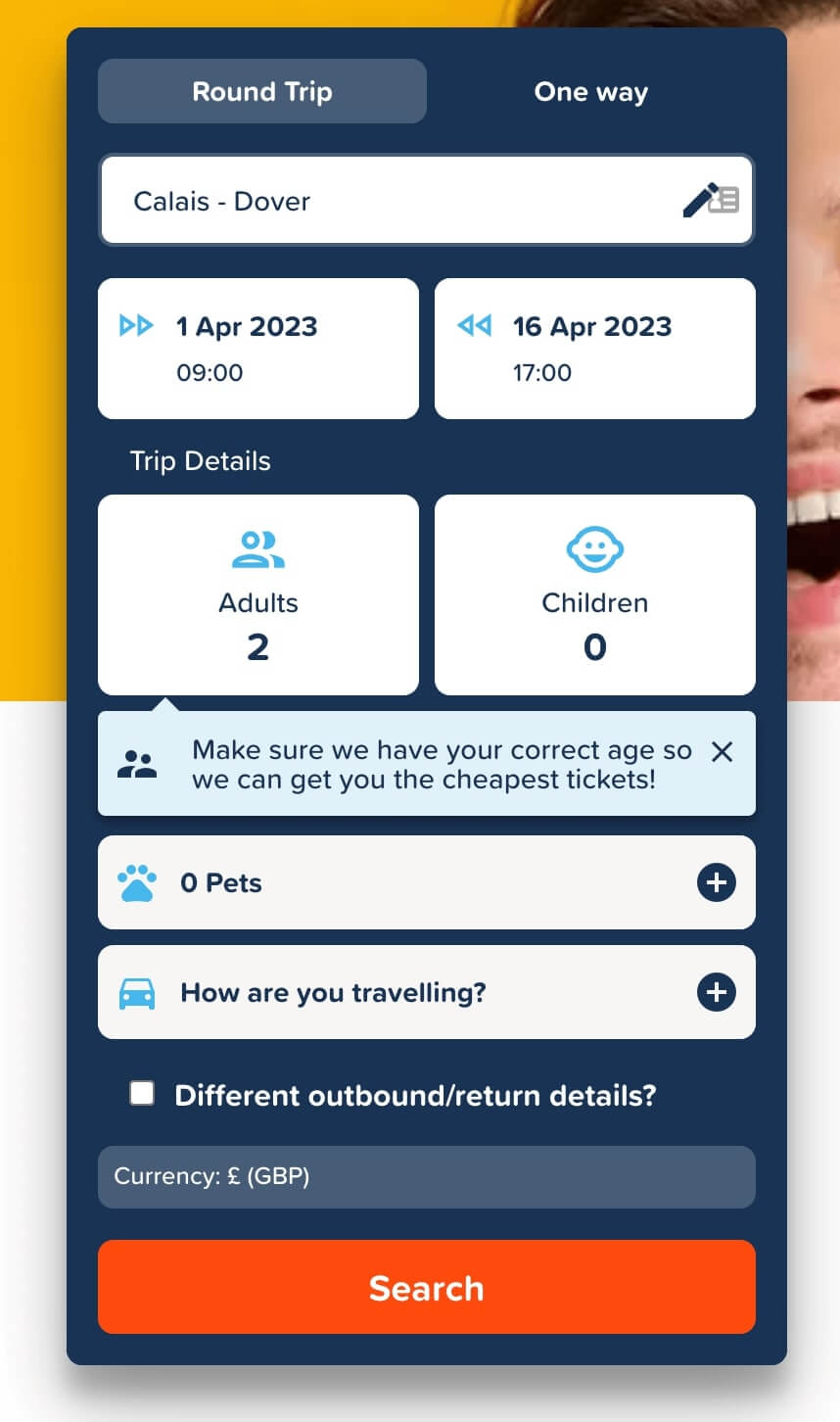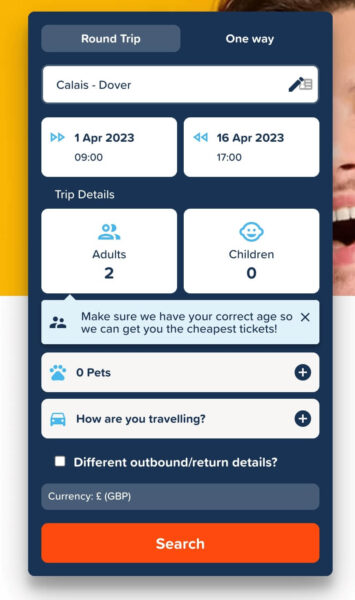 Recommendations for Ferry Travel from London to France
Now that you know how to get from London to France by car using the Ferry, here are some recommendations for you to consider:
To cross from England to France by ferry, you must present valid travel documents, including passports, authorizations for minors, and a medical certificate authorizing travel for pregnant women. At the document level, you have to think it is similar to traveling by plane.
Cars will also be searched in most cases before boarding.
Most ferry services allow travel with pets.
Be sure to arrive at least 1 hour in advance, but if you have pets or something to declare, it will be better to arrive earlier.
How to Get from London to France by car via Eurotunnel
The second option for crossing from England to France is via the Eurotunnel, which crosses the English Channel and links France with Great Britain.
At 50.5 kilometers long, the Eurotunnel is the world's first longest underwater section and the third longest tunnel in the world. It was inaugurated in 1994 and has united these two great nations ever since.
However, some believe that they can drive through the Eurotunnel with their own car as if it were an underwater route. But it doesn't work like that because the Eurotunnel is a railway tunnel through which only the Eurostar and Le Shuttle trains travel.
The Eurostar train is for passengers only and connects the cities of London and Paris. While the Shuttle is a shuttle train, you can board your own car.
The latter is the one we are interested in if we talk about how to get from London to France by car.
Let's see more.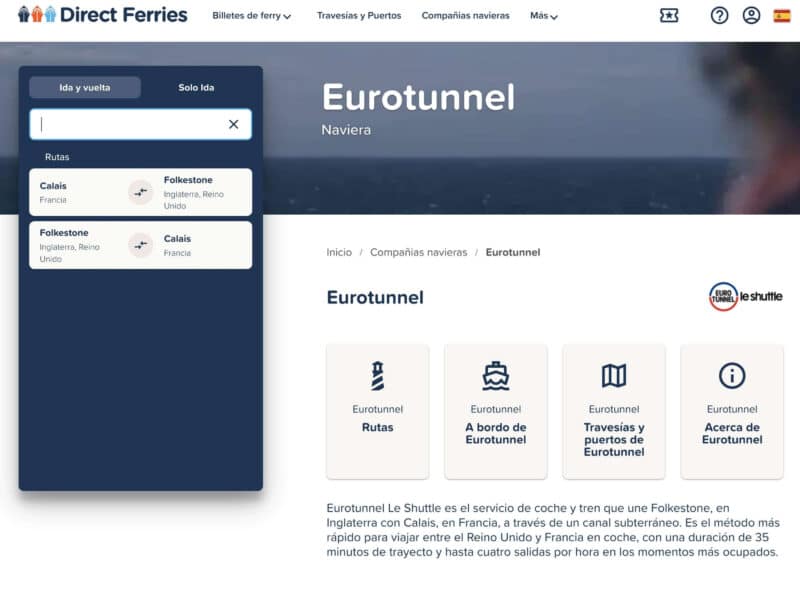 Eurotunnel by car
The main features you have to take into account if you want to cross from England to France by car through the Eurotunnel are the following:
The trip starts in England in Folkestone, Kent. Reached by following the M20 freeway and taking exit 11A, it is easy to reach from almost anywhere in England.
The trip ends in Calais in northern France. The French terminal is located next to exit 42 of the A16 freeway.
The 50.5-kilometer journey takes 35 minutes, making this the fastest way to cross the English Channel with your car.
Prices start at 60€ per vehicle for 1 or 2 days.
Fares apply to vehicles, with passengers traveling free of charge.
No baggage or fuel surcharges apply.
Daily trains depart at different times, so you are sure to find an option that suits your needs.
It is recommended to arrive 45 minutes in advance to pass all the corresponding controls.
As with the ferries, in the search engine Direct Ferries, you can find Eurotunnel Le Shuttle timetables, view Eurotunnel Le Shuttle prices, and book Eurotunnel Le Shuttle tickets. Another option is to do it directly through the website of Eurotunnel. The earlier you buy your ticket, the more economical it will be.
The Eurotunnel cannot accept vehicles with flammable gases (BiFuel, Autogas, Hydrogen, LPG, CNG, or CGH2). Gasoline, diesel, or conventional electric cars are allowed.
The journey from London to Paris via the Eurotunnel generally takes about six hours by car.
Advantages of traveling by car from London to France
England and France are only 33 kilometers apart at the narrowest point, so traveling by car is a great idea.
Some of the advantages of traveling by car from England to France are:
You have the freedom to go at your own pace, and the flexibility to make stops as you want.
You can travel very comfortably and carry as much luggage as you wish.
If you are traveling with children or pets, this is an ideal option because they will be in a familiar environment, and it will be more comfortable for them.
You can enjoy the beautiful landscapes of both countries.
In the comments, you can share with me what other advantages you can think of for traveling by car between these two countries!
What to See in France? Plan Your Visit
France is a country full of charm. It has cities to fall in love with such as Paris, regions rich in culture and gastronomy, such as Normandy or the Champagne region, magical places such as Disneyland Paris, and unique proposals, such as Mont St. Michel. , and much more.
Below you will find a series of suggestions to plan your visit by car to the land of love and cheese.
The Champagne Region: is characterized by its vineyards and the beautiful cathedral of Reims, the cradle of the coronation of the kings of France. In the same region, you will find the old town of Troyes, a marvel of medieval architecture.
Normandy is a region of northwest France with its long sandy beaches and more than 300 km of coastline, contrasting with its green meadows and medieval villages. In addition, food lovers will love Normandy for its tasty cheeses, apple cider, and seafood, such as scallops and herring.
Mont Saint Michel: within Normandy is this spectacular medieval village and Abby built on a huge rock. Be sure to visit the 8th-century abbey and the chapel of Notre Dame Sous Terre.
Paris is the city of love and lights, enchanting its visitors day and night. A must for every traveler to France. A must to repeat more than once.
Disneyland Paris if you are traveling with your family or just want to have a little fun, be sure to visit Disneyland Paris and let yourself be enveloped by its magic. The two amusement parks that comprise the complex are Disneyland Park and Walt Disney Studios Park. A visit to both parks is highly recommended.
For more ideas and recommendations on what to do once you arrive in France, be sure to visit the other articles in our blog.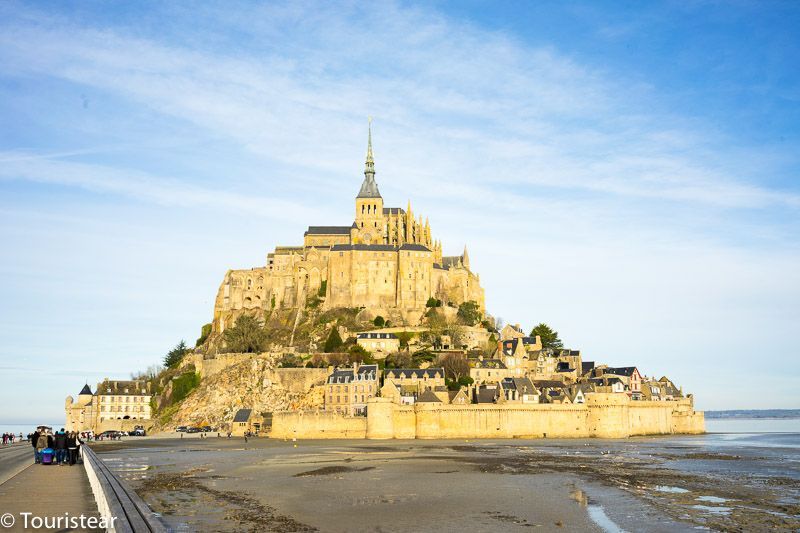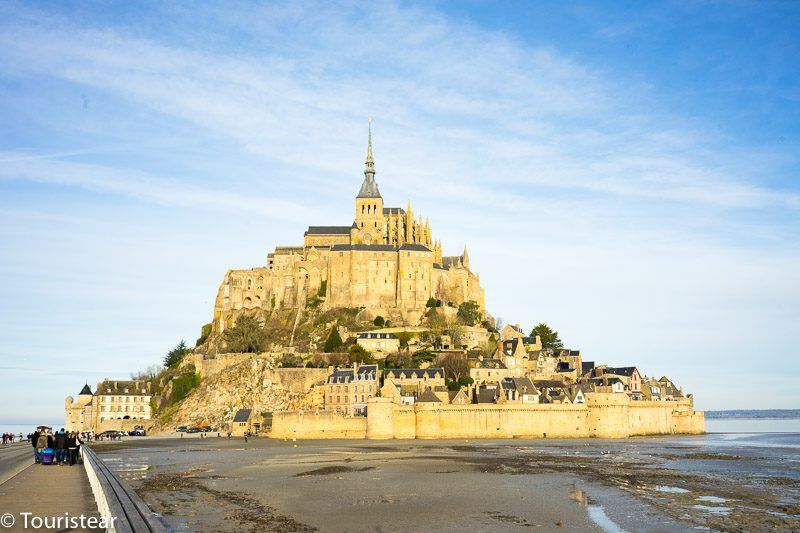 Conclusion on how to get from London to France by car
Now you know how to get from London to France by car. If you choose to take the Shuttle on the Eurotunnel, the journey will be much faster and more direct than taking the ferry. The shortest ferry trip takes only 35 minutes compared to 90 minutes.
However, ferry ticket prices can be cheaper, so this is an excellent option if you travel on a tighter budget. In addition, if you choose to go by ferry, you have multiple routes to choose from, giving you more flexibility according to your travel plan.
Whichever option you choose, the short distance between England and France makes traveling in your own car an excellent idea. That way, you will have more freedom, flexibility, and comfort during your trip.
If you have any questions, I read them below in the comments.
Have a great trip and enjoy France.
Plan Your trip to France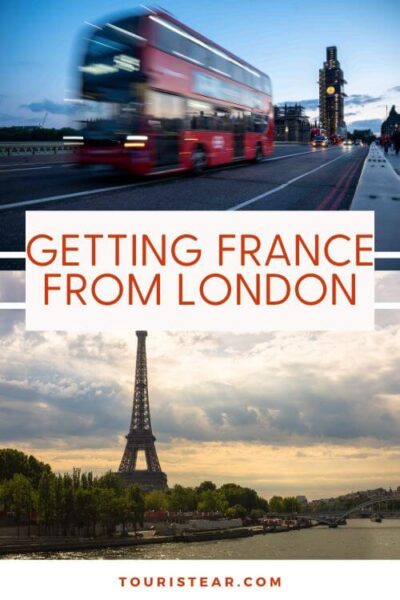 Last Updated on 13 September, 2023 by Veronica
Disclosure: Some of the links on this post are affiliate links, meaning at no additional cost to you, I may earn a small commission if you click through and make a purchase.
Author: Veronica
Vero, a seasoned traveler, has explored 25 countries and lived in five, gaining a rich perspective and fostering an infectious passion for travel. With a heart full of wanderlust, Vero uncovers the world's hidden gems and shares insights, tips, and planning advice to inspire and assist fellow adventurers. Join Vero and let the shared passion for travel create unforgettable memories.