How to Get to Mont St. Michel and See the High Tide
Mont St Michel is an essential visit on your trip to France. Definitely worth a day trip from your trip to Paris or on your road trip to Normandy or Brittany. Here we tell you how to go to Mont St Michel.
Did you know that you can go by train or bus from Paris?
In today's post, I give you several recommendations, so you can easily visit Mont St Michel, and if you can choose the days with high tides, even better. I'll tell you everything below.
How to Get to Mont St Michel?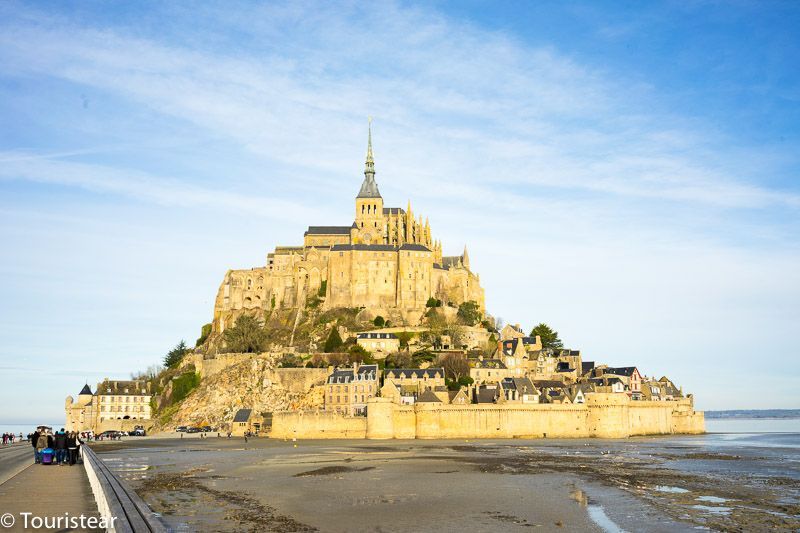 Drive to Mont Saint Michel
You know, for us, the most comfortable way to get to Mont St Michel is in our own vehicle, but it's not the only one.
By car, you can get there from anywhere. For example:
from Paris to Mont St-Michel, there is 363 km, about 4 hours.
from Nantes, it is less than 200km, about 2:30 hours.
If you're on a road trip to Normandy or Brittany, you must include this wonder on your itinerary.
The best prices for rental cars are here. Check out the cars and prices for the date of your trip.
Parking at Mont St Michel
If you arrive at Mont St Michel on your own transport, you must leave your vehicle in a car park. Depending on the time you arrive, you can benefit from lower prices.
The price for parking for 2.5 hours or less is 6,50 euros. This is the normal price if you go in the morning and want to make the visit.
Parking for 24 hours from your arrival will cost you 12€.
Parking: If you enter after 7 pm and leave before 11 in the morning, the price will be 4,40€. This option is ideal for vans (but not for motorhomes, which have special parking that costs 17.60€/ 24 hours), as well as for photographers who want to photograph the sunset and sunrise or anyone who wants to go in the afternoon.
By bus
The cheapest option to get to Mont St Michel from Paris is by bus. It takes about 5.5 hours and costs 19 euros a trip.
On weekends there are several buses; check if there is availability for the date of your trip here.
By train
The train is very romantic and a nice way to get to Mont Saint-Michel.
Tickets can be purchased online or at the SNCF regional train station. So naturally, prices change depending on the time of departure. But the cheapest I've seen is 27 euros each way.
With a Guided Tour from Paris*
Another option is to hire a Tour from Paris and let them take care of everything.
The tour departs early in the morning from Paris and arrives at 12:00 pm. You stop for lunch at a restaurant in the Bay and then take the guided tour in English.
This tour includes everything: transportation, food in a restaurant, an English-speaking guide, and a ticket to the Abbey.
*Note: Reservation must be made at least 8 days in advance.
The Tides of Mont St Michel
Seeing Mont St Michel at high tide has to be awesome. Unfortunately, we didn't have that luck when we went, so we did a little research to know when the tides are, and voila! We found this website that has the tide schedule. I plan on going soon. Who wants to go?
Where to sleep in Mont-Saint-Michel?
If you have chosen to go on your own and want to enjoy a night at Mont St Michel, you can do so. There are hotels in the surroundings and intrawalls, prices are not low, but it is certainly a good experience.
We recommend Les Terrasses Poulard in the bay, which has both sea and town views. It is well-rated by its guests and is in the island's center.
If you want to sleep with a view overlooking Mont St Michel, our recommendation is Le Relais Saint Michel. It is a classic hotel with unbeatable views. It has a 9.5 rating for couples' trips. Very romantic.
More Ideas for Your Trip to France
Save this image on your Pinterest!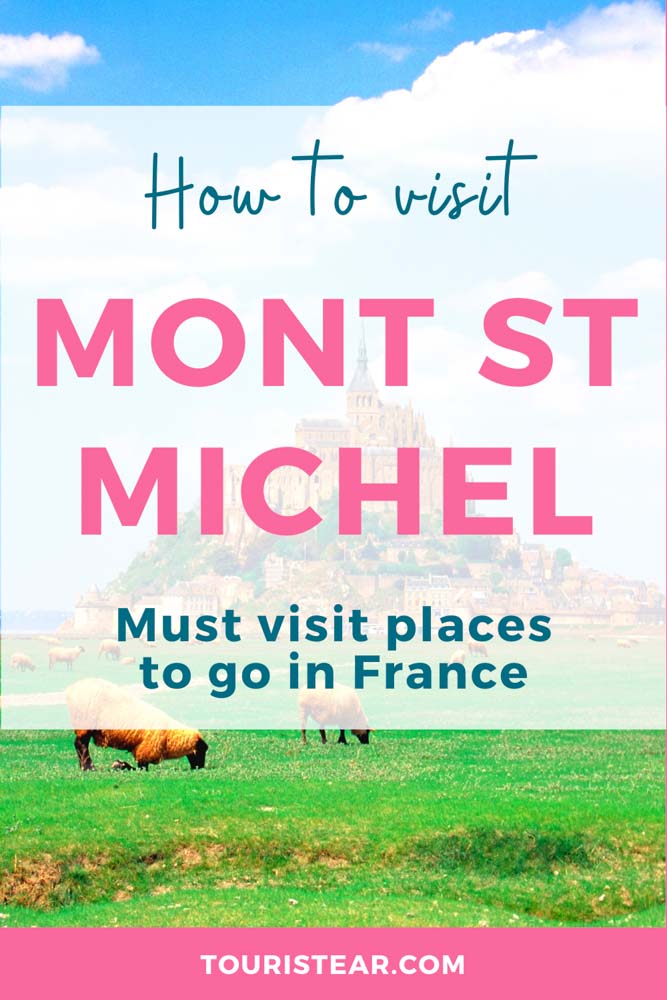 Last Updated on 9 October, 2023 by Veronica
Disclosure: Some of the links on this post are affiliate links, meaning at no additional cost to you, I may earn a small commission if you click through and make a purchase.
Author: Veronica
Vero, a seasoned traveler, has explored 25 countries and lived in five, gaining a rich perspective and fostering an infectious passion for travel. With a heart full of wanderlust, Vero uncovers the world's hidden gems and shares insights, tips, and planning advice to inspire and assist fellow adventurers. Join Vero and let the shared passion for travel create unforgettable memories.