9-Day Road Trip Itinerary from Bordeaux, Paris, and the Alsace
With this fantastic 9-day itinerary from Madrid to Alsace, you can road-tripping France by car anytime. With stops in Bordeaux, Paris, and the Alsace, to finish knowing the Dalí Museum in Figueras (Spain) on the last day of our trip.
I'll tell you everything in more detail here below. Road Trip planning 9 days driving France: Bordeaux, Paris, and Alsace France is a country that we love, that has many things to see, which is also very close and we can go in our car.
Itinerary 9 Days Road Trip France: Bordeaux, Paris, and Alsace
France is a country we love, with many things to see and do. It's a country you should visit! And by car o camper van it's perfect!
On this occasion, we have left Madrid with my sister, my brother-in-law, Fer, and me to visit Bordeaux, Paris, and the Alsace.
We owed Bordeaux a proper visit, Paris is a city that we love and have visited a few times, and we didn't visit Alsace yet, and we loved it. And you'll love it, I'm sure!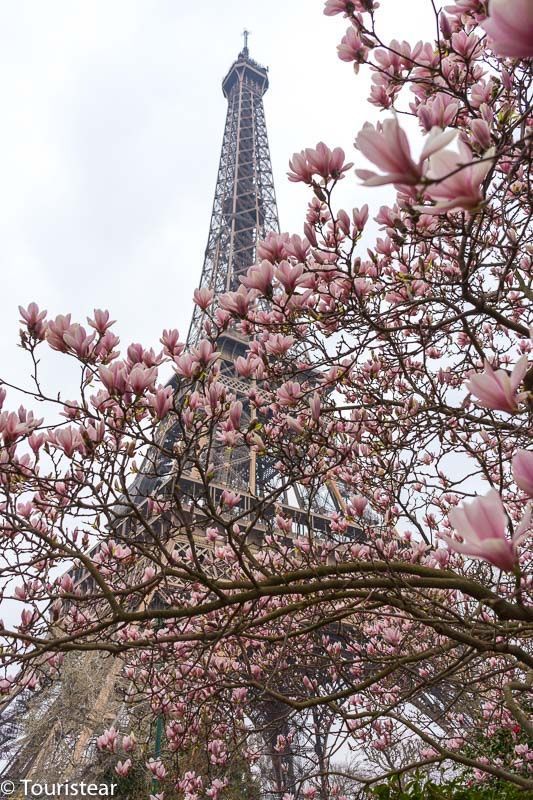 In this post, I will summarize the road trip through France with our itinerary, where we stayed, and what would change from what we have done. I hope it helps you to explore France by car.

Day 1. Madrid – Bordeaux (one night) 686 km
We lived in Madrid at that time, but you can start this beautiful road trip in Bordeaux, Paris, or Strasbourg (or whatever you want!)
We left Madrid on Saturday at 6 or 7 in the morning to head to Bordeaux. I went on Saturday and not Friday because my sister arrived from Malaga on Friday night.
We arrived in Bordeaux around 2 pm, we left the car in a parking lot, and we went to check-in at our hotel/apartment located in the heart of Bordeaux, really impressive.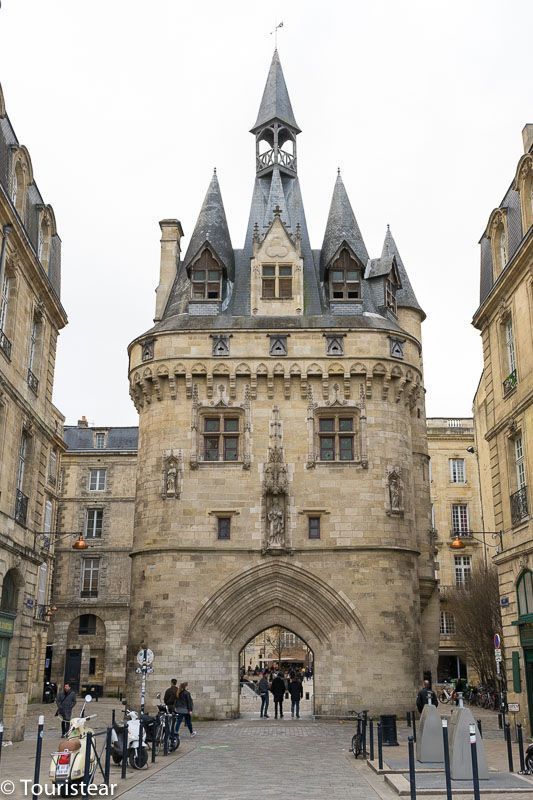 After leaving things, we went to eat something quick because we wanted to take the opportunity to get to know the city. This post will tell you everything there is to know about Bordeaux, a wonderful World Heritage city.
We stayed at LumineuxT2 «Hotel de Ville & Pey-Berland,» we made the reservation through Booking, but it seems that it is no longer on this platform.
From here, you can get to know Bordeaux on foot and forget about the car when traveling. Also, if you plan to stay more than a few days and your budget is tight, you can have breakfast, lunch, and dinner in the apartment.
Day 2 to 5. Bordeaux – Paris (3 nights) 600 km
We left Bordeaux early, although this day we take it more calmly. We already knew Paris (here is our guide to visit Paris in 5 days), but my sister didn't, so the first thing we did was see the Eiffel Tower, walk through its gardens, get to the Trocadero and take lots of photos.
We had dinner at Montmartre. Here you can check restaurants in Paris in different places of the city.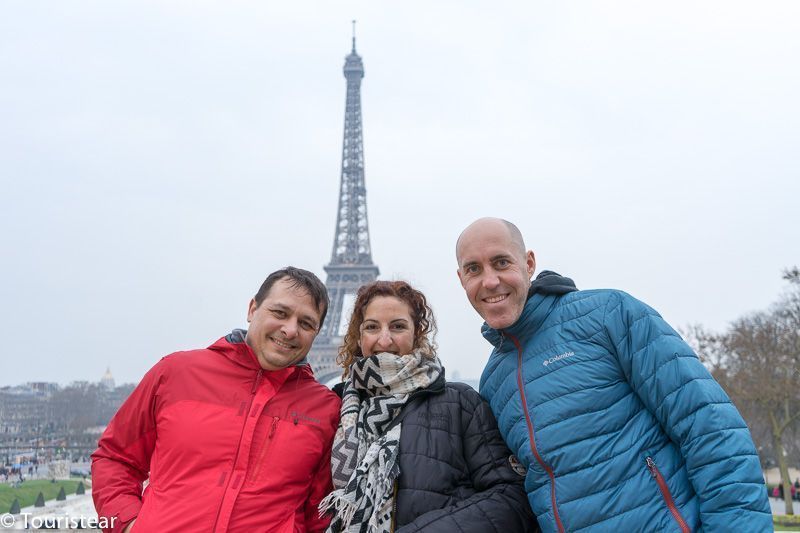 Day 2 in Paris
We did the Civitatis free walking tour that started at 11 in the morning at the Place de l'Opéra Garnier.
Honestly, the tour was excellent, the guide was very friendly, worked hard, lasted about three hours, and you know very cool places and stories about Paris.
We ate in the Latin Quarter since the tour ended at the Notre Dame Cathedral, and this neighborhood is very close to walking.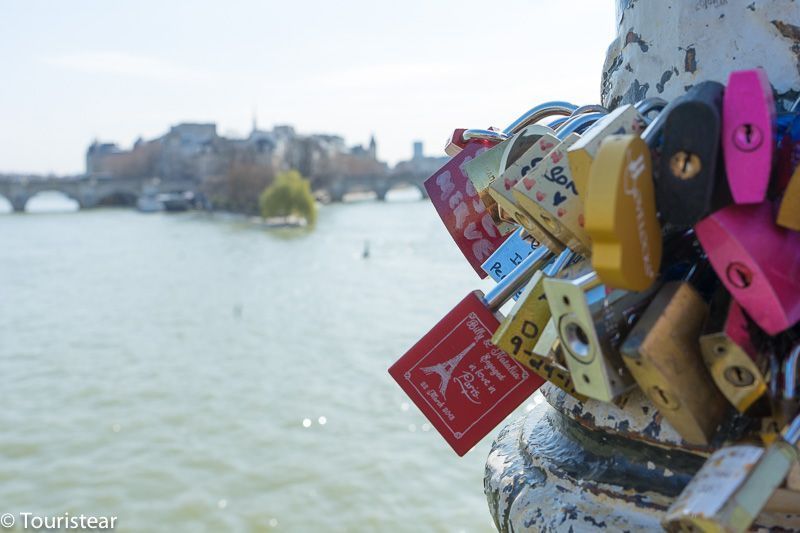 Our idea was to go to the Rodin Museum, but we changed it by going up the Montparnasse Tower; taking advantage of the excellent weather, we had a pint of beer (€ 5), enjoying the views.
Day 3 in Paris
This day it rained almost all the time, in this other post I tell you what to do in Paris when it rains.
What we did was leave the car parked around the corner from Notre Dame Cathedral, on the street, and for free, it was Sunday.
We took advantage and walked to the Latin Quarter, passed through the Pantheon, and had a wonderful meal at La Maison Blanche.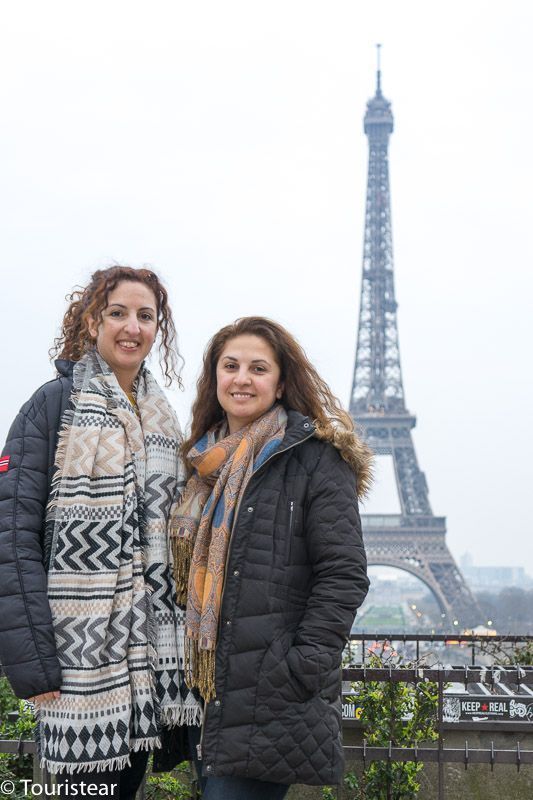 To lower the feast, we visited the Champs Elysees from the Arc de Triomphe, it was a good walk, and when it started to rain harder, you took the opportunity to visit some of the shops on this famous Parisian street.
Our intention this day, taking advantage of the rain, was to visit the Catacombs, but it was an impossible mission, we were not the only ones with that idea, and the queue was at least 200 or 300 meters in the rain.
We turned around and left. We tried it in the morning, and in the afternoon, the second time, we gave up, had a beer on the corner, bought food at the supermarket, and had dinner at the apartment.
We stayed through the platform Guest To Guest in Rova's house and saved good money.
I think it took us a bit to find accommodation through this platform because there were 4 of us, but it was worth it in the end. The apartment is a bit remote but very well connected, and it also parks quite well.
Check these fantastic tours in Paris.
Day 6. Paris to La Alsace (3 nights in Colmar) 560 km
Day 1 from Paris to Alsace
This day we stopped at a few places. The first was Reims, which was not in the initial plans, which was on the way.
We had breakfast and visited its famous Notre Dame Cathedral, designed by the same architect as Paris. It is practically the same as its Parisian sister.
We continue our way and visit very picturesque villages such as Kirrwiller and Marlenheim. The rain accompanied us all the way to Strasbourg, where it gave us a little respite.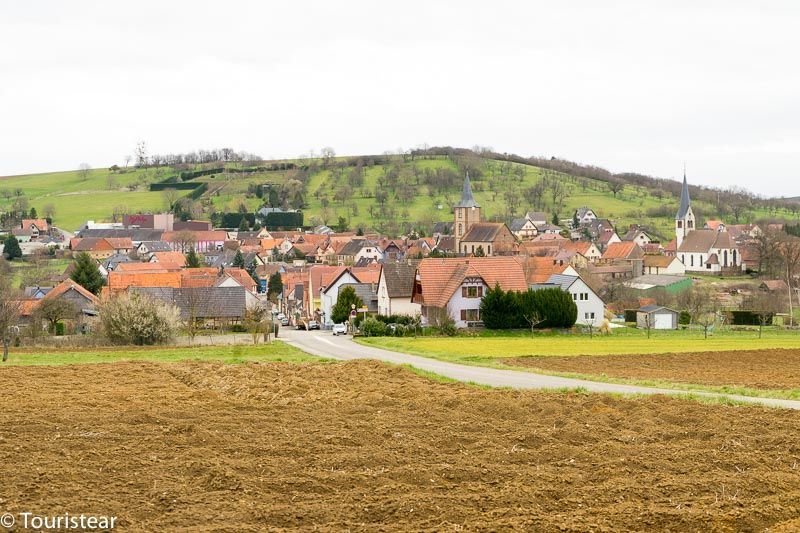 Strasbourg is a beautiful city; it deserves more time than we dedicate to it. It has one of the most impressive cathedrals I have seen.
We liked Strasbourg so much that we had our accommodation in Colmar (100km away), we did the check-in – we couldn't do it later than 6:00 pm – and we went back to Strasbourg, had dinner, and got to know some of its most beautiful places.
Day 2 in the Alsace
This day starts visiting the Castle of Haut-Koenisbourg. A totally different castle than the ones we have seen (and that we have visited a few).
It is made of reddish stone and has areas with the usual wooden entrances of the area, which is huge with a rather strange distribution.
Admission is € 9 and the hours are from 09: 30-17: 00, totally recommended if you like castles.
What to see in Alsace in 4 days? Itinerary around the most beautiful villages.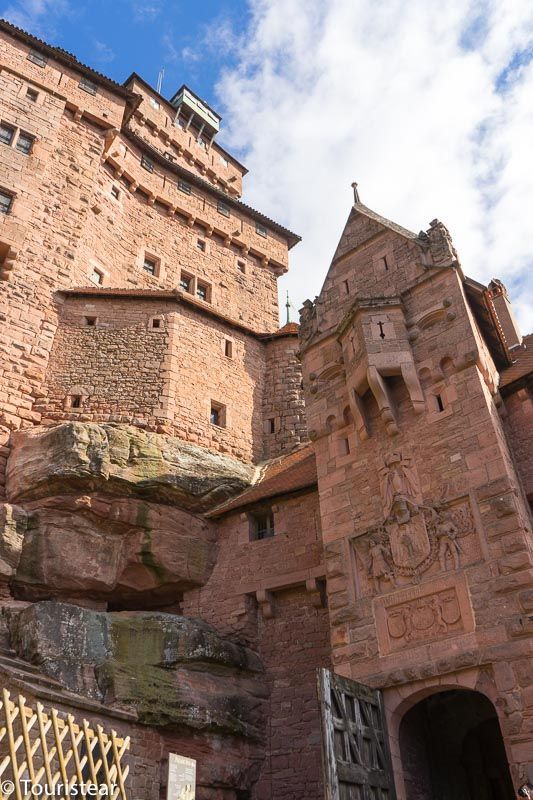 Then we continued to visit charming towns taken from a story, the ones we visited were Ribeauville, Hunawihr, Riquewihr, and Kaysersberg.
Each one with its charm, some more touristy than the other and all totally recommended!!!
Day 3 in Alsace
This day we continue visiting the fairytale villages of the Alsace. It was Turckheim and Eguisheim's turn in the morning. And we couldn't stop visiting the place where we were staying, Colmar.
We took the opportunity to eat in Colmar and get to know this beautiful city dressed for Easter.
Around 5 in the afternoon, he gave us the point, and we went to Freiburg (Germany); it was raining heavily, so we could only have a coffee in Cathedral Square and return to Colmar.
This day we also take the opportunity to take night photography of Colmar.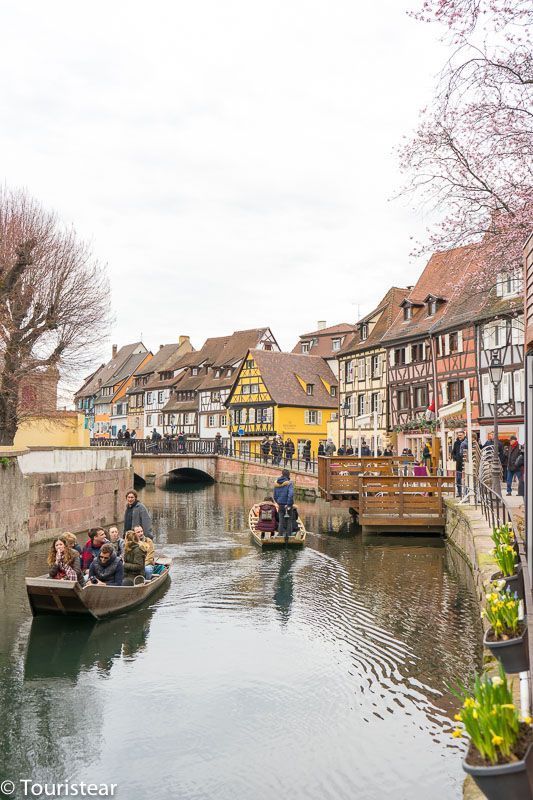 Throughout the Alsace area, the decoration they make for Easter is striking. You will see rabbits and decorated eggs everywhere. It reminded me of the crafts they made us do at school when Easter time came around in Argentina.
Take a look at the 4-day road trip itinerary in the Alsace.
Figueras (1 night) 915 km an exhausting day
Our penultimate day of travel was exhausting. In the morning, we left Colmar, intending to visit Lyon, which is on the way, but we saw that it is a huge city that deserves at least a weekend.
So we decided to continue going to Figueras to spend the night.
As we arrived around 6 pm, we walked around Besalú to stretch our legs, get to know this beautiful Catalan town, and then head to Figueras.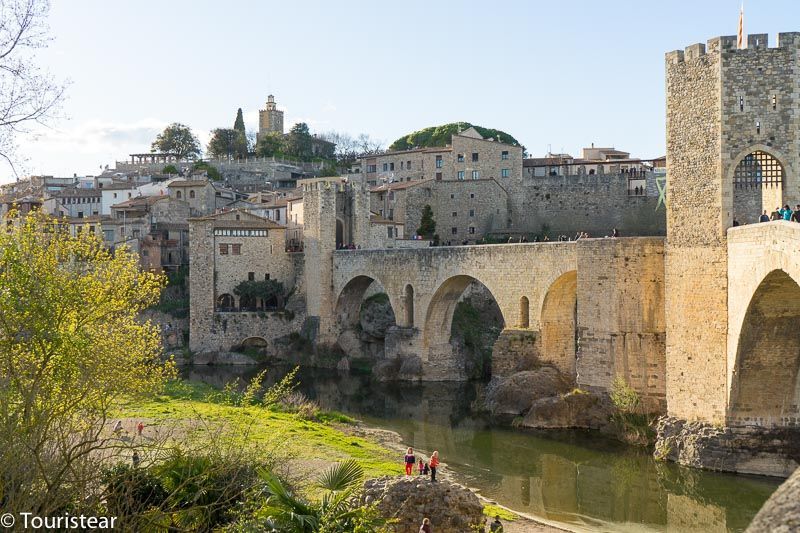 Honestly, we didn't see anything this day; we arrived, took a shower, and went to dinner at a Basque restaurant on the corner of our hostel.
We had a wonderfully good dinner at Spanish prices and went to sleep. The next day we would visit the Dalí Museum, which is why we slept here tonight.
We stayed at Hostal la Barretina, it is very well located, but the room's cleanliness and size leave a little to be desired. If you plan to stay here, take a look at Booking.com.
Dalí Museum. Figueras – Madrid 700 km
I have been to Girona and near this museum several times, but I had never visited it, and I love Dalí. So taking advantage of the fact that I was organizing the trip, we would dedicate the last day to this museum.
We bought the tickets online to enter around 10:30 am, we arrived a little earlier and entered without queuing.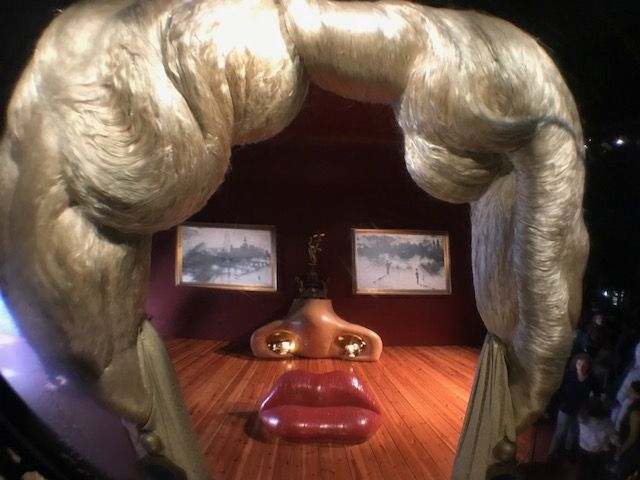 We did the visit on our own, and it took us more than two hours. This museum is well worth a visit; everyone likes it, even those of us who are very museums.
What would you change about the itinerary?
Well, I would change some things about this itinerary that you realize once at your destination. For example, if it were possible, I would go out on Friday instead of Saturday and spend two nights in Bordeaux.
If my sister had known Paris, this one would have saved me, and I would have dedicated at least a day and a half or two to Strasbourg, and I would have crossed to Germany for 2 days to get to know Freiburg better, the gateway to the Black Forest.
Map: from Madrid to Alsace by car
Plan Your Road Trip from Bordeaux to Alsace
In these posts, you have all the itineraries in more detail.
Do you have extra time in France?
From Bordeaux travel the Dordogne. Here are some ideas for your trip.
I hope you like this route; tell me what you would change what you would add, did you like it? I am interested in knowing your opinion!!!
Last Updated on 29 September, 2023 by Veronica
Disclosure: Some of the links on this post are affiliate links, meaning at no additional cost to you, I may earn a small commission if you click through and make a purchase.
Author: Veronica
Vero, a seasoned traveler, has explored 25 countries and lived in five, gaining a rich perspective and fostering an infectious passion for travel. With a heart full of wanderlust, Vero uncovers the world's hidden gems and shares insights, tips, and planning advice to inspire and assist fellow adventurers. Join Vero and let the shared passion for travel create unforgettable memories.