Ultimate 4-Day Alsace Road Trip Itinerary + MAP
Visit the fairytale villages of Alsace.
Alsace is a region in northeastern France. It's a beautiful place that you have to experience; it looks like it came straight out of a storybook.
We made a 4-day road trip through Alsace, including a 1-day visit to Strasbourg, the Alsace region's capital that includes a castle of an unpronounceable name and a few of the most beautiful villages in France.
It is super picturesque, and it is ideal for visiting them on foot as you will be able to buy Easter eggs, visit flea markets, and taste their chocolate and wine. Where do we start?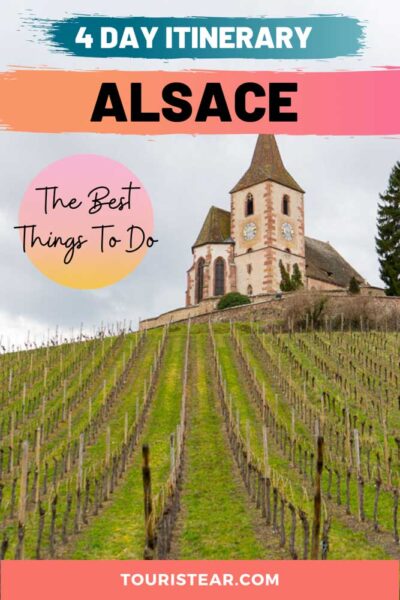 When to Go to Alsace?
The best dates to visit Alsace are Easter and December. During these dates, you can observe the beautiful decorations that adorn the streets.
We went during Easter, and as you can see in the photos, the whole village is decorated for the occasion with many Easter eggs and rabbits everywhere. It really looks like the setting for a story.
Brief Alsace's History
When you read the names of the villages, it looks more like a German region than a French one, and this is because it was once German territory.
And well, it's been about 300 years back and forth, but from World War II to the present day, it's been French territory.
Since 2016 the Alsace region has been incorporated into the new Region of the Great East. Although in France they have made changes to the administrative division of their regions and have reduced their number, some are not very happy with these changes.
Originally, Alsatian was spoken in this area, a language composed of several dialects related to Serbian and Swiss German. Still, French has been the most common language since World War II.
The capital of Alsace is Strasbourg, and that's where you have to start your visit.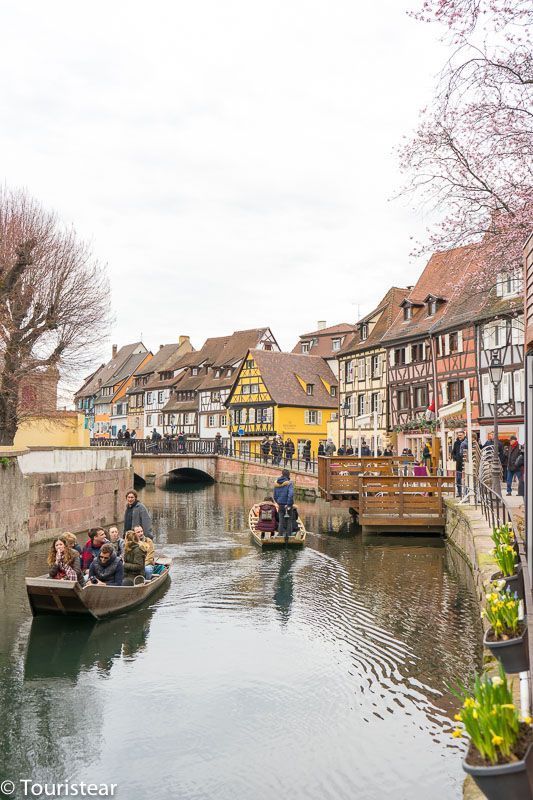 Day 1 in Strasbourg
Strasbourg is the capital of Alsace, and I loved it. It is a large city and is the location of the headquarters of the European Parliament; it is also a UNESCO World Heritage Site and is very beautiful.
If you are thinking about distributing your visiting days, my recommendation is that you spend at least one day and one night in Strasbourg.
If you come from Paris, you could make a few stops, including Kirrwiller, a quaint little village lovely for a walk.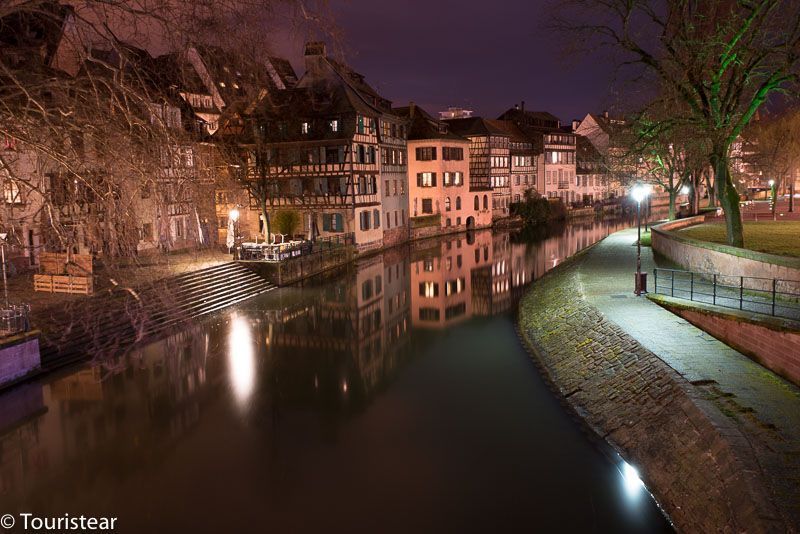 The Best Places to visit in Strasbourg
The Cathedral Square and The Cathedral of Notre Dame; have impressive Gothic styles, one of the most beautiful I have ever seen.
Kammerzell House, the home of wealthy merchants for generations, was built in the 16th century by a cheese merchant.
The ground floor is from the fifteenth century, is made of stone, and includes arcades, under which were the shops.
Ribera Del Ill; you can see very picturesque places and historical places such as the Historical Museum of the City of Strasbourg, The Alsatian Museum, and the Church of St. Thomas.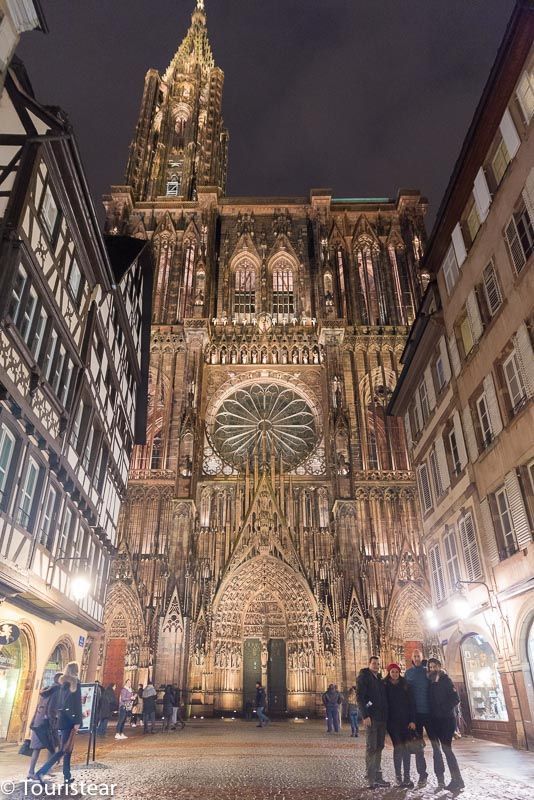 The "Petite France": It is a very picturesque neighborhood that fishermen, millers, and tanners once inhabited.
The houses have exposed wooden beams and are painted in different colors. The tanners' houses are almost all built with a loft; the first and sometimes the second floor protrude above the ground floor.
The roofs are open with galleries where they dried the skins after washing them in the canal.
You can't leave without seeing the covered bridges and the Barrage Vauban.
Day 2: Beautiful Villages and 1 Castle
Visit Haut-Koenigsbourg Castle
We started this day with a visit to the Castle of Haut-Koenigsbourg. It is an iconographic symbol of the region as it has a neo-Gothic Mannerist reconstruction and has a bizarre distribution.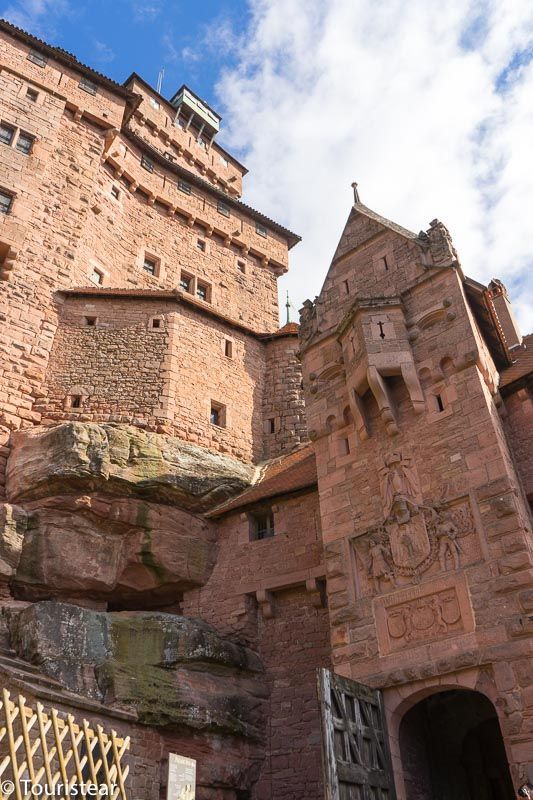 At the beginning of the 12th century and during the thirty-year war, it was severely damaged and completely destroyed by fire in 1633.
William II Hohenzollern funded its reconstruction (from 1901 to 1908) to turn it into a museum and, take advantage of the occasion, into a symbol of the recovery of Alsace by Germany.
Although newly built, the castle faithfully respects medieval architecture.
The refinement of its interior rooms is impressive, with wall paintings, Renaissance furniture, and huge iron stoves. In addition, there is a preserved collection of weapons from the Middle Ages in the basements, including crossbows, swords of all kinds, and armor.
From here there are fantastic views.
Ideally, visit the castle as early as possible since it is one of the most visited monuments in France.
The general ticket is 9 euros, and there are discounts for young people (students, etc.).
What to See in Ribeauville?
It is a typical Alsatian town, of those that seem fairytale-like, that makes you smile just by walking through its streets.
In these locations, you must let yourself be carried away and get lost in its streets and, of course, take many photos.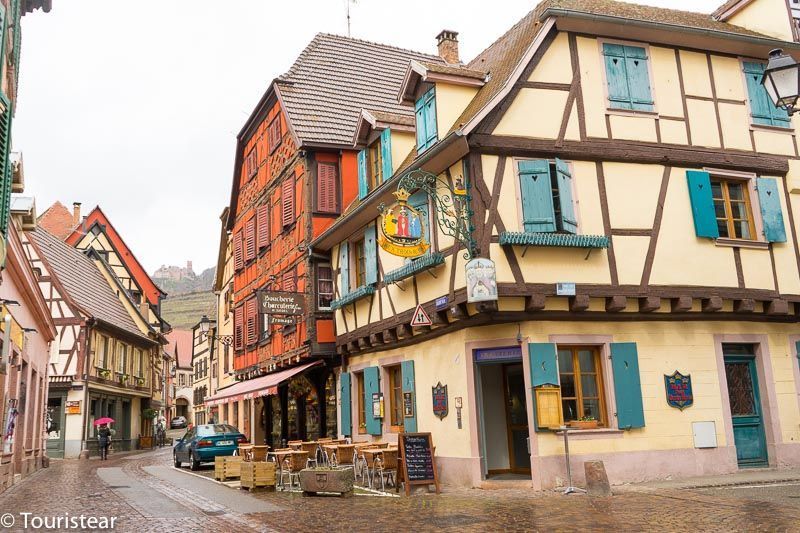 One of the highlights of Ribeauville in the House of the flutists 16th-century Pfifferhes, the 18th-century Hotel de Ville, the 13th-century tower gate, the Gothic church, and the Renaissance fountain.
If you want, you can also visit the Castle of St.-Ulrich, which was the residence of the Countess of Ribeaupierre, one of the noblest families of the Alsace.
Buy Alsace Wine in Hunawihr
When we arrived, we had the village to ourselves and decided to walk around it quietly. It is a tiny town, and we visited it in a very short amount of time.
However, you have to go up to the church, where the practice of simultaneous is held, that is, a place of worship where both Catholics and Protestants practice their faiths in the same place.
They must have had more than one or two fights, don't you think?
Here, we bought a box of Alsace wine, which I would have liked to remember its name, because it was very attentive and because it was from a small winery.
Riquewihr, Best Things to Do
This small population of colorful half-timbered houses is located in the center of the Riesling wine region (you definitely have to try it) and very often is full of visitors.
In the sixteenth century, the castle housed the Museum of History of the PTT, which is about the history of the postal service in the Alsace region dating back to Roman times all the way to the present day.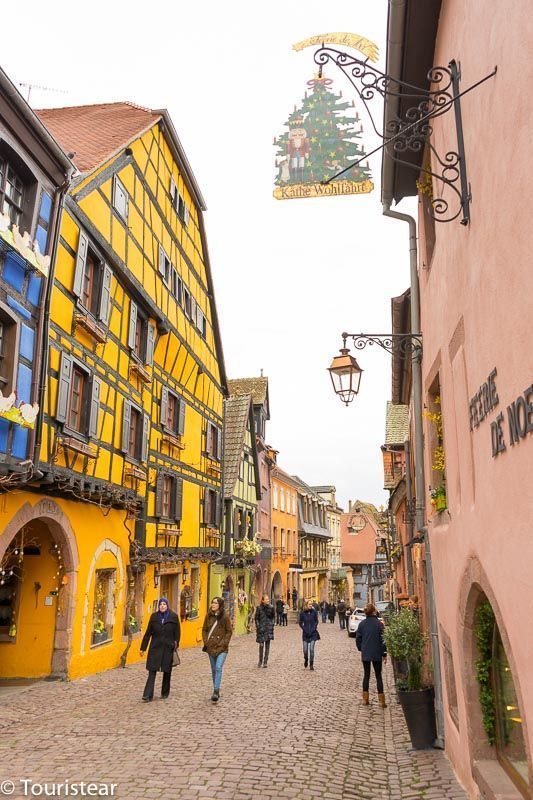 At one end of the central street is the Dolder. The 13th-century tower gate is located on the first wall; you can visit the small local history and archeology museum.
What to do in Kaysersberg?
It is a fortified city with 13th-century walls and is dominated by the ruins of a castle whose homage tower is circular.
You have to let yourself be carried away by its streets, and it is a very picturesque village. But, then, you have to visit the Church of the St.-Croix, which shows a Romanesque-Gothic style from the twelfth to fifteenth centuries.
Tour Rue de Gaulle, with its old half-timbered houses, and gaze at the Weiss from its fortified 1511 bridge. Stop at number 30 and visit the Verrerie d'Art de Kaysersberg, old art glassware.
Today it continues to manufacture glassware according to the artisan tradition. At 126 on the same street is the birthplace of Albert Schweitzer, Nobel Peace Prize.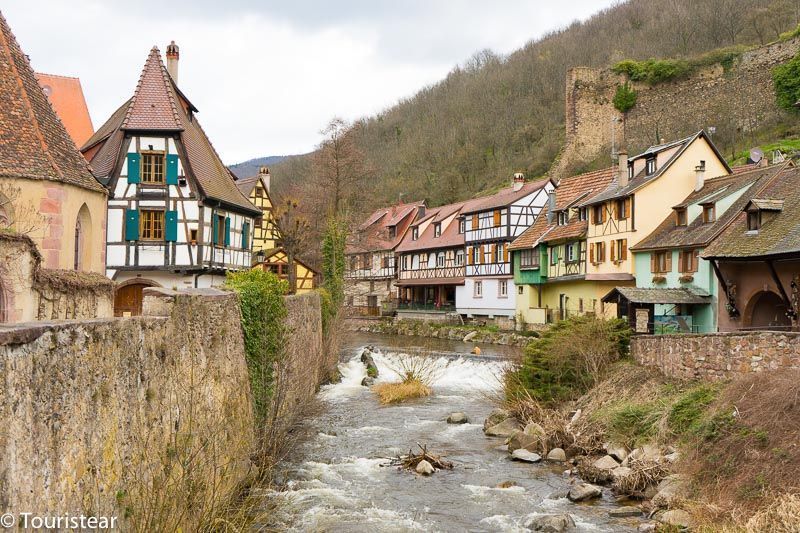 If you have more days, visiting the castle and two villages is ideal. If not, you have to take it easy. But you can visit everything without a problem, and all these villages are very close to each other.
Day 3 Turckheim, Eguisheim, Colmar
We have not been bored of Alsace's picturesque villages, with their colorful half-timbered houses and fairytale-like environments.
We used our third day to visit Turckeim and Eguisheim, the most beautiful villages of the Alsace region, and at night, we had dinner and made a night tour in Colmar.
What to See in Turckheim?
It is also located on the Alsace wine route. This town has been populated since Gallo-Roman times, as evidenced by the coins, tombs, and ceramics found on the site. Its moment of greatest splendor and growth was in the ninth century around Munster Abbey.
In the fourteenth century, it became the empire city of the House of Austria. It has suffered much damage from the wars between France and Germany but has never lost its elegance.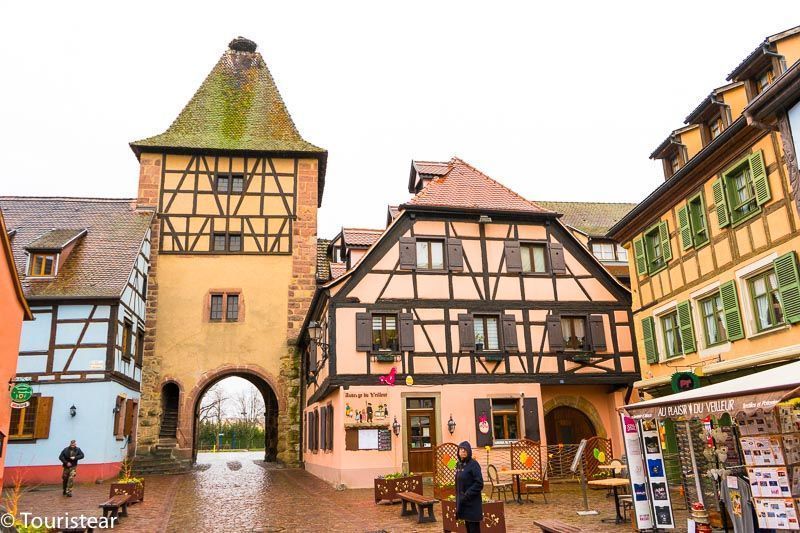 Without a doubt a must on your trip to Alsace and the Wine Route.
Eguisheim: one of the most beautiful villages in the Alsace Region
It's a beautiful village with half-timbered houses and one of the villages of the Alsace wine route. It is classified as one of the most beautiful villages in France.
The distribution of streets is quite curious as they follow a pattern of concentric circles.
So you cannot miss anything; you enter the village, it will tell you to go left, and you will literally be given a spin of the entire village.
The village is very well maintained and decorated. Let yourself be carried away by its cobblestone streets; visit the central square with its 16th-century fountain, the castle of the Countess of Eguisheim, and the chapel of Saint-Leo IX.
The best time to go is at Easter, in August with the stork party and the winemakers' festival, and in December for the Christmas decoration and its markets.
Colmar at night
We arrived for dinner in Colmar and visited Little Venice at night. Totally recommendable. The next day we dedicated the whole day to Colmar, to walk through its cobblestone streets, to enjoy the decoration of Easter, and to let its beauty carry us away!
Day 4. Visiting Colmar
I didn't plan on getting so wrapped up in this post about the Road trip through the Alsace region in 4 days, but I have been unable to avoid it.
Our last day is dedicated to Colmar, a rather large city with cobblestone streets and medieval and early Renaissance buildings.
Here we will also see colorful half-timbered houses, the Collegiate Church of San Martin, and a Gothic church of the thirteenth century.
Of course, it is part of the Alsace wine route; I repeat, taste the wines; they are excellent if they can be from small producers, even better.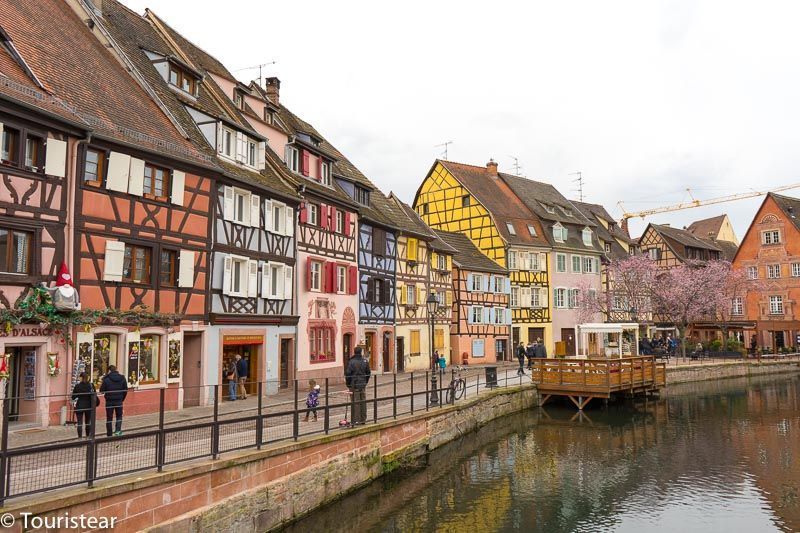 You have to visit the area they call 'Little Venice,' it is stunning. The good thing about Colmar and all the localities I mentioned is that you can visit on foot. You drive, you leave it outside, and then you walk quietly.
I promise you that I will post about Colmar shortly so that you have all the information.
I recommend you have at least three nights' sleep here and use it as a base of operations to make the rest of your visits. Check out these accommodations.
How to Get to the Alsace
You can do it as we have gone from Madrid, and the route through the Alsace was part of a longer road trip, or you can go by plane to Strasbourg and rent a car there. I think this is the best option to get to know this area on a 4-day getaway.
How to Move Around Alsace
The most comfortable way to move from one village to another is in your own vehicle, whether it's a car, van, motorbike, etc. Once in the town or city, your feet are the best form of transportation.
You'll get everywhere by walking, the only bigger city you might want to use the car is Strasbourg, but believe me, you can walk.
Many charming villages deserve a visit, but you will have to choose depending on your days.
We loved these villages, and I would like to go back for Christmas, see their famous markets, and visit more of their storybook-like villages.
Plan Your Trip to Alsace Region
For Your Pinterest!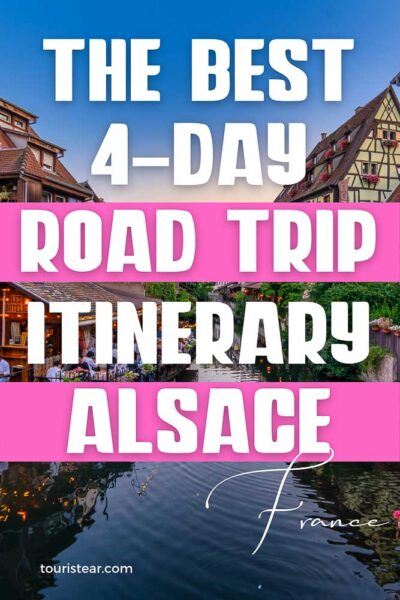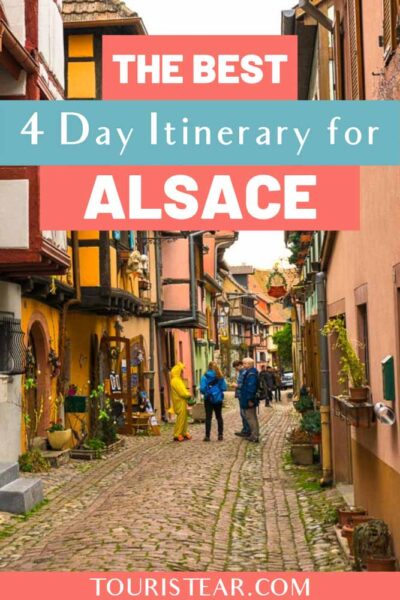 Book Your Trip
Book Your Flight
Find a cheap flight by using Skyscanner.
Book Your Accommodation
You can book your hostel, hotel, or apartments on Booking.com.
Don'torget Travel Insurance.
Travel insurance will protect you against illness, injury, theft, and cancellations. It's your protection in case anything goes wrong. You never go on a trip without it.
Best companies for Tours
Check out Civitatis.com and find the best tours in English (French, Spanish and Italian)
Are you looking for the best companies to save money with?
Check out my resource page for the best companies to use when you travel! I list all the ones I use to save money when I travel – and I think I will help you too! (Is in Spanish yet)
Last Updated on 20 October, 2022 by Veronica