Best Places to Stay in Black Forest Germany
One of our goals in Germany was to destress, and what could be better than staying nearby the beautiful towns in Southern Germany? Where are the best places to stay in Black Forest, Germany?
Here are some accommodations we have been to, plus a couple more suggested by friends and family.
Is It Safe to Stay in Black Forest Germany?
Black Forest, Germany, is generally safe for travelers, but we recommend taking the basic travel precautions and safety items while touring the mountain range.
Are you a bit worried about emergencies while exploring the Black Forest? We always save for travel insurance. Heymondo offers impressive coverage and a couple of add-ons. Use this link to get 5% off of your travel insurance.
Best Towns to Stay in Black Forest Germany
The Black Forest is located in Southern Germany. Despite being a forested mountainous area, the location is a top spot for travelers, tourist destinations, and amazing people.
We initially went there to relax and be with nature, but we did a couple of searches to find out other towns to visit. Here are some of our favorites!
Bad Wildbad
As part of the Northern Black Forest towns, Bad Wildbad emerges as one of the most popular towns to visit. This also makes the city one of the best places to stay in Black Forest, Germany.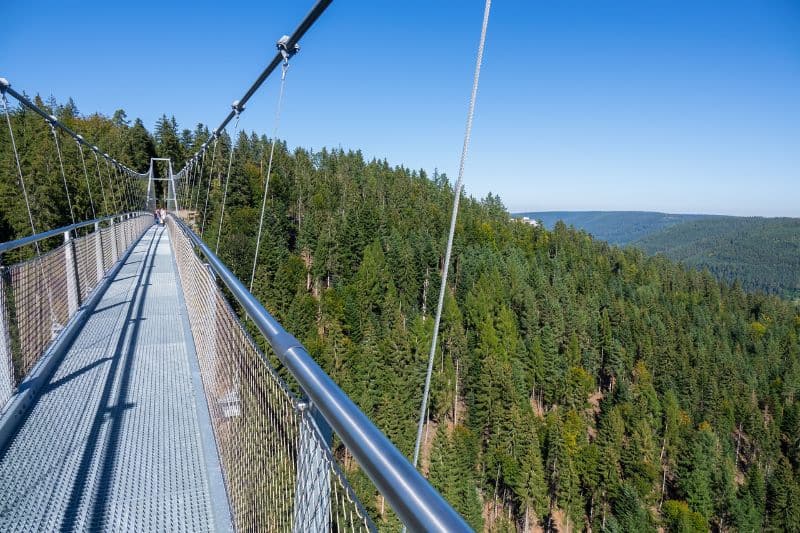 The town is known as a spa resort surrounded by baths and nature activities, especially tours to the Black Forest. You can walk with stylish and comfortable shoes at Kurpark or along the wooden trail at Baumwipfelpfad Schwarzwald.
Bacharach
In Upper Rhine Valley, which is a UNESCO World Heritage Site, lies the picturesque and quiet town of Bacharach. Coming from the name of the god of wine Bacchus, it was a wine trading station in the 14th century.
In Bacharach, you can find many architectural wonders like the Altes Haus, Burg Stahleck, and Wernerkapelle.
You can sign up for a solo trip and walking game here. For couples, staying in Bacharach is a great romantic destination too. Sign up for a self-guided tour for two around the town here.
Freiburg Im Breisgau
Freiburg is the number 1 pick for expats. The warm climate in one of the southern Black Forest towns and the friendliness of people living in the city make it a top spot to stay for your Black Forest excursion.
But before that, you sign up for the many tour options in the city here.
Freiburg is also considered a university city, so the food, accommodations, and other destinations were affordable compared to the other towns.
Walk through the Münsterplatz or tour the city by following the Freiburg Bächle. If your plans are flexible, you can follow the irrigation system or hire a tour guide here.
Baden-Baden
The next town is Baden-Baden, also labeled as the spa town of Baden-Baden.
It was once the summer capital of Europe but continues to become popular among tourists for its fantastic healthcare, thermal baths, and festivals. It is also the perfect starting point for your Black Forest excursion.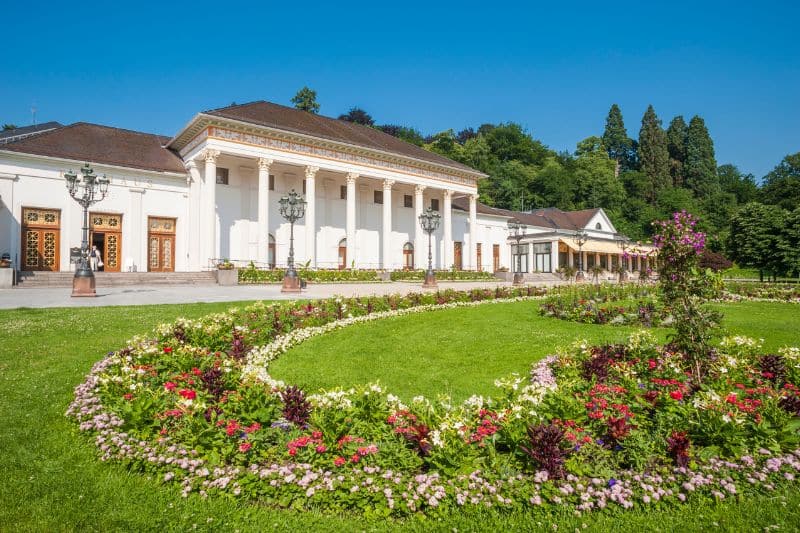 Despite their top-class healthcare, having travel insurance will help you with some of the fees when emergencies happen. This is just advice from a person who loves to travel a lot.
But to tell you the truth, Baden-Baden is one of the safest towns in Germany. I stumble many times because of the curbstones all over the town.
Wolfach
Our following recommendation was our first stop from our Black Forest tour in Germany. The Gutach Valleys have some of the most spectacular natural views, and Wolfach sits in the heart of the Black Forest.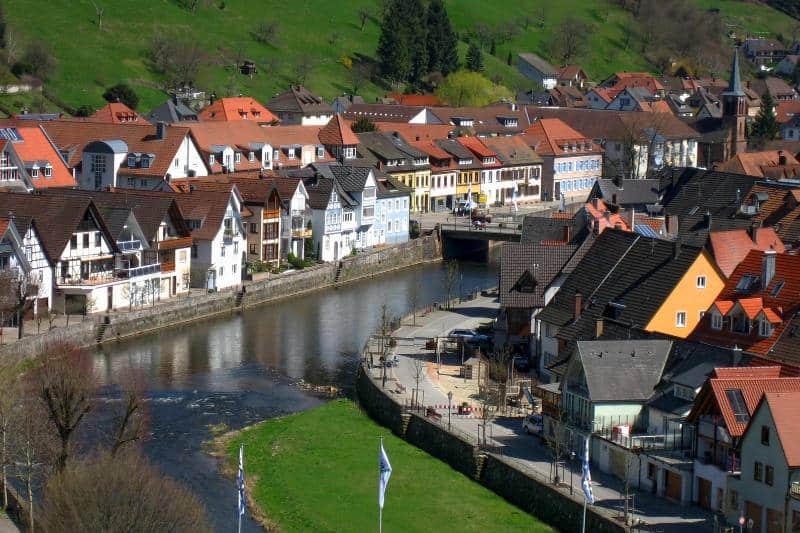 This town in the Gutach Valley has been a popular destination among tourists as a place to relax and enjoy the natural sights. It is a quiet town, safe, but during the high season, it can be packed with travelers.
Besides the beautiful valleys, the humble town is also home to Dorotheenhutte Wolfach, the only place that does mouth-blown glassworks in the Black Forest. Don't forget to get yourself a souvenir from there.
Best Places to Stay in Black Forest Germany: Luxury Hotels: Budget
In some towns in the Black Forest region of Germany, you can only find bed and breakfasts and apartment rentals, which are affordable. Traveling to Germany can be costly, so we also searched for budget accommodations.
Relax-Apartment
First, the apartment has a long name: Relax-Apartment mit Indoor-Pool, Sauna, Massagesessel und Netflix. But don't be scared of this apartment's impressive set of amenities. It is one of the most affordable ones we have stayed in.
The name tells of an indoor pool, a sauna, and massaging chair. The stay felt homey, and a night can go as low as € 84. The whole apartment can fit 4 people. Check the apartment availability here.
Annas Wohlfühloase
Another affordable and cozy option is the Annas Wohlfühloase. For just under € 70, you can get a room with a balcony that goes directly to the beautiful garden of the homeowners.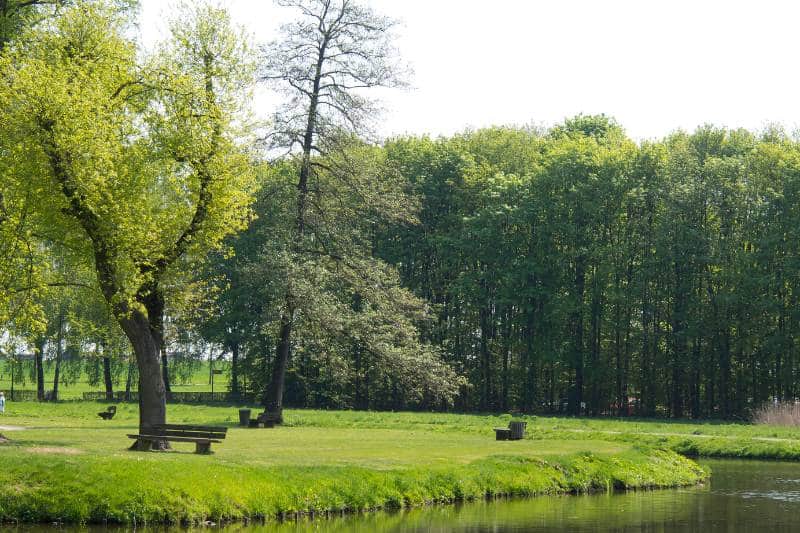 This family-owned accommodation has the best hospitality ever! They own some pets, so it is best to inform the homeowners ahead of time if you are allergic to cats or dogs. Or bring your allergy medicines with you.
Gästehaus Ursula
The guest house is one of the best accommodations with many perks. When you stay at Gästehaus Ursula, you will receive a Konus card and a Gutachtalcard. This way, you can save money when visiting a couple of sights.
A room costs as low as € 43 with breakfast. You will be surrounded by trees, flowers, and a river; everything feels like a sanctuary. Book a room here.
Best Places to Stay in Black Forest Germany: Mid-Range
Let's go a bit higher. We experience sleeping at Bartleshof. It was a calming place to be and felt like home. Here are a couple of options we also wanted to try out.
Black Forest Kuckucksnest Schönwald im Schwarzwald
The Black Forest Kuckucksnest Schönwald im Schwarzwald has a tennis court and more sports amenities for everyone to have a great time. The whole apartment costs about € 100 per night.
It requires a minimum of two nights per stay, so your total expense could be as high as € 230. It has everything you need to cook and feel at home!
Bartleshof
The family-run hotel or apartment offers affordable rates in Wolfach for a minimum of 3 nights. For 5 people, it costs € 285, which equals € 95 a night. The homey atmosphere and the views are something we love here.
Best Places to Stay in Black Forest Germany: Luxury Hotels
We're not fans of spending so much on a trip unless we get a lot of return from it. Sometimes we stay primarily in an RV rental. But I understand that some travelers might be ready for something more.
With Black Forest's town views, spending more on luxury hotels is a rewarding experience. Here are some luxury hotels you got to stay in.
Brenners Park-hotel
The 5-star hotel offers spacious rooms decorated with antique furniture and a balcony with views of their lush garden. The bathrooms feature Italian marble for a fine finish that exudes elegance.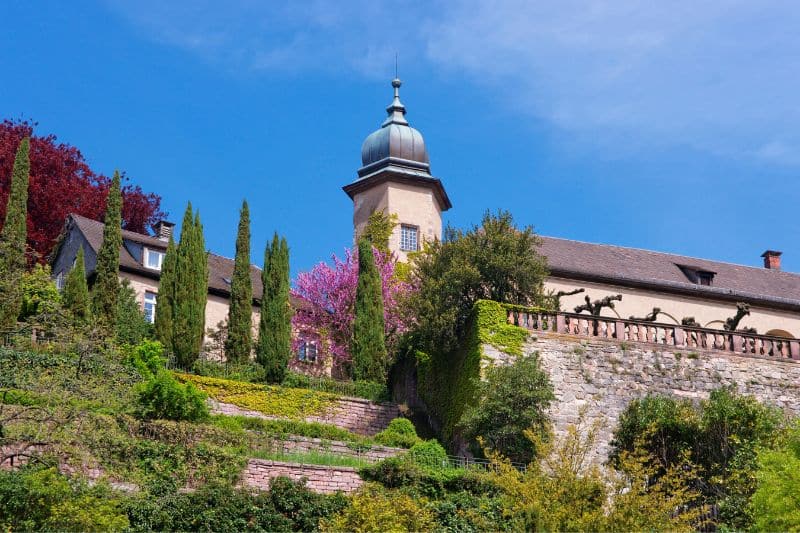 Brenners Park-hotel is one of the best luxurious hotels in the Black Forest, with numerous complimentary amenities, nearby museums, and other tourist spots. Book a room here.
Der Öschberghof
The hotel offers superior celebrity treatment to its guests. The hot tub, indoor and outdoor pools, terrace overlooking the golf course, and other amenities make the overall experience convenient and relaxing. Look for available rooms here.
Unique Places To Stay In Black Forest
We also discovered some unique ways to stay in and near the Black Forest, which you might want to consider.
Gondel Gisela
You can camp in the Black Forest with a renovated cabled car. Think of it as your small tent more comfortable with a good-sized bed. The camp is nearby lake Schluchsee.
If you want to camp but don't want to go to the trouble of setting up a tent, you can go to their website.
However, it might be tricky to book a spot since the website is in German.
Europa-Park Camping (RV Rental)
If you like to rent RVs while traveling, you can get a spot at Europa-Park Camping. It is nestled at the heart of Europa Park, another destination to visit before and after heading to explore the Black Forest.
What Are the Best Places To Stay In Black Forest Germany?
We absolutely love the Relax-Apartment with an indoor pool. But if you prefer to stay for longer nights, stay at Black Forest Kuckucksnest Schönwald im Schwarzwald to save time and feel at home.
We want to try staying in a Gondel Gisela on our next visit to the Black Forest. If you have tried doing so, share your experience with us!
Where are The Best Towns and Places To Stay In The Black Forest?
We personally love staying in Freiburg City. It has that calm and vibrant soul; we just felt like we were one with the city. Plus, the food is cheaper than being a student hotspot.
Is The Black Forest Worth Visiting?
Your trip to Southern Germany will never be complete without a trip to the Black Forest! The peaceful towns and relaxing vibes will help anyone be one with nature and recharge.
We hope our best places to stay in the Black Forest, Germany, will help you complete your trip!
Plan Your Trip to the Black Forest
Save this Image to Your
Pinterest

!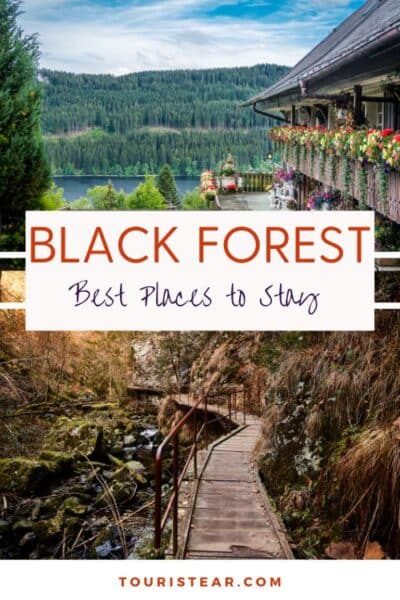 Last Updated on 13 September, 2023 by Veronica
Disclosure: Some of the links on this post are affiliate links, meaning at no additional cost to you, I may earn a small commission if you click through and make a purchase.
Author: Veronica
Vero, a seasoned traveler, has explored 25 countries and lived in five, gaining a rich perspective and fostering an infectious passion for travel. With a heart full of wanderlust, Vero uncovers the world's hidden gems and shares insights, tips, and planning advice to inspire and assist fellow adventurers. Join Vero and let the shared passion for travel create unforgettable memories.