How to Get to Dubrovnik from Airport?
After UNESCO's major restoration in Dubrovnik, it has become a hotspot for tourists who love Gothic, Baroque, and Renaissance architecture. After all the reviews and photos we saw online, we could not help but get to Dubrovnik from the airport fast.
But since each airport differs, you must find the best way to get to your hotel and vice versa. Here are some tips and some things we learned during our trip to this beautiful Mediterranean city.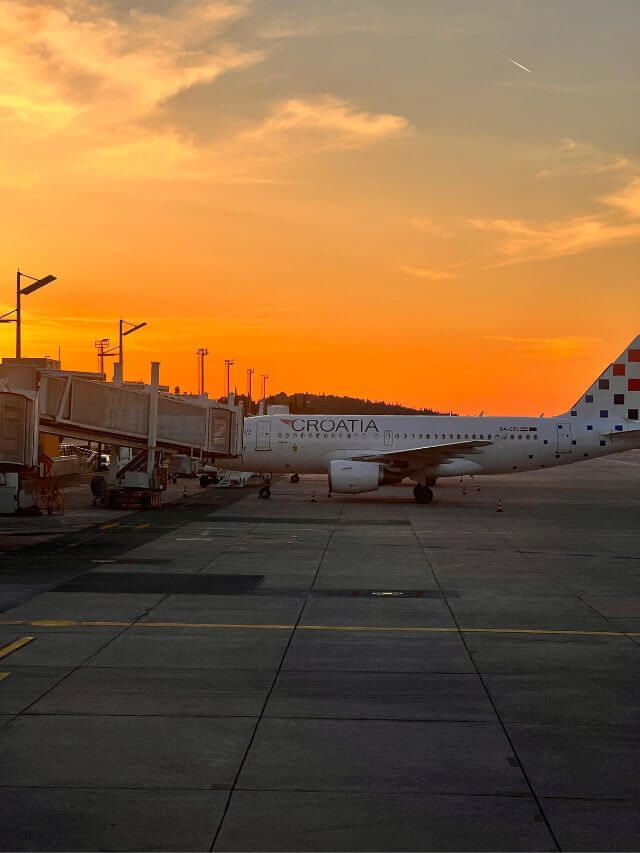 Disclosure: Some of the links on this post are affiliate links, meaning at no additional cost to you, I may earn a small commission if you click through and make a purchase.
*Please, consider that prices can change over time as well as schedules and tours. Thanks.
Where Is Dubrovnik Airport?
Are you interested yet? We sure were!
Dubrovnik has an international airport called Zračna Luka Dubrovnik (Dubrovnik airport). You can find this humble airport at Čilipi. It is also referred to as Čilipi airport.
There are two other airports in Croatia, namely, Zagreb and Split. Čilipi airport is the 3rd busiest airport in the country, receiving thousands of tourists and local travelers year-round.
Currency for Your Dubrovnik from Airport Trip
Since January 1, 2023, Croatia has entered the eurozone. This means that the official currency of Croatia becomes the Euro. And you can use this currency to make your payments.
Before, you had to exchange to Croatian Kuna before or when you arrived in Dubrovnik. But no anymore.
How Do I Get to Dubrovnik from Airport?
Čilipi Airport is 15 km from the city. Luckily, there are many options to get to and from the center.
In our case, from the airport to the hotel, we went with a private transfer booked with the hotel. And from the hotel to the airport, we went by Uber, which is cheaper and works very well in Dubrovnik.
How long does it take to get from Dubrovnik airport to the city? That will depend on the means of transport you choose. The bus is the slowest way, and the car is the fastest (if you don't have to rent it).
By Airport Bus Shuttle to Dubrovnik from Airport
How much is the shuttle service from Dubrovnik airport? The price ranges from €9 if you buy in advance or on the bus from the airport to the city center.
The price may be higher (€12) if you want to return to the airport by bus. Families with children under 6 years old can travel for free.
The shuttle bus arrives according to the airport flight schedule: 90 minutes before domestic arrivals and 2 hours before international arrivals. It is fast and efficient. You reach the center of Dubrovnik in just 30 minutes.
You arrive at the Puerta de la Pila. It is a bustling area and the main gateway to the city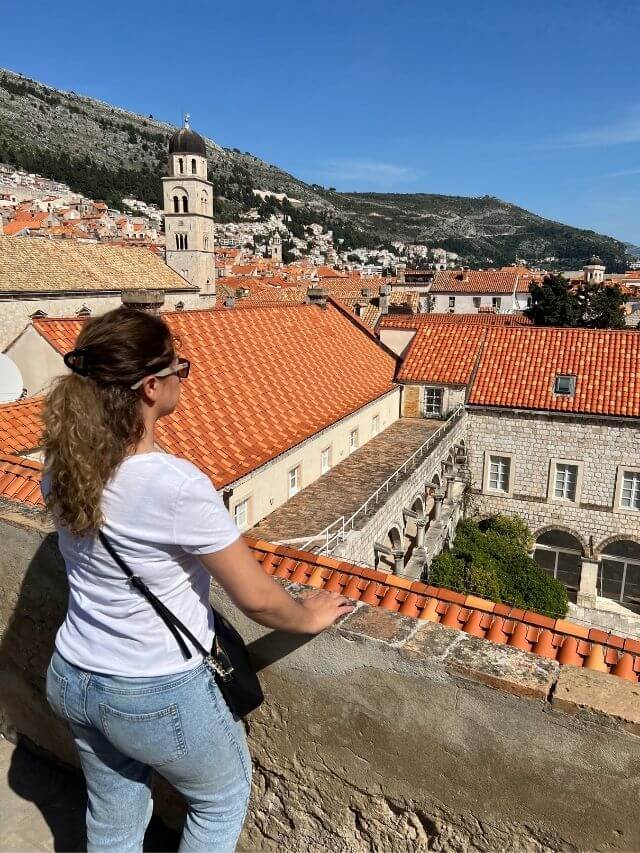 So if you take the bus shuttle, ensure you get your baggage and kids ready to get through the crowds. You can check their updated airport shuttle schedules here!
By Local Bus to Dubrovnik from Airport
We wished we could have tried traveling by the local bus. If you are up for the experience, we suggest getting to and from the Dubrovnik airport by a local bus.
If you are not in a hurry, take the buses numbered 11, 27 and 31 and pay €1.99 for the bus. You can pay with a discount, €1.59, if you buy the ticket in advance. You can get the tickets at the nearest newsstands.
By Taxi
In Dubrovnik, taxis and Uber are the same; the ones that are empty on the street you will see with the taxi sign, but if you ask for them through the app, the taxi sign is removed and they work like an Uber.
We love the enthusiasm of the taxi drivers. Practically everyone we got on spoke English. We had a hotel in Lapad, so we used Uber often, especially at night, to return to the hotel.
At Dubrovnik airport, you can take a taxi directly at the door, but if you have the Uber app, I recommend you ask for it there, as the price is cheaper.
We recommend taking a taxi or Uber to the airport if you are staying far from the city center, have to make transfers or are a bit of a hassle.
How much is a taxi from the airport to Dubrovnik? From the airport to our hotel in Lapad, the journey takes half an hour and costs us about €60 (but we contracted it with the hotel; we seem like newbies…).
To the city center the journey is about 20 minutes, so the taxi will be cheaper too, around €45.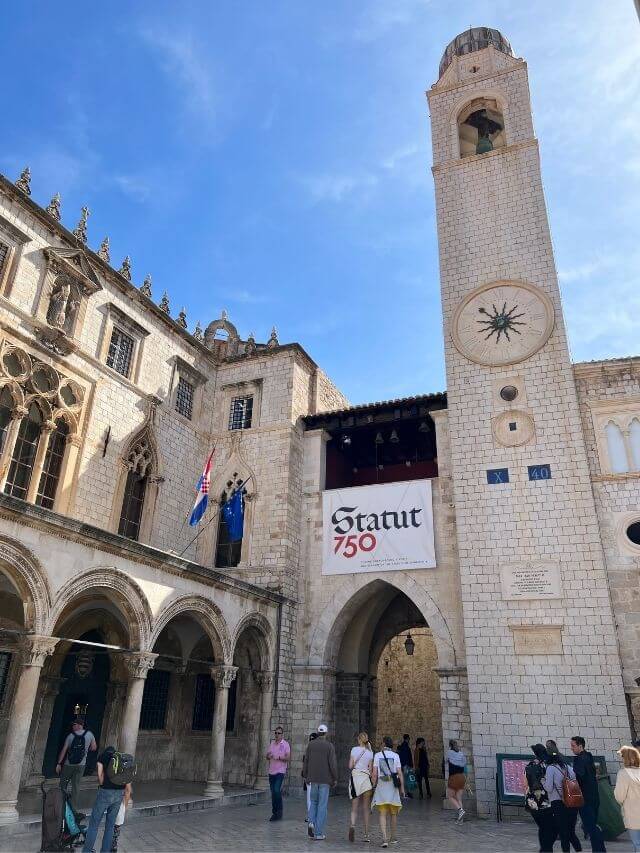 Dubrovnik airport taxis are easy to recognize. Look for the cars with the little taxi sign on the roof and they will drop you off in the old town. If you are going directly into the walled city, the taxi will only drop you off at the Pile Gate.
You may want to reconsider touring the walled city right after arriving at Dubrovnik.
By Private Or Joint Transfer to Dubrovnik from Airport
If you ask us what the most convenient is, it is always private transfers. Sometimes you can get it as an additional hotel service.
It is the option that we chose to go from the airport to the hotel since we arrived at night and were not in the city's center.
Of course, private transfers are the most expensive option compared to the usual taxi and bus fares, but they are the most comfortable option, especially if your flight arrives late or at night.
They take you directly to the destination that you indicate; in our case, it was the hotel, so they knew where to go and they waited for us with the little sign with our name at the airport door.
There is also the option of a shared private transfer with some stops at a cheaper price.
You can go for a shared private transfer with a few stopovers at a lower fare. At least you can immediately get taxis and buses. Book a shared transfer here!
Here are other private transfer options to choose from.
By Rental a Car to Drive to Dubrovnik from Airport
In our 4 days in Dubrovnik, we used two days to get to know the city and the other two to go on excursions. But I already tell you in other articles.
Driving around Dubrovnik does not seem like a good option to me unless you are staying far away, but keep in mind that you will not be able to enter the walled city, and you will have to pay for parking.
Of course, the rental car is perfect to get to know the surroundings and making tours on your own. I would love to return with the van; there are many beautiful natural places.
Where to Stay in Dubrovnik, Croatia
Each neighborhood in Dubrovnik offers beautiful sights and views. Depending on your needs and travel checklist, here are Dubrovnik neighborhoods to consider before booking your accommodations.
We stayed at Hotel Lapad, a beautiful 4 stars hotel situated on the Lapad peninsula. 30 minutes walking from Old Town.
Old Town for Cultural Attractions
The Old Town holds the best cultural and architectural attractions, such as the Baroque cathedral, open-air markets, and the War Photo Gallery.
If you are okay with spending for a splendid lunch, dine at Restaurant 360. Currently, the restaurant holds 1 Michelin star with an exquisite menu.
Stay within the Old Town at Guest House Forty-Four. You can reserve a room here. For an affordable option, you can get a Deluxe Double Room at La Vita e Bella IV.
Ploče for Majestic Coastal Views
The neighborhood is named after the Ploče Gate of the Old Town. You can ride a cable car to Mt. Srđ, relax at Banje Beach, visit Lokrum island, and tour around the Museum of Modern Art.
You can also find the most charming villas with wisteria and palm trees. Stay at an apartment with these views, like the Apartman Astra. Book the whole apartment for 2 to 3 people.
Lapad, Babin Kuk, and Gruž for a Far Beach Escape
If you want to explore the beautiful beaches, you can go a mile or 2 away from Dubrovnik. These 3 coastal neighborhoods offer the best beach views and luxurious seafront hotels.
Sailing enthusiasts and budget travelers can also find affordable accommodations here.
We stayed at Hotel Lapad, a beautiful 4 stars hotel situated on the Lapad peninsula, surrounded by two-hundred-year-old villas and the gardens behind it; the hotel stands out for its rustic façade refreshed with modern details.
The hotel offers 163 luxuriously furnished rooms in two wings connected by an original staircase which, after the renovation, was preserved as a memory of bygone times.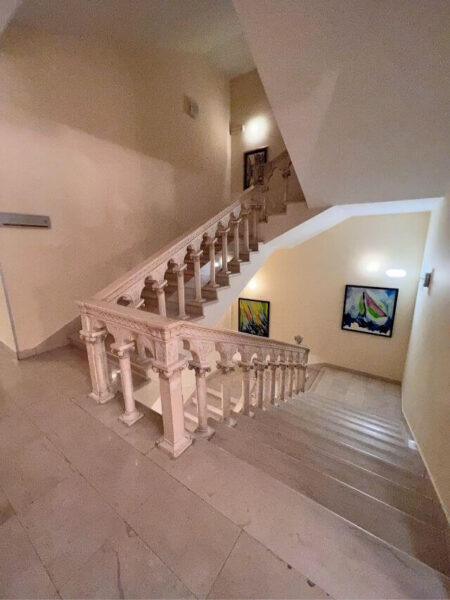 Reserve Apartment Marinero to get the best views of Lapad with parking space. It is also located near Gruž port, ideal for people looking for sailing activities.
Other Accommodations
You can also stay near the airport at the Le Petit apartment. You can reserve the place here.
The Blue Apartment is the best Dubrovnik Airport Accommodation with a free transfer to the airport.
History of Dubrovnik
Dubrovnik was once called Ragusa in the 7th century and has been home to coastal refugees. It has defended itself from foreign powers with the help of the town's defensive walls.
After the damages from the 1667 earthquake and the armed conflict in the 90s, the Mediterranean town experienced much destruction. With the help of UNESCO's restoration aid, Dubrovnik became the Pearl of the Adriatic.
Besides idyllic views of the sea and beautiful buildings, the town has also been home to outdoor activities and filming locations. You can spot Dubrovnik from a couple of Game of Thrones episodes.
Book your tickets to Dubrovnik here!
Is A Vacation To Dubrovnik, Croatia, Worthwhile?
Absolutely! There are lots of places to visit in Dubrovnik, which also means a lot of walking. You should ready your feet with the best travel sneakers with the grips of hiking shoes. Here are some ideas for things to do in Dubrovnik.
Stroll at Dubrovnik Walls
While it can be hot walking around the Dubrovnik Walls, you can see the views of the Adriatic Sea and the Old Town. You can get the best travel photos with the sea and the town as background. Get your tickets here.
It took us over 3 hours to finish walking around the walls, but for most travelers, it only takes 2 hours. During this walk, we also went to the Minceta Tower to get higher views and the best photos!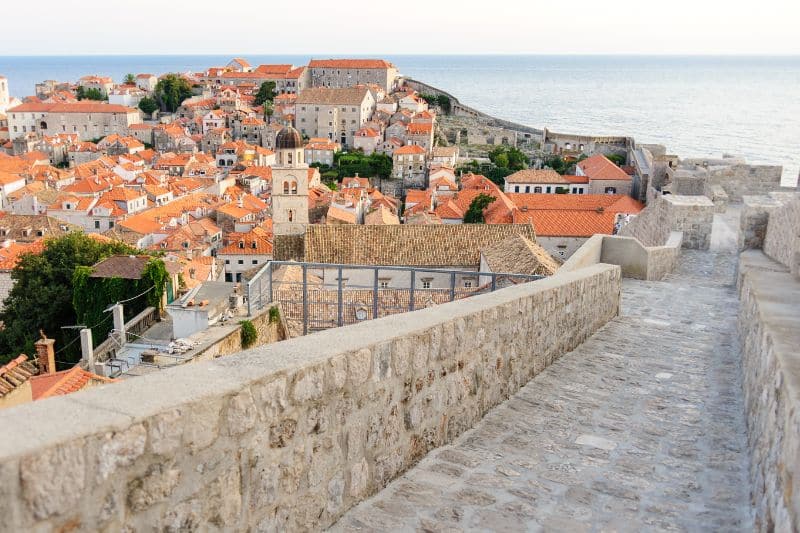 Go for a Panoramic Sightseeing with a Cable Car
The views are incredible at the top, and riding the Mount Srđ cable car can give you that experience.
Skip the ticket lines for the cable car ride here.
If you have more time, I suggest you go to the Panorama restaurant, we tried it, we went up, we took photos of the sunset and then we asked for dinner, but trying to go on the same day was not a good idea, it was already full.
The cable car ride only takes less than 4 minutes. What better way than to have another trip after that beautiful car ride? So, here's a recommended cable car ride and Old Town trips to skip the lines and enjoy the day with a pre-planned tour. Get your tickets here.
See History at the Homeland War Museum
You can find original documents and photographs from the Homeland War. Some of the scenes are in videos, so it is an educational place to visit during your trip with kids.
Explore the Hidden Wonder of Gornji Ugao Tower
Gornji Ugao is a hidden place waiting to be explored! It offers another view of the town's history through the excavated foundry. It is located at the northwest corner of the walled city.
Book a Boat Trip Around Dubrovnik
Enjoy the beautiful Adriatic sea on a boat tour. There are many tours, from 2 hours to all day, visit the nearby Islands, enjoy a kayak tour, there a boat trip for you.
Tours Trips to Dubrovnik
If you want to enjoy your vacation to Dubrovnik without spending much time planning, here are some trip ideas to join.
Old Town Walking Tour
Besides walking around the Old Town, this tour includes a guide and entrance to the city walls. Join the trip here!
The Game of Thrones Complete Tour
GOT fans, rejoice! There is many Game of Thrones tours in Dubrovnik, and some only take you to a few places. So here's a complete 5-hour tour of all Game of Thrones filming sites!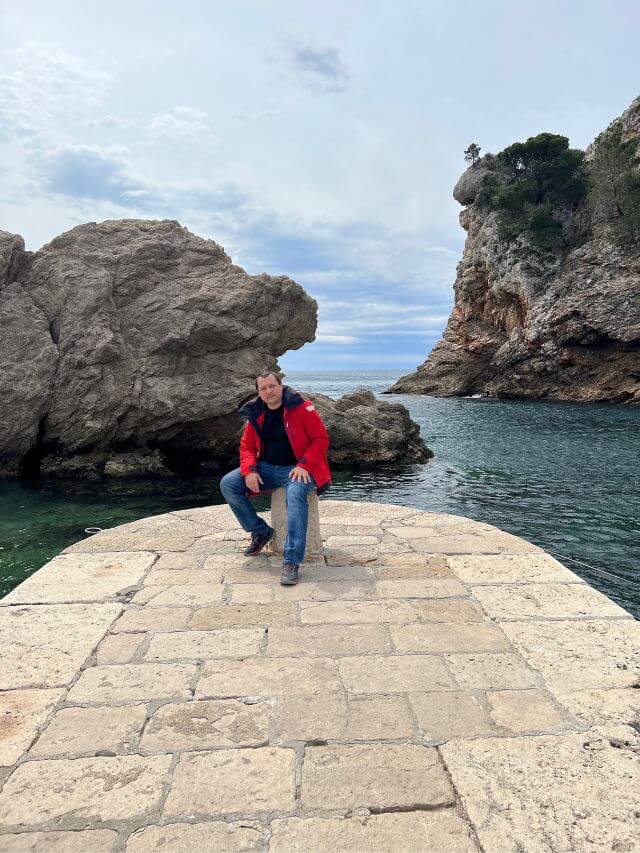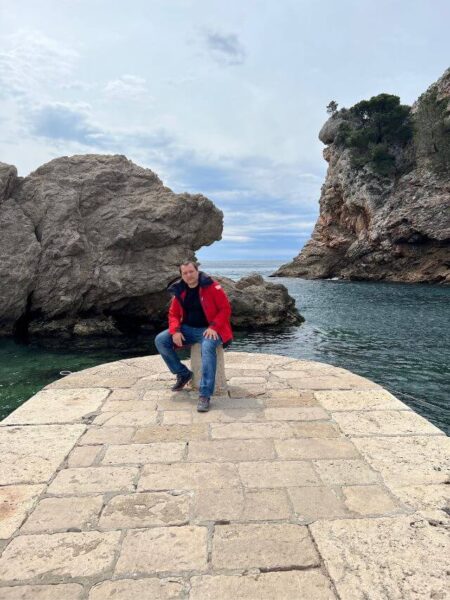 Book for the GOT trip here and reimagine the scenes from your favorite TV series. We may not be the ultimate fans, but we were amazed at the incredible set!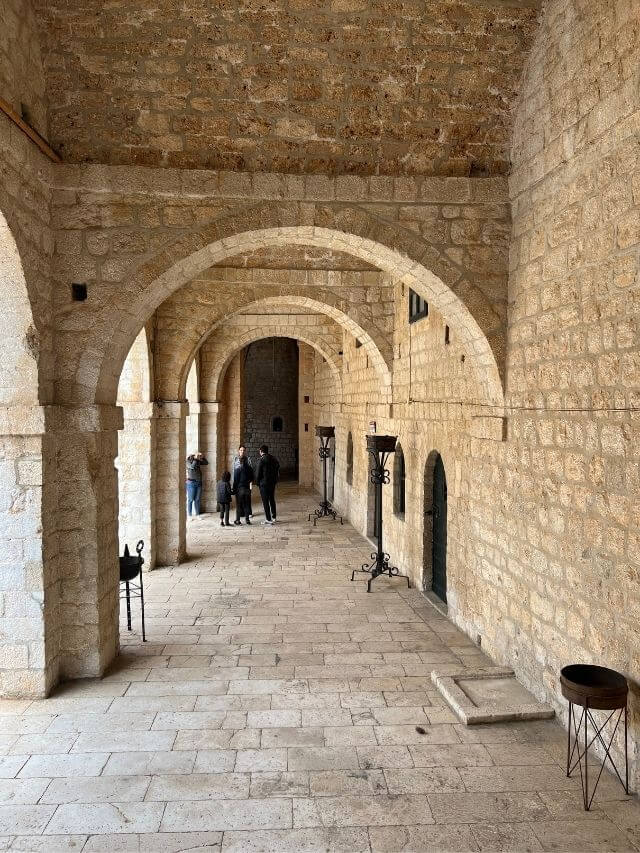 Food and Wine Tasting
We took a wine-tasting and food tour to get the best of Dubrovnik's wines and delicacies! And you should too. Dine in the countryside with your loved ones by reserving a table through this link.
Stay at the heart of Dubrovnik and head on a food and drink tour. You can reserve a spot for the walking tour here.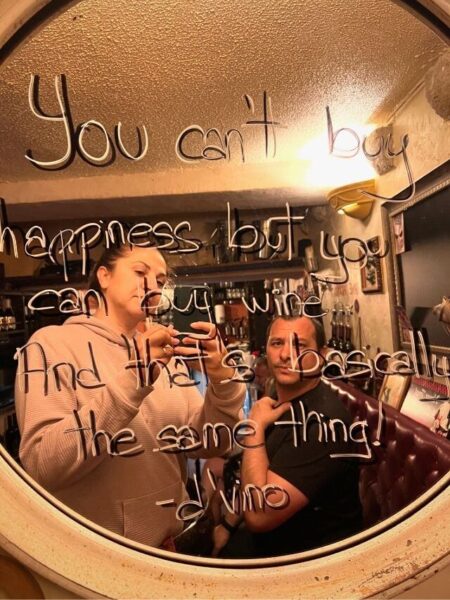 Travel Insurance Before Going to Dubrovnik
A tour around Dubrovnik is safe and does not take a far and dangerous route. Hopefully, you will not need travel insurance while in this gorgeous town.
As you prepare for your transportation to Dubrovnik from Airport, get the most affordable travel insurance from Heymondo!
You get 5% off all travel insurance plans using this link! Choose your preferred coverage at your budget.
I hope our tips helped you plan your trip to Dubrovnik from the airport. We recommend booking a private transfer but taking local transfers is always an exciting experience!
Plan Your Trip to Europe
Book Your Trip
Book Your Flight
Find a cheap flight by using Skyscanner.
Book Your Accommodation
You can book your hostel, hotel, or apartments on Booking.com.
Don'torget Travel Insurance.
Travel insurance will protect you against illness, injury, theft, and cancellations. It's your protection in case anything goes wrong. You never go on a trip without it.
Best companies for Tours
Check out Civitatis.com and find the best tours in English (French, Spanish and Italian)
Are you looking for the best companies to save money with?
Check out my resource page for the best companies to use when you travel! I list all the ones I use to save money when I travel – and I think I will help you too!
Last Updated on 15 March, 2023 by Veronica