The Best Day Trips from Dubrovnik to Bosnia
Bosnia is undoubtedly one of the many points of interest you can visit in one day from Dubrovnik. Besides being really close, it has exciting proposals. So, if you're interested in exploring, the journey begins here.
Bosnia is the word we use to informally designate a country, Bosnia and Herzegovina, and the northern region (largest in size) that makes up that country. In this post, it is worth clarifying we firstly use Bosnia.
The geopolitical unity of Bosnia and Herzegovina dates back to the Middle Ages and, over the course of many centuries, has gone through periods of greater and lesser integration or direct conflicts and separations with respect to Croatia and other nations involved in its vicissitudes.
Let us recall, without belaboring, that the history of Bosnia-Herzegovina is linked both to Croatia and, in a broader context, to Macedonia, Montenegro, Serbia and Slovenia, which until the early 1990s formed, with various variations, the State of Yugoslavia.
The proximity of Dubrovnik (Ragusa), part of Croatia, to Bosnia is both geographically, historically, and culturally. While each nation emphasizes its differences based on historical conflicts, for travelers who visit them, affinities soon emerge as well.
Is it Possible to Visit Bosnia from Dubrovnik?
Visiting Bosnia from Dubrovnik is as appealing as possible since the Croatian coastal city is only about 10 kilometers away from its neighboring country.
The geographical proximity and ease of transportation make Dubrovnik an incredible destination in itself, but the temptation to add a new destination that includes changing countries in a day is very feasible.
Bosnia, in that sense, is a tempting spot on the map in its own right.
Of course, Bosnia is a vast territory, so it will be necessary to select the places of interest conscientiously and consider that, in one day, we can visit one or two at the most to make the trip worthwhile.
Among the most popular attractions in Bosnia are the Kravice waterfalls and their natural splendor, the mystical Medjugorje, the charming and medieval Mostar, and the Bosnian capital of enormous historical value, Sarajevo.
There are several combinations, and we can arrange them according to your interests.
How to Get from Dubrovnik to Bosnia?
There are several ways to get from Dubrovnik to Bosnia. These are almost always ground transportation, such as buses, trains or cars, depending on the destination chosen.
For example, to get to Mostar, it is straightforward to find one of the buses of the two public companies that make the route, Arriva and Globtour.
To reach Kravice from Dubrovnik, the bus can be combined with a transfer by car.
For Sarajevo, given that the distance is greater, it is best to opt for the train as the main means of transportation, in order to make the most of the getaway. This will necessarily include travel by bus or car beforehand.
Finally, for Medjugorje we can opt for the bus or the car according to our preference.
In any case, there is always the option of looking for a specific tour that offers transportation to the chosen destinations. It is a matter of planning and reserving in advance what we are most interested in and what is most convenient for us.
How Far is Bosnia & Herzegovina from Dubrovnik?
Bosnia is really close to Dubrovnik. To be exact, the border is almost 9 kilometers away. Of course, from there on, the territory of Bosnia is extensive and, depending on the point we decide to visit, the distance may be greater or lesser.
To get an idea of this, at the beginning of each of the most popular destinations, we will specify the distance and estimated travel time.
How to Cross the Border Between Croatia and Bosnia?
The border between Croatia and Bosnia is straightforward to cross. Depending on each means of transport, the way to cross it and carry out the corresponding procedures may vary, although strictly speaking it is only a matter of presenting a valid document or passport.
In case of traveling by bus, the authorities on duty, generally the police, will board the bus to check the above-mentioned documents.
In case of traveling by car, the most common thing to do is to present a valid passport or identity card at the corresponding border control point.
Most popular destinations in Bosnia and Herzegovina
Kravice Waterfalls
Kravice waterfalls (or waterfalls, depending on the translation of "waterfalls" we find) are located near the town of Ljubuski. They are usually called waterfalls or cascades indistinctly because of their moderate and variable height, whose highest point is 28 meters.
Located 131 kilometers from Dubrovnik, the falls can be reached in approximately 2 hours 10 minutes by car or 4 hours by bus (for about 20 euros).
Also there are tours that can take us to visit the falls for prices starting at 50 or 60 euros.
This tour is the one we did, it is a full day visit and the truth is that it is great. There were only 6 of us in the minivan plus the guide who was entertaining.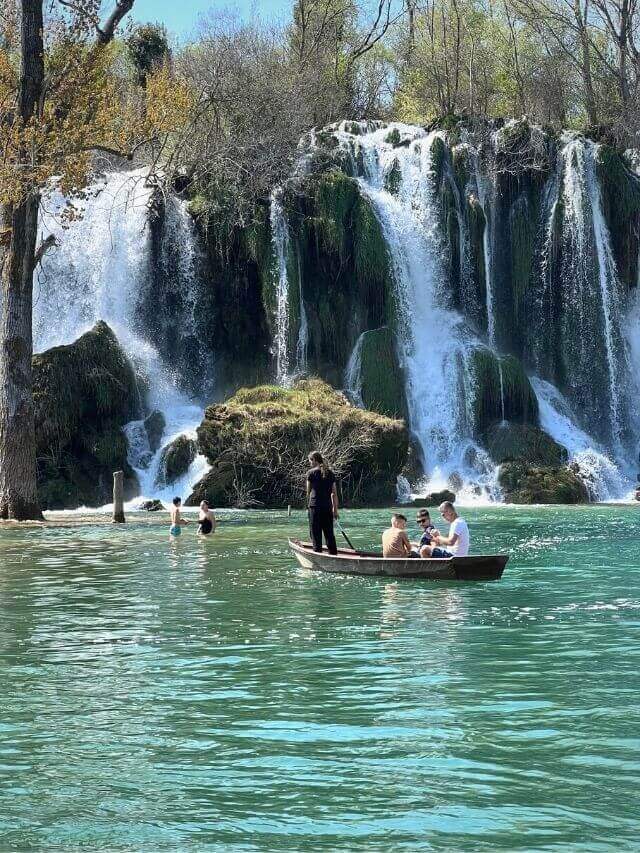 From Dubrovnik, on the way to the waterfalls, is Mostar, so it is usually advisable to take advantage of this circumstance and visit both points on the same day, with a stopover on the way there or on the way back.
Tours usually offer these two destinations in the same tour.
As for the Kravice waterfalls in particular, its great attraction is the natural landscape formed by the falls of the Trebizat River and the possibility to relax with the environment, have a picnic, take a bath or go fishing, if it is of interest to us.
The landscape consists of more than 100 meters of colorful and dense vegetation, surrounded by falling waters that form a kind of beautiful basin to see and walk through.
The water combines crystalline turquoise and green, and you feel like you are in spring when you contemplate it.
Mostar
The city of Mostar is about 140 kilometers from Dubrovnik, or 150 depending on the road we take.
From Dubrovnik, it takes about 2 hours 15 minutes by car or 3 hours 15 minutes by bus from the Central Bus Station (tickets from 21 euros).
Picturesque, medieval, charming and multicultural, the city of Mostar is a high point of tourism in Bosnia. Given the proximity to other exciting places, Mostar is often offered as a destination for tours from Dubrovnik along with them.
It is worth noting that Mostar is well worth the visit in itself. Its old bridge(Stari Most) The 16th-century church, destroyed in the wars of the former Yugoslavia, later rebuilt and declared a World Heritage Site by Unesco, is a must-see, but it is not the only one.
Its historic center with its craft markets (an authentic Persian market, the Kujundziluk Bazaar), its mosques and Ottoman traces ranging from architectural to gastronomic make Mostar a bewitching place.
Medjugorje
About 128 kilometers from Dubrovnik is located Medjugorje, a mystical city between two mountains.
Approximately 2 hours by car or 3 hours 45 minutes by bus (about 20 euros). It is usually a place included in tours to Mostar, Kravice or other points.
According to accounts, the Virgin Mary appeared in Medjugorje in 1981. The stories were not officially endorsed by the Church, but that did not prevent the city from becoming a place of pilgrimage chosen by many, which strengthened its mystique.
There you will be able to appreciate everything related to the apparition: its artistic reproductions in sculptures or paintings, the steep mountain where it is said to have happened, the places impregnated by faith and the sacralization granted by the accumulation of stories.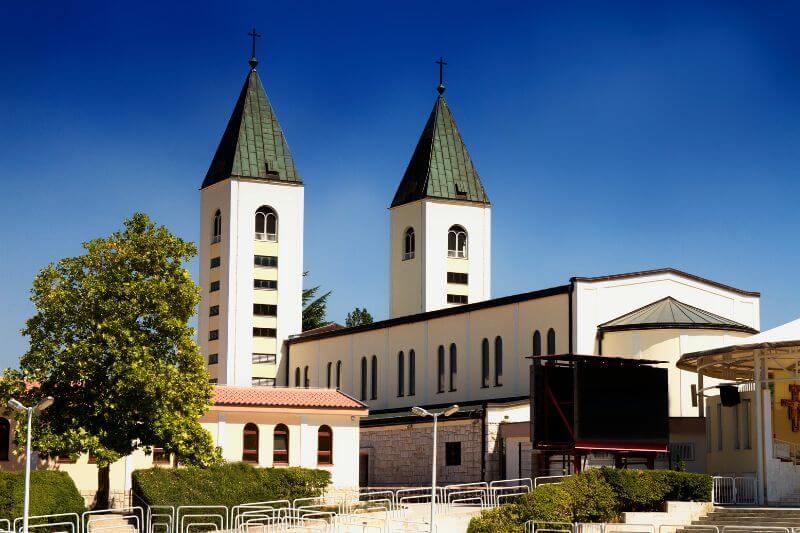 Trebinje
Trebinje is the southernmost city in Bosnia and Herzegovina, one of the closest to Croatia. Only 32 kilometers separate Trebinje from Dubrovnik, which makes it a close and accessible destination.
It is very easy to reach both from Dubrovnik and from other cities such as Mostar. If we start from Dubrovnik, the fastest and easiest way is by car. From other cities, the bus may be a good alternative.
The city of Trebinje invites you to explore it on foot and stop at its main attractions: the Arslanagic Bridge (from 1574), the old town and its medieval streets, the cathedral and the Orthodox churches, the abandoned Strac fortress in the mountains.
In addition to these points, it is advisable to take advantage of the tranquility of this traditional city to taste the gastronomy of Bosnia and its rich and diverse cultural nuances.
Stolac
About 112 kilometers from Dubrovnik lies Stolac, one of the oldest towns in Bosnia. It can be reached in approximately 2 hours by car. It is usually included in tours to Mostar and Medjugorje, due to its proximity.
For archaeology and history buffs and the curious in general, Stolac is a destination that keeps even the most indifferent entertained and sparks the imagination. It holds evidence of settlements dating back some 15,000 years. That is why Stolac is history.
It is a very quiet, valley and river town, with historical remains almost everywhere. Paleolithic caves, fortresses, necropolis, among other interests, will delight those who enjoy peering into other eras from current spaces.
Počitelj
115 kilometers from Dubrovnik is located. Počitelj a destination that can be reached by car in about 3 hours or included as a visiting point on tours going to Mostar and/or Sarajevo, for example.
Počitelj is a unique, medieval and wonderful city, perhaps one of the most beautiful in Bosnia (and that it has competition).
Its history dates back to the 14th century and even earlier. It went through several cultures. It endured and suffered the Balkan wars. Today, it shines on its own.
Cobbled, Bosnian with Ottoman legacies, it keeps in its interior the Ibrahim-Paša Mosque, a beautiful Clock Tower (Sahat-Kula) and views of a valley that makes it unique. Ideal for walking and enjoying its tranquility.
Neum
About 65 kilometers from Dubrovnik is Neum, a destination often included in the tours that take us to Mostar and/or Kravice waterfalls since it is on the way.
Neum can be reached from Dubrovnik both by bus and car, in about an hour, via the D8 road.
It is a small municipality whose main attraction is its beaches, without a doubt. Neum is the ideal place to relax, unwind, recharge your batteries and get away from the tourist circuits of statues and monuments.
It is important to remember that its beaches are mostly rocky, so it is advisable to wear appropriate footwear to walk on them. Once that is accomplished, the water of the Adriatic is usually crystal clear and the temperature in the city is usually warm.
Sarajevo
About 235 kilometers and a four-hour drive from Dubrovnik is Sarajevo. The trip is a bit longer than to other points (4 hours by car, 6 by bus), but the particularity of the destination makes it enormously worthwhile.
Sarajevo is nothing more and nothing less than the capital of Bosnia, a city of immeasurable historical value for its central role in the geopolitics of the region and its war conflicts.
Like other cities in Bosnia, Sarajevo is a multicultural city with traces of diverse civilizations and ways of living and thinking that leave their mark both in its architecture and in its gastronomy and the way it treats its locals.
Catholicism, Orthodox Christianity, Islam, Balkan cultures, and Ottomans…, shows their variety at every step and there is no doubt that there will not be enough time to go through it exhaustively.
Its points of interest are many, starting with its historic center, its tunnel, the Turkish quarter Baščaršija, its mosques, the Sebilj fountain, its churches and cathedrals, its shopping malls, its museums and its bridges will fill the eyes and senses, and make us want to know more.
Best Time to Visit Bosnia & Herzegovina
Undoubtedly, in order to be able to appreciate the landscape in its splendor and tour it at leisure, the ideal months to visit Bosnia are spring and summer, that is, from May to August.
A little earlier (April) or later (September) can also be beautiful anyway, although we may not be able to take advantage of some of the activities during the warmer period.
Likewise, if outdoor activities, those great attractions of Bosnia, are not a top priority, then the autumn and winter season can be interesting doors to enjoy Bosnia from another type of postcard not so widespread in what is usually seen.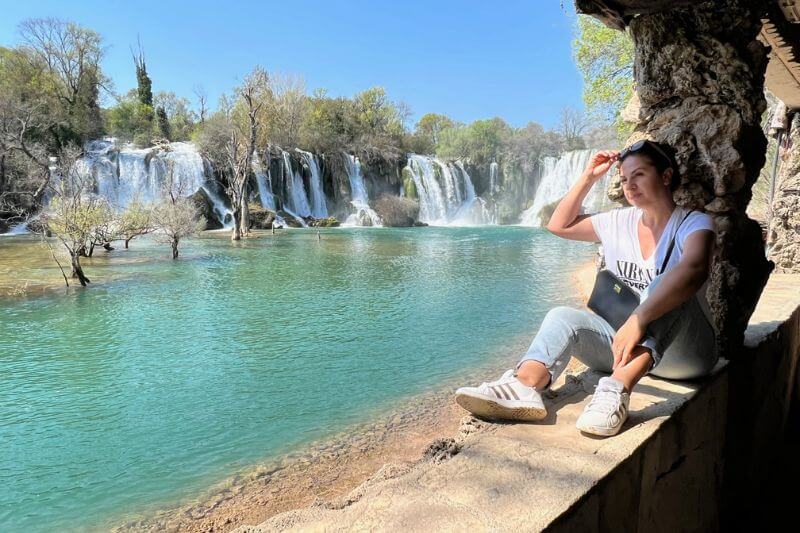 Example of a 1-day Itinerary
Tours usually offer hotel pick-up (sometimes, if the accommodation is located in the historical center, they offer a nearby meeting point).
Once on the transport, the modality is usually a route of two or three points in close proximity to each other, with a mode of descent and ascent according to the time stipulated for each destination.
In general, stops in smaller towns such as Medjugorje or Pocitelj usually last between 30 and 60 minutes, while for locations such as Mostar or Sarajevo they are stipulated between 3 and 5 hours, depending on the tour.
The exciting thing about these modalities is that you will have a guide who will tell you the history and curiosities of the places you are going to see and here, there is a lot of history, and quite recent.
For example, in the case of this tour of Mostar, Neum and Medjugorje, the tour starts at 7:00 am.
Neum is the first stop, mostly photographic, to take advantage of its privileged landscape and its strategic location on the way to the other destinations.
Afterward, the tour continues to Mostar, where you will be taken to the Old Bridge and we will have enough time to walk around the main sights of the city, starting with the Bazaar in the old town.
Finally, you will return to Dubrovnik, during which you will make a stop in Medjugorje, where you will have about 45 minutes to visit the most important parts of the city. Finally, at 7 p.m., you will be back at the starting point.
Travel Insurance
Croatia has recently joined the list of European countries where the European Health Insurance Card is valid. Likewise, it is always advisable to arrive at a tourist destination with travel insurance.
As for Bosnia, it does not currently belong to the European Economic State and therefore the European Health Insurance Card is not valid for use in its territory. Therefore, it is more than advisable to have travel insurance to have peace of mind and be covered.
We recommend you use Mondo's travel insurance, you can get a free quote here and get a 5% discount on any of Mondo's insurances.
Is Bosnia Worth a Visit?
In one word and two exclamation points: yes! Expanding a little on the reasons, we will say that Bosnia is worth visiting for its diverse natural and cultural-historical attractions. Also, because of the obvious proximity and transportation facilities available for the getaway.
Whether for its mountains, its waterfalls or its natural surroundings, for its medieval remains and its remote and recent historical interest, for its diverse cultures or its architecture, Bosnia is a destination that not only does not disappoint, but enchants those who visit it.
Plan your trip to Dubrovnik
Itinerary for visiting Dubrovnik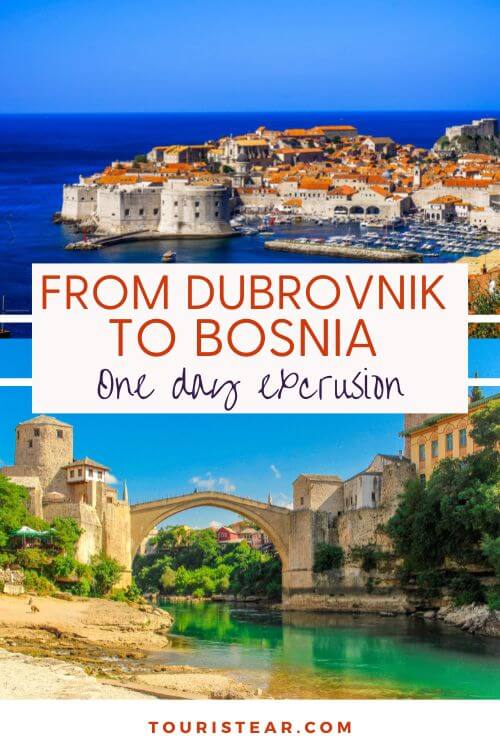 Last Updated on 8 September, 2023 by Veronica
Disclosure: Some of the links on this post are affiliate links, meaning at no additional cost to you, I may earn a small commission if you click through and make a purchase.
Author: Veronica
Vero, a seasoned traveler, has explored 25 countries and lived in five, gaining a rich perspective and fostering an infectious passion for travel. With a heart full of wanderlust, Vero uncovers the world's hidden gems and shares insights, tips, and planning advice to inspire and assist fellow adventurers. Join Vero and let the shared passion for travel create unforgettable memories.