How to Get by Ferry to Mallorca and Around the Island
Travel to Mallorca, a paradise to enjoy all year round. I still remember our first trip via ferry to Mallorca in March. It was a totally improvised 3-day trip. We rented a car and went on a trip to Mallorca.
In this post, I want to tell you how to get there with your car from Barcelona a Palma de Mallorca by ferry and some recommendations for moving around the island.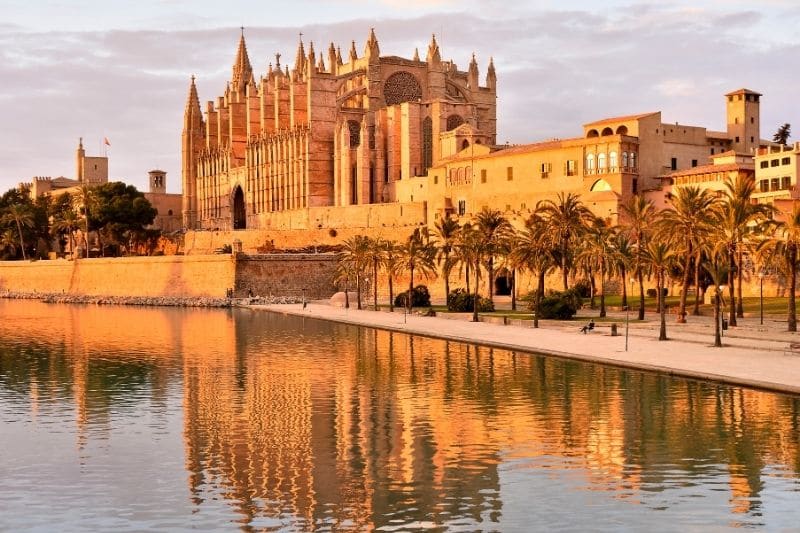 How to Get by Ferry to Mallorca from Barcelona
To Mallorca, you can go by plane or by ferry. The plane is ideal for a short weekend trip, but the ferry is suitable for a trip of 4 to 5 days or more and to be able to take your car, camper, or motorhome and enjoy the island on your own and at your own pace.
Barcelona – Palma de Mallorca by Ferry
To Palma, you can arrive by ferry with or without your vehicle. Several operators make the journey by Ferry from Barcelona to Mallorca.
The trip lasts 6 hours, and you have to check in an hour and a half before. This means of transport is ideal for trips lasting 4 or 5 days. You can also take your car, motorcycle, campervan, or motorhome.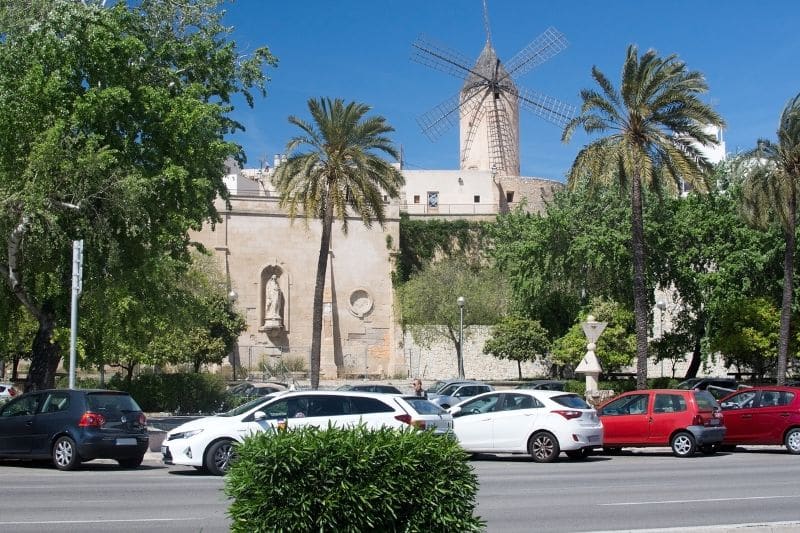 What are the Benefits of Traveling by Ferry to Mallorca?
The most significant advantage is that you can take your car on board. You can bring your vehicle on your trip, from motorcycles to motorhomes.
This way, you can comfortably visit your vacation destination, Palma de Mallorca, at your own pace.
The price varies depending on the size of your vehicle. The larger, the more expensive it is. We were looking to go with a van (a large volume of 6 meters long by 2.80 high), and the price compensates a lot. With the van, you save on staying in hotels in Mallorca.
Don't have a camper van? Rent one here and check the prices. They are great!
The second advantage is that there is no baggage limit as in airplanes. So if you stay on the island for 15 days, you can take a big travel bag with you without any problems! Plus, you can bring your own food on board and save on eating out.
The third advantage of traveling by ferry is that you do not have to sit in your seat for the entire trip. You can get up, walk around the deck, enjoy the view, and more. To prepare for the trip, make sure to wear waterproof travel shoes.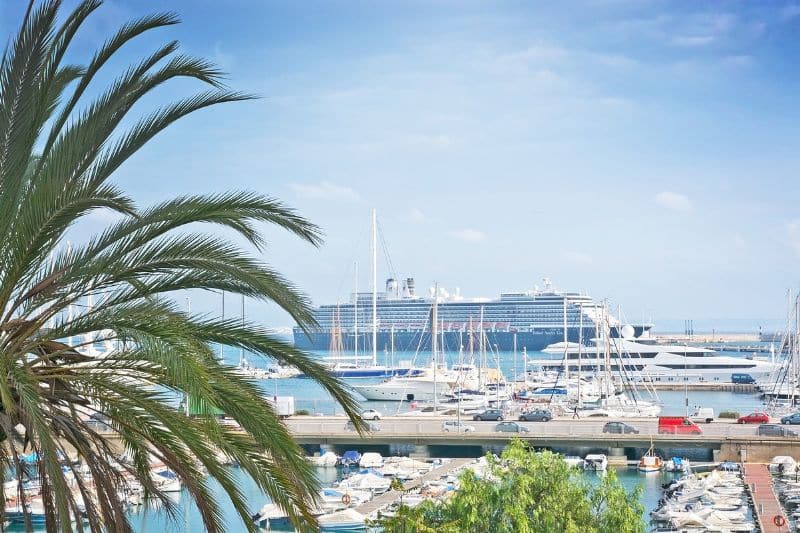 The fourth advantage, there are ferry departures to Mallorca every day. From Barcelona, the journey takes 6 hours. Try to travel at night in a cabin so you arrive at your destination well-rested and ready to go for a walk, and the trip feels shorter.
One of the tips always given is to check in at the right time. They usually ask you to be there at least an hour and 30 minutes before departure if you travel by car. Some companies ask for more time. If you are traveling without a car, it usually lasts about an hour.
In our experience, we arrived an hour and a half in advance to check-in. We saw people coming almost until it was time to leave. If you are traveling without a car, it is usually about an hour. This is not at all advisable.
Barcelona – Palma de Mallorca by Plane
Traveling by plane to Palma is the fastest option. Most travelers arriving in the Balearic Islands go by plane.
The biggest advantage is the speed. You arrive at your destination in less than an hour. Of course, you must add the travel to the airport, the controls, and the time in advance when you arrive.
Another advantage is that there are usually good deals, especially in the off-season. You can check online with an international sim to check promotions from Mallorca.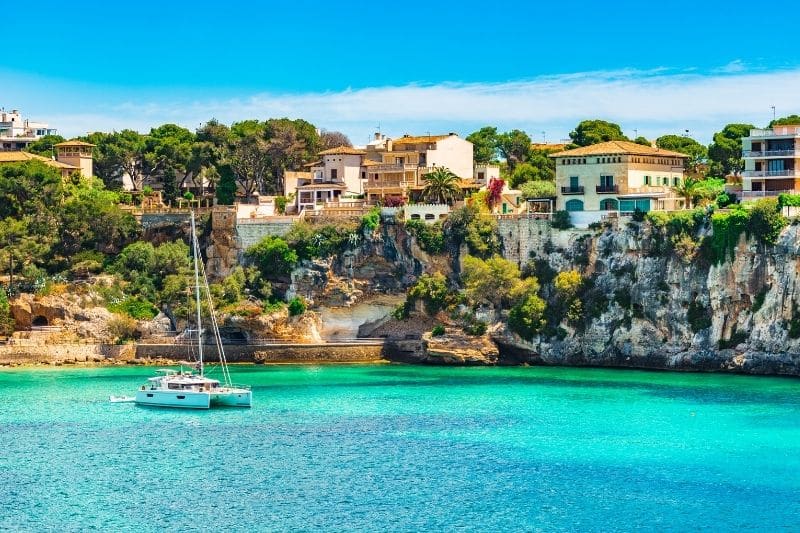 One of the disadvantages or negative points is that if you travel by plane, you have to rent a car to move comfortably around the island.
They say that public transportation is not very efficient. We went by car on my visit, and I recommend it to get everywhere without limitations!
Another negative point is the baggage restrictions. The carry-on luggage size is getting smaller and smaller!!!!
Get a Free Quote for Your Trip
How To Get Around Mallorca And Between The Islands
As I mentioned above, the best way to get around Mallorca is in your own vehicle or rental car.
One of the best ways to visit the island is by camper van or motorhome. It is ideal for trips of several days and in total freedom.
Concerning the regulations for motorhomes in the Balearic Islands, there are two aspects to consider: parked or camped? In other words, traffic regulations apply to parking. For camping, the rules of the Balearic Government apply.
What Is The Difference Between Parking And Camping?
Parking is parking your van or motorhome on the street or in a parking lot. You can stay inside the vehicle resting, watching TV, sleeping, etc., but without taking anything out, i.e., you can take out tables, awnings — nothing at all. Since in that case, you would be camping.
In Mallorca, you can not camp freely. You have to do it in the areas enabled for it, camping sites or specific zones.
A document you should always have at hand when traveling in Spain with a van or motorhome, in case they want to fine you or throw you out for being parked, is the Instruction 08/V-74 of the Dirección General de Tráfico (Traffic Department).
*Attention: There are times when even the instruction is not enough and you are fined anyway. In such cases, you have to appeal the fine.
If you travel in a caravan with a trailer, you have to go to a campsite.
Regarding shims to level the vehicle, it does not say anything in the law, but if you put them, it is tempting fate. I recommend not putting them on if you are parked on the street.
To move between the islands, you can do it by ferry or hire boat excursions.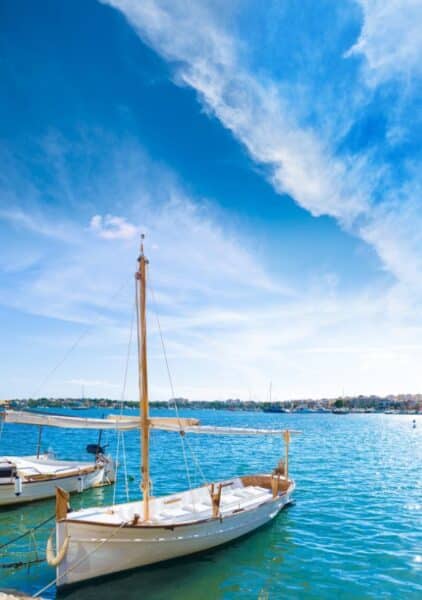 Travel Insurance for Your Trip via Ferry to Mallorca
As much as we love going on road trips, we know every journey comes with risks. So we always get travel insurance from HeyMondo.
We are also a fan of spontaneous trips like this one. We also got ourselves annual travel insurance. With this link, you get 5% off your annual travel insurance! 
Have you ever been to Mallorca by ferry? Share your experience with us! What did you think of the experience?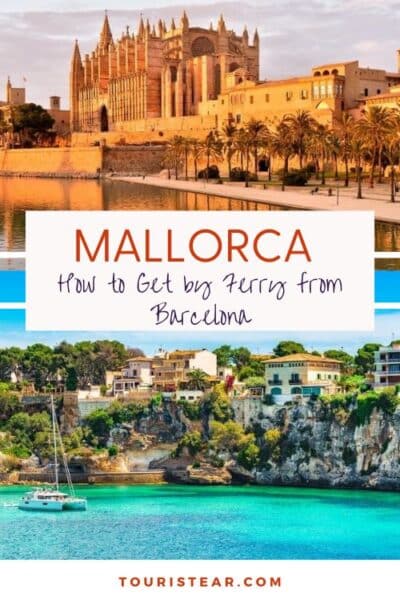 Plan Your Trip
Last Updated on 8 September, 2023 by Veronica
Disclosure: Some of the links on this post are affiliate links, meaning at no additional cost to you, I may earn a small commission if you click through and make a purchase.
Author: Veronica
Vero, a seasoned traveler, has explored 25 countries and lived in five, gaining a rich perspective and fostering an infectious passion for travel. With a heart full of wanderlust, Vero uncovers the world's hidden gems and shares insights, tips, and planning advice to inspire and assist fellow adventurers. Join Vero and let the shared passion for travel create unforgettable memories.