Best Things to do in Valencia in a 3-Day Itinerary
Have you ever thought about traveling to Valencia, Spain? The region is known for its beautiful beaches, medieval architecture, and of course, its paella.
So what should you do in 3-days? Here are some great things to do during your stay:
Explore the city's historic center; try paella at a local restaurant; take an excursion to the Albufera. In this post, you'll find the best things to do in Valencia in 3 days. Enjoy it!
What to See and Do in Valencia in 3 Days?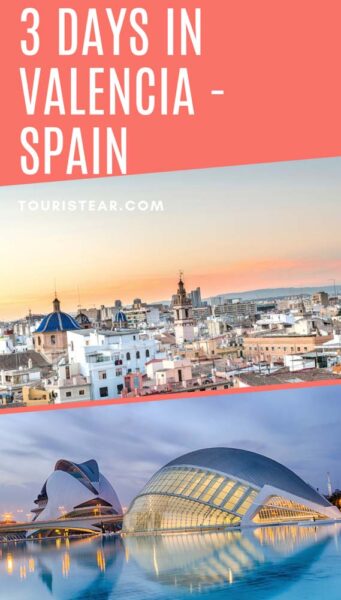 Day 1. Walk through the Turia Gardens and Historic Center of Valencia
We stayed at the Holiday Inn, which is near the city of Arts and Sciences. It's a good hotel but is a little far from downtown.
You can walk through the Jardines del Turia from this hotel toward the Cathedral of Valencia. This walk is around 40 minutes. And you'll see tourist places on your way to the cathedral.
Turia Gardens (Jardines del Turia)
The Turia Gardens are located in the old way of the Turia river, which was diverted to avoid the continuous flooding that the city suffered from.
At present, it is an urban park of more than 9 kilometers, which is passable, that crosses a great part of the city.
Throughout the park, there are 18 bridges of different ages and styles.
Also, along this way, you will reach different museums and points of interest in the city, such as the Palacio de la Música, which has bars and cafes, ponds, a children's area, etc.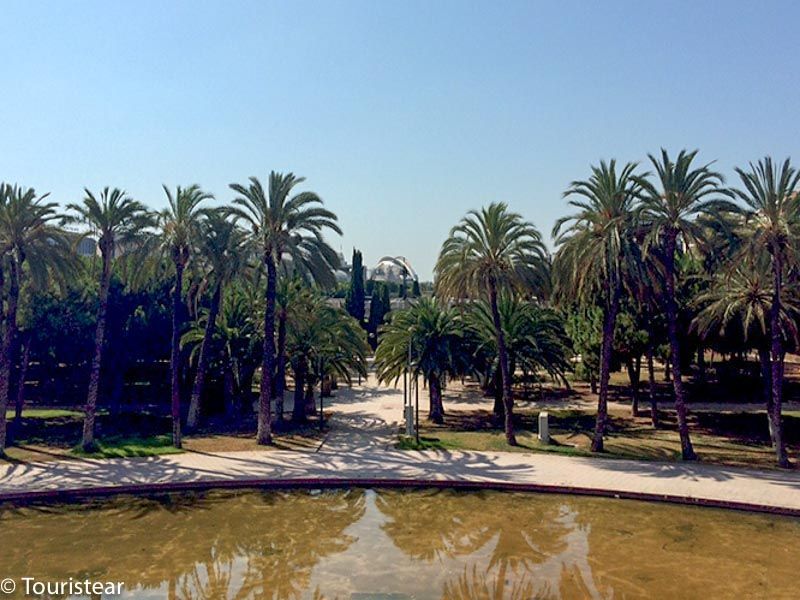 One of the sections is Gulliver Park. If you go with children (well, adults have a lot of fun, too), make a stop there; it's worth it.
In the middle is a lying figure of Gulliver of about 70 meters, full of slides and corridors, through which the children climb, like the Lilliputians in the book. It's totally free.
A few steps from there is the Palau de la Música, with an annual program for lovers of this art. Outside it has esplanades where little skaters or soccer players practice their talents.
Elsewhere is Parque de la Cabecera, where you can rent a swan-shaped boat and take a walk around the pond. In summer, there are also balls to walk through the water.
Square of the Porta de la Mar
I detoured to enter the city through the Plaza de la Porta de la Mar. It is a square in the Ciutat Vella of Valencia that consists of a triumphal arch made from an imperialist style.
Next is a park with millenary trees, which is good for resting a bit, especially on hot days. Then, I cross the park and continue to Carrer de la Pau.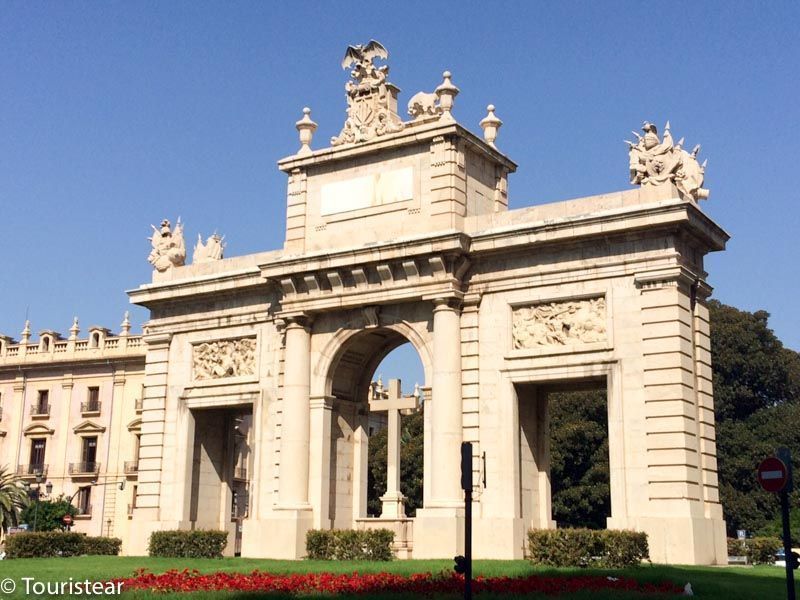 I loved this street; I was walking and wandering among its perpendiculars since I looked left and right, and there was some interesting corner, square, and museum
On this day, I was visiting Valencia solo. I did it at my pace and preference, so it took a few hours to get to the Cathedral, which was the goal I had left the hotel that morning.
Plaza de la Reina and Cathedral of Valencia
At the end of Carrer de la Pau, you arrive at the Plaza de la Reina, where you have the Church of Santa Catalina with a beautiful bell tower in front of you.
It is one of the Gothic churches of the city of Valencia and was built on an old mosque in the neighborhood of the Cathedral.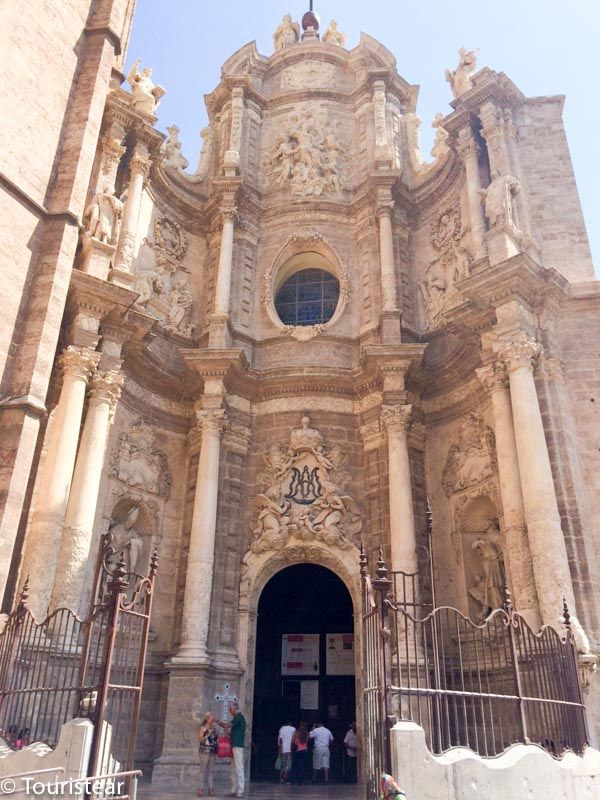 To the right of Carrer de la Pau, crossing the Plaza de la Reina, is the Cathedral of Valencia, whose full name is "Cathedral Church-Metropolitan Basilica of the Assumption of Our Lady of Valencia." However, it is known as the Seu (Cathedral in Valencian).
It is mostly made up of Gothic style and was built on an old mosque, which was built on an old Visigothic cathedral, which had been built on top of a temple dedicated to Jupiter or Diana.
You know, whoever won the war, converted it as they wanted…
Admission is free. You enter through the Puerta de Los Hierros, and inside I recommend that you see the Chapel of Santo Cáliz and the Incorrupt Arm of San Vicente. According to studies, they are historically real pieces.
Plaza de la Reina is one of the best-known places in Valencia. It is extensive and bustling, with bars and restaurants all around. For a few days each year, craft markets are set up there.
To get a wide view of the square and a large part of the city, you can climb the bell tower, "El Miguelete" or "Micalet," in Valencian. It's 207 steps and 51 meters high, but it's worth the effort!
Square of the Virgin of Valencia
Surrounding the Cathedral on the left, you arrive at the Plaza de la Virgen; the origin of this square dates back to Roman times.
Here you can see 3 important buildings of the city:
La Seu (Cathedral),
the Generalitat building,
the Basilica of the Virgen de los Desamparados.
You can also see the Fountain of the Turia, which was inaugurated in 1976, where you see Neptune surrounded by 8 naked women, representing the 8 acequias of the Vega de Valencia.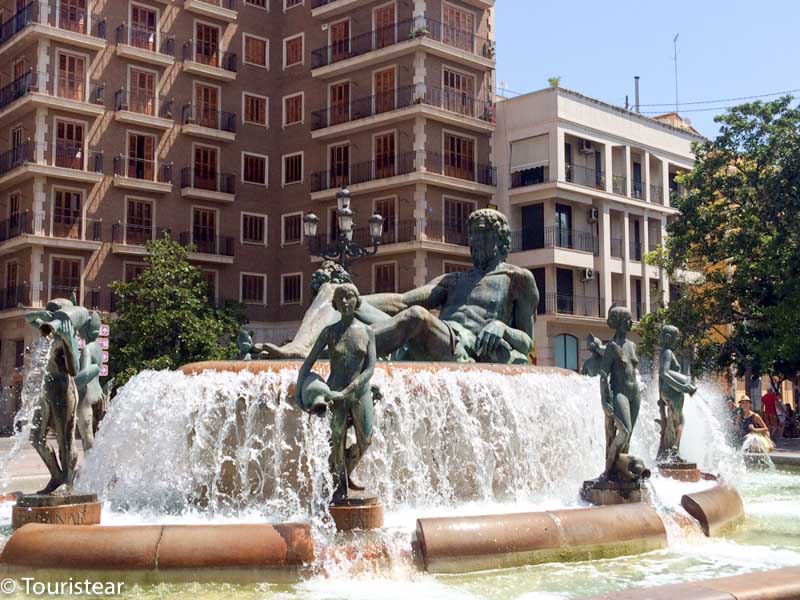 In this square, the offering to the Virgen de Los Desamparados takes place, which is celebrated on March 17 and 18 each year during the Fallas de Valencia.
It is one of the city's most beautiful and emblematic places and a perfect place to sit outdoors and have a drink to gain strength while admiring what surrounds you.
Torre de Serranos
From here, you can continue to the Torres de Serranos. Serranos Tower is one of Valencia's best-preserved monuments, dating from the fourteenth century; and is Gothic and was one of the 12 entrances to the city.
It has had several uses throughout the centuries, and thanks to having been a prison, it was saved from its dismantling in the 19th century when it was ordered to remove the city's walls.
During the Spanish Civil War, it served to store some works of art from the Prado Museum.
It currently houses a museum and some important pieces for the city. From there, the Fallas begins with the famous Cridà on the last Sunday of February. You can also go upstairs and enjoy the views.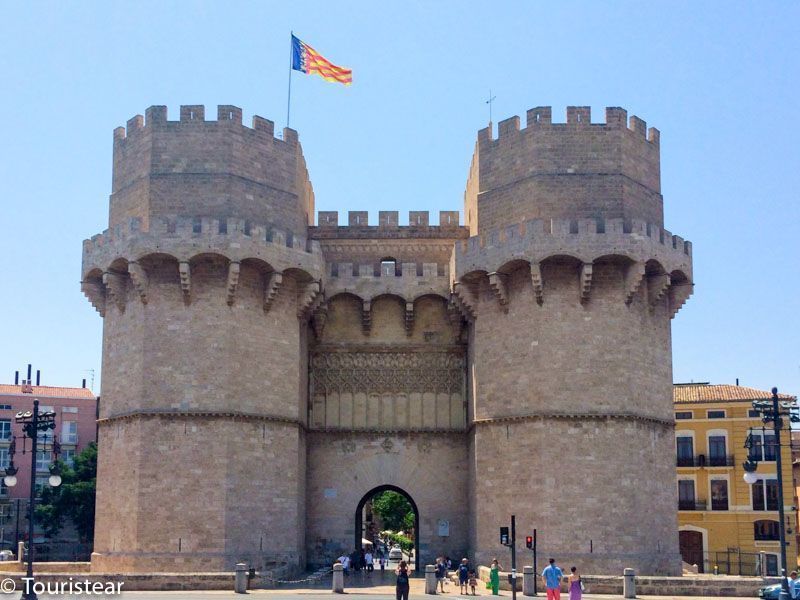 Town Hall Square
It is here where the macletàs are fired during the Fallas de Valencia. In this square, you can see the Town Hall buildings, the 18th-century Town Hall, and the Post Office.
In the center of the Plaza, a fountain lights up with colored lights at night.
Traditionally the square had two levels, and in the lower part, there was a flower market. Right now, there are official flower stalls that give a lot of life to the square.
All this environment has been declared a Historic-Artistic Site.
North Station, Colón Market and Bullring
Not far from the Plaza del Ayuntamiento (Town Hall Square) is the Estación del Norte, a beautiful modernist building inaugurated in 1917. It is adorned with ceramic ornaments reminiscent of the nature of the Valencian Community.
A little older than the Station is Mercado de Colón building. It is one of the best examples of Valencian modernism and is declared a National Monument. Now it has gastronomic and commercial stalls.
The Plaza de Toros continues to fulfill its function since bullfights continue to be organized in Valencia. I don't support this tradition, so it was enough to see it from the outside.
It is a beautiful building in neoclassical style, almost 18 meters high. Inside you can visit the museum.
Day 2. City of Arts and Sciences
The City of Arts and Sciences is, without a doubt, a place you must visit in Valencia.
Although you cannot or wanted pay for the entrance to the different facilities, it is a place that you have to visit for its architecture and modernism. And because it is a symbol of the city of Valencia.
The City of Arts and Sciences is a complex made up of 3 buildings, the Oceanografic, the Science Museum, and the Hemispheric. It occupies about 2 kilometers of the old bed of the Turia river.
I will leave you a photo day and night so you can see it. It is worth a visit at any time of the day!!!
The Oceanografic
The Oceanografic is the largest aquarium in Europe. Honestly, I have never entered because I don't like aquariums and prefer to see the animals in their natural habitat.
But the building on the outside is very cool.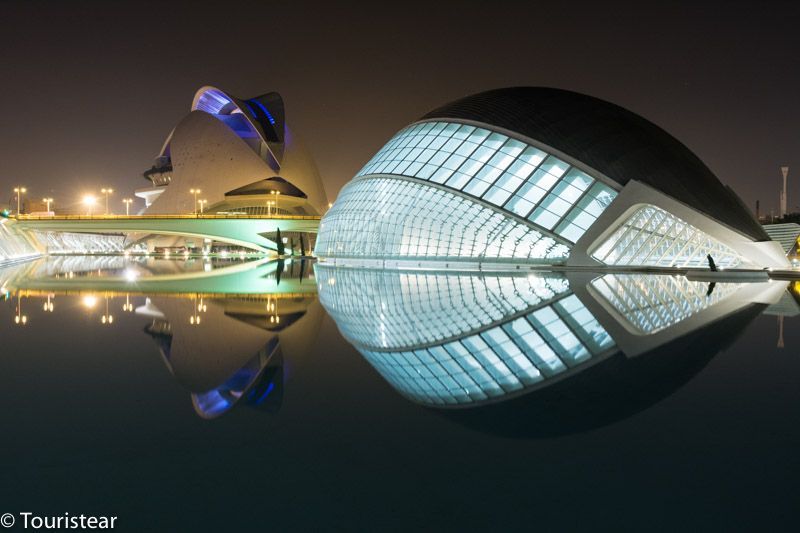 For those who are interested in visiting it: it is divided into 7 marine areas with more than 45,000 specimens. It also has a corridor where sharks and children can spend the night!
It is an extensive visit; if you want to see everything, reserve at least half a day just for the Oceanographic. Here you can buy tickets without having to queue.
The Science Museum Prince Philip
This museum has interactive exhibitions and has become a world reference, teaching "Science and Technology" in a fun and entertaining way for all audiences.
It is located in a building designed by Santiago Calatrava and has more than 26,000 square meters of exhibitions.
The ground floor can be visited without paying. It usually has some temporary exhibitions and a restaurant.
To see the rest of the museum you need to get tickets. Before you start, check out the Foucault pendulum hanging from the ceiling (it's super long and impressive). And when you leave the museum, go through there again and you will see the change.
Reserve another half day for science; you have to go slowly!
Valencia's Hemisferic
The Hemisferic was the first of the three buildings to open its doors to the public; it was also designed by Santiago Calatrava.
It is mainly a 3D cinema with a projection room with a concave screen of 900 square meters! What you see there completely surrounds you.
There are several daily sessions; they are usually documentaries of about 45 minutes. It is also content for children. At the entrance, you receive special glasses that allow you to listen to different languages.
I recommend booking in advance as the sessions fill up and you may not have room for the time you had planned.
Taking advantage of the fact that I started the day in a cultural way, I decided to continue with other museums in Valencia.
You can also visit the Fallas Museum,
the Museum of Fine Arts
the National Museum of Ceramics.
And the Silk Museum that I liked so much that I wrote a separate post 🙂
But not everything on the same day!
Fallas Museum
It is clearly one of the best places to get to know this Valencian community tradition. Those of you who are going there for the first time, write it down in your agendas 🙂
The best time to get to know the Fallas would be during the festivities, which are celebrated between March 14 and 19.
On the last night, almost all the ninots are burned in the traditional cremà, only a couple are saved (by popular vote) each year, and these have been kept in the Museum since 1934.
During the visit, you will also be able to learn how the figures are currently constructed and how they were made years ago, and see the festival posters and photographs.
The Fallas was declared an Intangible Heritage of Humanity by UNESCO in 2016.
Museum of Fine Arts
It is located in the 17th-century building where a seminary school was originally located. Later, it served as a military academy, army supply store, or military hospital.
Now it houses the second largest art gallery in Spain, with pieces from the 15th century to the present.
It has rooms dedicated to Sorolla and Francisco de Goya, the Gothic work, and the Valencian representatives of painting and sculpture. I really liked the unpublished works of Velázquez.
National Museum of Ceramics and Sumptuary Arts González Martí
It is located in the Palacio del Marqués de Dos Aguas, considered the best example of Baroque in Spain.
In the museum, you can see the largest collection of ceramics in the Spanish territory, with models from the 8th century to the present, also including the work of Picasso.
Valencia. Day 3. Market, Lonja de la Seda and Albufera
I do not know what the markets have, but whenever I go to a city I like to visit, this is the perfect place to see the city's life. It is a part of the city doing everyday things.
Central Market of Valencia
The Central Market began its construction at the beginning of the last century with more than 8,000 square meters and 30 meters high.
It is the largest market in Europe dedicated to fresh products. I left it for the last day, so I could buy some things and take them home.
The schedule is from Monday to Saturday from 7 to 15 hours. it is worth getting up early and going first thing in the morning when the stalls are full of food.
We also took advantage of a delicious paella to eat in the area.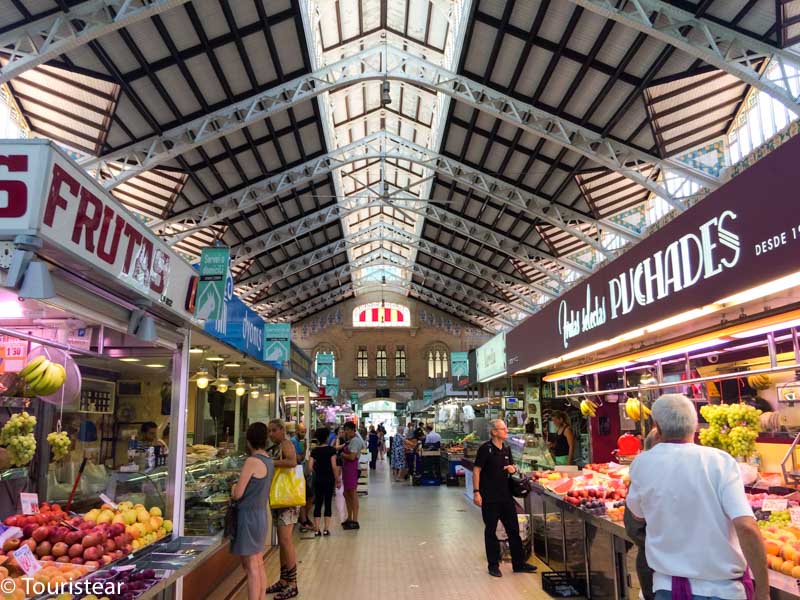 Lonja de la Seda
The silk market of Valencia was built in the 15th century. It is of European civil Gothic origin and a magnificent building, especially the Hall of the Columns.
The whole set will have about 2000 square meters. It is located a few meters from the central market and in the city's historic center.
In 1996 it was declared by UNESCO a World Heritage Site.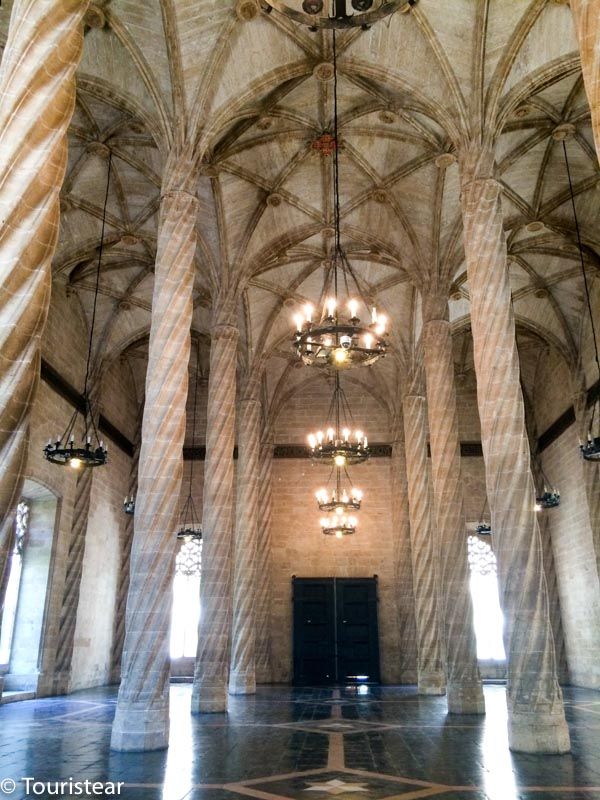 The silk market symbolized the city's commercial power and prosperity.
It is said that in the mid-fifteenth century, the Valencian mercantile prosperity had reached such a level that the General Council of the City considered insufficient the Market they had at that time.
So they ordered to build the most beautiful, magnificent, and sumptuous market to be the city's honor.
You can visit it from Monday to Saturday from 9:30 a.m. to 7:00 p.m. (€ 2 the entrance) and on Sundays and holidays from 9:30 a.m. to 3:00 p.m. (free admission).
Also, visit the Museum of the Silk to learn more about Valencian history.
Carmen neighborhood
Give yourself time to walk the streets of Barrio del Carmen. On every corner, there is something original to visit: ancient buildings and amazing pieces of modern art.
It is in the heart of the old town of Valencia, and a little adventure to walk through its interior.
You can find, for example, the narrowest building in the city, only 105 cm wide!
Quart Towers
One of the entrances to the Barrio del Carmen is through the Torres del Quart. Like the Torres de Serranos, they are one of the old gates of the city of Valencia and were part of the walls.
During the 16th century, they were used as a gunpowder warehouse; in the 17th century, they served as a prison for female prostitutes.
They can be visited inside, admission costs €2, and on holidays it is free.
Church of Saint Nicholas
Known as "the Valencian Sistine Chapel," San Nicolás is one of the most attractive temples in the city. It has nearly 2,000 square meters of perfectly restored fresco paintings that leave visitors breathless.
The spectacular paintings that decorate the vault are twice as large as the frescoes in the Sistine Chapel in Rome.
With more than 700 years of age, San Nicolás, which was already a place of worship in Roman times before being a mosque and a Christian church afterward, is a clear example of a perfect coexistence between a Gothic structure temple and a splendid Baroque decoration.
The visit is a sensory experience that allows you to travel through this space with specialized guides and independently using audio guides in several languages.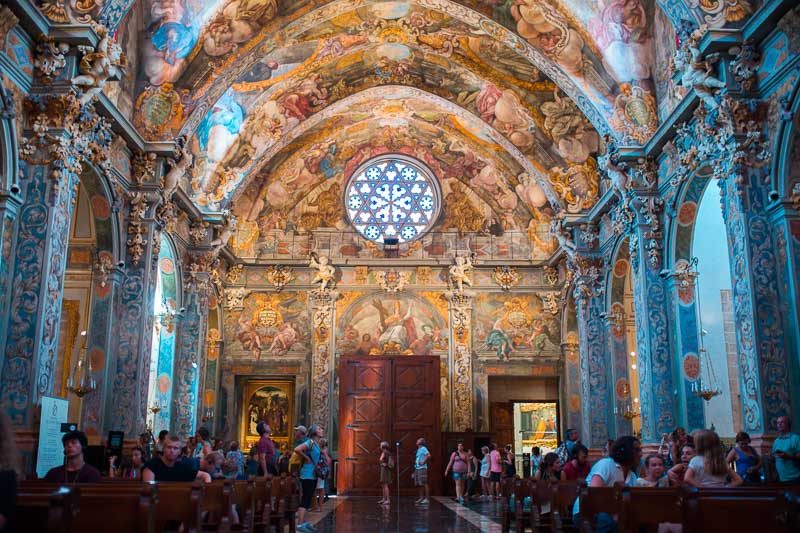 It is located at 35 Caballeros street, in the heart of the old town, and is accessed by a corridor between two buildings where you would not imagine that there could be such a wonderful treasure behind the doors of access.
Every Monday, the San Nicolás Walk is organized, where hundreds of faithful gather to pray to San Judas Tadeo, the patron saint of impossible causes.
Ruzafa neighborhood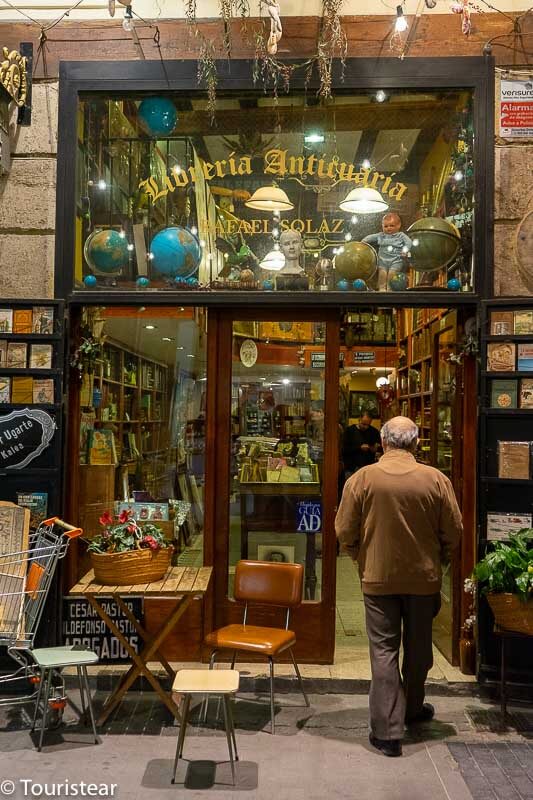 To end the day, we went to have dinner and a drink in the liveliest neighborhood of Valencia, Ruzafa.
It is recently renovated, with bars and restaurants everywhere and nightclubs. Explore it on your own or with a guide to learn more about it.
It is also full of art and architecture, so Instagram lovers will have many original places to take a selfie 😉. It's a bit like New York's Soho.
Albufera Natural Park
To end the day, you can go to the Albufera de Valencia. It is a Natural Park that you can visit and see its flora and fauna. As a curiosity, it has the largest lake in Spain.
It is located 10 kilometers from Valencia, and you get there very well by car and by bus. And, for the most athletic, there is a bike path next to the road that leads directly to the Park.
Also, if you don't want to drive, you can go with a guided tour from Valencia.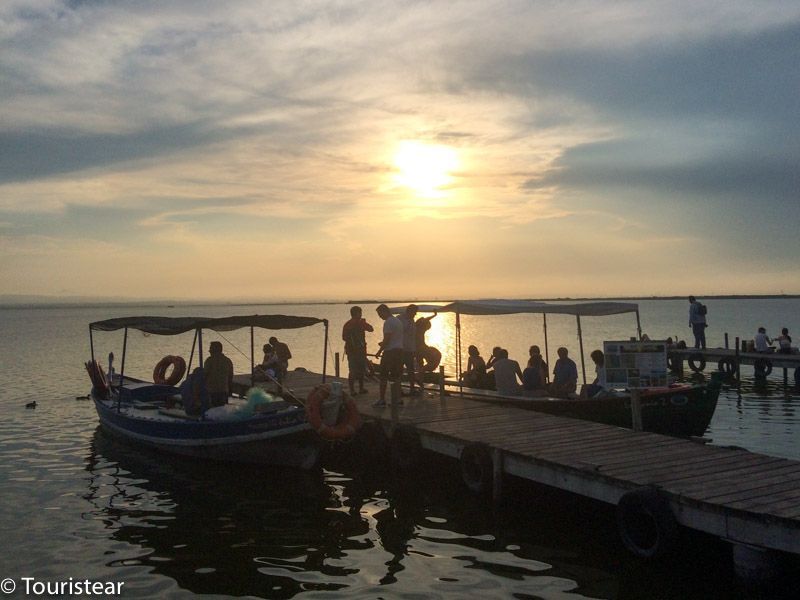 About 300 different species of birds live in Albufera Park, and it has a Racó de l'Olla Interpretation Center where lovers of bird fauna can learn about the area.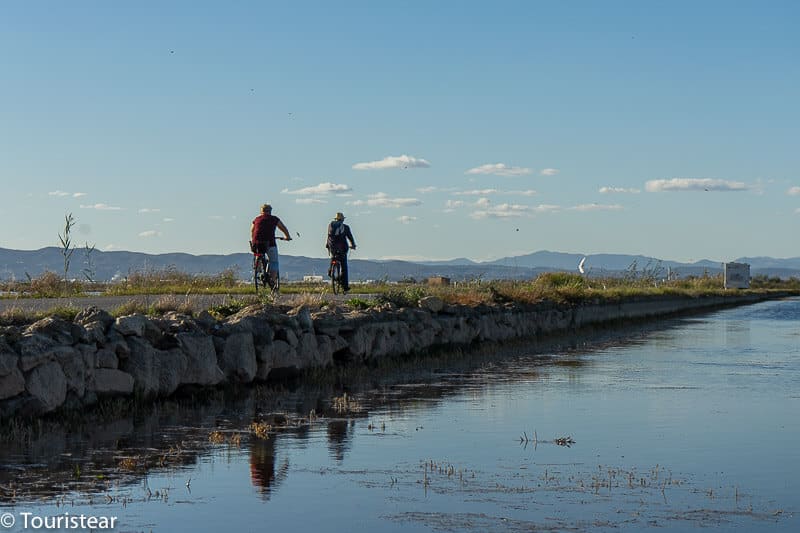 You can explore the park on foot or by bicycle; there are six itineraries with audio guides.
Do not forget to also explore its rice fields that, depending on the time of year, change: in May, they are covered with water, and the lakes multiply their surface, and at the end of July, the plants have already grown and have an intense green color.
Beaches of Valencia
You have to find time to step on the sand on the beaches of the Mediterranean Sea!
Valencia has 8 beaches, so you can choose your favorite 🙂 Those that are closer to the center can be divided into those that are located:
North of the port – city beaches with easy access by public transport:
Malvarrosa Beach – located on the Paseo Marítimo with bars and restaurants,
Playa las Arenas or El Cabanyal – the city beach par excellence. Here you can eat the typical paellas of the region.
South of the port – these beaches are wilder, with no services or restaurants. Covered with fine sand and dunes, they are perfect for relaxing and practicing windsurfing.
All Valencia's beaches have a Blue Flag:
Pinedo Beach,
Saler Beach,
Garrofera Beach,
La Devesa Beach,
Recatí-Perellonet beach.
What to Eat in Valencia?
Valencian gastronomy is mainly known for two products: paella and Valencian water.
Valencian paella is traditionally made with rice, green beans, chicken and rabbit meat, and beans. The layer of rice is very thin, and there is quite a bit of socarrat. Learn to cook a Valencian paella in a cooking course!
Agua de Valencia is a typical drink where orange juice and cava with ice and sugar are mixed as a base, and you can add gin, or vodka… Very refreshing, although it seemed a bit bitter to me 😉
Other typical dishes of the region are:
Baked rice,
Fideua
Esgarraet,
Tomato Coca,
Valencian pot,
Horchata.
Must-Visit Places in Valencia
City of Arts and Sciences
Cathedral, Miguelete, and Holy Chalice
The Silk Exchange
Carmen neighborhood
Central Market
The Serranos and Quart Towers
Turia Garden
Saint Nicholas of Bari Church
Ruzafa neighborhood
L'Albufera
Beaches
Plan Your Trip to Valencia
Are you from Valencia, or have you been to Valencia? What do you recommend for our next visit?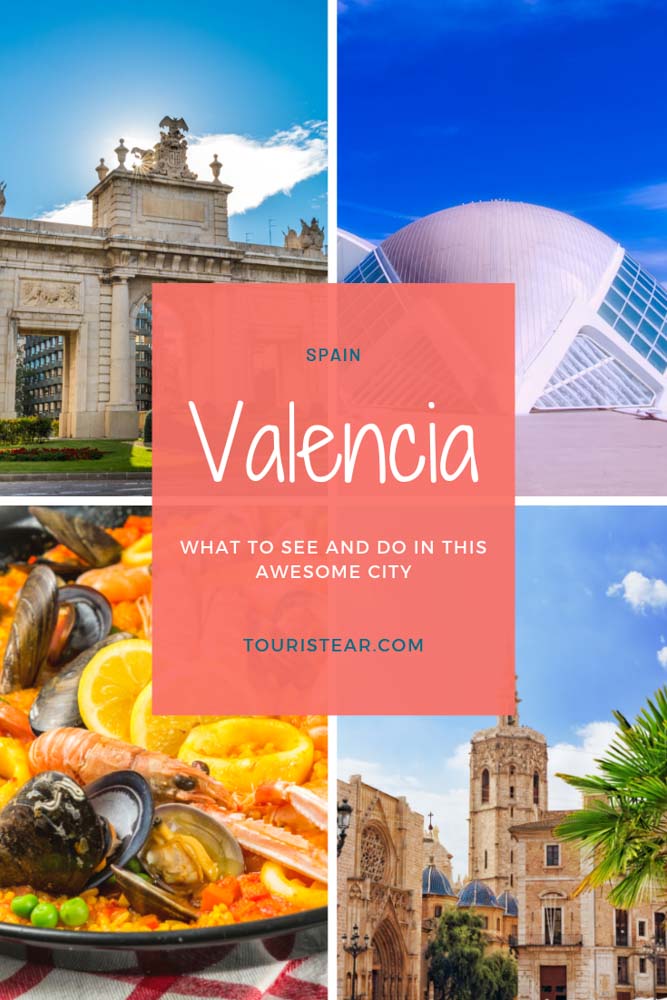 Book Your Trip
Book Your Flight
Find a cheap flight by using Skyscanner.
Book Your Accommodation
You can book your hostel, hotel, or apartments on Booking.com.
Don'torget Travel Insurance.
Travel insurance will protect you against illness, injury, theft, and cancellations. It's your protection in case anything goes wrong. You never go on a trip without it.
Best companies for Tours
Check out Civitatis.com and find the best tours in English (French, Spanish and Italian)
Are you looking for the best companies to save money with?
Check out my resource page for the best companies to use when you travel! I list all the ones I use to save money when I travel – and I think I will help you too! (Is in Spanish yet)
Disclosure: Some of the links on this post are affiliate links, meaning at no additional cost to you, I may earn a small commission if you click through and make a purchase.

Book Your Trip
Book Your Flight
Find a cheap flight by using Skyscanner.
Book Your Accommodation
You can book your hostel, hotel, or apartments on Booking.com.
Don'torget Travel Insurance.
Travel insurance will protect you against illness, injury, theft, and cancellations. It's your protection in case anything goes wrong. You never go on a trip without it.
Best companies for Tours
Check out Civitatis.com and find the best tours in English (French, Spanish and Italian)
Are you looking for the best companies to save money with?
Check out my resource page for the best companies to use when you travel! I list all the ones I use to save money when I travel – and I think I will help you too! (Is in Spanish yet)
Last Updated on 28 August, 2022 by Veronica