Thailand Travel Tips: Your Key to a Memorable Adventure
In this post, we will talk about tips for traveling to Thailand after the reopening to tourism and what to see in Bangkok, the must-see sights.
Thailand is the travel hub of Southeast Asia. Most visitors to the region fly into Bangkok and use it as a base of operations while touring Southeast Asia.
It is the most visited country in the region, and for a good reason!
Thailand speaks for itself. When you hear its name, you already think of beaches, beauty, jungles, and food, and you're not wrong.
With its lush jungles, famous beaches, world-class diving, excellent food, and friendly and cheap prices, Thailand is one of our favorite countries! And it's an easy country to travel to and where you can meet many people.
Thailand has a lot to offer travelers, regardless of their budget. You can go backpacking on a budget or travel in style at luxury beach resorts. The country has options for all tastes.
You can travel well in Thailand without spending much money and find hotels and good meals at a reasonable price.
When is the Best Time to Travel to Thailand?
With an average temperature of 30 degrees Celsius (86 ° Fahrenheit), you can actually visit Thailand all year round.
If you want to travel comfortably without sweating too much or too much rain, the best time to visit is during the dry and cool season between November and early April, i.e., winter.
The climate actually varies between the north and south of Thailand and also varies between the east and west coasts.
On the west coast, the winter months of November, December, and January are excellent around Phuket, especially if you come to Thailand for diving or snorkeling, as conditions are favorable at that time.
On the east coast, around Koh Samui, Koh Tao, and Koh Phangan, the weather is good during most of the year. However, the lowest precipitation here is in February and March, and the highest occurs in October and November.
If you are on a limited budget, you should visit Thailand between March and September because everything is cheaper, and you can save a lot of money since it is the rainy season. But, you will also have sunny days.
It usually only rains for a few hours in the afternoon. The rainiest months in Thailand are generally from August to October.
Amazon: A travel guide to Thailand
Which VISA do You Need
For travel to Thailand, you may be able to take advantage of the visa waiver rule.
Currently, Thailand grants passport holders from several countries permission to enter the country for 30 days without applying for a visa in advance if you are coming on vacation and only for tourist purposes.
Besides, it is not the same if you arrive by plane as by road. Arriving by plane and with a return ticket, you will have no problem getting a 30-day visa which is renewable for another 30 days.
Arriving by road will be 15 days and will not be renewable.
If you want to stay longer, you must apply for a visa at the Thai embassy or consulate in your country.
COVID-19 Requirements for Entry into Thailand (reopening November 1, 2021)
In addition to the visa to enter Thailand, as of today, you need:
A full-schedule vaccination certificate with an approved vaccine. And you must have received the last dose at least 14 days before traveling.
Those previously infected within the last three months must have received a dose of an approved vaccine at least 14 days before travel.
Travelers under 12 years of age with their parents or guardians are exempt from the vaccination requirement.
A medical certificate with a negative COVID 19 PCR lab result was issued no more than 72 hours before travel. This is for all travelers.
A confirmed payment for a 1-night stay in SHA+, AQ accommodation, which is an approved hotel where you must do a 1-day quarantine along with 1 RT-PCR test.
Complete the Thailand Pass form to obtain the QR code
We recommend that before traveling, you visit the official Thailand tourism website in case some of the requirements change.
Buy Your Travel Insurance for Thailand
Of course, another Thailand Travel Tip: you will need travel insurance for your trip to Thailand. We have never traveled without travel insurance, but I know people who have, some of whom have regretted their decision.
To organize your trip to Thailand, you should know that the Thai government requires mandatory travel medical insurance to enter the country.
In order to enter the country, you must present a travel policy covering all medical treatment for a minimum value of US$50,000.
It is important that you present proof of travel insurance in English and that it states explicitly that it covers COVID-19 expenses.
At Mondo, you can take out premium travel insurance, which covers between 5 million to 10 million euros in medical assistance, including coronavirus (depending on your chosen plan).
In addition, with your policy, you will receive a COVID certificate that verifies that your travel insurance covers the expenses derived from this disease, making it perfect for traveling to Thailand.
Having travel insurance gives you peace of mind. You stop worrying about what could go wrong and are simply free to travel.
How to Access Your Money in Thailand
Thailand uses the Thai baht. 1 euro is approximately 38 baht at the moment. To check current rates, I like to use the xe.com currency converter.
They also have a good mobile app, which is helpful to use on the go and while traveling in Thailand.
Credit cards such as Visa, Mastercard, and American Express are widely accepted nationwide in hotels, restaurants, and shopping malls.
Be sure to inform your bank beforehand that you will be traveling to Thailand, as some banks may deny or block unexpected charges abroad.
ATMs for obtaining cash are all over Thailand and are generally easy to find and use. The language on the ATM menus can be changed to English.
If you withdraw the money, you will be charged 150 and 200 baht commission, depending on the ATM and the provider. Ask your bank if they also have additional fees.
It is helpful to have cash in Thailand to bargain in local markets and buy street food, so we recommend that you carry cash from the beginning to avoid ATM fees.
Do not exchange money at the airport; commissions are very high. But if you are forced to, do not do it at the exchange booths just outside the exit after passport control in arrivals.
Go to the second floor, which is called the public transportation floor. There are some exchange booths with better exchange rates.
In Bangkok, many places offer currency exchange; look for the one that provides the best exchange rate.
Don't forget to bring your passport to exchange currency, but they also accept a passport photo on your phone in case you forgot your passport in the room. So we recommend that you always carry a photo of your passport on your phone.
Use Wise for ATM and Payments
Wise Card helps you make cash withdrawals from ATMs (you get two free ATMs per month), payments at restaurants, and even online payments.
With Wise Card, you can pay in more than 50 different currencies, which helps you save a lot of money.
Using a Wise card can avoid those bank charges for paying in a different currency than your account currency. So it helps you save unnecessary expenses.
The Wise card is similar to a regular debit card. The only distinguishing feature is that Wise allows you to use the available balance in many currencies.
You will be charged a nominal fee based on the current commercial exchange rate, with no additional charges. And since we've been using it, we've found that they always make the best change for you.
The Wise account is free of charge. However, to apply for the card, you must deposit €7. *This figure may change over time.
If you prefer to bring Bahts from home, see Ria's website.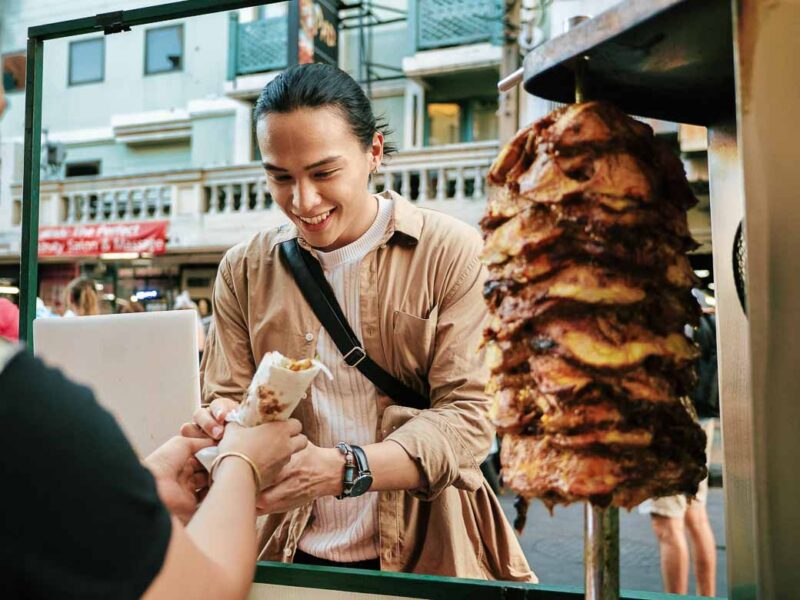 What to Pack in Your Suitcase
Due to its warm climate, packing for Thailand is actually relatively easy.
In general, people in Thailand dress more conservatively, especially around the southern parts where Islam is more widespread.
You can wear a bikini on the beach, but we recommend not doing so when shopping in markets or malls.
I recommend choosing light colors and breathable fabrics such as linen or cotton. Quick-drying fabrics are always advantageous on Thailand's hot and humid days.
Choose longer dresses that cover the knees and shoulders when visiting temples and sacred sites. As well as sandals that are easy to remove since you have to remove your shoes inside the temples.
If you go south, add sunglasses, a good sun hat or cap, and reef-safe sunscreen.
On the other hand, if you plan to head to northern Thailand for some trekking in the mountains, a pair of light waterproof hiking shoes and a waterproof, windproof jacket are a must.
TIP: Leave your valuables, jewelry, and jeans home because you won't miss them.
¿Do you need a carry-on? Check this article about it.
What to See in Bangkok
Bangkok is famous for its chaotic streets, cheap and delicious street food, wild nightlife, and endless traffic.
It is a city that you either love or hate. Most travelers simply stop by when traveling in Thailand. But there is plenty to see and do here.
When you look beyond the chaos and peel back the layers of Bangkok, the city comes alive with endless things to do, see, explore, eat, and drink.
It is a city open to those willing to go through all the temples and bars.
function loadScript(url, callback){var script=document.createElement('script'); script.type='text/javascript'; if (script.readyState){script.onreadystatechange=function(){if (script.readyState=='loaded' || script.readyState=='complete'){script.onreadystatechange=null; callback();}};}else{script.onload=function(){callback();};}script.src=url; document.getElementsByTagName('head')[0].appendChild(script);}loadScript('https://cdn2.civitatis.com/js/vendor/iframeResizer.min.js', function(){iFrameResize({checkOrigin:false,initCallback:function(iframe){setTimeout(function(){var resizeEvent = window.document.createEvent('UIEvents'); resizeEvent.initUIEvent('resize', true, false, window, 0); iframe.dispatchEvent(resizeEvent);});}})})
Visit the Grand Palace and Wat Pho
The palace is the official residence of the current monarch. Also, take a look at Wat Pra Kaeo, which houses the 15th-century Emerald Buddha, tons of temples, statues, and beautiful artwork.
Afterward, go to Wat Pho to see the famous golden reclining Buddha.
The Grand Palace is the most famous attraction in Bangkok. You cannot leave for another city until you have taken the time to make this visit.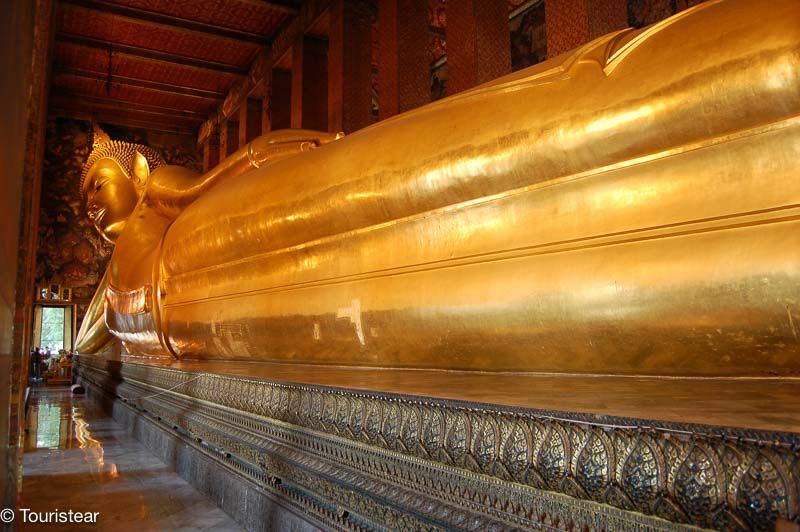 The palace, at one time, was the king's home and the place from which Thailand was ruled. A walk through the palace can take several hours, covering more than 214,000 square meters.
A visit to Wat Pho is a must for any traveler in Bangkok. It is home to the Reclining Buddha, which is fifteen meters high, and forty-six meters long; the feet alone measure over five meters.
The entire statue is covered in gold leaf and looks impressive when you get up close.
Inside the temple are 108 bowls, and you can buy coins for the bowls on the way to the temple. The story behind this is that Buddha completed 108 positive actions on his path to perfection.
While at the temple, you can also stop for a traditional Thai massage.
Riding the Sky Train
One way to get around Bangkok in air-conditioned comfort is to board one of the Sky Trains. With air-conditioned cars, there is no better way to get around.
In most cases, it is well above the traffic, which gives you a different view of the city, but also means that the train takes the fastest route.
Considering that almost every exciting part of Bangkok you want to visit has a train stop, it is the ideal way to get to know the city.
Visiting Chatuchak Weekend Market
The weekend flea market is an ideal place to buy anything. It covers a vast territory and is the best place to get gifts, find fakes, barter, or eat some local food.
It has more than 8000 stalls covering 11 hectares of space and is one of the largest flea markets in the world.
It is open every Saturday and Sunday and attracts almost 200,000 visitors daily; the interesting thing is that you will usually find local prices instead of tourist prices. So it is definitely worth picking up a map before you go to avoid getting lost in the market for hours.
Take a Boat Ride on the Canals of Bangkok
Known as the "Venice of the East," Bangkok was full of waterways and canals. While not so many of them exist, you can still see many old bridges and houses on stilts that crowd the waterways.
You can cruise along the Chao Phraya River to see some of what remains. The Klhongs of Thonburi offer picturesque views of old wooden houses and colorful flower gardens.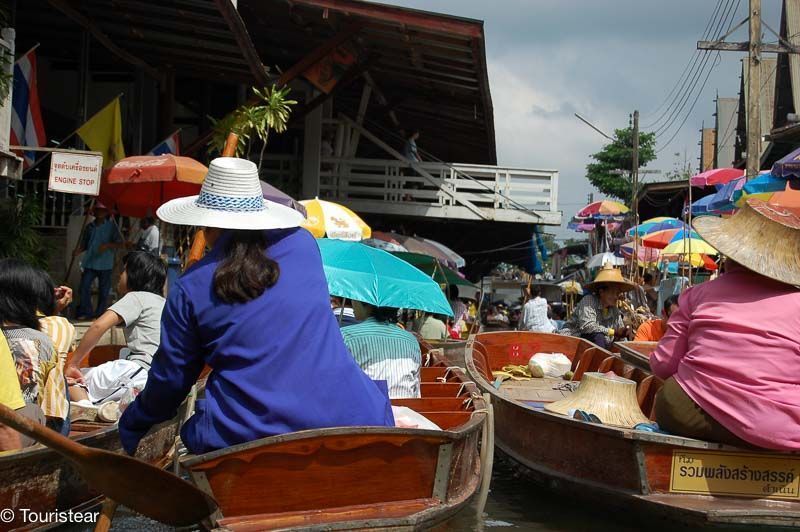 Visit the National Museum of Bangkok
The Bangkok National Museum is home to the most extensive collection of Thai artifacts and art in all of Thailand.
The museum was first opened by King Rama V to display all the gifts his father had given him.
This museum shows many Chinese weapons, precious stones, puppets, textiles, and Khon masks. It's very interesting!
Receive a Thai Massage
Whichever country you come from, you will almost certainly have heard of Thai massages and maybe even seen a Thai massage parlor in your local town.
But nowhere can you experience a traditional Thai massage done as well as you would in the country where it originated.
The Thai massage experience is fantastic. Be careful because you may encounter tourist traps. Find out about Thai massage places near where you are staying.
Shopping
Bangkok has so many shopping malls that 12 can be counted within a four-block radius in the center alone.
You can find everything from original fashion clothing to near-perfect copies, technology, etc.
The SIAM Paragon shopping mall is one of the largest and best known.
Hanging out at Khao San Road
Khao San Road is one of the tourist streets in Bangkok. All travel paths lead in and out of here.
However, it is more than just a transit hub for travelers.
Here, you can find nightlife, great food, excellent shopping, tons of people watching, and activity all day and all night.
Enjoy the Famous Nightlife of Bangkok
Although we have already talked about Khao San road, many drinking areas have countless street bars. In addition to Khao San Road, there is Silom.
These two are the most popular nightlife spots in the city. But you'll never have trouble finding good bars and clubs to go to. Some of the travelers' favorite bars are Brick Bar, Smalls, and Whisgars.
There are several places in Bangkok where you can go for a drink at the end of the day, but none will have the view of Bangkok that rooftop bars have.
They are not places to be if you are afraid of heights, and in some, you have a full 360-degree view of the city with no obstructions.
Eating in Chinatown
First, we recommend you stroll among the lilies, birds of paradise, and orchids at Pak Klong Talad, the flower market at the northern end of Chinatown.
From there, buy something to eat at one of the many street food stalls. You can eat until you burst at a very, very low cost.
Getting to know Lumpini Park
Outdoor enthusiasts will struggle to tear themselves away from Bangkok's Lumpini Park.
If you visit, you will find running trails, bike paths, picnic areas, chess tables, Tai Chi classes, fitness equipment, and rowboats for rent on the lakes.
The tall trees and tranquil surroundings will offer a pleasant respite from crowded Bangkok.
Enjoying the View from Wat Arun
This is a beautiful Buddhist temple on the Chao Phraya River in front of the Grand Palace. It has one main spire and four smaller ones and is so iconic that you will see it on Thai banknotes.
From the top of the main spire, you can see panoramic views of the city. It is open every day and costs only 1 euro.
Visit Jim Thompson's Home
Jim Thompson was a former American spy and silk trader in Thailand during the 1950s and 1960s. He built his traditional Thai house in Bangkok and decorated it with teak wood.
His house is a monument to traditional Thai architecture and is surrounded by a lush garden.
Ticket proceeds go to help orphaned children.
The Royal Elephant Museum
Elephants have long played an essential role in the lives of the Thai people.
The museum is located within the parliament complex and is a visual testament to the value of the largest land animal and the beliefs surrounding its participation in religious ceremonies.
The museum is open to the public daily from 9:30 am to 4 pm and is free with admission to the Grand Palace.
Visit the Vimanmek Mansion
Built-in 1900 by HM King Rama V, this royal palace is also a giant teakwood mansion in the world.
It now houses the National Heritage Museum of Thailand and also has beautiful gardens and canals to explore the estate.
It has many collections of antiques, old photographs, porcelain, and memorabilia from the king's reign.
Visit the Rot Fai Night Market
Rot Fai Market is an authentic open-air bazaar selling a variety of vintage collectibles and souvenirs, from antique furniture to hippie fashion and Mao kitsch.
Rot Fai night market is absolutely one of the coolest markets in Bangkok. It is open in the evenings from Thursday to Sunday.
Visit the Lumpinee Boxing Stadium
This stadium moved to a new home on Ramintra Road in 2014 and can hold up to 15,000 spectators.
This is the place to go if you want to watch a Muay Thai fight in town. Fight nights are Tuesday, Friday, and Saturday at 6 pm.
See the Wat Suthat and the Giant Swing
Famous for the Giant Swing at the temple entrance, Wat Suthat is an exciting sight.
In 1784, the Giant Swing was built for the first time. Then, in 2005, it was replaced by a new one made entirely of golden teak.
Apart from the swing, the temple has a traditional roof, ancient murals, and hand-carved teak door panels.
The vast temple complex has multiple large temples on the property and smaller statues and courtyards.
Take a Gastronomic Tour
Bangkok has an incredible gastronomic variety; one of the best ways to experience it is on a food tour.
Bangkok Food Tours has a good variety of tours where you can try everything from street food to exotic fruits.
Visit the Floating Market
The floating market is on the outskirts of Bangkok, and although it exists today primarily for tourists, it is still an exciting visit.
The tours here are about half a day and leave early in the morning. Not a great place to shop, but the area is excellent for photography lovers and food.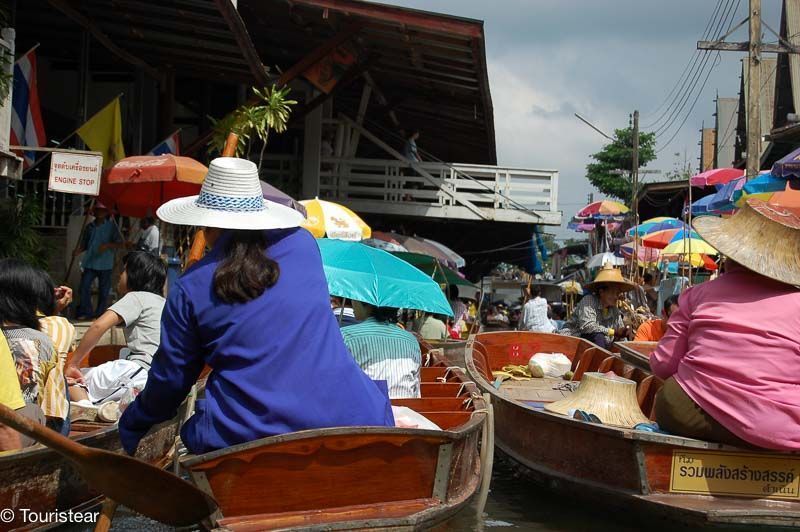 Take a day trip to Ayutthaya
It is close to Bangkok, the ancient capital, which houses the summer palace. There are many unique and impressive temples. In 1991, it became a UNESCO World Heritage Site.
Since it is so close to Bangkok, it is an ideal destination for a day trip. Many companies offer trips, but getting there is easy, and you can go on your own by train.
Spend a night at Thong Lo, the trendy place to stay
You'll find the city's best restaurants and nightlife in this trendy neighborhood, including many Western jazz bars and outdoor beer gardens.
It is very popular among Bangkok's young middle and upper classes.
And so much for today's article on how to plan your trip to Thailand and what to see in Bangkok.
Plan Your Trip to Thailand
Last Updated on 19 September, 2023 by Veronica
Disclosure: Some of the links on this post are affiliate links, meaning at no additional cost to you, I may earn a small commission if you click through and make a purchase.
Author: Veronica
Vero, a seasoned traveler, has explored 25 countries and lived in five, gaining a rich perspective and fostering an infectious passion for travel. With a heart full of wanderlust, Vero uncovers the world's hidden gems and shares insights, tips, and planning advice to inspire and assist fellow adventurers. Join Vero and let the shared passion for travel create unforgettable memories.