How (and Why) to See Thailand in 10 Days
I sometimes refer to 10 days in Thailand as a "goldilocks" trip. It's not too short; it's not too long. Of course, you can't see everywhere in the Kingdom in 10 days, but that's the point: The trip will leave you as satisfied with what you've seen as you'll be hungry to come back.
In around a week and a half, you can spend a few days in Thailand's main regions: The Bangkok area, the lush north, and the beachy south. Of course, that's assuming you've never been to Thailand before or are simply looking for an eclectic, country-spanning trip.
Other travelers, particularly those who are returning to Thailand, may choose to dig into an area off the beaten path—the Isaan region of northeastern Thailand is an ideal spot for this.
Regardless of how you spend your 10-day Thailand trip, you'll find all the inspiration you need below. Don't forget your travel insurance for your trip.
Why 10 Days are the Perfect Thailand Trip
I've spent years of my life in the Kingdom, so it might sound strange to strongly endorse staying just a week and a half in Thailand.
However, from the perspective of a less committed traveler, a trip of 10 days (or so) really hits the sweet spot.
Certainly, I wouldn't recommend spending any less than 10 days exploring this country, especially not if you're flying in from the US or Europe; it'll take you at least a few days to overcome your jet lag.
On the other hand, 10 days are relatively short enough that you're unlikely to feel worn out or burnt out. You'll spend long enough in each place you visit to start getting to know it, but nowhere near enough to get jaded or bored.
You'll leave feeling like you understand Thailand (or at least that you're on your way there) but also hungry to come back and dig deeper when you next get the chance.
Where to Go With 10 Days in Thailand
Bangkok
Most international flights to Thailand arrive in Bangkok, but that's not the only reason you should spend at least a couple of nights here on your way into the Kingdom.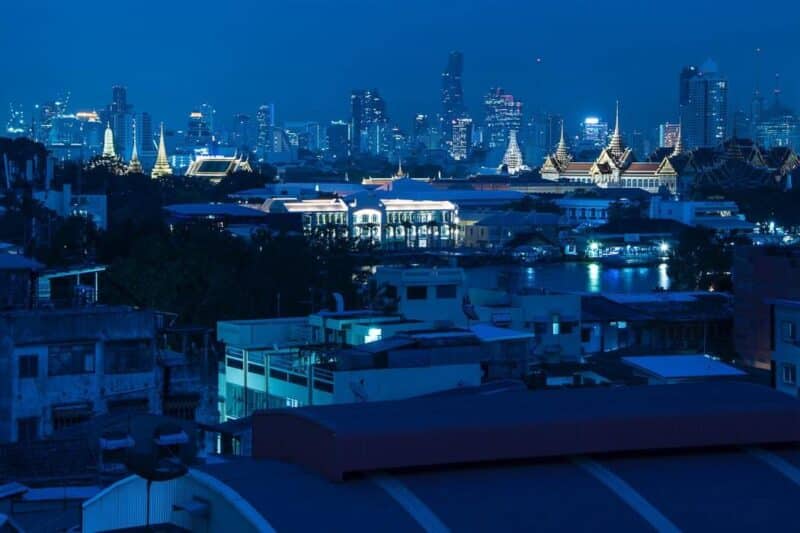 There's something for everyone in Thailand's capital, from the rooftop bars along Silom, Sukhumvit and Sathorn Roads in the so-called "New City" to the temples and palaces in Rattanakosin and Thonburi, which comprise the "Old City."
Bangkok also makes a great base for trips to Thailand's ancient capital of Ayutthaya and many of Thailand's famous "floating" markets.
The North
If you plan to see Thailand in 10 days, you'll likely head north of Bangkok and almost certainly to the walled old city of Chiang Mai. This is not the only option, however.
Suppose the temples of Chiang Mai city and the surrounding waterfalls and hill tribes don't appeal to you.
In that case, you can instead head to sleepier Chiang Rai and the adjacent Golden Triangle (a former opium-producing region that's now a culturally eclectic tourism hub) or to still sleepier Lampang, visiting which is like a veritable trip back in time).
The Islands
The bad news? Thailand has way too many islands to see in just 10 days. The good news? If you're clear about where you want to go, you can see at least a couple of them.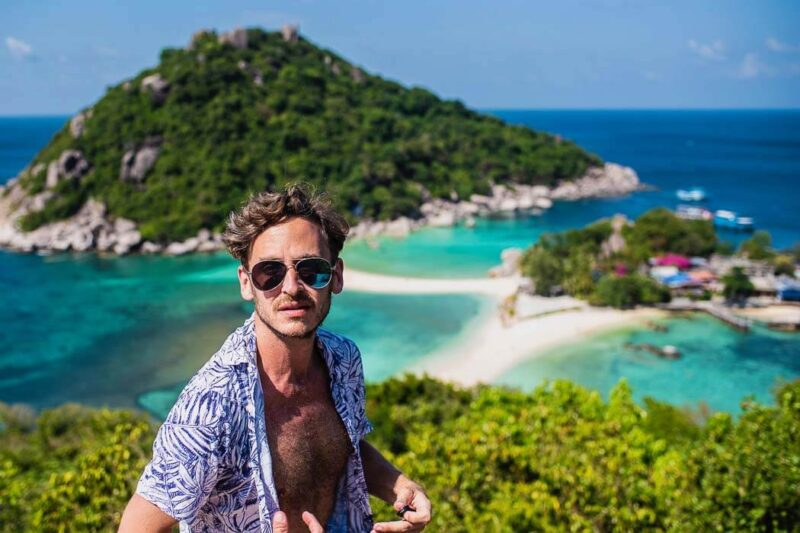 Some travelers head to popular Phuket or Krabi provinces, where they make onward excursions to islands like Koh Racha and Koh Phi Phi, respectively.
Others fly to Koh Samui, the anchor of the Chumphon archipelago, which is just a stone's throw from even more spectacular Koh Pha Ngan and Koh Tao islands.
Isaan
If you want to spend your ten days in Thailand entirely in one region, the underrated northeast (colloquially known as Isaan) is a good place to go.
Although definitely not touristic in any way, Isaan is extremely rewarding for travelers.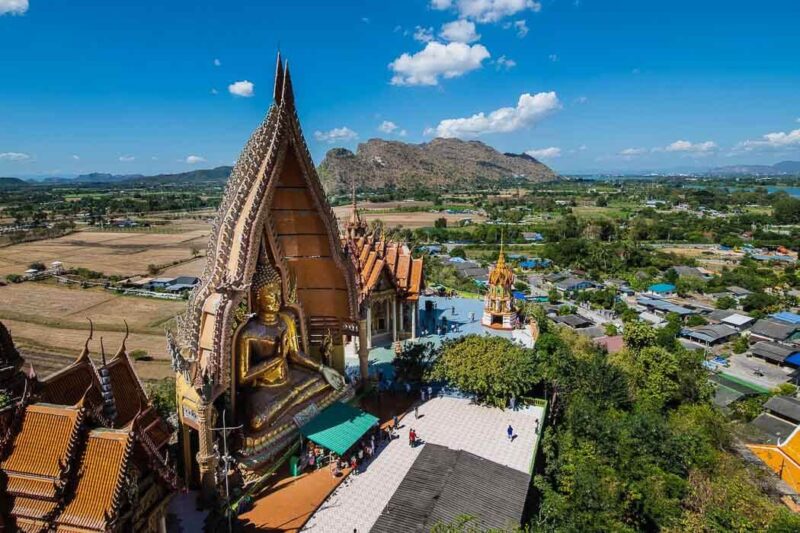 Some of my favorite places in Isaan include:
Udon Thani, which sits near the border with Laos and the Mekong River and is home to the magical Red Lotus Sea
Roi Et is an attractive small city in the region's center, where you find a huge observation tower and Thailand's tallest standing Buddha.
Thailand Off the Beaten Path
Want to go even further off Thailand's beaten path? While having only 10 days will constrain you somewhat, you'll have no shortage of destinations.
Some travelers will choose a truly castaway island chain, such as Trat near Cambodia or Trang in the far south of the Andaman Sea near Malaysia.
Others will head (literally) for the hills, whether for the ones in Kanchanaburi, about two hours west of Bangkok or to Tak in central Thailand near the border of Myanmar.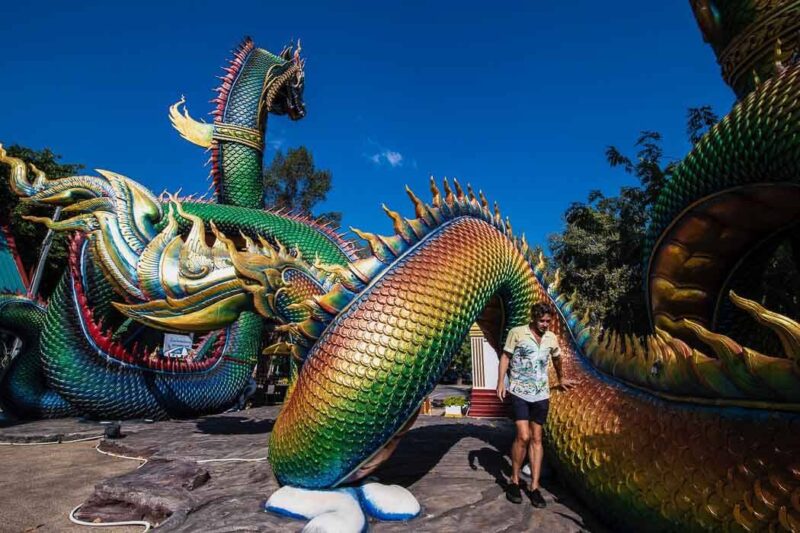 How Much Do You Need for 10 Days in Thailand?
Thailand is an affordable country by Western standards, although it's not the dirt-cheap paradise it used to be.
Depending on the sort of accommodation you expect and whether you plan to eat mostly street food or in highly-rated restaurants, you can expect to spend anywhere between 2,000-6,000 Thai Baht (~$60-200) per person per day in Thailand, not including flights.
Although this is a somewhat broad range, I find it accurately reflects what the vast majority of Thailand travelers end up spending.
So, if you plan to see Thailand in ten days, you can expect to spend between 20,000-60,000 THB for each person, which will be anywhere between $600-2,000 depending on the exchange rate, and how often you stay under or go over your daily average spending.
Other FAQ About Your 10-Day Trip to Thailand
Are 10 days in Thailand Enough?
10 days is enough to achieve one of two objectives in Thailand: Visiting several cities and regions for a few days each or digging deep into one or two places.
Although it definitely isn't enough time to go "everywhere" in Thailand, it will leave you inspired enough to plan future trips to do just that, which sometimes ends up entailing a new 10-day trip every few years or so.
How Can I Spend 10 Days in Thailand?
The most common way people spend ten days in Thailand is by:
starting in Bangkok
heading north to Chiang Mai or Chiang Rai
and finally heading south, either to Phuket, Krabi, or Koh Samui.
After spending 2-3 days each in Bangkok plus "The North" and "The Islands," they usually head back to Bangkok for one night before flying out.
How Many Days Are Enough in Thailand?
As someone who's spent literal years of my life in Thailand, I'm sad to be the bearer of bad news: There aren't enough days in a lifetime to do this country justice.
That said, careful planning can help you make the most of however many or few days you have, be that a week, a month, or a year.
Related: Thailand Travel Tips for beginners
The Bottom Line
How will you spend your 10 days in Thailand? For some travelers, the idea is to enjoy seeing as many places as possible—2-3 days each in Bangkok, Chiang Mai, and Phuket or Krabi.
Others will want to dig deep into a single part of Thailand, whether they base themselves in Bangkok and take day and weekend trips from there or in the Chumphon archipelago centered on Koh Samui island. Want to spend longer in Thailand?
Check out my recommendations for two weeks in Thailand, or stay a very long time and enjoy an entire month in Thailand. Or simply endeavor to come back in the future for 10 more days!
Robert Schrader
Travel Blogger expert in Thailand
Robert Schrader is a writer and photographer who's been traveling (and, on a couple of occasions, living) in Thailand since 2010. While he's explored Thailand via trips of varying lengths throughout the years, he genuinely finds 10 days to be a sweet spot that allows you to spread your wings without getting overwhelmed. Follow Thailand Starts Here on Instagram for inspiring visual updates.
Last Updated on 19 September, 2023 by Veronica
Disclosure: Some of the links on this post are affiliate links, meaning at no additional cost to you, I may earn a small commission if you click through and make a purchase.
Author: Veronica
Vero, a seasoned traveler, has explored 25 countries and lived in five, gaining a rich perspective and fostering an infectious passion for travel. With a heart full of wanderlust, Vero uncovers the world's hidden gems and shares insights, tips, and planning advice to inspire and assist fellow adventurers. Join Vero and let the shared passion for travel create unforgettable memories.