7 Things to Do in Bangkok, Thailand
Thailand is a country of contrasts. The first time I set foot on Thai soil, I did not have much experience traveling or getting to know other cultures.
Although I knew and expected that I would encounter many things that would shock me, it is one thing to understand and quite another to live it.
I spent most of my time in Bangkok; although we had the opportunity to go to the Amphawa floating market, which is a couple of hours away, we had enough time to do many things in Bangkok.
Here is what I think you should do if you visit Bangkok on your trip to Thailand.
What to See and Do in Bangkok? Not to be missed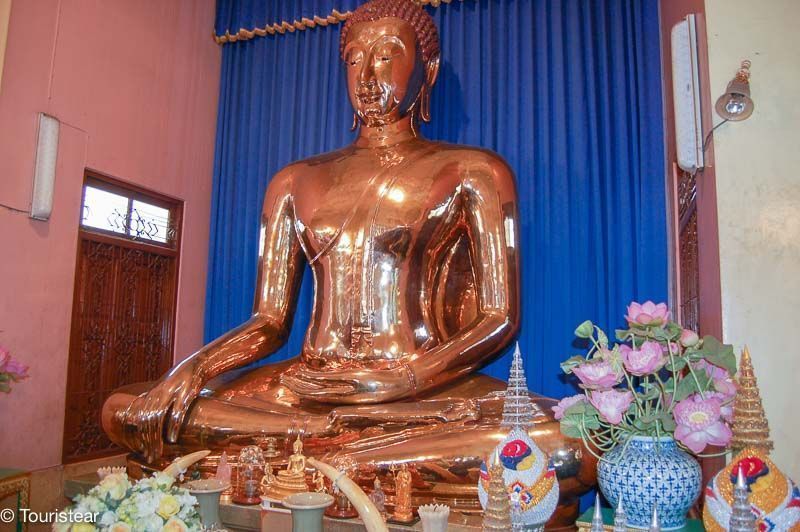 Visit the Golden Buddha. Wat Traimit Temple
The story of the golden Buddha is a curious one. It is a solid gold Buddha but has not always been displayed for all to see.
In order to protect it from looting during the multiple wars that took place some 300 years earlier, it was covered with plaster with a final layer of gold paint.
Around 200 years before its discovery, it was moved to Bangkok, and no one knew its true nature.
Sightseeing boat through the city (only 5,90€)
Until a series of events brought it to light, during some works at Wat Traimit, the crane moving the statue gave way, and it fell to the ground.
During the night, it rained heavily, and in the morning, part of the plaster came off and revealed the gold underneath.
From this moment on, the fame of this sanctuary grew exponentially.
Read: Amphawa Floating Market
Visiting the Wat Pho Tomb Buddha
This is the largest reclining Buddha in the world and is completely covered with gold leaf. In fact, you can buy a sheet of gold leaf to place on the Buddha's skin as an offering.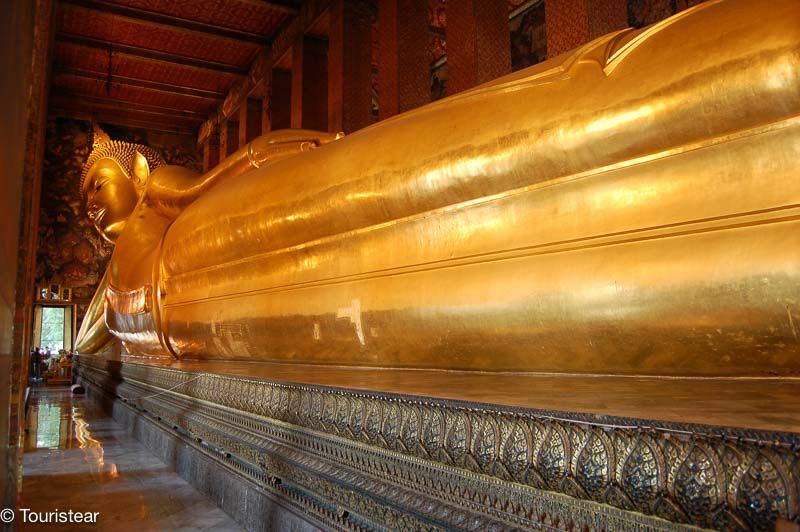 It is vast and fits almost to the millimeter inside the temple. You can move around it through a narrow passageway on either side, but nothing else.
The Lying Buddha is very close to another must-see. The Royal Palace.
Read: Travel Tips for Thailand
Visit the Royal Palace. Phra Borom Maha Ratcha Wang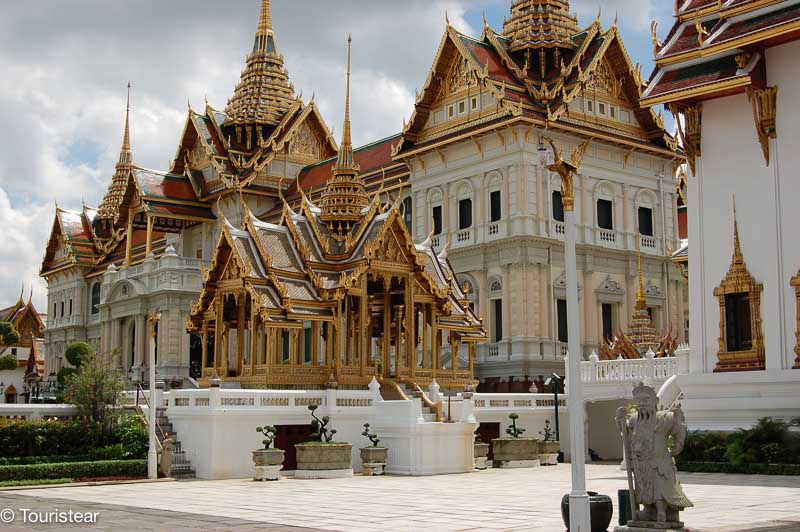 The royal palace is another must-visit place in Bangkok. It is not very old, about 200 years, but it is very striking because of the type of architecture.
You can see the Chedis, which are like those kinds of constructions in the shape of a pointed pyramid. Or the dragon statues that often flank the doors of buildings.
The most important part of this palace is the temple inside Wat Phra Kaew, which contains the Emerald Buddha, which is not emerald; it is Jade. It is dressed in golden clothes, not particularly large, about 45 cm.
Visit Bangkok's Pat Pong
Pat pong is a boulevard in the heart of Bangkok. It is a very picturesque area where you can buy something in the boulevard stores or have a drink.
However, at night it changes radically and becomes a sex tourism market.
Of course, I do not recommend that you do this type of tourism, but I think it is something that one must see and know in Bangkok to get an idea of this city.
Visiting the Ampawa floating market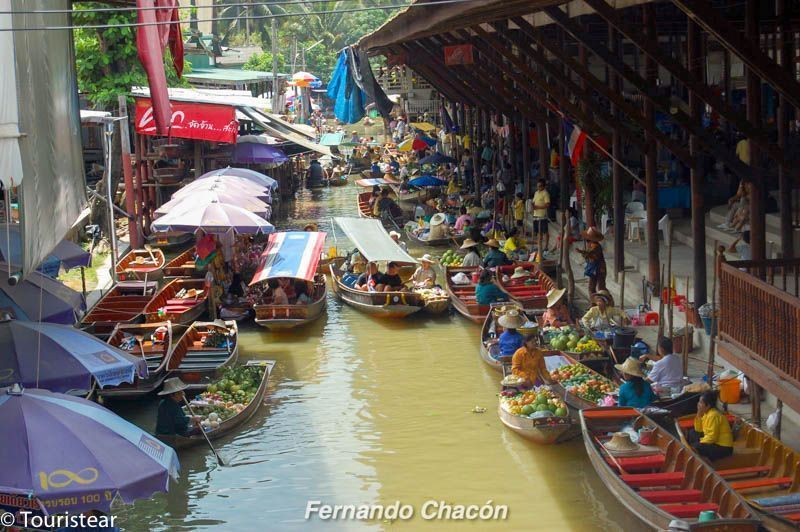 Visiting the floating market is a must-do if you are going to be in Thailand and Bangkok. It's at least a couple of hours drive, but it's worth it. First, you will be transferred by car, and then you will have to go by boat to the market.
As everywhere in Thailand, the food and markets are open-air, and you can buy anything from fruit and vegetables or prepared food to Louis Vuitton fakes or watches.
Read: Bangkok, a city that will not leave you indifferent
Shopping in Chatuchak market
It is one of the largest markets in the world. It has more than 15,000 stalls, and it is straightforward to get lost in it. It reminds me quite a bit of the Grand Bazaar in Istanbul, except that the latter is covered.
It is only open on holidays or weekends, so plan to visit at your leisure.
Not only will you find stalls selling clothes, bags, or T-shirts, but also food. This is where I first saw a little stall selling grasshoppers.
Watch a Muay Thai fight. Lumpini Stadium
As with everything, this will be a must-have for some, but for others, it will not. I went, and the truth is that although I don't like contact sports, I found it quite an experience.
The wrestlers are divided into categories, from children to adults. Lumpini Stadium is the best known.
It is a whole culture in Thailand, and the wrestlers are highly respected people.
I hope this list has helped you plan your trip to Thailand. I always wanted to go back to get to know a little more of this country.
Transfers from the airport to your hotel
Are you planning a trip to Thailand? Have you already been? Please tell me what your must-see places in Bangkok are!
Use Wise to Access Your Money and Pay
Wise Card helps you make cash withdrawals from ATMs (you get two free ATMs per month), payments at restaurants, and even online payments.
With Wise Card, you can pay in more than 50 different currencies, which helps you save a lot of money.
Using a Wise card can avoid those bank charges for paying in a different currency than your account currency. So, it helps you save unnecessary expenses.
The Wise card is very similar to a regular debit card. The only distinguishing feature is that Wise allows you to use the available balance in many currencies.
You will be charged a nominal fee based on the current commercial exchange rate, with no additional charges. And since we've been using it, we've found that they always make the best change for you.
The Wise account is free of charge. However, to apply for the card, you have to deposit 7€. *This figure may change over time.
Plan Your Trip to Thailand
Last Updated on 19 September, 2023 by Veronica
Disclosure: Some of the links on this post are affiliate links, meaning at no additional cost to you, I may earn a small commission if you click through and make a purchase.