Best Things To Do in Istanbul in a 4-Day Itinerary
Istanbul is a city you will love; it is big, chaotic, and fascinating. It has so much history, beautiful places to visit, and rich gastronomy. It is on two continents, making its cultural richness alive in every corner.
In this post, I want to tell you what to visit in Istanbul with this 4-day Itinerary. You'll find the must-visit places and the daily itinerary we follow.
Pay attention to the Lodging Section. We'll tell you about a typical "scam" when you book a cheap hotel in Istanbul.
Disclosure: Some of the links on this post are affiliate links, meaning at no additional cost to you, I may earn a small commission if you click through and make a purchase.
4-Day in Istanbul: Best Things To Do
This post will help you to organize your trip to Istanbul, and you can choose what to see and do for the days of your trip.
Travel Insurance in Istanbul
As always, we remind you that travel with travel insurance is essential. We recommend Mondo's international travel insurance for this occasion.
Among the best advantages of this insurance are that you do not have to advance a single euro, that they have medical consultation by WhatsApp 24 hours a day, 365 days a year, that it has one of the best coverage in the market, and that its price is the best.
In addition, if you contract it through our international travel insurance link, you will get a 5% discount, which we have for our readers.
How Many Days Do You Need to Travel to Turkey
How much time do you need to travel to Istanbul? From my experience, 4 full days in Istanbul and 3 full days in Cappadocia would be the minimum. If you can stay longer, so much the better.
In these two places, there is so much to see, and there are also nearby tours to do that are spectacular.
Istanbul Daily Itinerary
Here you have the Itinerary to Visit Istanbul in 4 or 5 days that we follow. If you like it, you can follow it too!
We arrived in Istanbul on a Friday afternoon, and between one thing and another, it was 9 pm; we visited Istanbul on Saturday, Sunday, Monday, and Tuesday.
Early Wednesday morning, we travel from Istanbul to Cappadocia. Click on the post, and there I will tell you all about this spectacular and essential visit on your trip to Turkey.
Day 1 in Istanbul
We arrived in the afternoon in Istanbul, at Sabiha Gökçen airport. Of the two airports, this is the farthest. To get to our hotel, we hired an Uber; they have a reasonable price, good service, and speak English.
If you want a private service or in another language, it's better that you hire it before your trip here.
We stayed in the old part of Istanbul, in Sultanahmet, in the Golden Horn Hotel, close to everything. It is not the best hotel, but the location is okay for walking to almost any place in the city.
Dining on the Galata Bridge
A friend recommended having dinner under the Galata Bridge restaurants, and as it was one of those things we had wanted to do, we went there for dinner. As it was the first night, the price did not seem expensive, a little less than in Madrid.
But after seeing the prices in Istanbul, that dinner was the most expensive of the whole trip. Can you imagine?
Tips for Your Dinner Under Galata Bridge
If you have fish for dinner and don't want to spend the trip's budget on a meal, don't order fish by weight; it's the first thing they offer you, and the prices are exorbitant.
Another tip for budget travelers: Restaurants not serving alcohol are generally cheaper.
Day 2. Visiting the Ottoman Istanbul
Visit the Topkapi Palace
The Topkapi Palace is a must-see in Istanbul. It is located in ancient Byzantium. Sultan Mehmet II built this palace in a privileged location; you can see the Bosphorus, the Sea of Marmara, and the Golden Horn.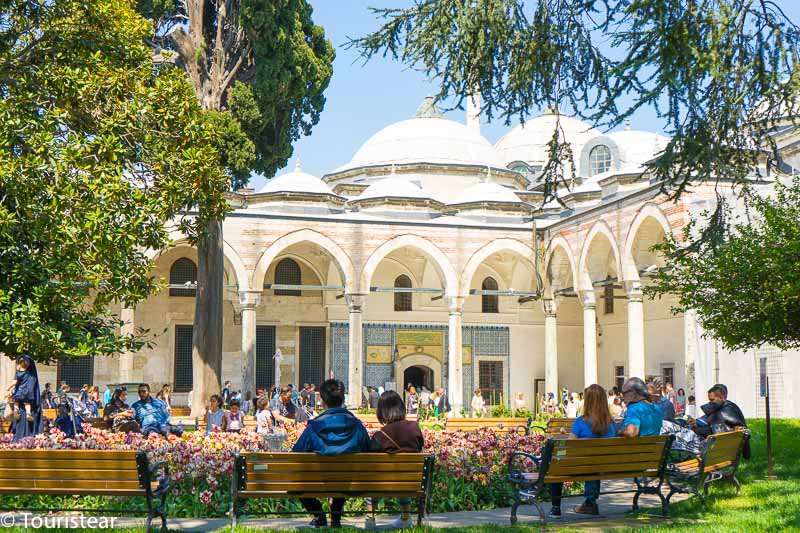 This wonderful 15th-century palace was the principal residence from Mehmet II to Mahmut II in 1839. It has changed throughout its history; buildings have been added, its name has been changed, etc., and since 1924 it has been a museum open to the public.
Once we cross the door of salvation, we will see some beautiful gardens (we were lucky to go in spring, and the truth is appreciated to know the number of flowers in the gardens) and a few buildings. From my point of view, some are more beautiful than others.
I recommend that you make this visit with time, there are many people everywhere and many places to visit. Take it easy and enjoy the architecture, the mosaics, the gardens, the view, etc.
Tip: If you don't buy tickets online to make the visit, I recommend going early in the morning because there is always a queue. If you can go during the week, all the better.
Hagia Sophia Basilica Museum
Hagia Sophia is one of the visits you can not miss in Istanbul. It is one of those places where even if there is a queue; you have to see yes or yes.
To visit Hagia Sophia, you must pay an entrance fee and stand in a long queue if you go on a weekend. It is best to queue at lunchtime when there are fewer people.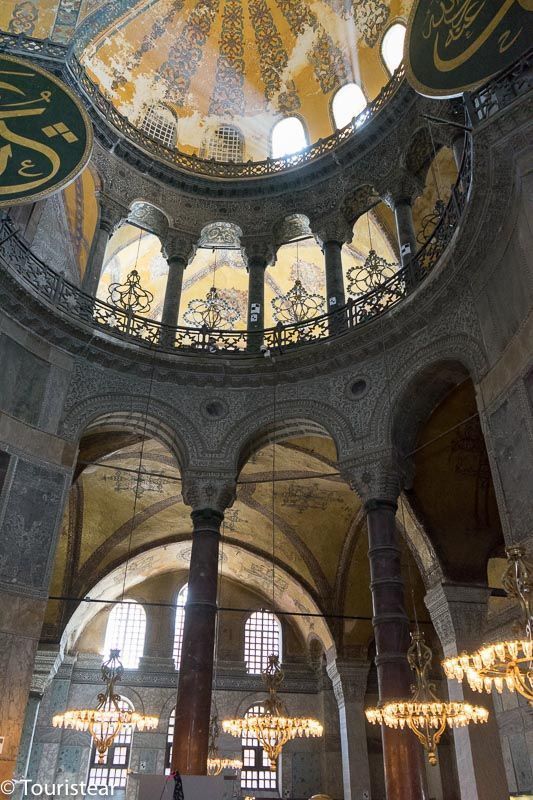 Hagia Sophia Basilica Museum is an impressive place with many years of history. The first temple built in this space dated back to the 4th century and was dedicated to the Divine Wisdom (Hagia Sophia); it was renovated in 404 and destroyed by fire under the reign of Justinian in 532.
While Justinian was emperor, he decided to erect the present church, which was consecrated in 537. An earthquake destroyed its dome, and it had to be re-consecrated.
This impressive building made Hagia Sophia the political and religious center of Byzantium. In the 13th century, the Crusader armies plundered most of their riches.
With the Turkish conquest, Hagia Sophia became a mosque and served as an example for constructing other mosques.
During the 18th century, its murals and mosaics were covered with paint, and in 1932, the recovery of the mosaics began.
During our current visit, we can still see the work of this impressive building.
You can hire a guide to show you the must-see sights of Istanbul.
Blue Mosque
If you have followed our journey through Instagram, you will know that the Blue Mosque was under construction when we went there. It was a tremendous disappointment, as this is a visit I was really looking forward to in Istanbul.
I'll tell you a little about it, and let me know your thoughts during your visit.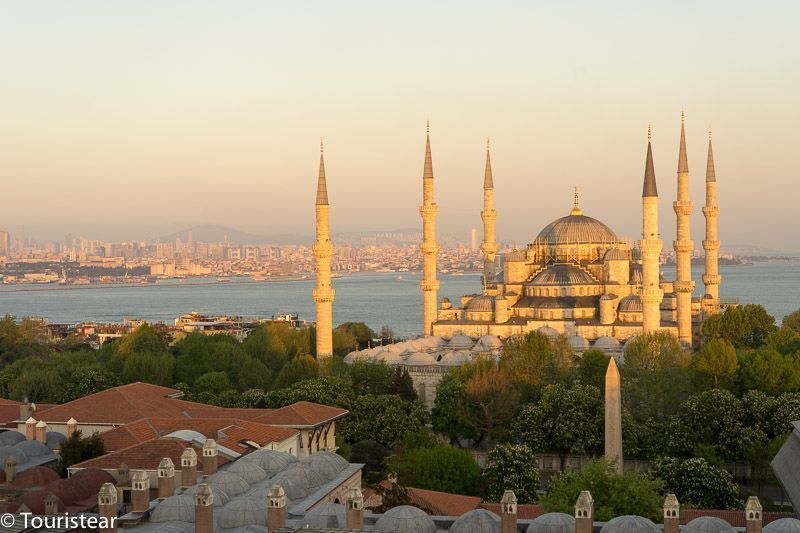 The Blue Mosque is very close to the Hagia Sophia; from some nearby viewpoints (terraces), you can take a picture of the two buildings together.
This mosque was built in the early 17th century next to a madrasa, a poor house, and other areas. Until the 19th century, it was the meeting place for all pilgrims on their way to Mecca.
The building itself is an impressive work of architecture, harmonious, with six minarets.
The interior is covered with over 20,000 tiles, where green, turquoise, and especially blue predominate, giving these colors the name of the Sultan Ahmet Mosque, the Blue Mosque.
The Hippodrome
You will pass by the Hippodrome almost without noticing it. It is a rectangular area in front of the Blue Mosque; here was the old hippodrome, where people gathered to watch horse and chariot races.
Only three monuments remain from that period; one of them is the column of Constantine (obelisk), whose construction is believed to date back to the 4th century.
Nearby are the remains of the Serpentine column, brought from the temple of Apollo at Delphi, and the obelisk of Theodosius, a 20-meter granite block from Upper Egypt in the fourth century.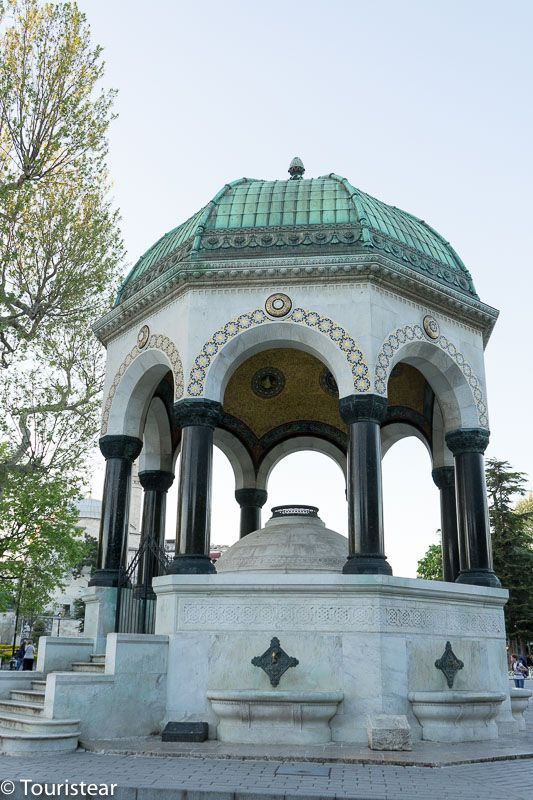 A few steps away, there is the fountain of Emperor Wilhelm II; this is a more modern (19th century) monument and very beautiful.
Basilica Cistern
It is the largest of the 60 ancient cisterns in Istanbul. It is impressive that they built this building full of columns just for water storage.
During the 6th century, the cistern stored sculptural artworks from different periods.
The most outstanding ones are Medusa's head, at the bottom of the cistern, and the weeping column, which is said to have been built in memory of all the people who lost their lives building it.
Another thing, in this column, you will see people making a kind of circle with their hands; they say it brings luck!
The Basilica Cistern has been featured in some movies and books, such as Dan Brown's Inferno (both the book and the movie).
Museum of Turkish and Islamic Art
If you've been lucky and you've had a short queue, you'll still have time to visit the Museum of Turkish and Islamic Art.
It was the residence of Ibrahim Paşa, a vizier in the year 1523, who was killed in his sleep. Apparently, he lived very well and aroused some envy.
Its residence was restored as it was then, thanks to some documents. It has three floors: on the first floor is the ticket office and bookstore; on the second floor is an ethnographic section; on the third floor is where the museum is located.
It has 19 small rooms, each dedicated to a different period, from the 7th century to the decline of the Ottoman Empire.
Day 3. Bosphorus Cruise
What to see in Istanbul on the third day. We booked the Bosphorus excursion, with a buffet on the ship.
I tell you, when you read Bosphorus cruise, you imagine just a boat ride, which was what we thought. But no, it includes some excursions and stops with a guide.
We visited the Pierre Lotti viewpoint, the Dolmabahçe palace, and a city tour until we reached the cruise pier.
This whole part sounds good, but the truth is that it was chaotic and very disorganized, and our guide had no idea how to lead a group, but she was very knowledgeable.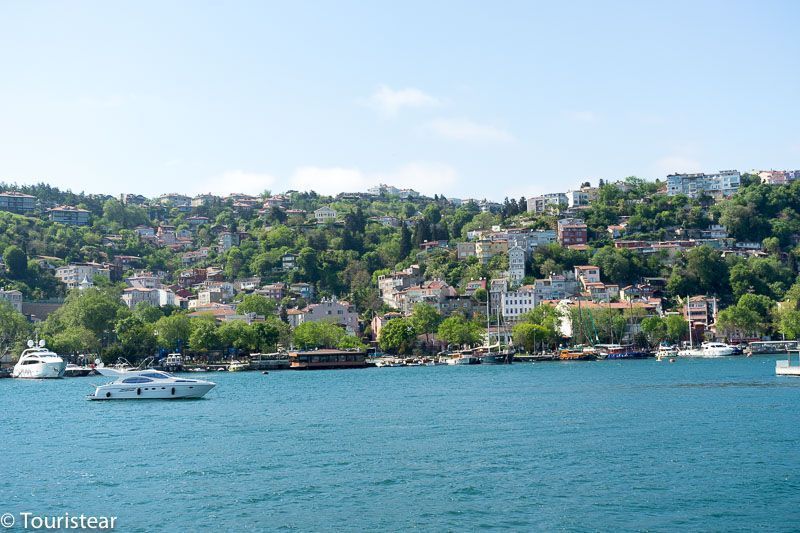 Once on the ship, we had a buffet lunch on the cruise (it was included in the price), and I was pretty surprised because everything was delicious, the quantity was plentiful, and it was very fresh.
On the cruise, a guide (in English) told us the places we were seeing and some stories about Istanbul.
We stopped in a very picturesque fishing village and returned to Istanbul.
The other option is to do only the cruise, which costs around 35€. If you are short on time, this is my recommendation, since what we did takes all day.
And if you want to make it even more special, you can make a night cruise with dinner and show. It will probably be my next choice because I'm going back to Istanbul, that's for sure!!!!
We ended the day enjoying the sunset on a terrace overlooking Istanbul's most famous mosques.
Day 4: Grand Bazaar, Suleiman Mosque, and Beyoglu
Grand Bazaar
What to see in Istanbul on the fourth day: The Grand Bazaar of Istanbul is fantastic; it's like getting into another world in a maze of corridors and stores.
With more than 200,000 square meters, it is considered the largest covered market in the world. And, of course, it is a must-see in Istanbul.
It was built in 1456, was partially covered, and had 126 stores. In 1473, an extension was made with another 124 stores reserved for silk merchants. Over time, it grew until it reached 1,000 stores in the 16th century.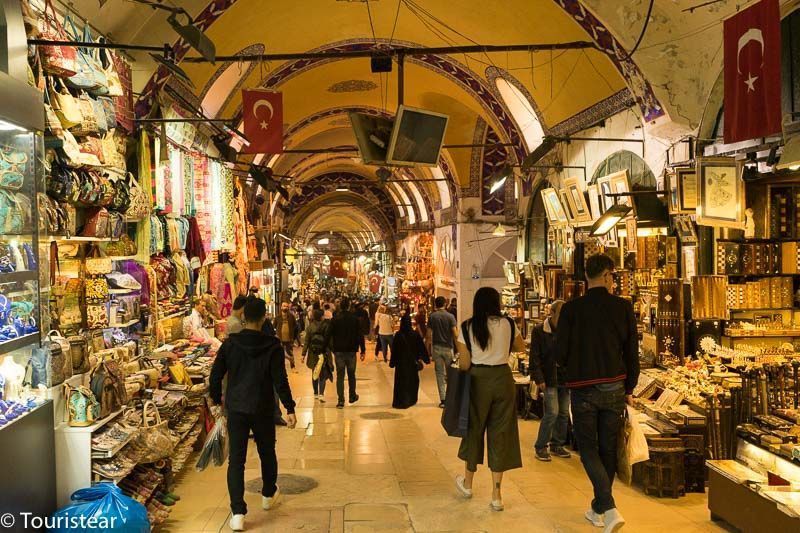 Being a wooden building, it suffered a great fire, and its reconstruction took place half a century later, in 1651. It suffered another fire at the end of the 19th century and another one in the middle of the 20th century.
The current structure is faithful to the original project. It has 12 main and 20 secondary accesses. It is covered by a vaulted ceiling painted with frescoes. There are about 4000 stores, and it is impossible to see everything in one day.
I recommend going in the morning, there are fewer people, and you can visit it comfortably.
Here they are used to bargaining, and one of the things I liked the most is that you can walk through the Grand Bazaar and not be constantly harassed to buy, as happened to us in the souk of Marrakech market, in fact, has absolutely nothing to do with it.
Another thing you can't miss is to try a kebab at the Grand Bazaar. They are spectacular, grilled, and super tasty (and cheap).
After eating a kebab here, you will never eat a kebab in another place like that.
Suleiman the Magnificent Mosque or Süleymaniye Cami in Turkish
One of the most beautiful mosques in Istanbul. It dated back to 1550 and was commissioned by Suleiman the Magnificent. The architect was Sinan, the most famous architect in the entire Ottoman Empire.
An arcaded courtyard precedes the prayer hall with 24 columns that belonged to the old hippodrome. The interior is impressive for its spaciousness and peaceful atmosphere.
Despite the number of visitors that come and go, the way it is built means that the sound is lost, and the murmurs of the people are not heard.
Admission is free; there is an entrance for tourists and another one for people who go to pray. As in any mosque, you must enter without your shoes, and there is a specific area to leave them.
Beyoglu, the Istanbul of the 19th century
After these visits, we went by cab to the Galata Tower to tour the Beyoglu and Galata neighborhoods. This is the modern or European area of Istanbul.
Beyoglu is crossed by the main street called Istiklâl Caddesi. Full of life, with bars and stores on both sides.
The first visit begins at the Galata Tower. Here you can enjoy 360º sunset views of Istanbul. From there, it runs along Istiklâl Street to Taksim Square.
This street starts practically from the tower, although it has a different name and is much narrower.
At night we returned to the hotel by cab (TIP: ask how much they charge you at your destination, just in case).
Galata Bridge
The Galata Bridge connects ancient Istanbul with the modern city, located at the Golden Horn entrance.
On this bridge, you will see many people fishing and also numerous restaurants. As I told you above, we dined here on our first night in Istanbul.
It is very nice, although I think it is a tourist trap and the prices are high for what they are in the rest of Istanbul. But since it was the first night, we didn't realize it.
Galata Tower
The Galata Tower, or Galata Kulesi, is a 68-meter high, circular mass with a cone-shaped roof.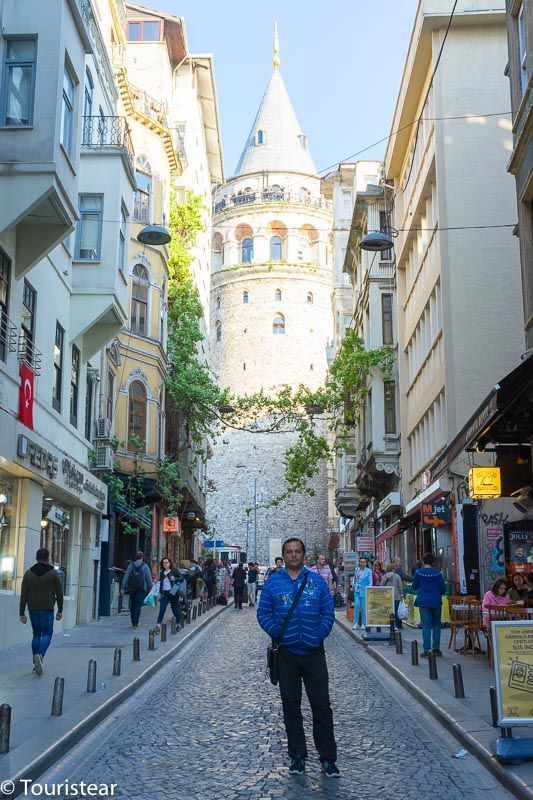 To go up, you have to pay an entrance fee, and you go up by elevator; from there, the views are lovely. My recommendation is to go at sunset. Remember the time it will take you to wait in line, which can easily be half an hour.
From the top, you can see all of Istanbul; my favorite part is the one overlooking the Golden Horn and the skyline of the old part, with the mosques and minarets.
Istiklâl Avenue or Istiklâl Caddesi
It is a shopping street that runs through Beyoglu; there are stores of all kinds and restaurants for all tastes and budgets. We dined in one of them.
We were looking for one suitable for celiacs and came across Parole, a restaurant with Italian and Turkish cuisine, where we had a great meal.
In the middle of this street runs an old streetcar that is still in operation.
Day 5: Spice Bazaar and Asian side
The fifth day in Istanbul was the quietest. The next day, we were traveling to Cappadocia, and we had to be rested.
We started the visit with a short trip to the Grand Bazaar to do some shopping before it got crowded, and then we went to the Egyptian (or Spice) Bazaar, left the shopping at the hotel, and went to the Asian side by ferry after lunch.
Egyptian Bazaar or Spice Bazaar
Spices are the protagonists of Turkish food, and in this colorful market, you will find all kinds of spices.
The building that houses this market dates back to 1660 and is built so that the rent from the stores would contribute to the upkeep of the Yeni Mosque and other philanthropic institutions in the area.
Inside and around it, you will see many stalls selling spices of all colors and seeds, teas, and Turkish sweets. We bought a few teas, colored peppers, and spices.
.
We ate at a restaurant that overlooked the Galata Bridge and was very close to the ferry exit. I don't remember the name of the restaurant, but it was recommended to us by a local, and the food was excellent and at a reasonable price.
Asian side by ferry
We did not give much priority to the Asian side; we only visited the Princess Tower or Maiden Tower; in Turkish, it is called Kiz Külesi.
Legend has it that a wealthy father, to prevent fulfilling an ominous prophecy that said his daughter would die from a snake bite. He locked his daughter in this small tower in front of Üsküdar.
But the prophecy was fulfilled anyway, as the snake arrived at the tower hidden in a basket of fruit.
We got off the ferry and walked along the promenade until we were practically in front of the tower. On the way, you will pass several beach bars with lovely views.
We went to a place where we saw people sitting on carpets, and there were servers bringing tea and some sweets; we found a spot and sat down.
The site is called Kiz Kulesi Büfesi, it is super quiet, and from there, you can take a small boat to the maiden tower.
We enjoyed the views, the tranquility, and a good laugh, had dinner near our hotel, and went to bed early, leaving early the following day for Cappadocia.
Where to Stay in Istanbul
We stayed at the Golden Horn after a few inconveniences with previous reservations at other hotels.
Be careful with reservations with free cancellation.
Before ending up at this hotel, we had booked, first in one and then in another, with both of them, we had the same problem.
The first time we did not give it much importance, but the second time, the day before we left, it scared us.
It turns out that they told us they had a problem with the credit card and could not guarantee that we would have the rooms available when we arrived.
Apparently, this is done by many (cheap) hotels so that when you get there, they tell you that those rooms are sold out and have more expensive ones.
I recommend that once you know your travel date, book the hotel with payment in advance, not with free cancellation, because that's when you get screwed.
Unless you go to a renowned hotel like:
How to Get to and Around Istanbul
You can arrive by plane to Istanbul; tickets are quite affordable. However, depending on the season, prices will be higher.
To get around the city, as there were 4 of us for airport transfers, we used Uber; if you do not speak English, I recommend you hire a transfer online.
And for moving around the city, mostly walking and twice by cab. If you are going to use a cab, my recommendation is to agree on the price beforehand, just in case 😉
Summary: Must-Visit Places in Istanbul
Istanbul is a huge city with many places to visit. So here's a little summary with the top ten so you don't miss anything in Istanbul.
Blue Mosque
Hagia Sophia
Grand Bazaar
Spice Bazaar
Topkapi Palace
Suleyman Mosque
Galata Bridge and Tower
Bosphorus cruise
The Princess Tower
The Basilica Cistern
When Is The Best Time to Travel to Istanbul?
On your trip to Istanbul, you have to think if you are going to go alone to this beautiful city or if you are going to take advantage and extend the trip and visit Cappadocia or other places.
If you are also going to Cappadocia, the best time to go is in spring. Because it's the best time of the year to fly in a balloon.
If you are only traveling to Istanbul on a long weekend, keep in mind:
Summer: it is scorching, about 40 degrees Celsius, and humidity.
Spring and autumn: the best time to travel to Istanbul, with pleasant temperatures and little chance of rain. And if it rains, you know, take advantage of that day to see the Grand Bazaar, Museums or Mosques.
Winter: it is cold and snowy. So if you want to have a different postcard of Istanbul and fewer tourists, this could be your ideal time 😉
Also, if you travel in spring, you can go to Cappadocia to fly in a hot air balloon.
I hope our itinerary to see Istanbul in 4 days will help you plan your trip. And may you enjoy this great city as much as we do or even more!!!!
Do You Know Istanbul? Do you have a recommendation for another traveler?
Plan Your Trip to Turkey
Save this Image to
Your Pinterest
Last Updated on 15 September, 2023 by Veronica