21 Days Road Trip in Ireland, Complete Itinerary
Ireland is a fantastic place, affordable enough to go around in 2-3 weeks.
In this post, I want to share with you our 21-day itinerary around the Republic of Ireland and Northern Ireland. And here you have how to plan a trip to Ireland on your own.
Read on, take note, and start planning your trip to Ireland.
Disclosure: Some of the links on this post are affiliate links, meaning at no additional cost to you, I may earn a small commission if you click through and make a purchase.
Ireland in 21 days, the Best Itinerary
Although the Emerald Isle is about 85,000 square kilometers and relatively small compared to other countries, you will find many things to do and places to visit.
That is why we recommend that you have a travel itinerary prepared. You can do it with this road trip planner or in word or excel, whichever is more practical.
Of course, you have to be prepared with a flexible itinerary; plans can change, primarily due to the weather.
Another thing, this itinerary includes only one day in Dublin, because we have already visited the city.
Also, it isn't easy to go with the van, but if it is your first time, make a spot in your itinerary; below, I will tell you where because Dublin deserves a good visit.
TIP: less is more; recharge your days less and enjoy more.
Despite the tip that I just gave you, you will see that the days are very busy. So choose what you like best and enjoy Ireland.
I will show you our itinerary and break down each place with more details in other posts. Otherwise, this would take forever to read.
Day 1. County Wexford or Dublin
If you arrive by ferry to Ireland, you will likely arrive at Rosslare (ferries are usually cheaper). In this case, I recommend starting your visit in this area, heading south, and making your road trip clockwise.
If you arrive in Ireland by plane to Dublin, I recommend staying at least two days to get to know the Irish capital and then continue your journey south, clockwise.
Visit Wexford
Wexford has a rich history. On our visit, we dove a bit into Ireland's ancient past. Here is a summary of what we learned:
The history of ancient Ireland can be classified into two main waves:
Viking Raids
The Norman Invasion
After the Vikings reached the Emerald Isle in 795 AD, they built ports at Dublin, Waterford, Wexford, and Limerick (these eventually became Ireland's first cities).
Balinesker Beach – where the beach footage for "Saving Private Ryan" was shot
Tintern Abbey – Once one of the most powerful Cistercian foundations in the southeast, the Abbey is now in ruins but very well maintained. What I liked the most about this visit were the gardens, do not forget to visit them.
Hook Lighthouse – Located on the Hook Peninsula, it has been operating for over 800 years. You can visit the exterior or the interior on a guided tour.
Waterford Viking Triangle – The city of Waterford was founded by the Vikings in 914 AD. This makes it the oldest city in Ireland. It was the ideal base for the Vikings to settle with a protected harbor for trade, river access to the interior, and direct access to the Atlantic Ocean for raids. I will tell you in detail in another post.
If you have more time and desire, here are 3 more recommendations
Tramore, take a tour of the city and the beach.
Dunhill Castle is located on the route of the copper (Copper Coast). A narrow road reaches it. Today the ruins remain; the setting is spectacular for lovers of hiking. You can easily park a van or motorhome.
Bunmahon Beach
Where to Sleep
In Hotel or B&B: Waterford, Tramore, or Bunmahon. You will find bed and breakfasts, hostels and hotels with minimum prices of €50.
In a camper van: we sleep in this picnic area. It is next to a road, but it has little traffic at night, and we slept very well. I leave you the link to park4night.
Day 2. County Waterford
Lake Coumshingaun Walk – A beautiful place to spend the whole morning. Attention, if you go by van or motorhome, the parking lot has a height limit of two meters.
The Magic Road
Cascada de Mahon (Mahon Falls): The walk from the parking lot (no height limit) to the waterfall is along a gravel path and takes about 20 minutes. The environment is lovely; the waterfall is a "horse's tail," the walk is effortless and highly recommended.
Be careful with the road; the slope is very steep if you leave the car park towards Comeragh Drive (to the left of the waterfall). I do not think it is recommended for novice drivers, large motorhomes, or low-power vehicles.
The Comeragh Drive: You will be about 25 minutes from Dungarvan when you finish at Mahon Falls.
If you didn't do the Lake Coumshingaun walk, you'll have time to spare. Consider making the entire Comeragh trail; it's pretty cool.
When you exit the car park, continue uphill until you reach the top. Park your vehicle and enjoy the spectacular views from Comeragh Heights overlooking the Mahon River Valley to the east and the Tay Valley to the west.
Continue your route to Dungarvan. Put it in the GPS to get there easily.
Dungarvan – Stroll through the village. Here can be an excellent place to spend the night.
If you don't do the hike around Lake Coumshingaun, if you have the time and desire or want to take shelter from the rain for a while, visit the Jameson Distillery.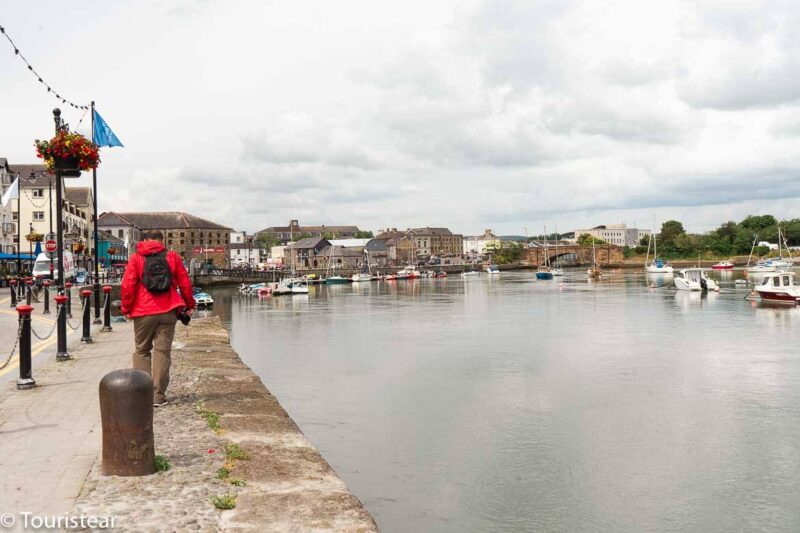 Jameson Distillery is located in County Cork, midway between Dungarvan and Cobh. You can do several guided tours; you have to book if you go in high season. The visit is very cool.
In the end, you can have a drink at the bar; you have a drink included with the visit and a tasting (if you are over 18 years old)
Totally recommended; I will tell you more in detail in future posts.
Where to Sleep
By hotel: Dungarvan, Cobh, or Cork.
By camper van or motorhome: Cobh. We slept in the Cobh parking lot; it has an exclusive area for motorhomes and camper vans.
The price is €10 for the whole day. It is located on a dead-end street for cars (but for people, you can get to the center in a few minutes).
It is in front of the river, it is pretty quiet, but you are next to the train tracks, at night, it does not bother you.
Day 3. Cobh to Cork
Cobh: This small Irish town is very picturesque. It is famous for being the last stop of the Titanic before its sinking. It is steeped in history and very easy to visit on foot. However, you will have to climb some hills to visit its most photogenic places.
Spike Island (The Gannet of Ireland). Originally a monastery, today you will see Fort Mitchel, an 18th-century bastion. The island's strategic location within the port meant that it was sometimes used for defense and as a prison. Since the early 21st century, the island has developed as a heritage tourist attraction.
Black Rock Castle. It is a crenelated fortification located in Blackrock, about 2 km from the center of Cork city, on the banks of the River Lee in Ireland. It was initially used for the coastal defense (16th century) of Cork. Today, it houses an observatory, a visitor center, and a restaurant.
Cork – is the second-largest city in Ireland. Both the city and the whole county are exciting. Here you have to visit the English Market, the cathedral, St Patrick street, the jail, etc.
Where to Sleep
Hotel. We recommend that you stay one night in Cork, so you can also enjoy its nightlife.
Van or Motorhome. Here you can sleep on the outskirts of the center, on one of its streets, or getaway a bit and sleep on a campsite. The latter was our choice.
We spent the night at Blarney Caravan and Camping Park (€32). You can load and empty black and gray water and take a hot shower here.
We chose this campsite because it is close to Blarney Castle, which is the first stop the next day.
Day 4. Blarney Castle – Clonakilty
Blarney Castle – One of the most beautifully landscaped castles I have ever visited. Here the typical thing is to kiss the stone of eloquence. It can be a little scary, but cheer up! Parking costs €2, and there is no height limit. Give it at least 2 hours.
Kinsale: A very picturesque town to visit quietly. We ate at the High Tide restaurant, which was very good. On the same street, you have many to choose from.
Head of Kinsale. Very cool the cliffs and the way to get there. It's a shame that the point has been turned into a golf club, and you can't pass it unless you're a member or go to eat at the restaurant.
Inchydoney Beach. Take a walk on this vast beach!
Skinscreen. If you go on a Saturday, visit its famous market.
Lough Hyne. The lake with luminescence. Here the typical thing is to kayak or swim at sunset and stay until nightfall to see the thousands of lights that emerge from this saltwater lake. The only downside is that you can not spend the night with the van.
Where to Sleep
We slept in Aghadown, in the church, and Kilcoe National School car park. It's a peaceful place.
Day 5. Toormore Altar – Brow Head
Toormore Altar. By the side of the road on the way to Brow Head. The megalith stands in a small flat green area just 30 meters from the rocky shoreline overlooking Toormore Bay. It measures 3.4 meters long by 1.9 meters wide and is covered by two tiles.
Browhead. The road to get there is a single narrow lane, with walls of vegetation on each side. A bit stressful for large vans or motorhomes. There are cool parts of the route; before reaching the narrowest part, you will go through a beach that looks good to kayak and spend the day.
Honestly, I don't think it's worth it; there are many more beautiful and exciting places to visit.
The Mizen Head campsite does not allow vans, and in the surroundings, you can not park (supposedly), but many do.
Mizen Head is the most south-western point in Ireland.
Sheep's Head Drive. The views are spectacular and impressive, with many historical and ancient sites of interest to visit along the way. In addition, there are many hiking trails. The original Sheep's Head Way is approximately 93 km long and takes you west along the peninsula's north side and back to Bantry on the south side.
Gougane Barra is a wonderful place, full of green and oratory in the middle of the lake. Totally recommendable.
Allihies.
Where to Sleep
Allihies. You can sleep near Allihies. You'll find quaint B&Bs and Guest Houses.
Campsite. You can sleep at the Allihies campsite or look at the Park4Night app if you go by van or motorhome.
Day 6. From Allihies to Kerry Cliff
Allihies to Dursey Island by Cable Car. €10 roundtrip per head.
Kenmare: Super picturesque town.
Sneem – Picturesque little town.
Derrynane Beach – very difficult to park the van; everything had height limitations. Walking routes depart from Derrynane National Park. A lovely place.
Waterville: nice. Small. To eat fish and seafood. It's where Charles Chaplin used to vacation.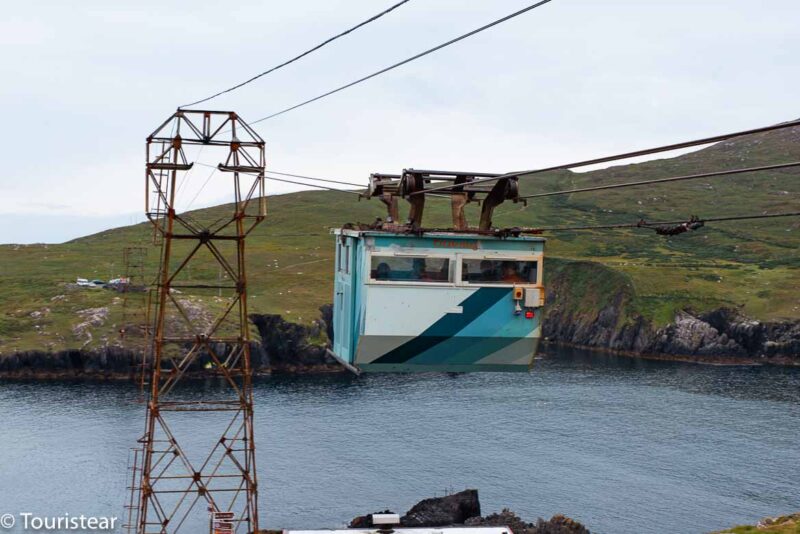 There are several trails on foot to do from this town. You can easily park on the sides of the main road. However, the parking lot for is now limited in height, and it is forbidden to spend the night.
Waterville to Kerry Cliff via Skellig Ring. The route is picturesque, with cliffs.
Where to Sleep
We slept with the van at the Kerry Cliffs. We enjoy the sunset and sunrise on one of the most famous cliffs in Ireland.
The price is €15. Ask to sleep next to the cliffs. Totally recommendable. If you're scared or very windy, you can sleep in the parking below; the price is the same.
Day 7. From Valentia Island to Dingle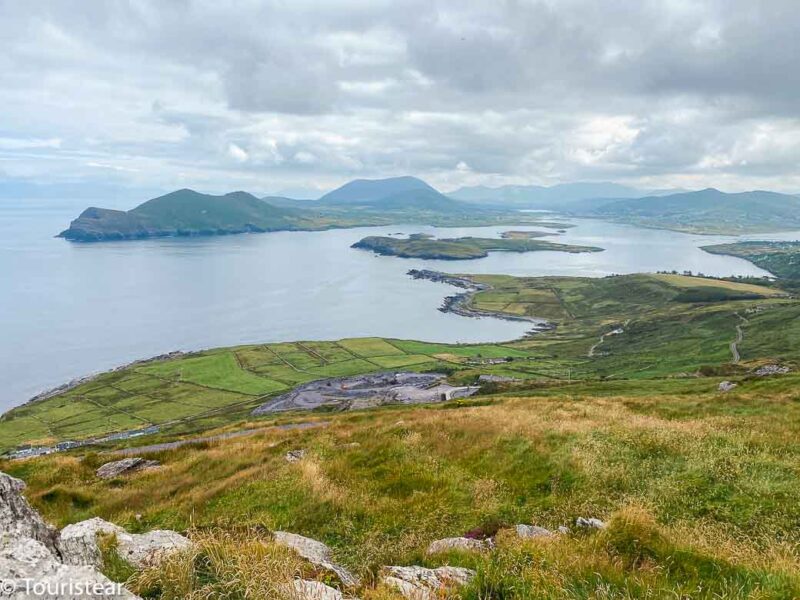 Valentia Island: you can go to the visitor center, where they will tell you the islands' history. One is a World Heritage Site (Skelling Micheal), 12 km from the coast. It can be reached by boat with an excursion booked at the Skellig Experience and Portmagee. In the latter, there are more options for schedules and prices.
Geokun Mountain: Excellent views. Walking trails. You can get to the top by car or van. Very steep for less powerful or very large vehicles.
Tetrapod Trakway – Where the footprints of the first animals to come out of the water is. Narrow road with a parking lot at the end. Six cars will enter at most. Not suitable for long or trailer vehicles.
Lighthouse: Very cool to take photos. But the road is very narrow and with sharp curves. So do not go with a trailer or long vehicles. I would not recommend it to people with motorhomes.
Cahersiveen – super quaint town. With colorful houses and businesses. There is for whiskey tasting.
Rossbeigh Beach – There are two picnic areas nearby. And you can ride a horse. The site looked promising. We didn't stop because it was very crowded. There was also a parking lot with height limitations.
Killarney is a very nice town, very touristy, the most typical is
Dingle: It is a very picturesque place, awarded as the Foodie Town of Ireland. In addition, boats leave from here to see dolphins and birds.
Where to Sleep
We slept in Dingle, in a parking lot almost in the city's center. It is authorized for motorhomes and vans.
The price is €10, and you pay it in an "honesty box" so you have to bring cash.
By Hotel or B&B: You have many options to stay in Dingle. It can be a good idea if you feel like pampering yourself or are touring Ireland by car.
Day 8 Dingle to Limerick
Dingle. Boat trip to see dolphins
Dunkin Pier: Fantastic views and construction can visit.
Connor Pass: A very cool road with some great views. It's limited to vehicles less than 2 tons. The road between Connor Pass and the Cascade was very narrow, with the cliff face to your right and small "pacing places" to let the vehicle in front pass.
Connor Waterfalls – A little disappointing; they were low on water.
Adare by the Shannon Estuary. The road and the town are highly recommended.
Askeaton, stop to empty WC and gray water, all free.
Limerick is one of the major cities in Ireland. Very pretty and exciting.
Where to Sleep in Limerick
We slept in the hotel Nº1 Pery Squary Hotel & Spa. It is a magnificent hotel; we booked an offer that included dinner, a double room, and breakfast.
We looked for special accommodation because it was my birthday.
But there is cheaper accommodation and parking at night is free in Limerick and they don't give you any problems. The issue is that from 9 o'clock you have to put a time ticket.
Day 9 Limerick to Cliff of Moher
Limerick, we visited the city in the morning.
Bunratty Castle: It is an excellent visit with many paths and houses as they were in the old days.
Killbaha. Loop Head Lighthouse: it's very cool with good views. It is quiet even to sleep; the parking lot has no height limitation.
Cliffs of Moher: We arrived in the afternoon; we did visit the interpretation center and the cliffs.
Where to Sleep
We slept in the parking lot at the Cliffs of Moher. It cost €20. But we had a horrible night, with a gale that seemed like the van would overturn.
If there is no wind, it is an excellent place to visit the cliffs in the morning or if you have no other choice.
Day 10 Cliffs of Moher to Galway
This was our initial plan, but not the one we actually did, as it was very windy, and the boat rides were canceled until further notice. They told us that we would have to wait between 3 and 4 days.
Cliffs of Moher. Boat ride
Doolin
Chocolate in Doolin
Doolin Cave
Inis Or
Gus O'Conners
Sleep in Doolin
The Actual Itinerary we did was:
Fanore along the Burren Coast Road
New Town Castle is a tower, from here you can visit a dolmen when the weather is good.
Kinvara is a small town, perfect for stopping for a drink.
Dunguaire Castle. I read somewhere that it was the most photographed castle in Ireland, and I have serious doubts. The environment is wonderful, yes.
Galway: we visited Galway in the evening; we had dinner at "The Front Door" pub, which was super good.
Day 11 Galway to Leenaun
Galway City – We visited Galway in the morning.
Pine Island ViewPoint: a stop on the road, a very cool area.
Clifden: very nice, small town. With a lot of life, shops, pubs, and good-looking hotels.
Diamond Hill: a very cool walking trail; it is pretty easy to do.
Kylemore Abbey: a must
Killarney Fjord – beautiful the whole way.
Leenaun, we sleep here, at the end of the fjord.
Day 12 Leeanaun to Downpatrick Head
Aasleagh Falls is small but pretty, in a wonderful setting.
Louisburgh: the place to take the holy mountain photo.
Croagh Patrick: We didn't make the hike. But it is a trail that many people do.
Westport: It's very nice. It seems that it is divided in two. The part of the harbor and the center of the city. Both parts are very nice.
Achill Island: very cool island. If the weather is good, spend a couple of days. You can kayak, kite, surf, hike, beach, etc. There is parking or camping for motorhomes next to a beach and a lake. It's very cool.
Downpatrick Head: Very cool the cliffs and the area.
Where to Sleep
There are two parking lots, and you can sleep without any problem. We slept in the first one, the one furthest from Downpatrick.
Day 13 Downpatrick Head to Rosses Point Campsite
The Céide Fields: Opens at 10 in the morning. They are the remains of a separation of land made with stones from 6000 years ago. It is interesting that 6000 years ago, people separated the land with stones, but what you see are piles of rocks. It has good views of the cliffs.
Enniscrone Beach – A huge beach for surfing or walking, it has dunes on the left and a castle on the right.
Easky: here, we stop to eat next to the tower of an old castle. But it is seen that it is a site of interest for surfers.
Queens Maeve's Grave – We went up the mountain. It's easy, but you have to go with waterproof shoes because there are parts where you walk a little bit on the water. The views are fabulous. It goes up and down quietly for an hour.
Where to Sleep
We slept at Camping Rosses Point (€24) with views and access to the beach. You have to book in advance if you go in high season because it books up very quickly.
Day 14 Sligo to Glencolmcille
Sligo – It doesn't have much, and we didn't find it pretty. But if it is a perfect city to stock up and visit the surroundings, they are worth it.
Glencar Waterfall – The waterfall is pretty, but the lake area is prettier. The landscape is beautiful.
Gleniff Horseshoe: Wonderful route. You can park in a few places along the road and then walk a bit.
Largy ViewPoint – You have to go at low tide.
Bundoran Beach: Surfer's beach with the fairy bridge and the wishing chair. The beach is fantastic, especially if you like surfing or want to learn. Or to walk.
Slieve League – cliffs over 600 meters. You can take a bus that takes you to the top or drive to the second parking lot and walk for about 20 minutes at the visitor center—€ 5 parking 2 hours.
Silver Strand – The beach is beautiful. It's like a big creek. Crystal clear water, fine sand beach. Green cliffs on both sides. You can go down some stairs, or you can walk up. There is parking without height limitation. So you can probably stay overnight. But it is very sloped.
Glencolmcille: open from 10 am to 6 pm. We slept in the parking lot and visited in the morning.
The parking has a sign that you can spend the night. But you have to leave a gap in visiting hours to the town. Very nice. Plus, it's free.
Day 15 Glencolmcille to Singing Pub
Glencolmcille: a town that recreates life's life in the old days.
Glengesh Pass – is super pretty. The little road is going down a valley.
Assaranca Waterfall: Waterfall on the side of the route. Parking for several cars and motorhomes. It's pretty; it goes down a lot of water.
The Caves of Maghera and Maghera Strand: the beach is gorgeous. At high tide, only one cave can be seen. But when it starts to go down, you can see many more. The golden sand and the water were crystal clear.
Gweedore – The lake area is beautiful.
Bunbeg – Bad Eddie – Visit the beach and the ship's wreck.
Glenveagh National Park – mountain, lake, outdoor activities. Very nice area.
Horn Head – You have two options, do the loop driving or walking. Walking is about 3 hours. By car, there are two viewpoints with good views.
Doe Castle is a small castle by the side of a lake.
Tra na Rossan view: a small road with very nice views of the coast.
Murder Hole Beach: Access to this famous beach is closed due to the number of people who went. There is a path that can be done that takes an hour if you know about it. It is not recommended to go at night if you do not know—there is a risk of getting lost.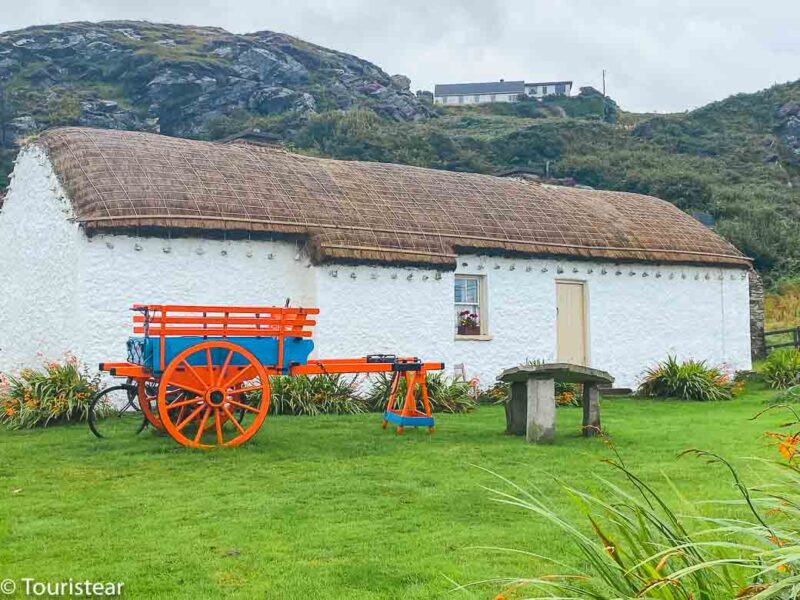 Sleep in Singing Pub
It has an area for motorhomes, emptying of water, and a pub to have a few beers. The man who attends is super friendly.
Day 16 from Singing Pub to Derry
We made a few stops on the road, but we already felt like a bit of the city.
Derry City: We visited the city. Is beautiful. It is easy to visit and has a lot of history.
We had dinner at Fitzroys, two burgers with fries, an excellent cheesecake plus two Heinekens: £33.96
Where to Sleep
Parking: €2. We slept very well. Cheap and overlooks the river. And 10 minutes walk from the center.
Day 17 Derry to Whitehead
Dunluce Castle: Ruined castle on the edge of a cliff. Admission is £5.25.
Giants Causeway: the route is very beautiful. Admission is free of charge. But if you go by car, you can pay £5 in car park 3. Or the causeway visitor experience, which is £13.5, includes an audio guide, guide, and more.
Dunseverick Castle – Ruins of a cliff-top castle (no three stone walls). There are some trails to do around.
The Dark Hedges: (place of Game of Thrones) there is free parking without a height barrier. It is well indicated. It's very cool. You have to remove the sky and zoom in to make the photo cool.
Ballintoy Harbour: Very cool. Road with hairpin bends to get there. A 6-meter van passes OK. Anything longer is not recommended. A sign at the entrance says that motorhomes and buses do not pass that point. Free. Parking with and without barriers.
Rope Bridge – We couldn't visit it because it was closed due to wind. But it was in our initial planning.
Cushendum Conservation Area: Quaint seaside town. It has a large parking lot at the entrance of the town and another small one in the center. They are free and have no height limitation.
Cushendall Conservation Area: Picturesque town, with a large church at the entrance to town. It has free parking.
Waterfront / Carnlough – Seaside town. Nice beach, Plenty of places to stop along the road.
Glenarm: a seaside town with a small marina, a castle, and free RV parking.
Causeway Coastal Road – This is very different from Ireland's Wild Atlantic Way. This has a road that runs along the coast; it is very easy to do and has many places to stop to take photos, beaches, and small towns.
Sleeping whitehead.
Where to Sleep
We slept in Whitehead in a parking lot with sea views, flat and close to the town.
We emptied the WC in the golf club's parking lot in the same town.
If you go by car, stay overnight in Belfast. It is a fantastic city with good nightlife.
Day 18 Whitehead to Belfast
All-day in Belfast, I loved this city. Soon you will have a post with everything there is to see in Belfast.
An essential in your itinerary through Ireland.
Day 19 Belfast to Dublin
Day 20
Day 21
Visit Dublin in the morning
Back home, or if you have more days, continue enjoying these two wonderful countries.
Plan Your Trip to Ireland
Last Updated on 22 September, 2023 by Veronica