9 Best RV Water Pump (Guide and Review)
Do you want to upgrade or replace your RV water pump? Or maybe you just want convenience every time you go to shower, flush the toilet or use the faucet in your RV.
If you're curious, we've done our homework and reviewed the best RV water pumps you can get your hands on. Let's get started, shall we?
Our Top 3 Best RV Water Pump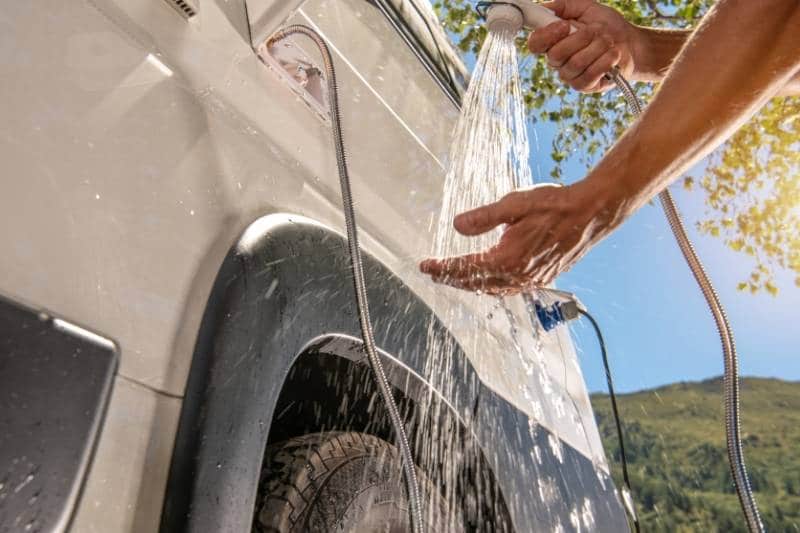 9 Best RV Water Pump (Guide and Review)
Voltage: 12V DC
Flow rate: 3 GPM
PSI: 55
The cool thing about this SHURflo water pump is the self-priming feature that makes it possible to supply water consistently even if the source is running low. Better yet, it can run dry without getting damaged.
Thanks to its automated variable pump cycle, it doesn't make a lot of noise and you don't need to operate it longer than necessary. Also, it can shut down automatically if it gets too hot to prevent a fire breakout.
On the downside, this unit has an average lifespan of about 3 to 4 years. Then again, it's a bargain considering the price.
What We Like
Automated pump cycle
Self-priming and thermal protection
Built-in check valve
Consistent water pressure
It doesn't consume a lot of power
2-year warranty
What We Don't Like
RecPro RV Water Pump 3.0 GPM| Compatible with Shurflo 4008-101-A65 | 12V Water Pump | Self-Prime |...
Corrosion-resistant valves - Our RV water pump is designed with corrosion-resistant valves that guarantee long-lasting performance. Keep your campground neighbors happy with its quiet running.
Self-priming up to 9.0ft vertical - This pump is self-priming, making it easy to set up and use right away. Its low power draw allows you to run other appliances while the pump is working.
Runs dry without damage - When the water runs out, don't fret! This water pump can handle running dry without damage, offering a longer lifespan than average pumps.
Voltage: 12V DC
Flow rate: 2.9 GPM
PSI: 50
Quite impressive, this water system pump is designed with three chambers diaphragm to stabilize the pressure and reduce the noise. It also comes with sound-absorbing mounts and snap-in port fittings to keep the pump quiet while running.
It only consumes 12 volts of electricity so you don't need to worry about draining your battery. What's more, it delivers 2.9 gallons per minute at 50 PSI of pressure which is more than enough for an average RV or motorhome.
However, this RV water pump is not suitable for winter.
What We Like
Three chambers diaphragm design
Noise absorbing mounts
Corrosion-resistant material
Self-priming feature
Automatic pump cycle
What We Don't Like
Voltage: 115V AC
Flow rate: 3.3 GPM
PSI: 45
How about a water pump with self-priming capabilities up to 6 feet? Beyond that, it can run dry without damage, and even if the motor is running at full capacity, it will be as quiet as your air conditioner.
Talking about the water pressure, you can manually adjust it from 17 psi to 60 psi. However, it will automatically turn on and off to keep the pressure consistent at 45 PSI.
Unfortunately, this water pump consumes slightly more power than a typical 12V RV water pump.
But on the bright side, it's an industrial and multi-purpose water pressure pump that you can use in your RV, boat, or home.
What We Like
Adjustable pressure switch
Easy to install
Self-priming feature
It's quiet
Anti-airlock protection
What We Don't Like
It consumes more power than average
Voltage: 12V DC
Flow rate: 3.5 GPM
PSI: 45
In contrast with the previous model, this Shurflo 2088 Series 12V Water Pump has a flow rate of 3.5 gallons per minute and consistent 45 PSI pressure. In fact, it can self-prime up to 9 vertical feet; plus, it can be mounted at any angle.
The motor is designed with a permanent magnet and if it gets too hot, it will shut down automatically. Moreover, you can use it to pump warm water as long as it doesn't exceed 130 degrees Fahrenheit.
There is just one thing though; this pump is made out of steel and if you don't install it using a padded foam, it will probably disturb your peace due to the noise and vibrations.
What We Like
No reverse flow
Thermally protected motor
Compact design
Automatic pressure switch
Easy to install
Self-priming function
What We Don't Like
Voltage: 12V DC
Flow rate: 3.5 GPM
PSI: 65
If you open multiple faucets while using this pump, the water pressure will remain consistent.
What's even more interesting is that this is a variable speed pump that will automatically adjust its flow rate and speed to match up your water requirements; that means it's quiet and doesn't consume a lot of power.
To top it off, it's equipped with a high-performance 12V motor with low voltage protection and a thermal protector. Did I mention, it has a maximum pressure bypass that protects your RV's plumbing system?
However, it's a shame this will cost you more than most RV water pumps on our guide. Then again, we think it's worth every penny considering the exceptional features.
What We Like
Automatic variable speed control
Very quiet while running
Maximum liquid temperature at 140°F
It can be rotated
Consistent pressure
Low voltage protection
What We Don't Like
Sale
Remco (55-AQUAJET ARV Aquajet RV Series Water Pump
Aquajet Variable Speed RV Water Pump - The Aquajet RV pump employs state-of-the-art electronics to automatically control motor speed - the pump actually adjusts its speed as you open and close water fixtures
Aquajet's soft start feature eliminates annoying rapid cycling, and its exclusive 5-valve design can deliver twice the flow and pressure of conventional RV industry pumps
Greater flow - The Aquajet automatically overcomes pressure drops typically caused when multiple fixtures operate at the same time. AES: 10 feet (3 m) , ARV: 13 feet ( 4m)
Voltage: 110V AC
Flow rate: 4.5 GPM
PSI: 45
With a flow rate of 4.5 gallons per minute, this Eco-Worthy RV pump has the highest volume water supply on our guide.
In addition to that, the pump will turn on automatically when you open the tap and switch off when you close the faucet.
If you look closely, you will notice it's fitted with rubber-mounted feet to tone down the noise and vibrations. But perhaps the biggest trick under its sleeve is the filter that helps to remove impurities before supplying the water.
For a pump that delivers 4.5 gallons per minute, it's no surprise that it consumes more power than an average 12V RV pump. Even so, it would be useful especially for multi-purpose applications.
What We Like
Multi-purpose water pump
Self-priming pump
High flow rate
Automated pump cycle
It's quiet
Easy to install
What We Don't Like
Voltage: 12V DC
Flow rate: 1.2 GPM
PSI: 80
If you want a small and compact water pump for your RV that doesn't consume a lot of power, this could be a good option. It weighs just 400 grams and can pump 1.2 gallons of water per minute.
Surprisingly, this unit can deliver up to 85 PSI of pressure; so that means you don't need to worry about inconsistent flow rate. What's more, it comes with a self-priming function that will keep the water flowing when the tank is low.
So far, its biggest drawback seems to be that it can't run non-stop for more than 6 hours.
What We Like
Quiet when installed
Smooth and consistent flow rate
Small and compact design
It doesn't consume a lot of electricity
Very durable
What We Don't Like
It can't pump for more than 6 hours
bayite 12V DC Water Transfer Pump with 2 Hose Clamps 12 Volt Diaphragm Pump Self Priming Sprayer...
The patented design delivers smooth & consistent flow at all ranges of operation, while drawing low current
Inlet and Outlet: 3/8-inch hose barb ports. Vertical Suction Lift: 6.6ft (2m). Adjustable CUT-OFF Pressure: Default 80-85PSI, MAX 100 PSI(5.5Bar). It doesn't mean 4.5L/min jet at 100PSI. Comes with 2 tube clamps
The pump body is sealed to prevent incidental moisture and dust from entering. The pump can not run continuously more than 6 hours. Able to operate in a wet environment. Self priming function allows it to be mounted above water tank
Voltage: 12V DC
Flow rate: 1.2 GPM
PSI: 35
This is a low-budget 12V water pump that is suitable for outdoor showers, garden sprinklers, agricultural spraying, and water taps in your RV. Well, it's not that complicated, but it can deliver 1.2 gallons of water per minute at 35 PSI of pressure.
The best part about it is the automatic switch that turns on the pump as soon as you open the tap; that way, you can reduce power consumption. Also, the pump's body is made out of plastic but the mounting feet are covered with rubber to minimize the vibrations.
It's obvious, isn't it? This is a compact RV water pump but don't expect it to do too much work.
What We Like
Multi-purpose water pump
Self-priming feature
Adjustable cut off pressure
Budget-friendly
Easy to operate
Low power consumption
Lightweight
What We Don't Like
Sale
Camplux 12V DC Water Pump, 1.2GPM 4.3 L/Min Diaphragm Pump for Caravan RV Marine Fishing Boat
With CE Certified. Can be used for general water transfer, spraying, circulation, filtration, dispensing, small rain system, gas hot water system.
Self-priming allows it to be mounted above tank; able to run dry. Capable of self-priming up to 3.1 vertical feet.
Built-in 35 PSI pressure switch, it automatically turns on and off as you turn your tap or nozzle on and off. Adjustable CUT-OFF Pressure : default 35 PSI, MAX 45 PSI. It doesn't mean 4.3L/min jet at 35 PSI
Voltage: 12V DC
Flow rate: 2.5 GPM
PSI: 8
This 12V pump is smaller than your smartphone, but it can supply 2.6 gallons of water per minute up to 18 feet away. If you want, you can even submerge it in a 20L bottle and deliver water directly to your tap.
Installation shouldn't be a hassle since it comes with everything that you need including a 3.2 feet connection pipe. Otherwise, the pump is as quiet as a mouse, and it doesn't require maintenance.
However, if you want to prevent the pump from overheating, you shouldn't run it continuously for more than 15 minutes.
What We Like
Lightweight and portable
It can be submerged
Easy to install
No maintenance
It's very quiet
Shockproof construction
What We Don't Like
It can overheat after 15 minutes
Submersible water pump 12V | 12V water pump | small and portable water pump made in Germany | 12...
✅№1 Mini TRANSFER Pump with 12VDC for CARAVANS, MOTORHOMES, TRAILERS, BOATS in EUROPE. Also won a nominee "Bomba de aqua 2017" in Spain. Used by well-known brands such as Hobby, Hymer, Knaus, Adria, Laika, VW. Recognized in marine and yachting industries.
✅COMPACT AND QUIET – Product has a really miniature size (4.14 x 1.29 x 1.49 inches) and is lightweight (4.86 oz.) You can connect any 10mm. (3/8") food grade hose to the suction side. Has enough pressure to be used for the gardening, irrigation, or aquarium purposes. Throughput rate is max. 10 L/min (2,5 GPM) and water delivery up to 5m.(18 feet). Comes with a 1m./39 in. cord.
✅OUTDOOR / CAMPING – Easy to connect with any faucet or sprayer, filling 5 gallons jug, fish tank or any size of barrels in some minutes. Feel free to pump fresh, drinking, rain or even salt water from any pool, pond or sea. Additional filter is available (is sold separately). Take it with you on your next trip. Just connect it to a 12volt DC Adapter / Car battery to get your outdoor shower wherever you want
What is an RV Water Pump, and Why Would You Need It?
An RV water pump is used to force water from the vehicle's built-in tank to the piping system. Basically, if you want a consistent flow of water from your rig's tank to the shower, toilet, or sink, you will need an RV water pump.
However, an RV water pump doesn't just force water through the piping system, but it can also regulate the water pressure.
That means you can reduce the pressure to consume less water per minute and increase the pressure to get things done faster.
Besides that, you don't need to rely on city water and campground systems if you have an RV water pump.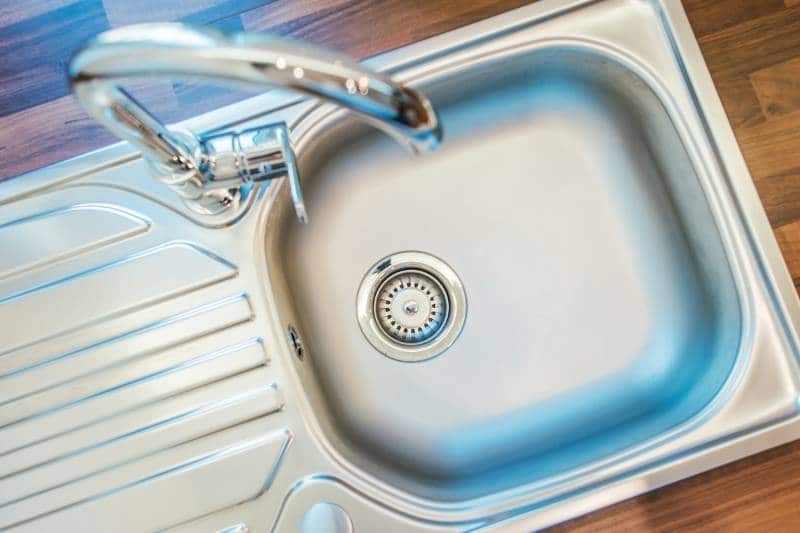 How Do They Work?
An RV water pump is usually designed with two ports; an inlet and an outlet. Once the RV pump is up and running, the diaphragm expands to draw in the water from the RV's storage tank to the inlet port.
As the water flows through the pump, the diaphragm contracts to force the water through the outlet or discharge line at a higher pressure.
The pressurized water is then distributed to the piping system which is connected to your shower, sink faucet, and toilet.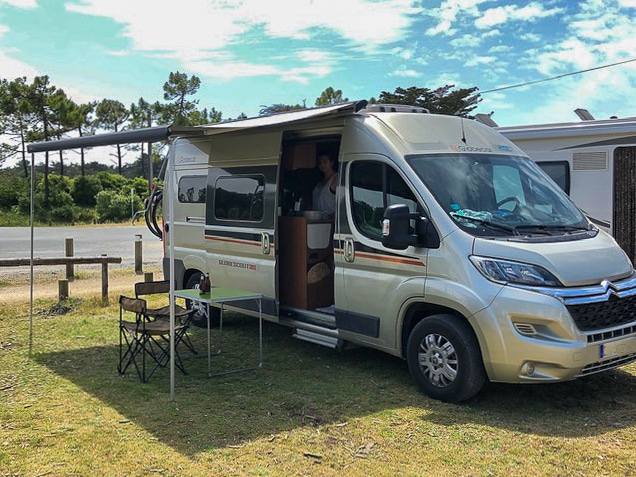 What to Look for When Buying an RV Water Pump
Gallon Per Minute (GPM)
For starters, you need to consider how many gallons of water the RV pump you want to purchase can deliver in one minute. Most RV pumps on the market typically discharge a flow rate of 1 GPM to 4 GPM.
Of course, an RV pump with a high GPM (gallon per minute) will supply a consistent flow of water to more faucets simultaneously. However, there is a catch; the higher the GPM, the more power you will need to operate the pump.
Then again, if your RV pump delivers a low GPM, you could have problems running multiple faucets at the same time. For that reason, you should avoid an RV water pump with a gallon per minute rating of 1.2 and below.
As a matter of fact, the best RV water pumps on the market can supply 3 or 4 gallons per minute; anything more than that and you risk draining your battery too fast. Better yet, you should choose an RV water pump that you can easily adjust the GPM speed.
Pounds per Square Inch (PSI)
Unlike the GPM that measures the flow rate, the PSI (pounds per square inch) is all about the water pressure. How much do you need? Most RV piping systems are designed to handle between 40 and 70 PSI, so make sure you choose a water pump within that scale.
Keep in mind that if you use a water pump with a higher PSI than your plumbing system can handle, you could damage it. On the other hand, if you choose a water pump with less than 40 PSI, don't be surprised if the water pressure is underwhelming.
However, just to be on the safe side, you should check the RV's manual to figure out how much PSI you need on a water pump.
Voltage
Most RV water pumps you will find on the market are either 12 volt or 24-volt units. 12-volt water pumps are usually the standard in most RV and motorhomes because they consume less power.
But if you think you'll need more water pressure, you could choose a 24-volt pump; although it will require more maintenance than a 12-volt water pump. Not to mention, a 24-volt water pump will increase your water and electrical bill.
Let's just put it this way; if you're on the fence about it, we recommend you pick a 12 voltage RV pump rather than getting something that will consume too much power than necessary.
Size
The size of the water pump is a big deal considering that it needs to fit in your designated RV space. But first, you need to figure out what size of water pump you should get by measuring the space where you want to install it.
Depending on your RV model, you can have different spaces to install the water pump and it could be anywhere from the water basement storage area, under the bathroom sink, under the bed, or near the water heater.
The good news is; a standard 12-volt water pump has a compact design that can fit in most RV rigs.
Noise Level
You don't want to get distracted every time your RV water pump is running in the background, do you? For the sake of your tranquility, you should consider buying an RV water pump that comes with noise dampening material and a low vibration mount.
Interestingly, some RV water pumps are designed with a 5 chamber diaphragm to reduce the noise as much as possible. Alternatively, you can minimize the noise and vibrations during installation by sliding a padded foam under the pump before you mount it.
Self-Priming and Thermal Protection
Since the RV's storage tank has a limited water source, you should choose a pump that can deliver water from the tube; especially if the supply is almost depleted.
Besides that, the self-priming feature helps to prevent the pump from damage in case the water runs out.
What else? The best RV water pumps have a thermal protection feature to prevent a fire breakout. In other words, if the pump overheats, it will shut down automatically.
Types of Water Pumps
Constant Speed
A constant speed RV pump supplies water at a single speed or flow rate. That means, you can't adjust the water flow rate or speed but you can switch it on or off.
Even though constant speed water pumps are simple and affordable, they have a shorter lifespan compared to other types of water pumps. This is because constant speed pumps can continue running longer than necessary.
Variable Speed
As the name suggests, variable speed pumps automatically adjust the water flow rate to match the demand. However, the water pressure is usually constant even if the flow rate is variable.
The good thing about variable speed pumps is that they don't make a lot of noise. Also, if you find a variable speed pump with an automated cycle, it will reduce your energy consumption.
On the flip side, variable speed pumps are more expensive than constant speed pumps.
High Volume
Most high-volume water pumps supply more than 4 gallons per minute. Of course, due to such a high flow rate, you would need a big rig that can provide 50 amps.
Otherwise, most high-volume water pumps are rated at 24 volts, and they're usually installed in buses, trailers, and trucks. For the average RV dweller, it doesn't make sense to install a high-volume water pump in a typical RV unless you consume water like an elephant.
Conclusion
If we had to pick the overall best RV water pump, we would choose Remco 55 Aquajet RV Series Water Pump. This is because it's an automatic variable speed pump with thermal and low voltage protection.
However, if you're on a tight budget, we recommend the Camplux 12V Water Pump.
RV Equipment & Gear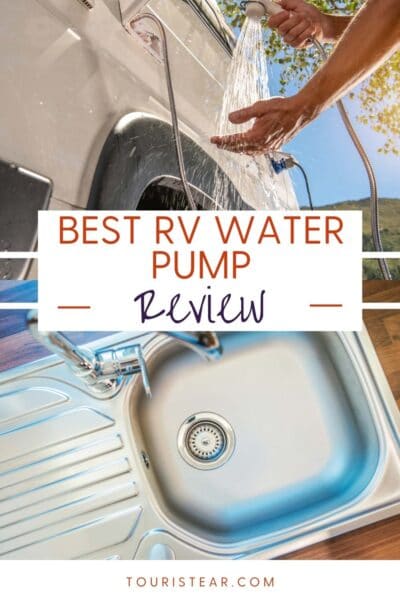 Last Updated on 27 September, 2023 by Veronica
Disclosure: Some of the links on this post are affiliate links, meaning at no additional cost to you, I may earn a small commission if you click through and make a purchase.
Author: Veronica
Vero, a seasoned traveler, has explored 25 countries and lived in five, gaining a rich perspective and fostering an infectious passion for travel. With a heart full of wanderlust, Vero uncovers the world's hidden gems and shares insights, tips, and planning advice to inspire and assist fellow adventurers. Join Vero and let the shared passion for travel create unforgettable memories.