The 8 Best RV Toilet (Guide & Review)
Are you traveling in a camper van or RV? Then you need to read this article about the best RV toilet—a guide with all the information you need before buying one.
A large amount of knowledge is needed when preparing to travel across the globe.
Choosing the best-suited toilet is generally not everyone's first thought.
Although, selecting the correct toilet is essential for the perfect trip. Proper selection will determine every individual's comfort level during their trip.
Disclosure: Some of the links on this post are affiliate links, meaning at no additional cost to you, I may earn a small commission if you click through and make a purchase.
Our Pick: Top 3 Best RV Toilet
Best Current Toilet Options on the Market?
There is a vast amount of RV toilets throughout the market. We have selected the toilets with the most significant specifications, highest quality, and lowest price.
These are our top picks for the best RV toilets:
DOMETIC 300
The Dometic 300 is a slim, white plastic toilet. It weighs 8.25 pounds. The toilet's design enables it to be durable, solid, and lightweight. It is economically friendly, with only one pint of water used per flush.
Its residential design makes it aesthetically pleasing in any modern RV. The toilet has a triple jet bowl rinse system and gravity flush. This enables it to get rid of waste efficiently.
The toilet is simple to use with its pedal flush feature. Its residential toilet height makes it perfect for any recreational vehicle.
Dometic 300 Series Gravity-Flush RV Toilet - Powerful Triple-Jet Action Flush with Adjustable Water...
COMPLETE WASTE REMOVAL: The Dometic 300 series gravity-flush RV toilet features a powerful triple-jet action flush that ensures complete waste removal with each use, keeping your RV clean and odor-free.
EFFICIENT OPERATION: The efficient foot pedal operation with adjustable water level makes it easy to use and control water usage. You can customize the water level to match your needs, helping you conserve water during extended trips.
RESIDENTIAL STYLE: This toilet offers a residential-style design, providing you with the comfort and familiarity of home while on the road. The elongated seat and full-size height make it easy to use and comfortable, even for extended periods.
DOMETIC 970
The DOMETIC 970-Series Portable Toilet is a grey, 12-pound toilet. It has a push-button flush with a 9.8-liter waste capacity. No pumping or batteries are required.
High strength ABS construction allowing it to handle any harsh conditions. The toilet has two sizes, both with space-saving designs. Here are permanent fittings available for this toilet sold separately.
Dometic 972 Portable Toilet - Camping Porta Potty with Full-Size Seat & Latching Lid - Powerful...
PORTABLE AND POWERFUL FLUSHING: Dometic Portable Toilet is an excellent choice for camping, outdoor events, RV trips, or any situation that requires a convenient and hygienic portable toilet. The powerful flush is activated at the touch of a button, making it easy to keep the toilet clean and sanitary.
HIGH-STRENGTH CONSTRUCTION: Made with high-density polyethylene, this toilet can withstand harsh environments and is designed to last. You can drop it or stand on it, and it will still work great. The scratch-resistant matte finish is easy to clean and maintains its new look for years
COMFORTABLE AND SECURE: With an adult-size seat and lid, this portable toilet provides comfort and safety. The side latches lock firmly for added security. You can travel with peace of mind knowing that the toilet won't accidentally open during transportation.
Thetford Porta Potty
The Porta Potti 565E is a battery-powered flushed, white toilet. It is slightly larger than the other listed toilets weighing in at 13.45 pounds. It is made from polypropylene and is floor mounted.
The award-winning toilet is highly versatile. It is perfect for RVs but can also be used in many other scenarios.
This product has an odorless, leakproof sealed valve to ensure no spillage of waste produce.
The RV toilet's sleek style lets it match any modern furnishings. The Porta Potti 565E has some brilliant features. An ergonomic carrying handle and a built-in toilet roll holder.
They are used for enabling maximum comfort when using this toilet. View your Curve with the holding tank indicator for new water and waste tanks. The average is fifty-six flushes per tank.
Sale
Porta Potti 92306 White Thetford Corp
VERSATILITY: Award-winning, top-of-the-line portable toilet, suited for RVs, boats, trucks, vans, healthcare, camping and even off-the-grid lifestyle
DESIGN: Sleek, modern, and homelike look, Porta Potti Curve comes with a comfortable seat height, increased bowl size, and battery-powered flush
FUNCTIONALITY: Easy to use and clean, Curve has an ergonomic carrying handle, an integrated toilet paper holder, and a tank level indicator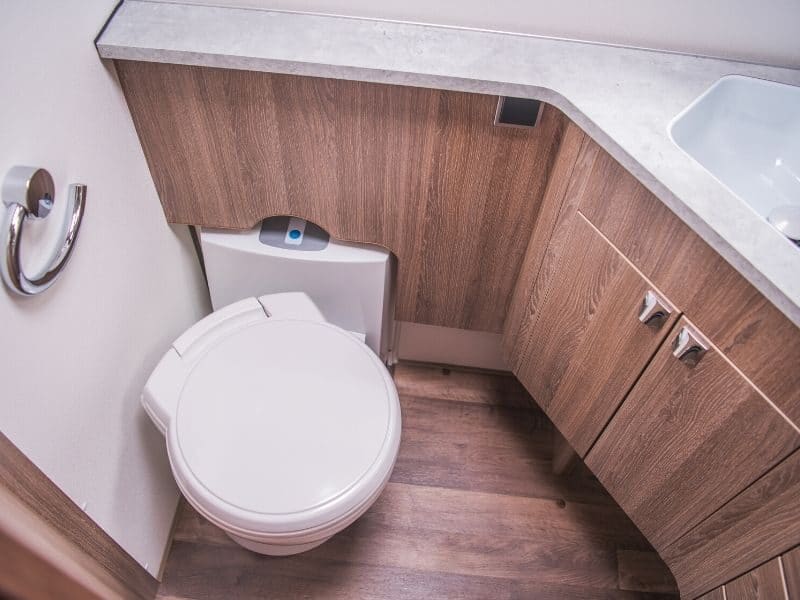 Thetford Aqua-Magic Bravura
Aqua-Magic Bravura is a stylish, comfortable, and lightweight toilet suited for all RV types.
The toilet uses a single-pedal system – pressing the pedal halfway adds water to the bowl, while pressing the pedal all the way flushes, giving 100% bowl coverage flush.
Sale
Thetford Aqua Magic Bravura RV Toilet - High Profile - White Color 31084
2-in-1 Efficient Flush System: The single-pedal flush system has 2 functions:  press the lever halfway to add water to the bowl and all the way to flush.
The Comfort Of A Household Toilet: Bravura comes with a removable seat and cover pod for easy cleaning and servicing.
Lightweight And Strong: Aqua-Magic Bravura is made out of polypropylene, ensuring a durable, lightweight RV toilet - only 18. 7 lbs.
Camco Premium Travel Toilet
Camco Premium Travel Toilet with Detachable Tank is an excellent Outdoor Toilet Designed for Camping, Hiking, Boating, Rving, and More.
Has a 5.3 gallon detachable holding tank; 4 gallon flush tank.
The interior surface is made of slick ABS material that helps prevent odors from clinging and cleans up easily.
The pumping flush action cleans the bowl, and the swivel dumping elbow makes waste removal easy.
Sale
Aqua-Magic V RV Toilet
The Aqua-Magic V RV Toilet is a lightweight (9.65 pounds) plastic, floor-mounted toilet. It has a tall seating height and a modern design. The toilet has a single-pedal system.
When you press it halfway, it adds water to the bowl, and pushing it all the way will flush it.
The Aqua magic toilet has a scuff-proof seat and full bowl coverage flush. The Aqua Magic comes in different sizes. Meaning it is suitable for both larger and smaller recreational vehicles.
Thetford Aqua-Magic V RV Toilet Pedal Flush, Low, Parchment - 31651
Designed For The Road: Aqua-Magic V is a classic-style RV toilet suited for any recreational vehicle that accepts a permanent installation.
2-in-1 Efficient Flush System: The single-pedal flush system has 2 functions:  press the lever halfway to add water to the bowl and all the way to flush.
The Comfort Of A Household Toilet: Comes with a textured lid which sheds water and resists scuffs, offering the comfort and feel of a household toilet.
Nature's Head Composting Toilet
Nature's Head Self-Contained Composting Toilet is a plastic, granite-colored toilet. It is the heaviest on the list at 28 pounds. It comes with a five-year warranty.
The toilet capacity is massive. If two people were to use it, it could approximately last between 4-6 weeks.
Two sailors designed nature's Head toilet to create a toilet with a larger capacity for when at sea.
The toilet has a circulation fan built into the head. This provides the benefit of making your bathroom smell better.
Villa 9215 AC/DC Composting Toilet
The Villa 9215 AC/DC is an excellent-high-quality composting toilet that you can use in your RV. And some people love this RV composting toilet so much that they are using it in their homes.
It is the most advanced, trouble-free composting toilet available for on-grid or off-grid living. It is waterless and urine-diverting.
The Villa 9215 will operate on either AC (standard household or on-grid), or DC (from battery or solar) power.
It features a single-speed fan with adaptors for both AC and DC to support venting to 20 feet. Include are all parts required for direct vent and drain application.
The Different Types Of Toilets For Your RV
There is a massive variety of different RV toilets available. It is essential to make sure that you choose correctly to avoid issues and suit your needs best.
Vacuum Flush RV Toilet – A vacuum flush toilet uses a vacuum to break down waste before storing it.
Cassette or Cartridge RV Toilet – Simplest form of RV toilets. Permanent toilet with a portable black tank.
Composting RV Toilet – Environmentally friendly, separates water and solids. Solids are converted and can be used in soil.
Gravity Flush RV Toilet – Sitting directly above the black water tank. This toilet type uses a combination of water and gravity to flush the waste away.
Macerating Flush RV Toilet – Uses motorized blades to break down waste before being stored.
Portable RV Toilet – These toilets have a detachable waist area. They do not need to connect to a black tank.
Height and size
Generally, RV toilets are relatively small. Their compact design is usually a benefit. It allows for a more spacious room within the RV. However, in some scenarios having a larger bowl size could be better.
If you are a more significant individual, installing a toilet with wider dimensions is recommended.
Holding tank
Some RV toilets come with a pre-installed portable tank. They are allowing you to remove it after some time. Cleaning this holding tank will be needed more frequently due to its smaller size.
Having a gravity flush RV toilet means you will need a black tank. This is a larger tank installed beneath the bathroom. It will need to clean more petite than a portable toilet tank. Black tanks generally cost $500 or more.
Material
RV toilets are generally made of plastic. Plastic is slightly less durable than porcelain. Porcelain is a ceramic material. However, many RV toilets are also made from porcelain but will cost slightly more.
Ease of emptying
It would be best if all waste is removed in an ideal world after two to three days. It is
recommended if you have a detachable waste area that you purchase two. The reason for this is that you may not be able to find somewhere to remove your waste.
Different locations will allow you to get rid of your black waste when on the move. These locations can be found by using online websites or apps. They are widely available.
Toilet tissue
Toilet tissue is, of course, an essential consideration when traveling in your RV. Firebelly Outfitters RV Toilet Paper is designed to dissolve quickly for RV and camping use. The biodegradable product is used for reducing RV clogs.
This includes eight 500 sheet rolls. The lack of clogging in black tanks will make it much easier to clean out. The quick dissolve paper will create a reduction in RV septic cleaners/chemicals.
Toilet Treatment
The purpose of toilet treatments is to break down waste matter quickly. As well as this, toilet treatment helps to reduce unpleasant smells.
Liquid
The Eco strong RV toilet holding tank treatment is used for removing odors. The treatment costs $17.97. The lavender-scented treatment is a 3-in-1 formula that eliminates odors, liquifies waste, and cleans sensors.
The eco-strong RV toilet tank treatment is eco-friendly guaranteed.
Packets
The Cabin Obsession RV toilet treatment Drop-ins come in a 24 pack. Used for eliminating odors and breaking down waste, it is safe for use with any toilet. The cabin obsession packs come with a risk-free money-back guarantee.
FAQS
How much weight can an RV toilet support at once?
It is different with on every toilet. The average RV toilet can support 320lbs. It is recommended to check the manufacturing details for further information.
Can you use a standard toilet within an RV?
Sadly not. An RV toilet is designed to be lightweight and robust. If you install a regular toilet, it would be damaged much easier.
How should you clean an RV toilet?
There is no difference between cleaning an RV toilet than a standard home toilet. Use a bristle brush and the recommended liquid or packet-based treatments.
Am I able to use regular toilet paper in my RV toilet?
No, using a standard toilet can cause significant blockages within the black tank. This can prove extremely hard to clean. Purchasing quick-dissolving paper such as Firebelly Outfitters RV Toilet Paper will help prevent this.
Can you use an RV toilet while driving?
Yes, a passenger using the toilet when driving is ok. The electrical system should be still working to the same standard at all times. Although, check laws and regulations within your area as this may be illegal when driving in specific locations.
Should I keep my black tank open or closed when hooked up to a sewer connection?
Make sure to keep your black tank valve closed at all times. Especially when hooking up to a sewer connection. It is crucial to have a large amount of liquid in the black tank when you open the valve to empty it.
What is the difference between a grey tank and a black tank in an RV?
The black tank is used for holding toilet waste in the RV. The grey water tank is used for storing all other types of water used.
How do I install an RV toilet?
After selecting an RV toilet that fits your needs, you will need to install it.
Steps 1 – 4 cover removing a previous RV toilet
Step 1: Make sure your water pump is on-off. Flush the toilet to remove all water in the bowl.
Step 2: Unscrew nuts of the old toilet and disconnect its water supply from the back.
Step 3: Lift the toilet straight up and place it away from somewhere. There may be leaks, so be careful not to put it somewhere that you do not want to get wet. Make sure you have drained your RV black tank. Wear rubber gloves and a mask as this can be an unhygienic situation.
Step 4: Remove the gasket that holds the toilet to the floor. You may need to use a screwdriver if it is tight.
Step 5: Ensure the surface is cleaned. Install your new gasket.
Step 6: Place the RV toilet on top of the gasket. Line you the bolts with the holes.
Step 7: Use a wrench to tighten.
Step 8: Check to make sure it is in line correctly by sitting on it.
Step 9: reattach the hose to the back of the toilet.
Step 10: Turn the water pump on and flush multiple times. Check for any leaks.
Essential Tip: Make sure not to overtighten any bolts as this can damage the toilet.
What should I do in the event of a toilet blockage?
If you are unfortunate enough to have your RV toilet blocked, do the following steps:
Step 1: Close off the black tank.
Step 2: Pour hot water into the toilet.
Step 3: Wait 10 -15 minutes.
Step 4: Flush the toilet. This process will help break up the blockage.
How to stop the black water tank odours?
There are various ways to get rid of black water tank odors. A build-up can cause these in waste, clogs, etc.
Step 1: Air the room out by using a fan or opening windows.
Step 2: Refill the water tank to keep things running correctly.
Step 3: Use toilet treatments discussed previously, such as the Eco strong RV toilet holding tank treatment.
Step 4: Preventing and cleaning different clogs using the hot water method previously mentioned.
Step 5: Check for small leaks in the black tank and toilet.
Step 6: If you have tried everything on this list, you will need to employ a professional to repair the work.
How do you connect the RV to a sewer?
Step 1: Use safety equipment such as gloves and a mask.
Step 2: Every black tank has a connection point. Attach it using the hose.
Step 3: Open the black tank valve.
Step 4: Empty your grey water tank afterward. This is good practice to flush out any waste thoroughly.
Conclusions
There are RV Toilets for everyone's budget, preference, and type of trip. I know it could be overwhelming to choose the right one with so many options in the market. Well, we did this review for you so that you can choose the best option for you.
Do you need a cheap option, you can choose the Camco Premium Travel Toilet or the Dometic 970.
Are you looking for a composting RV Toilet? This is the best option.
You have options in between, with excellent prices and quality, like:
I hope this article has given some light on the different options you have and helped you make your best pick for your trips.
Plan Your Next Trip
Last Updated on 14 March, 2023 by Veronica