What To Eat When Camping?
We are big fans of camping, packing the tent, putting it in the car trunk, and sleeping in our tent. For a successful trip, knowing what to eat when camping is important.
We have often been told, "Oh, sleeping on the ground is not for me." Others say, "I couldn't live on sandwiches for so long!" These are the most common or usual comments we get when we say we are going away for 15 or 20 days in a tent.
In this article, I share some of the dishes you can prepare when you go camping that are super easy to make. You can eat a varied, healthy, and fresh diet very easily!
*Update: We do the same with the camper van instead of the tent.
Disclosure: Some of the links on this post are affiliate links, meaning at no additional cost to you, I may earn a small commission if you click through and make a purchase.
What Do You To Cook To Eat When Camping?
For cooking at a campsite or outdoors, you need a few basic things which only take up a little space.
1. Portable Fridge
A portable cooler to keep things cool and things that need to be kept cold. There is a variety of portable coolers, sizes, and brands. Some can be plugged into the mains, others into the cigarette lighter of the car, and those of all life, those that go with ice.
We have had the ice one for years, sometimes it is a pain, but they are the best cooler, and if you do not sleep in a campsite, they are an excellent option.
Now with the camper van, we bring the cooler as an extra to take it to the beach or outside. The van has a trivalent cooler, but it is not portable.
Here is a complete article we wrote about portable fridges for traveling by car or camper.
2. Gas Stove
A gas stove is commonly known as a "camping stove" or "campingaz" in these parts. We have a stove that connects directly to the gas cylinder, and the adapter is suitable for several brands.
It is very convenient for us because it takes up the least space. There are also a large number of models and prices.
3. Portable Charcoal Or Gas Grill
A portable charcoal grill or mini camping barbecue. There is a wide variety of models, sizes, and prices.
Mini charcoal grills are the cheapest, are easy to carry, and take up little space. However, be careful when starting and extinguishing the fire.
Keep it in a box or a special place so it does not dirty your car or other things.
We currently have a portable gas grill. In France (where we live) and in more and more European places, it is forbidden to make fire, so it was easier to buy a gas grill and still enjoy barbecues.
4. Kitchen Utensils
Once you enter the camper world, you will discover how many things there are. Available at various price points and catering to all preferences.
But you can take the essentials from home, such as pots, plates, cutlery, napkins, etc. As you get the hang of it, you can buy collapsible pots, melamine plates, cool glasses, and even champagne glasses that look like glass!
Also, remember to bring a folding table and chairs or a blanket for eating on the floor.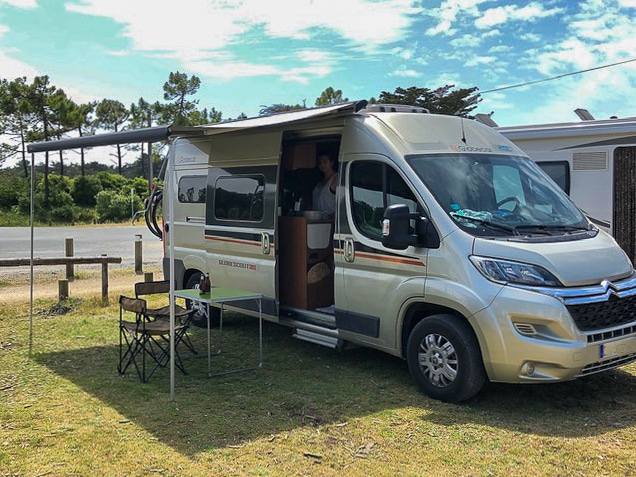 Here is a detailed post with everything you can take for camping or in a camper van.
Making Fire Responsibly When Camping
Before we start with the recipes for these meals to make in a camper van or while camping, I want you to take precautions regarding fire safety.
Only make a fire in authorized places and take all precautions not to cause damage to the surroundings.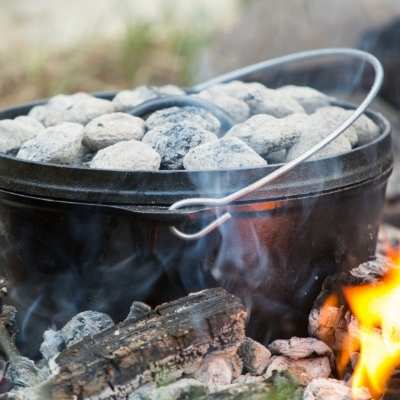 Watch the embers at all times, watch the flame, make sure there is no wind or look for a sheltered place, and have a bucket of water or sand at hand just in case.
If you need help deciding to have an open fire, use portable camping stoves or gas cookers. They are affordable and can help you avoid accidental fires.
Gas grills or barbecues are allowed in almost any location if you travel by car or camper van. This is the one we have, but there are more models and prices available.
If you have started a fire, take precautions when extinguishing it. Make sure that no embers are left burning. Pour water, dirt, or sand over it to prevent the fire from spreading and contributing to a potential wildfire.
Most importantly, use common sense. And after taking all the necessary precautions to prevent fires, look at these recipes to prepare during your camper van or camping trips, and let me know what you think of them.
What To Eat When Camping?
When you go camping, you do not have to live on sandwiches that you prepare and put in your camping backpack, although if you have a good budget, you can eat at bars and restaurants. 😉
But if this is not the case, here are some examples of food that can be easily prepared, although you must go to the supermarket.
Want more recipe ideas? Check out this book.
Lunch Or Dinner Time To Eat When Camping
Salads: you can prepare a variety of salads with whatever you like. Go beyond lettuce and tomatoes!
Here are some ideas for healthy meals to prepare outdoors.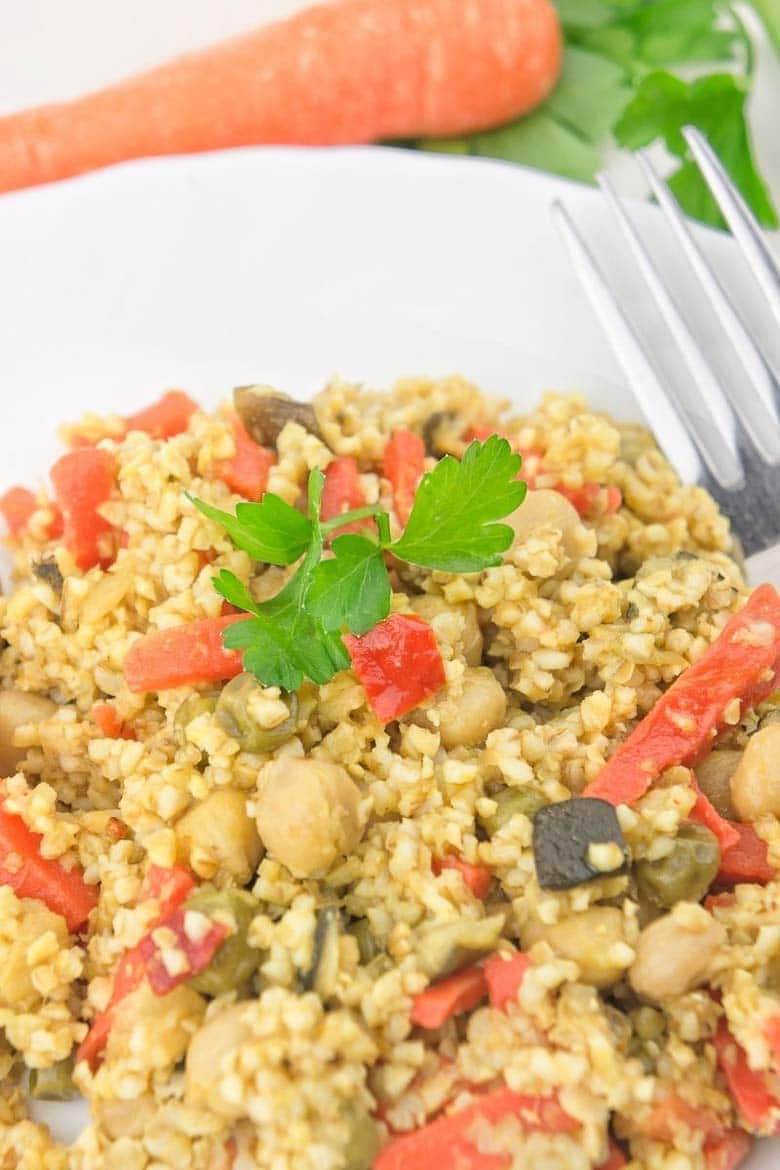 Some Ideas For Your Salads to Eat When You Go Camping
Rice salad with shrimp and vegetables
Salad of lamb's lettuce, turkey, and orange cubes
Pasta salad with apples and walnuts
Salmon and avocado salad with lettuce and cherry tomatoes
Quinoa salad with vegetables
Your favorite salad
Moroccan skewers or kebab-style skewers. You can make them yourself or buy them at the supermarket.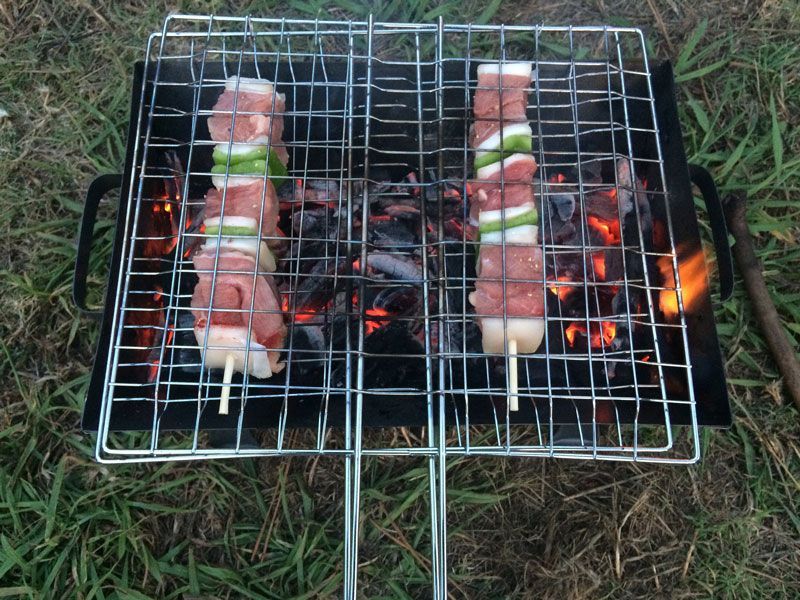 Barbecue. This can be meat or vegetable. Easy to prepare. The trick is to control the fire so that it doesn't reach the meat!
Ribs. Lamb or pork, very tasty when grilled.
Choripán. This is super easy. You grill the chorizo and eat it with bread, like a sandwich (look for "chorizo criollo" at the butcher shop). It is delicious and very typical of the asados (barbecues) that take place in Argentina.
Hamburgers. You make the burgers on the grill; the side dish is whatever you want!
Pasta. I think it is the easiest thing to prepare. You only need to boil the water with the pasta you like the most. The sauce may be most difficult to prepare, depending on how gourmet you are.
Although the easiest way is to heat the fried tomato in a small pot with minced meat and spices. Or buy a prepared sauce.
Once the pasta is ready, strain it and pour it into the sauce pot. Mix it, and that's it.
Rice and paella. Rice, like pasta, is very easy to prepare. And if you are good at preparing paella, it is a great option. I have seen it at a campsite in Portugal, but I have never prepared it yet.
We have bought a paella and a special fire to prepare paella in the following trips by van. I will let you know how it turns out.
Pescado A La Parrilla If we go to a place by the sea, it never hurts to have some grilled sardines. Fer loves them. Well prepared with lemon and salt while they are being made, important, not when they are already done.
You can also opt for a delicious sea bream or sea bass. Grilling them "a la Navarra" style is a great idea. Just place one or two slices of serrano ham inside the fish before grilling. Absolutely Delicious
Couscous. Super easy to prepare! Just soak it in hot water for a few minutes and you can serve it with various types of meats and fish. (Raquel's recommendation)
For Dessert Or Breakfast
Fruit Salads. Don't forget to eat fruit and fiber when you go camping!
Banana and oat tortilla. Preparing when you go camping may be a bit of a hassle, but it is delicious and healthy.
Measurements for one person. You have to mash a ripe banana with a fork. Add one beaten egg (or mix everything in the same bowl) and two tablespoons of oatmeal.
If you like, you can add a little cinnamon. You cook it on a griddle, similar to a French omelet or an American pancake, and it's ready to enjoy.
If you are not on a diet and do not have sugar-related issues, you can add syrup, honey, dulce de leche, or fruit chunks on top of it for extra flavor. Basically, whatever you feel like.
As you can see, you can eat everything when you are camping, and carrying a lot of "pots and pans" for cooking is unnecessary.
Here is a post with ideas for snacks to eat during your car or camper van trip.
For The Outdoor Aperitif 🙂
Camping cocktails. If you are of legal drinking age and you enjoy cocktails, I recommend this cocktail book for camping or van trips. Obviously, if you are going to drink, do not drive afterward!
You will find many ideas to do easily outdoors or in your camper van or motorhome.
Where To Buy?
We usually go to the local supermarkets, look online to see which ones are closest, and then we go there.
It depends on our area, but we also sometimes go to large chain stores as they tend to be cheaper. However, we always try to visit local markets to support the local economy.
And we try to buy the fruit at market stalls because they are much tastier than in the supermarket!
The idea is to shop every day or every other day, buying fresh ingredients that you will need for that day since there isn't much capacity to store fresh items.
If you are camping in another country, carrying an international debit card can help you pay supermarkets and withdraw cash at a lower rate. Get one from Wise here.
Do you like camping? Do you usually prepare your own food or do you eat at restaurants? Tell us more about your preference and experience!
Plan Your Camping Trip
Last Updated on 6 September, 2023 by Veronica