12 Healthy Meal Ideas for Camping
Camping is a great way to get outside and enjoy nature. Fresh air, hiking, and enjoying the outdoors with the people you love are incredibly enjoyable.
One of the best parts of camping is enjoying a meal around the fire together. There are many different foods that you can cook over a campfire, but not all of them are very healthy.
In this article, we will share 12 healthy meal ideas for camping. These meals are easy to transport and easy to cook, and they are all relatively healthy options. So if you're looking for some healthier alternatives while camping, read on!
Check Out: Camping Kitchen Gear
1) Mediterranean Couscous
This light and fresh meal is easy to prep ahead of time and cooks easily at the campsite.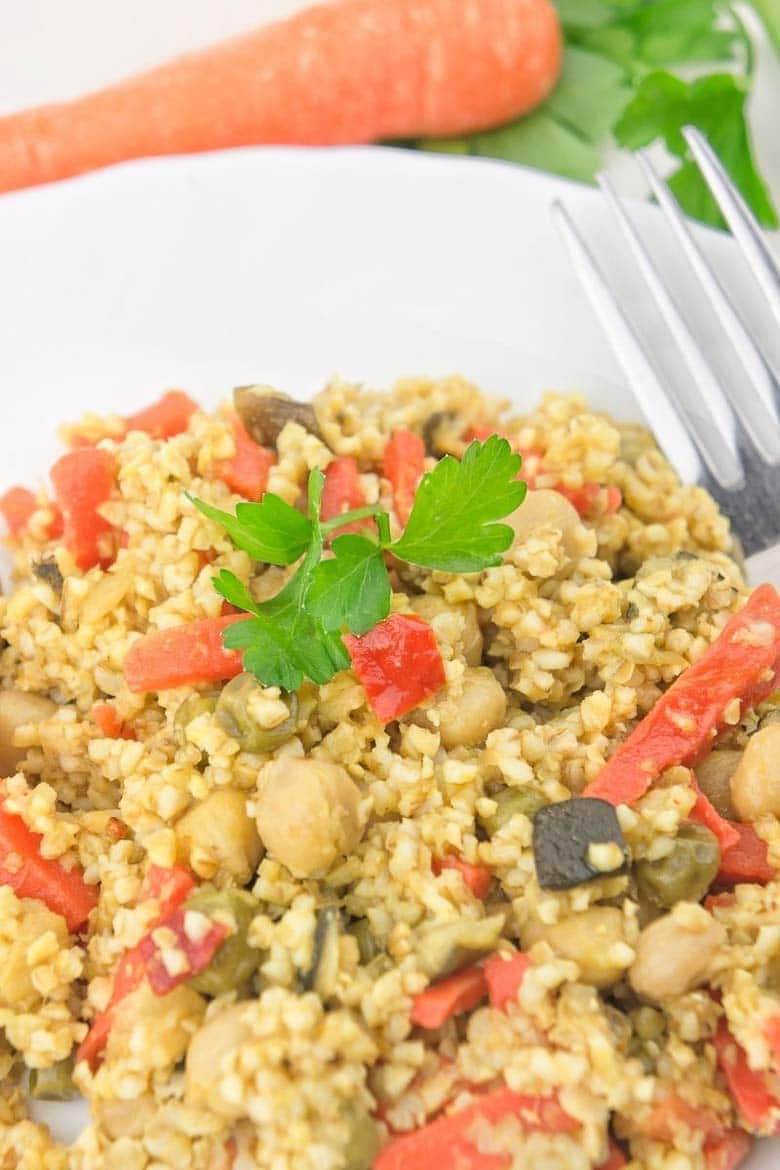 Before you head out on your camping trip, prepare the ingredients.
In a Ziploc bag,
pack 1/2 cup dry couscous,
3 tbsp toasted pine nuts or slivered almonds,
2 tsp dried basil leaves,
and a pinch each of salt and pepper.
In another Ziploc bag or container, pack the wet ingredients. Chop a small bunch of fresh chives (about 5 inches long), 1 clove of garlic, and the juice from 1/2 lemon.
Combine all ingredients in a bowl with 2 cups boiling water to prepare the couscous. Cover and let sit for 10 minutes. You can also add 1 tbsp olive oil or butter for added flavor.
2) Teriyaki Grilled Chicken Kabobs
Season chicken tenders with salt, pepper, garlic powder, onion powder, and paprika. Cut the tenders into 2-inch pieces—alternate chicken with green peppers on skewers, and place in a large Ziploc bag.
In a separate bowl, prepare the marinade by mixing together:
1/4 cup soy sauce,
2 tbsp packed brown sugar,
1 clove garlic (minced),
1 tsp sesame oil,
and 1/4 tsp ground ginger.
Pour the marinade over the chicken and peppers in the Ziploc bag, zip it closed, shake to coat, and place in a cooler until ready to cook. You can even freeze these beforehand, so they'll last longer in the cooler.
When you're ready to grill the kabobs, remove them from the bag and discard any leftover marinade. Grill for 4-5 minutes on each side until thoroughly cooked chicken.
3) Eggs and Greens
For a hearty breakfast at the campsite, you'll just need a cast iron pan, butter or bacon fat, eggs, greens, salt, and pepper. You might even be able to forage greens around the campgrounds!
Melt a few pats of butter or add bacon fat to the pan and place it over an open flame. Add the greens, tossing them in the butter or fat quickly before pushing them to the edge of the pan.
Crack 2-3 eggs into the frying pan and let them cook undisturbed until they're nearly done, then add salt and pepper. It's as easy as that!
4) White Bean Chicken Chili
This meal comes together easily in a slow cooker. You can prep all the ingredients ahead of time and freeze them or put them in the cooler.
Then, just put it in the slow cooker in the morning at your campsite, and it will be ready to enjoy for lunch or dinner that evening.
Instructions:
Chop 1 pound of chicken breast meat,
2 stalks of celery and 1 onion,
and sauté in a large skillet with 3 tbsp olive oil until tender.
Add 4 cloves garlic (minced),
1 tsp dried oregano leaves,
and salt and pepper to taste.
When the chicken is cooked through, let the mixture cool and add it to a Ziploc bag.
When it's time to cook, add the bag's contents and 2 cans (15 oz each) of cannellini beans, 1 can of diced tomatoes, and 1 cup of chicken broth to the slow cooker.
5) Roast Beef & Boursin Wraps
In a large bowl, combine 1 package of cream cheese (room temperature), 1 container of Boursin Garlic and Fine Herbs cheese, 2 tbsp milk, and salt to taste.
Add black pepper as desired. In a separate bowl, prepare the roast beef by dicing 3-4 oz of leftover or pre-cooked roast beef into small pieces.
Stir this into the cream cheese mixture until evenly combined, and spoon into a tortilla.
Spread the mixture evenly down the center of the tortilla, add thinly sliced pieces of cucumber and tomato on top of the mixture, wrap tightly, and serve with a fork or eat it like a burrito.
6) Spiced Tuna Salad
In one bowl, combine 2 cans of tuna (drained), 2 tsp horseradish, 1/2 cup red onion (diced), and 3 tbsp mayonnaise.
Combine 3 hard-boiled eggs (chopped) in another bowl with 1 tsp pepper, 1 tsp salt, 1 tbsp lemon juice, and 6-8 capers (optional).
Add the tuna mixture to the egg mixture and stir until combined. Spoon the mixture onto sandwiches or wraps.
7) Grilled Mustard Chicken Filet
Rub 1 tsp Dijon mustard onto 2-3 chicken fillets. Place the fillets on a hot grill pan or BBQ cook for 5-8 minutes on each side until cooked through and lightly charred.
Serve it with raw veggies for a healthy, flavorful meal.
8) Grilled Pesto Shrimp Skewers
You can buy pesto sauce at most grocery stores now, or you can make your own by mixing:
1/2 cup fresh basil leaves (packed),
1 tbsp parmesan cheese,
3 tbsp extra virgin olive oil,
2 tsp pine nuts,
and salt to taste in a blender or food processor.
Remove the shrimp from their shells, then thread 6-8 large shrimp onto skewers alternately with bell peppers and onion chunks.
Place in a large Ziploc bag. In another bowl, prepare the pesto sauce by mixing together the contents of your blender or food processor with 1/4 cup olive oil.
Pour this over the shrimp and veggies in the Ziploc bag, zip it closed, shake the coat, and place it in a cooler until ready to cook.
When you're ready to grill your kabobs, remove them from the bag and thread them onto skewers. Grill for 4-5 minutes on each side.
9) Curried Salmon & Couscous
Mix together 1/2 cup cooked couscous with 2 tsp oil and 1 tsp curry powder in one bowl.
In another bowl, mix together 2 tbsp red onion (diced), 1/2 cup celery (diced), and 2 tbsp raisins (optional). Add the couscous mixture to the veggies and stir until combined.
You can eat it as is or add it to sandwiches or wraps.
10) Beef & Broccoli Stir Fry
Cook noodles or rice beforehand to bring with you on your camping trip. Dice 2 cups of leftover or pre-cooked roast beef into small pieces.
Heat 2 tbsp oil in a cast iron pan at your campsite, then add 1/2 cup red onion (minced) and 3 cloves garlic (minced).
Add the beef and 1 cup of fresh broccoli florets to the pan.
Cook until the broccoli is tender, then add your noodles and rice along with 1/4 cup soy sauce. Quickly stir-fry and serve it while it's hot.
11) Taco Salad
Want to try a vegetarian meal? This taco salad is easy to throw together. You can even make it vegan if you leave out the cheese.
In a large bowl:
combine 1 can of kidney beans (rinsed),
1 can of black beans,
2 cups of shredded cheddar cheese,
2 cups lettuce (shredded),
1/2 cup black olives (sliced),
1/2 cup tomato (diced),
2 tbsp jalapeno peppers (finely chopped),
1 avocado (sliced or mashed),
and salt to taste.
Serve with ranch or western dressing.
12) Penne Pasta with Sun-Dried Tomato Pesto
A can of sun-dried tomato pesto travels well and goes a long way toward adding a lot of flavor to your meals. Boil water and cook 1 pound of whole wheat penne pasta.
Drain and toss with the jar of pesto, a small can of black olives, and 2 cups of shredded mozzarella cheese.
Camping food doesn't have to be unhealthy if you plan ahead and pack the right ingredients. We hope these 12 healthy meal ideas for camping provide some inspiration!
What are your favorite things to eat while camping? Let us know in the comments!
Plan Your Camping Trip
Save it for later
Last Updated on 16 March, 2023 by Veronica
Disclosure: Some of the links on this post are affiliate links, meaning at no additional cost to you, I may earn a small commission if you click through and make a purchase.
Author: Veronica
Vero, a seasoned traveler, has explored 25 countries and lived in five, gaining a rich perspective and fostering an infectious passion for travel. With a heart full of wanderlust, Vero uncovers the world's hidden gems and shares insights, tips, and planning advice to inspire and assist fellow adventurers. Join Vero and let the shared passion for travel create unforgettable memories.