Gift Ideas for Camper Van & RV travelers
Not sure what to give? Think about their likes and favorite activities. For example, do you have a traveling friend? Do you have a friend who loves traveling by van or motorhome? Do you want to give a gift to someone who likes camping or hiking in the mountains?
Do you want ideas to give yourself a gift?
In this post, you will find more than 50 gift ideas for people who like to do outdoor activities, vans, motorhomes, and campers. There is even a selection of eco-friendly, plastic-free, vegan gifts for all tastes (and budgets).
The post is divided into five sections. The first is my top 5 gifts for vans, and then you have a section with gifts inside the van: kitchen area, other super helpful accessories, and the occasional whim.
The last two sections are dedicated to camping because those who travel by van or motorhome also camp and do outdoor activities.
Let's start!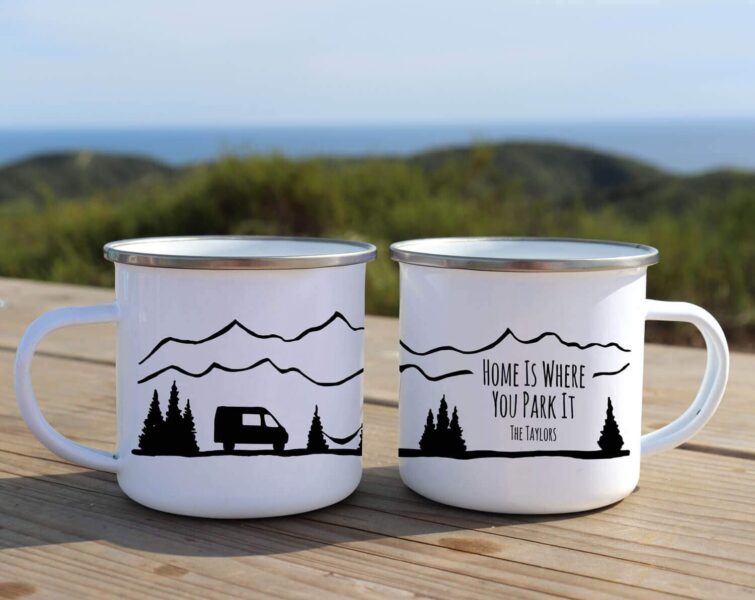 My Top 5 Gifts for Camper Van & RV Travelers
Here are my top 5 gift ideas for people who travel by campervan or motorhome. Of course, they are also valid for everyone, but they will surely enchant a traveling soul.
1. Tropicfeel Shell Backpack
Honestly, it is a high-quality backpack, and above all, it is very comfortable for all types of trips.
The interior with its wardrobe is the best there is, and yes, it is handy even if you travel by van. Since you pack your backpack at home and the wardrobe, you can store it directly in the van, making everything super tidy and accessible.
At this time, you can already order the Tropicfeel Shell Backpack through their website (click on the link) and get it at home in less than 7 days.
Read the full review of our opinion of the Shell Tropicfeel backpack here.
You can also look at Horizn Studio's backpacks; they have a wide variety of backpacks for traveling. From small and waterproof for day-to-day or long trips. There are many colors and different prices.
2. Best Camera Backpack
If you are looking for the perfect travel backpack to carry your camera, the WANDRD PRVKE is the best choice.
Why? It's beautiful, waterproof, resistant, and comfortable for travel, everyday life, and carrying your camera and photo equipment.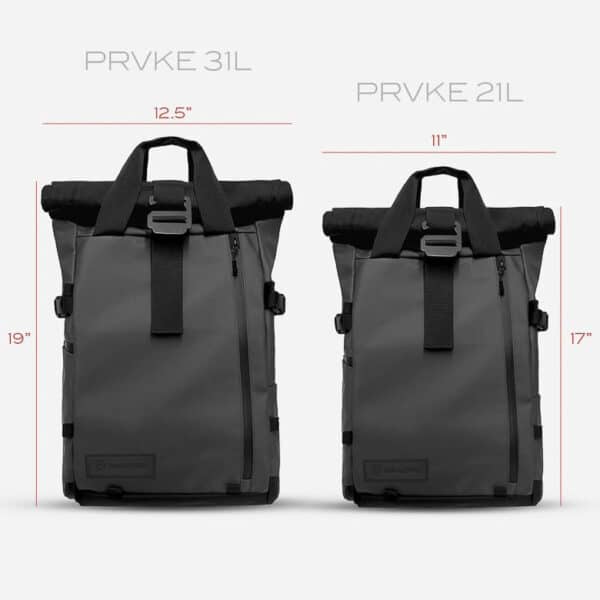 3. Tropicfeel All-Terrain Shoes for Men or Women
A pair of Tropicfeel sneakers to choose the model you like the most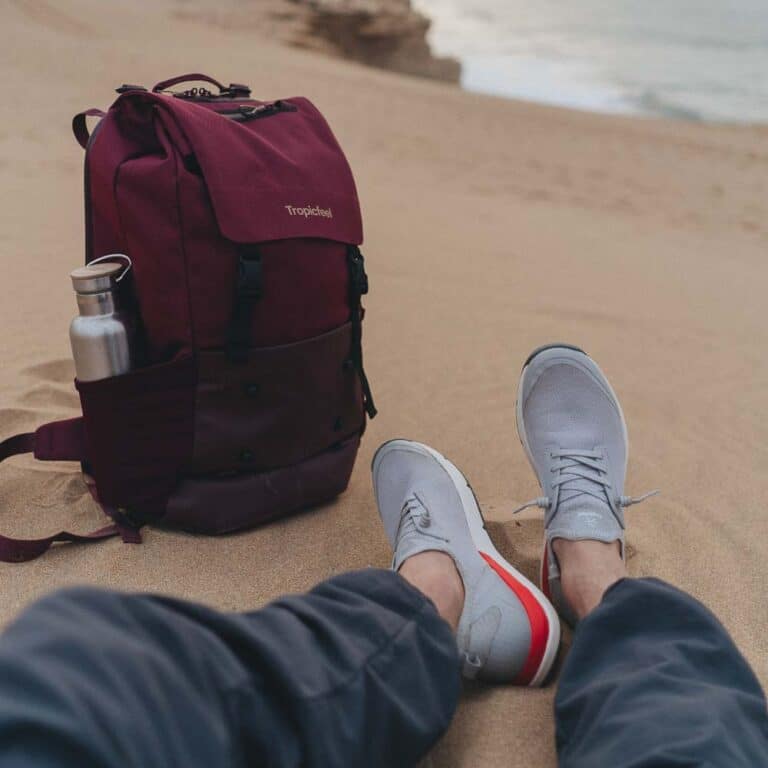 4. Zero Waste Travel Kit
If you are concerned about the environment and the amount of garbage generated daily, you will love the zero-waste travel kit. Includes:
A medium-sized silicone travel bottle
One large silicone travel bottle
Organic tissue or napkin
A reusable bamboo cutlery set.
A steel container 8 cm in diameter.
A metal straw
A reusable silicone bag, ideal for sandwiches.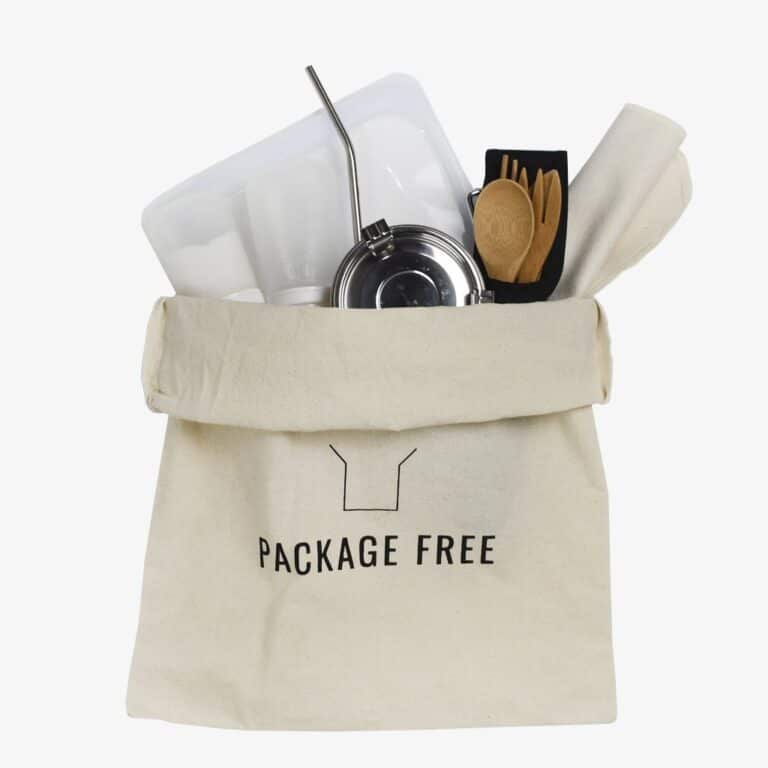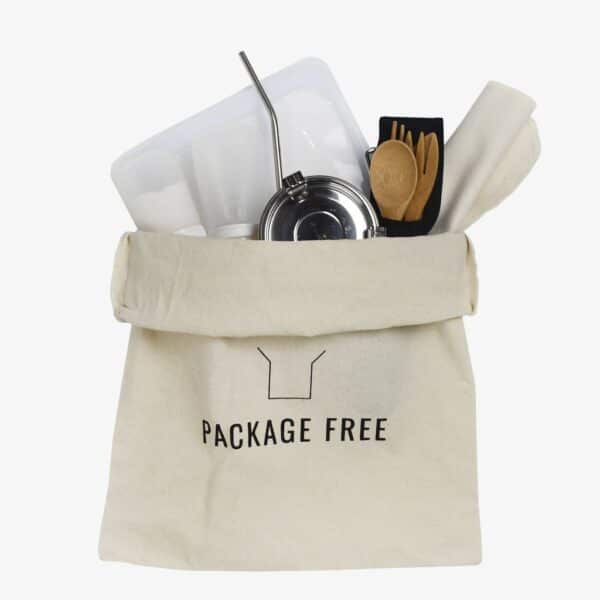 5. Basket Picnic Kit, French Style!
For lovers of picnics, I propose this basket picnic kit that includes:
Reusable bamboo cutlery
Organic cotton napkins
Metal straw to use as many times as you want
A very cool metallic glass
3 metal containers of different sizes (12 cm, 14 cm, and 20 cm)
A vegan citronella candle.
A natural spray to repel insects.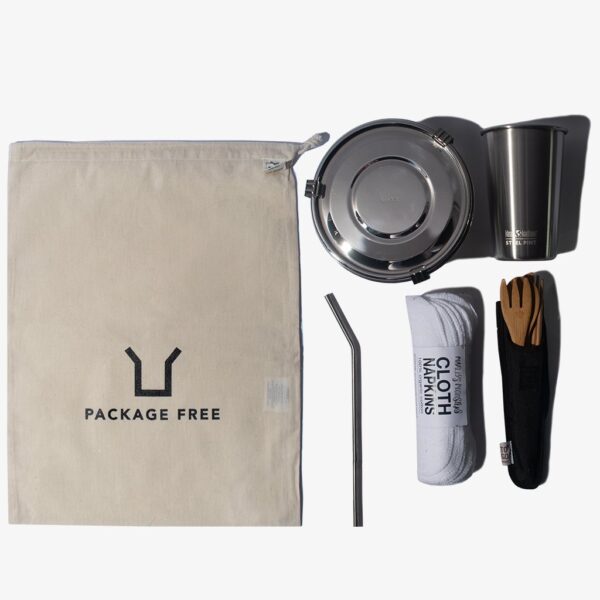 I could continue this list ad infinitum, but I have restrained myself, and I leave you the five gifts for van travelers that I am sure you will all love!
I love them, so you know, if you want to give me a gift, I'll send you my address by email XD, just kidding 🙂
Kitchen Gifts for a Camper Van or Motorhome
Until you enter the world of a van or motorhome, you do not know how many things there are. So if you want to make a gift, here are some ideas.
Check this post with all the Kitchen gear you want.
Thermos for coffee, mate, or tea
A thermos cannot be missing from any camper van. There are hundreds of models, and you have them in glass or bottles and in different colors. Give the one you like the most!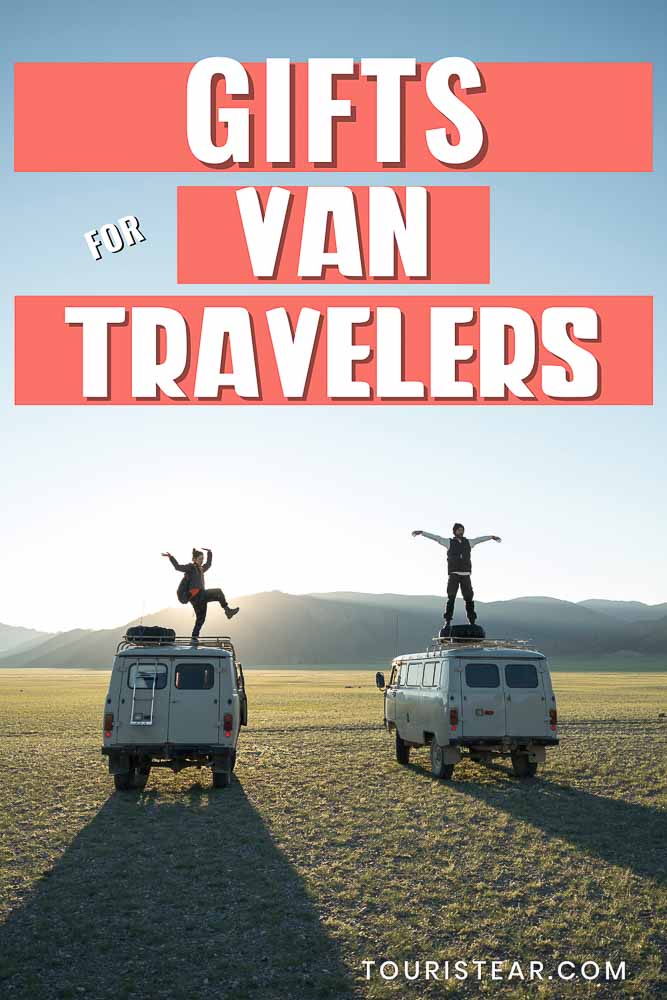 Coffee maker for the van
You are going to find a lot of coffee maker options for the van or motorhome. You have options ranging from $15 to whatever you want to spend. I leave you two options, one cheap, which is what we have, and another that can be an exciting gift or spoil yourself.
The Italian aluminum coffee maker is the best-selling coffee maker on Amazon, and it is the one we have; ours is in silver.
It costs € 8.50 and makes delicious coffee; you just have to buy the coffee you like. EXTRA TIP: don't let it boil; take it off the heat as soon as the coffee rises!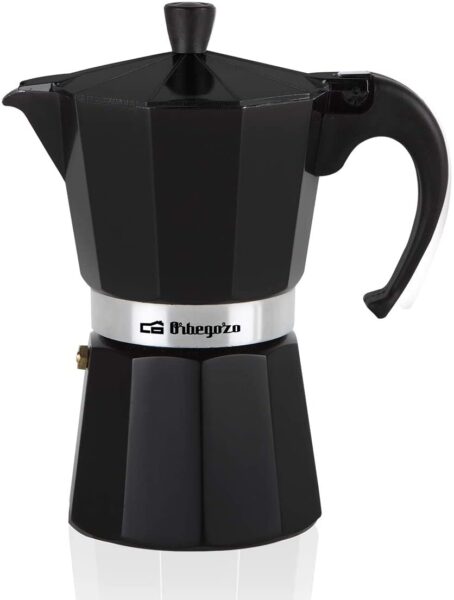 Portable 12V coffee maker compatible with Nespresso and L'OR Original capsules
This can be a perfect gift if you have a friend who loves coffee and drinks it even in dreams. It is a portable coffee maker, compatible with Nespresso capsules, and works at 12V. You can take it camping, on any trip, or in the car—ideal for caffeine addicts.
Cool Tableware
In this section, many vans save and buy the cheapest. So it's a perfect gift, and there are very cool things in melanin.
The van or motorhome's crockery is usually made of melanin; it is resistant, does not break, and does not make noise when you are in motion.
Here is a set for four people: cups, soup plates, dessert plates, regular, four acrylic glasses, and a 16-piece cutlery set.
A complete set of crockery and cutlery will be a gift.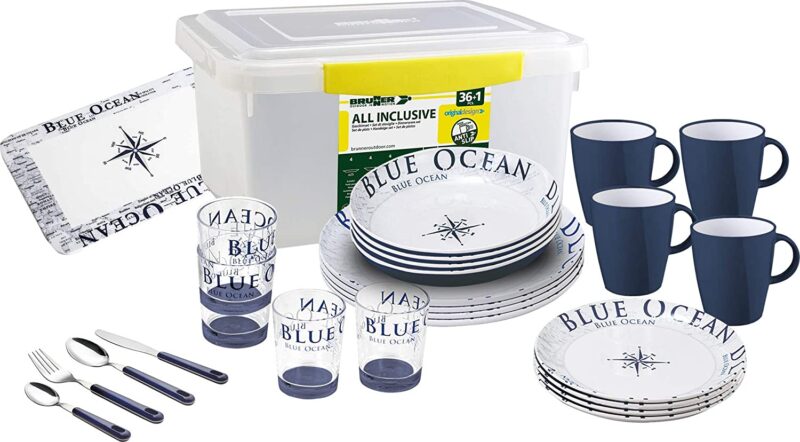 Custom Mugs
Give the gift of personalized mugs with phrases for campers like the ones in the photo.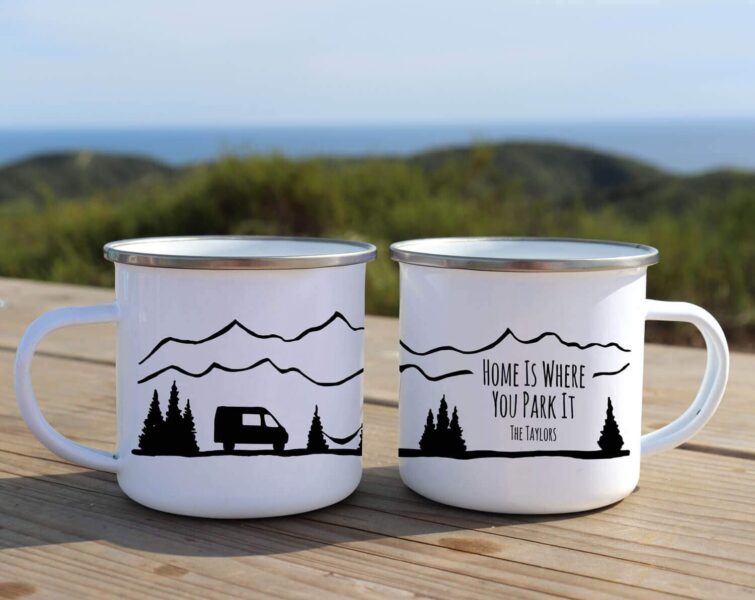 3-in-1 breakfast machine
This machine is 3 appliances in one. It includes an oven with a power of 600w, a coffee maker, and a toaster pan.
Ideal for those who travel in a motorhome with children.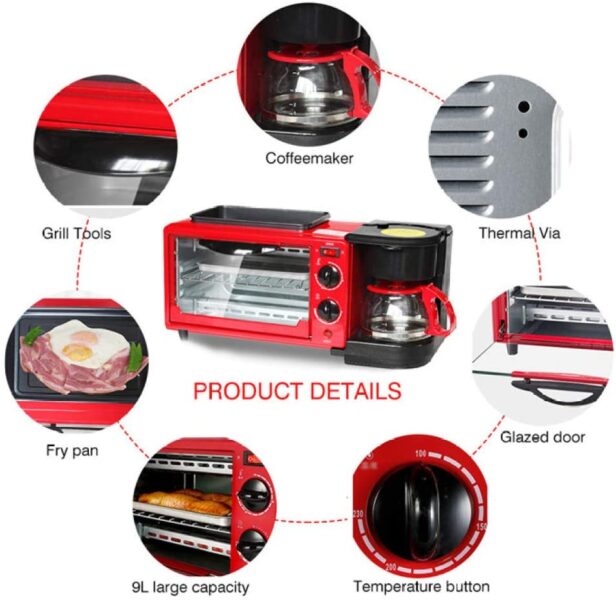 Portable Gas Barbecue
We have already commented on it in the post about what to take when you travel by van; for us, the portable gas barbecue is essential.
Why gas? Because more and more sites are banning lifelong charcoal barbecues. And gas barbecues have the same consideration as gas camping, only bigger.
We have this one from Weber, which is not cheap but fantastic. We opted for this one because it weighs very little, has plenty of power, and allows it to work with both a cartridge and a cylinder, while others do not.
Besides, it comes with two folding wings and helps a lot, which is collected inside the lid, making them occupy very little space.
The grille is cast iron, so it's a very durable and powerful investment. I have to tell you; it goes super well. For four people, it is perfect.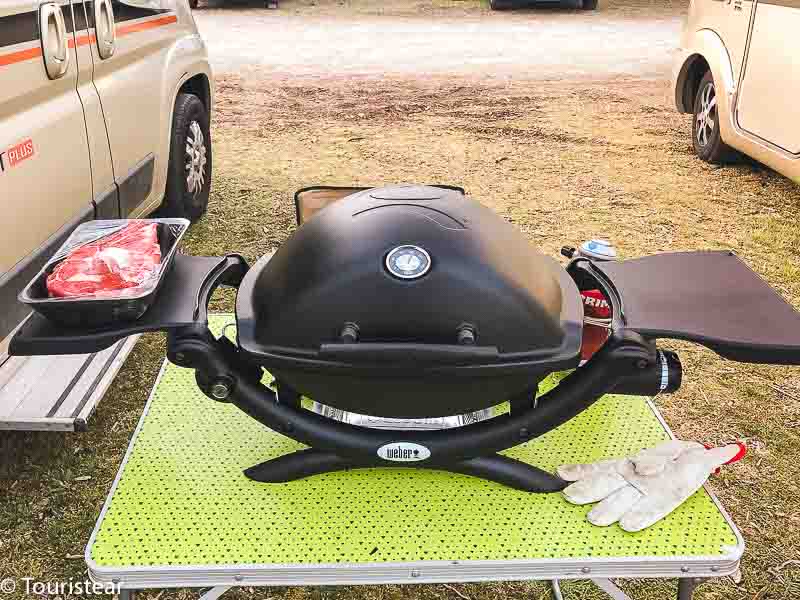 Dutch Oven
Our latest acquisition has been a Dutch Oven. It is a cast-iron oven or pot with which you can make all kinds of food. It can be made of bread, stews, pasta, and meats.
My recommendation, buy the one with the lid also worth a frying pan.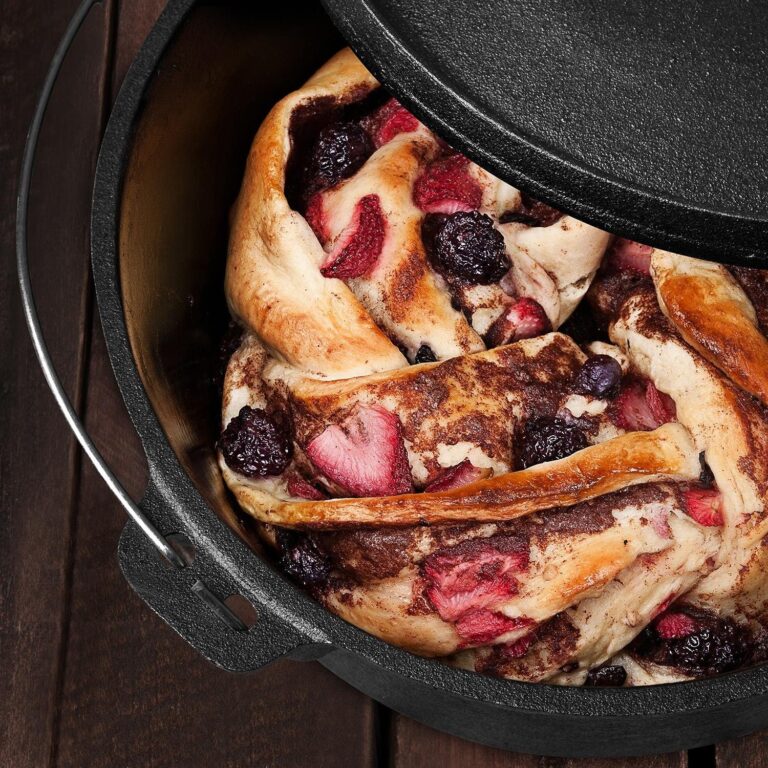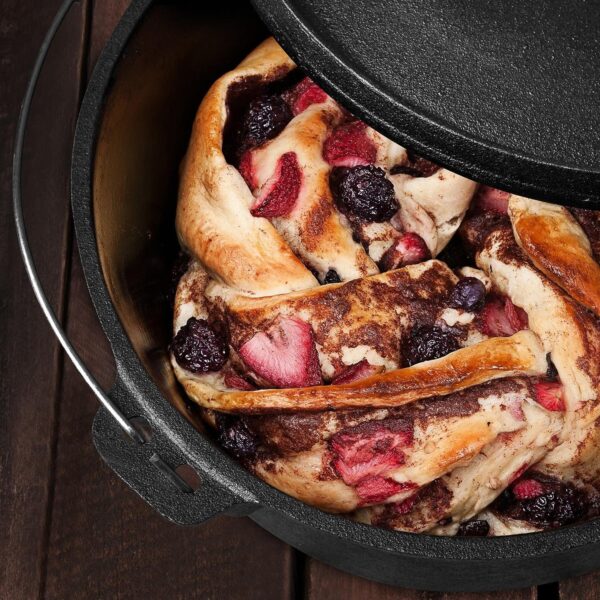 Another perfect gift for vanlifers, outdoor enthusiasts, and camping lovers is a battery-heated blanket. It's great for any occasion when the temperature goes down!
Here you have my recommendation: Zonli battery heated blanket, with a unique power bank technology that allows any USB Charging Outlet/Powerbanks to be used with specific garments.
This allows for unlimited battery options!
Some of the best characteristics of this outdoor heated blanket are:
Durable: the weather-resistant exterior is designed to withstand the wind, snow, and even rain.
Portable battery storage pocket
Convenient: Heated hand pockets, Battery storage pocket, Machine washable, the USB plug.
Powerful: 2 minutes fast heating, 5 hours heating times, with one touch-button control.
Comfortable: Built-In Heat Panels, innovative technology, soft, flexible material.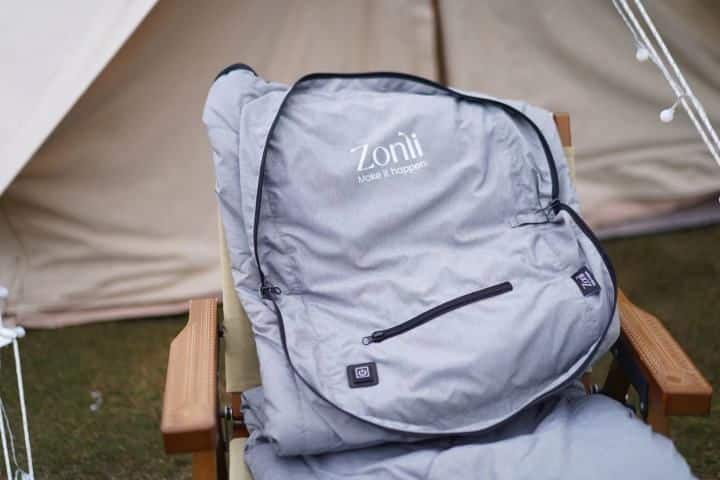 Cookbook for Vans and Motorhomes
70 healthy, quick, and original recipes to share with family and friends outdoors or anywhere.
Cocktail Book
Camping cocktails. If you have a legal age and like cocktails, I recommend this cocktail book when you go camping or for your van or RV trips. Obviously, if you are not going to drive after drinking!
You will easily find plenty of ideas to do outdoors or in your campervan or motorhome.
Mini Portable Dishwasher
For those who need the comforts of home in the motorhome, you can give a mini dishwasher like the Klarstein Aquatica, which consumes 86W of power and 5 liters of water.
Do you have a friend who wants a dishwasher for their motorhome?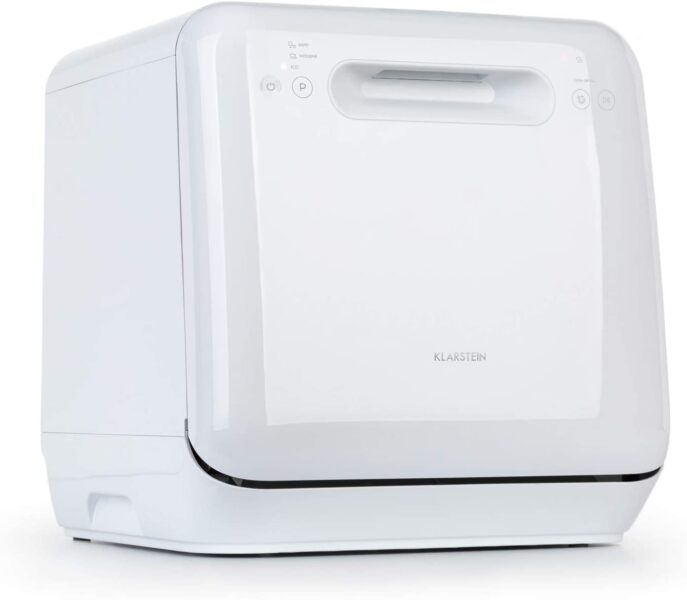 Accessories for the van or motorhome
Accessories for the van or motorhome there are thousands. And do you know why they are a great gift?
Because many times we leave it for later because they are not a priority, but they are beneficial, and your friend or friend of the van will thank you!
Portable Solar Charger
To be always connected, it is ideal to have a solar charger to charge electronic devices.
You have to pay attention to many models because some only serve to charge mobile phones and tablets, but if you also want to charge your laptop, you have to buy a more specific one.
Here I leave you one that goes for everything; it is foldable and waterproof.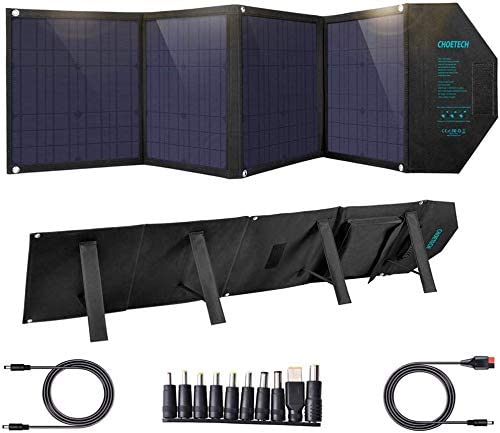 Portable Solar Power Station
In addition to charging your devices, these portable power generators serve to charge the battery of your car or van.
They're great for getting you out of a jam when you're in the middle of nowhere and you ran out of battery in your vehicle's engine.
Portable Camping Shower
Check the review with the 7 best portable camping showers.
Rechargeable led flashlights
A rechargeable Led flashlight is super useful when you go camping when the weather is good and you want to be outside but it gets dark.
The price of rechargeable and battery is almost the same, but the convenience of being rechargeable is priceless 😉
Portable Speaker
Portable Wireless Bluetooth speaker, waterproof (IPX7), up to 5 hours of playback with hi-fi sound, blue from JBL, you have them from € 20, and I am sure it is a gift that any loving traveler will love of music.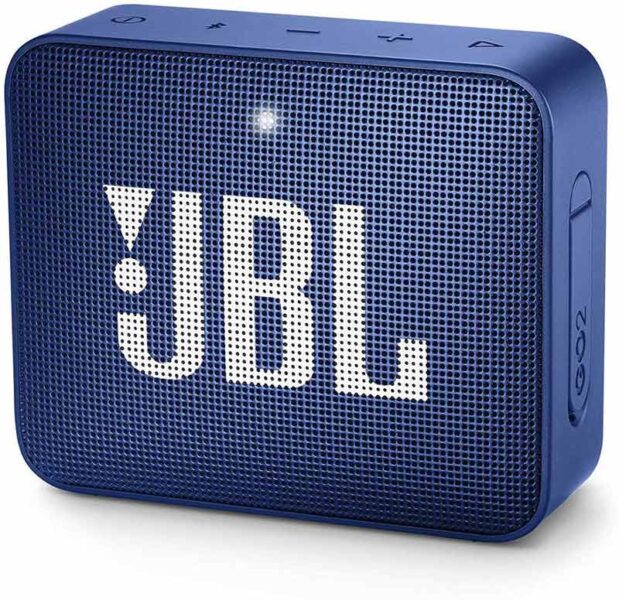 12V Portable Refrigerator
There are several types of refrigerators for camper vans; you have the 12V compressor, the trivalent 12V, the 220V with an inverter, the ones you fill with ice.
Our recommendation is based on our experience of having a 220V with an inverter and now a trivalent. The latter deserves the economic effort.
It's more efficient and consumes fewer resources, and it works especially well when you have it in gas or electricity mode.
If you want to gift a cooler, try to find out the van or camper's preferences. These refrigerators are usually found in the smallest vans or to go camping by car.
It is one of the same brands as ours but is portable. It connects 220V and 12V, 38 liters of capacity, and an A+ energy classification.
External Charger and Fast Starter
Do you want to make a practical gift? A car starter will thank you. Take a look at this; quality, price, and ratings are fine.
TomTom Go Camper, GPS for motorhomes
Did you know that there are GPSs for vans and motorhomes? They are instrumental not getting you where you do not fit!
There are different models and sizes; some come with a rear camera. Take a look; it can be an awesome gift.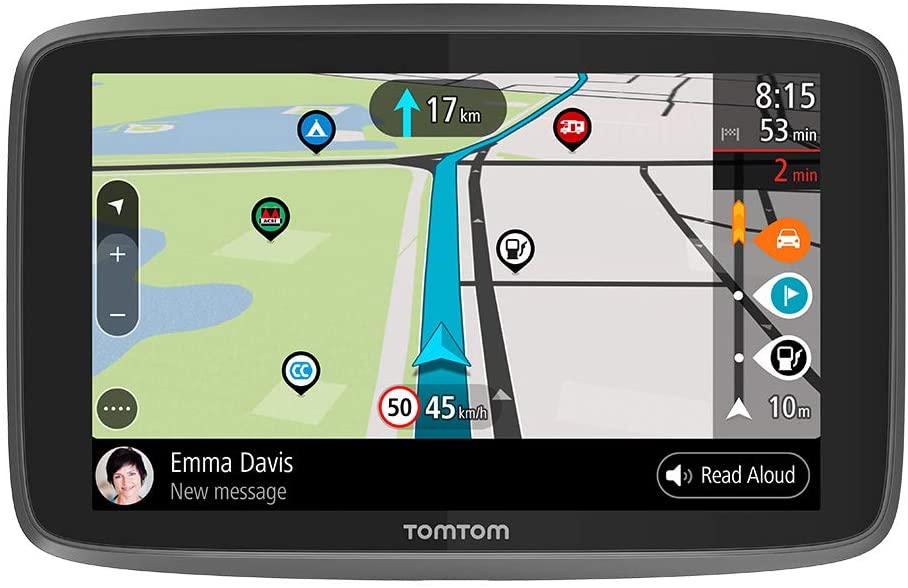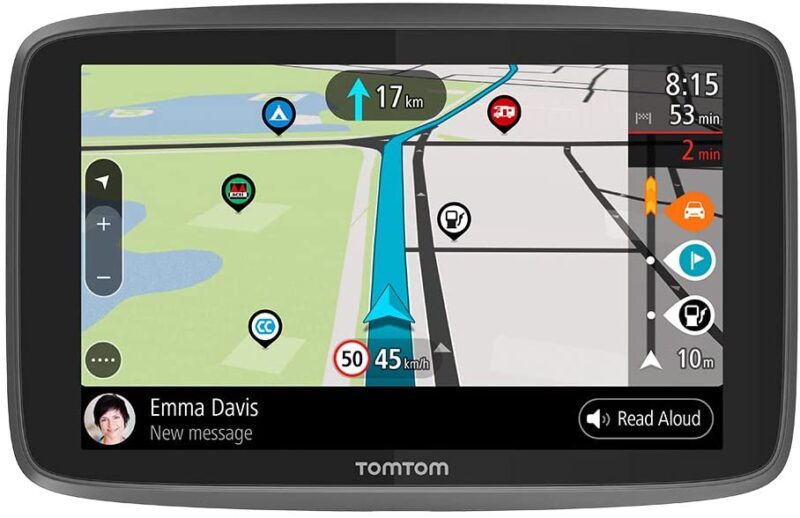 Portable Washing Machine
Super comfortable for long trips, it saves you from depending on finding a laundry or paying to do your laundry.
There are many models, from portable folding bags to mini washers with a tumble dryer. It depends on the space you have in the van; choose the model that best suits you.
Take a look at these two models:
Tips for washing clothes with Scrubba
Step 1: Fill – Please use level markings printed on the bag itself as a guide when filling with clothing, water & eco soap. (Overfilling will decrease washing efficiency.)
Step 2: Roll & Clip – Ensure you tightly roll the top down 4-5 times and clip at the front to ensure the bag remains watertight.
Step 3: Deflate – We suggest deflating with the twist valve when the bag is closed and upright.
Step 4: Rub – Scrub clothes against the internal washboard when the bag is laid flat on its grip backing surface.
Step 5: Rinse – Before filling the bag with fresh water to rinse the clothing, It is important to note that greywater is to be disposed of/clothes to be wrung out appropriately, and at least 200 ft from the nearest water source if you are using the bag out in nature.
Step 6: Dry – Please show the wringing out and hanging of wet clothes on a line to dry. Optional – For the drying step, we suggest folding clothing in a towel and then pressing to transfer excess water before hanging clothes to dry. The Scrubba wash & dry kits include a quick-drying towel for this purpose, along with a travel clothesline and hangers.
One of the best things about the Scrubba laundry bag is that it's small. You can easily store it in the van. And if you travel camping, you can easily store it in the pocket of your backpack.
Multifunction Swiss Army Knife
The Swiss Army Knife is a handy multifunction tool. There are many models and prices.
First aid Kit
First aid kit you can find a great variety of them on Amazon. But if you want to be a little more original, give these from Package Free, they are a little more expensive, but it is "Zero Waste."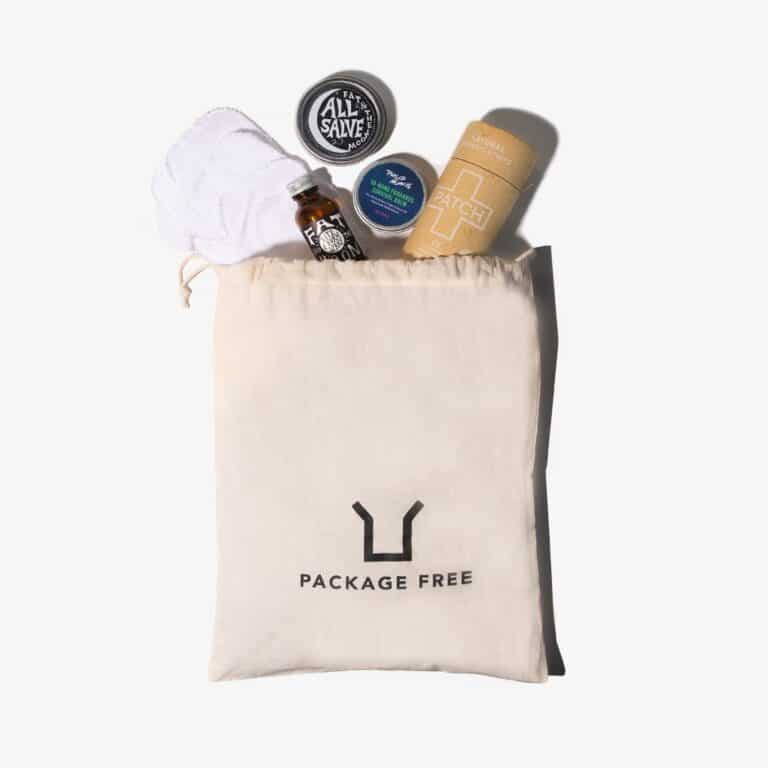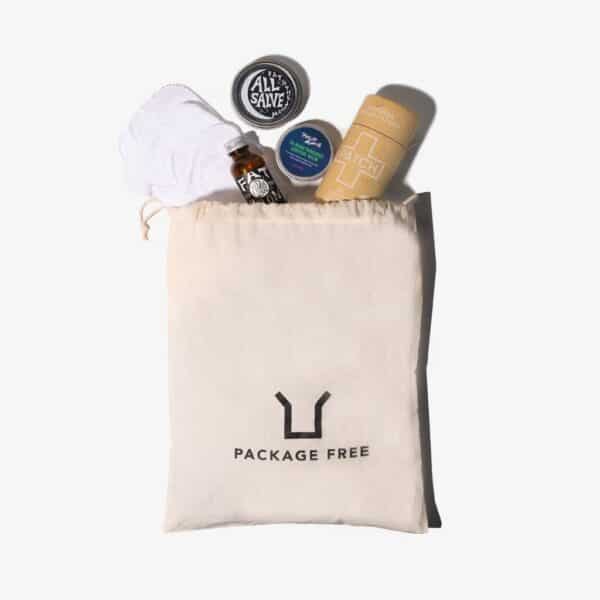 Rear View Camera Kit
Reversing a camera kit is very convenient when you start to drive a larger vehicle than you are used to.
In addition, many models can be purchased on Amazon, and they are cheaper than you can imagine.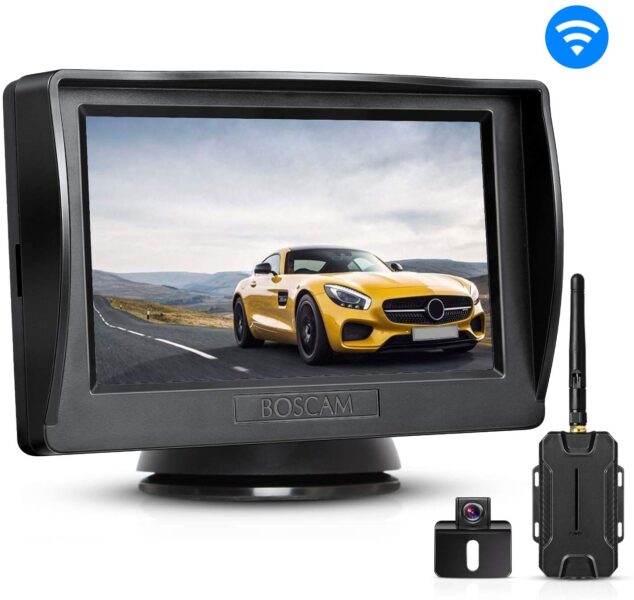 The Best Gifts for a Camping Lover
When you travel by van or motorhome, you also need to carry things to do camping, especially when you travel in good weather. So here I leave you a few ideas to give to a camping lover.
I have not put up a tent or sleeping bags because that is quite a personal choice. But in this post, I leave you my recommendations with the essentials to take camping.
Blankets
You can give blankets inside the van, or you can give picnic blankets. The latter is super practical, there are many models, but my recommendation is to buy the waterproof ones.
We got one in Scotland; for obvious reasons, I think they are all waterproof, and they are also very cool.
This model is very similar to ours. Also, you can check for an electric blanket to travel in winter.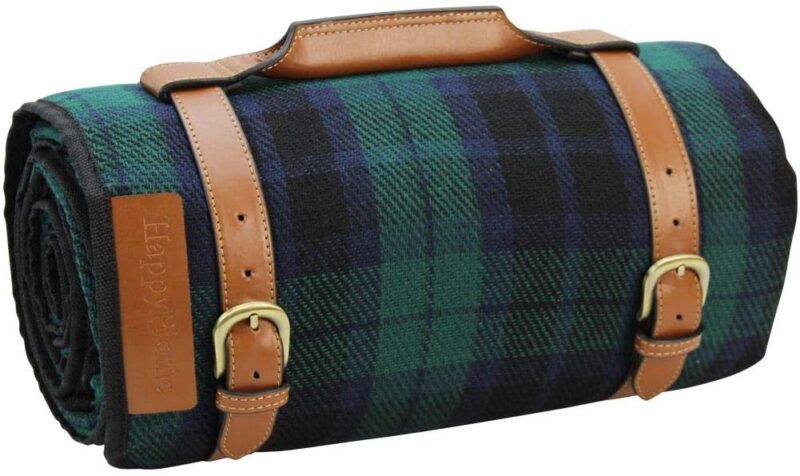 Gift Ideas for Outdoor Activities
I believe that with this post, you have many ideas to give to a van, a motorhome, a travel lover, and surely many ideas to make a gift for your van.
Any gift you want to add?
More Gifts Ideas?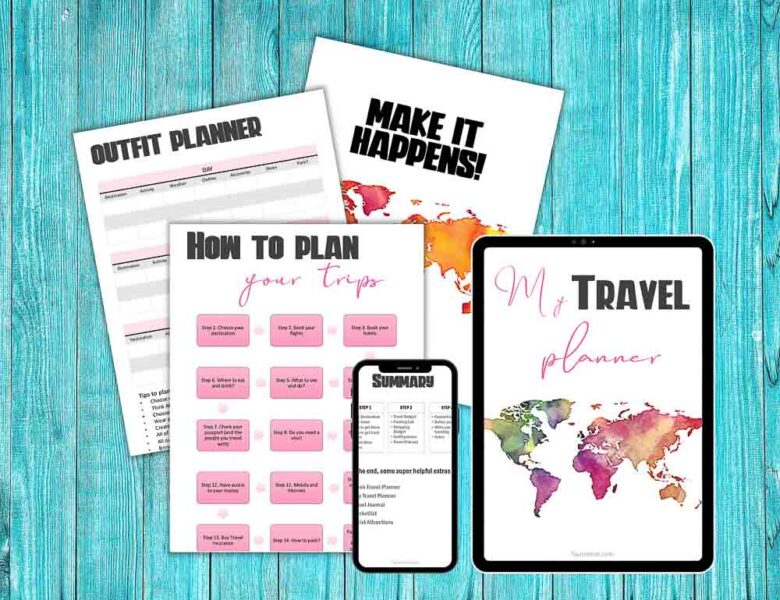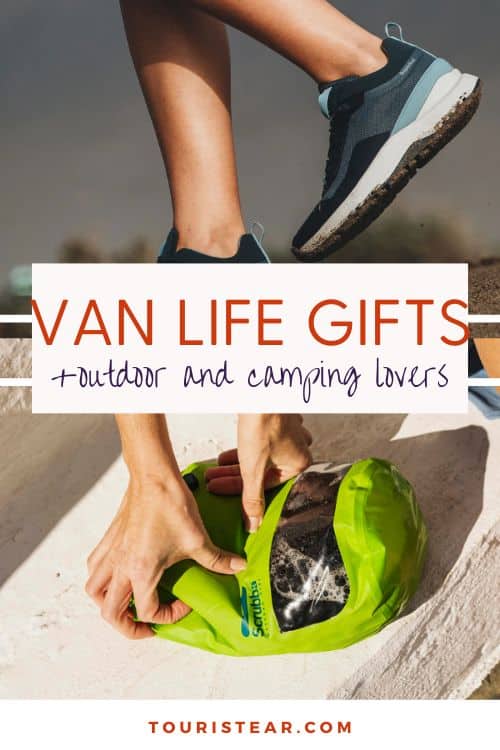 Last Updated on 15 September, 2023 by Veronica
Disclosure: Some of the links on this post are affiliate links, meaning at no additional cost to you, I may earn a small commission if you click through and make a purchase.
Author: Veronica
Vero, a seasoned traveler, has explored 25 countries and lived in five, gaining a rich perspective and fostering an infectious passion for travel. With a heart full of wanderlust, Vero uncovers the world's hidden gems and shares insights, tips, and planning advice to inspire and assist fellow adventurers. Join Vero and let the shared passion for travel create unforgettable memories.