7 Best Electric Heated Blanket for Camping & RV
There is no worse spoiler to an awesome camping trip than being underprepared and too cold while you should be enjoying the experience. Being too cold can take away from the fun and put more stress on your experience.
So, having an electric heated blanket on deck will come in a clutch. This will be adjustable and keep you warm when it is necessary to be.
Today, we will be breaking down some of the best electric heated blankets for camping and a buyer's guide to help you through the process. Let's dive right into it!
Best electric heated blanket for camping & RV
We will kick off our list with the Cozee Heated Blanket, which is made to be portable and easy to use on the go.
This is also a large option that more than one person can use simultaneously. Although fairly pricey, you will get a good value for what it is worth.
Cozee Portable Battery Powered Heated Blanket | Indoor/Outdoor | 60"x60" | Camping | RV | Car | Air...
♨️ GIVE THE GIFT OF INSTANT WARMTH FOR THAT PERSON IN YOUR LIFE WHO'S ALWAYS COLD. The Cozee battery heated blanket gets warm in just 5 minutes and stays warm for 2 hours on high & 3+ hrs on low so can experience more on cold nights.
🏅 NEVER AGAIN FREEZE ON THE SIDELINES WATCHING YOUR KIDS. This heated throw blanket is battery powered and completely portable. It has a soft micro plush interior, and is insulated with a heat resistant layer to push the heat back to the body.
🏕️ TAKE ROAD TRIPS AND CAMPING TO A NEW LEVEL OF COMFORT with the ultimate travel accessory. The powerful battery comes with 2 USB charging ports to charge phones, devices, and other accessories and a 12 volt adapter for car charging on the road.
Pros
The 60" x 60" design is big enough for two people or one person to be fully engulfed.
Battery operated, so it can be used in a cordless fashion for the ultimate ease while in the wilderness
Fleece outside provides soft exterior for added warmth
Comes with a carrying case, wall charger, extension cord, and car charger
Cons
Fairly high price with competitors on the market offering cheaper options
Will not travel in a compact fashion due to the size
If you need a smaller, more compact blanket, this is a great option. With a 55" x 40" build, this option can travel well and be stuffed into your packing very easily.
This is also a very affordable option, so if you want to sacrifice a little bit of quality, you can get an easily afforded piece.
Pros
An affordable option that can be replaced down the line if it goes bad
Auto-off timer that can be set to three lengths
Three different temperatures to be set to maximize your comfort
The size allows for compact storage, especially in righter places
Cons
Cheaper design, so the longevity will not be there as much as others
Must be plugged in to work, but that is mostly standard in the industry
The perfect option for having a smaller electric blanket to leave in your car or RV for those long hauls is the RoadPro Polar Fleece Heated Travel Blanket!
Although the blanket is smaller and thinner than some other options, it is perfect for leaving in a vehicle and using it whenever a situation presents itself.
It is also made specifically to be used in a vehicle. With a car charging port built right in, it could not be easier to use in those situations. The fleece material on the outside also adds a nice touch of warmth and comfort.
Pros
The compact, small design can be stored easily without taking up a ton of room
Fleece adds comfort and cosiness
Very affordable blanket that will not break the bank
Features an easy to use car charging port that makes it perfect for on the go travel
Only weighs 1 pound
Cons
Made of a cheaper material, so wear can make more of an impact down the line
58" x 42.5" build, which could be a pro or a con depending on how big you like your blankets
If you need an option that is very lightweight, compact, and can be used when in a pinch, the Stalwart Electric Car Blanket is the perfect option.
Weighing in at just one pound when packed up, you can throw it in your vehicle and store it there with ease.
It can be hard for a blanket that is so light and thin to actually be warm, but this one can get the job done. One thing to consider is that it is 100% polyester. It is fleece-lined on the blanket so that you will keep warm and cozy.
Sale
Heated Car Blanket – 12-Volt Electric Blanket for Car, Truck, SUV, or RV – Portable Heated Throw...
CAR ADAPTABLE - This fleece 12v heated blanket plugs into any car, truck, SUV, or RV cigarette lighter. The navy-blue throw heats up quickly and will stay nice and warm until you unplug it.
LONG CORD - Equipped with a 96-inch-long cord, the car electric blanket can reach backseat passengers to help keep them cozy on cold weather trips.
LIGHTWEIGHT AND WARM - This lightweight heated blanket for car contains thin wires that give off warm and comfortable heat. The throw folds easily so it can be stored in a car trunk or in a backseat without taking up too much space.
Pros
Machine washable, so you can make sure you have a clean blanket despite the electrical aspect
59" x 43" design, so you have a fairly large spread
Extra long charging cord so you can still have comfort without too many restrictions
Lightweight and easily stored without sacrificing too much warmth
Comes in six different colors, so you can customize the blanket
Very affordable if you need to save money
Cons
Thinner blanket so a little bit of warmth is sacrificed, but not too much
Quite cheap, so you may want to invest in a higher quality option
There have been some cases of part of the blanket melting while in use
Needing a steady car blanket that will not break the bank is a pretty solid game plan. The Car Cozy Heated Travel Blanket is on the market for that very reason. It is cheap, quality, and can get the job done well.
With a pretty high rating on Amazon, this is a great camping heated blanket. However, this blanket needs access to a charging port. In fact, the charging port goes directly into the vehicle's cigarette input.
Sale
Pros
Designed for travel, so you know it will fit well in vehicles without taking up a ton of space
Easy to use car plug to give the blanket the heated features
Made by a company specifically in the car accessory industry, so they know what consumers want
Big enough for two people to use at once in most cases
Very affordable, especially for one to leave in your vehicle for camping adventures
Cons
Cheaper design may lead to a shorter life
Charging cord can go out before the blanket does
One of the outdoor apparel industry leaders is Eddie Bauer. They are a fairly upscale brand that knows how to bring an excellent product to market. For their Portable Heated Electric Throw, there is no exception.
When buying from this brand, you know you are in for a good experience as this is not a no-name Amazon brand.
One unique factor is the water resistance that is not found with many of the competitors. So, if you spill or dew builds up during your camping adventure, you are mostly covered. This is an overall great option that is highly rated by a reputable brand.
Pros
Reputable brand with a lot of innovating technology worked into the project
Water resistant feature which cannot be found in many options
Comes in many different colors and patterns, so it is customizable
Includes a portable battery, so you do not constantly have to be plugged in
Have built-in pockets for storage
Machine washable as long as the battery is removed beforehand
Cons
40" x 50" build, so it is a bit smaller than some of the other options
The Eddie Bauer brand brings a fairly high price tag
One of the largest yet lightest blankets on our list is the one designed and sold by Dalos Dream. This is a 60" x 40" blanket, so it is plenty big enough for two people to use at once.
This is a nice perk, especially when the total weight is less than a pound. So, it can be packed and stored easily.
This is also another washable option. The polyester fabric allows you to machine wash it without compromising any integrity of the comfort. Although that seems simple, it is not an option that is offered by a lot of competitors.
Sale
Heated Blanket Battery Operated Portable Outdoor USB Heating Blanket 60"x40" Electric Fleece...
【GET WARM OUTDOOR 】 20V2A,40W high-power, The battery electric throw blanket is made of premium fabric and come with a high powered battery (27000mAh,40W) and can be taken to anywhere to keep you warm and comfortable. Give you firm support in chill weather, and can stay warm in all outdoor activities like watching soft ball game, football game, hock game and in travel. In a cold weather, the large capacity battery keeps the battery operated blanket work for 2-8 hours.
【Big HEATED ZONES】: The heating area is as large as 36"x 30" and can be folded, Experience rapid warmth with our innovative fast-heated technology (In a closed environment, it will heat up quickly in 5 seconds ). Whether you're outdoors camping, traveling, hiking, or simply indoors watching TV or working at the office, this portable heated throw blanket is your ideal companion. It offers full-body coverage or can be used as a cozy shawl, bringing convenient comfort to your life anytime, anywhere.
【5 SMART TEMPERATURE CONTROL】: You need to long press the button for 2-3 seconds the heated blanket with a battery will begin to heat up, it features 5 adjustable heat settings (45°C - 65°C) according to the environment temperature, you can easily switch it between 5 heat High Medium Low settings with a press of the button. We recommend starting with the highest setting and then adjusting to a lower setting based on your comfort as needed.
Pros
Uses down padding to keep the blanket light while still being very comfortable
Has up to 10 hours of use on one charge, which is a lot longer than many other options
washable, so you can keep it smelling nice without the hassle
Battery powered, so it does not have to be plugged in for the entire use
Large design to fit more than one person at a time
Cons
Because of the features offered, the price is higher than some of the competitors
Down is a puffy material, so it can be a little harder to compress into a smaller package
Electric Travel Blanket, what to consider
Power Source
One of the biggest factors to consider when picking your electric blanket is the power source. The main two sources of power are plug-ins and batteries. Which one is featured for that blanket will impact how you can enjoy the blanket and the price you pay.
If the blanket has to be plugged in, you are limited in terms of mobility. Also, if it is battery-powered, you will have a limited time for the best heating before charging up.
Use of Batteries
If you do find a travel blanket that is battery-powered, it is best to have a spare one on deck. This is so you can replace the dead battery without having to wait for it to recharge.
More times than not, this will require you to purchase additional batteries separately, but that is part of the process.
Fabric/Materials
Pay extra attention to what materials the blanket is made of. At the end of the day, you want a comfortable blanket in addition to the heating factor. Comfort directly correlates to the materials being used.
A majority of heated blankets will have fleece somewhere in the design, which is a very comforting material. There will also be many polyesters and some down blankets.
Another big factor that relates to the materials being used is how you can wash the blanket. When technology is intertwined with comfort, it can be a bit tricky to wash. Depending on the fabric and the makeup of the heated blanket, it can be washed in a machine or by hand.
Temperature
Many electric heated blankets have a pretty large temperature range that can be adjusted.
At least with some of the better models, you can fully change the heating output to a range of different settings. The type of settings and numbers thereof vary from brand to brand.
Size
Having a heated blanket on deck is nearly pointless if it is not the right size. All you need to decide is if you will be using it alone or with others so you can get the right size for the job.
Safety
Finally, you need a blanket that is safe. Having high safety ratings is a big part of the buying process. You want to make sure the heated blanket you buy does not have a history of fire or melting issues that can cause big safety issues.
Other characteristics to consider
Auto power off
Timer
Temperature settings
Indicator light
Cord power length
Color
Can you wash your electric camping blanket?
Alternatives to Camping Heated Blankets
A high quality sleeping bag
If you cannot get your hands on an electric blanket or are in an area without power, investing in a quality sleeping bag is the way to go.
Two great options available are the Coleman Brazos and the Teton Sports XXL bag.
Both of these bags are rated for low weather and are highly rated. So, if you want to go the more traditional and consistent route, this is the way to go.
Insulated Outdoor Camping Blanket
If you really want to beef up the comfort, go with an insulated outdoor camping blanket. The Putter Wolf double insulated camping blanket is outfitted with down and is incredibly warm.
It is also waterproof and very durable, so you are in good hands.
Obviously, the big perk of using this is to keep warm without having access to power. Down compacts really well, so you can stuff it into the compression sack without compromising any of the integrity of the blanket.
Mattress Warmer
A unique alternative to an electric heated blanket is a mattress warmer. A mattress warmer is an accessory that goes on top of or around your mattress pad and offers an added amount of insulation and warmth.
The Alki Twilight Thermal topper is made of super thick fabric and adds a really good insulation level.
The Electrowarmth heated mattress pad is on that can be plugged in and offers a unique sense of warmth. Instead of having a heated blanket, this gives you heat on the underside rather than on top of you.
Either way, having solid layers in between you and the ground is one of the best ways to stay warm while camping.
Home Heated Blanket with a Power Station
If you are not going to travel with your heated blanket or need it for camping, you can get a home-heated blanket that has a power station.
This is a more permanent solution to staying warm as it can be constantly plugged in and doing its job.
There are many of these on the market, and you can spend as much or as little as your budget allows. The key is finding one that is comfortable and of high quality.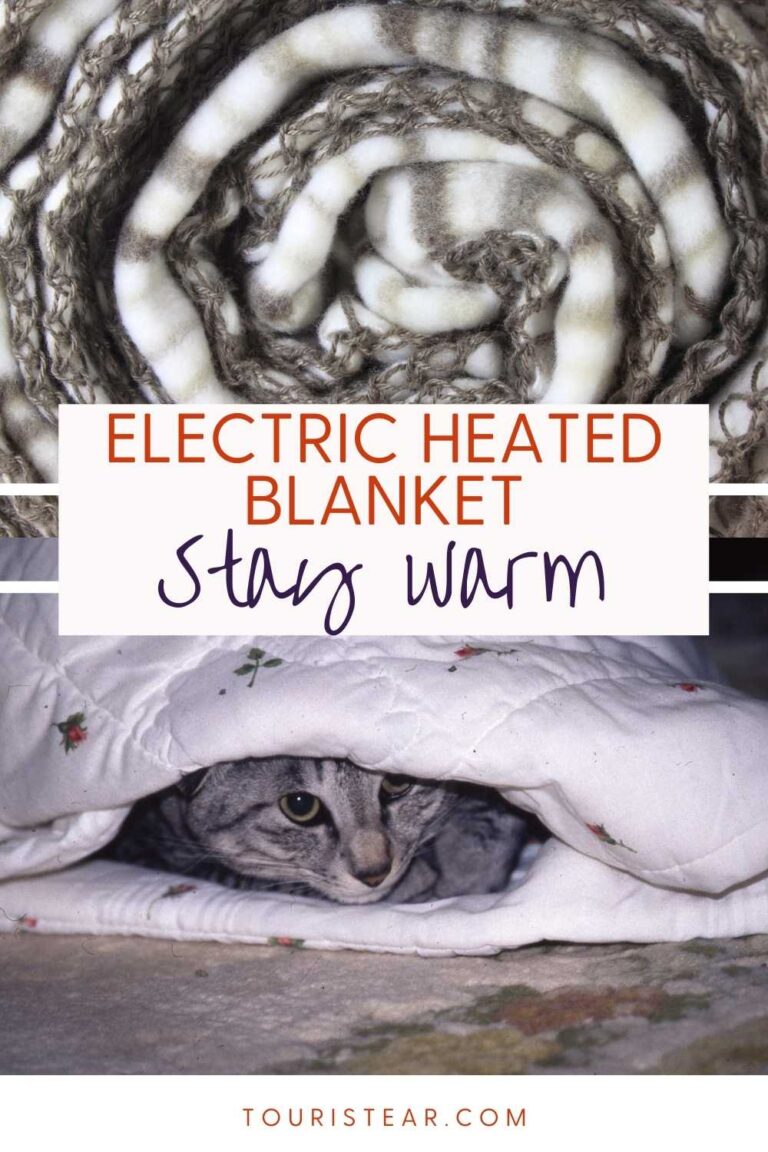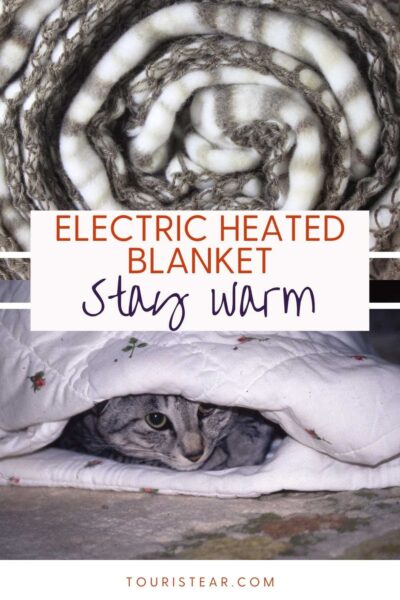 Other FAQs
What are Electric Heated Blankets?
Electric heated blankets are simply blankets that are connected to some sort of power source that fires up a heating element.
Along the way, there are a few varying factors, but they all come together for a common goal: to warm your blanket and provide the maximum comfort and warmth possible.
Why Use Heated Blankets For Camping?
When camping, temperatures can drop to levels that are far less than desirable. Heated blankets will change that dynamic and keep you warmer than you would otherwise.
Plus, when camping, you are usually roughing it, so having a simple luxury like this can also be a huge morale booster.
Are Electric Heated Blankets Safe?
Yes, electric heated blankets are safe in a vast majority of cases. Of course, there have been rare cases of blankets melting or catching fire, but these normally come from lower brands that do not have a good reputation.
The best way to avoid any potential issues is to buy a heated blanket rated highly and from a reputable brand. This just requires a bit of research, but it is well worth it as you want to be as safe as possible.
Conclusion
Heated blankets provide great comfort and warmth when those two factors could be out of stock. Specifically, the best electric heated blankets for camping and RV living provide awesome options for staying warm while in the outdoors.
If you need some help finding the perfect option, that information is listed above. Figuring out what electric heated blanket will be best for you is key to truly enjoying the purchase.
Plus, we have listed a few key things to look for when in the market for a new one. So, good luck and happy camping with your electric heated blanket!
Plan Your RV / Camping Trip
Last Updated on 27 September, 2023 by Veronica
Disclosure: Some of the links on this post are affiliate links, meaning at no additional cost to you, I may earn a small commission if you click through and make a purchase.
Author: Veronica
Vero, a seasoned traveler, has explored 25 countries and lived in five, gaining a rich perspective and fostering an infectious passion for travel. With a heart full of wanderlust, Vero uncovers the world's hidden gems and shares insights, tips, and planning advice to inspire and assist fellow adventurers. Join Vero and let the shared passion for travel create unforgettable memories.