The Best Solar Panels for RV (Guide & Review)
If you love to boondock on your RV, solar panels would be a great option to save your energy cost. Sure, you can't rely on the panels 24/7 but as long as they have adequate sun exposure, you will get clean, quiet, and renewable energy without spending a dime.
Did you know you can also draw power from a solar panel to run an AC unit? All you would need is an inverter with the right setup.
For the sake of passing the knowledge, we'll cover everything you need to know about using solar panels in your camper or RV. In addition to that, we've reviewed some of the best solar panels for RVs.
Let's get down to it, shall we?
The Best Solar Panels for RV
Type: Flexible panel (crystalline)
Power: 175 watts
Efficiency: 21%
Weight: 6.2 lbs
Truth be told, most flexible solar panels for RVs can deliver 100 watts, but this single unit can produce 175 watts, way better than average. What's more, it has a cell efficiency range of 21 percent despite weighing just 6 pounds.
Unlike most monocrystalline flexible solar panels that can bend up to 30 degrees, this panel can bend up to 248 degrees. The installation should be easy to do it yourself since you can mount it on the RV roof using structural adhesive.
On the downside, this solar panel is susceptible to damage caused by extremely harsh weather. Then again, it comes with a 5 years warranty on the material.
What We Like
Better than average power output
High-efficiency rate
It can bend up to 248 degrees
Easy to install
Ultra-lightweight
What We Don't Like
Renogy Flexible Solar Panel 175 Watt 12 Volt Monocrystalline Semi-Flexible Bendable Mono Off-Grid...
Extremely Flexible: This flexible panel is capable of meeting a wide range of applications where standard panels can be inconvenient to mount, such as on the curved roof of an airstream
Ultra Lightweigh: Thanks to advanced polymer materials, this product weighs 70% less than conventional solar panels, making transportation and installation a breeze
Super Thin Lamination: Hardly noticeable, the Renogy 175W Lightweight Panel laid flat is only a tenth of an inch tall. Approximately 95% thinner than its rigid counterpart, this panel is ideal for a stealthy solar setup
Type: Rigid panel
Power: 100 watts
Efficiency: 21%
Weight: 14 lbs
How about a rigid solar panel for an RV? It's small and lightweight enough that you could fit four of these panels on most RV roofs without a problem.
The thing about rigid solar panels is that they're covered with glass to protect the solar cells from external elements. For instance, this Renogy solar panel can withstand extreme temperatures from -40°F to 176°F.
Did I mention, the solar panel comes with pre-drilled holes so it would be easier to install? It's also tucked in an aluminum frame that doesn't rust or corrode.
Even if it weighs just 14 pounds, that weight would be significant if you're using multiple panels on the roof. Besides that, don't expect it to bend like flexible panels.
What We Like
Budget-friendly
Very durable
It can survive winter
Easy to install
High efficiency
What We Don't Like
It's heavy compared to flexible panels
Sale
Renogy Solar Panel 100 Watt 12 Volt, High-Efficiency Monocrystalline PV Module Power Charger for RV...
Compact and Reliable - The 100W 12V Monocrystalline solar panel delivers a stable output of an average 500Wh of electricity per day (depending on sun availability). With its compact solar cell arrangement, this renogy 100w solar panel weighs only 14.1 lbs and is 8-10% lighter and smaller than conventional rigid solar panels.
Superior Quality and Material - All Renogy solar panels are made from 100% EL-tested Grade A+ solar cells to provide the highest power conversion efficiency and prolonged lifespan. This 100 watt solar panel is also equipped with PERC cells to deliver an excellent cell efficiency of 22%.
Advanced Solar Cell Tech and Panel Structure - Renogy solar panels adapted the newest 9 Bus-bars cell tech and Half-cell structure, allowing the full-size solar cell to be cut in half and closely arranged for space usage maximization. Increase the cell receiving surface while reducing current and resistance loss with a thinner ribbon design.
Type: Rigid panel
Power: 100 watts
Efficiency: 21%
Weight: 19.8 lbs
This is another Renogy 100 watts rigid solar panel, but it includes a complete starter kit. To be precise, you get a 100W solar panel, PWM charge controller, tray cable, solar panel connectors, and mounting brackets.
Thanks to the charge controller, you can increase the power output to a maximum of 400W; but you will need to install 3 more solar panels. On top of that, it allows you to fast-charge your RV battery in 3 hours on a sunny day.
Since you will be using a PWM charge controller, you have the advantage of wiring the solar panels in a parallel circuit. That means, your power connection won't be interrupted if one panel malfunctions.
Unfortunately, this is a fixed rigid panel that doesn't have a low-profile design. In other words, you have to worry about wind drag when you're driving.
What We Like
Easy to install
It comes with a complete starter kit
Budget-friendly
Suitable for parallel connection
The power can be expanded
Easy to install
What We Don't Like
Sale
Renogy 100 Watt 12 Volt Solar Panel Starter Kit with 100W Monocrystalline Solar Panel + 30A PWM...
【Efficient Performance】The Starter Kit will produce an average of 500Wh of electricity per day (Based on 5 hours of direct sunlight condition). The Cell Efficiency can reach 22%. The bypass diodes ensure that the panel has an excellent performance in a low-light environment and the TPT back sheet dissipates excess heat to ensure smooth output performance.
【Solid Quality】Advanced encapsulation material with multi-layered sheet laminations protects cells from physical damage and distortion, improving cell performance and providing a long service life.
【Smart Function】The Wanderer PWM Charge Controller is compatible with four different types of batteries: Sealed, Gel, Flooded, and Lithium batteries. It also features advanced 4-stage charging (bulk, boost, float, and equalization) to ensure your battery is efficiently and safely charged to 100%.
Type: Flexible panel (Crystalline)
Power: 100 watts
Efficiency: 23%
Weight: 9.1 lbs
Quite impressive, this Jackery solar panel has a USB DC port at the back that allows you to charge your smartphone, cameras, tablets, and laptops directly. It uses a multi-layered cell technology that enhances its efficiency rate to 23 percent.
But perhaps the smartest trick under its sleeve is the convenient bracket at the back to make it stand. That means you don't need to drill holes or stick them on the RV roof.
Even though you can charge your RV battery using this panel, it would work better if you connect it to a power station that is sold separately.
It's almost perfect except that this panel is not waterproof. Also, it's not very durable compared to other panels on our guide.
What We Like
Excellent efficiency rate
No installation necessary
DC charging port
It can be paired with a power station
It's lightweight and portable
What We Don't Like
Jackery SolarSaga 100W Portable Solar Panel for Explorer 240/300/500/1000/1500 Power Station,...
EASY SETUP & KICKSTAND INCLUDED: The Solar Saga 100 features 2 kickstands that can be placed firmly on any surface ground. With just a few seconds of setup, you can start soaking energy from the sun for your Jackery power station. The TPE rubber handle allows you to carry around easily when taking off-grid adventures.
HIGHER ENERGY CONVERSION RATE: Covered by monocrystalline silicon solar cells, the solar panel adopts multi-layered cell technology to generate energy from the sunlight and perform better with higher conversion efficiency that up to 23% than other conventional panels.
DURABLE & SPLASH-PROOF: The ETFE-laminated case is durable enough to extend the lifespan of the solar panel. It is IP65 water-resistant that will protect from water splashing (Do not place it under the rain, or to soak in water). The zippers on the pocket can hold the power cords, and cover the power port.
Type: Rigid panel
Power: 100 watts
Efficiency: 13.6%
Weight: 19 lbs
For what it's worth, this is a kit that includes a 100W solar panel, charge controller with temperature sensor, mounting hardware, solar cables, and an installation manual. Just in case you think about expanding, the charge controller can support up to 4 solar panels.
If you take a closer look, you will notice the panel is encased in a thick aluminum frame with pre-drilled holes so you don't need to sweat it during installation. Better yet, it has one of the most detailed user manuals we've seen for a solar panel.
Another thing; the LCD screen on the charge controller tells you everything you need to know from amp-hours, temperature, voltage, amperage, and DC load draw.
However, the 13.6 percent solar panel efficiency range is nothing to brag about.
What We Like
Easy to install
Budget-friendly
LCD screen to monitor the efficiency
It's durable
Wind resistant
What We Don't Like
WindyNation 100 Watt Solar Panel Off-Grid RV Boat Kit with LCD PWM Charge Controller + Solar Cable +...
The kit includes: (1) 100 Watt WindyNation Solar Panel, 30-Amp (user adjustable) WindyNation P30L LCD Display Solar Charge Controller with Battery Temperature Sensor, 40 feet of UL Listed 12 AWG Solar Cable, all necessary Connectors, solar panel mounting hardware and Installation Manual.
Designed for RVs, cabins, homes, boats, back-up and remote power use
Kit will provide on average 350 Watt Hours (Wh) or 33 Amp hours of charge per day (depends on sunlight availability). Add more solar panels in the future! The included charge controller can handle up to 4pcs 100W solar panels (12 volt system) and 8pcs 100W solar panels (24 volt system)
Things to Consider Before Buying a Flexible Solar Panel
Power
How much power do you need? Of course, the higher the wattage produced by your solar panel, the more appliances you can run in your RV.
Most flexible solar panels come with an average of 100 watts. However, that is not a problem if you can connect different solar panels to increase the wattage.
For a basic set-up, we recommend at least 400 watts if you want to have enough power for your television, laptop, ceiling fans, LED lights, and water pump.
Efficiency
Solar panel efficiency refers to the amount of sunlight that is absorbed and converted into electricity. As it goes, the higher the efficiency rating of a solar panel, the better the quality.
If you're looking for the best flexible solar panels, an efficiency range of between 12 and 20 percent is acceptable. Otherwise, crystalline solar panels have better efficiency than thin-film solar panels.
Durability
It's easy to judge the durability of a flexible solar panel just by looking at the coated material used to safeguard the solar cells from dirt and moisture.
The most durable solar panels are usually covered by ETFE plastic. Sure, ETFE coated panels are often more expensive but you can be assured they won't easily corrode or fade in the long run.
But if you have cheap PET-coated solar panels, don't be surprised if they gradually fade and lose efficiency.
Another way of figuring out the expected durability is by looking at the warranty. We recommend you choose a product with at least 5 years warranty.
Size and Weight
If you're looking for the best portable solar panel, you would want something with as little weight as possible. Then again, you don't want a solar panel that would easily get blown away by the wind.
So what should be your ideal weight? We think anything between 5 to 15 pounds would be portable without overwhelming the roof.
Installation
Installing flexible solar panels should be a breeze to do yourself. However, you should consider a flexible solar panel kit that comes with everything that you need to install from adhesive tapes, mounting brackets, and a detailed user manual.
Better yet, some units such as the Renogy Flexible Solar Panel are designed with pre-drilled holes on the edges so it would be easier to install.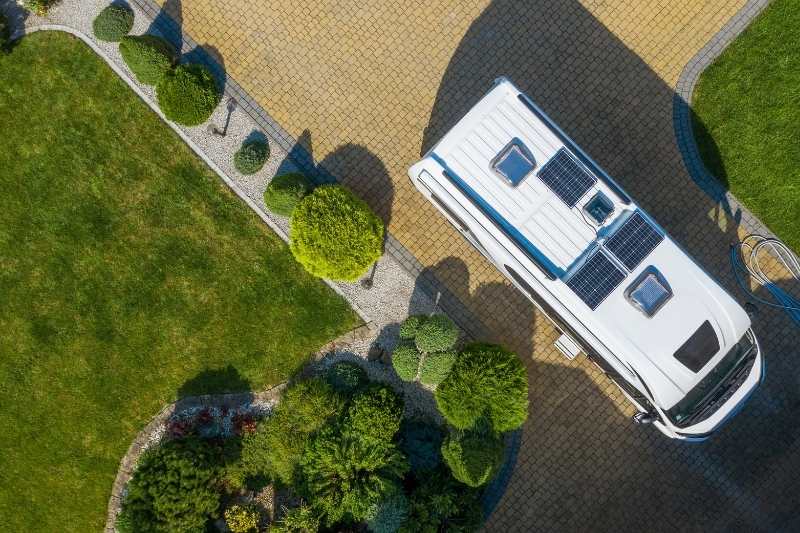 What are Flexible Solar Panels?
When you think about solar panels, you probably think about that dark, heavy, rigid panel covered by glass that is too heavy to mount on your RV rooftop. But there is another option; a flexible solar panel that is thin, lightweight, and bendable.
In contrast to traditional solar panels that use thick silicon wafers, flexible solar panels utilize ultra-thin silicon that makes them easy to bend or flex.
Beyond that, a new technology developed in the Massachusetts Institute of Technology makes it possible to use organic material with graphene electrodes; this would mean thinner and more flexible solar panels in the near future.
However, at the moment, we have two types of flexible solar panels; thin-film and crystalline solar panels.
Crystalline Solar Panels vs. Thin Film Solar Panels
A crystalline solar panel can be curved up to a 30-degree angle. This is because the silicon wafers used on crystalline solar panels are usually sliced until they're thin enough to become flexible.
On the other hand, thin-film solar panels are made out of photovoltaic materials such as copper indium gallium selenide or cadmium telluride printed on any thin surface; it could be a thick paper, piece of cloth, glass, or an aluminum sheet.
So which is better? Thin-film solar panels are more flexible and easier to roll up. They're also lightweight with some thin-film solar panels weighing as little as 4 pounds.
However, crystalline solar panels are usually cheaper and more efficient than thin-film solar panels. Besides that, they're sandwiched by a protective layer (usually plastic) that makes them more durable than thin-film solar panels.
Flexible Solar Panels vs Rigid Solar Panels
Rigid solar panels are the ones you see on the rooftop of most residential or commercial buildings. They can't bend and the solar cells are usually integrated into an aluminum frame covered by glass which acts as a shield against the weather.
Technically, flexible solar panels aren't so different from rigid solar except that the solar cells are housed on an ultra-thin structure that can bend. Also, instead of using a glass encasement, a flexible solar panel will use a laminate cover to protect the solar cells.
Of course, rigid solar panels are more durable than flexible solar panels. The average lifespan of most rigid solar panels is between 25 to 40 years, but you would be lucky if your flexible solar panel is functional for more than 10 years.
However, the biggest advantage rigid solar panels have over flexible solar panels is that they're way more efficient at converting sunlight into electricity compared to flexible solar panels.
But let's face it; the roof on your RV can barely support the weight of conventional rigid solar panels. On the other side of the spectrum, flexible solar panels are lightweight, portable, and easy to install.
Talking about the price, there isn't much of a difference in the price tag between rigid and flexible solar panels.
Fixed Solar Panels vs Portable Solar Panels
It's possible to use a fixed solar panel to supply your RV with electricity, but you probably have to worry about putting a hole in your rooftop.
Even if that doesn't bother you, the fixed, rigid solar panels could overburden your RV roof because of the weight, especially if you're going for a complete setup.
Keep in mind that you also have to deal with wind drag that could affect your fuel economy. Sure, a fixed solar panel is more efficient but it's just not practical on an RV; unless you don't move often.
Alternatively, you could use portable solar panels that don't need to be mounted on the roof. They're cheap and easy to install.
What's more, portable solar panels are designed with a low-profile look and most people won't even notice the panels on your RV. Not to mention, you can easily tuck away portable flexible solar panels out of sight whenever you want to drive out.
Flexible Solar Panel Kit
When it comes to harnessing solar energy and converting it into electricity, you need more than just a solar panel. More succinctly, you will require a solar panel kit with the right tools to complete the process.
Besides the solar panel, what else are we talking about?
Charge Controller
A charge controller is a gadget that is usually mounted inside the RV to monitor the voltage, amperage, temperature, and amp-hours from the solar panel.
During the installation process, you must connect the solar panel to the charge controller before you channel the power to the battery. Basically, the charge controller acts as an 'intermediary' between the solar panel and the battery; so you don't overcharge or drain the batteries.
As we dig deeper, there are 2 types of charge controllers; PWM and MPPT. In this case, PWM stands for Pulse Width Modulation and MPPT is an acronym for Maximum Power Point Tracking.
Anyway, PWM is the most common type of charge controller on the market and it's used for parallel connection. But if you want to wire the solar panels in a series, you will need an MPPT charge controller.
Mounting Hardware
The mounting hardware is used to install the solar panel on the roof or ground. Usually, the mounting hardware included in the package depends on the installation technique.
For instance, some flexible solar panels can be glued on the roof using an adhesive that is usually included in the kit. However, you will need mounting brackets if you're doing any type of drilling to install the panels.
In addition to that, some kits will include a tray table just in case you want to mount the solar panel on the ground.
Solar Extension Cables
Obviously, you will need solar extension cables to connect the solar panel and the charge controller. Most solar extension cables are coated with PVC material to prevent shock and damage.
Beyond that, the solar extension cable is usually fixed with waterproof connectors on both ends.
Pros and Cons of Flexible Solar Panels
For starters, flexible solar panels are cheaper to install compared to conventional rigid solar panels. The best part is, you don't have to hire a solar technician and spend a couple of hundred dollars to install the panels.
Don't forget, flexible solar panels are lightweight and agile to fit on structures that can't support traditional solar panels. Of course, you will save your energy cost considering you will be able to power most of your electrical appliances on a sunny day.
On the flip side, flexible solar panels don't make sense on large-scale projects that prioritize efficiency.
In other words, the efficiency range of between 5 and 15 percent you will find on most flexible solar panels is underwhelming compared to rigid solar panels that have an efficiency range of between 16 and 20 percent.
When are Flexible Solar Panels Useful?
As we've mentioned, flexible solar panels are a good option for RV dwellers; especially those who are mostly boondocking or dry camping. Beyond that, you can use portable solar panels on boats, vans, and trucks.
Most flexible solar panels can produce between 100 watts to 300 watts of electricity which is enough to power your laptop, tv, smartphones, and camera.
Which Panel Type is Right for You?
If you want more efficient solar panels to power your RV, we recommend crystalline solar panels. But if you prefer something super flexible and easy to store, your best bet would be thin-film solar panels.
At the moment, crystalline solar panels are the most common on the market.
How To Make Your Solar Panels More Efficient
Even though flexible solar panels are not as efficient as rigid solar panels, there are a few ways to improve efficiency. So here is what you should do:
Avoid installing your solar panels under the shade. It goes without saying, solar panels need to be positioned directly under the sun's rays to be effective. Even if just one cell is kept in the shade, it could affect the overall performance.
Clean the solar panels. If you notice any dirt or stains on your solar panel, you should clean it using mild detergent, distilled water, diluted vinegar, and a soft microfiber cloth. However, make sure you don't polish the panels since that would leave scratches on the surface, and reduce the effectiveness.
Protect the panel against the harsh weather. Unlike rigid solar panels, flexible solar panels are susceptible to harsh weather, especially snow and hail. The good news is; you can easily uninstall flexible solar panels before a storm brews.
Use energy management software to monitor efficiency. Thanks to recent technological advancements, you can keep track of your solar panel output using energy management software.
If you notice the efficiency is reducing, you can use the software to figure out the cause of the setback.
How Many Solar Panels Do You Need for an RV or Camper?
It depends on your RV batteries and how much power load you need. Also, instead of trying to figure out how many solar panels you require, you first need to calculate how many watts of power each solar panel can deliver.
Remember, solar panels have the different surface area and efficiency range; it's possible to have a single solar panel that delivers the same wattage as 2 solar panels.
Anyway, if you just need a solar panel to power the basic RV appliances such as your television, laptop, water pump, LED lights, cellphones, and ceiling fans, you will require solar panels that can deliver at least 300 watts. Since most single RV solar panels have a capacity of 100 watts, you will need at least 3 solar panels for a basic setup.
However, if you have two deep-cycle 12-volt batteries that can produce at least 200 amp hours, it would be ideal to use about 800 watts of solar panels.
That means you should have enough power to consistently run your microwave, coffee maker, toaster oven, built-in furnace, blender, instant pot, and food processor.
If you want to go berserk, you can even get 1,200 watts of solar panels to run your air conditioner but that would be impractical in an RV due to limited space.
In a nutshell, we recommend at least 400 watts to 800 watts for an RV or camper set-up. That would be about 4 to 8 solar panels if each unit can produce 100 watts of power.
How To Wire Your Solar Panels: Series Vs Parallel
Before you decide whether to wire your solar panels in parallel or series circuit connection, you must first understand what they mean.
A series circuit involves connecting a positively charged terminal of a solar panel to the negatively charged terminal of a different panel. If you wire multiple solar panels using that method, you create a series connection or a PV output circuit.
In a series circuit, the voltage increases as you connect more solar panels, but the amperage remains consistent. That means, if you wire three panels that produce 16 volts and 5 amps per unit, you would get 48 volts but you would still have the same 5 amps.
On the other hand, a parallel circuit is when you connect identical terminals of one solar panel to the next solar panel; the negative terminal connects to the negative terminal and the positive terminal connects to the positive terminal.
Unlike a series circuit, the voltage doesn't change when the amperage increases. That means, if you wire three panels that produce 16 volts and 5 amps per unit in a parallel connection, you would get 16 volts and 15 amps.
So which one is better for an RV; series or parallel? We think a parallel connection is better since you will need a consistent 12V voltage to recharge your 12V batteries.
Aside from that, parallel systems are suitable for a short wiring distance like what you would find on most RVs. However, you would need thick wires and Pulse Width Modulation (PWM) charge controllers to pull it off.
But the biggest advantage of parallel wiring is that you will have a continuous operation even if one panel fails. We can't say the same about a series circuit that would break down if just one-panel malfunctions.
Another good option would be to wire the solar panels in both series and parallel designs. This would allow you to increase both the voltage and amperage at the same time, but be careful you don't overwhelm the inverter.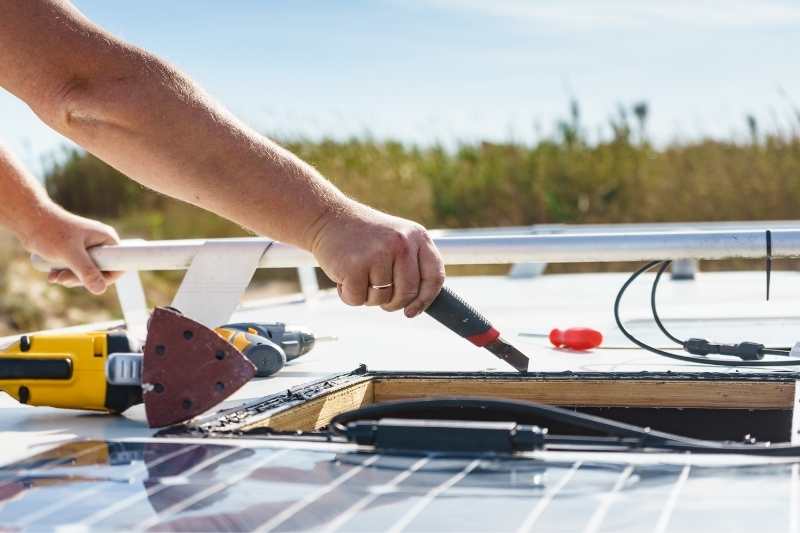 How To Install Solar Panels
If you want to install solar panels on your RV, you can follow these steps:
Step 1: Inspect the RV roof for any signs of damage. If you notice any issues, fix them before you proceed.
Step 2: Install the mounting hardware on the roof. Please note that flexible and rigid solar panels have different types of mounting brackets; you can confirm on the panel's user manual how to install the mounts.
Step 3: Once you've adjusted the mounting hardware on the roof, you can install the solar panels as per the instructions on your manual.
Step 4: Go back inside the RV and mount the charge controller. So you don't run out of cable, you can install the charge controller close to the batteries.
Step 5: If you have multiple solar panels, you can wire them together. We recommend a parallel circuit for an RV.
Step 6: Run the power cables from the panels into the RV through the refrigerator vent. Alternatively, you can pass the wires through a plumbing pipe or a drilled hole on the roof.
Step 7: Install a circuit breaker and link it to the panel cables.
Step 8: Connect the power cables from the solar panels to the charge controller.
Step 9: Connect the charge controller to the battery. We recommend you install a fuse on the line between the charge controller and the battery.
Step 10: You can connect the battery to an inverter if you want to convert DC power into AC.
Note: Please remember to clarify the instructions on the solar panel's manual since the installation procedure is not always the same.
Also, if you don't have enough space on your RV's roof, you should consider mounting the flexible panels on the ground if possible.
Conclusion
If we had to choose the overall best solar panel for RV, we would pick the Renogy 175 Watt Flexible Monocrystalline Solar Panel. This is because it has a better-than-average efficiency and power output.
Even more impressive, the Renogy 175 Watt Flexible Monocrystalline Solar Panel can bend up to 248 degrees.
But if you're looking for a budget-friendly option, we recommend the WindyNation 100 Watt Solar Panel Kit.
Plan Your Next Trip: RV Gear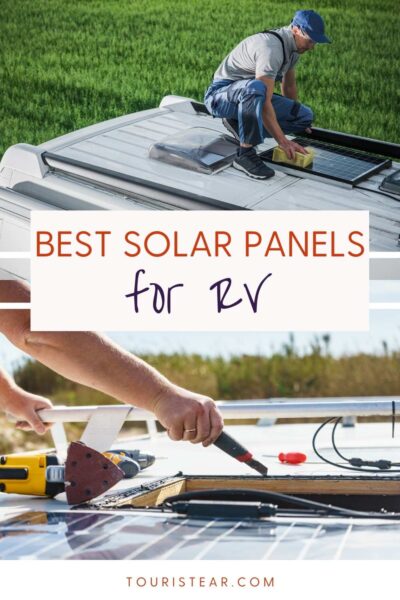 Last Updated on 27 September, 2023 by Veronica
Disclosure: Some of the links on this post are affiliate links, meaning at no additional cost to you, I may earn a small commission if you click through and make a purchase.
Author: Veronica
Vero, a seasoned traveler, has explored 25 countries and lived in five, gaining a rich perspective and fostering an infectious passion for travel. With a heart full of wanderlust, Vero uncovers the world's hidden gems and shares insights, tips, and planning advice to inspire and assist fellow adventurers. Join Vero and let the shared passion for travel create unforgettable memories.