7 Best Camping Showers (Guide & Review)
Just because you are camping does not mean you have to be filthy the entire time! Believe it or not, there are some incredible camping showers out there that do not require a ton of resources and still clean you up on the trail.
Whether they are meant for the backcountry, casual camping, or a mixture of all types, there are camp showers out there for you.
It all comes down to weight, efficiency, and longevity. So, we will lay out a few of the top options that you can buy today.
Today, we will be breaking down a few of the best camping showers and a buying guide on what to look out for. So let's dive right into it.
Disclosure: Some of the links on this post are affiliate links, meaning at no additional cost to you, I may earn a small commission if you click through and make a purchase.
Our Top 3 Picks for Camping Showers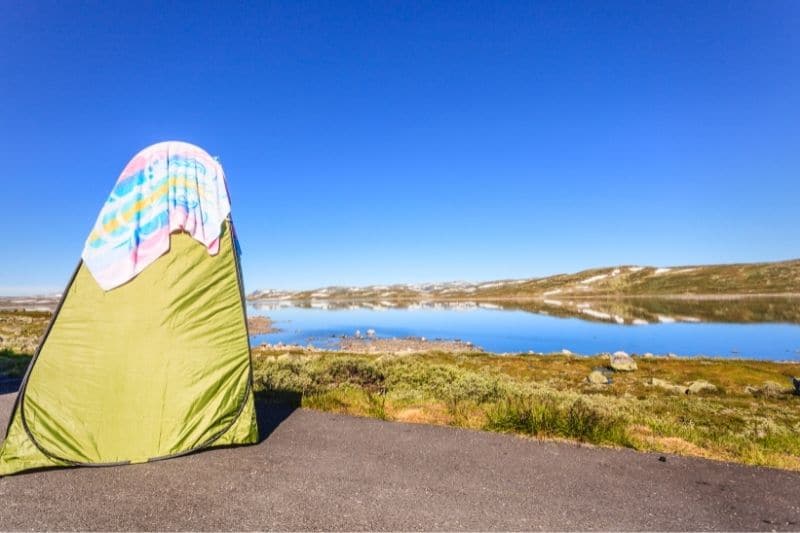 7 Best Camping Showers
Kipida Solar Shower Bag
First up is the Kipida Solar Shower Bag which is both affordable and easy to get your hands on. Using solar power to heat your shower bag is a huge perk because you will not always have the means to charge a piece of equipment out in the wilderness.
While backpacking or hanging out, you can simply leave the bag in the sun and get 20L of warm water to shower in later on.
To use, you hand the bag from a pole or tree, and there is a shower spout on the bottom end. As long as you can affix the bag high enough to get under, you can have a great shower with the Kipida bag.
Which is, by the way, the only improving point we find, you won't be able to shower if you can't find a point to affix it.
Sale
KIPIDA Solar Shower Bag,5 gallons/20L Solar Heating Camping Shower Bag with Removable Hose and...
Heat absorbing design:This solar shower bag is made by environmental friendly and leak proof materials which are safe to human health. It heats water to 113°F (45°C) in 3 hours with direct sunlight.
High Water Capacity:This camping shower bag can carry up to 5 gallons water for showering outdoor,let you enjoy a better and refreshing shower anywhere.
Supplied With Useful Accessories :It supplied with a hose, a shower head and a water tap. Upgraded shower head offers an easy on/off switch with low to high water flow, easy to whirl.
Nemo Helio Portable Pressure Camp Shower
If you want to take it up a notch in terms of quality and longevity, the Nemo Helio Portable Pressure Camp Shower is a fantastic option.
This is another shower bag, but it uses technology to add pressure; it has seven feet of hose and can give you over five minutes of solid shower time.
It's a fairly expensive option, but you do not have to use gravity to move the water from point A to point B. It's great for all types of camping.
The Nemo Helio comes in 11L and 22L options, so the bigger option is available if you need a little extra long shower.
The thing we don't love about this camp shower is the absence of a system to heat the water. That means when there are low temperatures, getting a shower won't be pleasant at all.
NEMO Helio Pressure Shower (Dark Verglas)
A REVOLUTION IN CAMP CLEANLINESS - Unlike gravity camp showers that need to be hung overhead and produce dismal water pressure, the award-winning Helio portable pressurized shower and sprayer rests on the ground and provides the pressure you need to wash hair, do the dishes, rinse off gear, water your plants, or wash the dog.
PUMP IT UP - You can quickly and easily pressurize the 2.9-gallon tank with a foot pump – and with occasional pumps you can keep it fully pressurized for 5-7 minutes of strong, continuous spray. The tank cannot be over-inflated.
EASY COME, EASY GO - Precise folding panel design allows for lightning-fast set up and an even smaller packed size. Simply set the full tank in the sun for a warm shower at the end of the day or fill directly with hot water. Compact ventilated carrying case stows tank, hose, nozzle, and pump neatly.
Ivation Portable Handheld Rechargeable Camping Showerhead
If you already have a bag or solid source of water, the Ivation Portable Handheld Rechargeable Camping Showerhead steps up to the plate and is there for the job.
As long as you can store some water, this showerhead can transform the camping shower experience into one that has pressure and can be somewhat enjoyable.
With a few feet of hose, you can fix the showerhead to a tree or structure to funnel the water up and onto you.
The problem of only using gravity and not having proper pressure is a constant struggle for camping showers. When attaching this handheld showerhead that also comes with fixtures, you can solve the issue with ease.
We love this showerhead, and if it had a heating system to avoid uncomfortable cold temperatures, it would be perfect!
Ivation Portable Outdoor Shower, Battery Powered - Compact Handheld Rechargeable Camping Showerhead...
INDOOR/OUTDOOR HANDHELD SHOWER - Transforms Sink or Bucket of Water Into Instant Shower Stream; Water-Resistant Unit Includes One Touch On/Off Switch
PERFECTLY PLEASING PRESSURE - Showerhead Features One Simple Flow Rate for Comfortable Bathing Experience; Gentle Enough for Seniors, Babies and Pets
SUCTION CUP SUPPORT - Shower-Head Securely Sticks to Any Flat Surface with Provided Suction Cup; Bonus S-Style Hook Lets You Hang it Safely Overhead
Risepro Portable Camping Shower Head and Kit
We have laid out a number of varying, great options that cover a few different bases. The Risepro Portable Camping Shower Head and Kit combine a few other options for a great showering experience.
Not only is this option a portable shower head with a hose, but it is an entire camping shower kit.
This kit has the hose, showerhead, charging cords, a suction cup, a few holding options, and a pump to shoot water up the system and onto you. The only thing you need to add is a water source.
The easiest option is to fill a bucket with your water and drop the pump in. So, you can have the entire system in a small package with Risepro.
This is our choice if you seek an affordable, portable, and good-price-quality relationship.
RISEPRO Portable Camping Shower, Outdoor Shower Head, Shower Pump, Rechargeable Battery, USB...
MULTIPLE USES – You could use it at indoor or outdoor ; Good for Hiking, Camping, BBQ, Travel, Kids Bathing, Plants Watering, Doggies, Cats and other Pet's Cleaning, etc. Moreover Suction Cup and Hook are included for using it with hands free
PERFECT EXPERIENCE –This shower head Water flows at approx.2 litres per minute and up to 5-7 minutes shower time with 10 litres (2.5 gallons) water.
EASY TO OPERATE (JUST ADD WATER) - You could put the shower pump into water and turn on the power and then you could enjoy the best shower
Hike Crew Portable Propane Water Heater and Shower Pump
The final camp shower option on our list today is the Hike Crew Portable Propane water Heater and Shower Pump.
This is not an option for everyone, rather for those who really want their camping experience to be top-notch. However, this comes at a price.
As the most expensive item on our list, you need to ensure this is worth your use. However, if you fall into the category of people who need a tool like this, the Hike Crew option is above the rest in terms of value and performance.
If you are sick of having cold showers while in the wilderness, this tool will help you exponentially. When fully charged, you can get 50 minutes' worth of warm, high-pressure water which is very hard to come by in the wild.
There is also a hose with a handheld showerhead to allow for maximized cleaning.
What we don't love about this shower is the lack of portability, it is perfect if you are traveling by car, van, or RV, but if you are hiking or trekking, this one is not your best choice.
No products found.
Wolfwise Portable Pop-Up Privacy Shower
For some, showering outside with no cover is a bit daunting and uncomfortable. When you want some real privacy, the Wolfwise Portable Pop Up Privacy Shower is the best option for you.
With a pop-up tent style, you can get clean while being completely covered, a feat that no shower has been able to accomplish so far.
No matter the style of camping you are doing, this is a great option to keep in mind. There are also some alternative uses associated with this option besides showering. You can also use the Wolfwise Pop Up as storage space, a changing room, or a bathroom.
Obviously, you may need to add some aspects to it, but this is a great, versatile piece of equipment to bring on your next trip.
Sale
WolfWise Portable Pop Up Privacy Shower Tent Spacious Changing Room for Camping Hiking Beach Toilet...
Super privacy: The intimate zipper buckle design can fix the zipper inside the tent. When you use it, you don't have to worry about it being opened by others from outside, which can perfectly protect your privacy. Unique blue-green design, giving you more color choices.
Large Storage Space: Oversized detachable multi-layer mesh storage bag can store a variety of items, such as clothes, shower gel, facial cleanser, etc. The storage bag can also be taken out and hung on the outside of the tent to ensure that the items are ventilated. The inner side small storage bag can store valuables such as mobile wallets, etc. Towels can be hung on the clothesline. Storage bags on both sides of the bottom can store slippers or toilet paper.
Drainage & Ventilation: Built-in floor mat with the surrounding mesh design keeps you away from the dirty ground and help bath water drain. Although the tent is closed on all sides, there are vents on the other three sides except for the door, which protects privacy while providing ventilation. It can be used for changing clothes, bathing, makeshift toilets, or wherever privacy is needed.
Ozark Trail Instant 2-room Shower/Changing Shelter
Another one of the big, useful shower situations comes in the form of the Ozark Trail Instant 2-room Shower/Changing Shelter.
This is a large structure that is very easy to set up and use right away. Equipped with a standard camping shower water bag and two slightly separate rooms, two main uses are associated with the piece.
The first is, obviously, showering. This is a completely private option that can separate you from the outside world while cleaning up. The big perk is the changing room in the same build, but a zip-up wall creates a completely dry space on one side.
This is a huge feature that is not found with many other walled showers.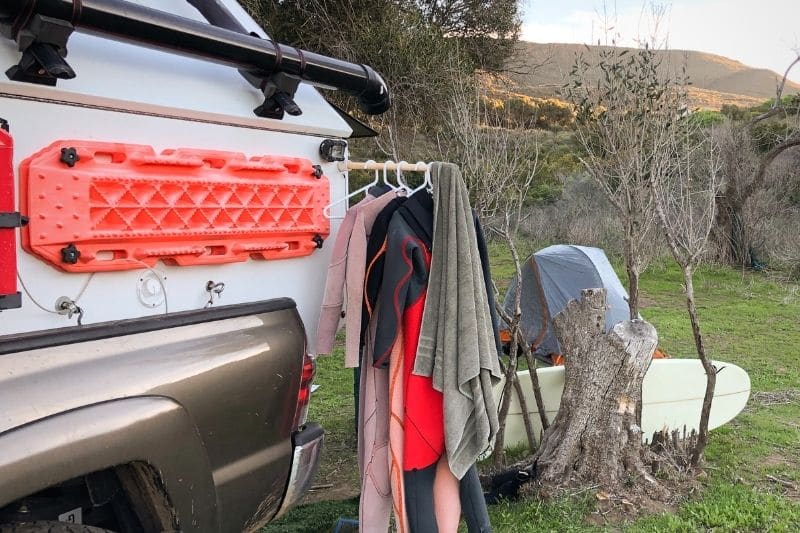 The Buyer Guide
Types of Camping Showers
There is a range of camping showers available on the market, and knowing which ones are out there will lead to a more informed purchase.
Here are a few of the types of camping showers available today.
The classic and traditional form of camping shower is the gravity hang bag. These are simply bags that can hold a certain amount of water affixed to a tree or structure above you.
The key is making sure that the bag is above you because the only way to get water on you is gravity.
If you are someone that needs privacy, invest in an enclosed tent shower. These are usually easy pop-ups that use a gravity bag or pump shower to propel the water at you.
The key part of this type of shower is the privacy and safety that come with an enclosed space.
Some showers come with a hand or foot pump to move the water. With a hanging bag that is powered by gravity, it has to be positioned in a way to work. This does not.
Because you are adding pressure with a pump, you can fix the rig with a hose and showerhead to move the water to where you can use it.
To take it up a notch, you can rely on some power to move the water of your portable shower through the system. This will require a bit of outside power, such as from a generator or battery pack.
If this is okay for your camping endeavors, you will not have to do too much work to get a nice shower in.
One of the best options for camping in certain areas is the solar shower. As long as you are not in super-dense forests, you can use the power of the sun's rays to power your water pressure.
This is a great perk because the only variable is the sun's and not any man-made apparatus.
The final type, for the sake of this entry, is the gas-powered shower. This is usually the most expensive and heavy shower option out there. However, it also does the most things for you.
This option usually takes propane and can function as much more than a shower pump.
There are sometimes heaters, grills, and many other functions that come along with it.
Now, this is usually the only option for those who want a hot shower, so definitely keep that in mind.
How to Choose a Camping Shower?
Once you know what type of shower you may want, it is important to pick the right one. Because it could be a considerable investment, it is important to choose the best option for you. There are a few things to keep in mind when choosing a camp shower.
First and foremost, you need to have a set budget for a camping shower. Being the latest and greatest option is not always the best, especially if you cannot afford it. You also do not want to buy the cheapest option on the market.
This usually means that they will not last a long time and will fail in the worst possible scenarios. Weigh your budget against the options available and make an educated purchase.
You also need a camping shower that works with the style of camping you are engaging in. If you are backpacking, you cannot use a huge propane water heater with a shower extension. You probably want a simple hang bag or a pop-up that is light and compact.
So, evaluating what options will physically fit with your style of camping is key.
Finally, you need to know how you are planning to use the shower. Although the main idea of a camping shower is relatively universal, you can still weigh your options and pick the right option based on that.
For example, the pop-up tent showers will be best if you need some extra store and maybe a place for changing close. If you just need a way to wash off really quickly, a hang bag shower will do the trick.
How Many Gallons for a Camp Shower?
Generally, camp showers will not extend over five gallons of water at one time. This is just enough for a majority of campers to get a quality shower in before running out. The more efficient you get, you can get a full shower out of three or four gallons.
For hang bags, options will range from 2-5 gallons and are usually measured in liters, so be on the lookout for that. Unfortunately, it is hard to harbor over five gallons because the weight would require an incredibly strong bag.
Although five gallons does not seem like a lot, if you are efficient, you can get a great shower in without running out of water.
How do I Use a Portable Shower?
Using a shower does vary on the type that you choose to buy. Generally speaking, you are using a camp shower to clean up while in the wilderness.
For any model, it starts with the setup. Position your camping shower in an area that is safe, clean, and can hold a bag or is level for a pop-up tent. Then you need to find a good and consistent water source.
Whether it be in your bag, bucket, or anything else, you should have enough on deck to get your shower done.
After cleaning, simply take down the shower setup and get the area looking normal. Always keep your surroundings better than you found them to help preserve the experience for everyone else who comes along.
Conclusions
There are portable showers for everyone's budget, preference, and type of trip. I know it could be overwhelming to choose the right one with so many options in the market. Well, we did this review for you so that you can choose the best option for you.
Do you need a cheap option for a quick shower, choose the Kipida Solar Shower.
Are you going on a road trip? You can choose the Hike Crew. It is the best option if you travel with kids or you love long showers 😉
You have options in between, with excellent prices and quality, like:
I hope this article has highlighted your different options and helped you make your best pick for your trips.
Plan Your Next Trips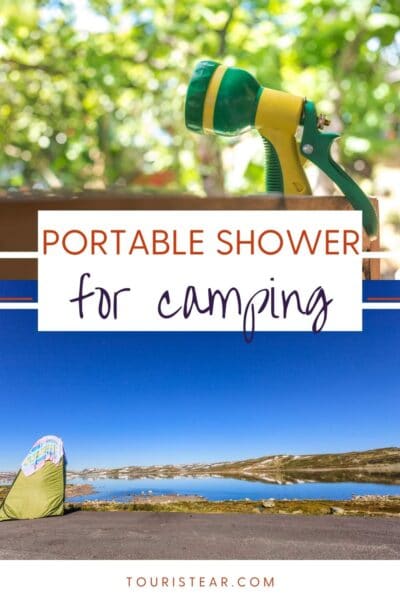 Last Updated on 14 March, 2023 by Veronica