The Best Portable Refrigerators for Traveling by Car or Campervan
How do portable refrigerators work? Which one's the best? You're going on a road trip and want to keep your drinks and food cold? Do you need an extra small fridge for your camper van or motorhome, or are you looking for something for your car or camping?
So, you need a 12-volt portable fridge. Don't know which one to choose? Keep reading; we help you choose the best portable refrigerator for your car or camper van trips.
4 Best 12V Portable Refrigerators
If you don't want to read the whole post, here's our selection of the four best portable refrigerators to travel and carry in your vehicle.
Works at 12V and 230V
Refrigerates and freezes
Temperature from +10ºC to -10ºC
Capacity 38 litres
1.5-litre bottles enter vertically
Energy rating A+
It has low battery protection.
Weight 12kg
Product dimensions: 58.4 x 36.5 x 44.6 cm
It has more than 1960 ratings with a score of almost 5 (5 is the maximum). You can read the full review about the BougeRV portable fridge here.
Sale
ICECO VL45 Portable Refrigerator with SECOP Compressor, 45Liters Platinum Compact Refrigerator, DC...
※ 【SECOP Compressor】 - Cooling range from 0°F to 50°F(-18℃~10℃) to meet all your freezing or refrigeration need. Fridge cooling rate can be selected between MAX mode for fast cooling or MIN mode for more energy efficiency. SECOP Compressor makes the car refrigerator keep running well even under 40° tilt.
※ 【Car and Home Use】 - Each portable refrigerator is equipped with a DC cord and an AC cable. Independent 12V/24V DC and 110-240V AC output port avoid chaotic wire accumulation and make the use environment cleaner and safer.
※ 【User-friendly Design】 - Height design fit for tonneau cover of pickup truck. Metal shell, thickened inner wall and foldable pull-down lock provide good insulation conditions. Convenient interior lights for easy access in the dark. Two Removable wired baskets to allow quick emptying and restocking of the fridge.
Robust Portable Fridge
12V/24V DC and 110-240V AC output
Capacity 45 litres
Compressor temperature: from 0°F to 50°F(-18℃~10℃)
5-year warranty on the compressor and 1-year warranty on all other parts. 
Two-liter bottles come in standing up.
Handles on the sides for easy transport.
Top opening
Digital temperature display.
3-Level Battery Protection
Portable Refrigerator and Freezer
AC (110-240), DC (12 volt / 24 volt), or solar.
Capacity 53 litres
Compressor temperature: +10ºC to -15ºC (keeps cold and freezing)
In thermoelectric function cools up to 20ºC below room temperature.
 Temperature control via WiFi
Handles on the sides for easy transport.
Top opening
Digital temperature display.
Product dimensions : 52 x 45.4 x 51.5 cm; 46.97 lbs
Perfect portable refrigerator for car trips and when sleeping in places with 110/220V power outlets. Ideal for camping.
Best of Dometic CFF 45
Portable compressor fridge
Works at 12V, 24V and 230V
Energy rating A++
Capacity 44 litres
Refrigerates and freezes
Temperature from 0 °F and 50 °F (regardless of outside temperature)
Possibility of operation with solar panels
Exceptional performance
Wlan and USB connection
Dimension: 46.1 x 39.8 x 69.2 cm
Weight: 41.01 lbs.
This portable fridge comes in different sizes: 32 l, 38 l, 46 l, and 60 liters.
It is perfect for camper vans or as an auxiliary fridge in an RV or motorhome.
Best for Traveling by Car: MOBICOOL MQ40A (12V and 110/230V)
Portable compressor refrigerator
Works at 12V and 110/230 Volts
Capacity 39 litres
Energy rating A++
Efficient cooling, up to below 20ºC of ambient temperature.
Aluminum outer shell
Top opening
Side handles for easy transport. Weight: 19 lbs
1.5-litre bottles come in
What's the Best Portable Car or Van Fridge
The best portable electric fridge has to be the one that best suits your travel style and budget. Options are ranging from $20 to $1000 or more.
It all depends on the use you're going to give it. You can start with an ice cooler fridge (decent) or a thermoelectric machine and then move on to a compressor (the best 12V portable refrigerators), and if you're going to leave it fixed, you can choose a 3-way fridge.
As you can see, you have many options. If you're traveling sporadically or just want to try it, you can choose a good quality cooler or thermoelectric that connects to your car's 12V charger.
If you have a camper van with an installed electrical system with solar panels and an auxiliary battery, my recommendation is a 12V compressor refrigerator. Dometic ones are among my favorites and those of many van enthusiasts, but BougeRV it's a great option for budget travelers conscious.
Compressor refrigerators can also serve as auxiliary fridges for your high-volume van or motorhome.
For traveling by car, the best refrigerators are thermoelectric ones that connect to the car's cigarette lighter and do not require an electrical installation like a compressor refrigerator.
(Use the refrigerator connected to the car only with the car turned on.)
If you are going camping, you can choose a portable refrigerator that connects to the 220V electrical grid. This way, you will keep your drinks cold and your food well-preserved.
Different Types of Portable Refrigerators
There are different types of portable refrigerators for your car or camper van. Here's the one that best suits your travel style and budget.
Portable 12V Compressor Fridge
12V compressor refrigerators are the most popular and the ones you'll see most during your travels and for a good reason.
These refrigerators are designed for all types of vehicles, from 4×4 to boats, and are built with durability and efficiency in mind.
12V compressor refrigerators have highly efficient variable speed compressors that consume very little energy can be used as a refrigerator or freezer.
They come in various configurations, including chest, vertical, and dual-zone refrigerators/freezers – and usually have the ability to operate at an inclination of up to 30 degrees (other types of refrigerators must be kept perfectly level when operating).
This combination of features makes these refrigerators perfect for van life.
Although the compressor refrigerators are amazing, they have one drawback: the cost.
Portable 12V refrigerators are more expensive than other options, and that's important to keep in mind. Since you're going to need to add an auxiliary battery and a means to charge them (such as solar panels, 110/ 220V connection, or a switch to the vehicle alternator).
If your goal is to turn the van into a wheeled house, investing in a refrigerator with a high-quality 12V compressor is worth it.
Y por favor, no hagas como nosotros en nuestra primera furgo, y pongas una nevera de 220V con un inversor.
Lo único que vas a conseguir son dolores de cabeza y estropear (mucho) antes de tiempo la batería auxiliar.
Coolers: Refrigerators that Need Ice to Cool Down
This is the typical portable fridge we've all started with. They're cheap, and you can buy them anywhere, and for it to cool things down, you have to put on ice.
Here you have very cheap options ($10 or $20, but they do not keep the cold long.
My recommendation is the ones that are around $50, like the Colemans. They have good insulation, and food can last you fresh food for two days.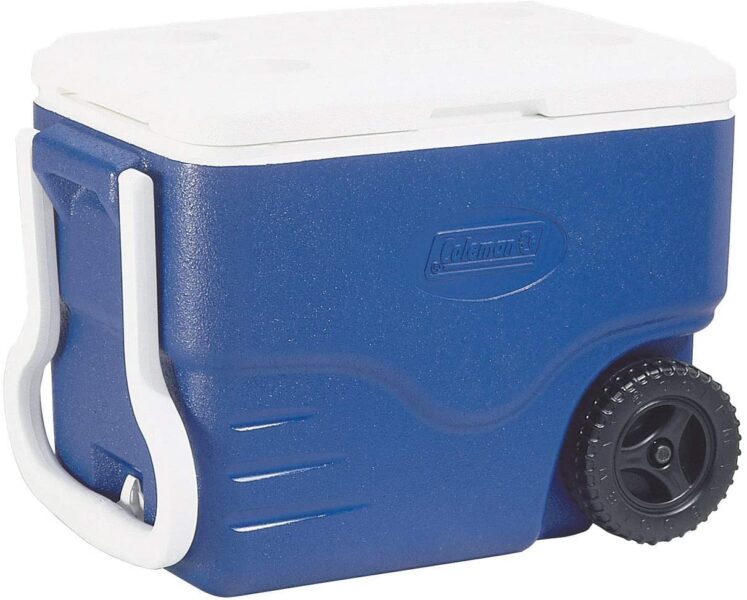 To not have to use so much ice, you can put frozen food, frozen water bottles, etc.
Choose those that have a water drain, so it's easier to keep it clean and your food doesn't rot.
And if you're going to take it, for example, to the beach, choose one with wheels, they are much more comfortable and easy to carry.
Thermoelectric Fridges (Ideal for Cars)
Thermoelectric fridges are fine for short road trips and not-too-hot places.
Such refrigerators need a 12V connection but do not have the ability to cool below room temperature efficiently.
Although there are some that claim that they can cool 20ºC below room temperature, like the MobicoolQ40.
If what you're looking for is something to keep your drinks or snacks cold during your road trips, then a portable thermoelectric fridge can meet your needs as long as you don't travel to scorching places.
But if you're looking for a fridge that really refrigerates your meals during your van or camping trips, then my recommendation is to choose 12V compressor refrigerators.
3-way Fridges (Not Portable)
Trivalent or 3-way refrigerators are the most commonly used in large-volume vans and RV or motorhomes. On our van, we have a 3-way Dometic fridge and a portable fridge; they are the perfect combination for long trips.
3-way fridges are fixed refrigerators that need a ventilation outlet from behind and operate at 12V, 220V (or 110V, depending on where you live), and propane.
It is very efficient when you connect it to propane or 110/ 220V. At 12V, it is only used when you are on route.
For us, it is the best option if you are going to keep it fixed in your van and if you have a propane installation, so you do not depend on going to campsites or areas with electricity.
It has very low consumption; a 13kg bottle can last you two months, using it every day.
Our fridge is the DOMETIC 5380, 80-litre, trivalent, propane-powered, 220V, and 12V.
The Fridge that Opens Above or in the Front
You have two types of portable refrigerator, the ones that open above or the ones that open in the front (like the ones in the house, but in small).
You can find both models with the same compressors and features and think that you only have to choose the one you like the most.
But they have different advantages, especially if your idea is to use it as a portable fridge, you will find it more interesting than it opens up and now I tell you why.
Chest fridges (with the opening above) tend to be more efficient
Why? Part of the reason is that cold air naturally stays at the bottom.
With chest refrigerators, the door is at the top, which means that the cold air will accumulate at the bottom of the refrigerator, where it has nowhere to escape.
But with vertical refrigerators, the cold is preserved thanks to the insulation seal around the door. That's why every time the door opens, the fridge loses cold.
Because food has a higher thermal density than air, most of the cold in any refrigerator is "stored" in food or drinks inside the refrigerator, so full refrigerators are much easier to keep cool than refrigerators with plenty of space.
And with the layout of the interior shelves of vertical-style refrigerators, you're likely to end up with wasted empty space on top of your food.
Chest Refrigerators have More Capacity and are Easier to Organize
If you are used to a standard front-opening refrigerator like the one in your house or apartment, this can be a surprise.
How can it be more difficult to organize a front-opening refrigerator with shelves and drawers than a chest-type refrigerator that forces you to stack items on top of each other?
But in a smaller van refrigerator, empty space is a wasted space that makes the refrigerator compressor work harder (and consume more energy).
Even with the shelves, you still need to stack the items on top of each other, and still, you're going to need to move the items to get to each other. And you'll probably end up with a lot of empty air between the top of your food and the bottom of the next shelf.
All of this means wasted space with no real organizational gains.
And if your food moves inside the fridge while driving, you won't have to worry about everything falling off when you open the door with a chest fridge.
That's why we no longer buy beer bottles, and now we only buy cans…
Conclusion
Chest refrigerators are easy to carry and easy to accommodate inside your van. But it depends on the design of your camper van.
Before you decide on a portable chest or front-door refrigerator, take a look at your van and answer the following questions:
Where are you going to put the portable fridge?
Are you going to change the place inside your van?
Do you want to have it between driver and co-pilot seats?
Are you going to get it out of your van?
Electricity Needed for Your Portable Compressor Fridge
Running a 12V refrigerator in your camper van requires an electrical installation that consists of (at a minimum) a 12V power outlet connected to an auxiliary battery (not to the car or van battery) and a means to charge it.
But, how much battery capacity do you need?
Determining the Capacity of Your Auxiliary Battery
To calculate the battery capacity, you need to run your fridge reliably and first find the refrigerator's average power consumption.
As an example, suppose our refrigerator consumes an average of 2.0 amps per hour.
Over the course of a day (24 hours), a refrigerator that consumes 2.0 amps per hour will consume 48 Ah of the battery.
Since you're never going to want to drain your battery completely, we recommend that you take its power consumption and double it to determine battery capacity.
Therefore, you would need an auxiliary battery with a minimum capacity of 100 Ah in this example, plus additional capacity for your other electrical charges.
This is our case; we have a 100 Ah auxiliary battery, along with a 100W solar board. Also, a 220V connection allows us to charge the auxiliary battery, the car, and electronic devices.
What to Look for in a Portable 12V Compressor Fridge
Here's a rundown of what you should look for when evaluating refrigerator options for your camper van:
Price
12V compressor refrigerators can be quite expensive in general, but there is a wide range of prices between high-end brands and economical brands.
If your budget doesn't allow you a range refrigerator, we recommend carefully analyzing the least expensive brands.
Just keep in mind that the fridge is an essential part of your camper van and road trips. It's better to save a little more and buy something of good quality.
Indoor Capacity and Freezer Capabilities
How much fridge space do you need? Buying a portable camper fridge that's too big means spending more than you need to and giving up more space in your van.
Furthermore, having a too-small refrigerator means shopping more often. Needs vary from person to person.
In our case, we have a DOMETIC 5380 refrigerator (80 liters) with enough space for a week of fresh food for both of us, a small freezer that works great, and space to put bottles and small food on the door.
Most 12V compressor refrigerators have the ability to function as either a refrigerator or a freezer. But if you need both at the same time, some brands offer fridges/freezers that have separate compartments for each.
Energy Efficiency and Compressor
To not connect to the mains too often, you have to have devices that are as efficient as possible.
Most 12V portable refrigerators on the market use the same highly efficient variable speed compressor, although some brands like Dometic/Waeco, Engel, and Whynter/Edgestar use their own units.
Exterior Dimensions and Weight
If you already have a designated place where you plan to place the refrigerator, you'll want to make sure all the options you're considering fit.
Not all brands have the same size; some are taller, others are wider, even if they have the same interior capacity.
And dimensions can be a determining factor in buying your portable fridge since it has to adjust to the configuration of your van.
Weight is another important factor; if you're going to transport your fridge regularly, it better be lighter than if you're going to leave it fixed most of the time.
Opening Direction
As mentioned above, this might seem like a minor consideration, but it can make a big difference in the configuration of your van.
Some refrigerators have lids hinged from the back, while others have lids with side hinges.
Side-hinged lids need less top free space to open completely, and since you're looking into the refrigerator from the longer side, it can be easier to see and reach the content.
The best lid direction will depend on the specific configuration of your van.
Standard Features and Additional Features
Most 12V portable refrigerators have the following standard features:
Ability to operate with an inclination of up to 30º.
LED lighting inside the refrigerator.
Floor drain plug for easy cleaning.
Low voltage cutting to protect your batteries.
Removable dividers and organizing baskets.
Separate dairy compartment.
Some refrigerators include more advanced features such as digital controls, remote readings, Wi-Fi apps, and additional accessories.
Warranty and reliability
Factory warranties give you some degree of security if something goes wrong and needs to be repaired or replaced.
Reputation is also a factor here. Danfoss compressors are known to be reliable, so refrigerators with this compressor are often a safe bet.
Dometic has an excellent reputation for reliability and support, and Engel's Sawafuji spinning engine is legendary for running for decades without problems.
5 Best 12V Portable Refrigerators
These five 12V portable refrigerators can be purchased from Amazon at the best prices.
The 3 Best Ice Coolers
The 5 Best Thermoelectric Fridges
What are The Best 3-Way Fridges
Although this post is not focused on trivalent refrigerators, here are three options you should consider if you plan to install a trivalent refrigerator in your van or motorhome.
I propose three different sizes: 80, 60 and 40 liters. Chose the one that suits in your vehicle.
Dometic RM 5380: the one we have, and we are very happy with it. If you have any questions or need more info about it, let me know.
Conclusion
As you can see, there are four different types of portable fridges to take away by car or camper van.
Depending on the service you want these refrigerators to give you, your budget, the space in your van if you travel by car, if you have an electrical installation and your travel style, you will choose one refrigerator or another.
In summary, choose a compressor refrigerator if you have an electrical installation in your camper van or as an auxiliary refrigerator in your large volume vehicle or motorhome
Choose a thermoelectric refrigerator for traveling by car and then connecting it to the electrical grid, at campsites, for example.
Choose three-way refrigerators if you are going to keep them fixed in your van or motorhome. And you have the necessary installation to get the most out of these refrigerators.
I hope this post has helped you choose your portable fridge to travel. If you have any questions, leave us a comment at the end of the post.
Plan Your Road Trip
Last Updated on 27 September, 2023 by Veronica
Disclosure: Some of the links on this post are affiliate links, meaning at no additional cost to you, I may earn a small commission if you click through and make a purchase.
Author: Veronica
Vero, a seasoned traveler, has explored 25 countries and lived in five, gaining a rich perspective and fostering an infectious passion for travel. With a heart full of wanderlust, Vero uncovers the world's hidden gems and shares insights, tips, and planning advice to inspire and assist fellow adventurers. Join Vero and let the shared passion for travel create unforgettable memories.